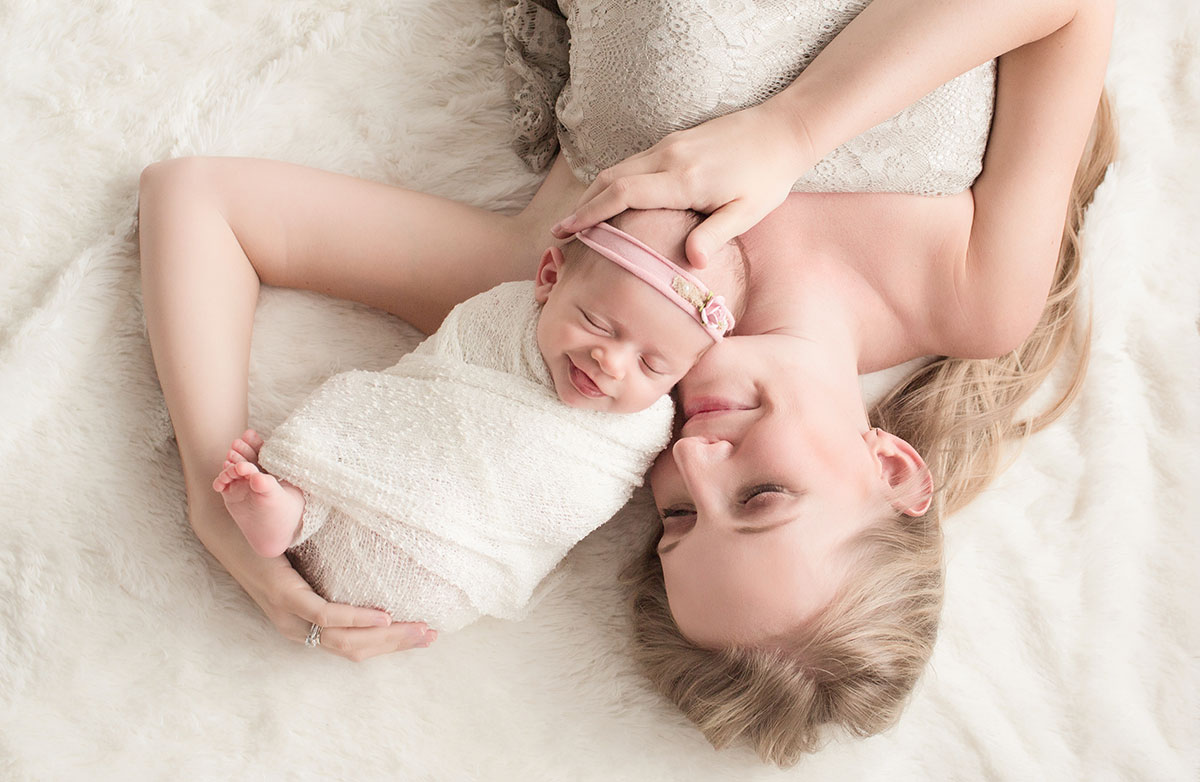 PHONE and CONSULTATION
We hope to capture your authentic life, and that starts with taking the time to know you, so we can tell your family story. We will likely begin by phone, and you may choose to book by phone, but we will want to meet before your newborn pictures are taken. During this Consultation meeting we learn about each other, your vision and your wish list. You will take a look around the studio, receive a portrait guide with details about your photo session, how to prepare, what to wear and bring, how the entire session will flow, and what products are available for purchase. With the information that you provide, your session will be styled to match your vision. Your portrait experience has now begun. We will together create images for your home that bring to life the love that you share, an investment guaranteed to grow in value over time.
THE STUDIO SESSION
Our beautiful studio is a natural light space with supplemental studio light. It is a warm and welcoming area with a cozy parent lounge stocked with snacks and beverages. A full range of props are available for newborns and babies including wraps, hats, bonnets, headbands, handmade outfits, baskets, crates. You will not need to worry about anything needed for your session. We encourage you to sit back during the session and allow us to take care of all the details.
Newborn sessions vary in time depending on the baby. They typically last 2-4 hours of studio time, allowing for baby's momentary needs. Our tiniest clients gently guide us and tell us when they are ready, and sessions are not limited due to fussy babies. Your first family portrait is also an important part of our newborn sessions. Dads and children will be encouraged to come for the short time they are needed.
Maternity, Baby and Children, and Family sessions are typically 1 hour in length and can be scheduled to take place in the studio or at an outdoor location. The studio has a lovely maternity wardrobe filled with beautiful dresses for your baby bump. These are available to our pregnant moms at no extra cost. We even have shirts for dad. We will work together to stylize your session so you can save time and money.Professional hair and make up is available for an extra charge.
Baby milestone and child sessions are all about capturing your little one's changes and personality. It is our hope for maternity sessions to pamper the pregnant mom, show off your beautiful bump, and catch a slice of the excitement you and your partner feel about meeting your little bundle. Family sessions are for capturing the genuine emotions and playful connections, some posed and some candid, that mean so much to you. The portraits that we create to adorn the walls of your home will grow in value over time, becoming heirlooms to be passed down for generations to come.
Go to What Clients are Saying
Contact