Baby pictures of baby milestones tell your child their story, a story that becomes more valuable with every year that passes. My goal for One Year Baby Pictures is to create baby portraits that capture your baby right now. This way, you'll have beautiful photos to adorn your walls, teaching your child their story over time. I adore photographing one year old babies. They are entertaining, definitely lively and have their own unique set of facial expressions to share with me.  Sara was no exception. Here is a peek into her one year old milestone baby photo session with Andrea Sollenberger, Baby Photographer Gainesville Florida.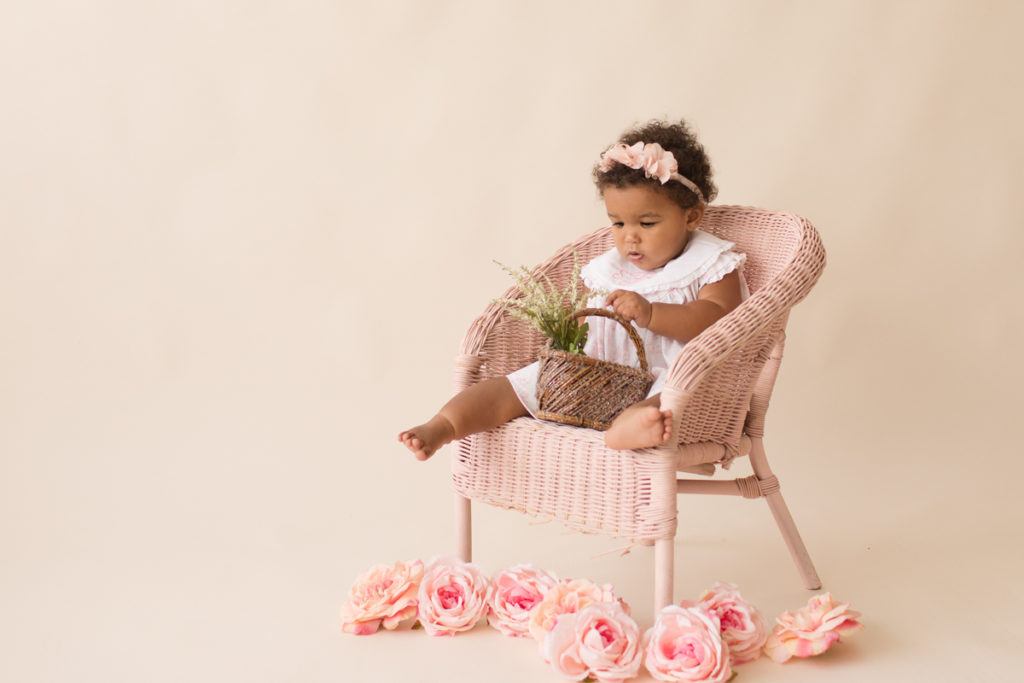 SARA'S FAMILY STORY
Sara is a very special daughter.  Gainesville Florida Mom Lacy and Dad Jonathan received her as a foster child through https://www.fosterflorida.org/.  Sara was dearly loved and cherished from the beginning. Lacy brought Sara to me at that time for newborn photos, and I have been fortunate to photograph her newborn portraits, baby milestones and one year baby pictures as well. Lacy and Jonathan's prayer for adoption became reality after one year. This family showers extraordinary love toward others. They now have multiple adopted children and have loved countless foster children over the years.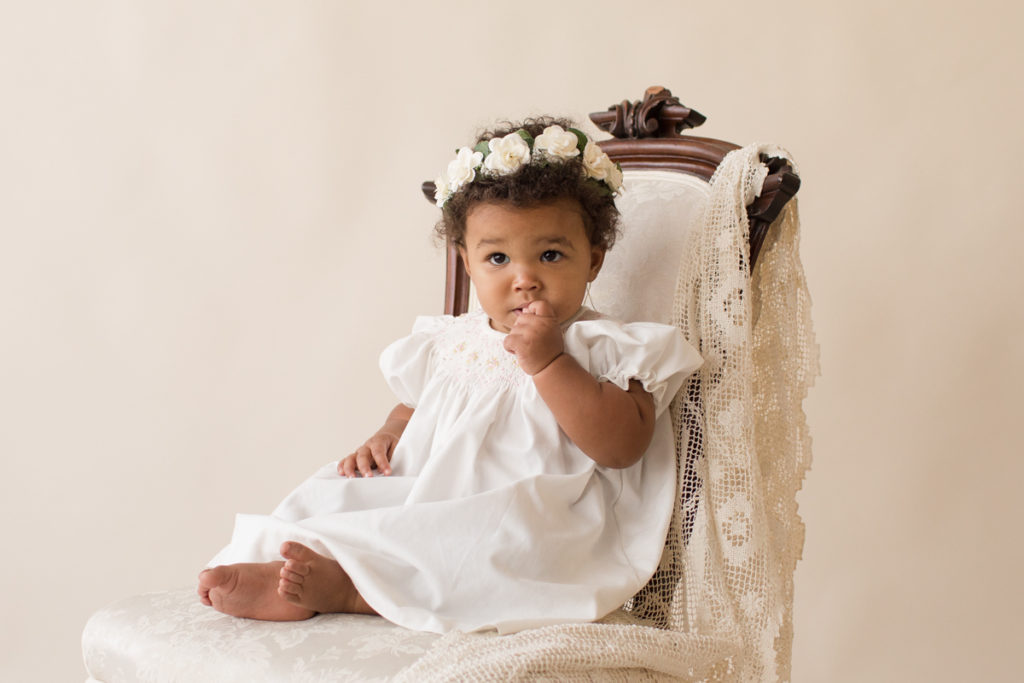 BABY PHOTOGRAPHER GAINESVILLE FLORIDA
Sara's one year old baby photo session took place in studio at Andrea Sollenberger Photography. Lacy wanted a classy feel with lots of cream and ivory for Sara's One Year Baby Pictures. Crisp and clean. Classy and elegant. Sara wore a white heirloom smocked dress that her grandmother made, a sentimental piece perfect for keepsake photos. It was used by both of Sara's sisters, Audrey and Ella, when they were this size! This dress holds a lot of family meaning! Adding the white floral crown makes Sara look so grown up! Posed sitting on a lace draped, elegant ivory chair, she's a little lady. Sara started out shy, playing with her foot and her hands. Just like every baby does. But that shy spirit did not last, and then the smiles began to burst forth.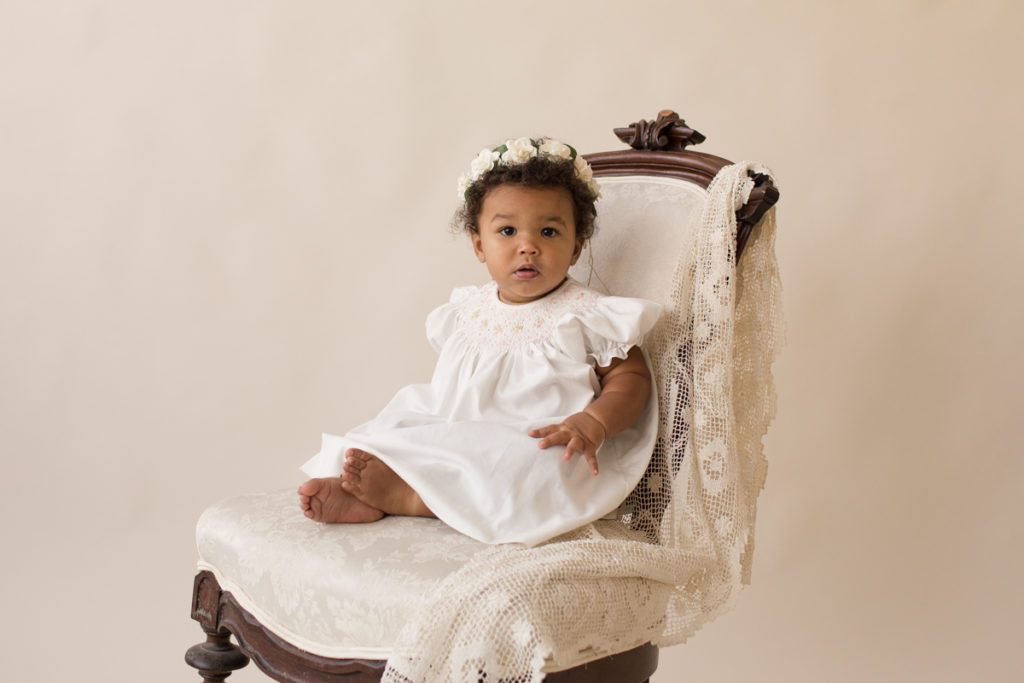 ==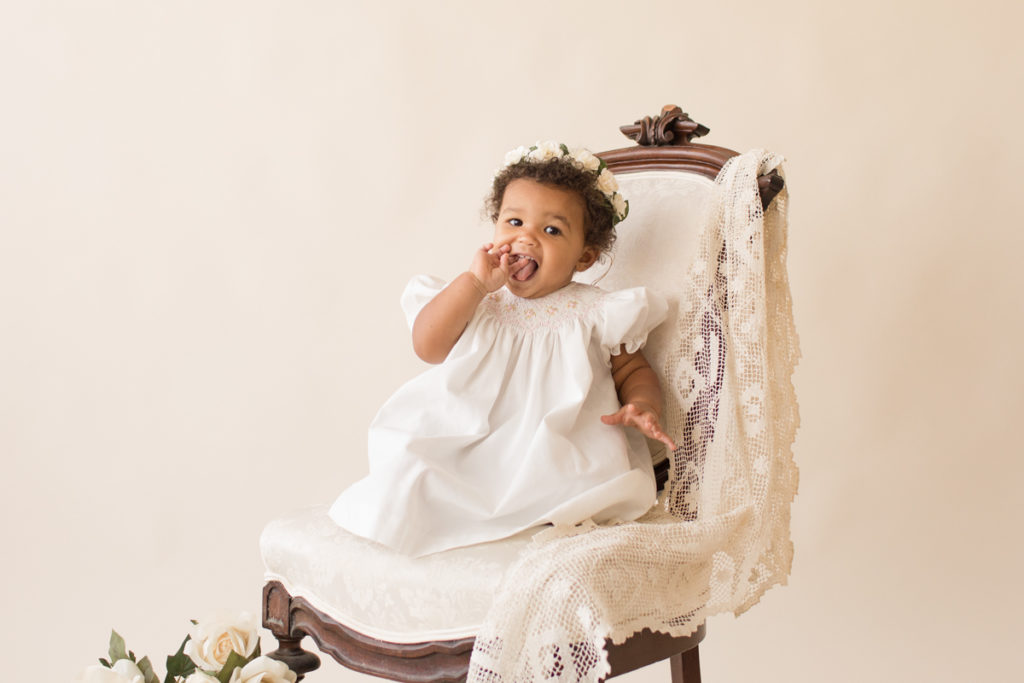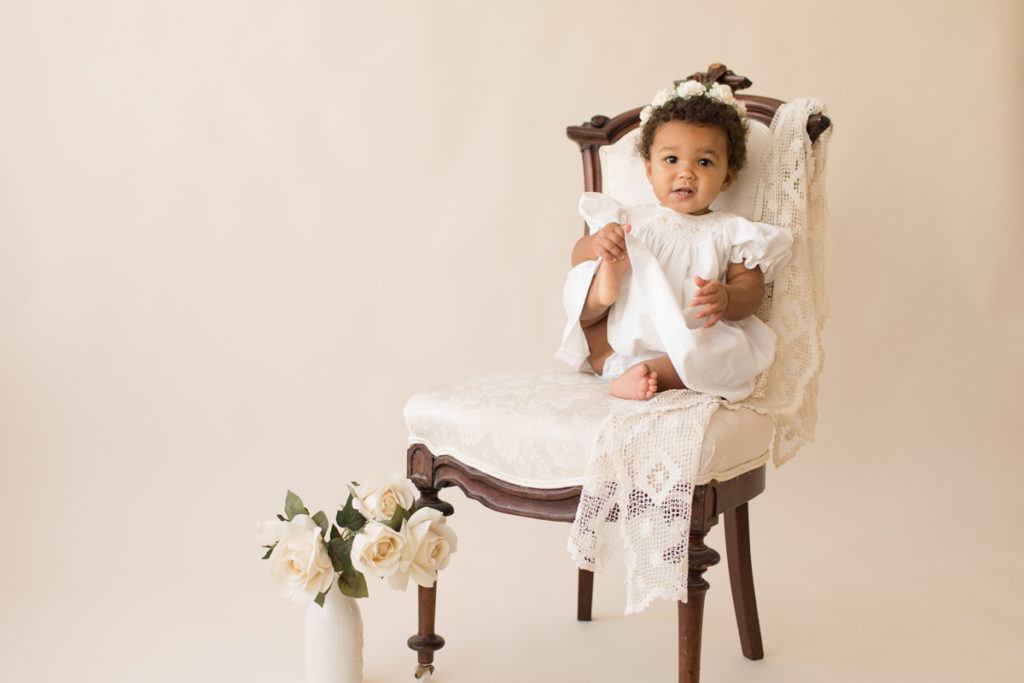 Sara's greatest enthusiasm came with a Build-A-Bear bunny prop that totally made her shine. Her big sisters Audrey and Ella gave her this bunny, and using it for some of her baby photos preserves one more one year memory for all of them. When the bunny appeared, Sara got very excited. Happy to see her bunny, her arms went straight up in air with excitement! As it turns out, these bunny photos ended up being mom's very favorite one year baby pictures of Sara. Sara gave us lots of giggles and grins and we had a blast capturing her one year baby pictures.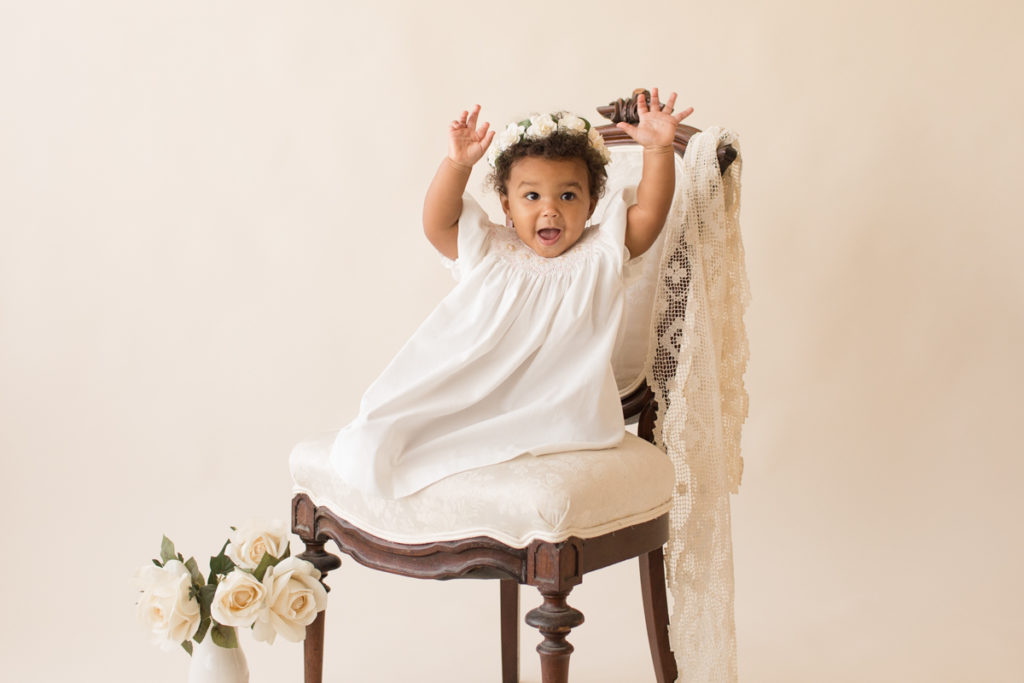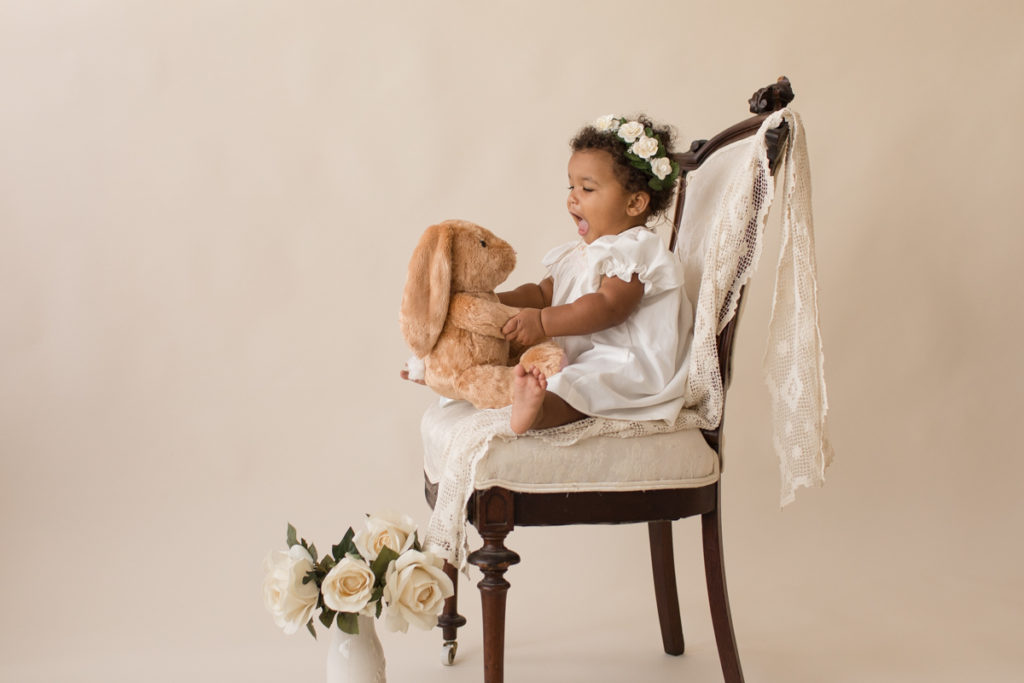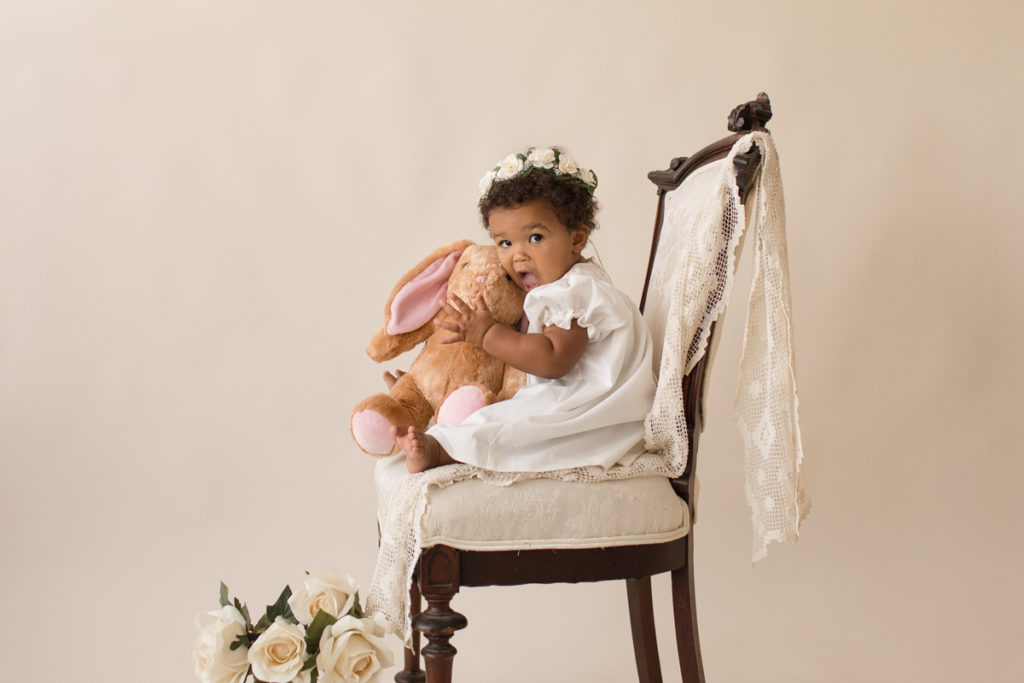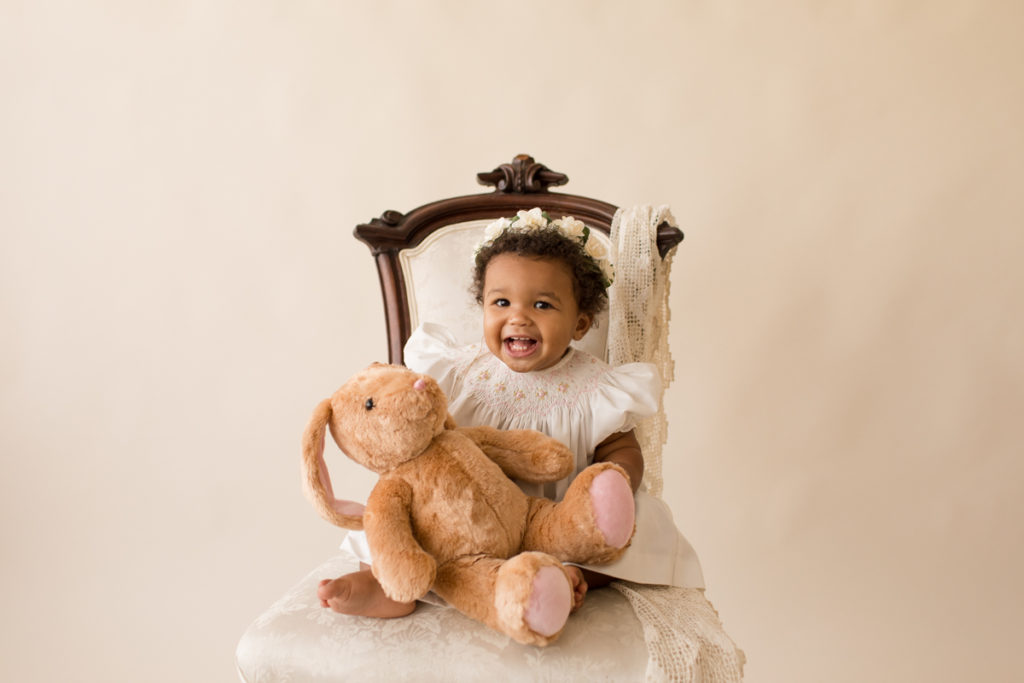 ONE YEAR OLD BABY PICTURES
This adorable baby has personality and charm, and I love her big brown eyes and the baby rolls that still call for extra cuddles. Again, Sara wore her white heirloom smocked dress from grandmother and white floral crown. Sara showed us her best at sitting on her chair and now in this bucket. And with a prompt from her mom she stood up to standing holding onto the wooden bucket for balance. Sara was not taking steps yet, but standing up holding onto something is the beginning. And then will come those first baby steps! Each baby milestone stage is exciting to document and remember!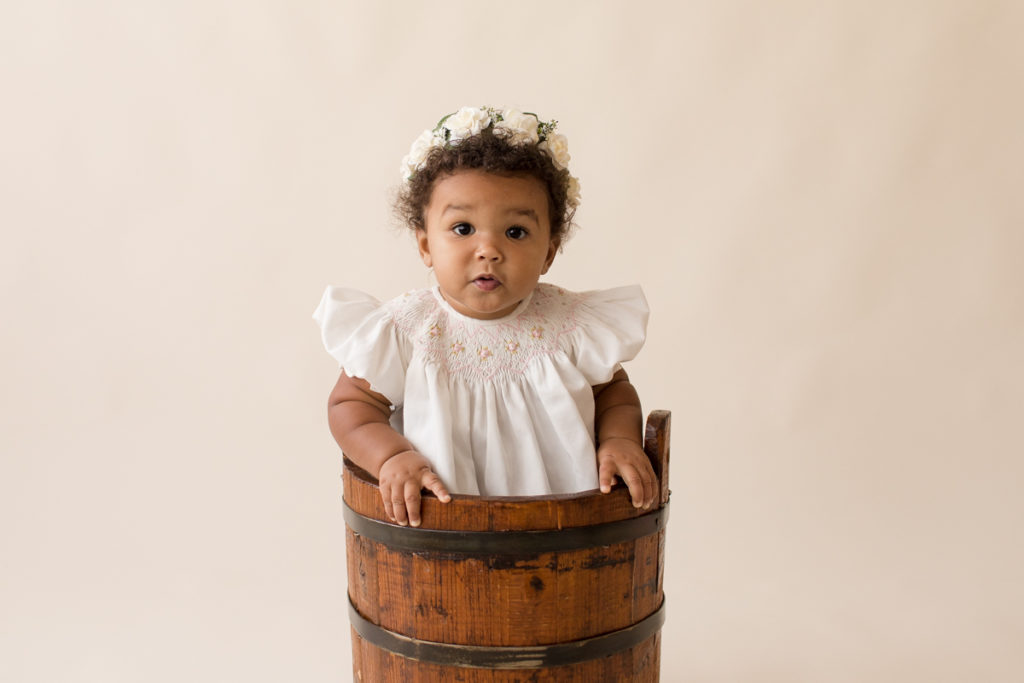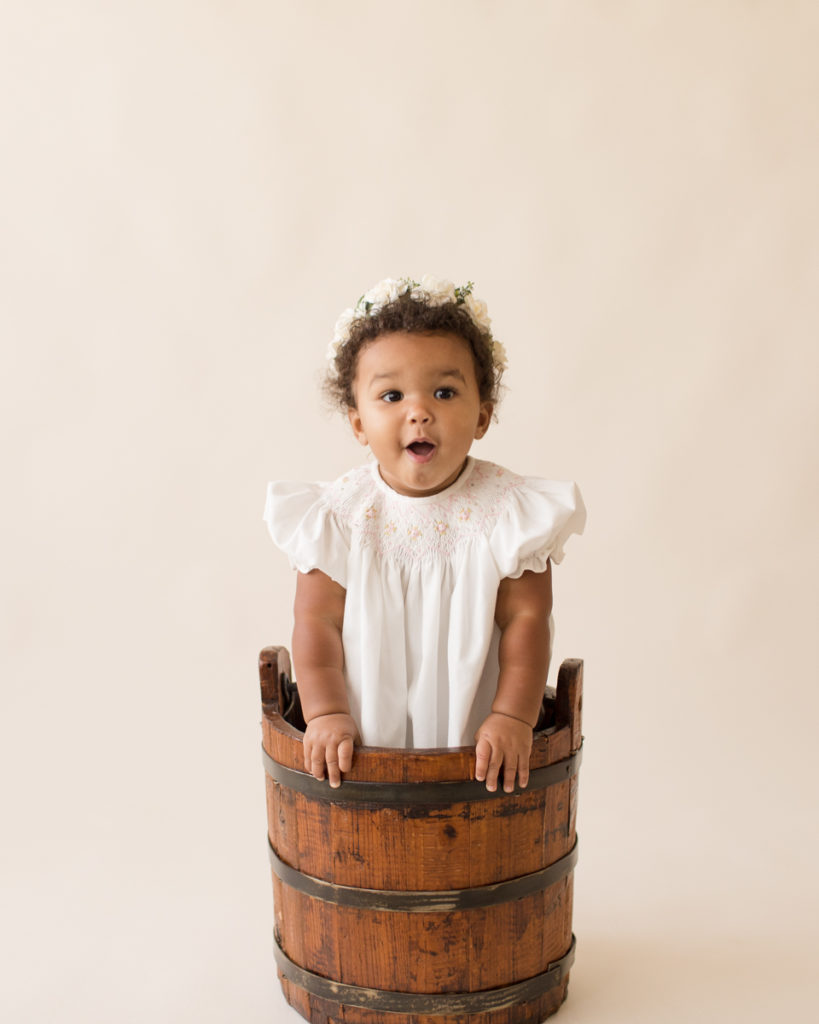 STAGES FOR BABY PHOTOS
Every year and every baby stage is so very special. Because children grow and change before us continually, it's important to photograph babies and children often and at various stages. Years go by way too fast for most moms and dads. Remembering baby stages with newborn, infant and One Year Baby Pictures is oh so worth it. My goal is to create baby photos that capture babies and children as they are right now, their growth in stages and milestones. And their grins and smirks and dimples and big smiles. Especially their personalities and uniqueness. So you see, these baby photos and baby stages really do tell a story over time and become more treasured with every year that passes.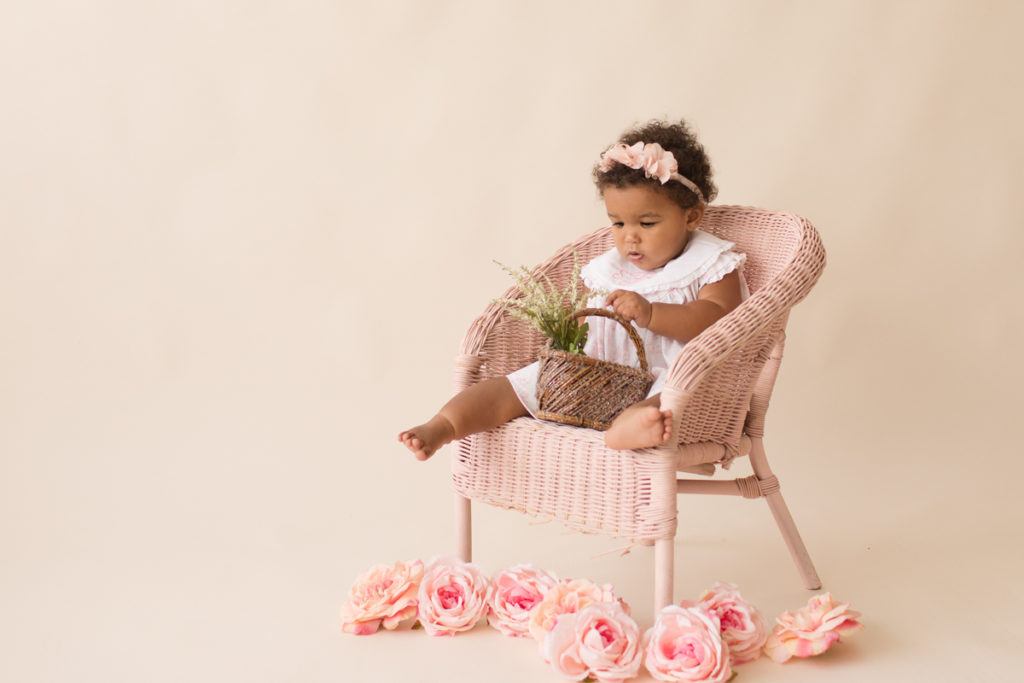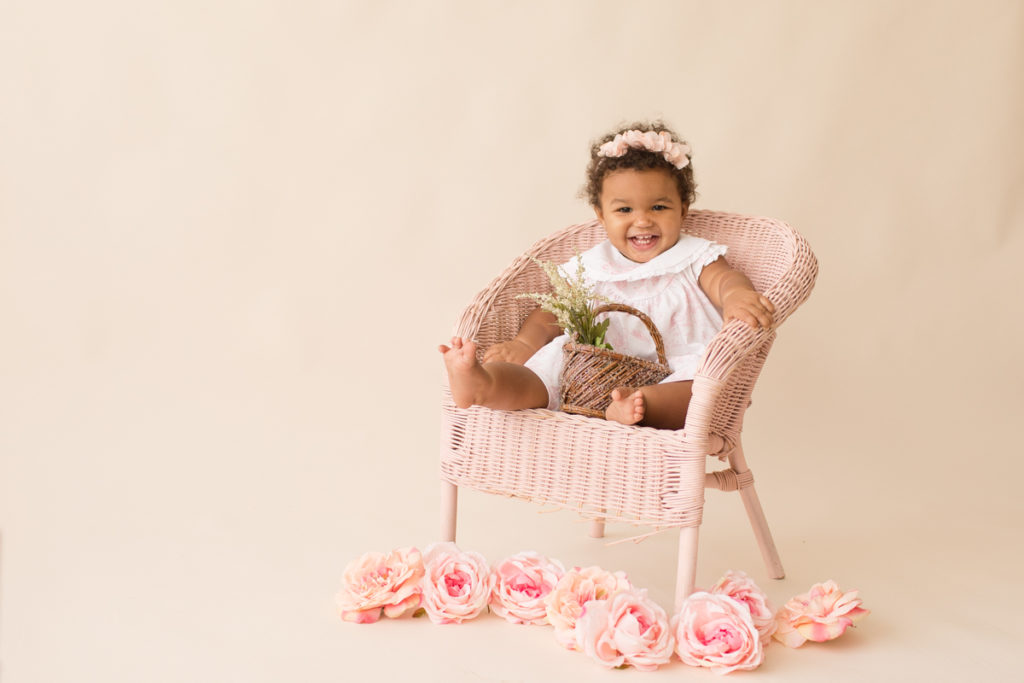 BOOKING BABY MILESTONE SESSIONS
Baby milestone sessions, both in studio or outdoors, are styled individually according to my client preferences in order to coordinate photos with their home and décor, just like these One Year Baby Pictures. Andrea Sollenberger Photography has a complete backdrop and prop collection available for newborn and baby milestone photography. To get in touch for more information about newborn or baby milestone sessions, please fill out the contact form or email me andrea@andreasollenberger.com
Backdrop – https://www.intuitionbackgrounds.com/
Stuffed animal bunny – https://www.buildabear.com/
Andrea Sollenberger Photography, Baby Photographer Gainesville Florida, Maternity, Family, Children, and Newborn Photographer Gainesville FL area.