Every family has a story, their own story. Every family member is part of that story. Photos of all family members tell that family's story. Sometimes a family might have a particular item of clothing or furniture or jewelry that has been passed down from generation to generation. These pieces are treasured family heirlooms that describe a rich component of family heritage. Capturing family heirloom photos of special pieces with family members using these heirloom pieces is an important way to document the rich tapestry of family history.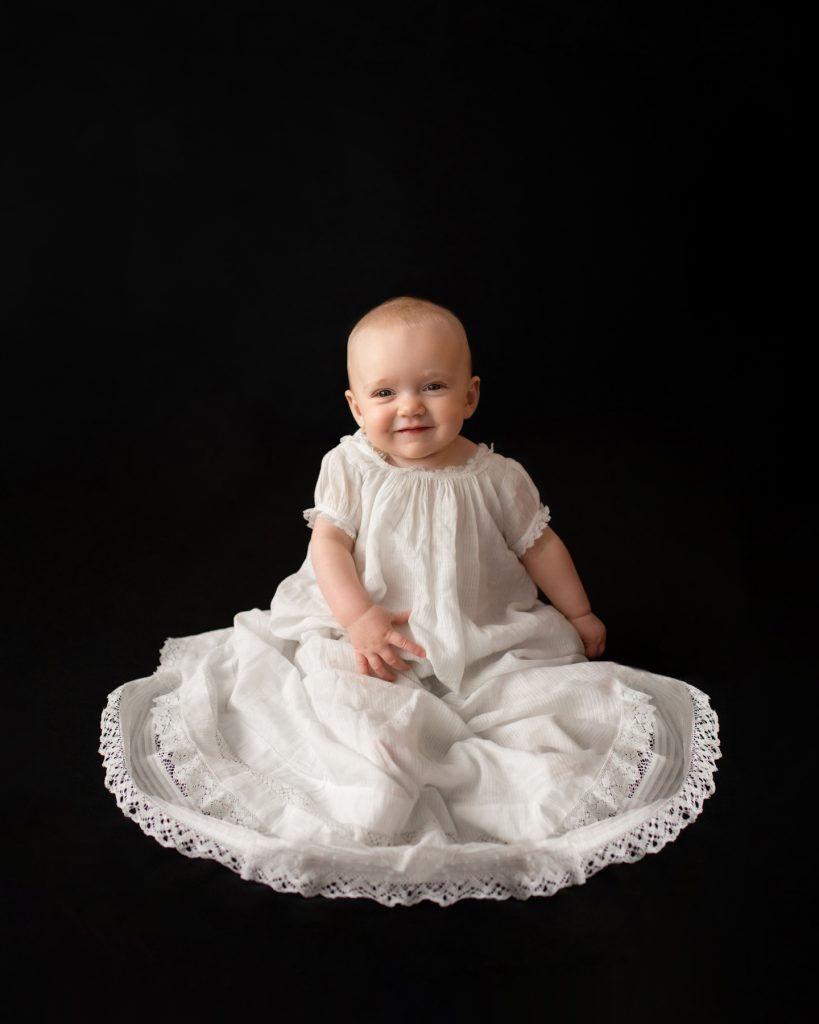 THE IMPORTANCE OF FAMILY HEIRLOOM PHOTOS-BABY PHOTOGRAPHER GAINESVILLE FLORIDA
I received a call from a mom named Kaye several months ago with just such a request for family heirloom photos. She wanted to capture her daughter wearing a treasured baby christening gown that has an amazing story. Kaye's family has been documenting babies in photos wearing the same christening gown for 5 generations. The dress was handmade and hand tatted by the mother of the first baby who would wear it. This took place in Summerville, Georgia in 1814, 205 years ago! With a baby girl of her own, Kaye needed to carry on this tradition. She researched baby photographers, contacted Baby Photographer Gainesville FL Andrea Sollenberger Photography and we began to plan. Kaye's baby Rachel made the 6th generation of family heirloom photos featuring this 205 year old baby christening gown.
BABY PHOTOS – FAMILY HEIRLOOM PHOTOS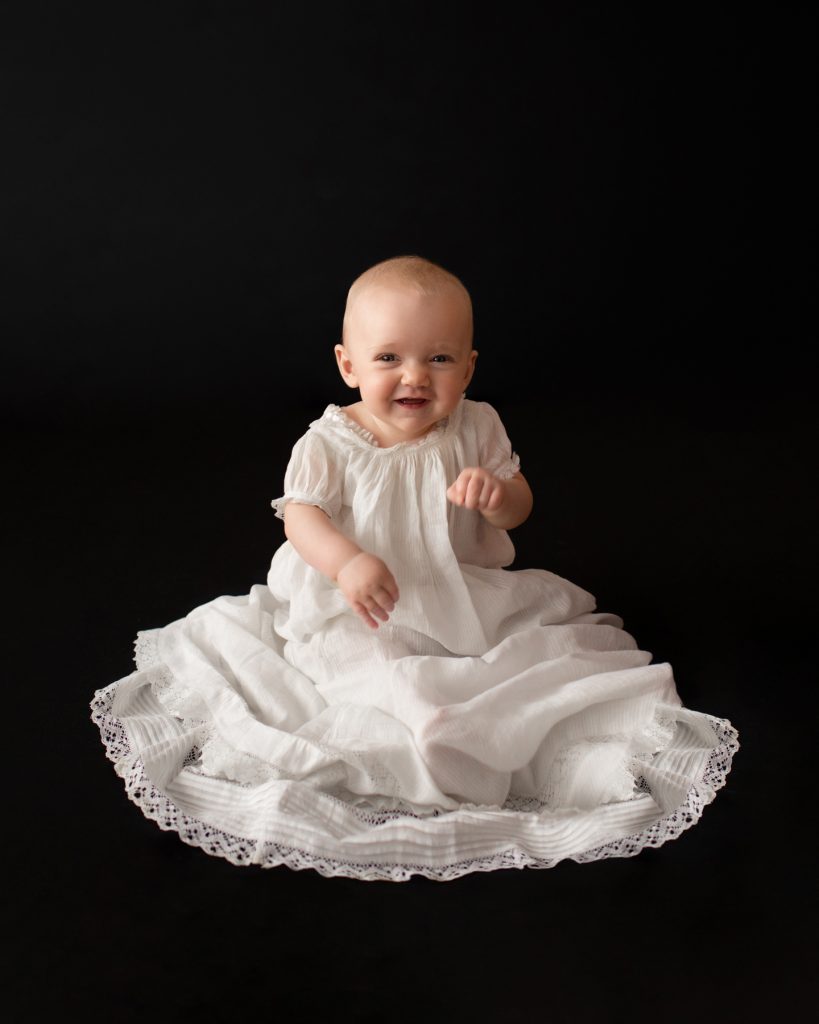 Rachel's baby photo session took place in my dedicated studio. I am always honored when clients choose me and trust me to capture special baby moments in their family's story. The family christening gown fit Rachel perfectly as a 6 month old baby. She posed in this 205 year old christening gown sitting up against a solid black backdrop. Our plan was to perfectly match the previous 5 generations of portraits decorating Grandma's baby wall of family heirloom photos with this gown!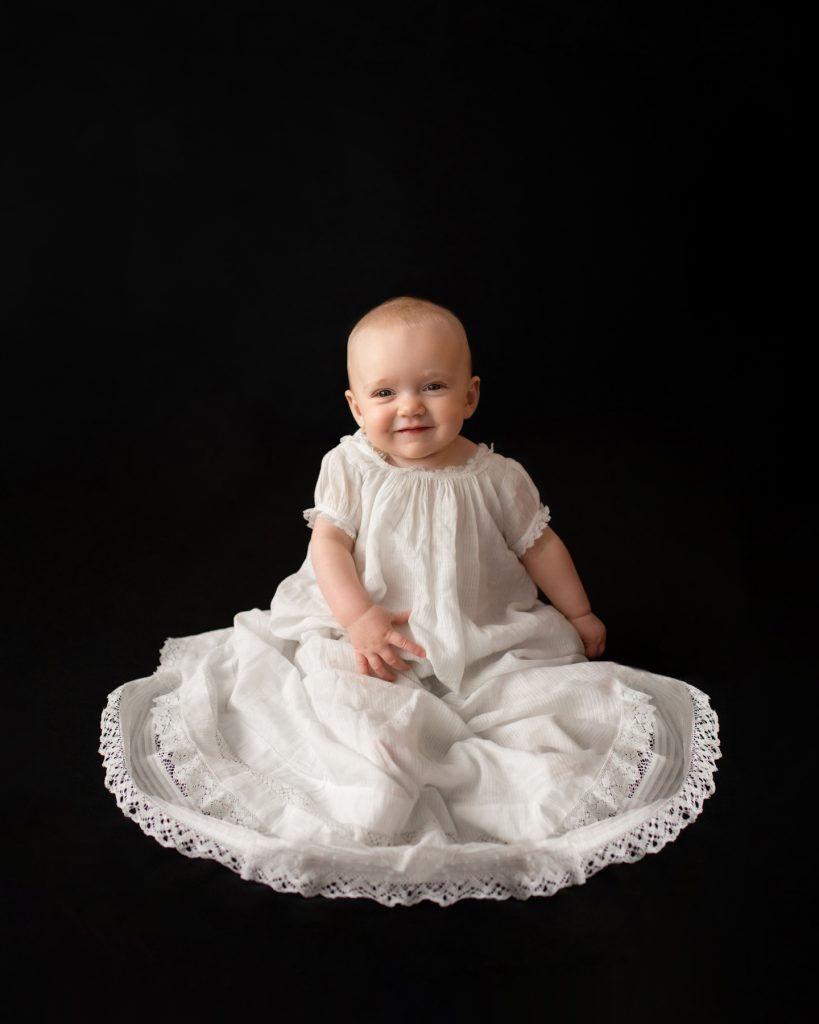 We had fun making baby christening gown family heirloom photos. We also had fun making photos to show off Rachel and her delightful personality. Six months is a wonderful time to create portraits that capture baby stages demonstrating just the way baby is right now. For this baby photo session, Kaye wanted to appreciate Rachel's soft baby skin and beautiful baby details. She wore nothing at all and posed beautifully on white fur lying on her tummy, pushing up on her elbows and sitting. Six month baby photos are still a perfect time to capture that soft baby skin that moms and dads love.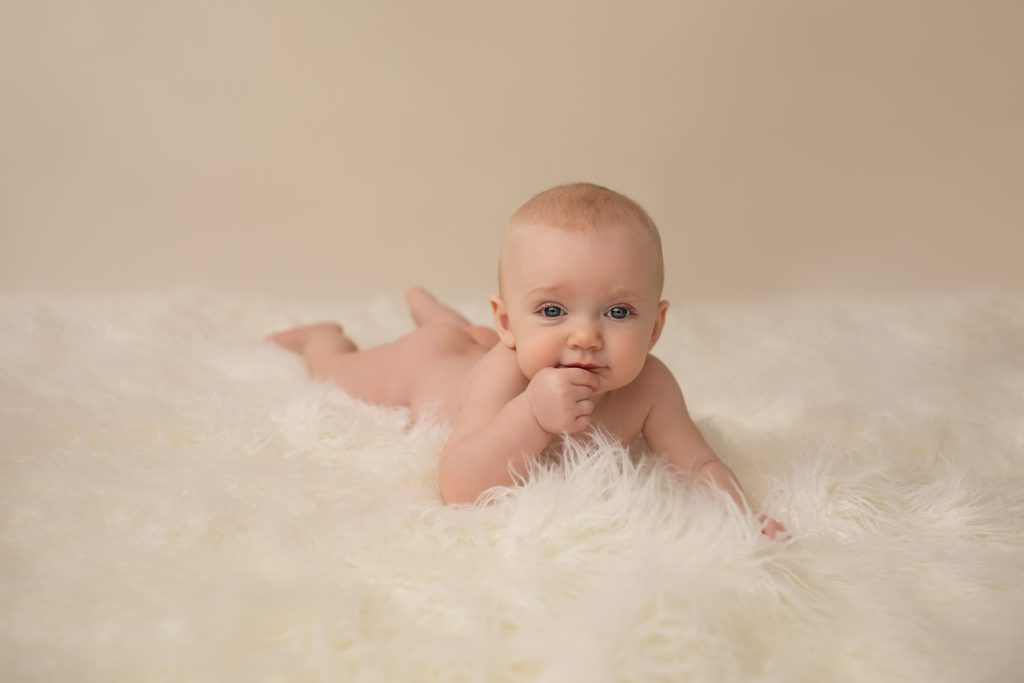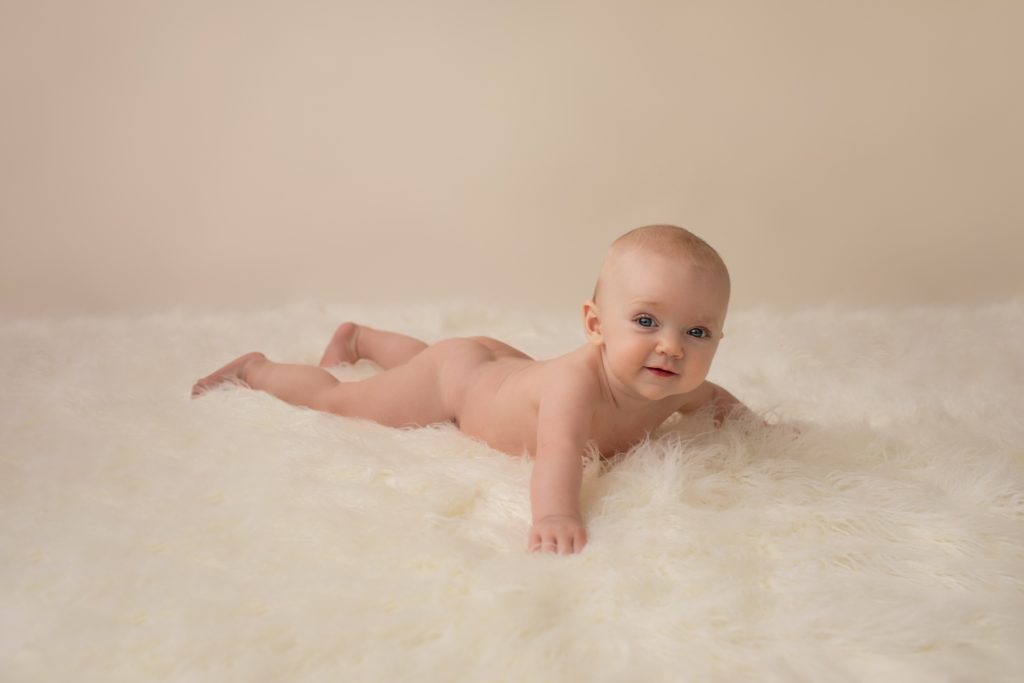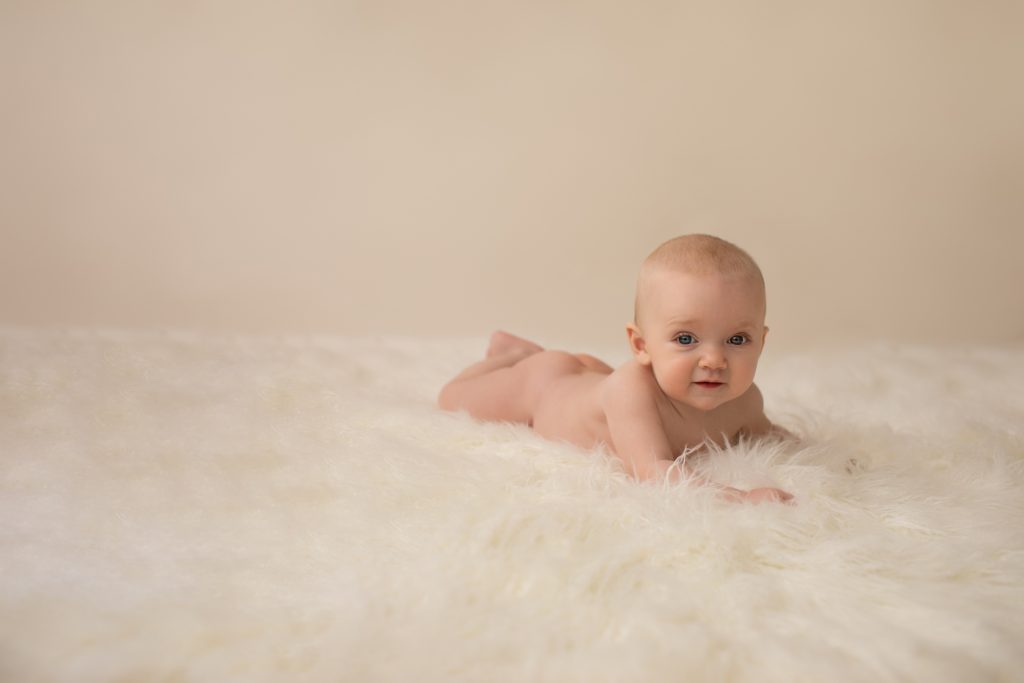 Rachel charmed us with her grins and her smirks. Again and again she gave us the most beautiful eye contact and baby grins. Even with no grin she entertained us! With her eyes locked to the camera, and her chin to shoulder like a little baby model, she posed beautifully.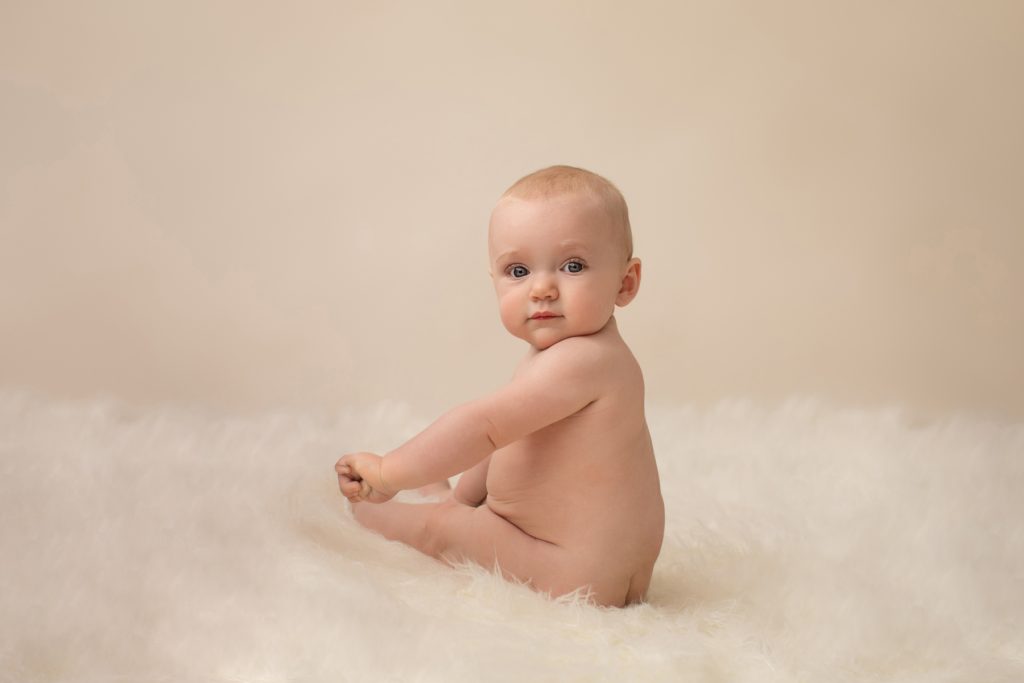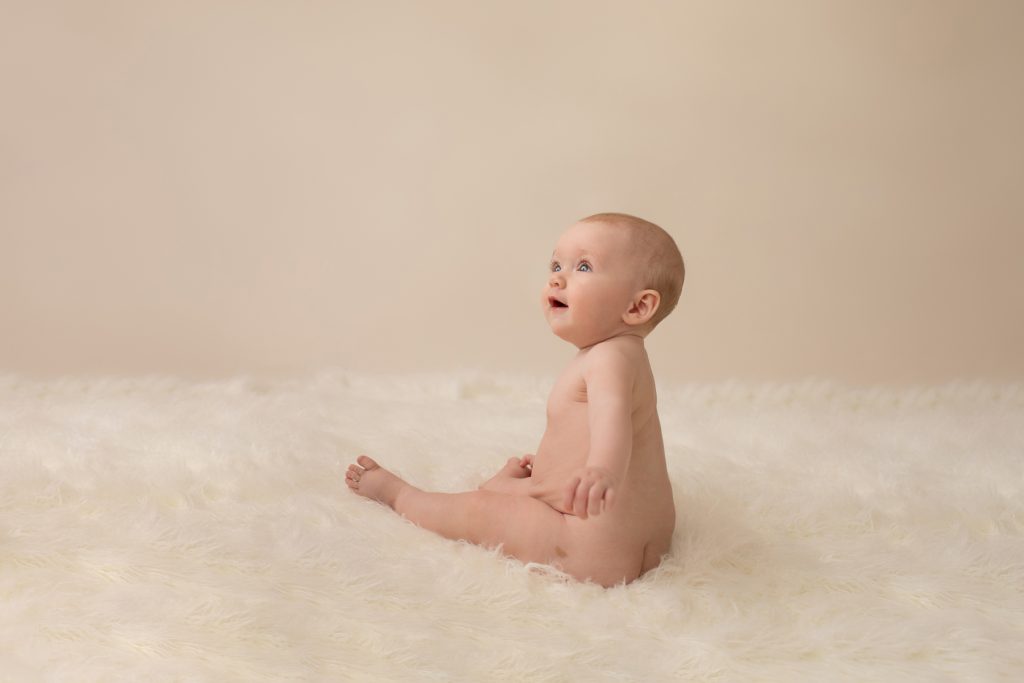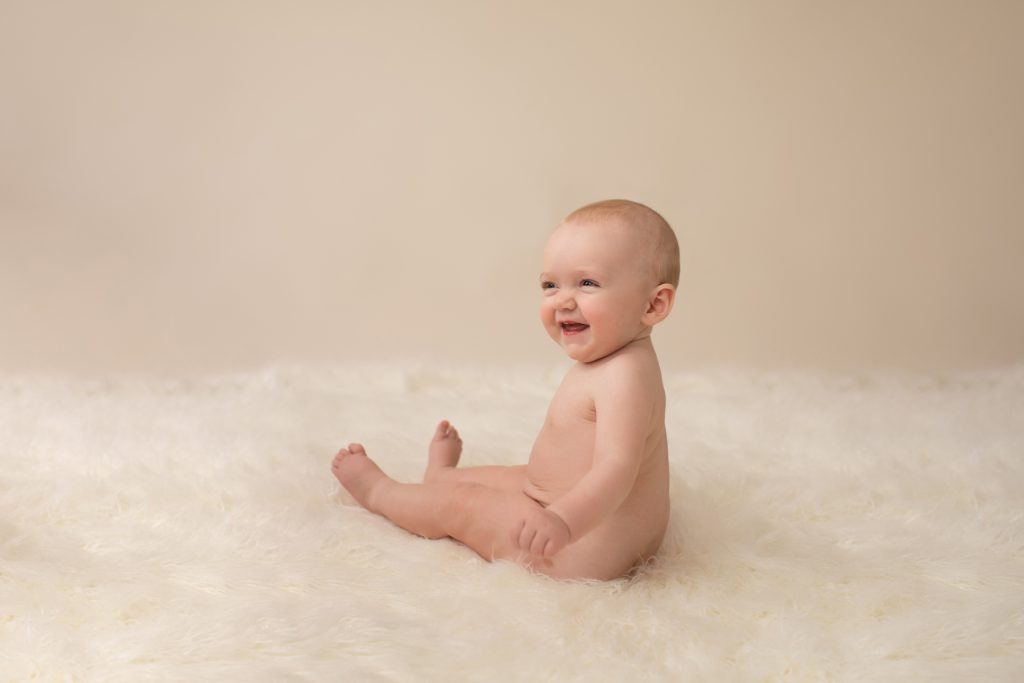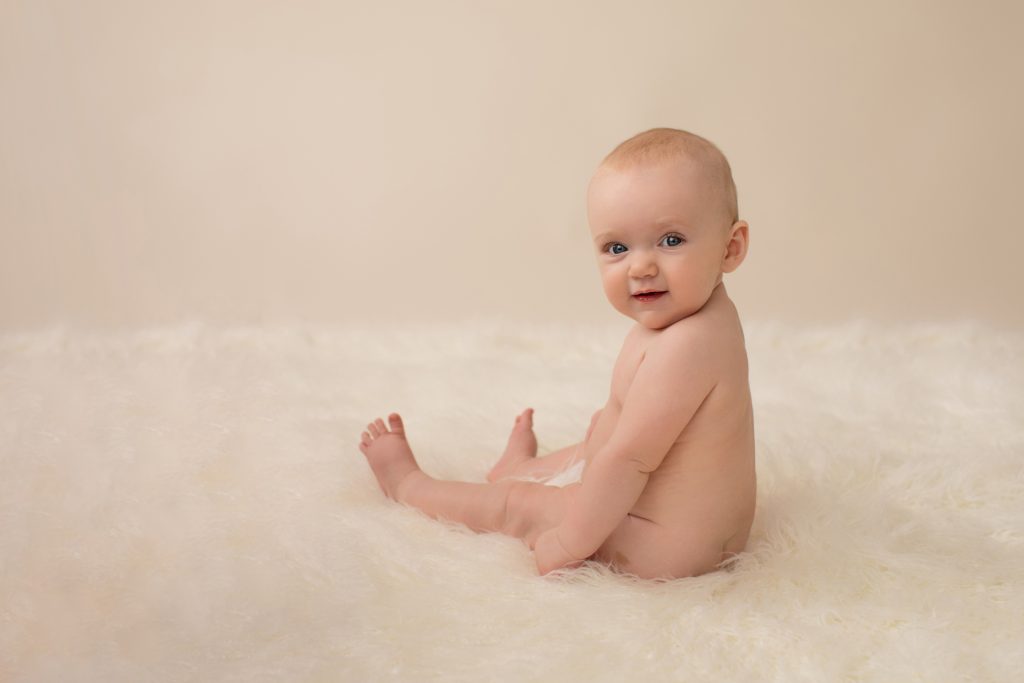 For her next photos we used a simple bath tub prop and added accents of lace and flowers to the side. Rachel gave us smiles with personality sitting in this brown old fashioned tub playing peek a boo!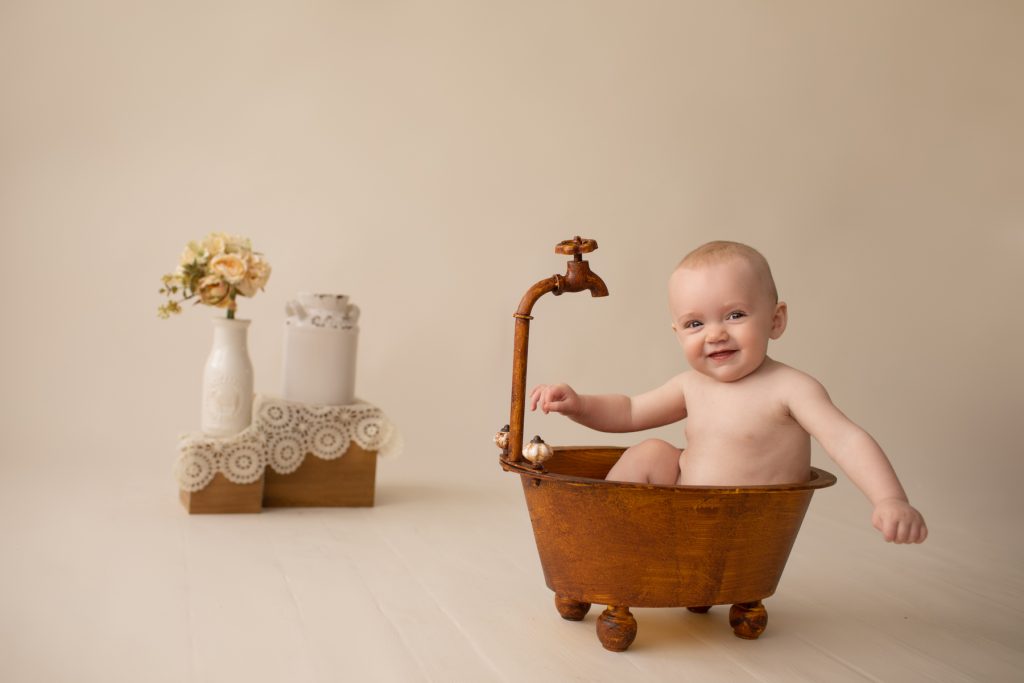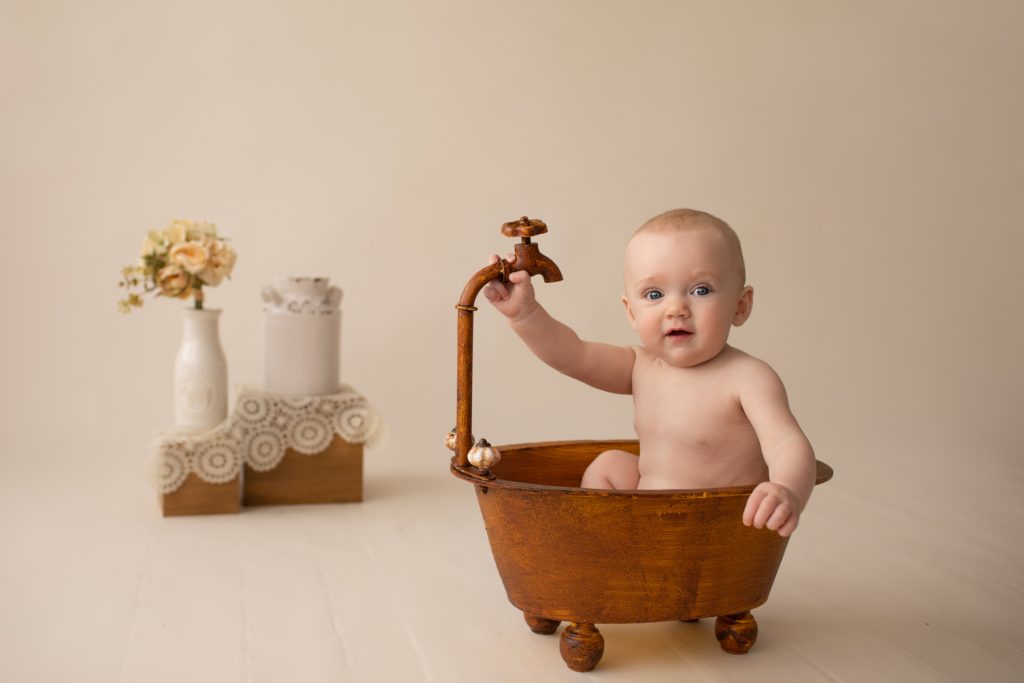 I truly enjoyed working with Rachel. Her personality was a delightful surprise!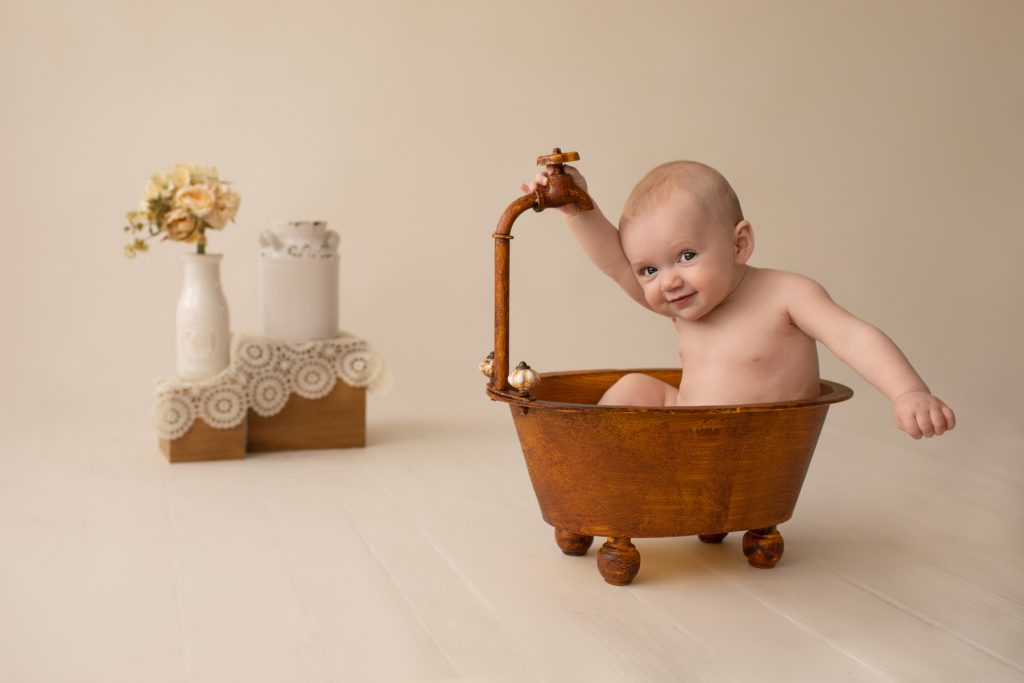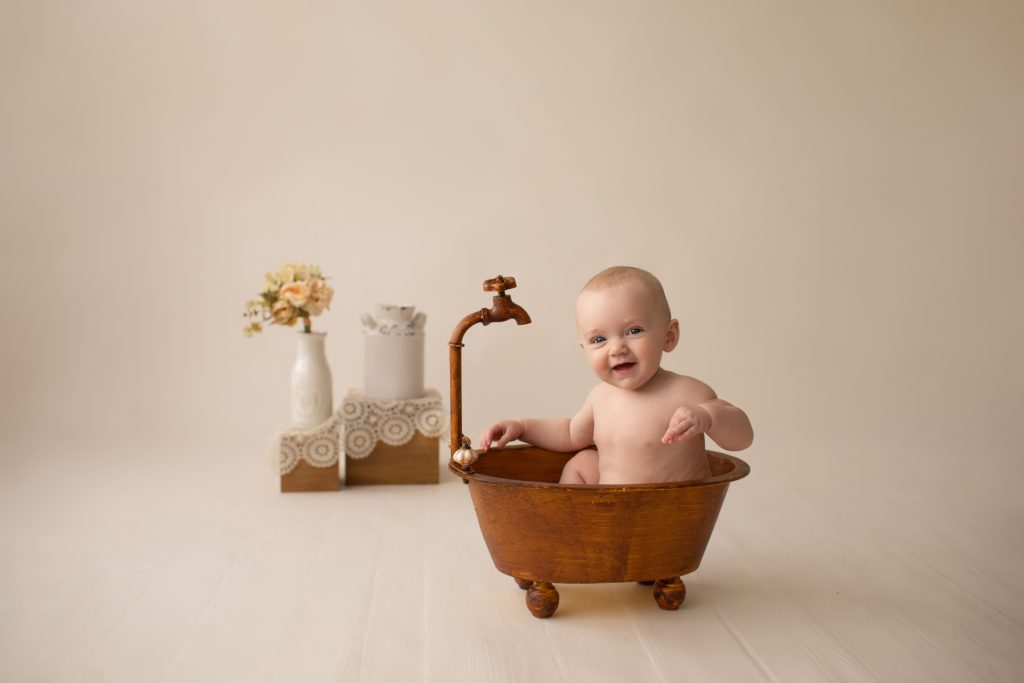 BABY STAGES AS FAMILY HEIRLOOM PHOTOS
Baby photos that capture baby stages and personalities grow more and more special over time. Children grow and change constantly. It is important to photograph them regularly and at different times during their development . Years go by very quickly for most moms and dads. Remembering baby stages with newborn photos and baby photos is invaluable. My goal is to create artistic and beautiful baby photos that capture your story. This includes your babies and children as they are right now, their growth and milestones, their grins and dimples, their personalities and charm. Your baby photos tell your story over time and become more treasured with every year as family heirloom photos. And as you can see in this case, every generation!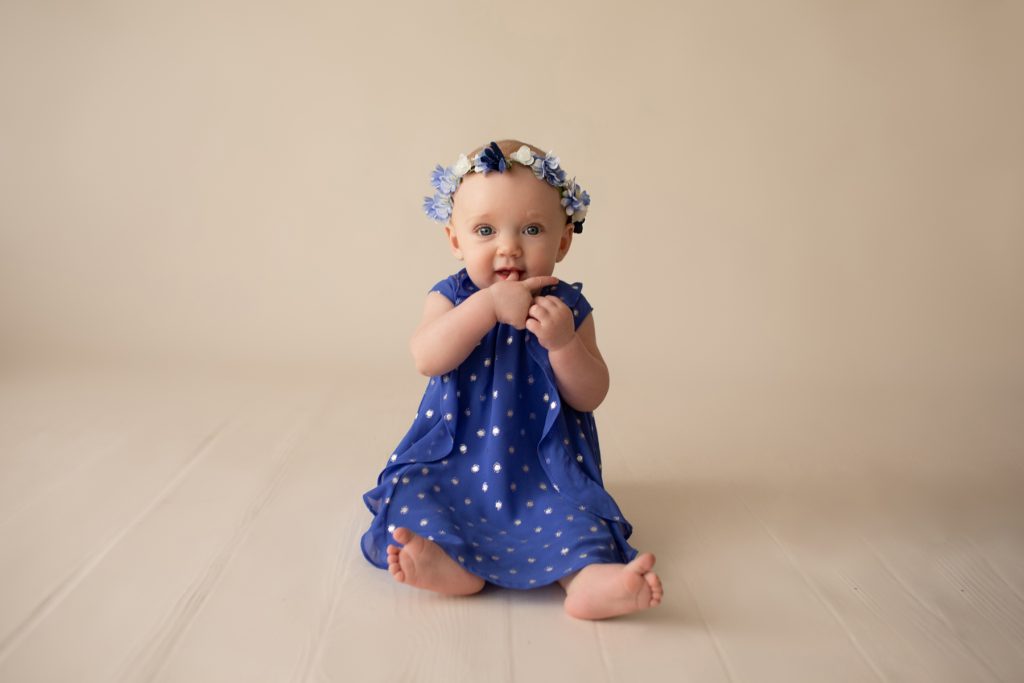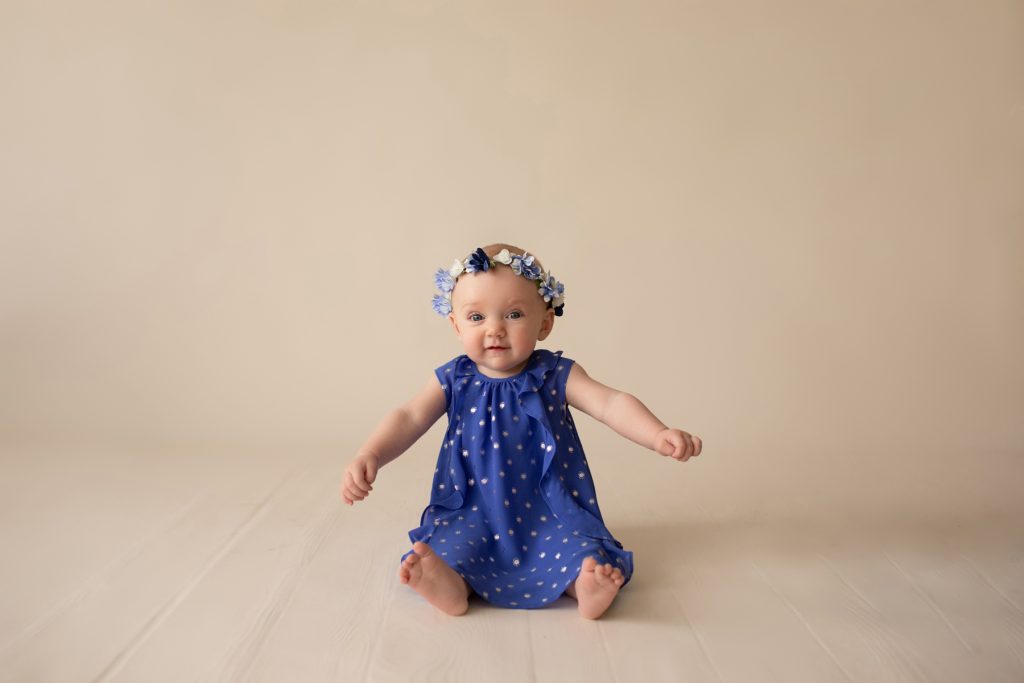 BABY MILESTONE SESSIONS
A baby milestone session is styled according to my client preferences. You receive baby photos coordinated with your needs, just like we did for these six month baby photos. Andrea Sollenberger Photography has a complete backdrop and prop collection available for newborn and baby milestone photography. To get in touch for more information about newborn or baby milestone sessions, please fill out the contact form or email me andrea@andreasollenberger.com
Old fashioned tub – https://www.intuitionbackgrounds.com/
Andrea Sollenberger Photography, Newborn Photographer Gainesville FL area, Newborn, Maternity, Baby, Children and Family Photographer