Welcome to Christian's newborn photoshoot with Andrea Sollenberger Photography, Gainesville FL Newborn Photographer. Designed specifically with a maternity photoshoot and newborn photoshoot in mind, moms and dads and babies are made right at home. Christian's mom and dad, Crystal and Garrett, know that having a baby is one of the most monumental experiences in life and that it's worth capturing this new joy in life with professional newborn photography! These are photos that Crystal and Garrett will cherish for a lifetime.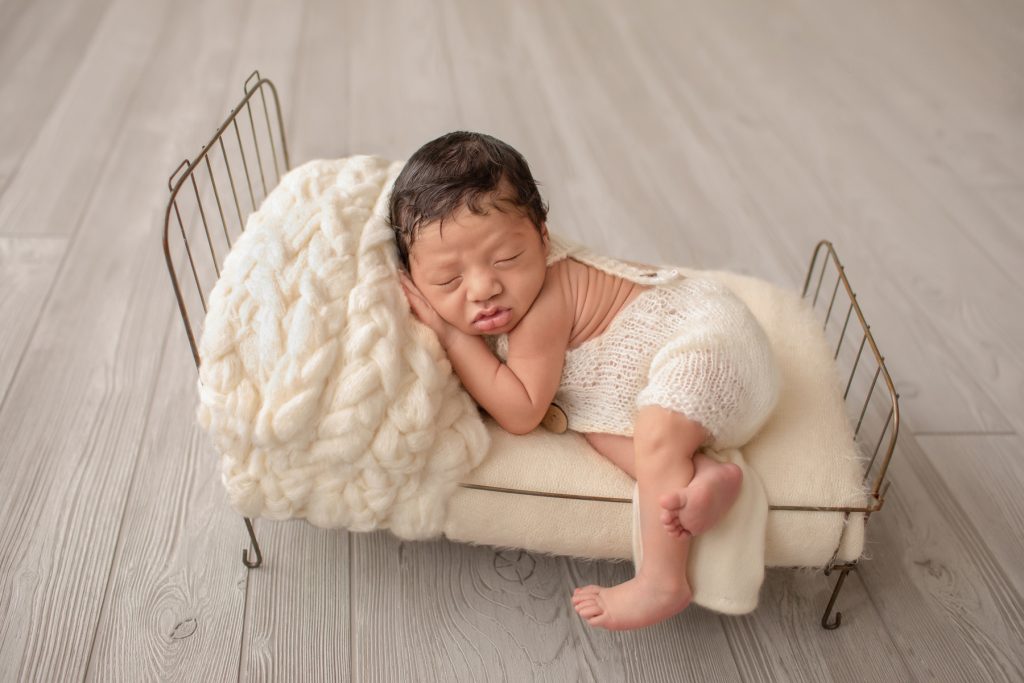 CHRISTIAN'S NEWBORN PHOTOSHOOT 
Several months ago Crystal contacted Andrea Sollenberger Photography for a newborn photoshoot. She was aware of the importance of calling early in the third trimester in order to get on the calendar and avoid frustration or scheduling disappointment. Her studio visit was an opportunity to meet me, see the studio setting and the newborn prop collection available for her baby's session. Above all, it was a time for her to learn about me and make sure I am the newborn photographer she can place her trust for the careful handling of her newborn. Newborn safety is of paramount importance. Extensive education and training in newborn posing and safety is the highest priority at Andrea Sollenberger Photography. With her questions answered and her mind at ease, Crystal scheduled her newborn photo session.
PARENTS IN NEWBORN PHOTOSHOOT
Crystal and I, and Dad Garrett too, spent time before the newborn photoshoot discussing their home decorating style and color preferences. It is important to make this session about who they are and what they like as much as possible. We used all of their ideas to design a session that included styles and preferences specific to Crystal and Garrett's home. They chose soft hues of cream, grey and aqua, with textures of wood, metal, and fur.
Mom posed here with Christian bundled in a cream knit blanket within her loving arms. I love the elegant ivory lace she wore and the emotion of their newborn cuddle time together.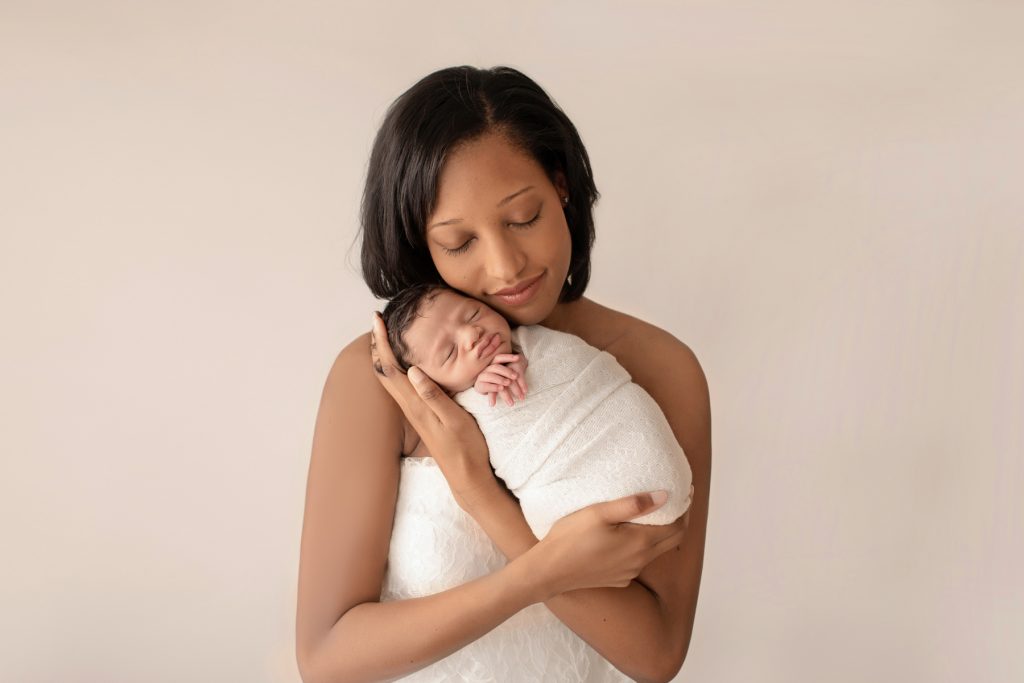 Garrett owns his pride and holds his newborn prize, having his first man to man talk with his son! Gazing into the eyes of his little one, a new father's emotions are palpable.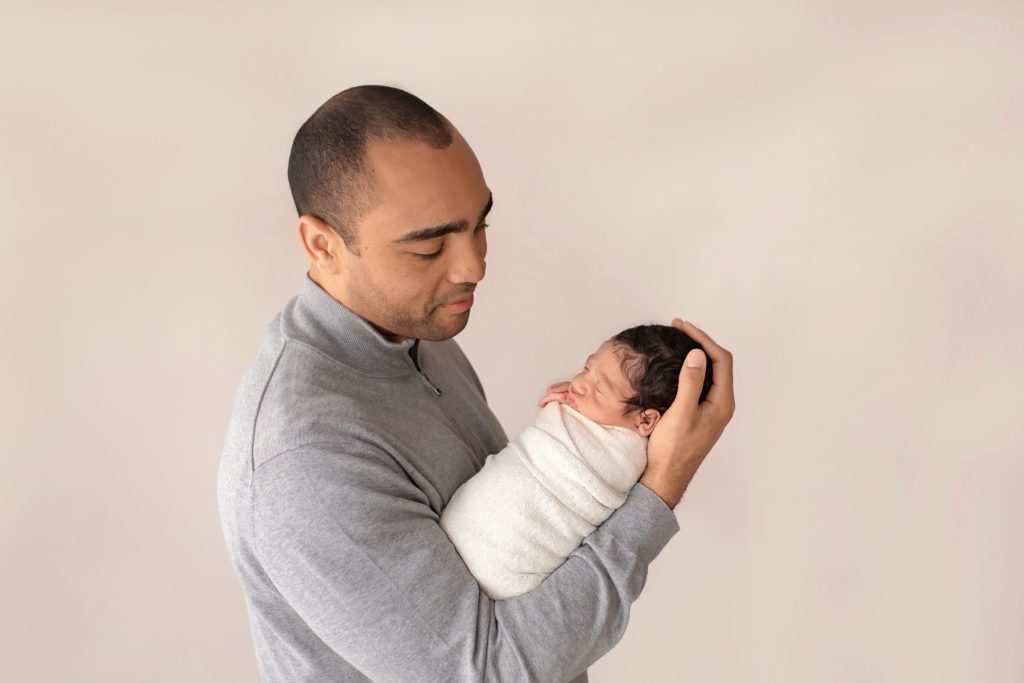 For their first family portrait, Christian bundled up in a cream knit blanket while his gorgeous mom and handsome dad gaze lovingly at his newness.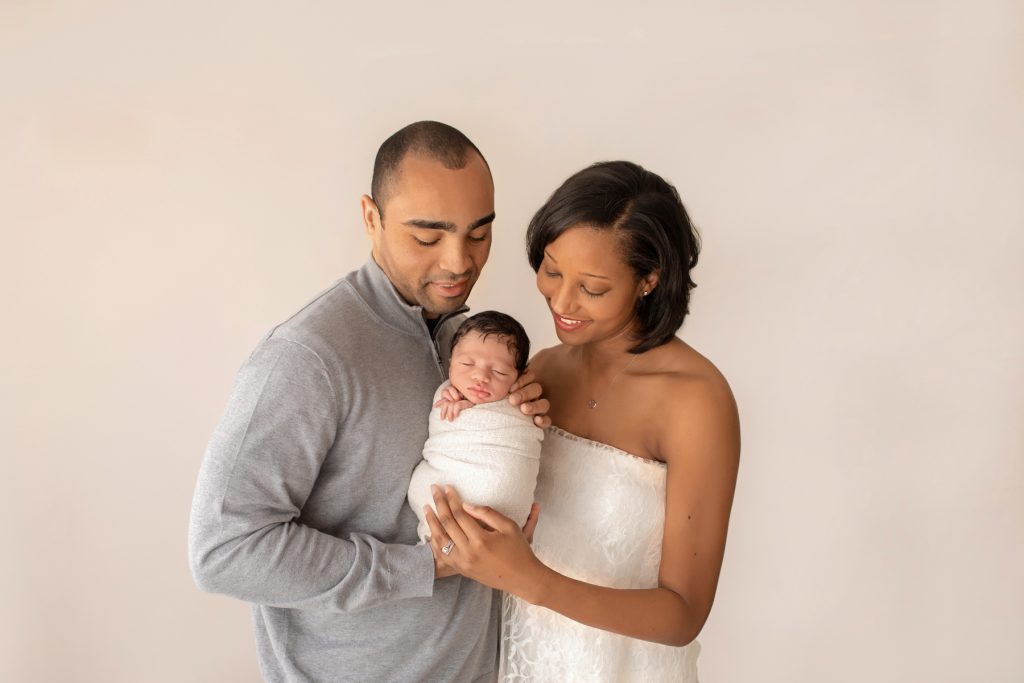 And a photo of the two of them smiling at the camera with hearts full of joy! Grandma will love this family portrait!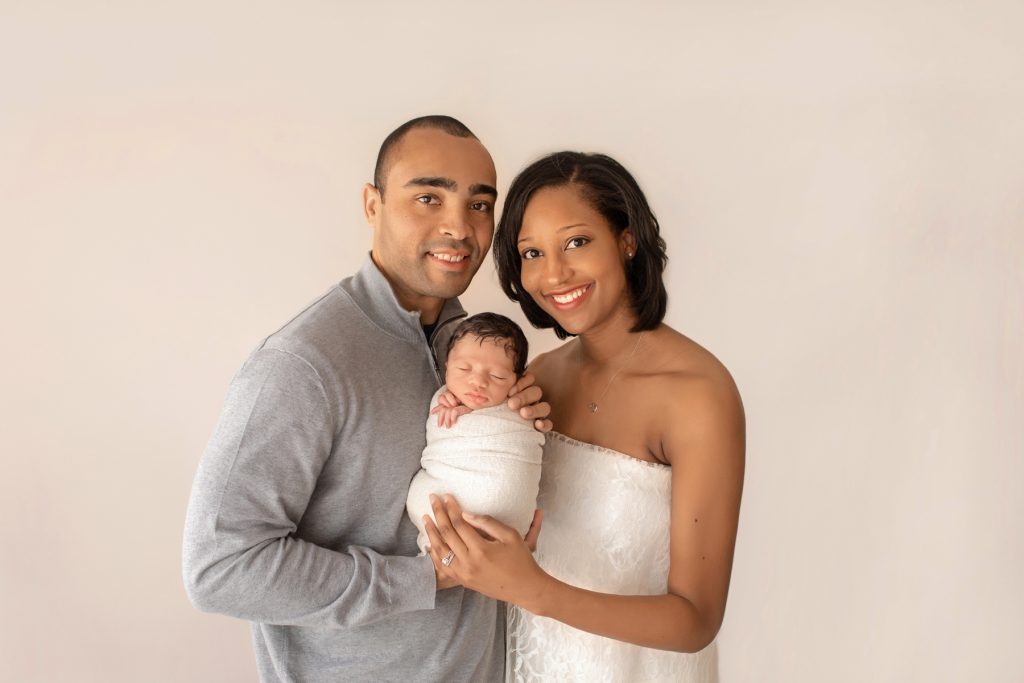 Whenever we can, I always love a beauty photo of mom and newborn snuggling on soft fur. Christian bundled up here in the same cream knit with a matching bear bonnet and posed with beautiful mom on a bed of cream fur. My oh my, how this little boy will soon change, but this priceless moment is captured forever.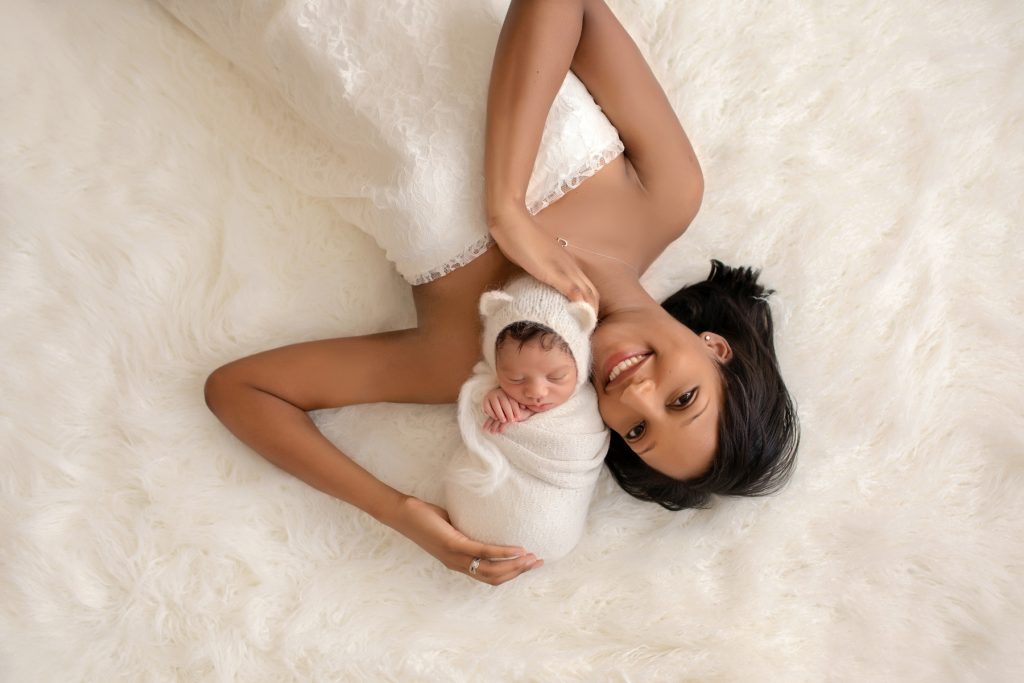 GAINESVILLE NEWBORN PHOTOSHOOT BABY  PROPS
In our first prop photo, Christian wore a cream knit romper with buttons from the studio newborn wardrobe and posed with his hand under his cheek. He was a natural at posing and lounging. His leg hanging off the metal bed says it all.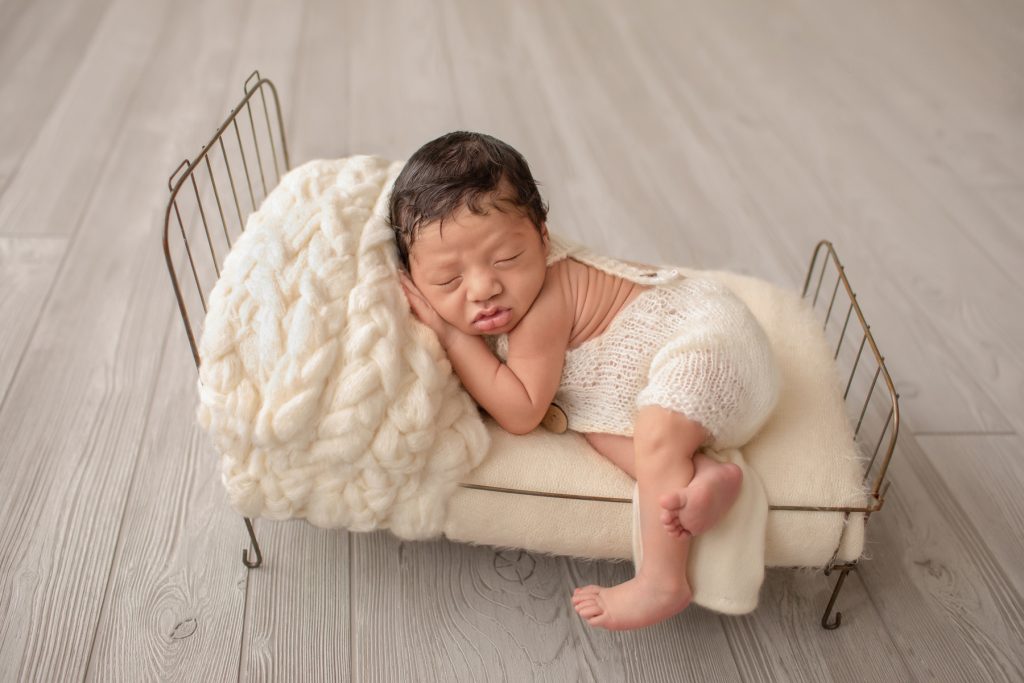 And those cuddly baby rolls!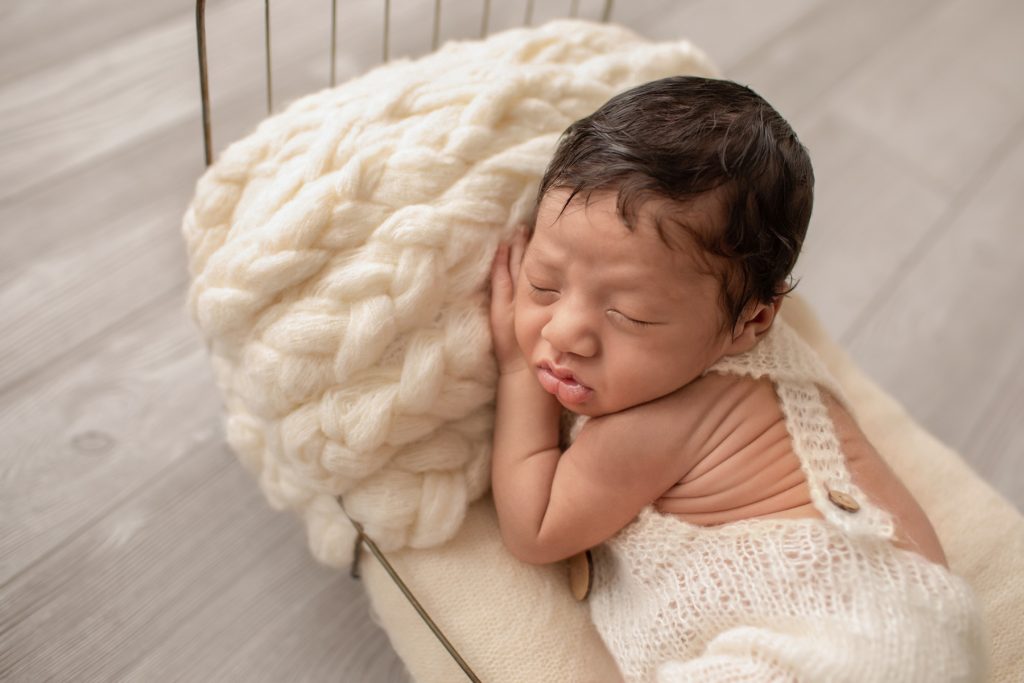 Next Christian posed naked in a metal bucket against a grey floor.  A baby in a bucket is such a fun pose and prop!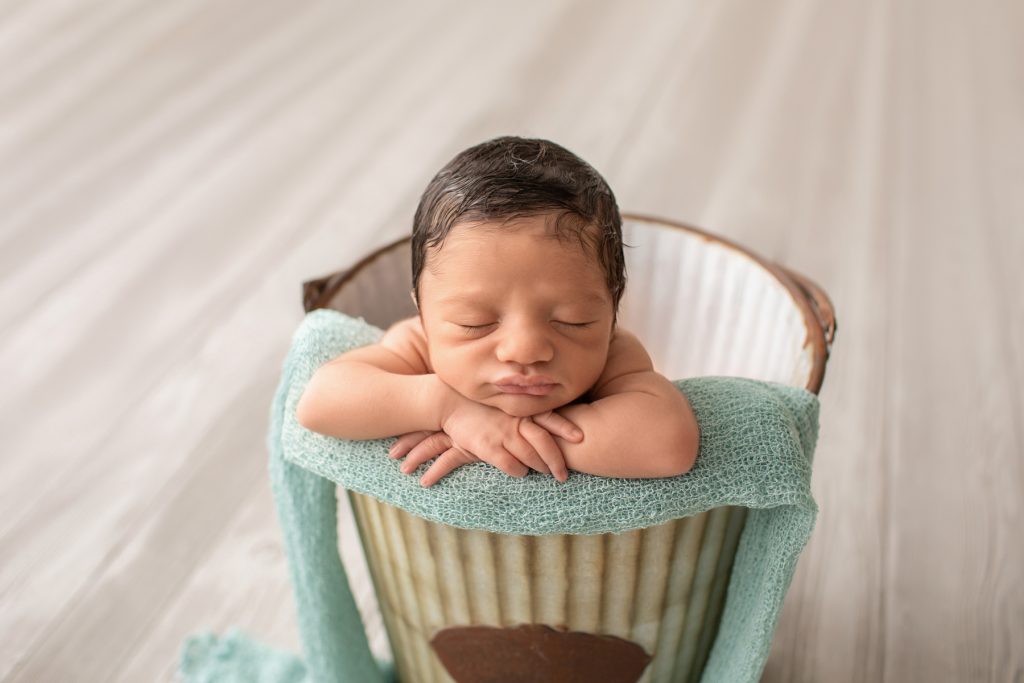 With Christian wrapped in an aqua knit blanket like a potato sack, I shot a photo of him with his tiny newborn hands folded below his chin. He wears a matching aqua knit bonnet.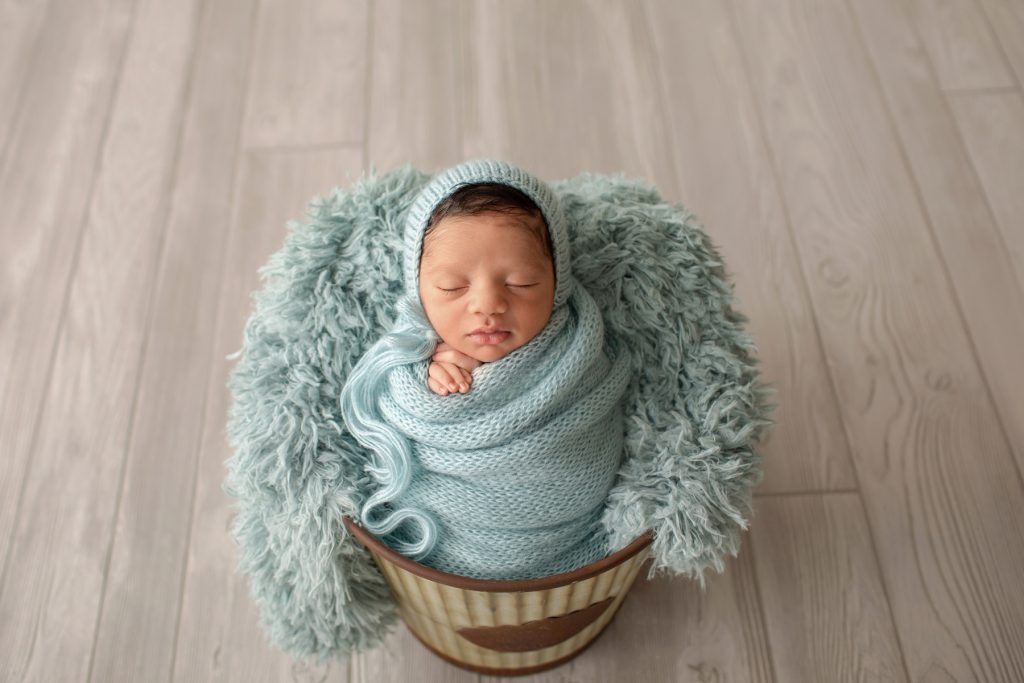 And then he gave us the biggest grin! He smiles big from ear to ear and really favors mom in this photos. I do believe this is mom's favorite photo from the whole newborn photoshoot!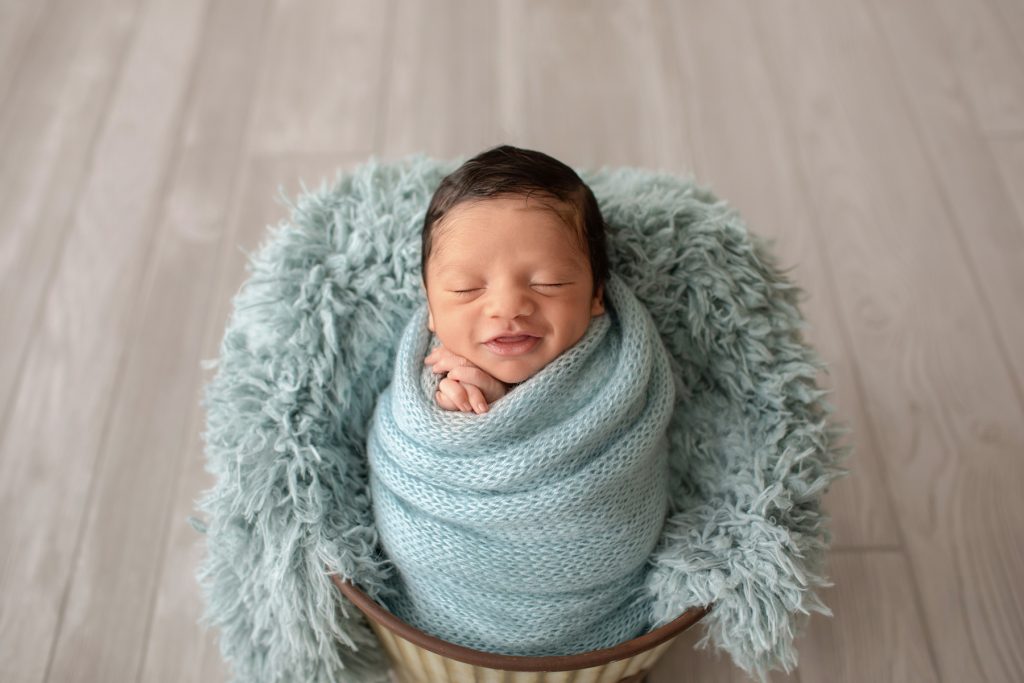 If you're looking for some more props or poses, then check out these newborn ideas
NEWBORN SOFT BABY SKIN!
Photos that show soft baby skin help us remember the way babies were from their earliest days. Because Christian was sleeping so well, we were able to photograph him on the bed a second time, this time naked. Garbed only in his birthday suit, his perfect soft baby skin steals the show! He gave us a big grin too! What a good little model he was!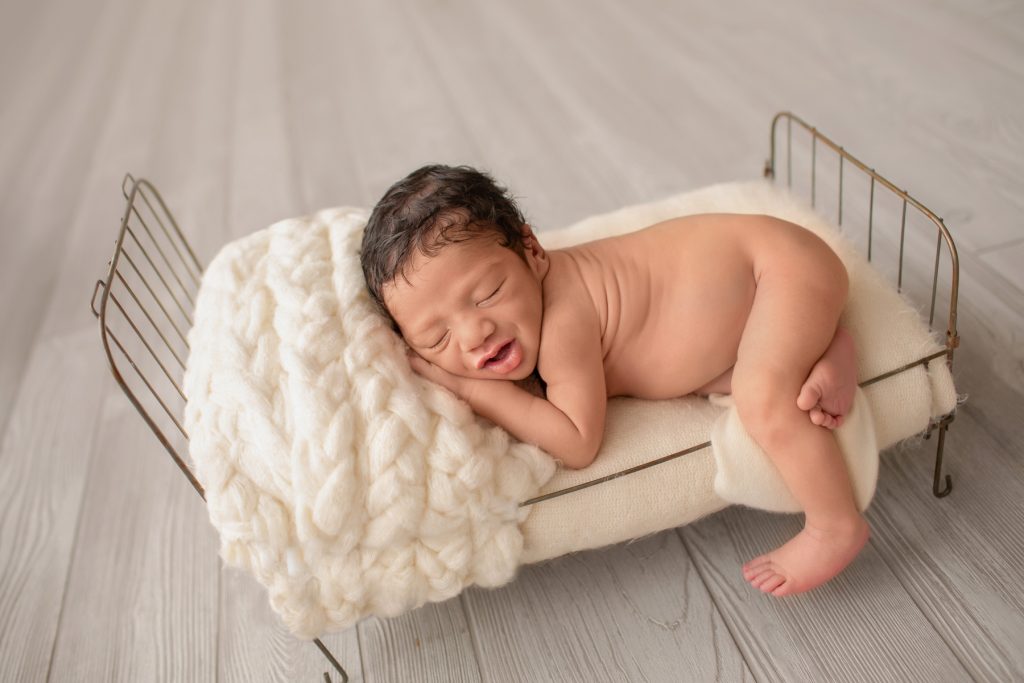 His soft baby skin is also center stage as he posed naked in a fur stuffed brown basket on grey wood floor. All of those newborn baby details to enjoy!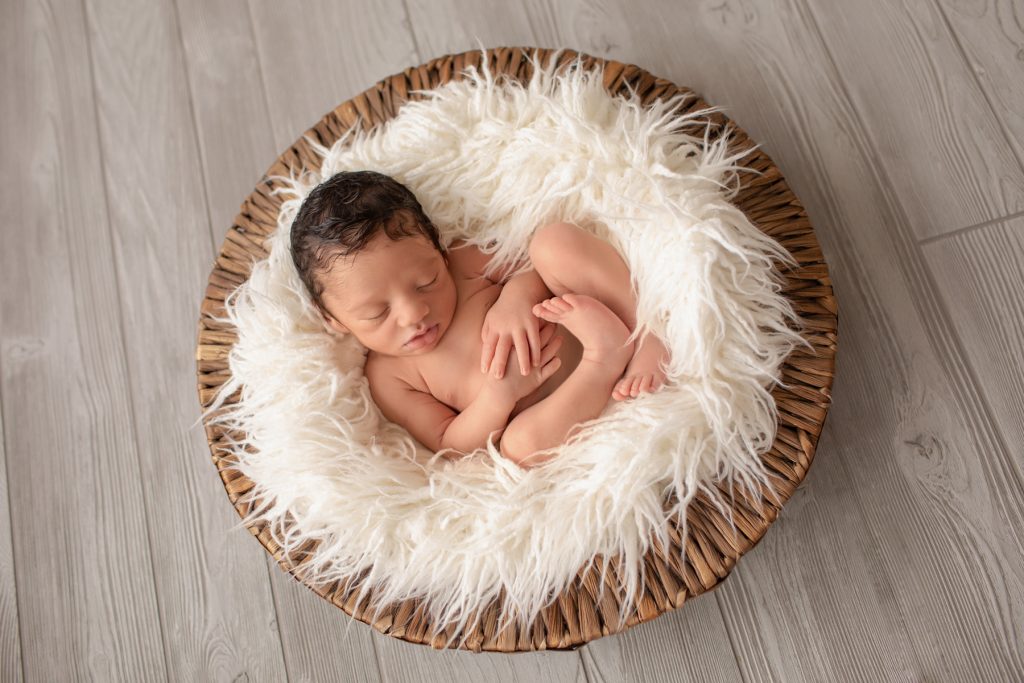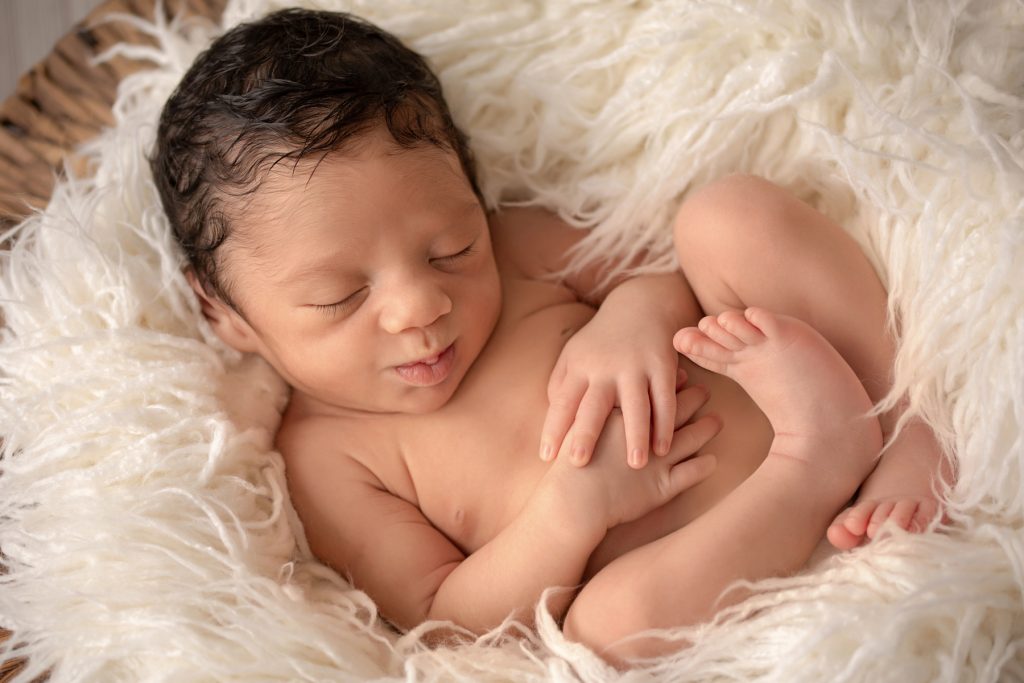 BLANKET POSES
For a different look, we moved to a soft blanket. Christian is on his belly on a white blanket with his head resting on his hands, bottoms up! He has lots of dark brown hair which you can really appreciate against the white blanket.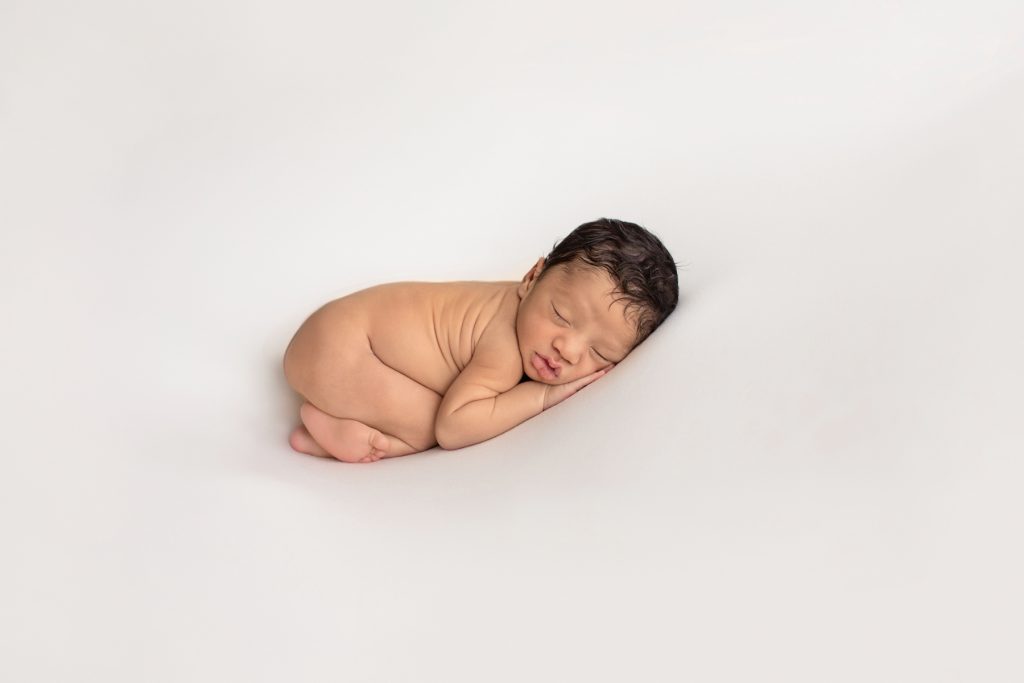 He is adorable too posed naked with his tiny hands cupping his little newborn cheeks, and his head resting in his hands!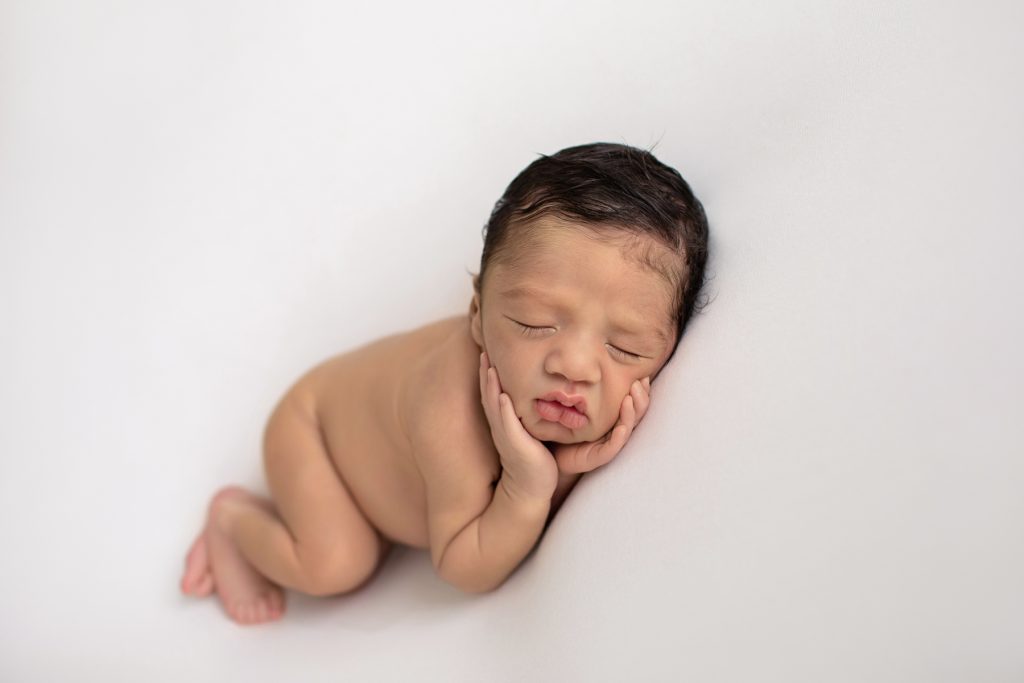 Finally, our last pose was another favorite for mom and dad.  They ordered a large canvas of naked Christian on his belly with his chin propped on his hands and his head upright. This Gainesville newborn baby was a treat to photograph! And Crystal and Garrett now have a home decorated with canvas gallery wraps of favorite photos from their newborn photoshoot.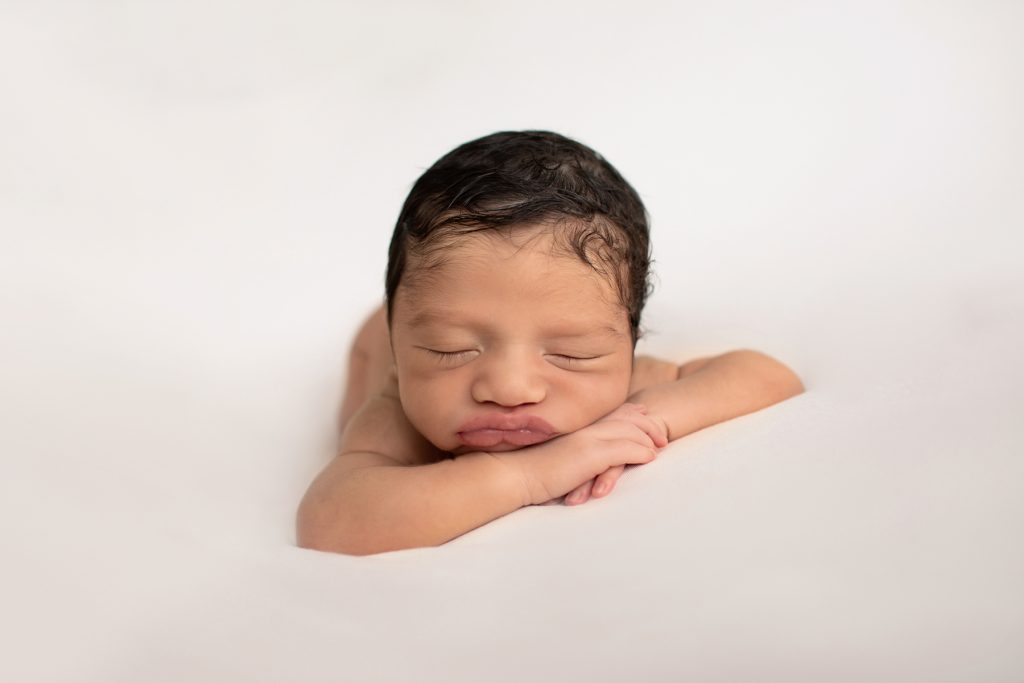 Be sure to remember how very tiny your baby was. Will you remember their teeny tiny toes, the soft baby skin that you love to kiss, or their cuddly baby rolls? Capture your first special moments. By doing so, newborn photography records not only the tiny little details and newness. It also captures the beginning of new relationships budding between precious family members. For more newborn photoshoots check out the Newborn Portfolio.
I adore this photo of Christian, all tucked in! And it is a good blog post to end with end for this Gainesville Florida newborn photographer!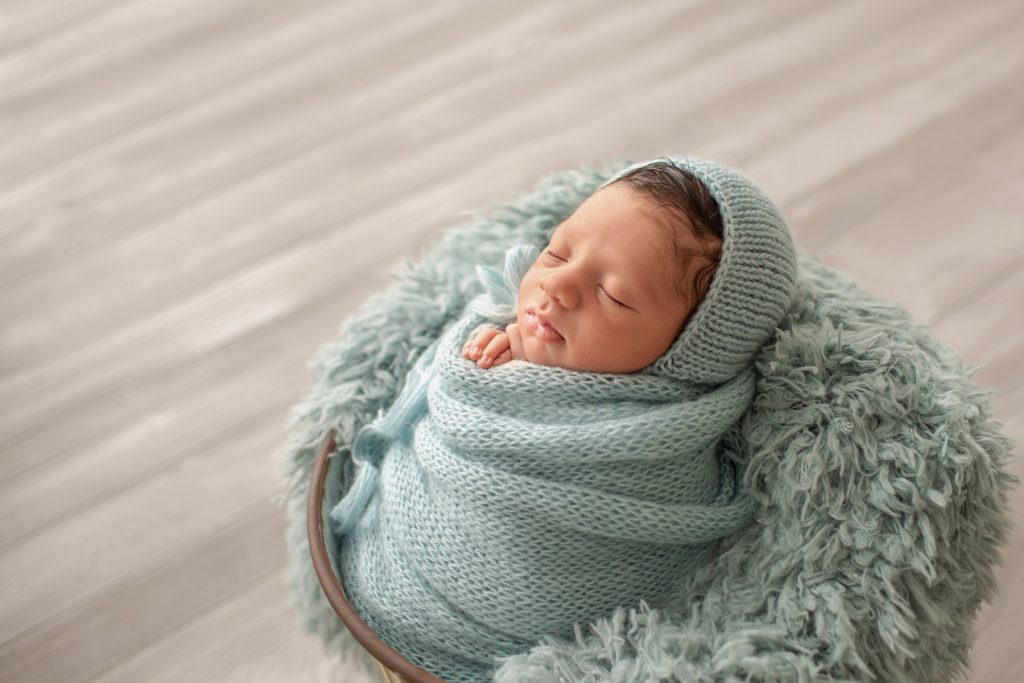 GAINESVILLE NEWBORN PHOTOSHOOT STUDIO DETAILS
The best time for newborn photography is within the first two weeks of life when newborns are super sleepy and snuggly. I would love to capture with photographs each stage of your little one's growth from their youngest newborn days. Your family will treasure these memories for years to come. Looking for a Gainesville newborn photographer? Click here to get started.
Andrea's studio serves Gainesville, Alachua, Jonesville, Newberry, Town of Tioga, Haile Plantation, Archer, Trenton, Williston, Melrose, Palatka, Ocala, Micanopy, High Springs, Lake City and Live Oak.
Knit wraps and bonnet – https://www.etsy.com/market/dreaming_carita/
Baby backdrops – https://www.intuitionbackgrounds.com/
Newborn wraps – https://www.devotedknits.com/
Basket stuffers and backdrops –  https://www.customphotoprops.com/
Andrea Sollenberger Photography, Gainesville Florida Newborn Photographer, Newborn, Maternity, Family, Child and Baby Photographer Gainesville Florida