Capturing Gainesville newborn moments with Andrea Sollenberger Photography, Gainesville FL Newborn Photographer, Katie and Ben welcome newborn baby Chloe. Their little angel is the light of their life. With the arrival of a new baby, a new love is cultivated and an overwhelming joy is ushered into the hearts of new parents. I hope you enjoy this baby blog post about Katie and Ben's newborn baby Chloe.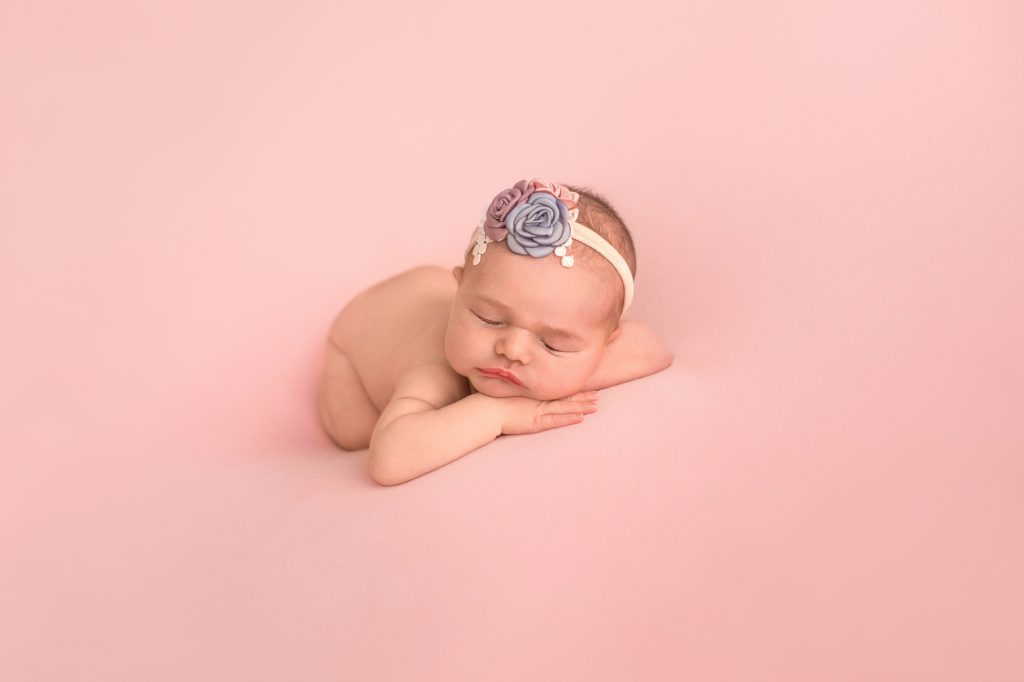 I have known Katie for a couple of years, and she began talking about photos with Andrea Sollenberger Photography early in her pregnancy. Thinking ahead, she took advantage of the Maternity Newborn Session Bundle which discounts these two photo sessions when they are booked together. We had plenty of time after her maternity photo session to plan for her newborn photo session. The best time to capture studio newborn photos is before baby turns 2 weeks old! Chloe's Gainesville newborn moments were captured on day 10!
GAINESVILLE NEWBORN MOMENTS WITH PARENTS
We started our newborn session with mom dressed in lace, smiling, hugging and cherishing some cuddle time with her tiny newborn baby girl, Chloe. Chloe is happily swaddled in a cream wrap and adorned with a floral headband.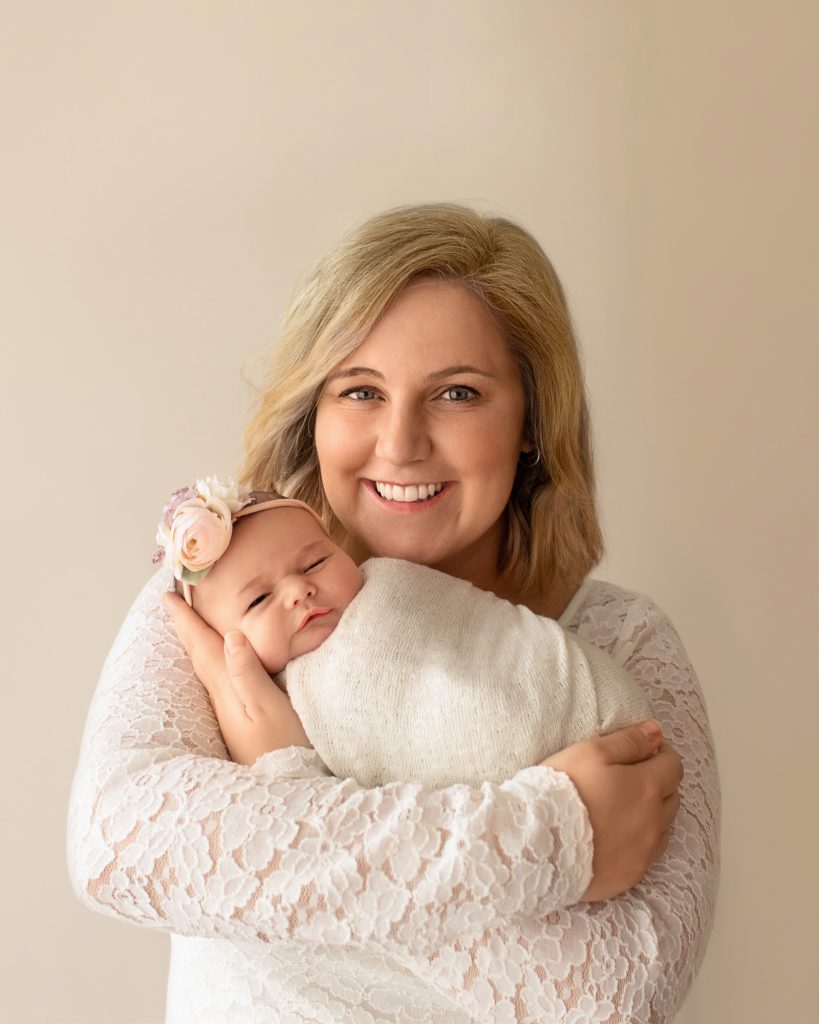 For a different look and a focus on this new relationship between mom and daughter, Katie closes her eyes and simply loves on her baby, cherishing one newborn cuddle at a time!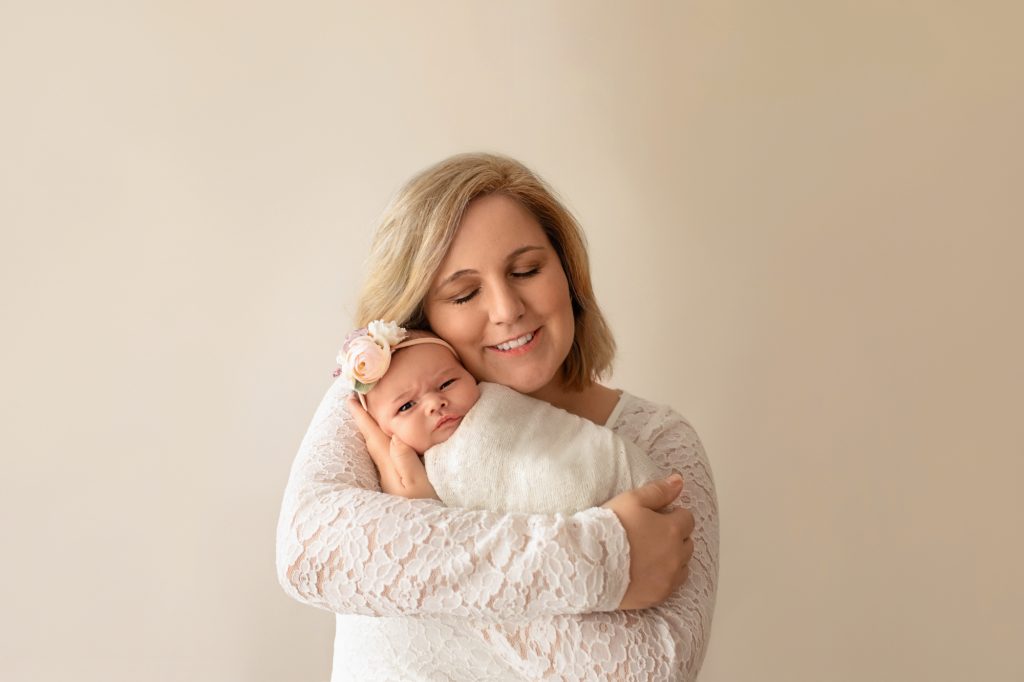 Proud dad, Ben, is looking with wonder as he holds his tiny newborn baby. With her eyes wide open, it appears Chloe is listening to his familiar voice.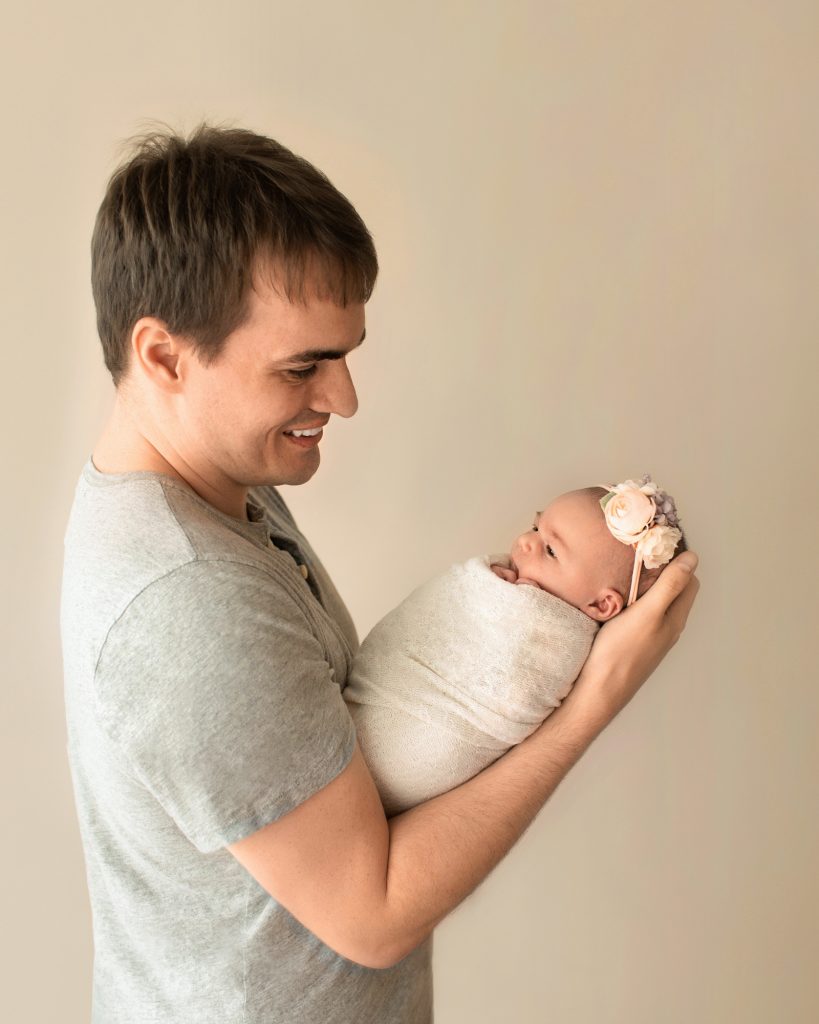 Photos that capture Gainesville newborn moments include Katie and Ben's first family portrait. Mom and Dad together hold their tiny newborn baby girl Chloe. Pride, gratitude and immeasurable love for Chloe flow through their smiles in this newborn portrait.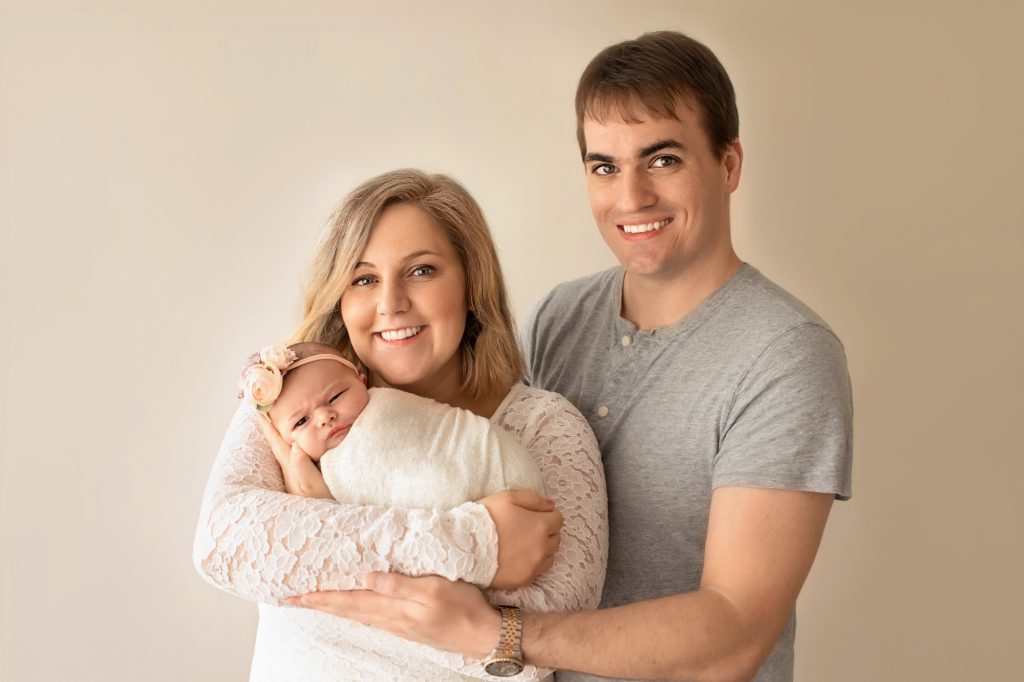 If mom is able, there is a pose I always love capturing in my Gainesville Florida newborn photography sessions. This is mom and baby reclining comfortably as though snuggling in bed. Here Mom is still dressed in lace and poses lying on white fur as she holds and loves her tiny newborn baby girl. One more newborn cuddle! Chloe will change so much and so soon!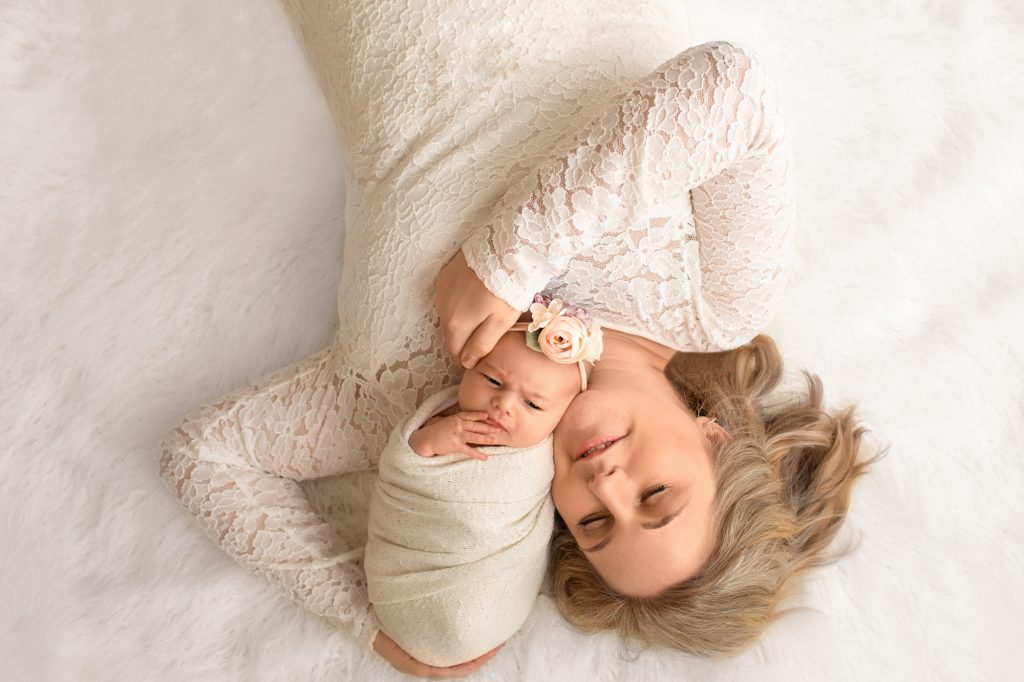 NEWBORN STUDIO PROPS
For some photos using props, I swaddled Chloe in a stretchy pink knit wrap and donned her with a matching pink bear bonnet. She poses as a potato sack in a pink, fur stuffed lace basket. The lace accents, wood floor and backlight each add to the magic!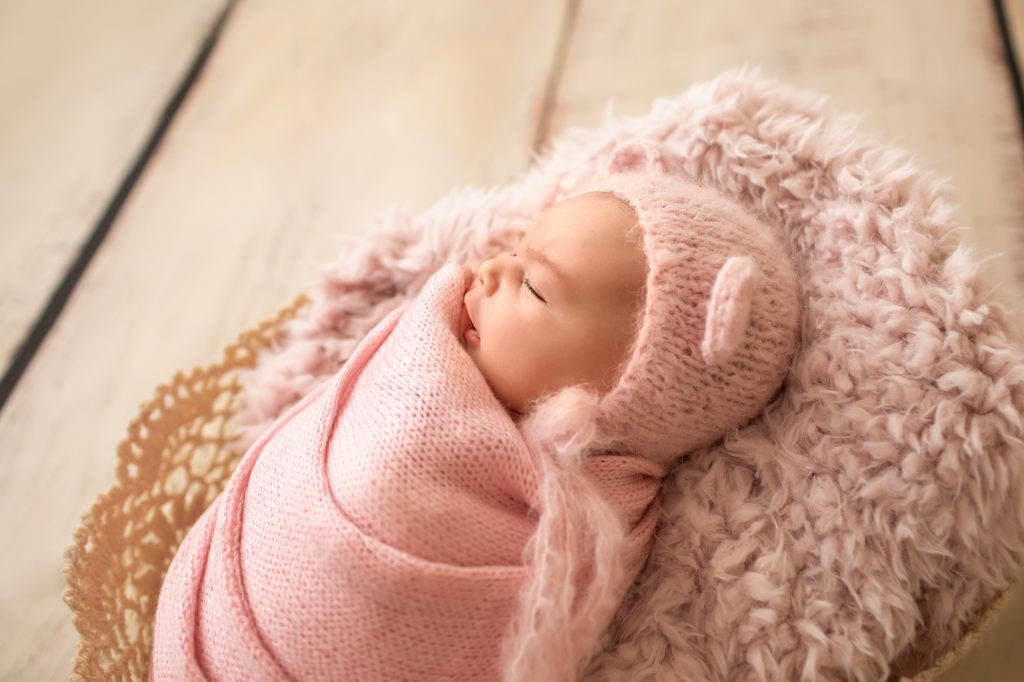 With Katie's color choices for home décor in mind, I styled a newborn floral set up for Chloe. Baby Chloe poses in a basket wearing a delicate newborn floral headband and rests against white fur. She is surrounded by dusty blue, pink, peach and ivory flowers against the creamy wood floor.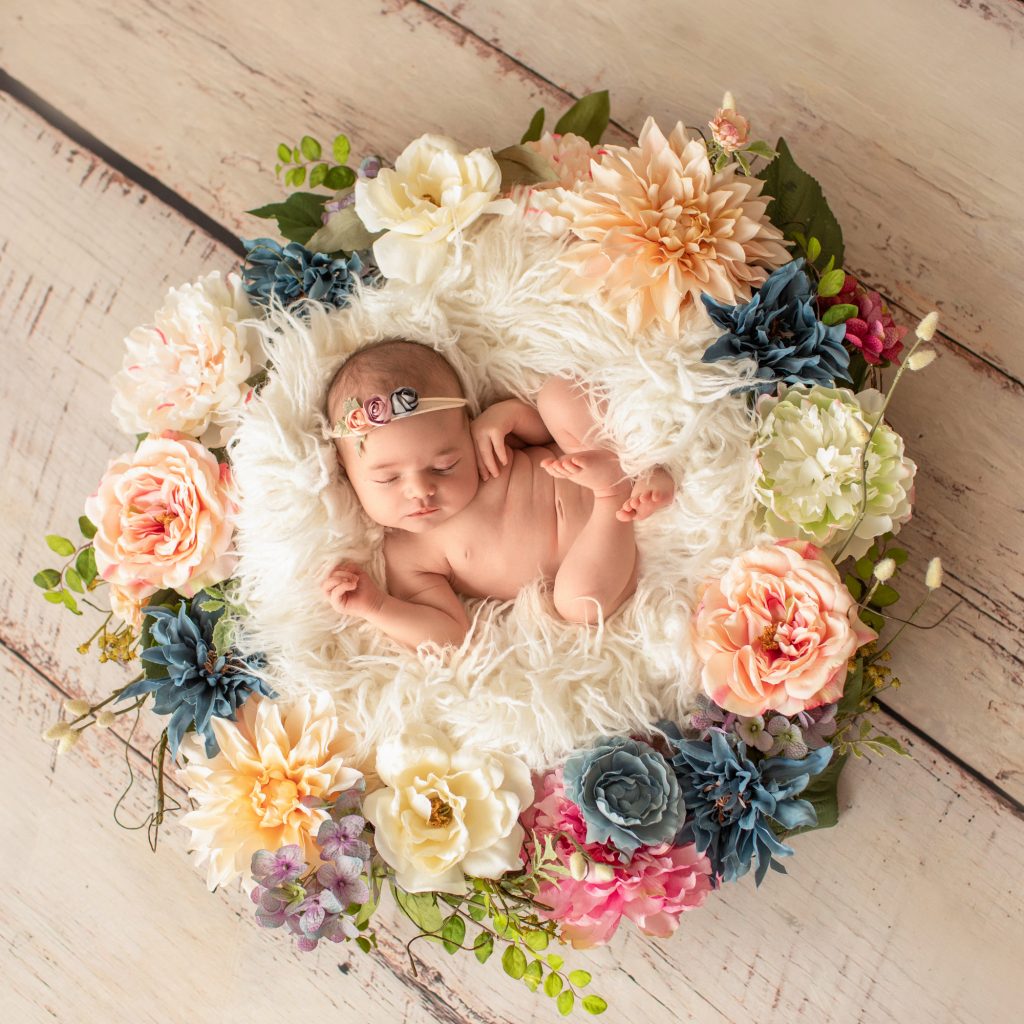 I love the close up showing more newborn baby details as Chloe is still posed in the basket. Chloe's eyelashes, her lips, her dainty chin, her tiny newborn baby hands, and her soft baby skin all speak the message of brand new life.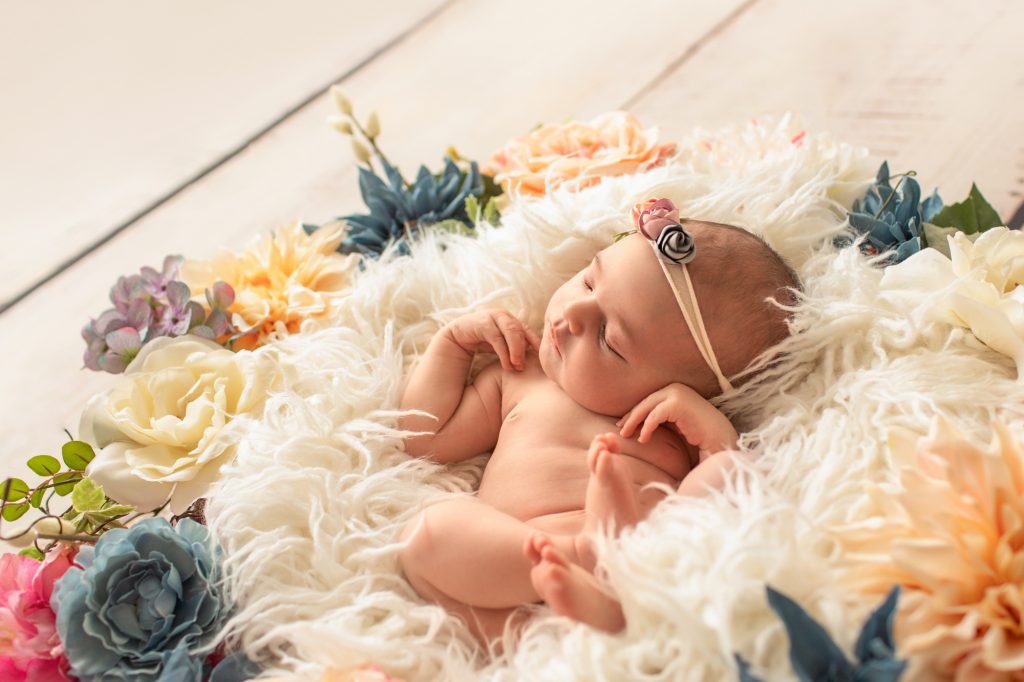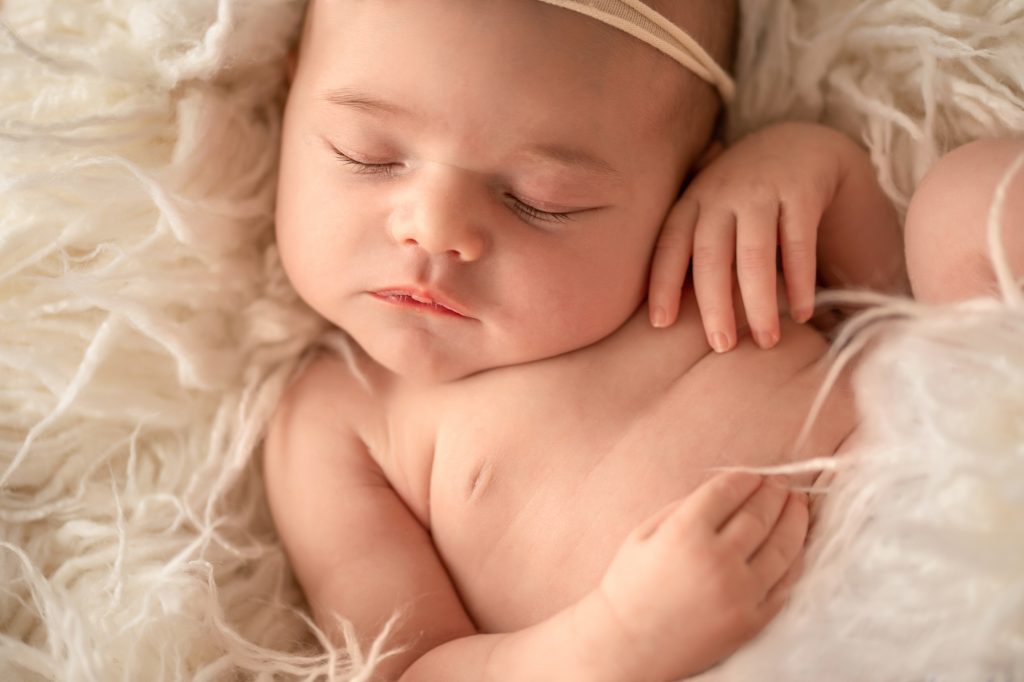 Andrea Sollenberger Photography has an extensive newborn prop collection and a beautiful newborn wardrobe available for newborn sessions. If you're looking for some more props or poses, check out more newborn pictures.
GAINESVILLE NEWBORN MOMENTS-JUST BABY!
Gainesville Newborn moments with Chloe also included the always favored blanket poses. Chloe posed on a dusty pink blanket with a pink handmade knit headband. Her newborn baby hands cup her cheeks and she is lying on her side.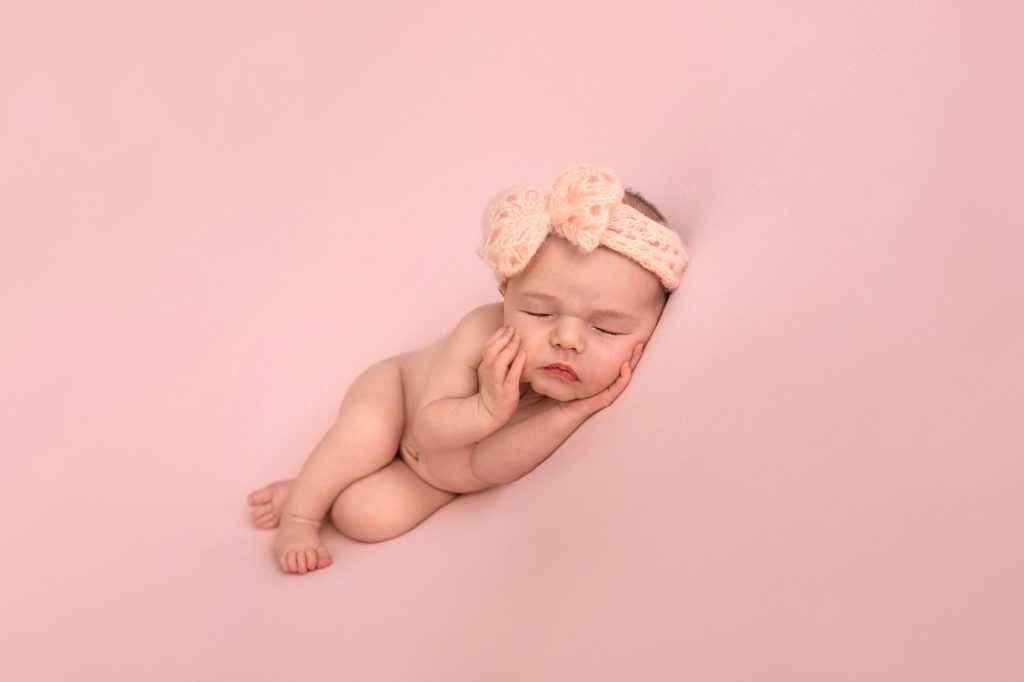 Next she wears a dusty blue, pink and lavender nerwborn floral headband. She poses on her belly with bottom up, resting her head on the back of her hands.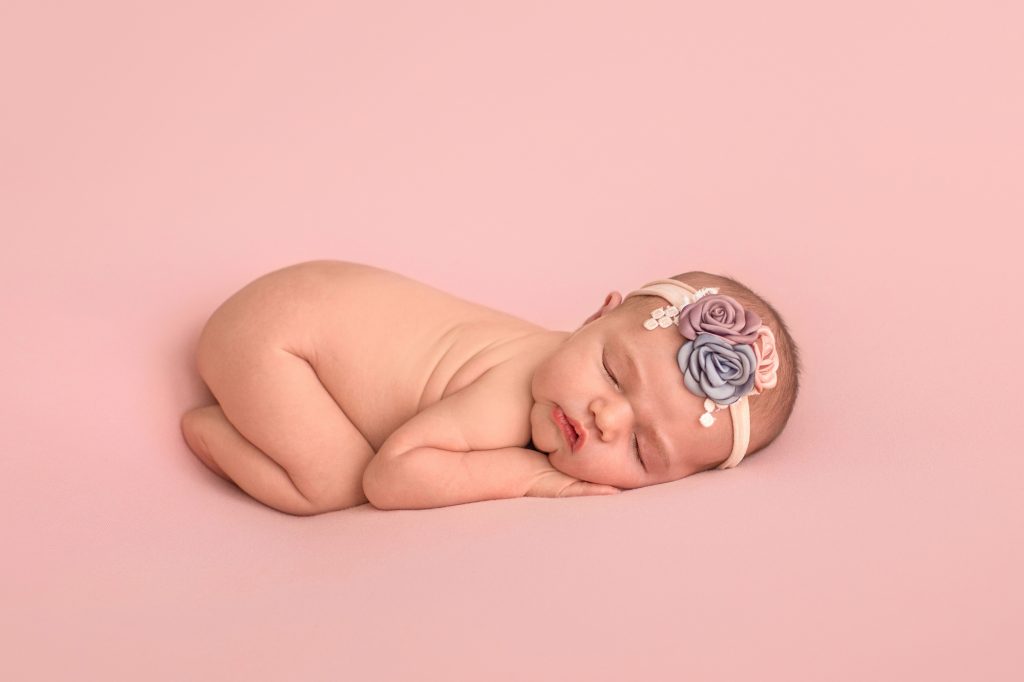 With a few adjustments, while she was sleeping like a princess, Chloe posed resting her chin as well as her cheeks on her hands. There are so many beautiful ways to see, appreciate, and photograph newborn babies!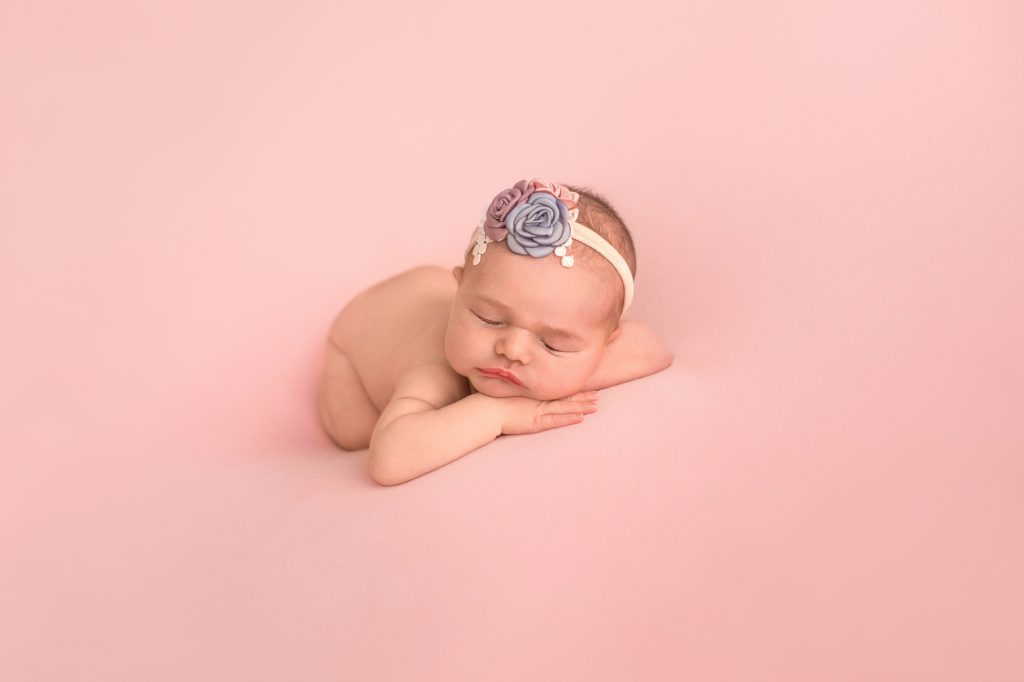 It is just baby in these photos. Pure and simple! Newborn baby details remind us of a newborn's first days, perhaps even of the moment baby was first handed to mom and dad at birth. I always marvel at the beautiful soft baby skin of newborns.  These Gainesville newborn moments were a treat to photograph!
Be sure to remember how very tiny your baby was. Will you remember their teeny tiny toes, the soft baby skin that you love to kiss, or their cuddly rolls? Capture your first Gainesville newborn moments. By doing so, newborn photography records not only the tiny little details, but also the beginning of budding new relationships between family members. For more newborn photos check out the Newborn Portfolio.
GAINESVILLE NEWBORN PHOTO SESSION STUDIO DETAILS
Andrea Sollenberger Photography studio is designed specifically with maternity photo sessions and newborn photo sessions in mind. I love to make moms, dads and babies feel welcome, comfortable and right at home. My goal is to give my clients beautiful photographs of their favorite, most meaningful moments. These are photos that they will cherish for a lifetime.
The best time for newborn photography is within the first two weeks of life when newborns are super sleepy and snuggly. I would love to capture with photographs each stage of your little one's growth from their youngest newborn days. Your family will treasure these memories for years to come. Looking for a Gainesville newborn photographer? Click here to get started.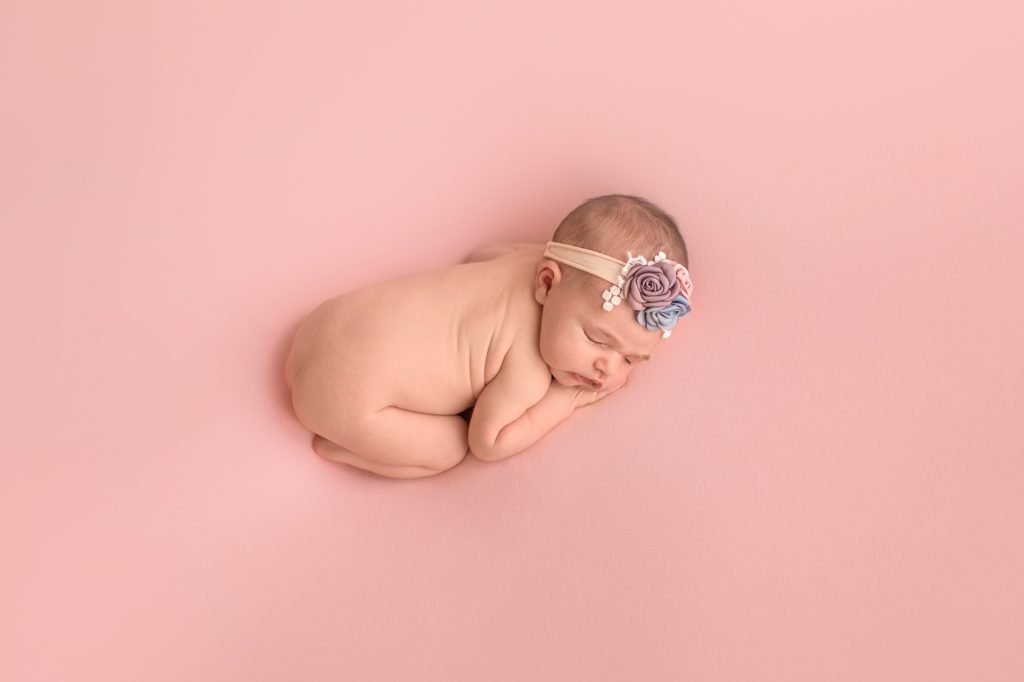 Andrea's studio serves Gainesville, Alachua, Jonesville, Newberry, Town of Tioga, Haile Plantation, Archer, Trenton, Williston, Melrose, Palatka, Ocala, Micanopy, High Springs, Lake City and Live Oak.
Knit wraps and bonnet – https://www.etsy.com/market/dreaming_carita/
Baby backdrops – https://www.intuitionbackgrounds.com/
Newborn wraps – https://www.devotedknits.com/
Basket stuffers –  https://www.customphotoprops.com/
Andrea Sollenberger Photography, Gainesville Florida Newborn Photographer, Newborn, Maternity, Baby, Child and Family Photographer Gainesville Florida