I'm glad you're here for Jeffery's Gainesville Newborn Pictures with Andrea Sollenberger Photography, Gainesville FL Newborn Photographer. My studio is designed specifically with a maternity photo session and newborn photo session in mind, to pamper moms, dads and babies.  Preserving memories with photos, especially newborn pictures, is my passion and joy. My goal is to give my clients beautiful photographs of their favorite, most meaningful moments. These are photos that they will cherish for a lifetime. Having a baby is one of the most monumental experiences in life, and it is worth capturing this new joy with professional newborn photography!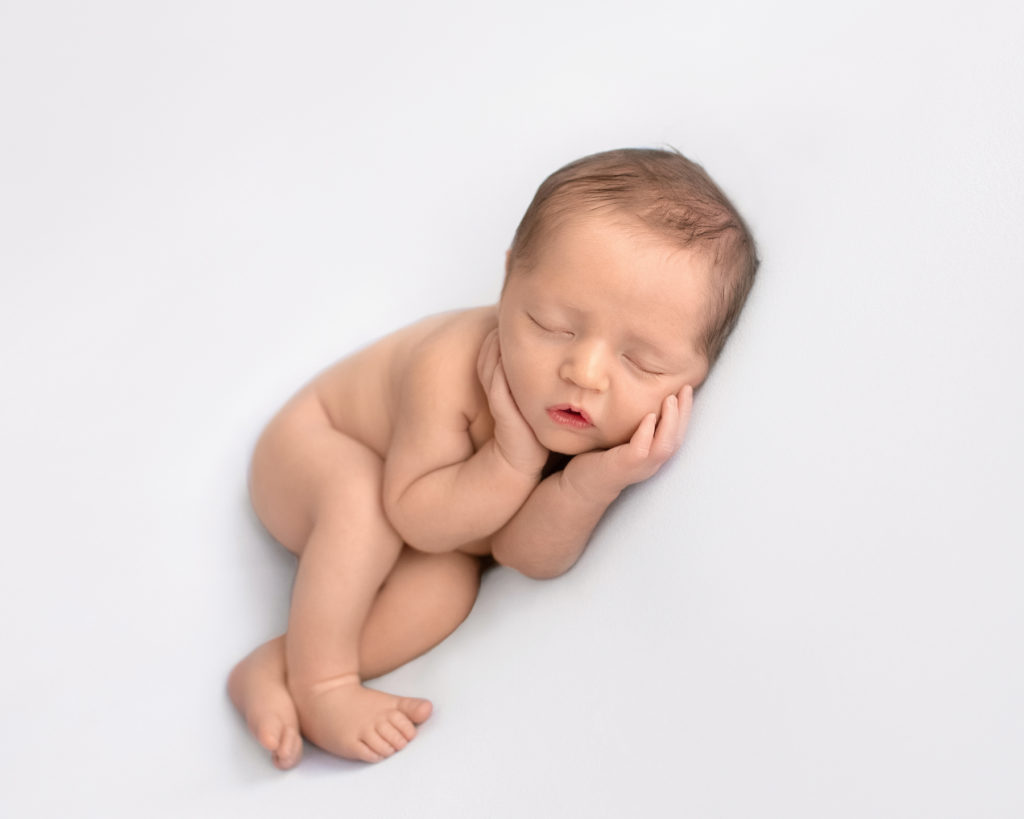 Jeffery's mom waited to contact Andrea Sollenberger Photography about newborn photos until after her little boy was born, but we were still able to get him scheduled just in time. We recommend calling for a newborn photo session appointment early in the third trimester to avoid disappointment. The schedule fills up as newborn sessions are limited. The best time for your newborn session is before baby turns 2 weeks old! Just look at Jeffery's handsome Gainesville newborn pictures! At 14 days old, we captured them before it was too late for newborn photos.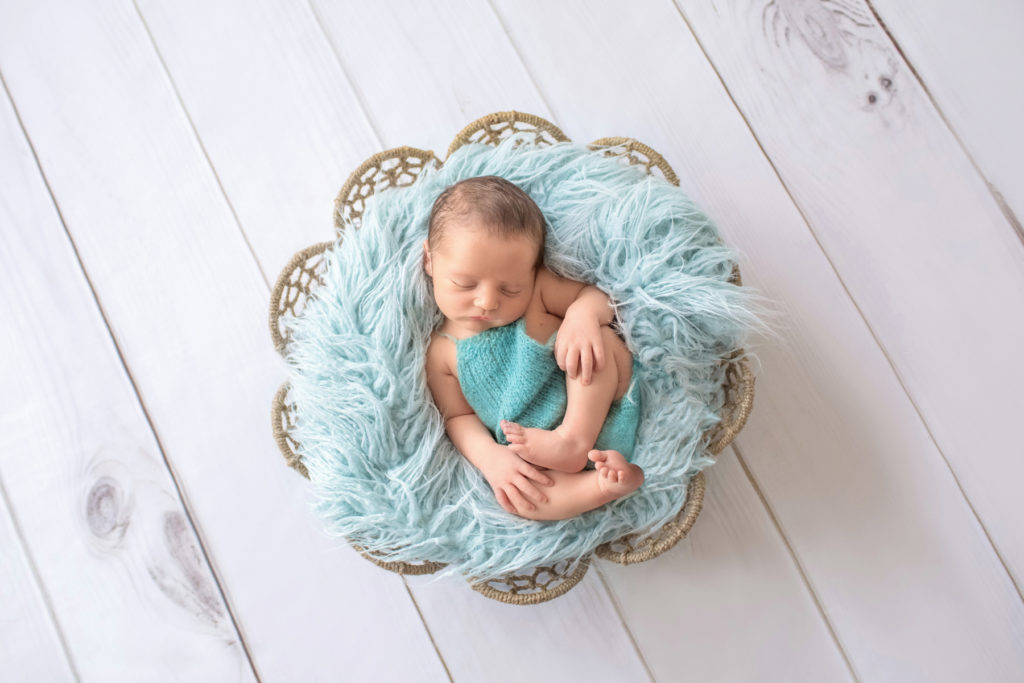 GAINESVILLE NEWBORN PICTURES STUDIO PROPS
For his prop poses, Jeffery poses in a blue handmade knit wrap and matching blue bonnet posed in a blue fur stuffed white crate! I love the backlight on his face and body in this second photo. What a handsome Gainesville newborn picture he makes popped into a wooden Pepsi crate. He has quite the beautiful baby face!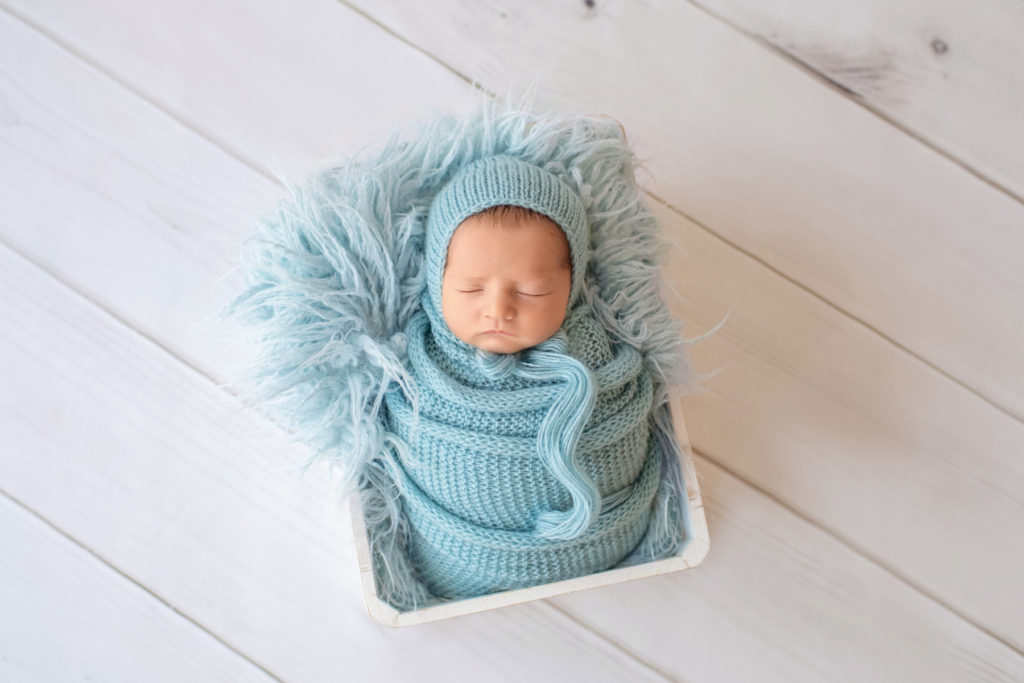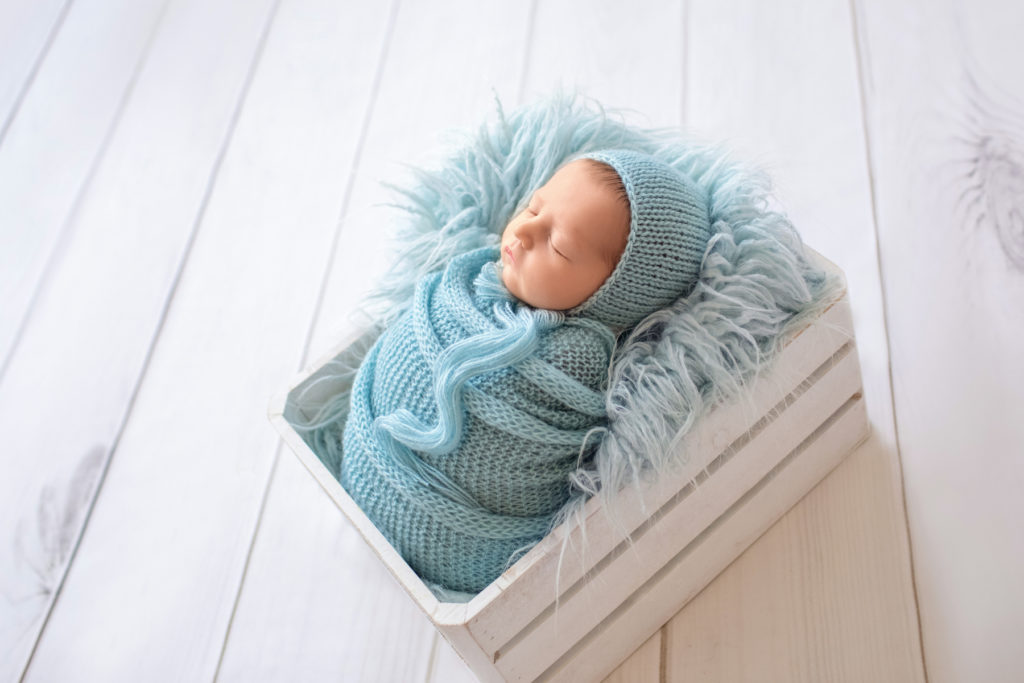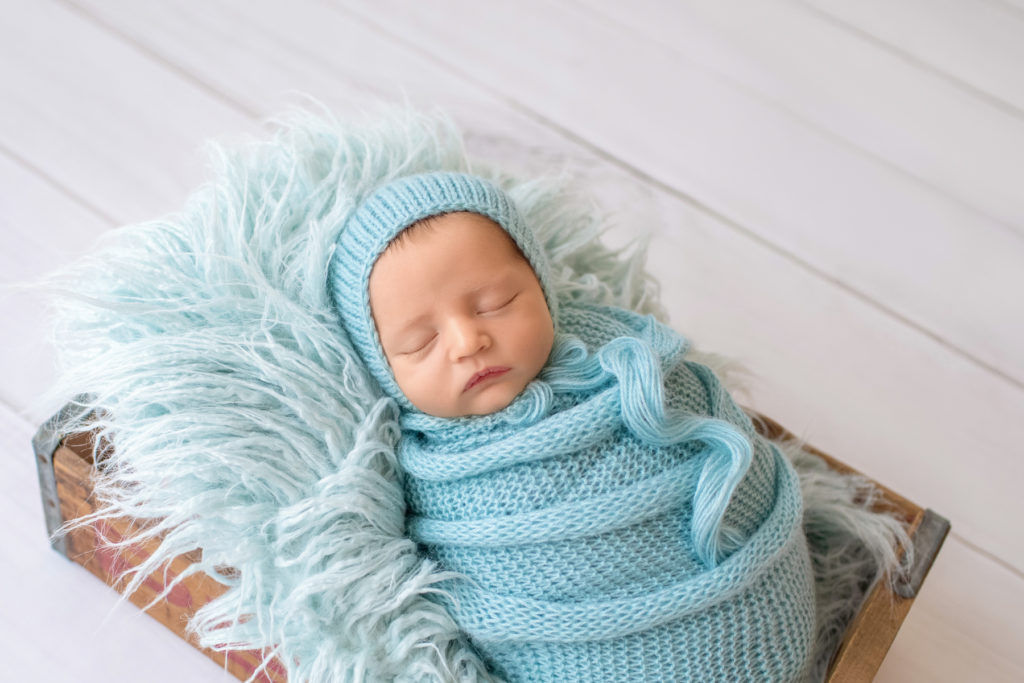 Jeffery is just as handsome and even more delightful dressed in an aqua romper asleep and posed with his arms and legs curled tight in this fur stuffed brown basket. He wears the same handmade knitted aqua romper in the next photo, asleep with his chin resting on his hand and lying on his side, and his leg hanging off bed. Such a charming picture with this quilt covered white wooden bed, and a joy to pose for this newborn photographer Gainesville Florida. Andrea Sollenberger Photography has an extensive prop collection and a beautiful newborn wardrobe available for each session. If you're looking for some more props or poses, then check out these newborn ideas.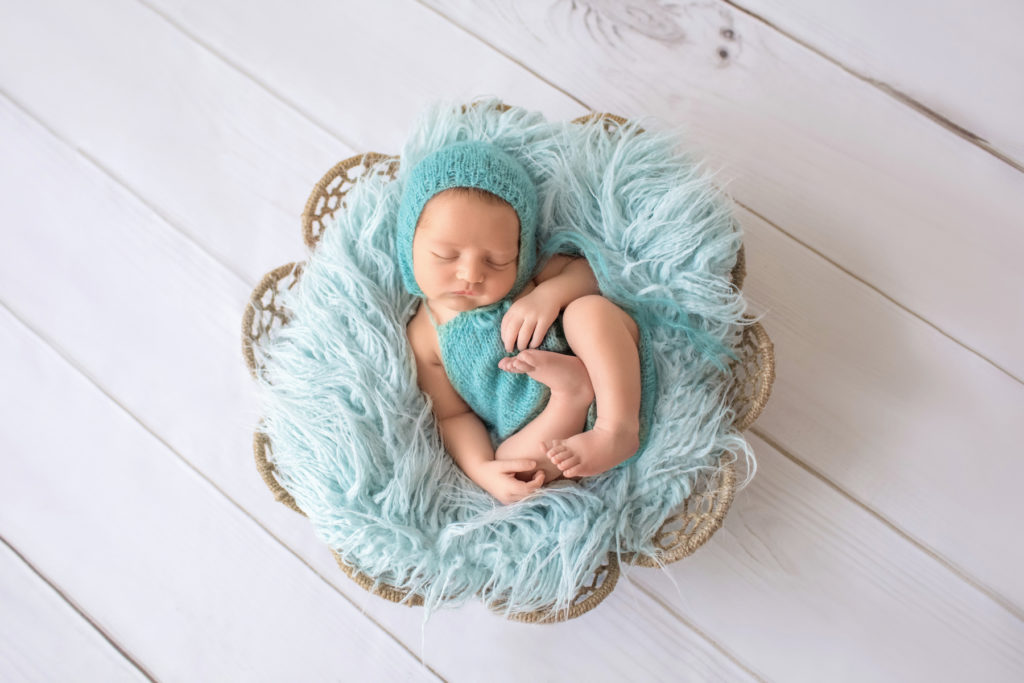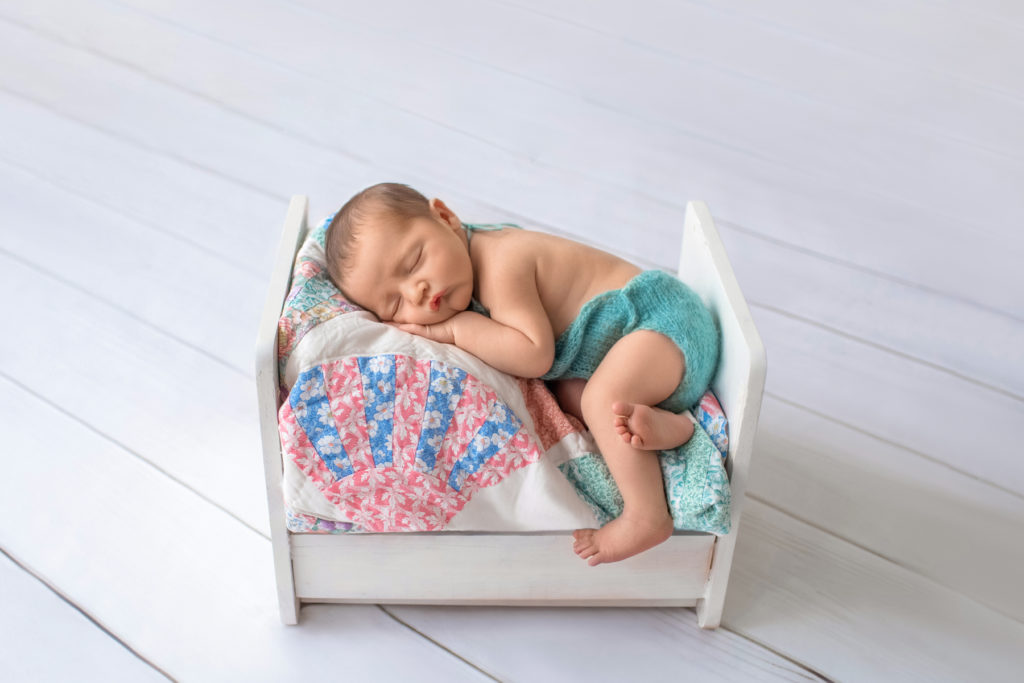 NEWBORN BABY DETAILS!
My favorite newborn photos of all are the naked poses. Naked babies are beautiful and fresh and so much like they were when they were first handed to mom and dad at birth. Here Jeffery is naked and sound asleep with his hands wrapped around his cheeks. Jeffery rests, lying on his side with his legs crossed and resting on a plain white blanket. I always marvel at the beautiful soft baby skin of newborns. Pure and simple. Beautiful and elegant. Newborn baby details. Those little baby hands curled around his round cheeks so close to his face remind me of the good snuggles he gives!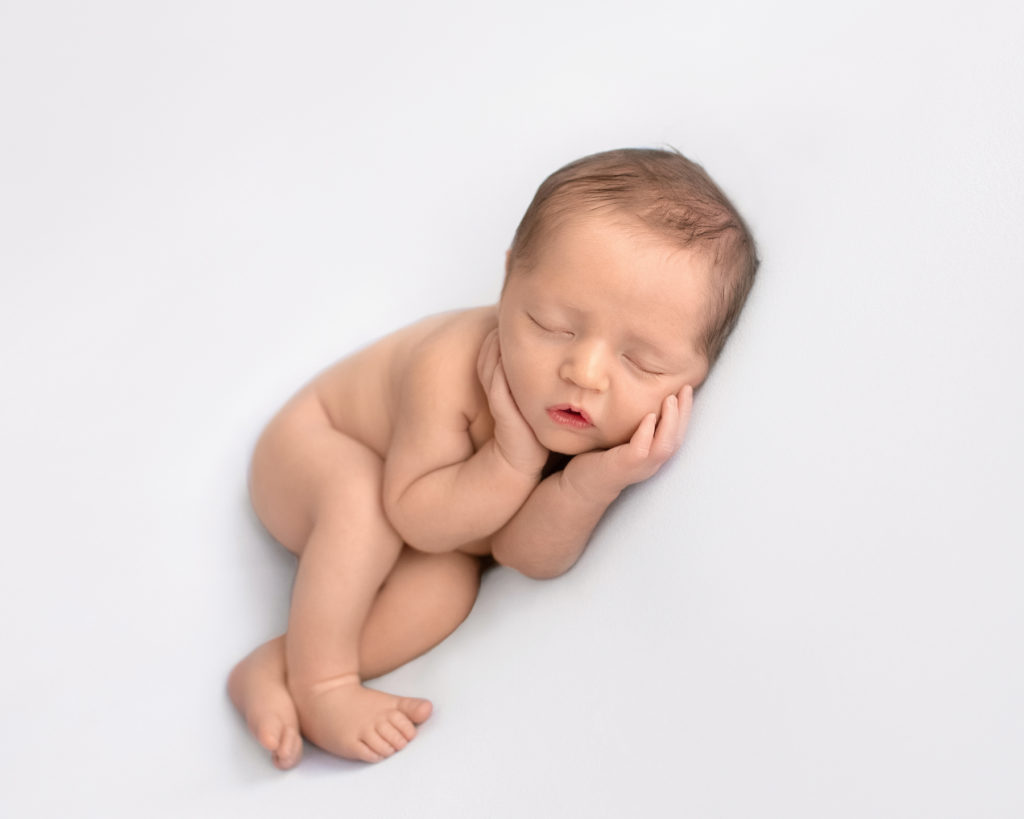 With a nice relaxed nap I am able to move Jeffery into the next pose, sleeping with his chin resting on his hand and lying on his tummy, bottoms up! And finally newborn boy Jeffery is asleep with his chin resting on his hands lying on the white blanket. The mint green heart and mint accent blanket pop so nicely against the white blanket. Of course Mom requested this mint color scheme. Don't you just love his dark brown hair! He was a treat for this Gainesville Florida newborn photographer.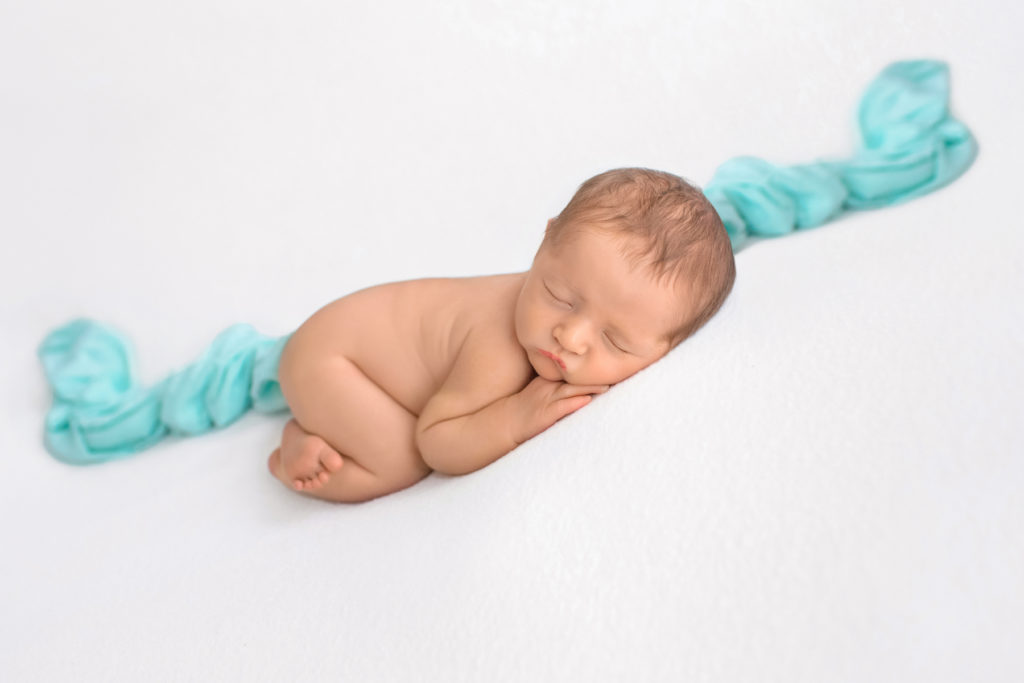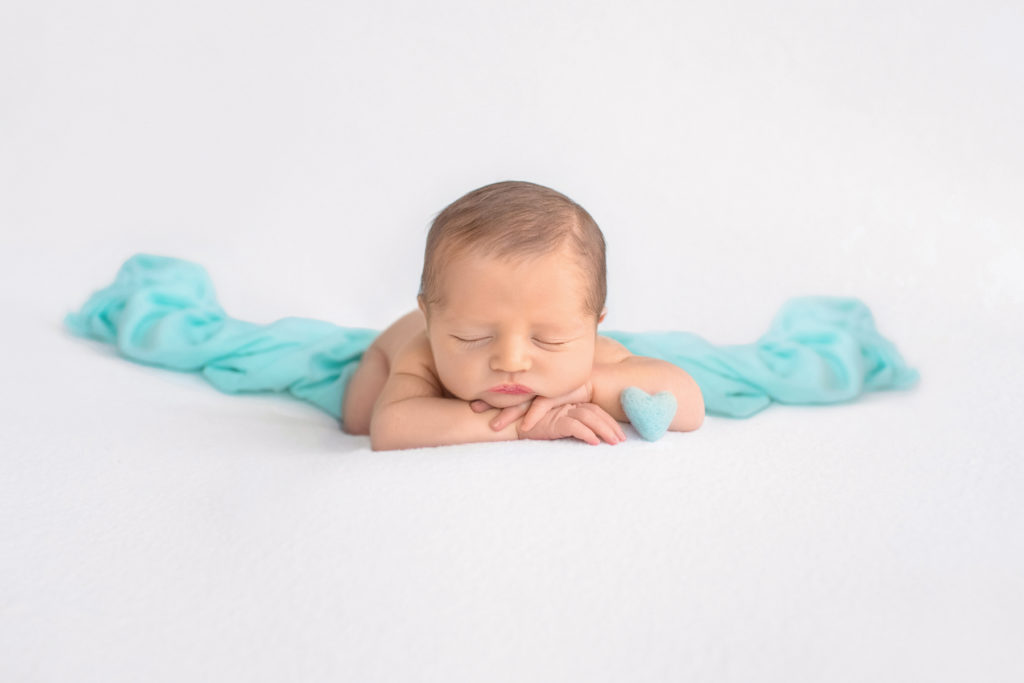 Be sure to remember how very tiny your baby was. Will you remember their teeny tiny toes, the soft baby skin that you love to kiss, or their cuddly rolls? Capture your first special moments. By doing so, newborn photography records not only the tiny little details, but also the beginning of new relationships budding between precious family members. For more newborn photo browsing check out the Newborn Portfolio.
GAINESVILLE NEWBORN PHOTOS STUDIO DETAILS
The best time for newborn photography is within the first two weeks of life when newborns are super sleepy and snuggly. I would love to capture with photographs each stage of your little one's growth from their youngest days. Your family will treasure these memories for years to come. Looking for a Gainesville newborn photographer? Click here to get started.
Andrea's studio is located in Alachua just next door to Gainesville Florida. She serves Gainesville, Alachua, Jonesville, Newberry, Town of Tioga, Haile Plantation, Archer, Trenton, Williston, Melrose, Palatka, Ocala, Micanopy, High Springs, Lake City and Live Oak.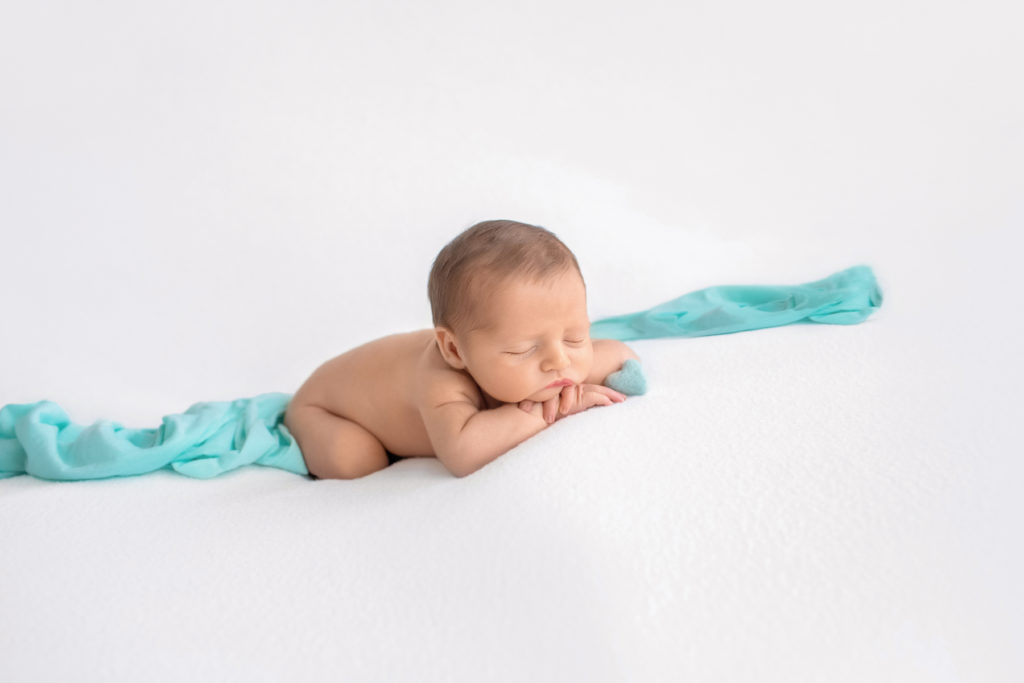 Knit wraps and bonnet – https://www.etsy.com/market/dreaming_carita/
Baby backdrops – https://www.intuitionbackgrounds.com/
Newborn wraps – https://www.devotedknits.com/
Basket stuffers and backdrops- https://www.intuitionbackgrounds.com/
Andrea Sollenberger Photography, Gainesville Florida Newborn Photographer, Newborn, Maternity, Baby, Child and Family Photographer Gainesville Florida