Eight month baby photos mark the current milestone for Madison. It is amazing to document how much babies grow in their first few months. She is now sitting, performing, and crawling… crawling fast I might add! What a joy to have Madison back in the studio for another baby photo shoot with Gainesville FL Baby Photographer Andrea Sollenberger.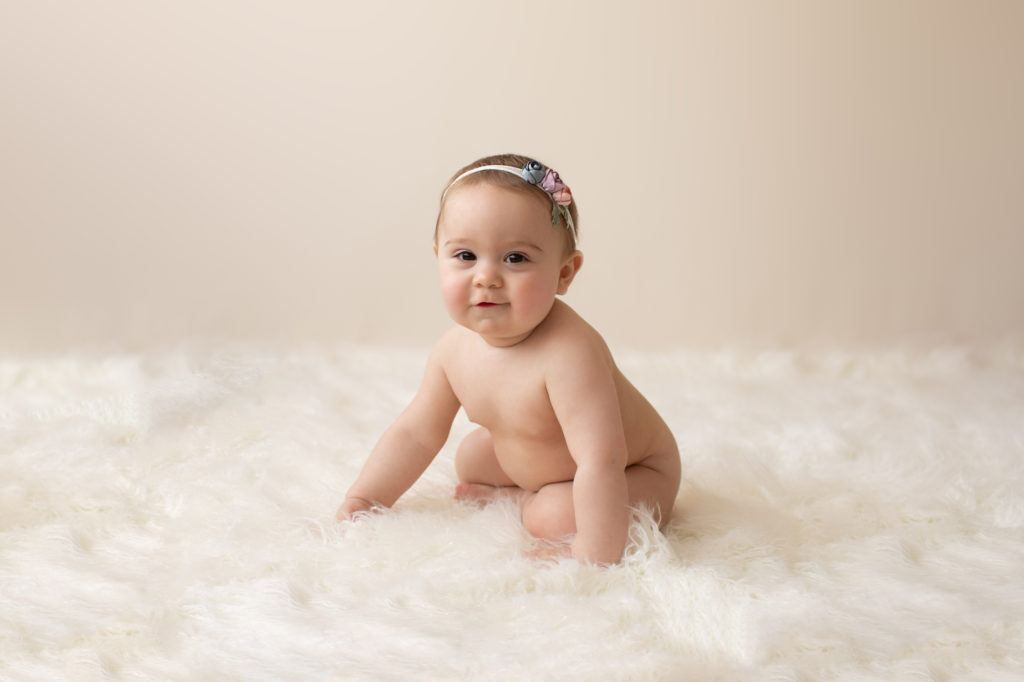 BABY PHOTOGRAPHER GAINESVILLE FLORIDA
My aim for milestone baby photos is to create portraits that capture your babies as they are right now. These are portraits that will adorn your walls and sit on your coffee table for years. They will teach your children their own story and significance over time. I love photographing babies. They are energetic, playful, and have developed emotions that they can share with me. Here is a peek at Madison's eight month baby photos with Baby Photographer Gainesville FL Andrea Sollenberger Photography.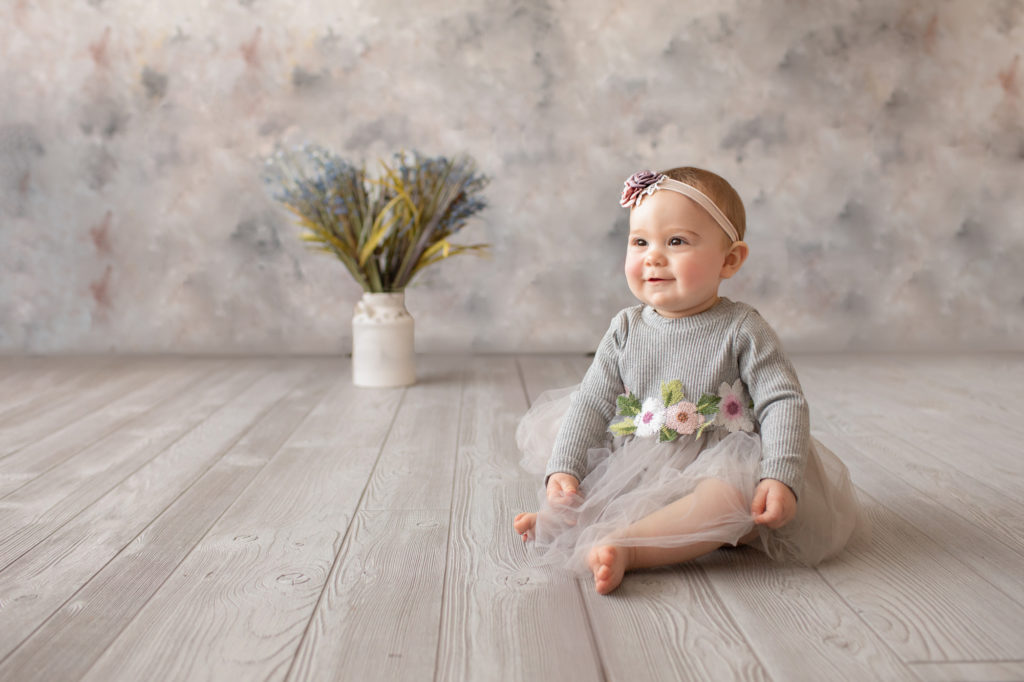 BABY PHOTOS – RETURN CLIENTS ARE SWEET!
Madison's eight month milestone session took place in my dedicated studio. Her mom, Laura, has been to the studio before. She was in for her maternity photos with her husband and son, as well as for newborn photos and baby photos. I am always honored when clients choose me for repeat photo sessions and trust me to capture these special moments in their family's story. For this baby milestone session, Laura wanted to dress Madison in dusty pink and blue, with greys and cream backgrounds and accented with flowers.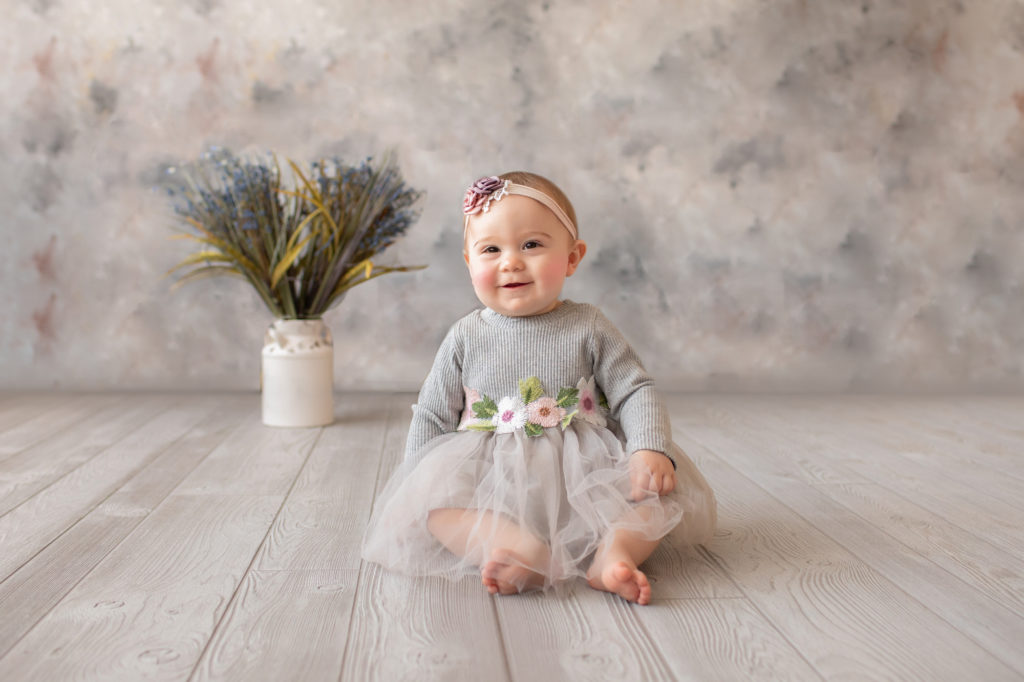 STYLING BABY PHOTOS
Madison posed beautifully for these baby photos, adorned in a grey floral floral dress and pink floral headband. She posed like a model smiling and sitting by herself on this grey floor with a floral backdrop behind her. Madison posed again with her arms out to side sitting by herself, and then again with the biggest baby grin.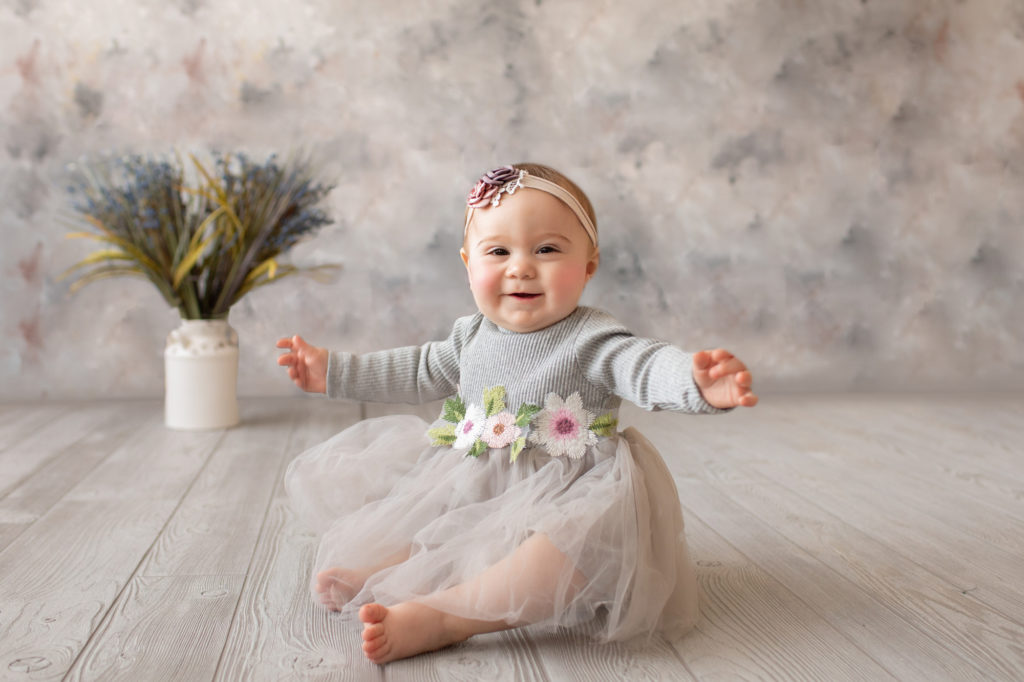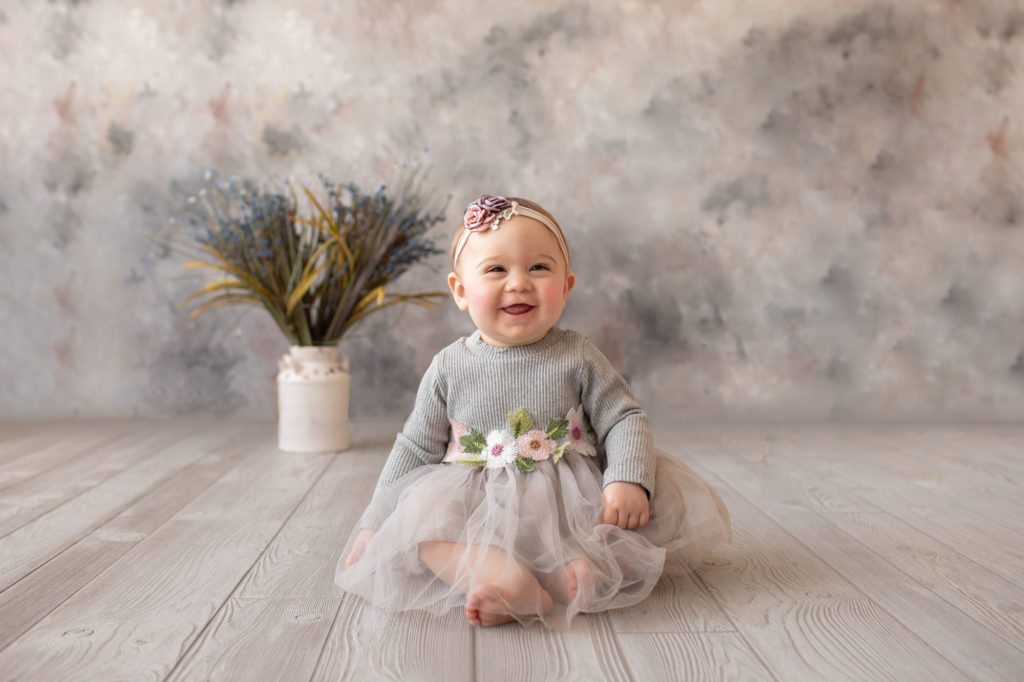 For her next baby photos we dressed Madison in a dusty pink floral dress and pink floral headband. She sat beautifully, entertainted by flowers, and giving us her best smiles. She did not surprise us, because it was not long before she began crawling on all fours!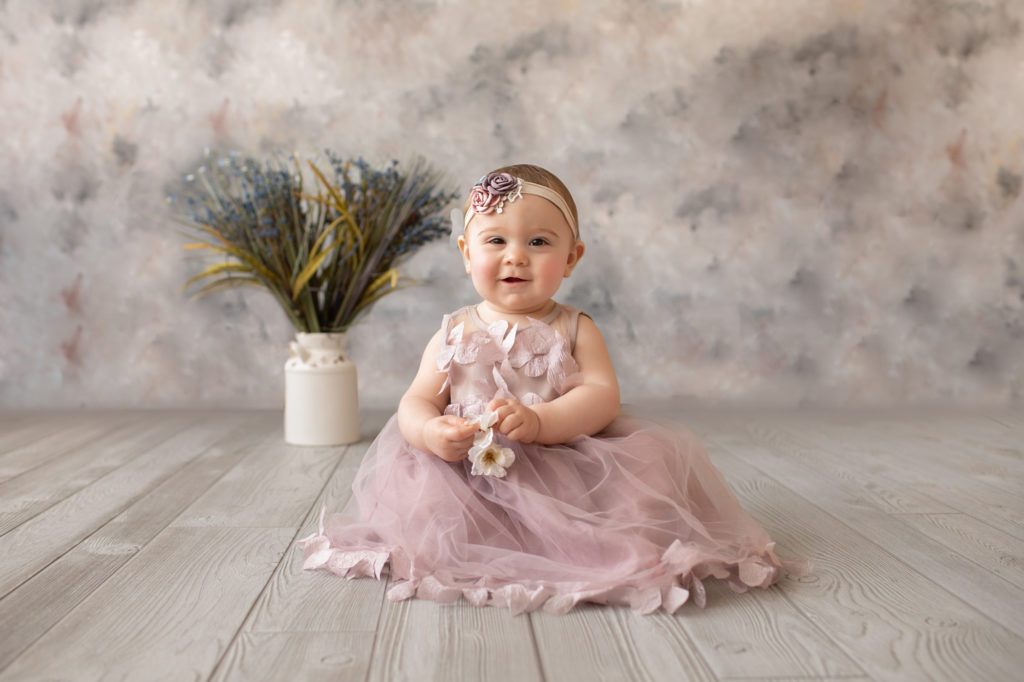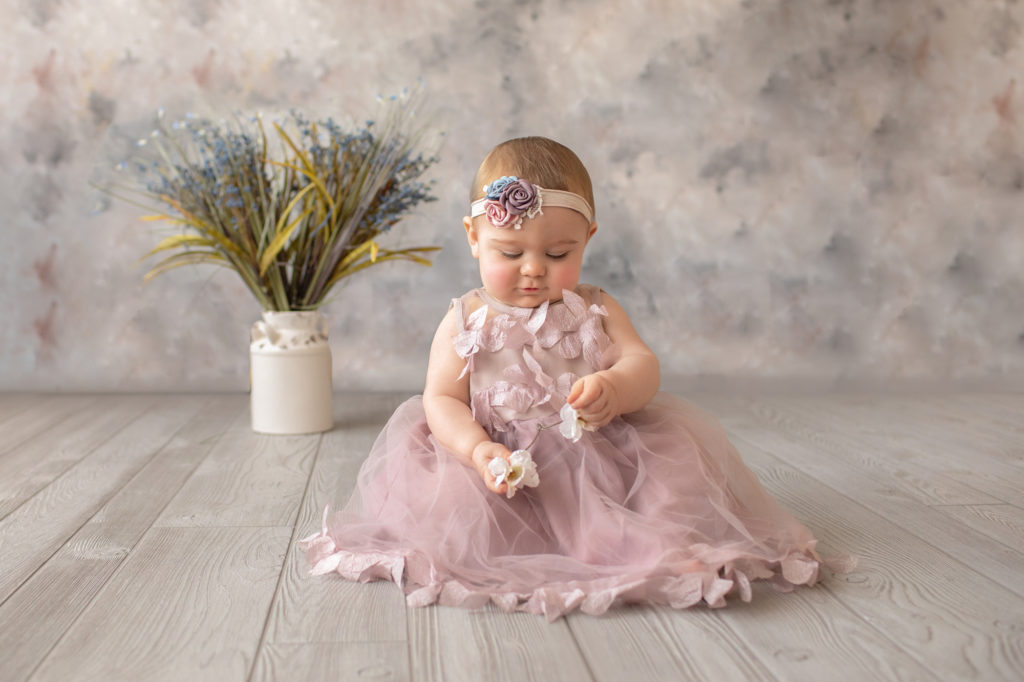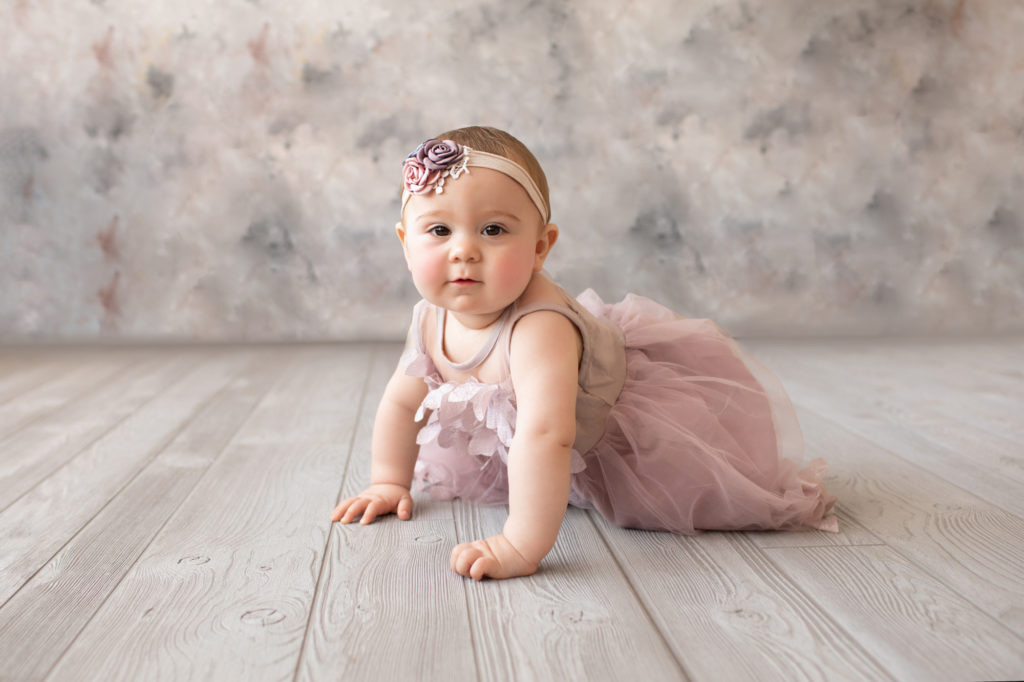 For her last outfit Madison wore a navy dress with white hearts and a white floral headband. Madison is delighted with herself, sitting by herself in a white bowl.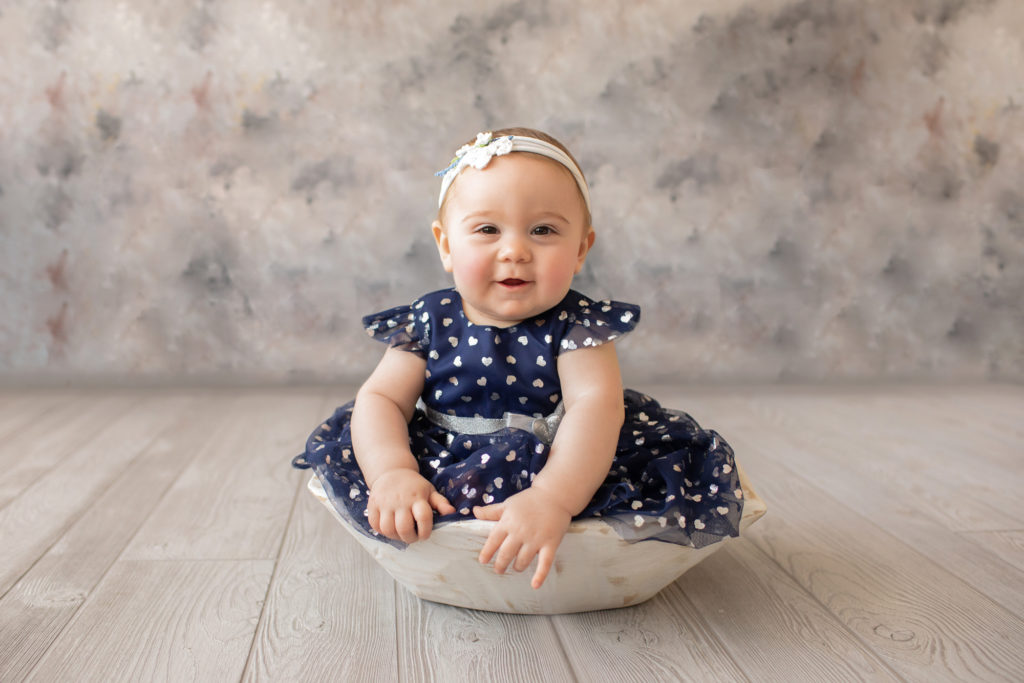 She is also posed sitting by herself in profile, with her chin to her shoulder just like a young model!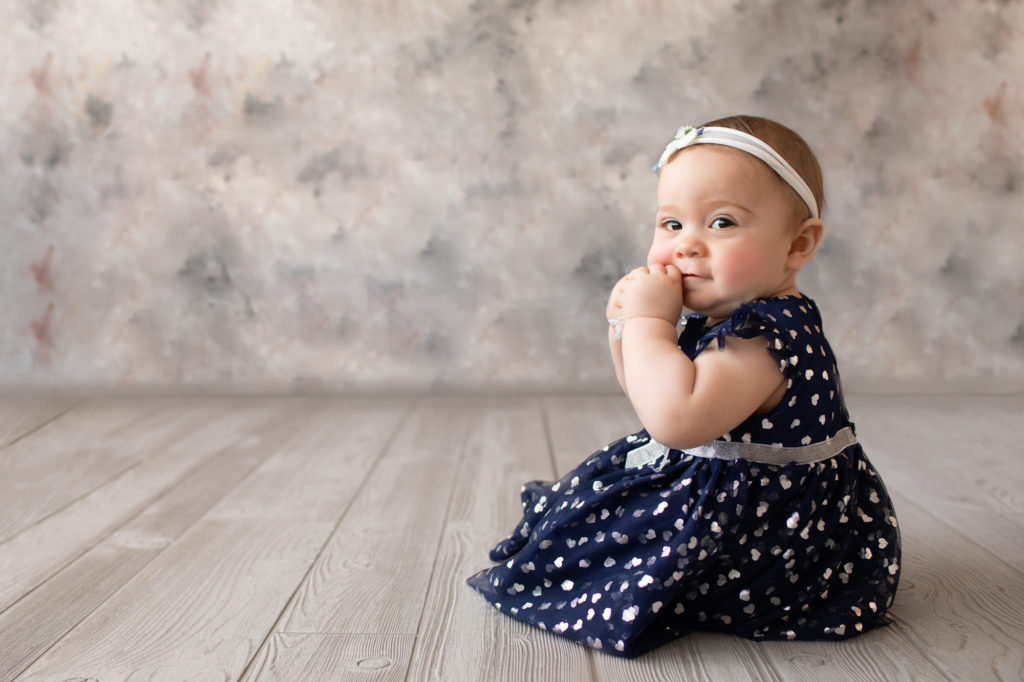 Madison showed us her best at sitting and playing, crawling and getting up on all fours. It won't be long before Madison will be on her feet taking those all-important first baby steps!
Baby photos at eight months are still a wonderful time to document the soft baby skin that moms and dads love. Madison sits on white fur and charms us with her grins and her smirks. She is up on all fours in starting position ready for a race to begin in this last naked baby photo!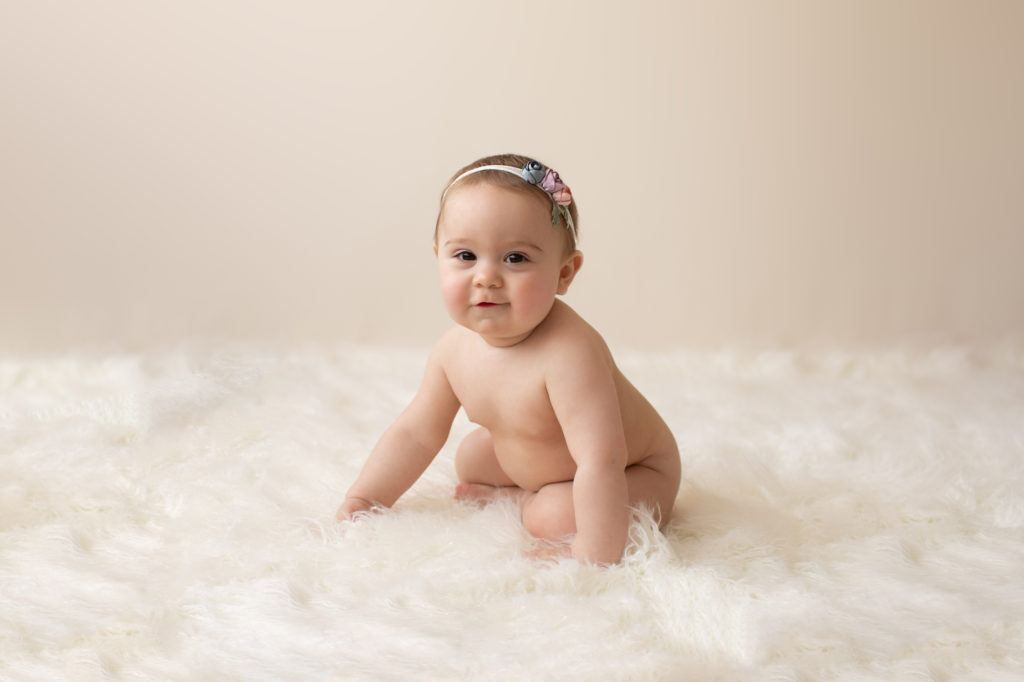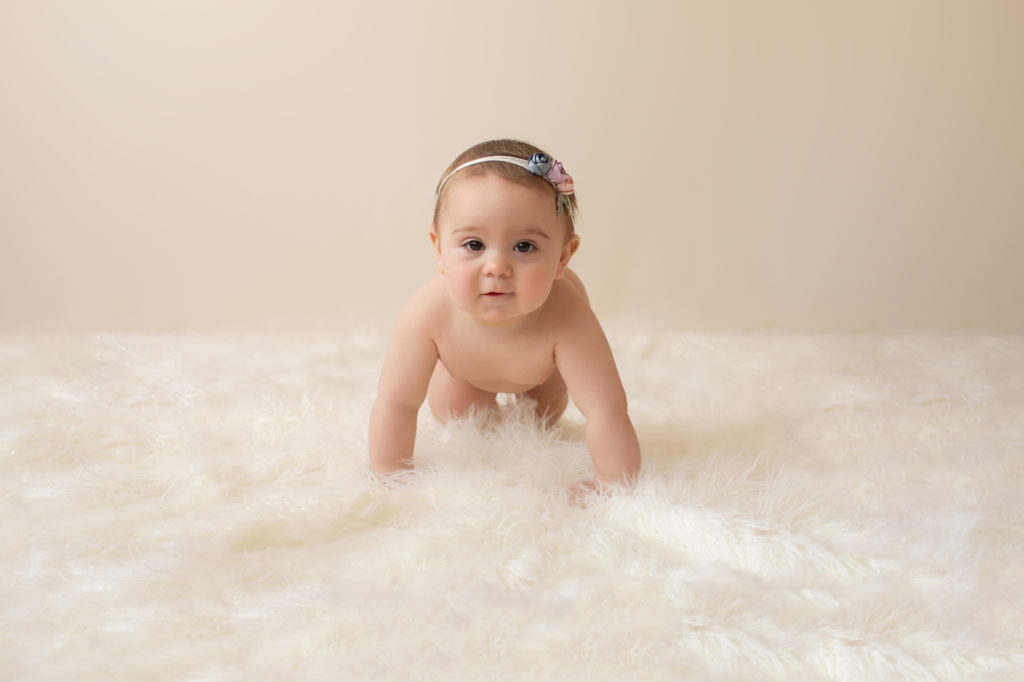 BABY STAGES
Capturing milestone baby photos is very special. Children grow and change constantly. It is important to photograph them regularly and at different stages. Years go by very quickly for most moms and dads. Remembering baby stages with newborn and baby photos is invaluable. My goal is to create artistic and beautiful baby photos that capture your babies and children as they are right now, their growth and milestones, their grins and dimples, their personalities and charm. Your baby photos tell your story over time and become more treasured with every year that passes.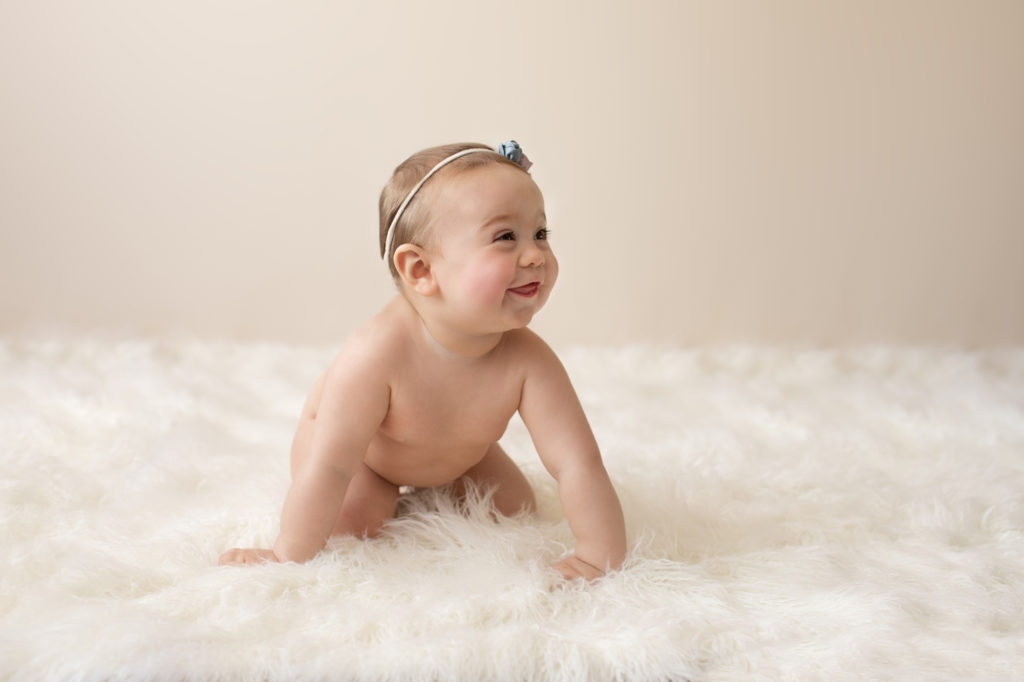 BABY MILESTONE SESSIONS
A baby milestone session, both in studio or outdoors, is styled individually according to my client preferences so that you receive photos coordinated with your home and décor, just like we did for these eight month baby photos. Andrea Sollenberger Photography has a complete backdrop and prop collection available for newborn and baby milestone photography. To get in touch for more information about newborn or baby milestone sessions, please fill out the contact form or email me andrea@andreasollenberger.com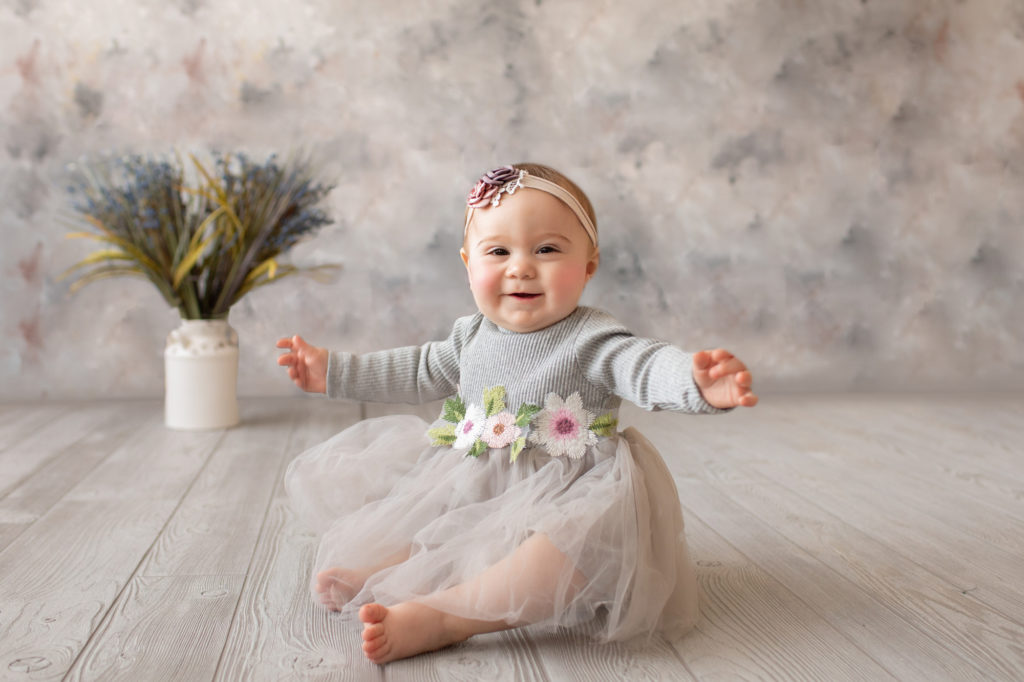 Wooden bowl –  https://www.etsy.com/shop/Chicabootique
Andrea Sollenberger Photography, Newborn Photographer Gainesville FL area, Newborn, Maternity, Baby, Children and Family Photographer