Welcome to this Gainesville newborn baby photo session with Andrea Sollenberger Photography, Gainesville FL Newborn Photographer. My studio is designed specifically with a maternity photo session and newborn photo session in mind. I love to make moms, dads and babies feel welcome, comfortable and right at home. My goal is to give my clients beautiful photographs of their favorite, most meaningful moments. These are photos that they will cherish for a lifetime. Having a baby is one of the most monumental experiences in life, and it is worth capturing this new joy with professional newborn photography!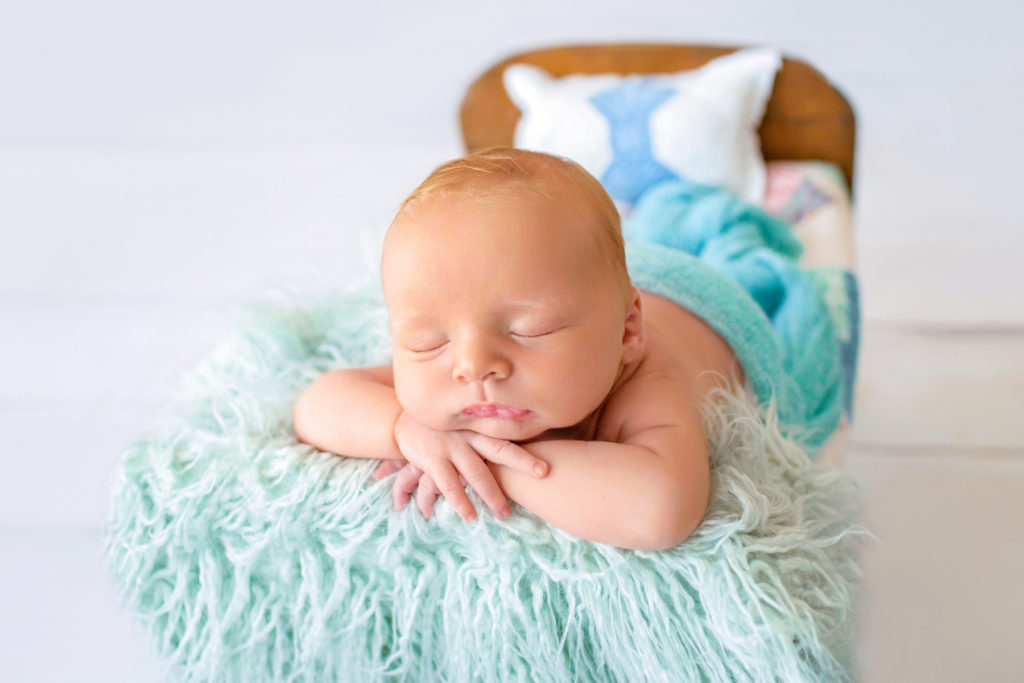 GAINESVILLE NEWBORN BABY – EZRA!
Ezra's mom Ashley asked Andrea Sollenberger Photography about newborn photos for her little one and what a great session we had. The best time to get studio newborn photos is before baby turns 2 weeks old! I was glad to fit this Gainesville newborn baby onto the newborn schedule. Calling early in the third trimester is a great way to avoid scheduling disappointment.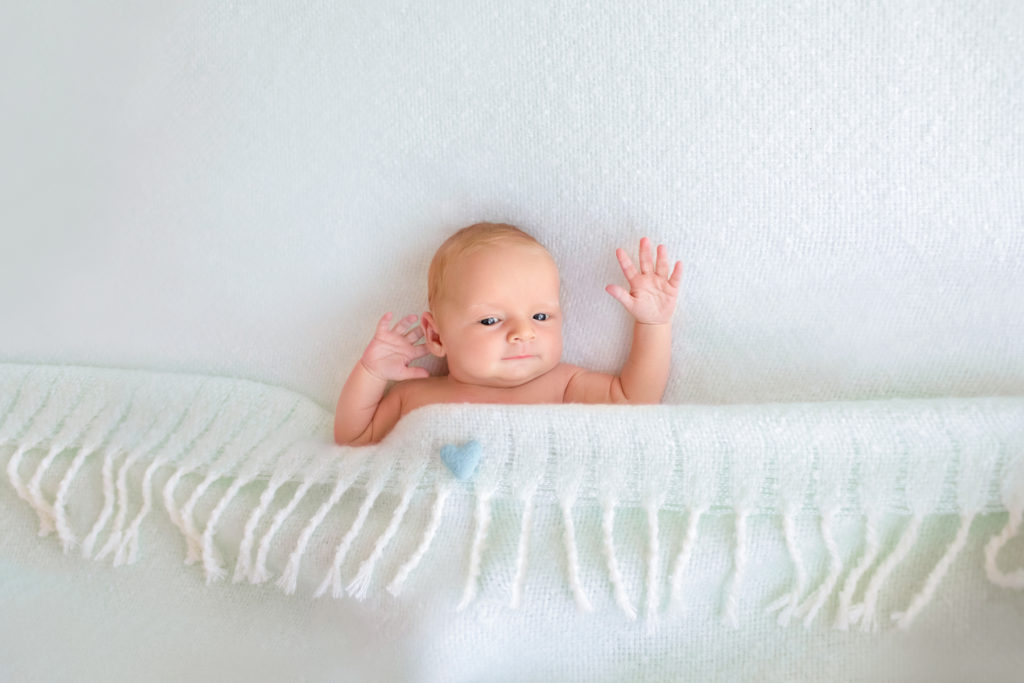 GAINESVILLE NEWBORN BABY STUDIO PROPS
Newborn baby boy Ezra posed for me wrapped in a stretchy blue wrap and blue bonnet and was sound asleep for this blue fur stuffed brown bucket photo!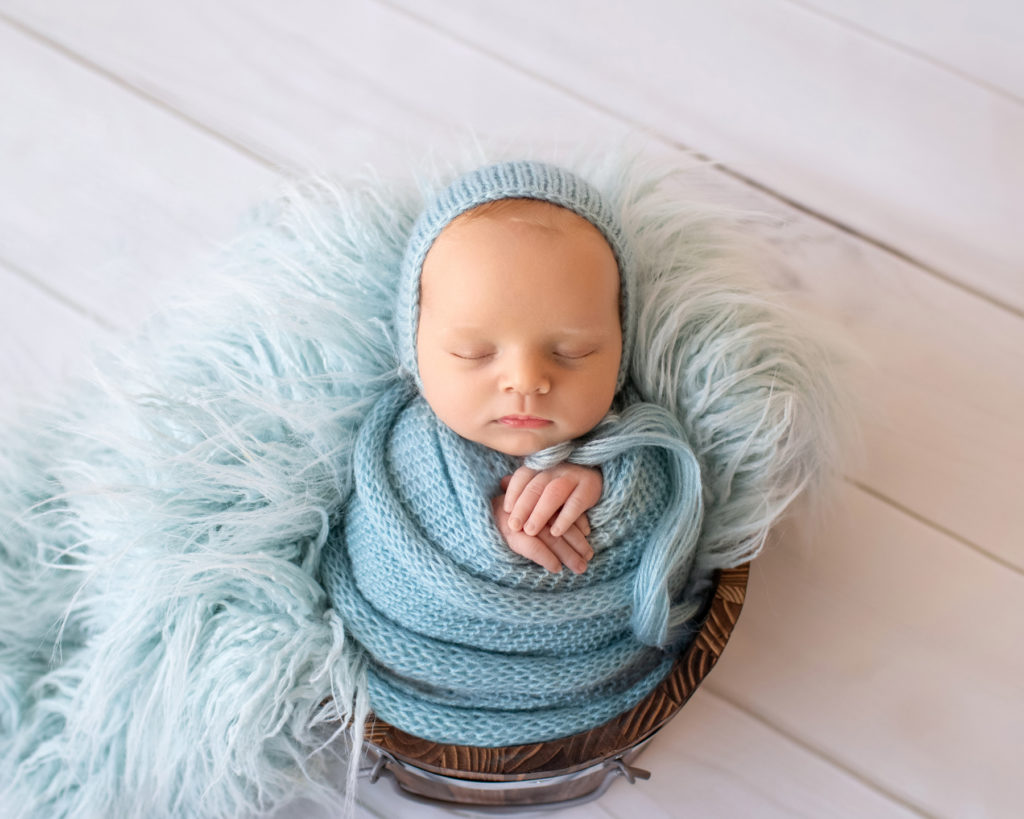 With his eyes wide open, I caught him in the same position. How much fun it is to see those big blue baby eyes! Newborn eyes add a whole new look to newborn photos.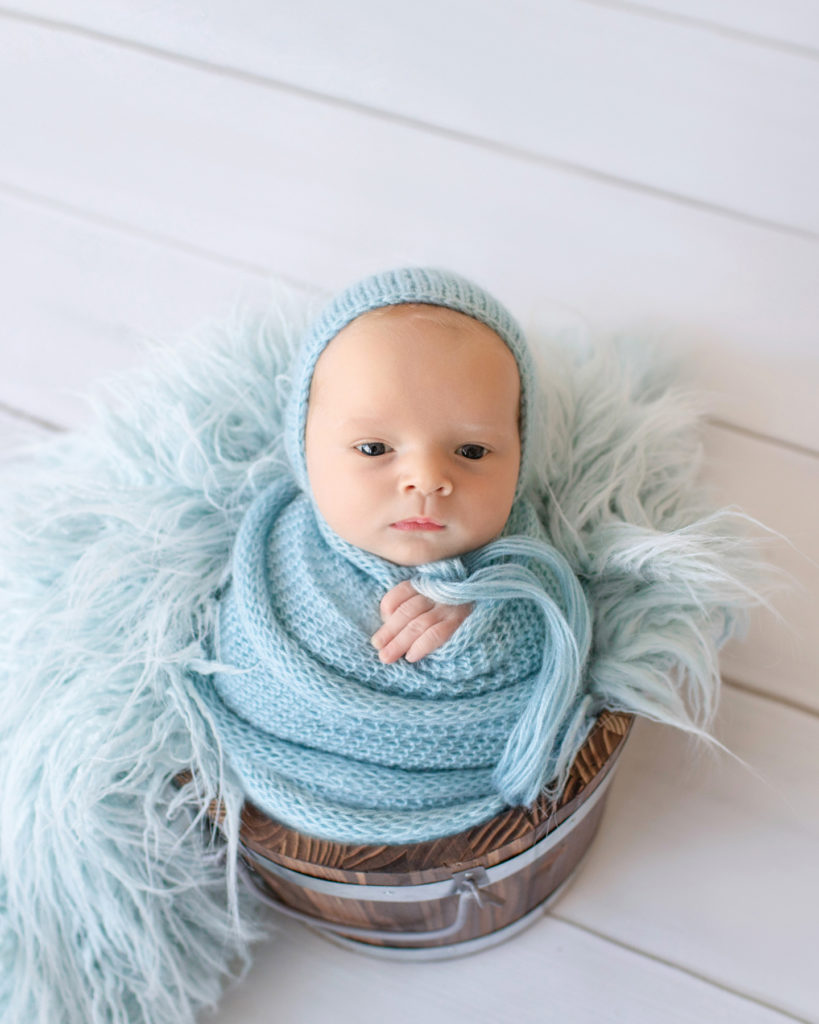 In the same way, a look from the side gives us a different view with the same blue wrap set and fur stuffed bucket, but as a beautiful profile shot. This Gainesville newborn baby has a beautiful baby face from every angle!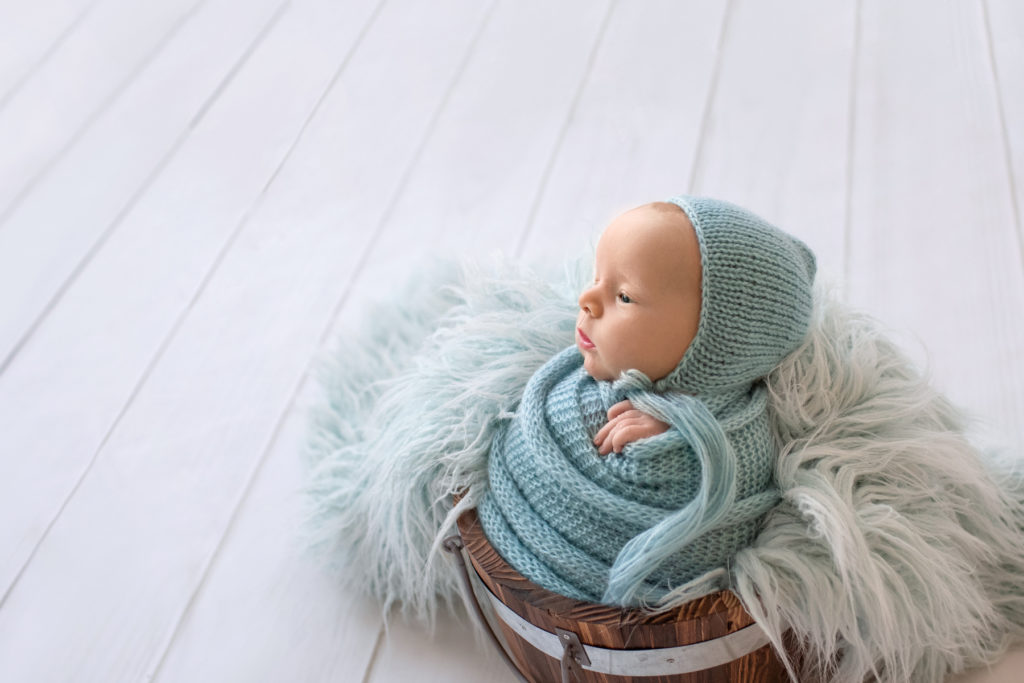 As we moved to the next prop, I undressed our newborn baby boy Ezra and he continued to sleep super well. He sits with his chin on his wrists and placed in a fur stuffed bucket. 

Because he was sleeping so well, we moved immediately to the next Gainesville newborn baby prop. While he was still sound asleep, I laid him with his chin on his wrists and placed him onto a quilt covered brown wooden baby bed. This might be the sweetest studio prop photo of all. Andrea Sollenberger Photography has an extensive newborn prop collection and a beautiful newborn wardrobe available for each session. If you're looking for some more props or poses, then check out these newborn ideas

NEWBORN BABY DETAILS!
When the light is just right against a baby, we see that newborn baby details are beautiful. Here is our little newborn Ezra sleeping on white fur in a simple brown basket. And for a different glow, he posed also on white fur in a brown basket with backlight for contrast. All that beautiful baby skin, with baby dressed in just a simple little romper, lets us see more of baby. Pure and simple newborn baby details remind us of a newborn's first days, perhaps even of when they were first handed to mom and dad at birth. I always marvel at the beautiful soft baby skin of newborns.  This Gainesville newborn baby was a treat to photograph!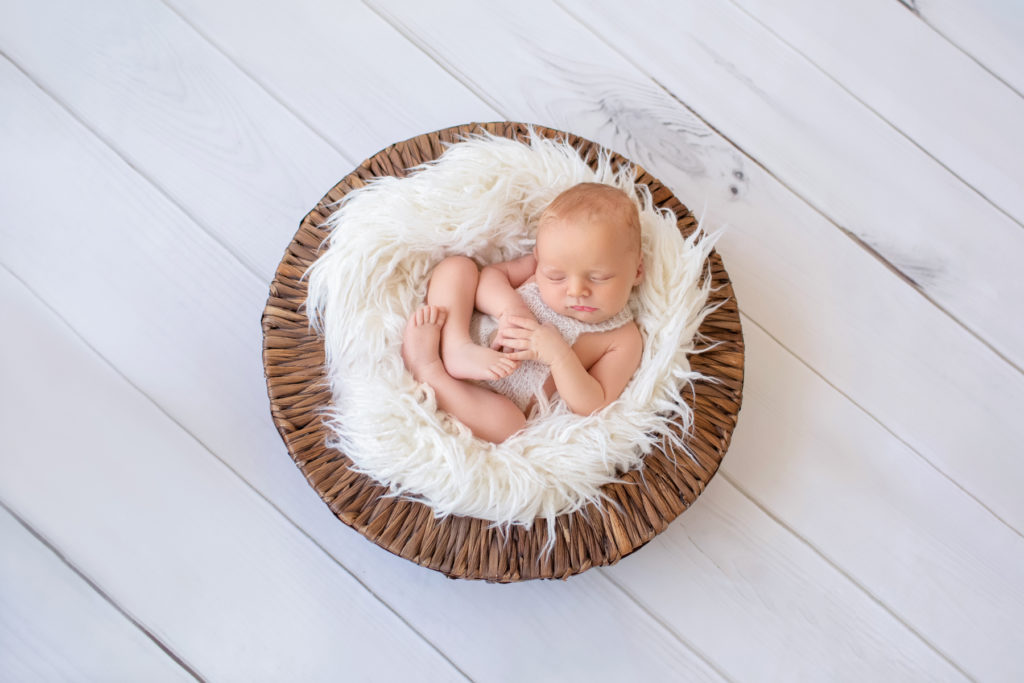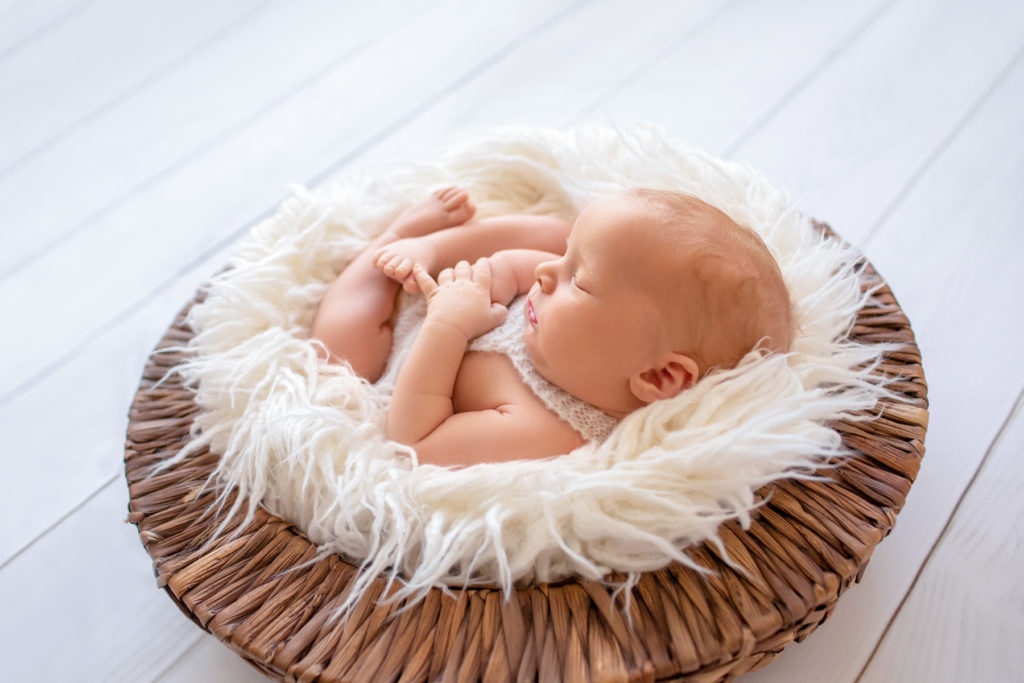 Be sure to remember how very tiny your baby was. Will you remember their teeny tiny toes, the soft baby skin that you love to kiss, or their cuddly rolls? Capture your first special moments. By doing so, newborn photography records not only the tiny little details, but also the beginning of new relationships budding between precious family members. For more newborn photos check out the Newborn Portfolio.
I adore this photo of our newborn baby boy with his eyes open and arms waving. This Gainesville Florida newborn photographer says, "Till your next photo session, my little friend, Ezra!"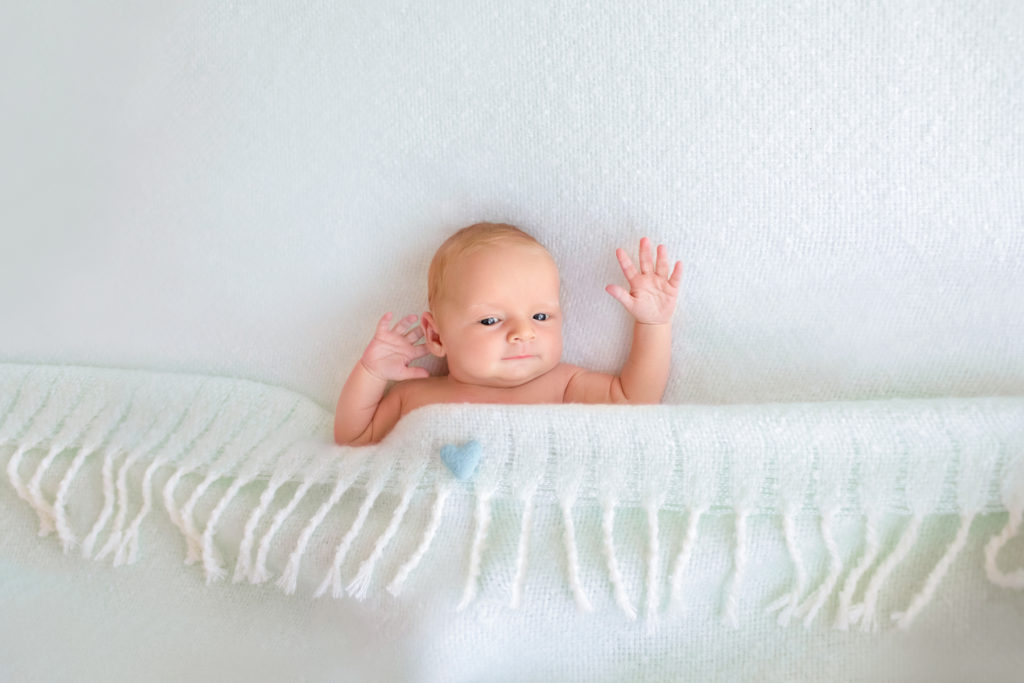 GAINESVILLE NEWBORN BABY SESSION STUDIO DETAILS
The best time for newborn photography is within the first two weeks of life when newborns are super sleepy and snuggly. I would love to capture with photographs each stage of your little one's growth from their youngest newborn days. Your family will treasure these memories for years to come. Looking for a Gainesville newborn photographer? Click here to get started.
Andrea's studio serves Gainesville, Alachua, Jonesville, Newberry, Town of Tioga, Haile Plantation, Archer, Trenton, Williston, Melrose, Palatka, Ocala, Micanopy, High Springs, Lake City and Live Oak.
Knit wraps and bonnet – https://www.etsy.com/market/dreaming_carita/
Baby backdrops – https://www.intuitionbackgrounds.com/
Newborn wraps – https://www.devotedknits.com/
Basket stuffers and backdrops –  https://www.customphotoprops.com/
Andrea Sollenberger Photography, Gainesville Florida Newborn Photographer, Newborn, Maternity, Baby, Child and Family Photographer Gainesville Florida