What a treat to photograph Salee's triplets maternity photos!  When I met Salee, I learned that she was not just looking for a chance to celebrate the story of her baby, but of three! This story is one of faith hope, and love. For Salee and her husband, Rob, triplets were on the way.
TRIPLETS MATERNITY PHOTOS-THEIR STORY
Salee and Rob's amazing triplets story comes with some history, and sharing their story comes with their permission. After eight long years of wishing for a baby to complete their family of four, Salee and Rob decided to try in vitro fertilization. Their first round with one embryo failed. Round two with embryo two also failed. You can imagine the tragedy upon hearing this news. Greatly disappointed but hopeful, and with 3 embryos remaining, Salee and Rob determined to try once more. This time they tried in vitro fertilization with all 3 remaining embryos. And this time was different. On this round they were believing and hoping for one fertilized embryo. But instead, on round 3 all three embryos took! IVF combined with a lot of prayer had worked. Triplets were on the way.
GAINESVILLE FLORIDA MATERNITY PHOTOGRAPHY STUDIO
Salee visited the photography studio, browsed the studio maternity gowns and newborn props, and told me her exciting story. After meeting me and seeing the studio, Salee booked both a maternity photo session and a newborn photo session. Because of all of the planning that would be needed for these sessions, it was wise that Salee contacted and booked her Gainesville maternity photography session and Gainesville newborn photography session well in advance.
PLANNING FOR THE TRIPLETS MATERNITY PHOTOS
Salee's consultation appointment at the studio to prepare for her triplets maternity photos included coordinating the colors and textures for both her maternity photo session and her newborn photo session. The color scheme of a session is important not only for wardrobe choices that are attractive on Mom, but also for home decorating purposes. Finished portraits should work well for a particular and personal home décor. Photos become prominent photography wall art and their style should belong in a given nursery, bedroom and living area. Salee's color choices for her maternity session were also impacted by the color choices she knew she wanted to use for her newborn photos. Color and texture coordinated photos are wise when it comes to using fine art photography as wall décor for home decorating. Our consultation appointment for the triplets maternity photos allowed for such well-planned sessions.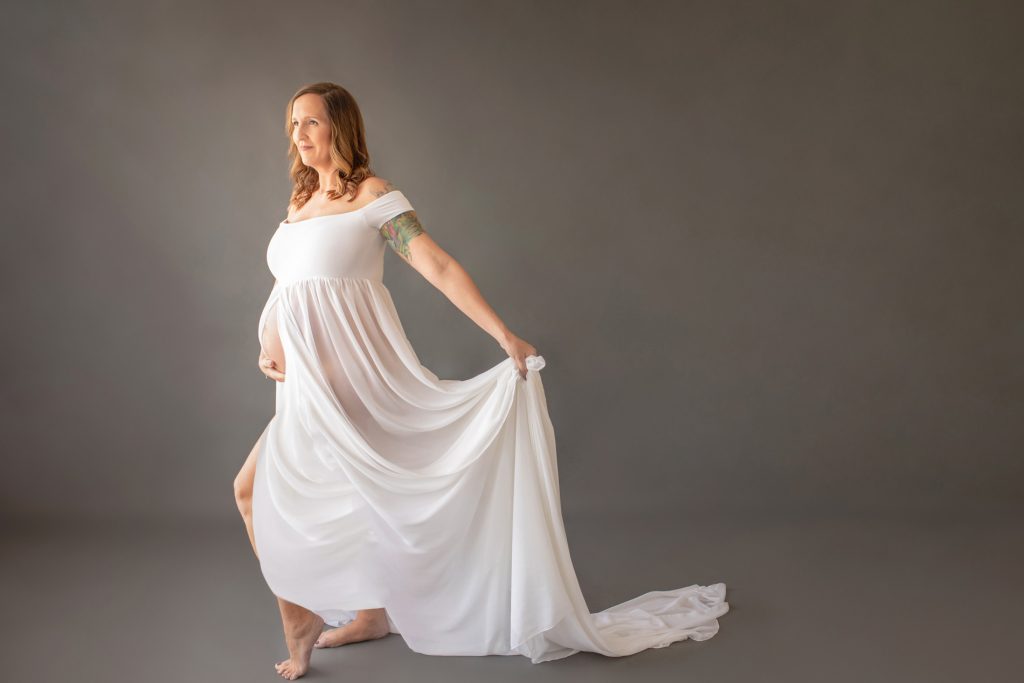 BOUTIQUE STUDIO MATERNITY GOWNS
Salee chose to surround herself with shades of white, dusty rose, muted blue, and warm grey for her triplets maternity photos. These are lovely choices for her maternity photos both in regards to her complexion and her home decorating. Her gowns are rich with the textures of tulle, flowing chiffon, and a touch of flowers. She chose her maternity gowns from the studio's boutique maternity wardrobe.
The studio wardrobe includes a beautiful collection of maternity gowns in a wide selection of color palettes, styles and sizes. To save you the time and expense, these gowns are available for our expectant moms as part of our maternity session fee. With so many baby expenses approaching, pregnant moms are always glad to see the variety of studio maternity gowns available for their maternity sessions when they come in to visit the studio.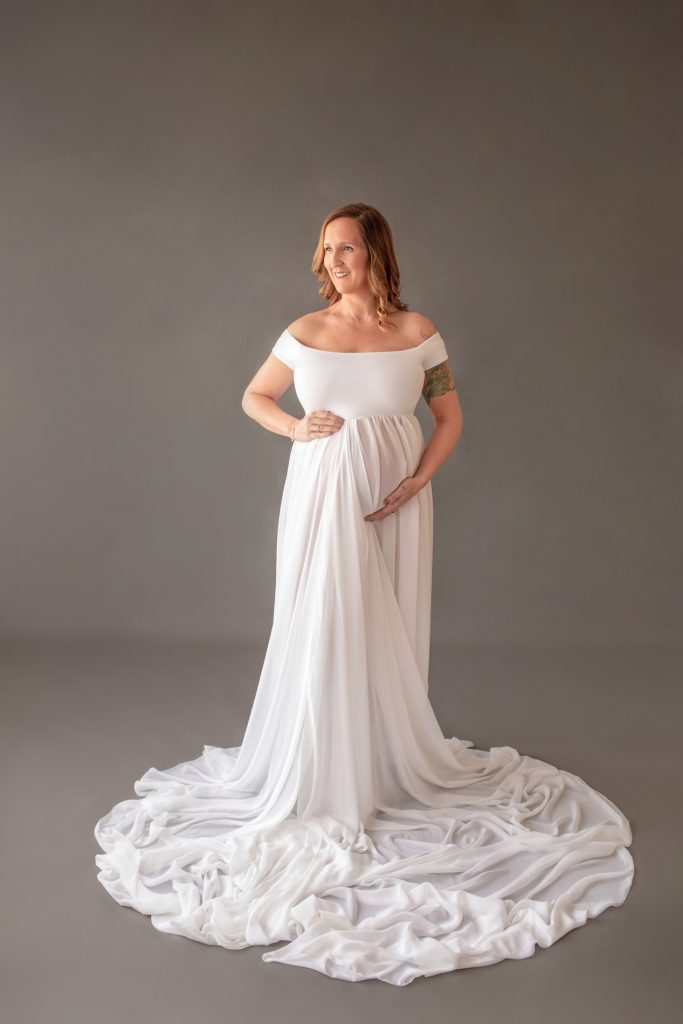 I love the gorgeous gown toss that we got for this maternity photo. With her belly peeking through her gown and her hands holding those babies, Salee wears a long train white chiffon maternity gown. With a toss we captured a wind blown effect!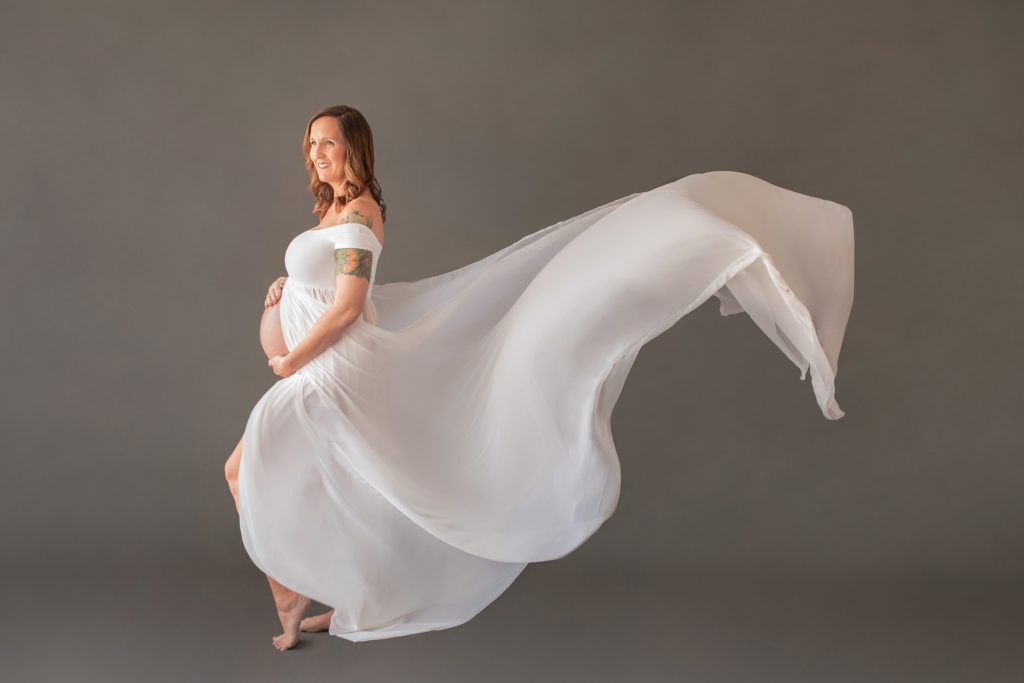 MATERNITY POSING
Salee poses beautifully in a white tulle tutu with her hands on her bare belly with a pastel blue, grey, and rose painted backdrop. I love her gaze of anticipation and confidence as the light and joy pours across her face. Pregnant women are about to meet a brand new baby, and in this case three!, who will change their lives. You can read the love and excitement on Salee's face in these triplets maternity photos.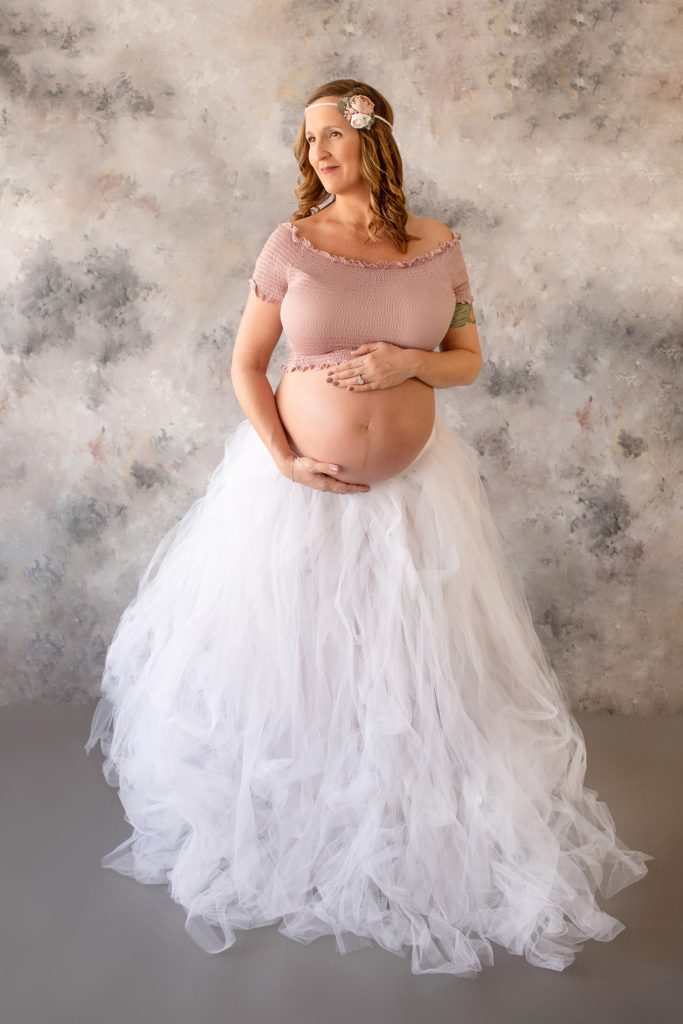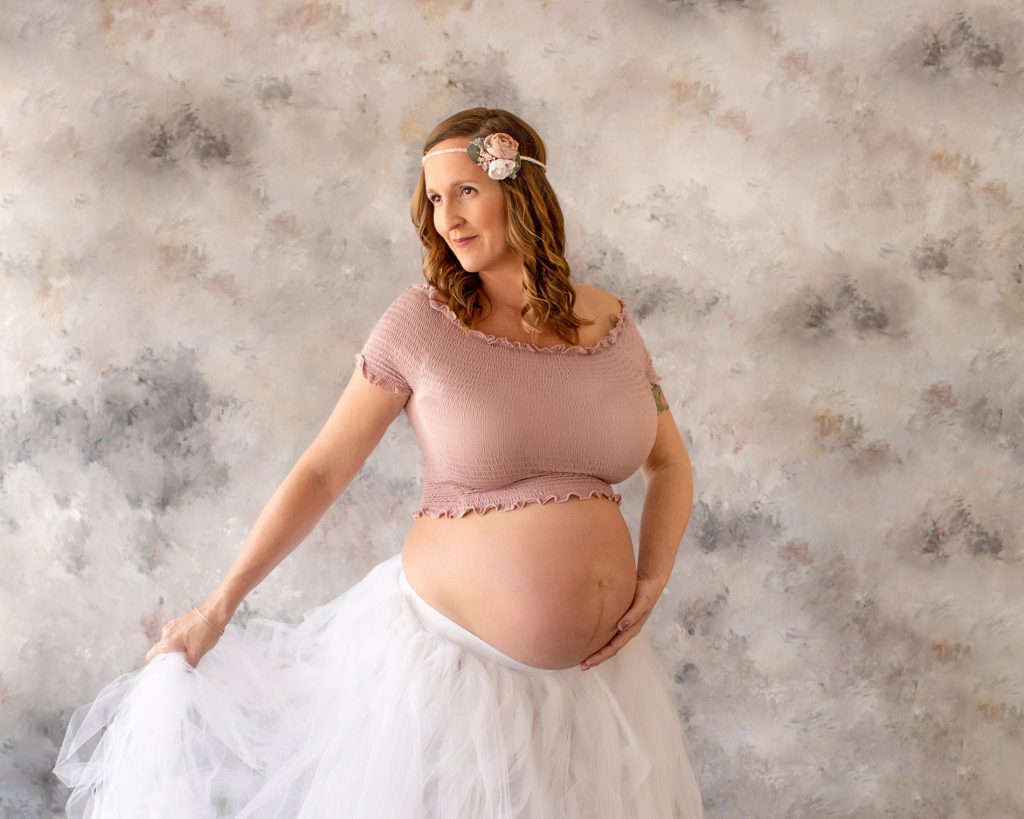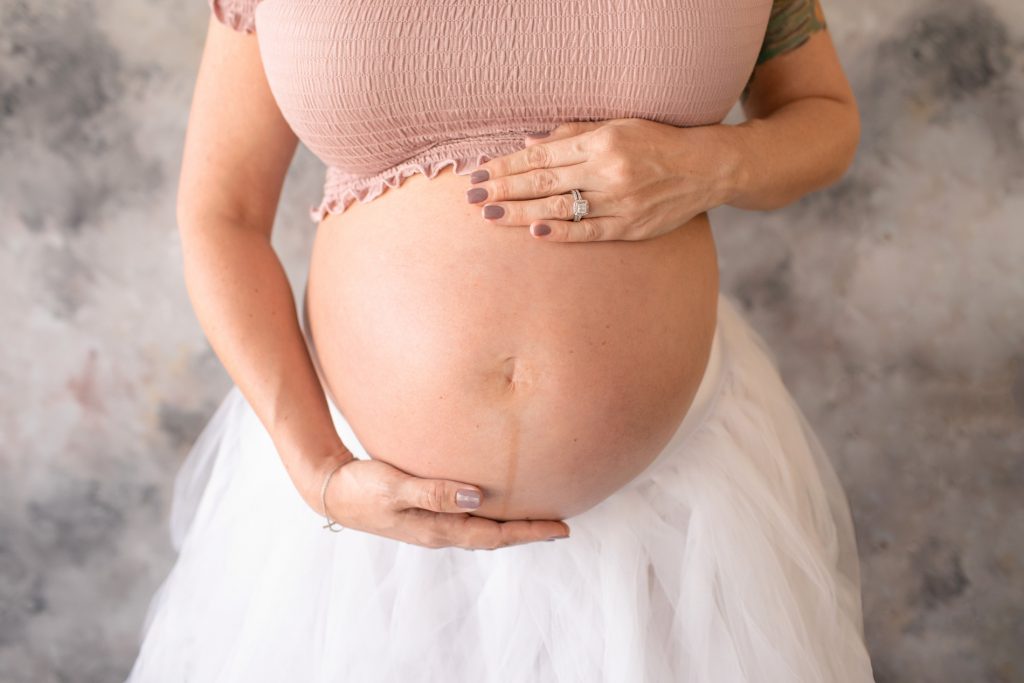 Here Salee sits like a queen dressed in a full white tulle tutu and a beaded white lace top. She will soon have two new princes and one new princess to join her!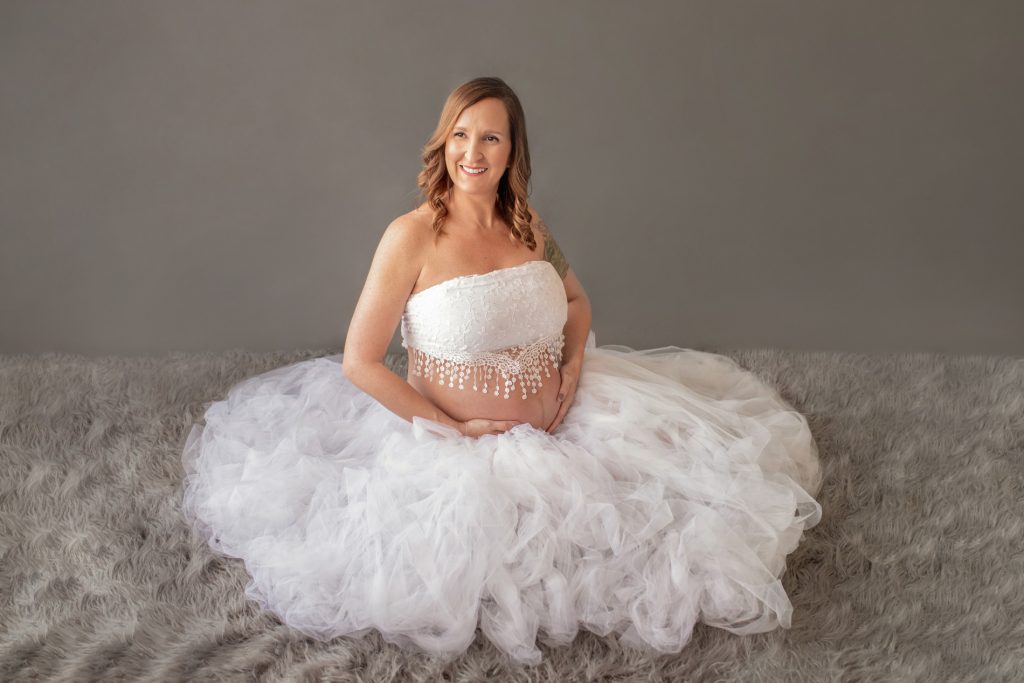 Beautiful pregnant Salee dressed in the same white chiffon maternity gown is lying on grey fur and surrounded with dusty rose flowers. She welcomes spring with all of it's surprises and newborn excitement!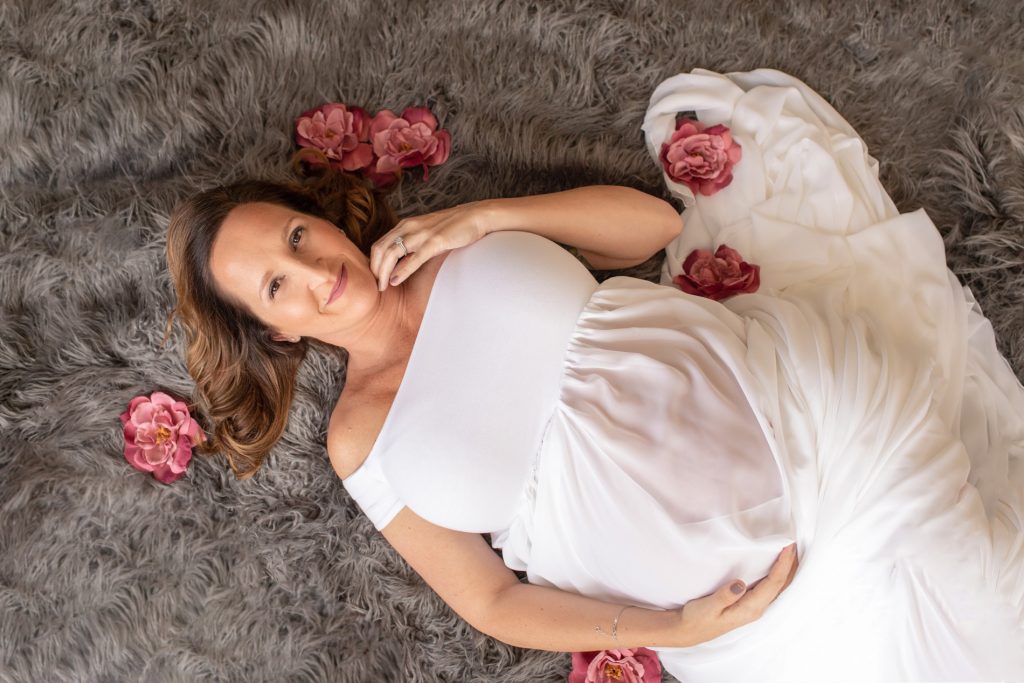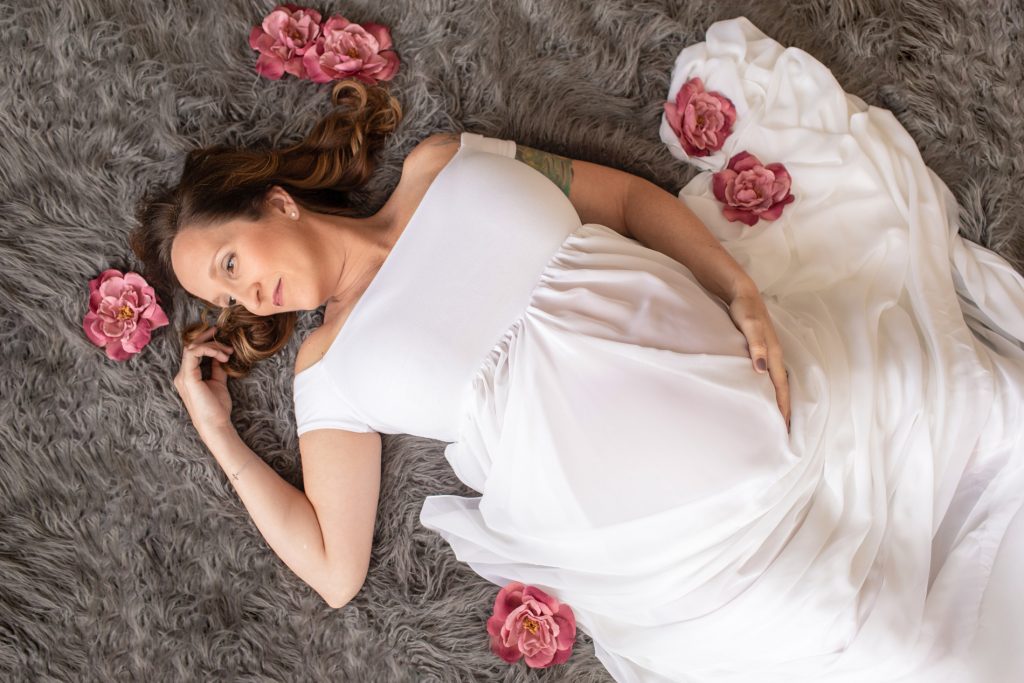 TRIPLETS MATERNITY PHOTOS- A STORY OF FAITH, HOPE AND LOVE
Salee's portraits describe in pictures the faith, hope and love felt even before these babies were born. One day these photos of her beautiful gaze across her growing belly will communicate a strong message, a love letter written to each of them! These triplets maternity photos say that these little lives were greatly loved and celebrated even before the babies were placed into her arms!
Maternity pictures are elegance and womanhood, all wrapped up in a miraculous bundle. Preserved in portraits, these moments make wonderful keepsakes of a beautiful and fleeting time. It was an honor to document this part of Salee and Rob's journey with triplets maternity photos. I look forward to sharing a photo blog of the triplet newborn photo session very soon!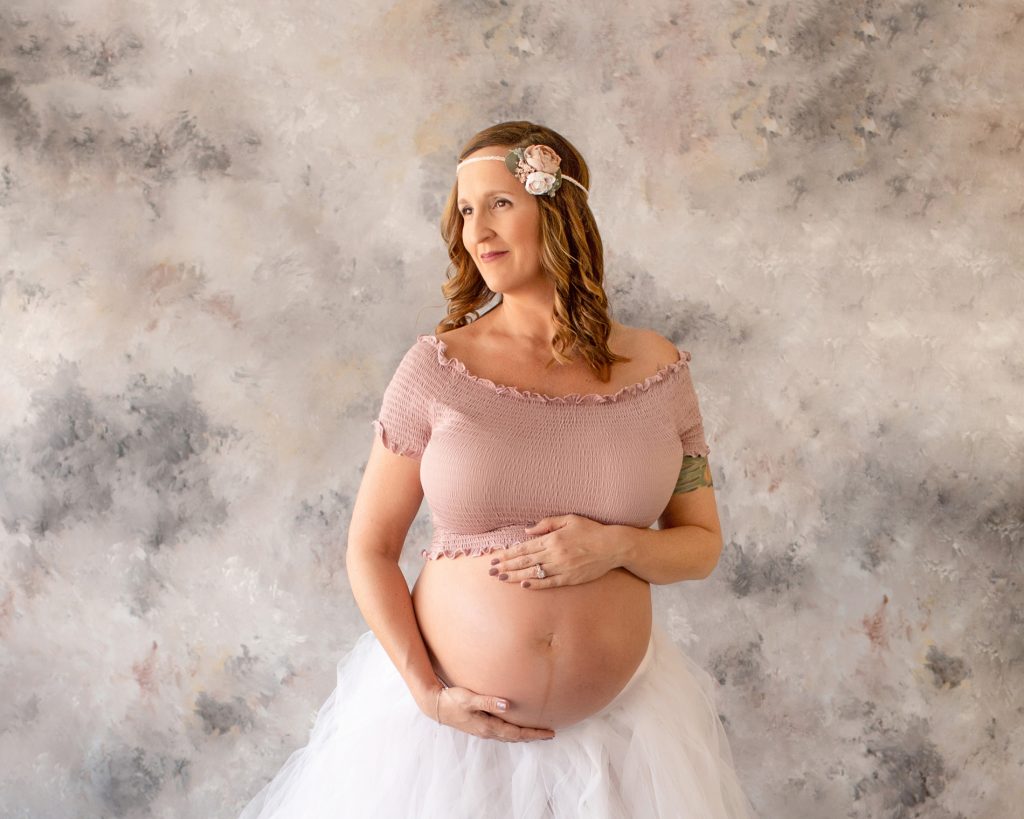 I would love to chat with you, too. If you are considering in studio maternity photos or maternity images at a beautifully lit outdoor location, be in touch. Feel free to call me at 213-1250 or contact me here.
Maternity clients of Andrea Sollenberger Photography are always welcome to use the boutique maternity gown wardrobe during their maternity session. A maternity photography session is a way to capture the beautiful maternal glow and the joy of anticipating a baby who will soon be placed into your welcoming arms.
Chiffon Lace Toss Maternity Gown – https://www.sewtrendyaccessories.com/
White Tulle Tutu Mama Maternity Skirt –  http://www.shopanabrandt.com/
Andrea Sollenberger Photography, Maternity Photographer Gainesville FL, Newborn Photographer Gainesville FL, Newborn, Maternity, Baby, Children and Family Photographer