Gainesville newborn photography of little Gabriel just 8 days after birth with Andrea Sollenberger Photography, Gainesville FL Newborn Photographer. Gabriel's parents, Amanda and Luke, chose to capture the joy and emotion of their baby's arrival with this newborn photo session! Meet Gabe!
As I mentioned in Amanda's maternity blog, the true scholarly approach is exactly how Amanda found me. Having researched Gainesville maternity and newborn photographers in her first trimester, Amanda visited Andrea Sollenberger Photography studio. She checked out the maternity gown wardrobe, newborn prop collection, studio setting and products. Pleased with all the options the studio affords, she booked Andrea Sollenberger Photography for her maternity and newborn photo session. Just like her maternity session, all of the details for Amanda's newborn session were planned and organized for her, making her life as doctoral student at University of Florida a bit easier.
I hope you enjoy Amanda and Luke's newborn images of baby Gabriel.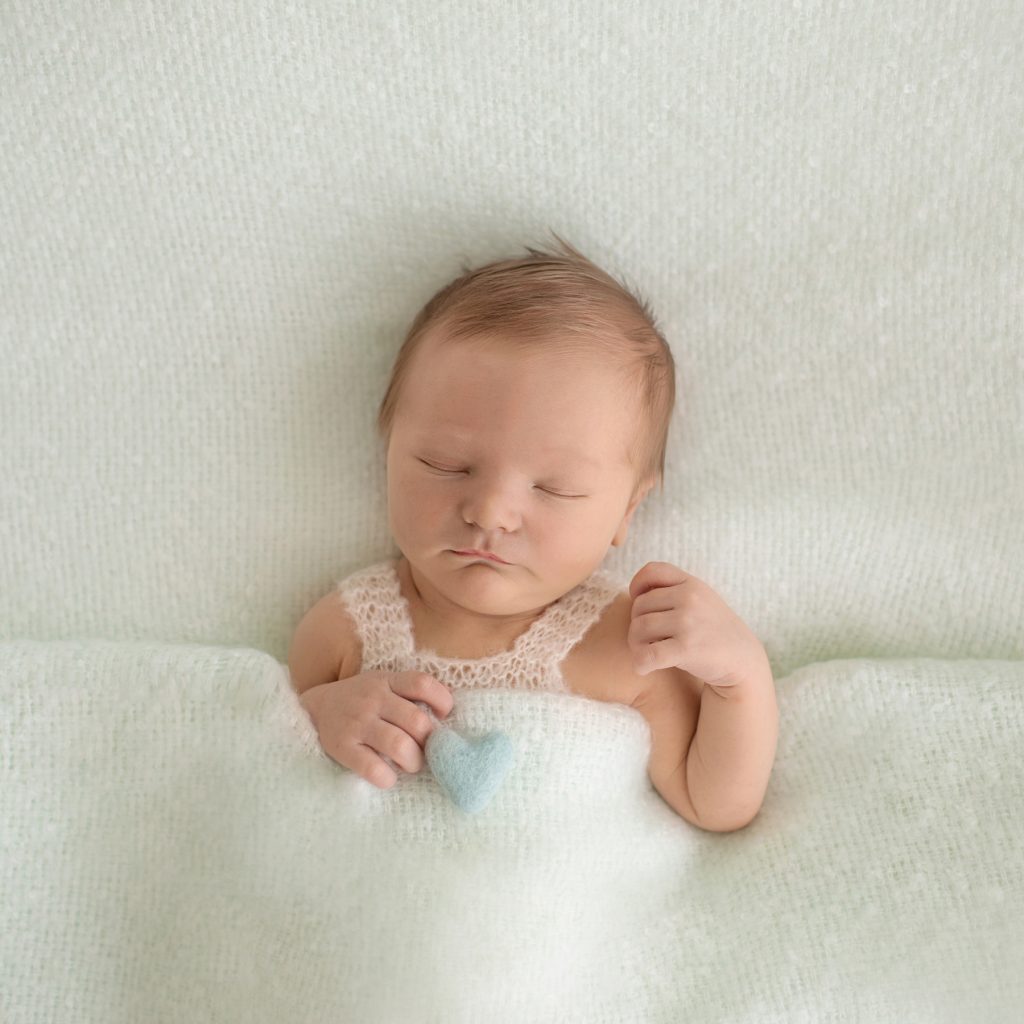 PARENTS IN NEWBORN PHOTOS
Before the newborn photo session, Amanda and I discussed her vision for photos, her home decorating style and color preferences. We used all of the colors of Amanda's maternity session to coordinate with her newborn photo session. It is important to me to style newborn sessions that fit my client's tastes and home decor. This way, their maternity photography and their newborn photography fits right into their home. Amanda chose soft hues of pale blue and mint green against grey and white, with textures of wood, fur and metal.
We started the session with parent photos. I always love a beauty photo of mom and her newborn lying down and cherishing their perfect moment. In this first photo Gabriel is swaddled in a pale blue wrap and cuddled with Amanda on a white fur rug. How much fun for this gorgeous mom to have her love for tiny Gabriel captured forever in beautiful newborn photography.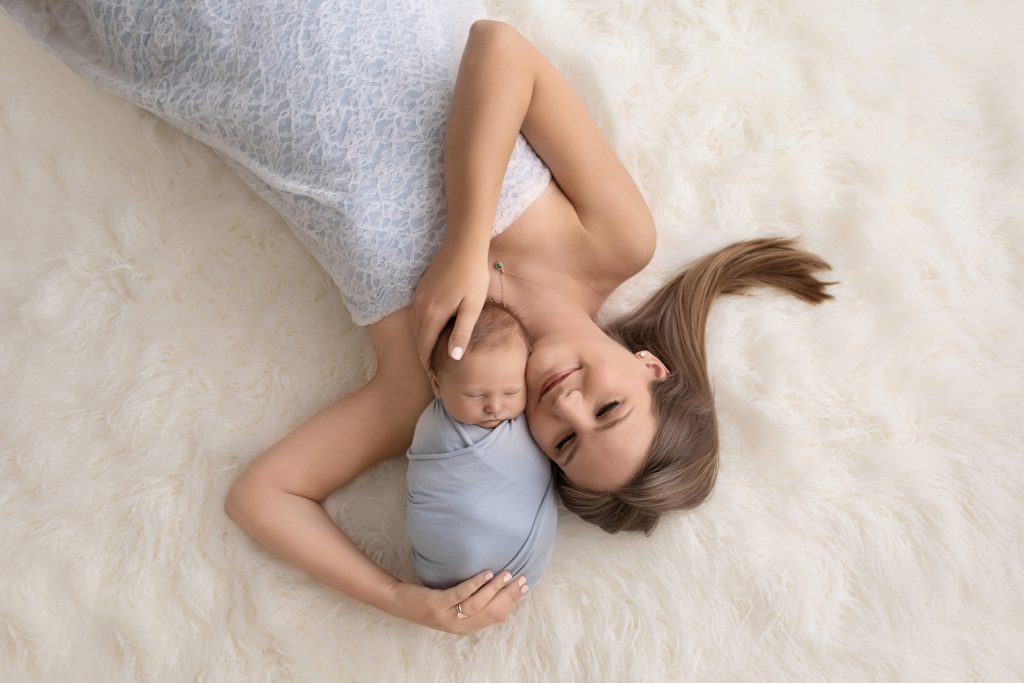 For their first family portrait, this new mom and dad share a delighted glance at their brand new baby boy. This is their first official family hug!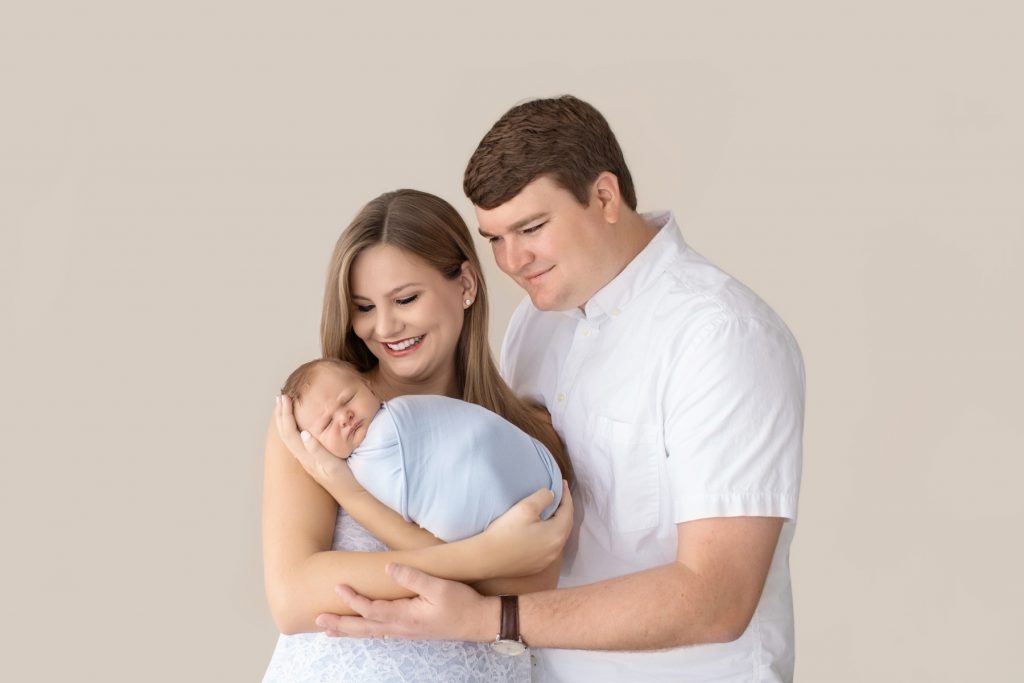 Luke is a proud new dad. He speaks his heart to Gabe in this photo showing their first man to man talk.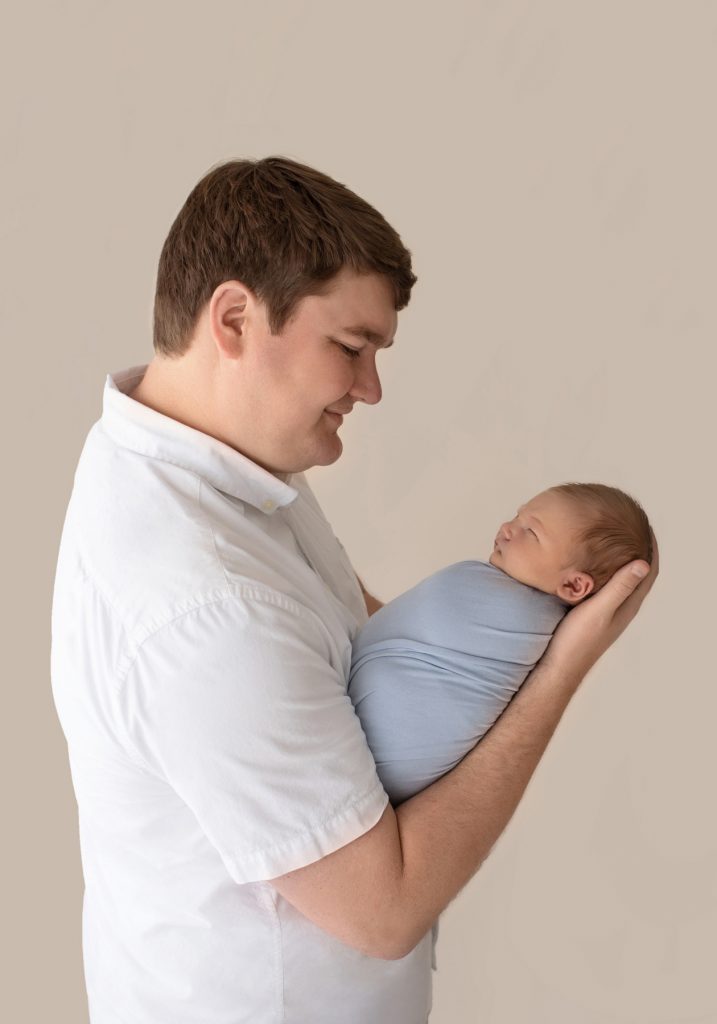 Amanda delights in being Gabriel's mom. Her expression communicates the joy that she feels in her heart. These parent photos capture the tenderness of a new relationship with this newest family member.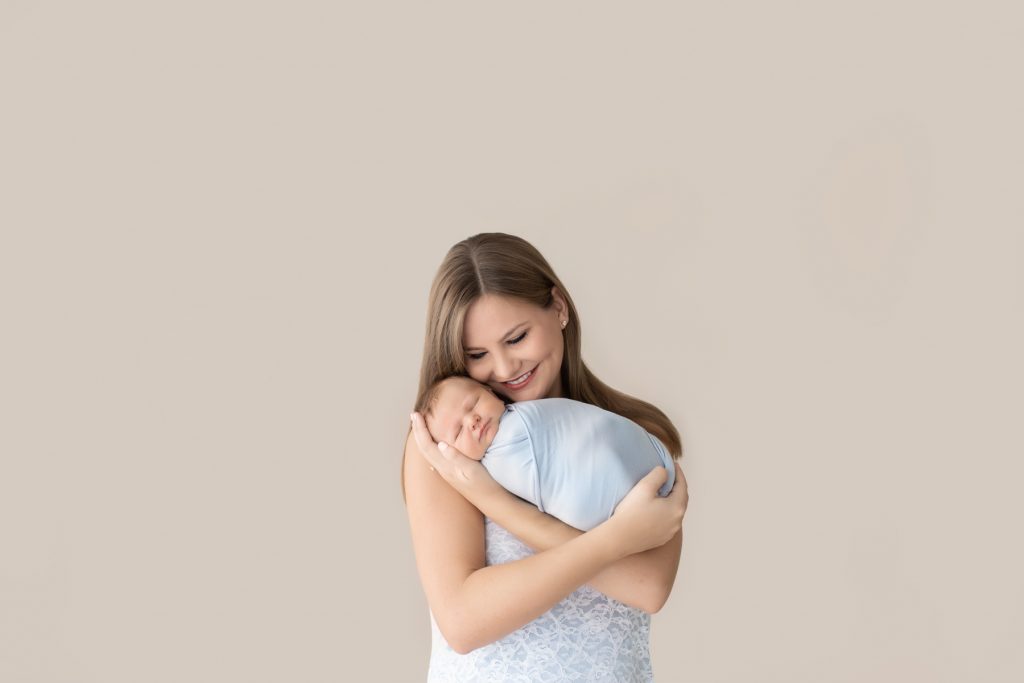 GAINESVILLE NEWBORN PHOTOGRAPHY – BABY PROPS
To begin our photos with newborn props, Gabriel poses swaddled in pale blue in a white wooden bowl against white fur. He is even more dear photographed from the side of this prop. The soft backlight shows off his beautiful newborn details. Gabriel shines like a little angel with these white shades surrounding him!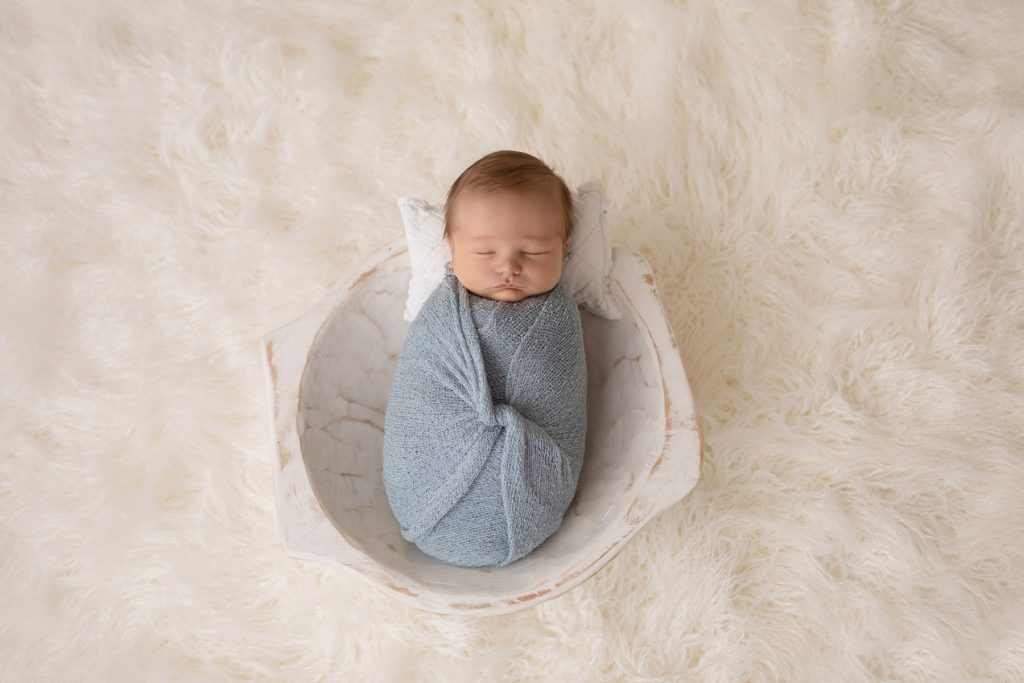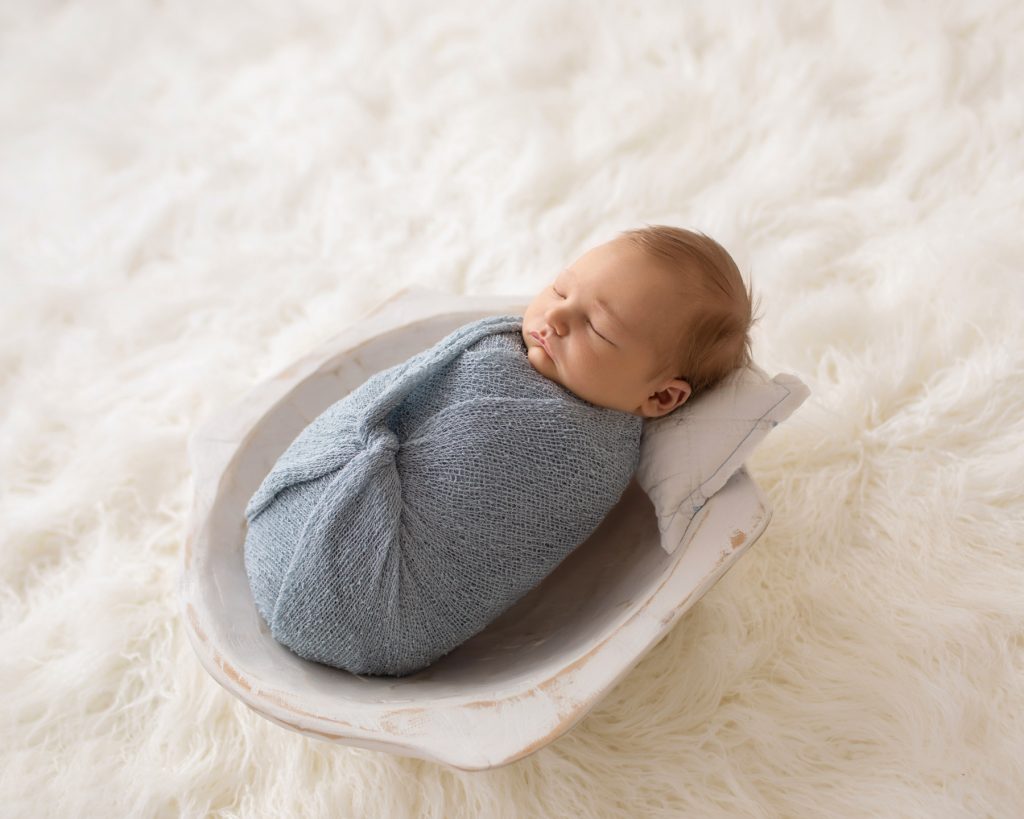 Next Gabe sits like a potato sack swaddled in pale blue knit inside a fur stuffed white crate. His matching bear bonnet is the finishing touch to accent his handsome baby face.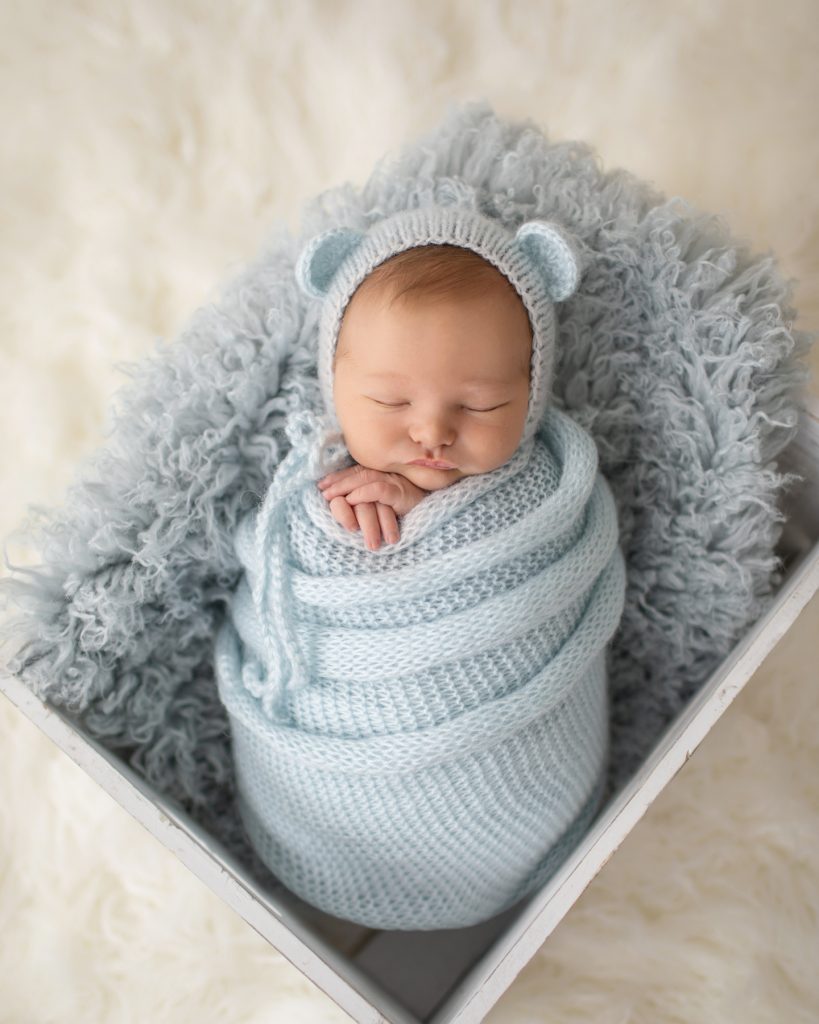 Gabriel posed naked in this trendy metal bucket. A baby in a bucket is such a fun pose and prop! The mint green blanket matches his nursery colors. It's a good thing because Amanda and Luke bought a large baby in a bucket canvas for their nursery!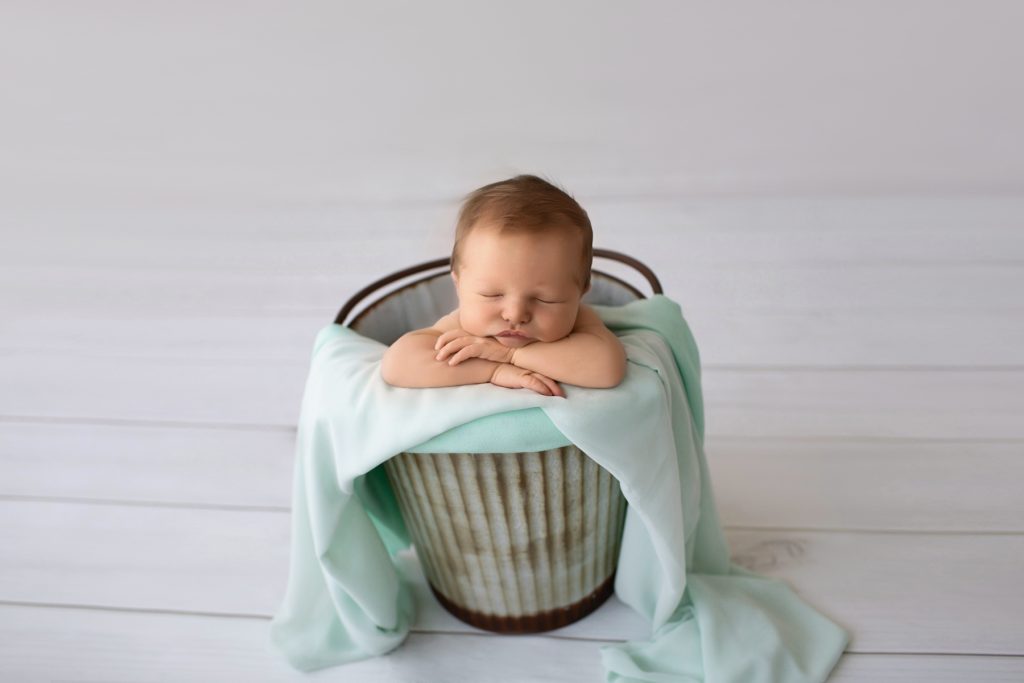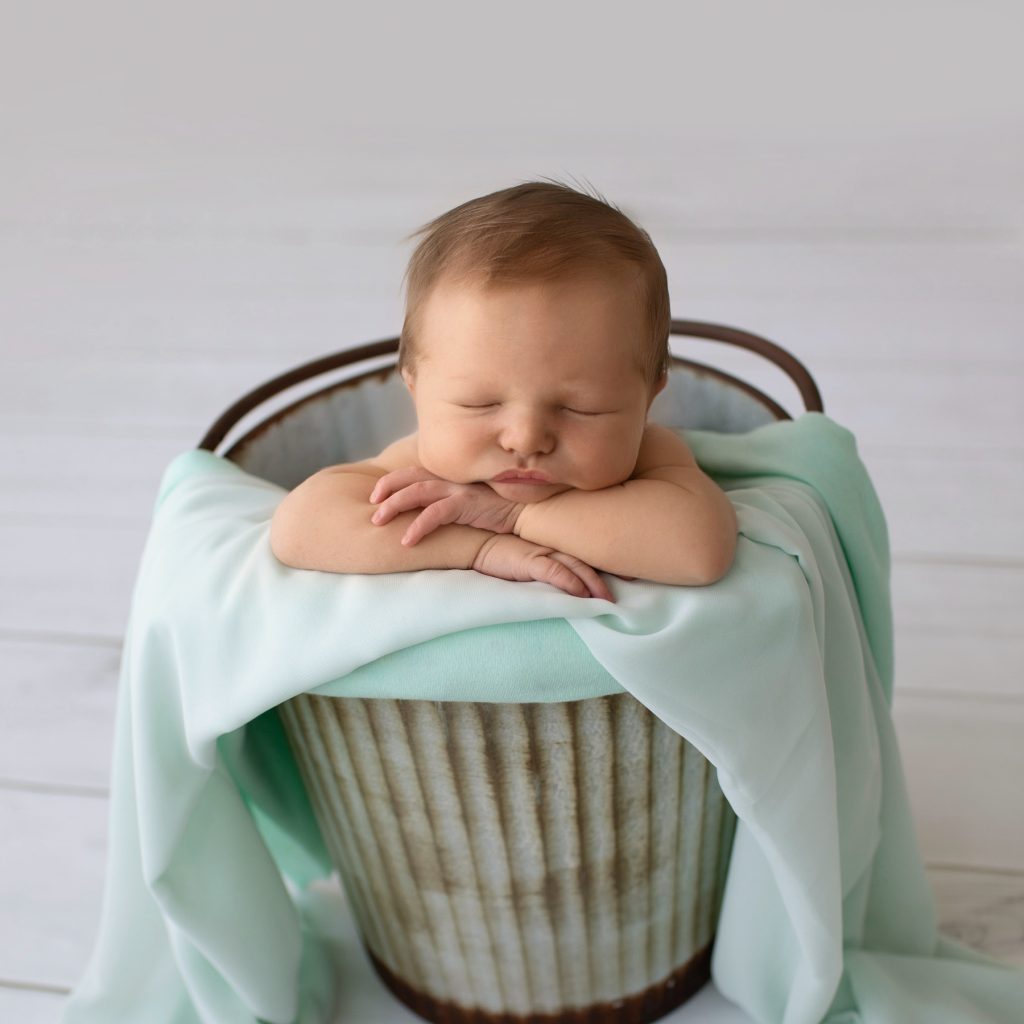 This last newborn prop might have been Luke's favorite as a newborn photo. His tiny newborn lounges on a wood bed wearing a knitted cream romper. He is sprawled out like a big boy. His baby face rests on his hand and his feet are crossed so sweetly! He was a great little poser!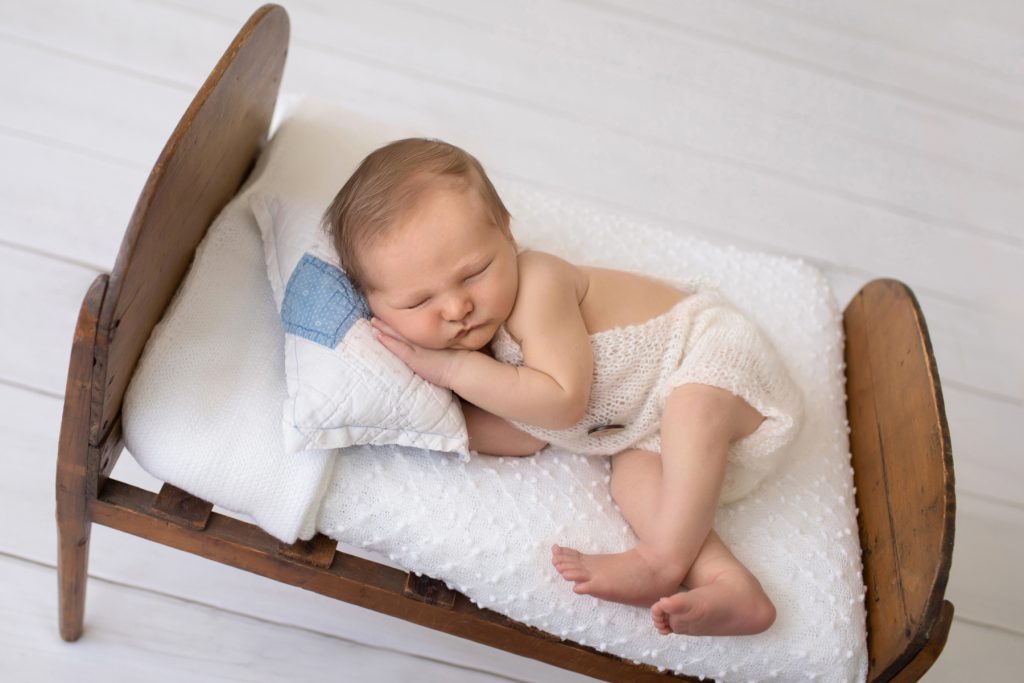 If you're looking for newborn props or poses, then check out more newborn photography here
NAKED NEWBORN PHOTOGRAPHY
Photos that show soft baby skin help us remember the way babies were from their earliest days. For a very different set of newborn images, we were able to capture naked newborn photography during this session.
We moved to a soft white blanket and Gabriel posed on his side with his legs curled up. His cheeks rest on his stacked little baby fingers. I like to call those hands prayer hands!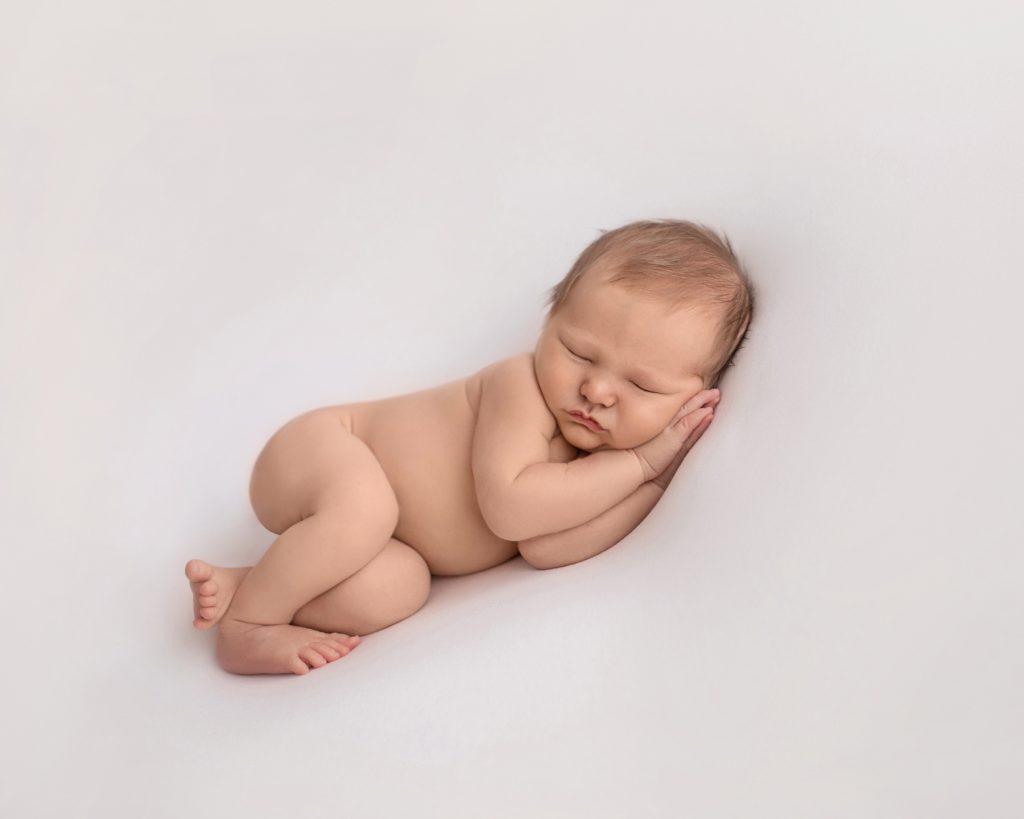 Gabriel's soft baby skin is highlighted as he posed naked again. He lounges on his side with his legs and toes stacked together and his baby face resting on his hands. All of his newborn details to enjoy. Don't you want to kiss those adorable squishy baby cheeks!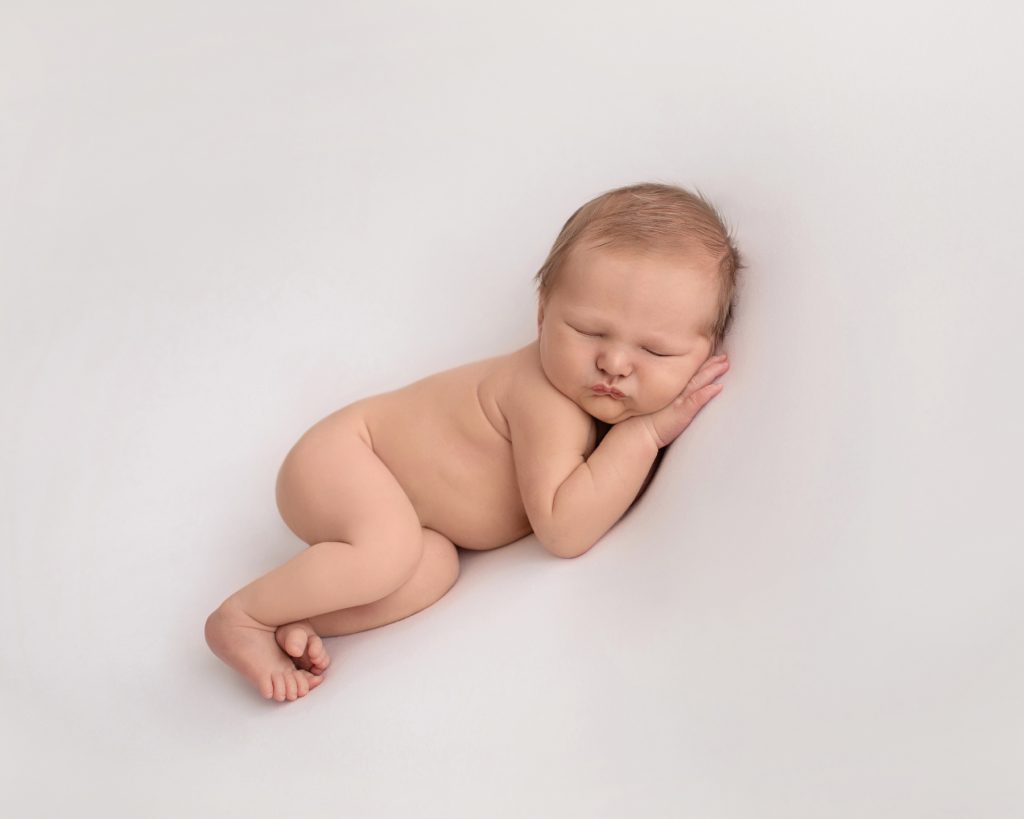 Naked baby Gabe posed on his belly with his bottom up and his little hand under his chin. His perfect soft baby skin steals the show! He is a beautiful newborn baby.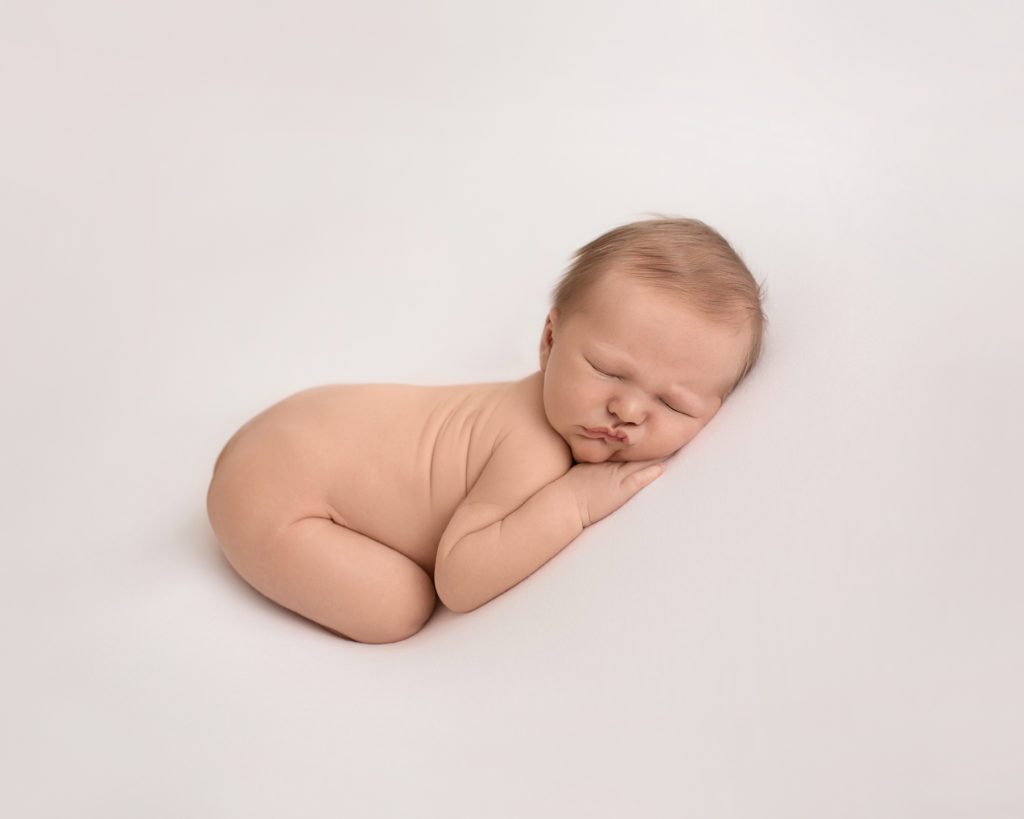 What a treat it was to capture newborn photography of this Gainesville newborn! Be sure to remember how very tiny your baby was. Will you remember the newborn details? The soft baby skin that you love to kiss, their tiny newborn hands , squishy baby cheeks, or their cuddly baby rolls? Capture your first special moments. By doing so, newborn photography records not only the tiny little details and newness. It also captures the beginning of new relationships budding between precious family members! For more newborn photoshoots check out the Newborn Portfolio.
GAINESVILLE NEWBORN SESSIONS – STUDIO DETAILS
The best time for newborn photography is within the first two weeks of life when newborns are super sleepy and curly. I would love to capture with photos each stage of your little one's growth from their youngest newborn days. Your family will treasure these memories for years to come. Looking for newborn photography? Click here to get started.
Andrea's studio serves Gainesville, Alachua, Jonesville, Newberry, Town of Tioga, Haile Plantation, Archer, Trenton, Williston, Melrose, Palatka, Ocala, Micanopy, High Springs, Lake City and Live Oak.
Knit wraps and bonnet – https://www.etsy.com/market/dreaming_carita/
Baby backdrops – https://www.intuitionbackgrounds.com/
Newborn wraps – https://www.devotedknits.com/
Wooden Bowl – https://www.shopchicaboo.com/
Basket stuffers and backdrops –  https://www.customphotoprops.com/
Andrea Sollenberger Photography, Gainesville Florida Newborn Photographer, Newborn, Maternity, Family, Child and Baby Photographer Gainesville Florida