Maternity photographs capture anticipation, excitement, change and wonder! Mom and Dad are preparing for the arrival of their brand new baby and for the time when a brand new life will be placed into their care. Maternity photos document a slice of life for your family, like a time capsule, that you never want to forget. The addition of a baby marks the beginning of so many new chapters in life. Serving moms and dads as maternity photographer Gainesville Florida and capturing the love and anticipation of these expectant parents is my joy and honor.
Amanda's beautiful maternity photographs tell her story. I hope you enjoy some of the pictures from her maternity session in this blog post.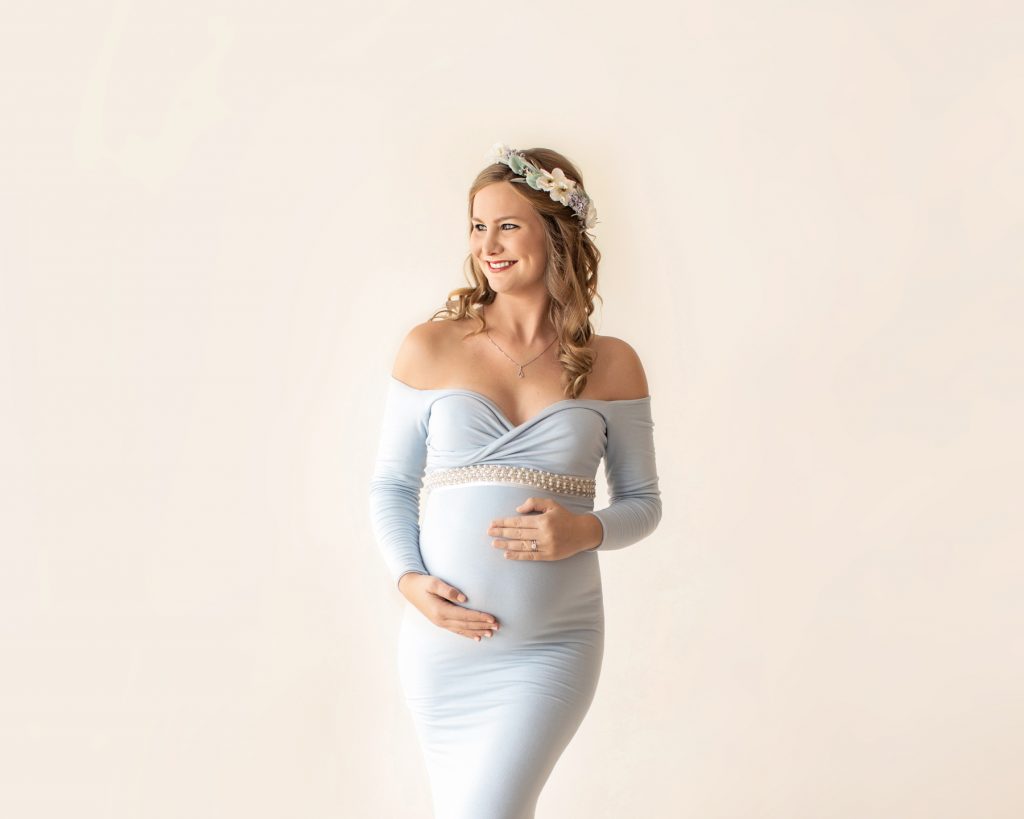 MATERNITY PHOTOGRAPHS TAKE PLANNING
As a true scholar, Amanda researched Gainesville newborn and maternity photographers soon after learning that she was expecting a baby. Still in her first trimester, Amanda made an appointment to see Andrea Sollenberger Photography studio. She checked out the maternity gown wardrobe, the newborn prop collection, and the printed products available for purchase. She loved the options and the studio atmosphere so much that her decision was easy. During her Studio Visit she booked Andrea Sollenberger Photography for both her maternity photo session and newborn photo session. Life is busy for this doctoral student at University of Florida. All of the details for Amanda's sessions were planned and organized for her, making her life easier.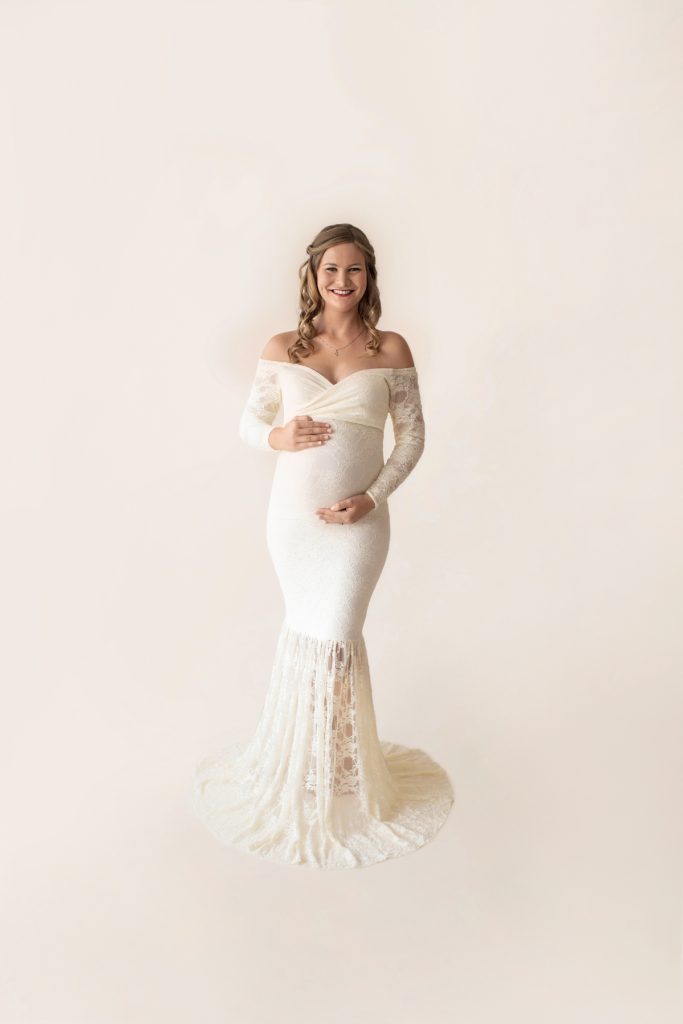 BOUTIQUE STUDIO MATERNITY GOWNS
Amanda decided that she would like to coordinate her maternity and newborn sessions with a matching color scheme. These colors would be from a palette that worked as photography wall art in her newly decorated home. It was easy to find the gowns that suited Amanda's style, size and color scheme. The studio maternity gown wardrobe includes a beautiful collection of maternity gowns in a variety of colors, styles, textures and sizes. Amanda was excited to discover that the maternity gowns and dresses in our studio are available as part of every studio maternity session at no extra cost. With so many expenses approaching, pregnant moms are pleased with the selection of maternity gowns in the studio wardrobe for their maternity sessions.
Amanda's two favorite choices included a long sleeve ivory lace mermaid maternity gown and a long sleeve baby blue mermaid maternity gown. She is stunning in both!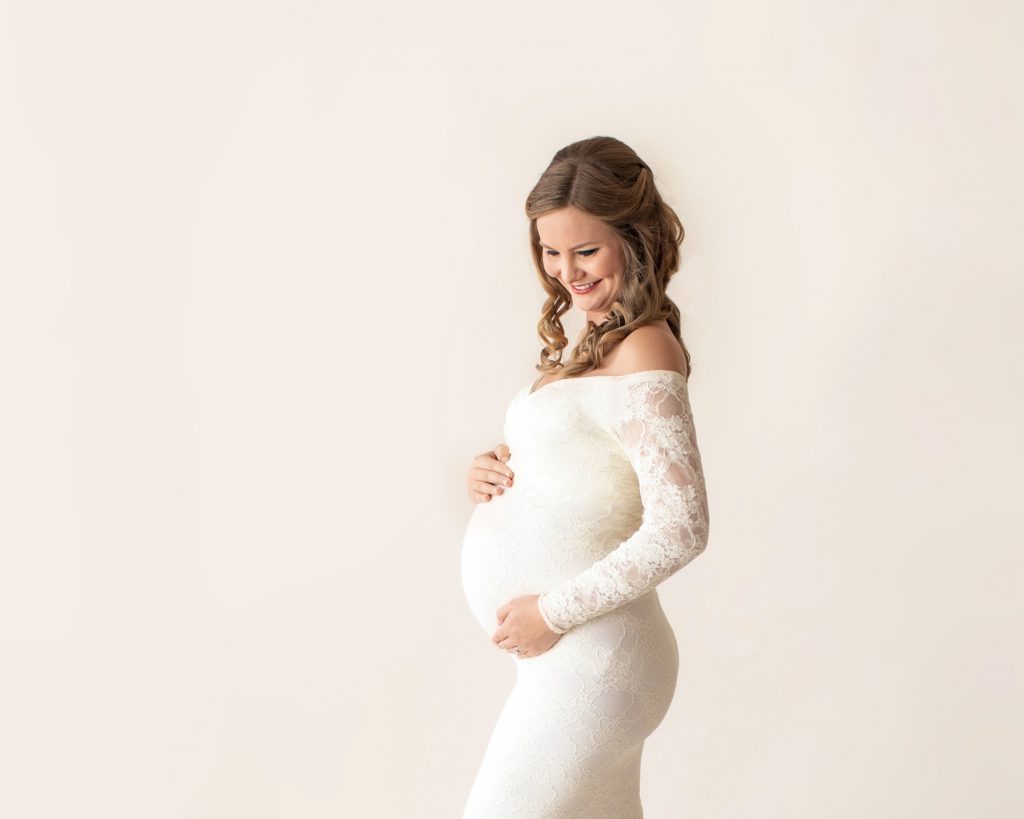 MATERNITY PHOTOGRAPHS AND POSING
Amanda's husband, Luke, was glad to come along for maternity photos with his bride. As often as possible I love for maternity pictures to include dads, too. Mom and Dad share a tender connection as they look ahead on this journey into parenthood. They are on this path together. It won't be long before there a baby sits in their arms, and Amanda and Luke will be a family of three. This is their first child. And this is their family story!
Expectant parents may feel that they will not look good in front of the camera. Professional maternity posing provides direction to make you look your best you! Amanda and Luke posed beautifully. Amanda wears the same color coordinated baby blue mermaid maternity gown with pearl bodice sash. Her handsome hubbie holds her tight from behind. Their maternity photographs are timeless and warm with affection, simple and elegant. Maternity pictures mark the beginning of their relationship with their son. Their budding connection with their baby is tangible!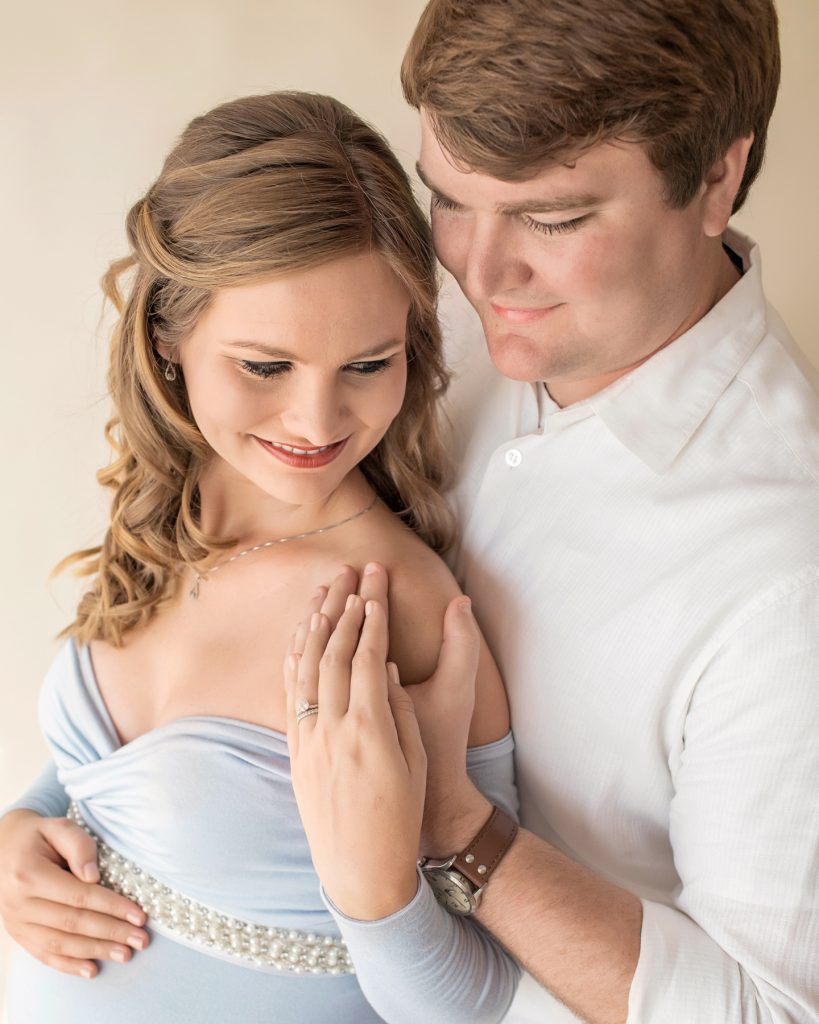 MATERNITY MOMENTS – IN STUDIO PORTRAITS
Amanda's studio photos show off her beautiful baby bump with grace and sophistication. A mother's maternity shape is one to be appreciated for the strength of women and the beauty of their shape. This ivory lace mermaid maternity gown flatters Amanda's shape and her beautiful belly. Her tenderness for her little one is written all over her expression as she gazes down at her belly.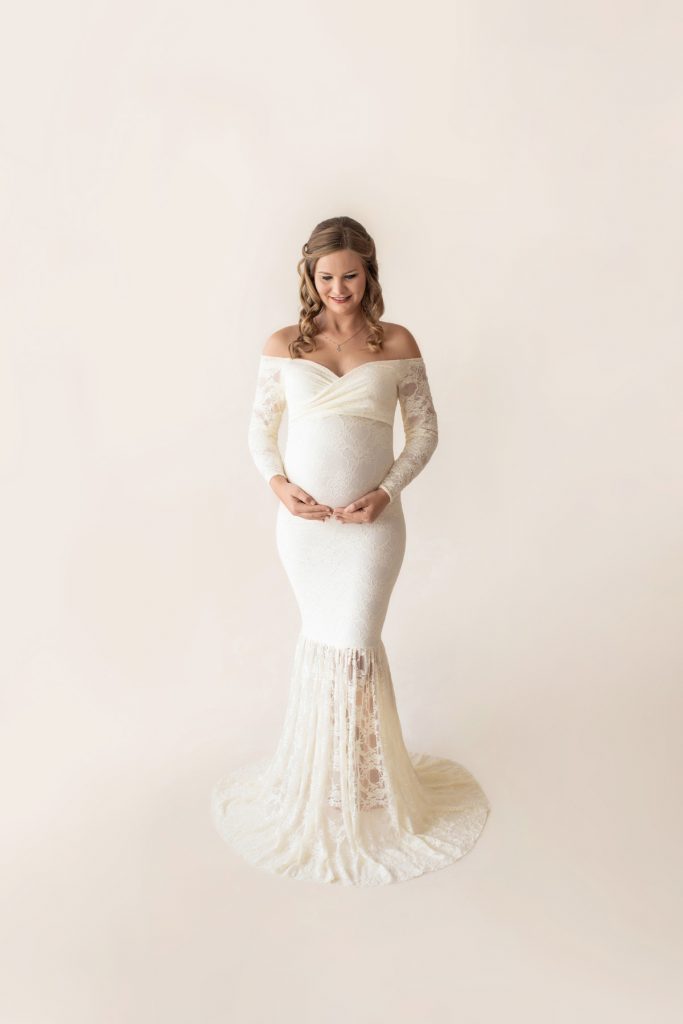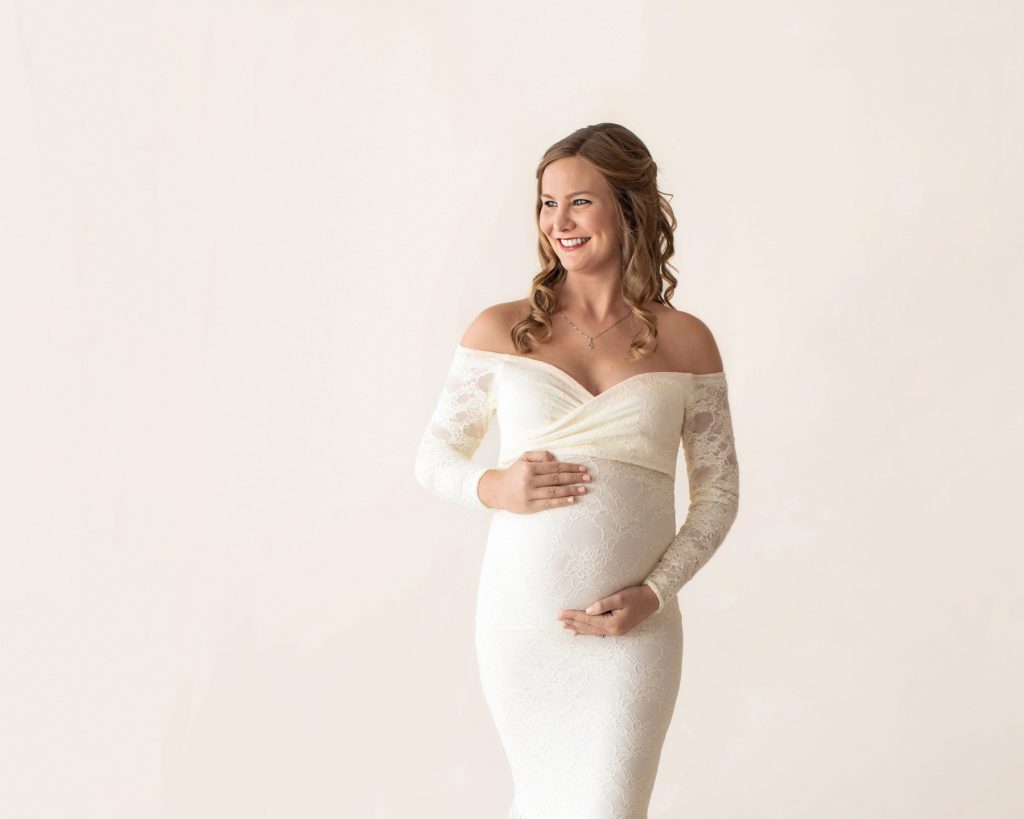 An expectant mom's love for her little one grows deeper with the waiting. And Amanda's face radiates with happiness. Many have called this radiance a maternity glow. To capture the beautiful glow that others can see holds a treasured memory for every mom who knows the passion from the inside.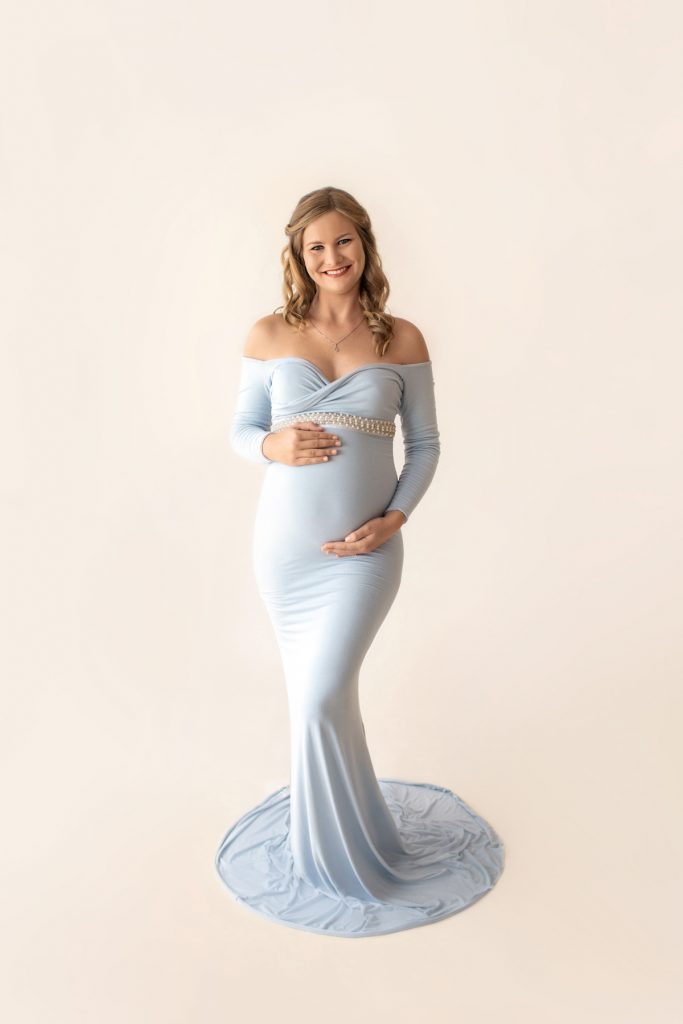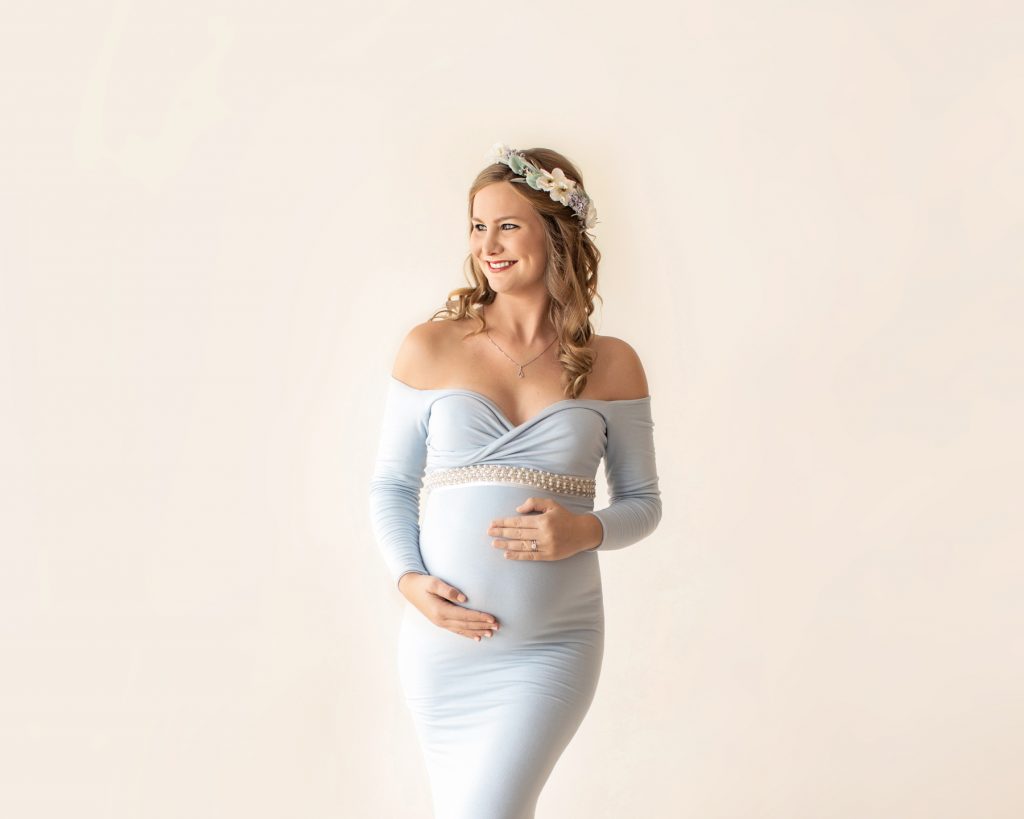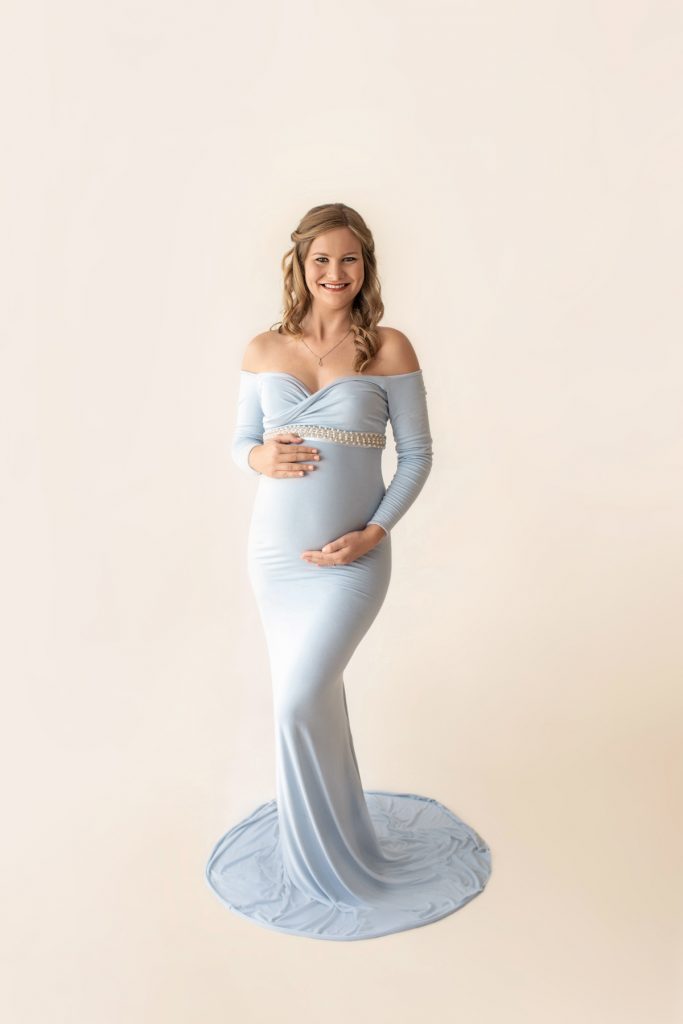 Gazing down at her perfectly rounded pregnant belly, whispering sweet messages to baby, and sharing this moment now and forever! Maternity photos communicate a strong message. This message is a love letter written to her baby even before his birth!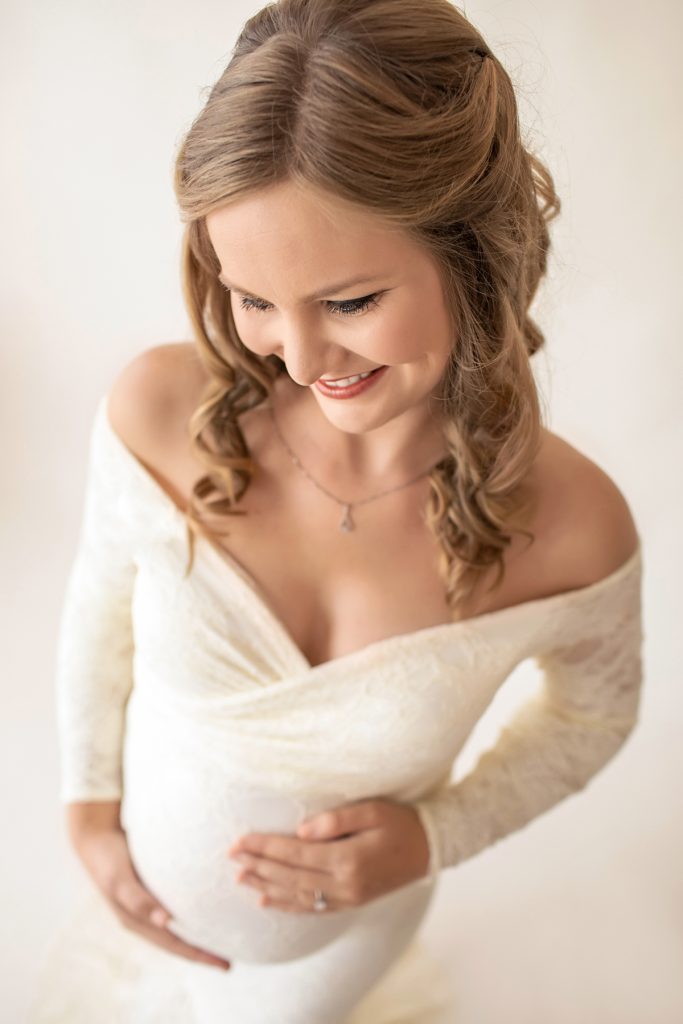 We ended our session with a bonus! This gorgeous new mom shows off her shape and long blond curls in a white chiffon maternity gown. We tossed the train to get this wind blown effect!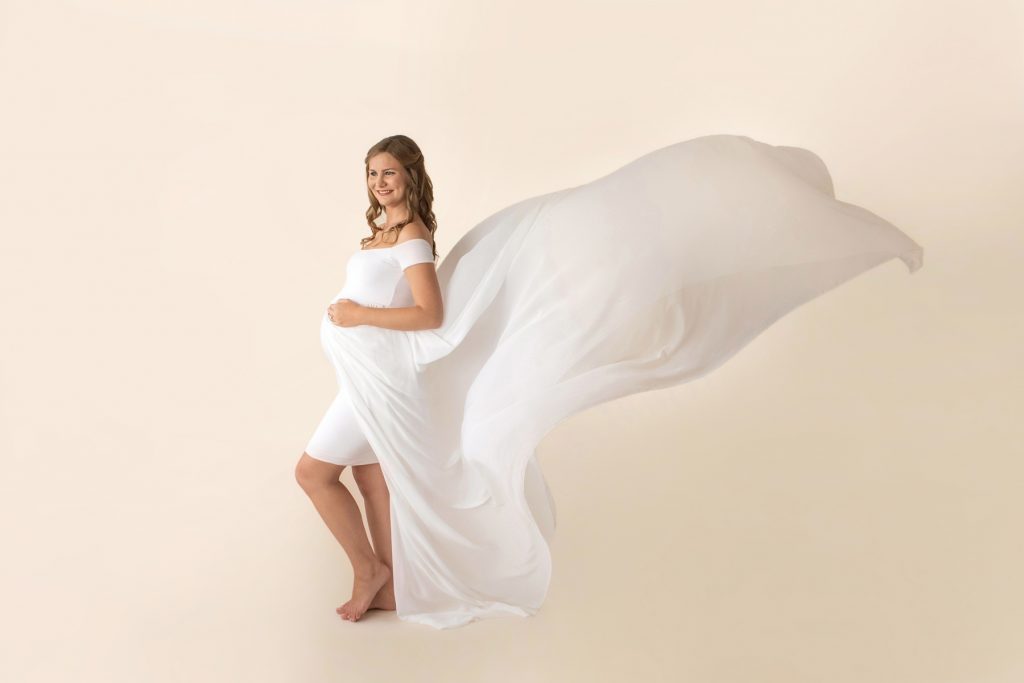 Scheduling Your Maternity Session
What a treat to photograph Amanda's maternity photos. I would love to chat with you, too. Are you considering in studio maternity photos or maternity images at a beautifully lit outdoor location? Be in touch. Feel free to call me at 213-1250 or contact me here.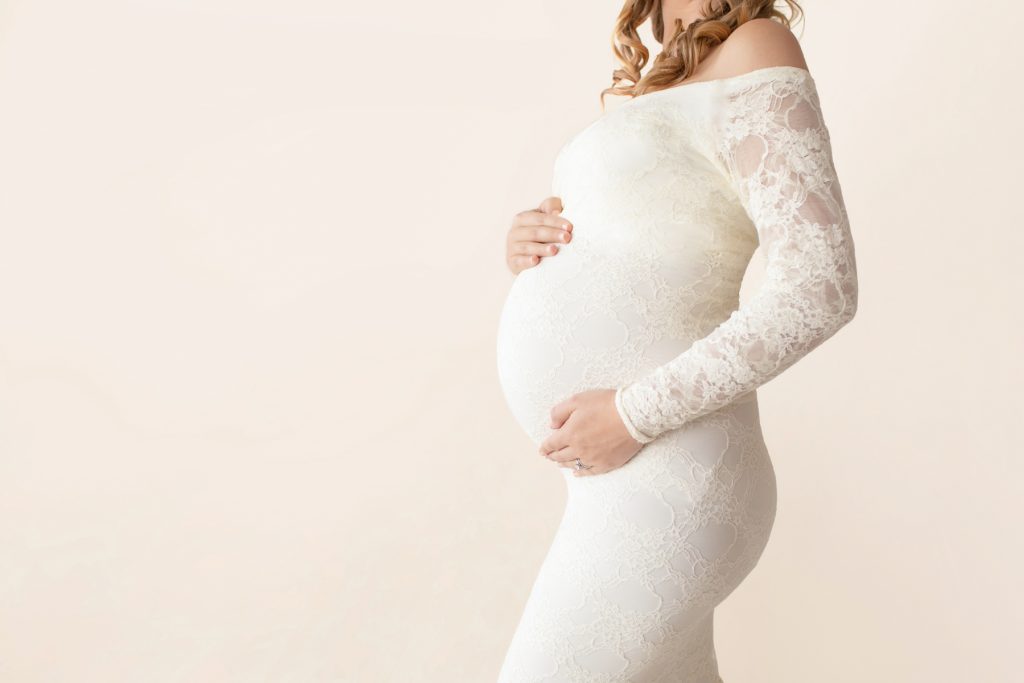 Andrea Sollenberger Photography's maternity clients are always welcome to use the studio wardrobe for their maternity session. These maternity photo sessions capture the beautiful parental joy and anticipation of a baby who will soon be born.
Maternity Gown and accessories– https://www.sewtrendyaccessories.com/
Andrea Sollenberger Photography, Maternity Photographer Gainesville FL, Newborn Photographer Gainesville FL, Newborn, Maternity, Baby, Children and Family Photographer