Hello! I'm glad you stopped by to see baby newborn photos of Lucas with Andrea Sollenberger Photography, Gainesville FL Newborn Photographer located in Alachua. My studio is designed specifically with a maternity photo session and newborn photo session in mind. I love to pamper moms, dads, babies, and families in the Gainesville Florida area.  Preserving memories with photos, especially newborn photos, and having the chance to be a part of capturing these special moments for parents is my joy. It truly makes my heart sing! My goal is to give my clients beautiful photographs of their most meaningful times to help them  cherish their best memories for a lifetime. Having a baby is one of the most monumental experiences in life. It is worth capturing this new joy with professional newborn photography!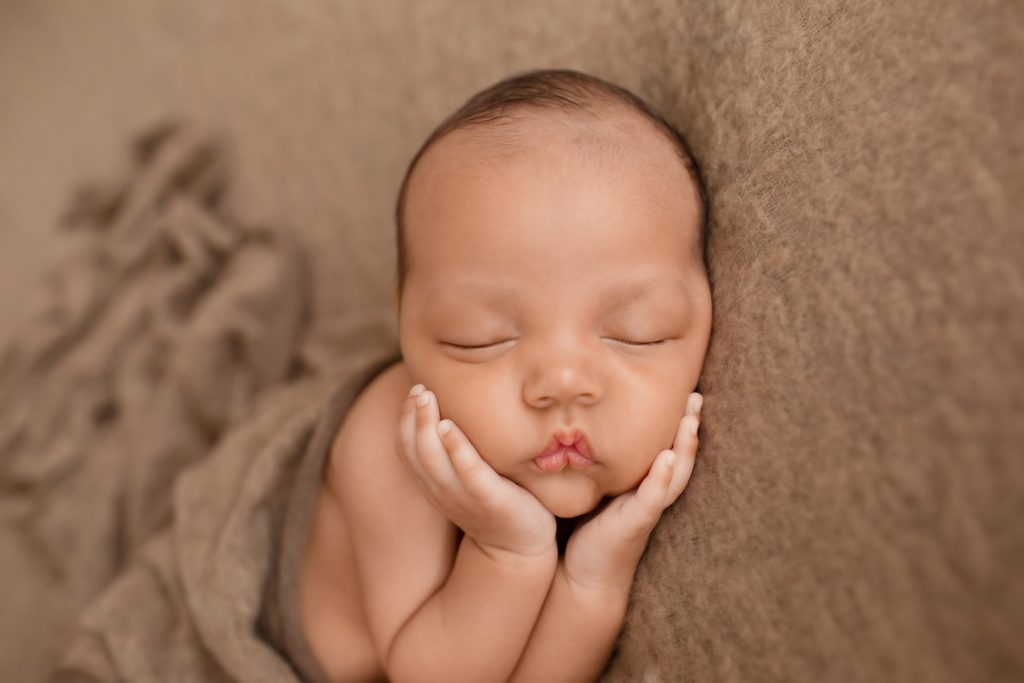 GAINESVILLE BABY NEWBORN – LUCAS!
Here is a little peek into newborn photos with Lucas! Corey, Lucas's mother was in touch with Andrea Sollenberger Photography for newborn photos after he was born. She knew she wanted to celebrate the love of this special baby boy. She explained to me that photos of her baby now would show her baby later how very much he was loved from the start. We quickly got her on the calendar for a newborn session so that Lucas would have true baby newborn photos before he turned two weeks.
Calling for a newborn photo session appointment early in the third trimester is recommended to avoid disappointment. The schedule does fill up and newborn sessions are time sensitive! Corey followed all of the suggestions for a successful newborn session. She brought her newborn to me completely prepared for his studio newborn session. We had a dandy time with him!
GAINESVILLE BABY NEWBORN PHOTOS AND STUDIO PROPS
We started posing with props, and Lucas slept so well!
First, baby newborn Lucas wrapped up like a brown potato sack with matching knit bonnet. He sits on white fur and then in a white fur stuffed basket with backlight.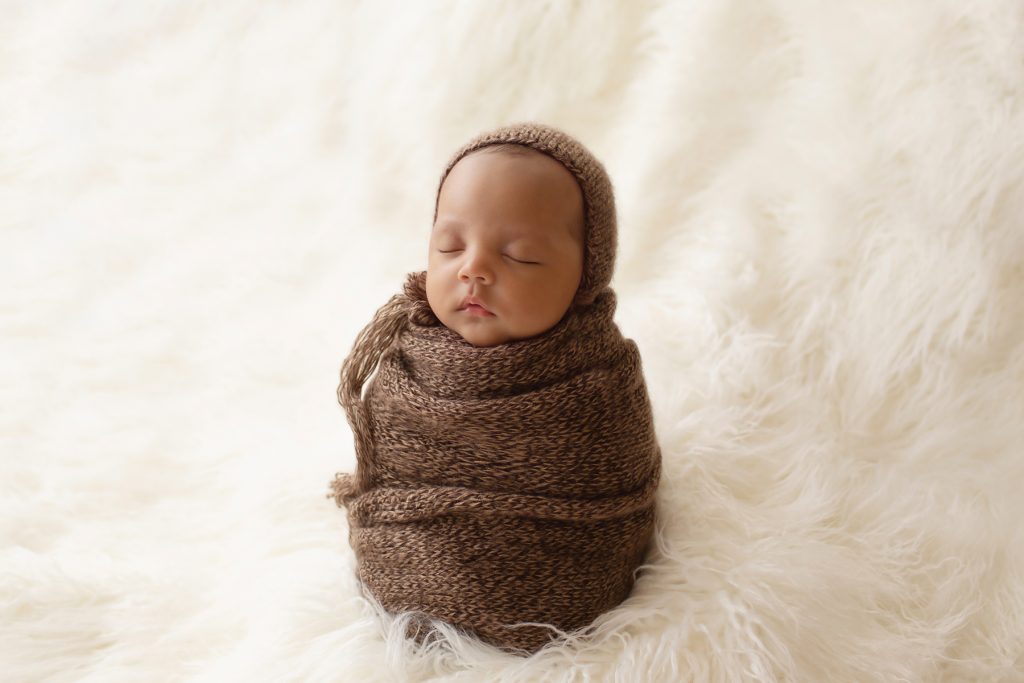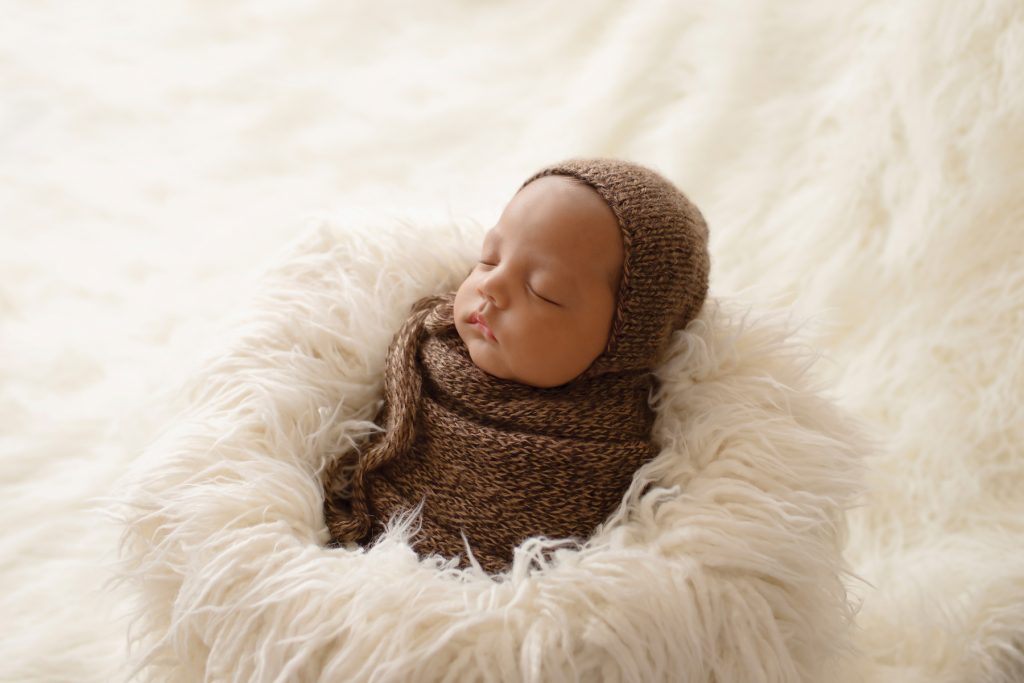 Here is Lucas wrapped in a brown swaddle in white fur stuffed wicker basket on white wood floor.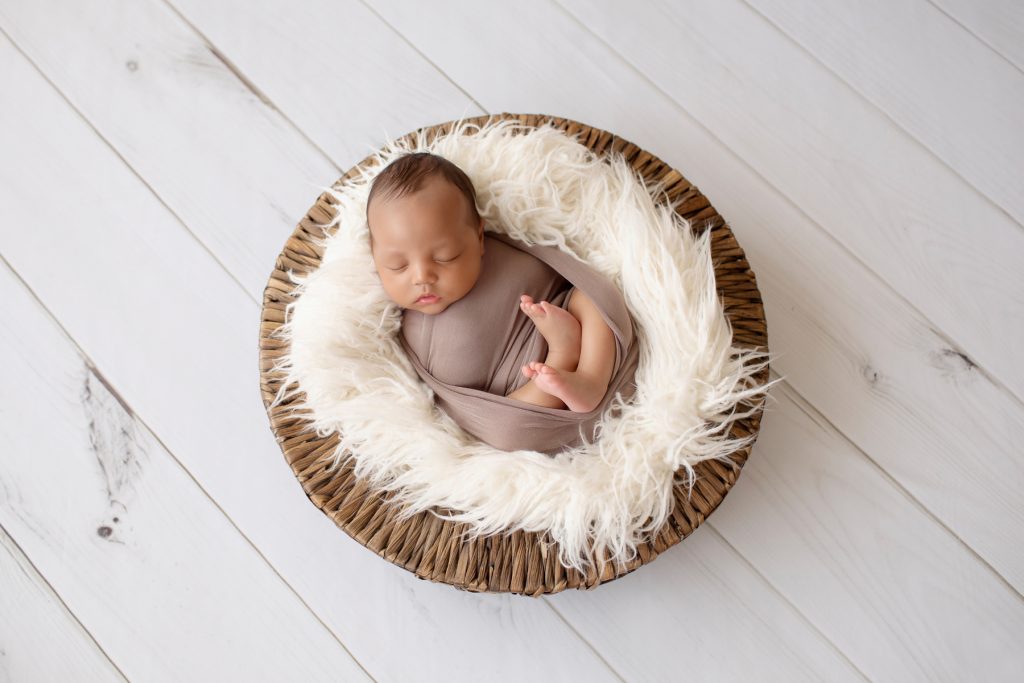 Lucas is beautiful in the same pose against some light from the back. His baby soft skin glows! This prop worked very well for Lucas and allowed him to get into a nice, deep sleep for more photos! Andrea Sollenberger Photography has an extensive newborn prop collection and a beautiful newborn wardrobe available for each session. If you're looking for some newborn props, colors or newborn posing ideas then check out another little newborn session here.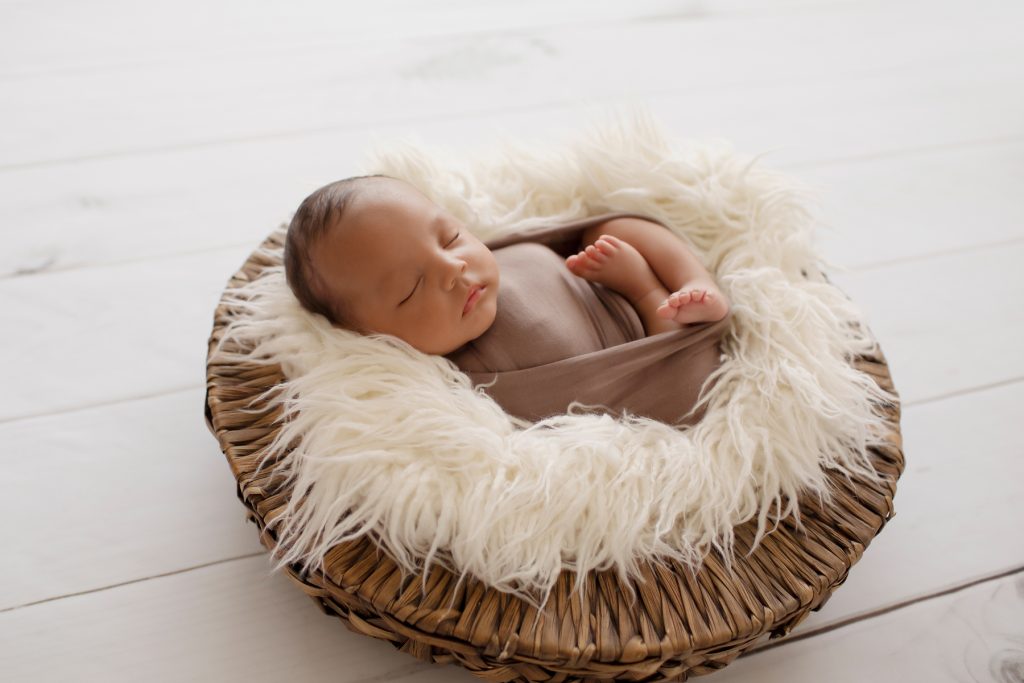 BABY NEWBORN DETAILS!
Lucas slept well, so we moved on to more photos to show his baby newborn features! On the beanbag, smiling Lucas is in a brown swaddle with his tiny toes poking out. His beautiful baby face is toward us so we can see his handsome facial features really well. I love his little grin!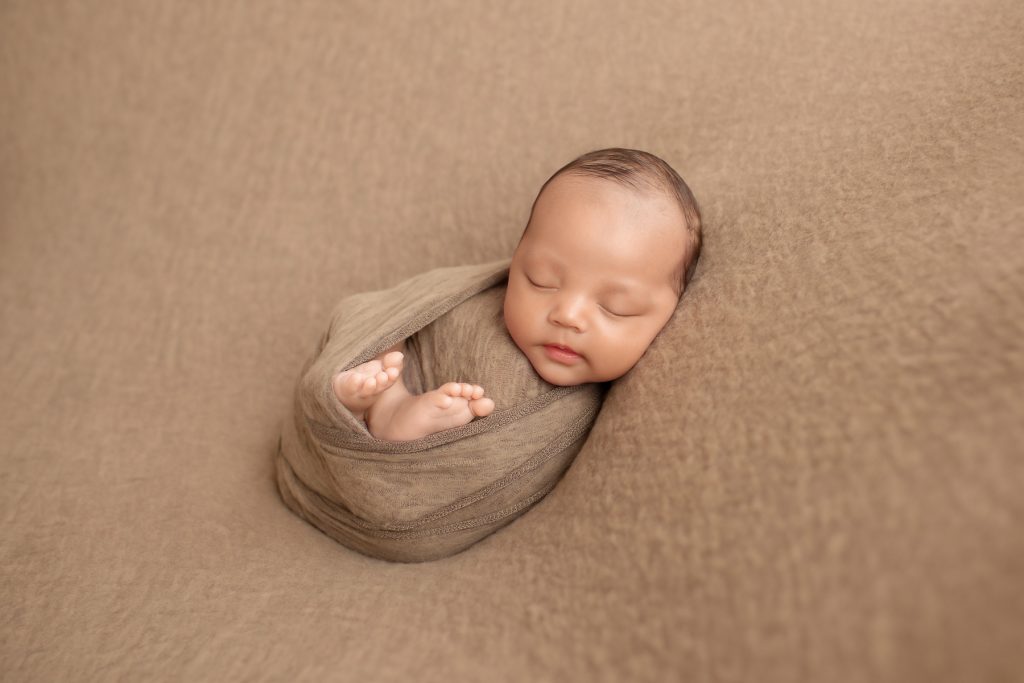 Next we see him in the same brown swaddle but now his little hands and his tiny toes are poking out for us to see.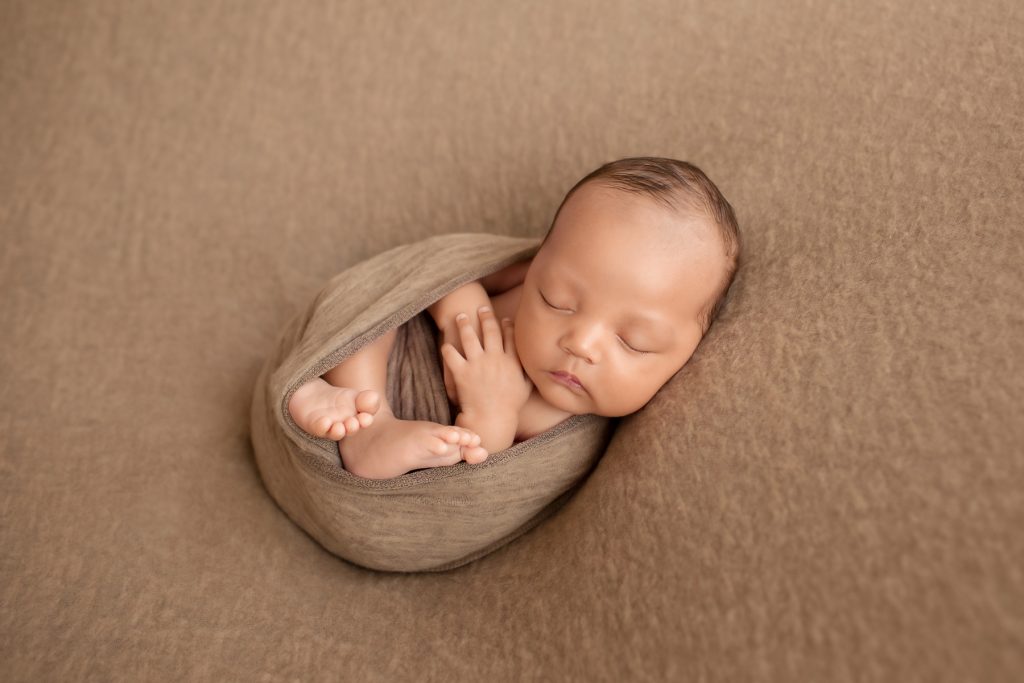 My favorite, if I had to pick one, is Lucas on a brown blanket with his little baby hands cupping his chunky baby cheeks. I love the way his hands frame his beautiful baby face. Because his face is close to the camera I also feel like I can almost touch his soft baby skin.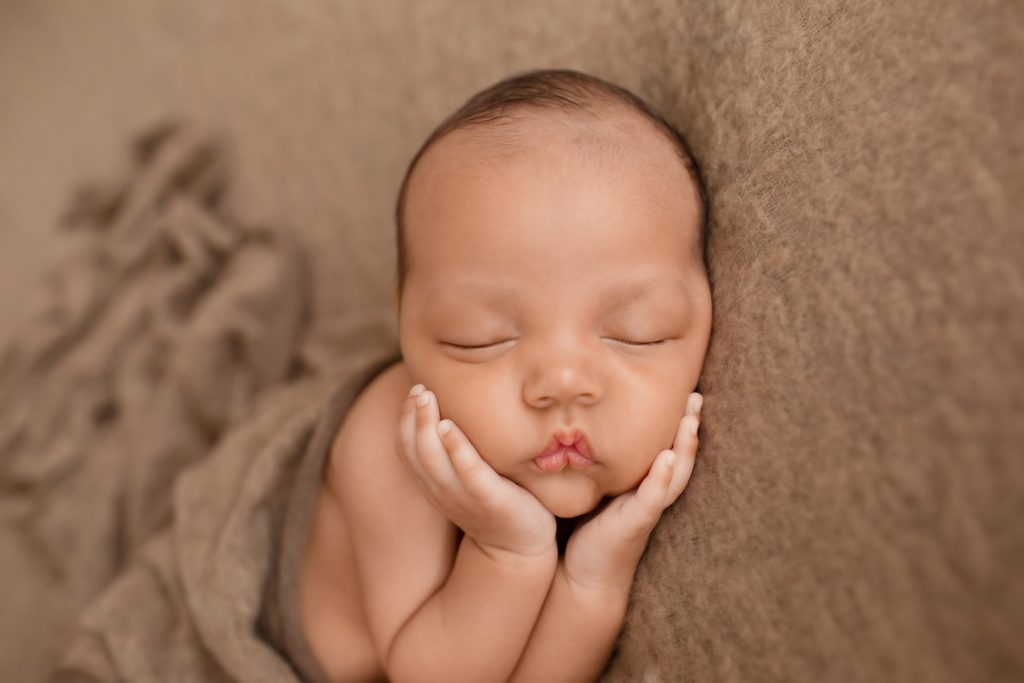 Again, those little baby hands curled around his chunky baby cheeks so close to his face reminds me how he loves to be cuddled. He's very relaxed posed on his side and seemed not to notice he was being posed for a newborn photo session! The brown blanket rolls decorate the background and add a rich touch without being too much ruffle for a little boy.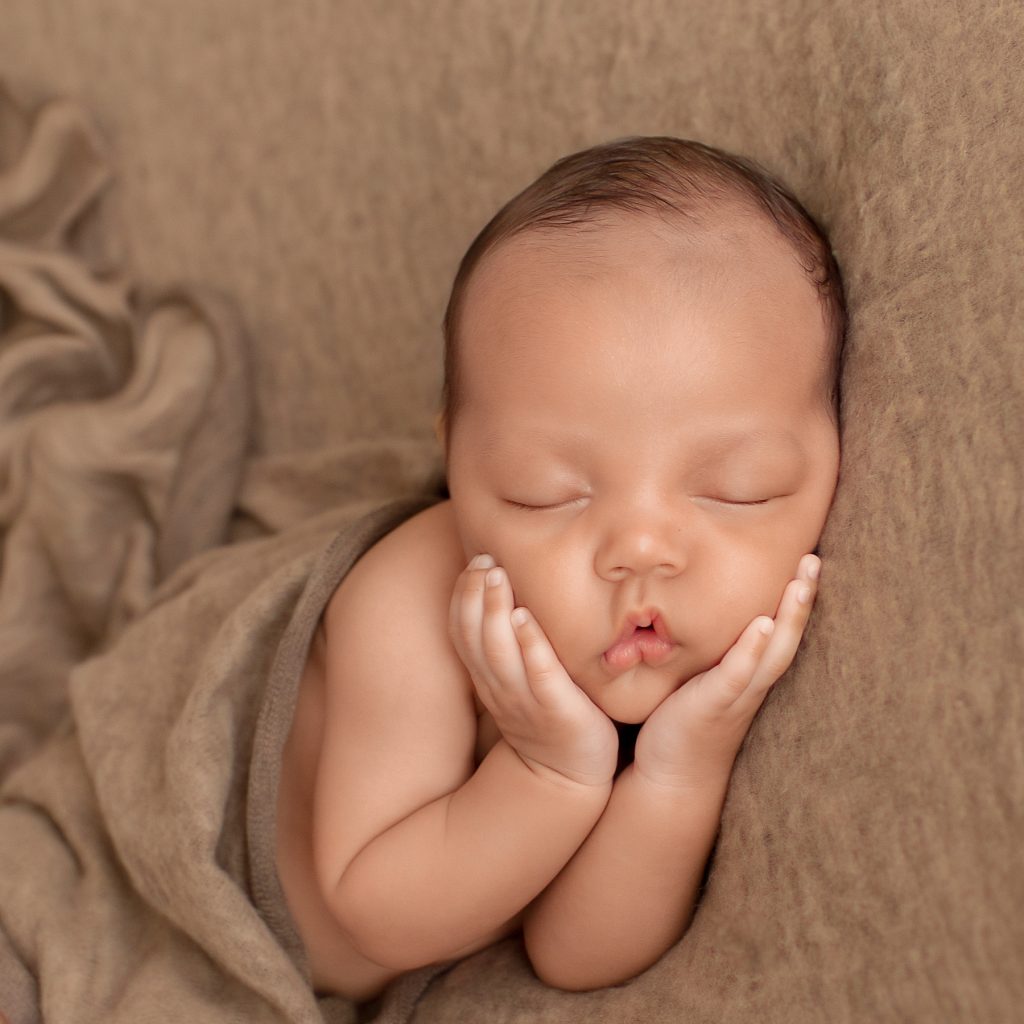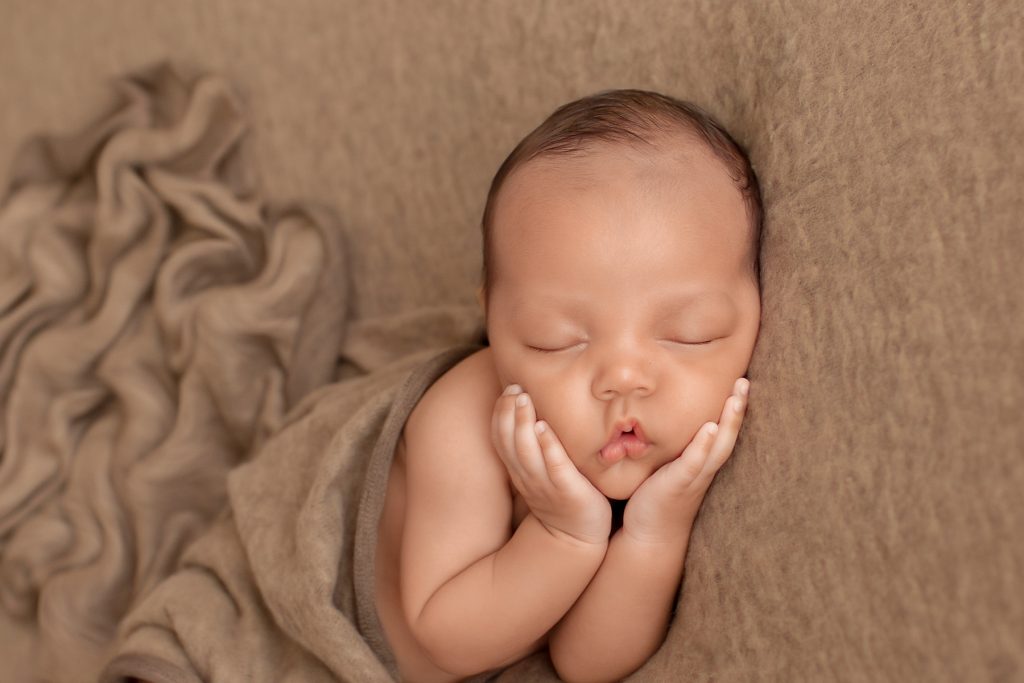 All of these baby details change quickly and begin to take on the look of a boy, but for now he is just a beautiful brand new baby. What a treasure to catch a time which is going to go so quickly. Once it is past, baby newborn photos will bring this time back into memory for his mom and dad.
GAINESVILLE NEWBORN PHOTOS AND STUDIO DETAILS
The best time for newborn photography is within the first three weeks of life when newborns are super sleepy and snuggly. I would love to capture with photographs each stage of your little one's growth from their youngest days. With lasting photos you can treasure these moments for years to come. Looking for a newborn photographer? Click here and let's start planning your studio newborn session today!
I hope you enjoyed this little peek into baby newborn photos of Lucas! Remember how very tiny your baby was. Will you remember their teeny tiny toes and chunky baby cheeks? Or the soft baby skin that you love to kiss, or their cuddly rolls? Capture your first special moments. Newborn photography records not only the tiny little details, but also the beginning of new relationships budding between precious family members.
Knit wraps and bonnet – https://www.etsy.com/market/dreaming_carita/
Newborn wraps – https://www.devotedknits.com/
Basket stuffers and backdrops- https://www.intuitionbackgrounds.com/
Andrea's studio is located in Alachua just next door to Gainesville Florida. Andrea serves Gainesville, Alachua, Jonesville, Newberry, Town of Tioga, Haile Plantation, Archer, Trenton, Melrose, Palatka, Ocala, Micanopy, High Springs, Lake City and Live Oak.
Andrea Sollenberger Photography, Gainesville Florida Newborn Photographer, Newborn, Baby, Child, Family and Maternity Photographer Gainesville Florida