Welcome to photos of this Gainesville newborn baby with Andrea Sollenberger Photography, Gainesville FL Newborn Photographer. My studio is designed especially with a maternity photo session and newborn photo session in mind. I love to make moms, dads and babies feel comfortable and right at home during their photo session. My goal is to provide comfort, make the session easy for new parents, and give my clients beautiful photographs of their earliest days with their newborn baby. These are keepsake newborn photos that they will cherish for a lifetime. Having a baby is one of the most meaningful experiences in life, and it is worth capturing this new joy with professional newborn photography!
RIVER'S NEWBORN BABY PHOTO SESSION
River's mom Rachelle asked Andrea Sollenberger Photography about newborn photos for her little one and what a great newborn session we had. The best time to capture newborn photos is before your baby turns 3 weeks old! I was glad to fit this Gainesville newborn baby into the newborn schedule at two weeks. Calling early in the third trimester is a great way to get on the calendar and avoid scheduling disappointment.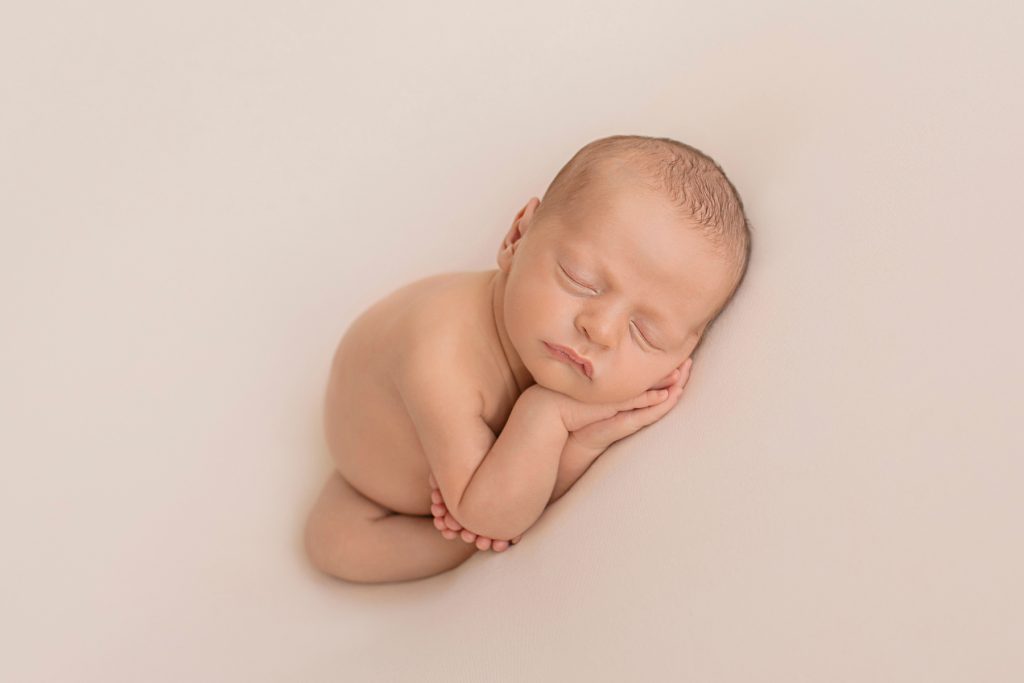 GAINESVILLE NEWBORN BABY STUDIO PROPS
During this mini session, brand new baby River posed naked for me on a beige chunky knit blanket in a rustic brown bowl. Against the brown wood floor and the backlight, his soft baby skin looks extra cuddly. When the light is just right against a baby, we notice how very perfect newborn details are.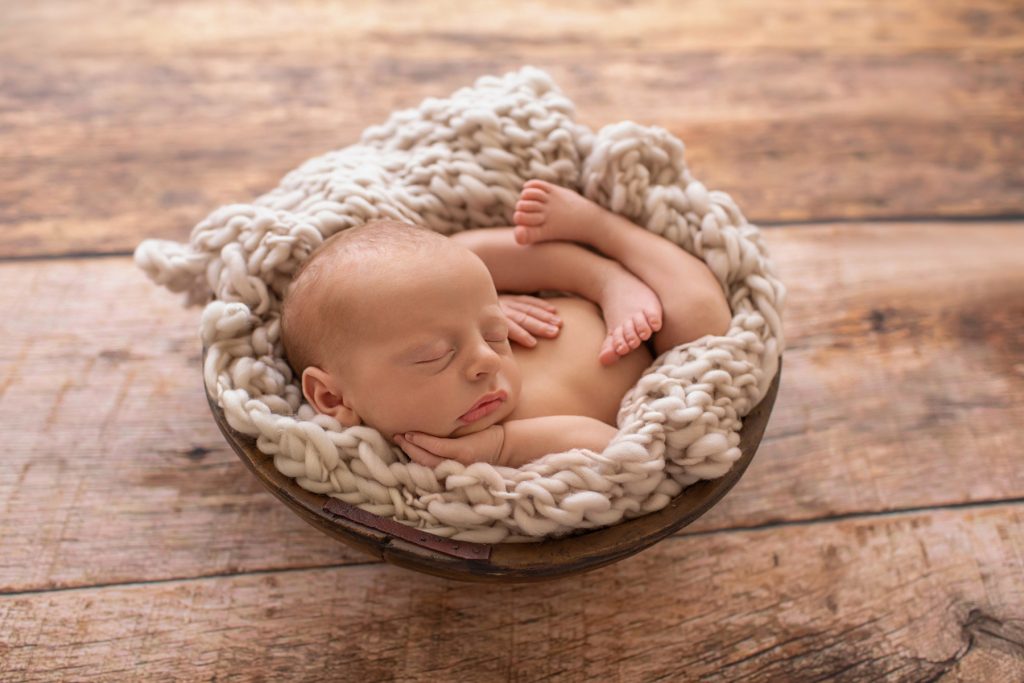 River is just as handsome from a different angle. Photographed straight on and from above we get a bird's eye view of his perfect baby features.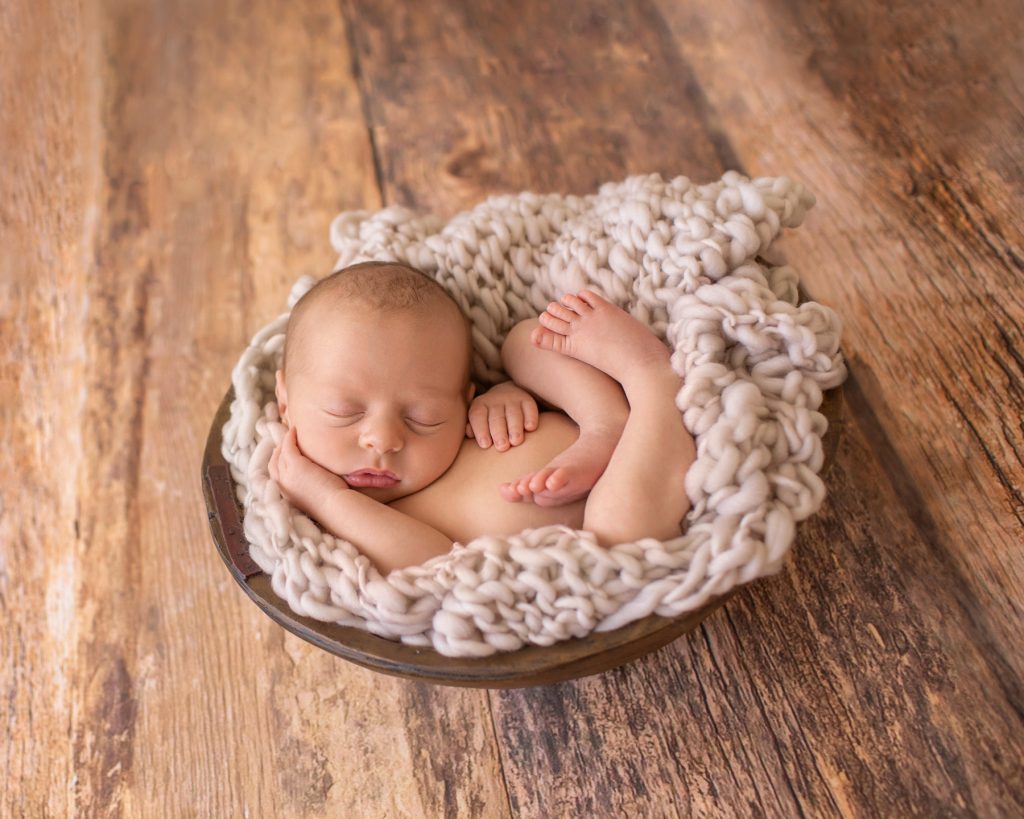 Andrea Sollenberger Photography has an extensive newborn prop collection and a beautiful newborn wardrobe available for newborn sessions. For more props or poses, then check out these newborn ideas.
NEWBORN BABY DETAILS!
Here is our naked newborn baby smiling and sleeping on his side with his tiny hands under his cheeks, perfectly framing his face against a white blanket.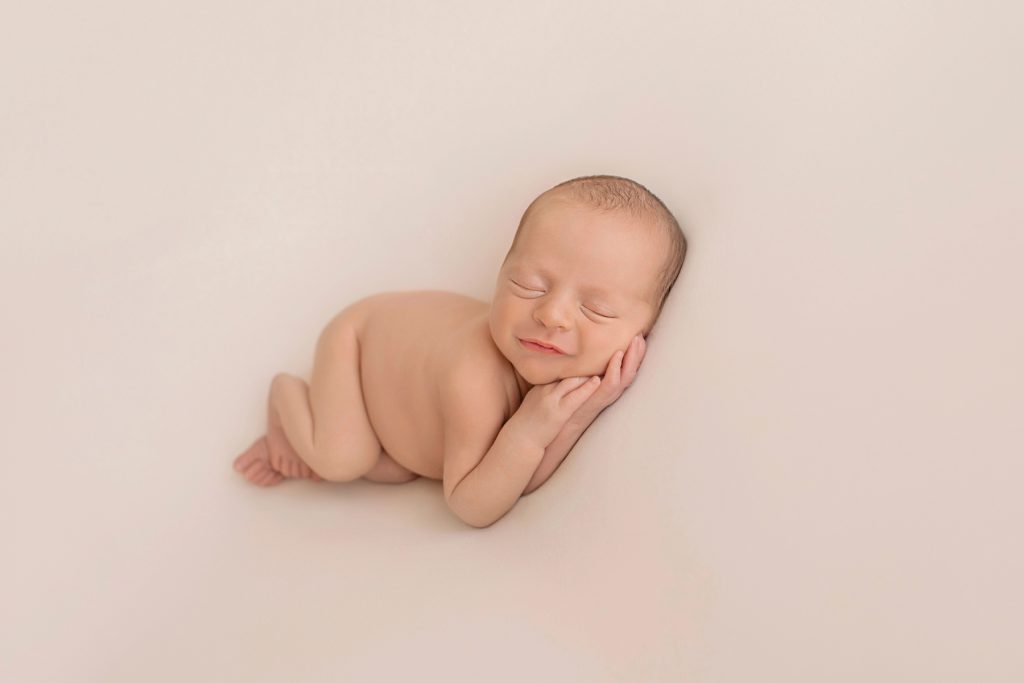 And for a different look he poses sleeping with his little tush up and his tiny hands under his plump cheeks and chin. All that soft baby skin lets us see more of this beautiful baby.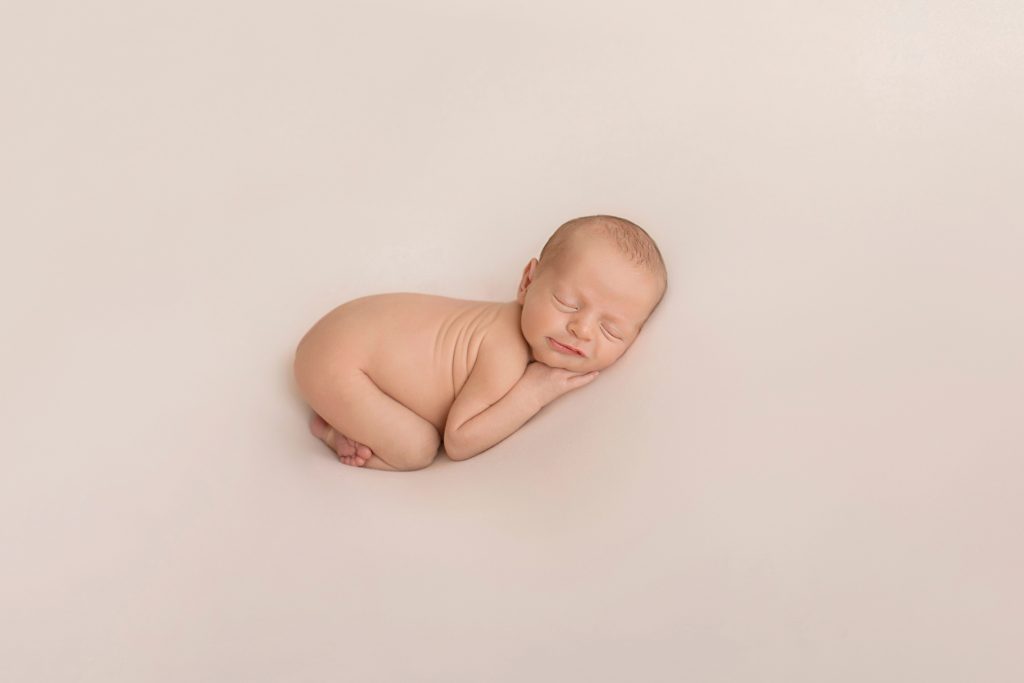 Next River posed while sleeping with his hands under his cheeks and his teeny tiny toes cupping one little elbow. Can you count them? With a little extra posing we can see all ten teeny tiny toes wrapped around his little elbow!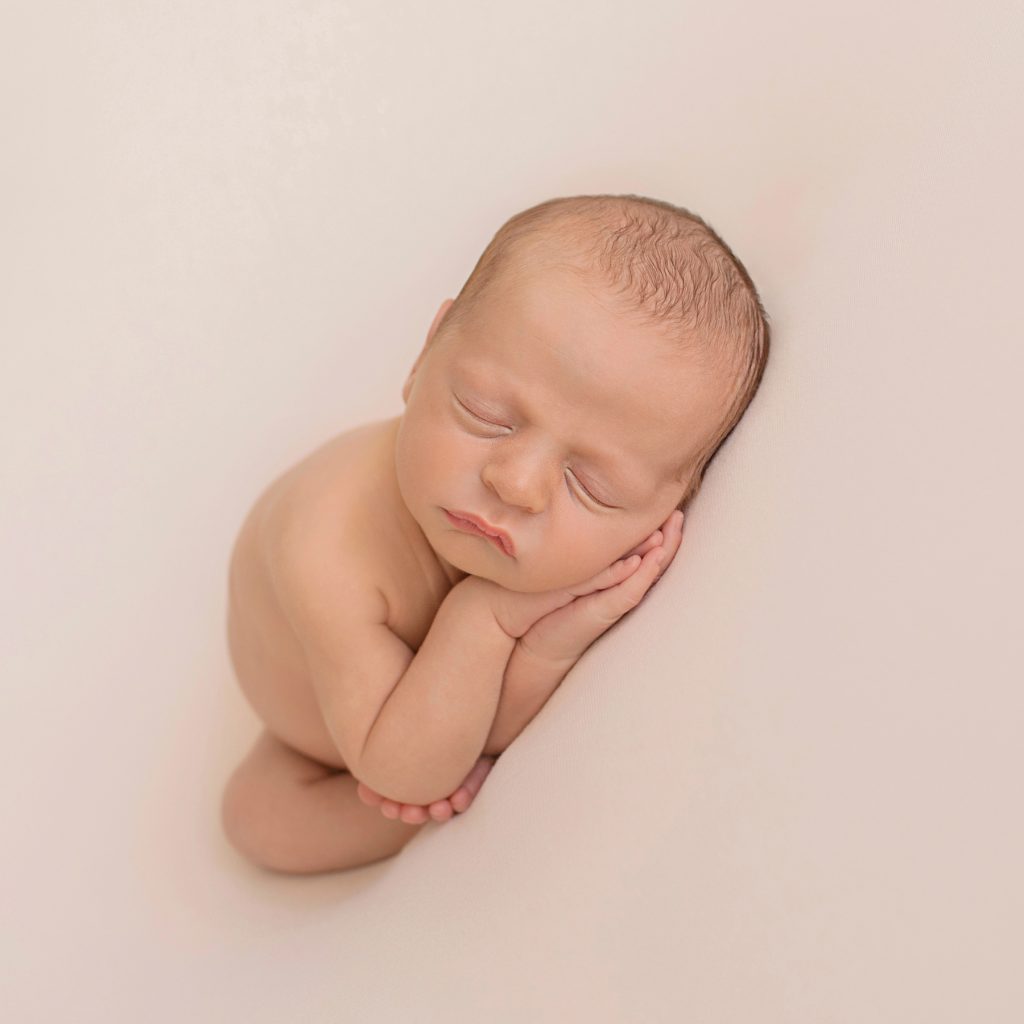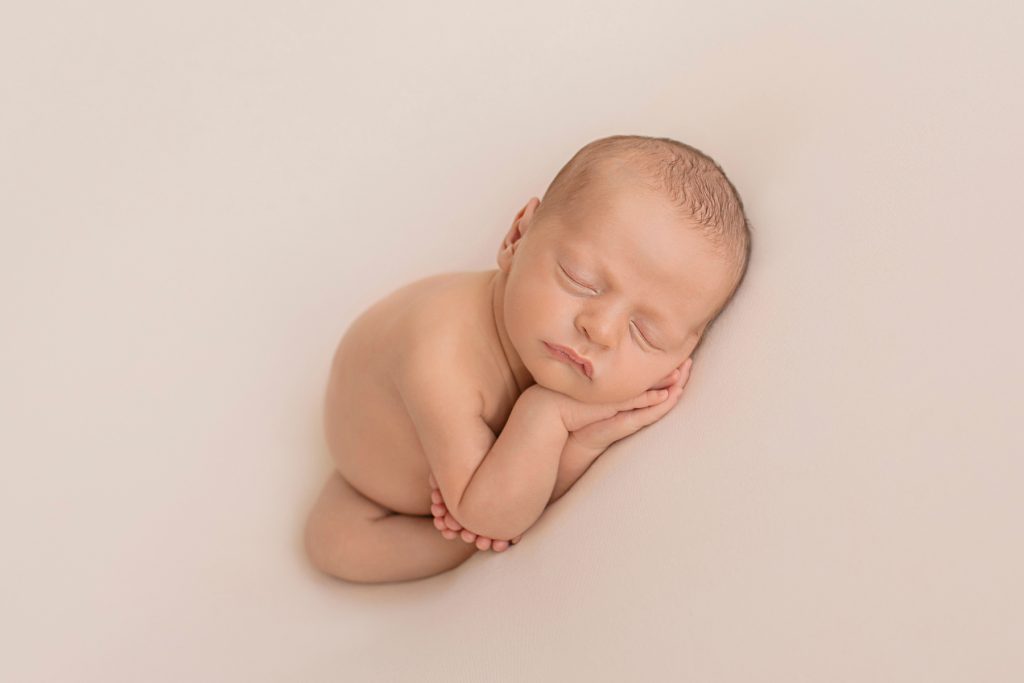 We also captured him simply sleeping on his hands while resting forward. Pure and simple baby details remind us of a newborn baby's first days. I always marvel at the beautiful soft baby skin of newborns.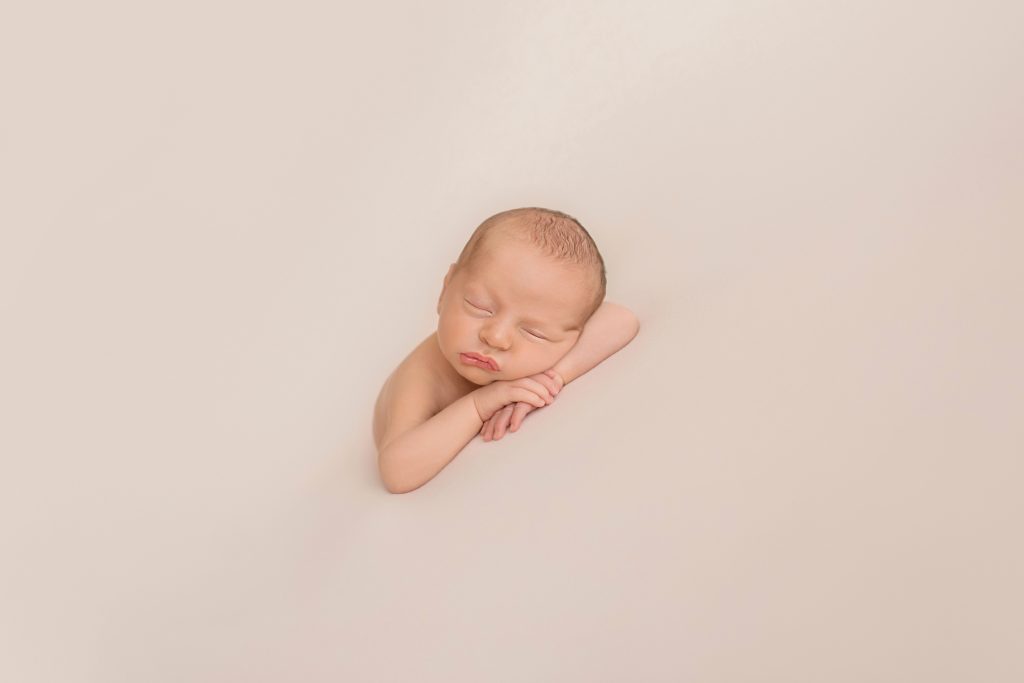 For one last pose, naked newborn baby River gave us the froggy pose. With tiny hands cupping his cheeks and chin and all his toes around his elbows River sleeps on. We captured this image as a composite of two photos put together in photoshop. Newborn safety takes first place, so baby's head is fully supported at all times while capturing this photo!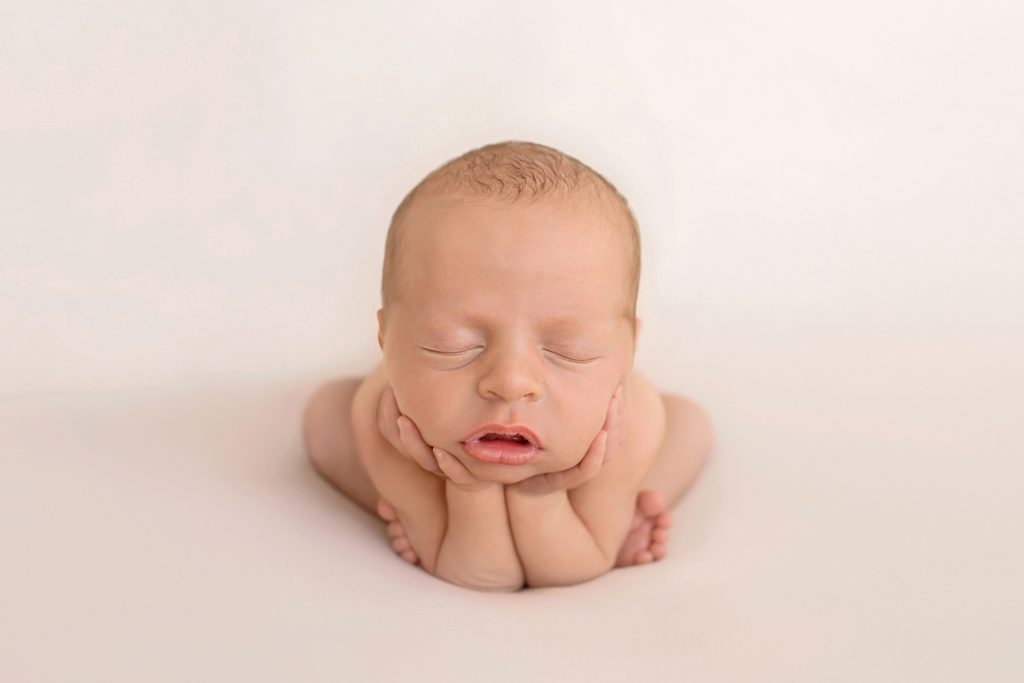 Grandma came along for this photo session. Here is a portrait of River sleeping in the arms of this very happy and gorgeous grandma! Grandma Debbie smiles from the heart, thrilled to be a part of the session and to get a keepsake newborn photo taken with her first grandchild. This Gainesville newborn baby was a treat to photograph from start to finish! Priceless moments captured forever.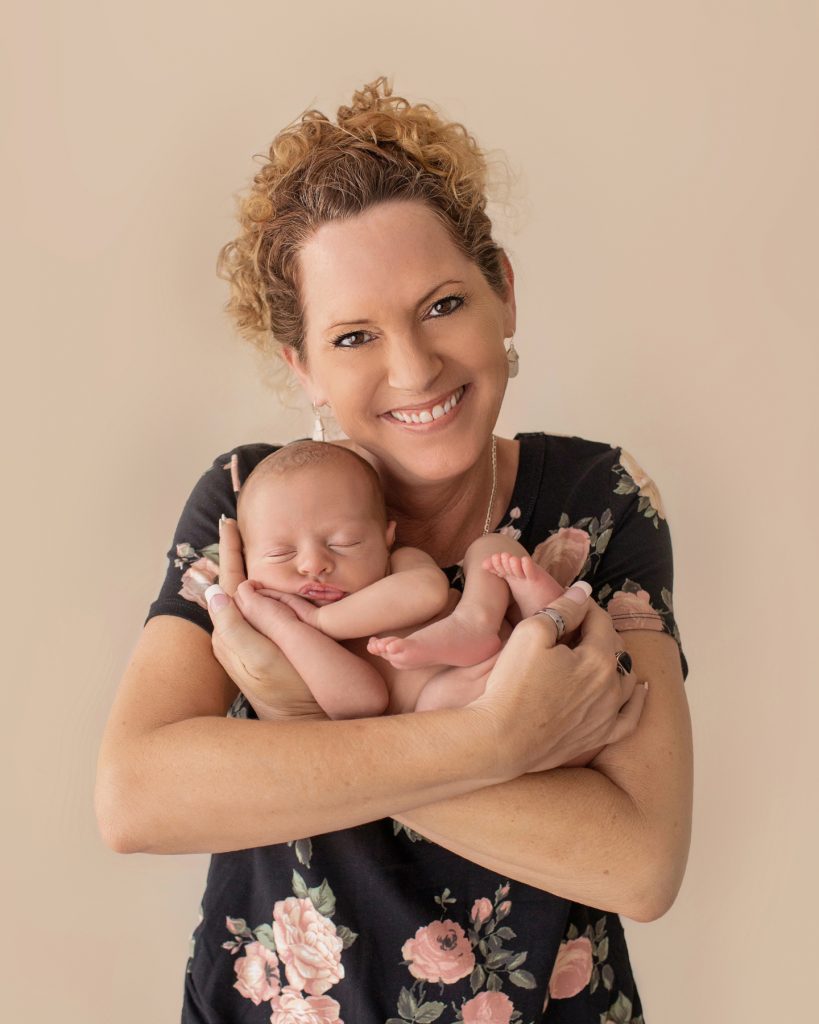 GAINESVILLE NEWBORN PHOTOSHOOT STUDIO DETAILS
Be sure to remember how very tiny your baby was with professional newborn photography. Will you remember their perfect newborn details? The soft baby skin that you love to kiss, their tiny newborn hands or their cuddly baby rolls? Capture your first special moments. By doing so, newborn images record not only the perfect newborn details and newness. Newborn photos also capture the beginning of new relationships budding between you and your baby! I would love to capture with photographs each stage of your little one's growth from their youngest newborn days. Click here to get started.
Andrea's studio serves Gainesville, Alachua, Jonesville, Newberry, Town of Tioga, Haile Plantation, Archer, Trenton, Williston, Melrose, Palatka, Ocala, Micanopy, High Springs, Lake City and Live Oak.
Baby backdrops – https://www.intuitionbackgrounds.com/
Newborn wraps – https://www.devotedknits.com/
Basket stuffers and backdrops –  https://www.customphotoprops.com/
Brown bowl – https://www.etsy.com/shop/Chicabootique
Andrea Sollenberger Photography, Gainesville Florida Newborn Photographer, Newborn, Maternity, Family, Child and Baby Photographer Gainesville Florida