Hello and welcome to my little slice of heaven, Andrea Sollenberger Photography, Gainesville FL newborn photographer, where newborn pictures are my love. My studio is designed specifically with a maternity session and newborn session in mind to pamper moms, dads, babies, and serves the Gainesville Florida area.  I absolutely love preserving memories with photos and being a part of special moments in people's lives. My goal is to give my clients beautiful photographs of meaningful times that they will cherish for a lifetime. Having a baby is one of the most magnificent experiences in life, and it is worth capturing this new joy with professional newborn photography!
NEWBORN SESSION PREPARATION TIPS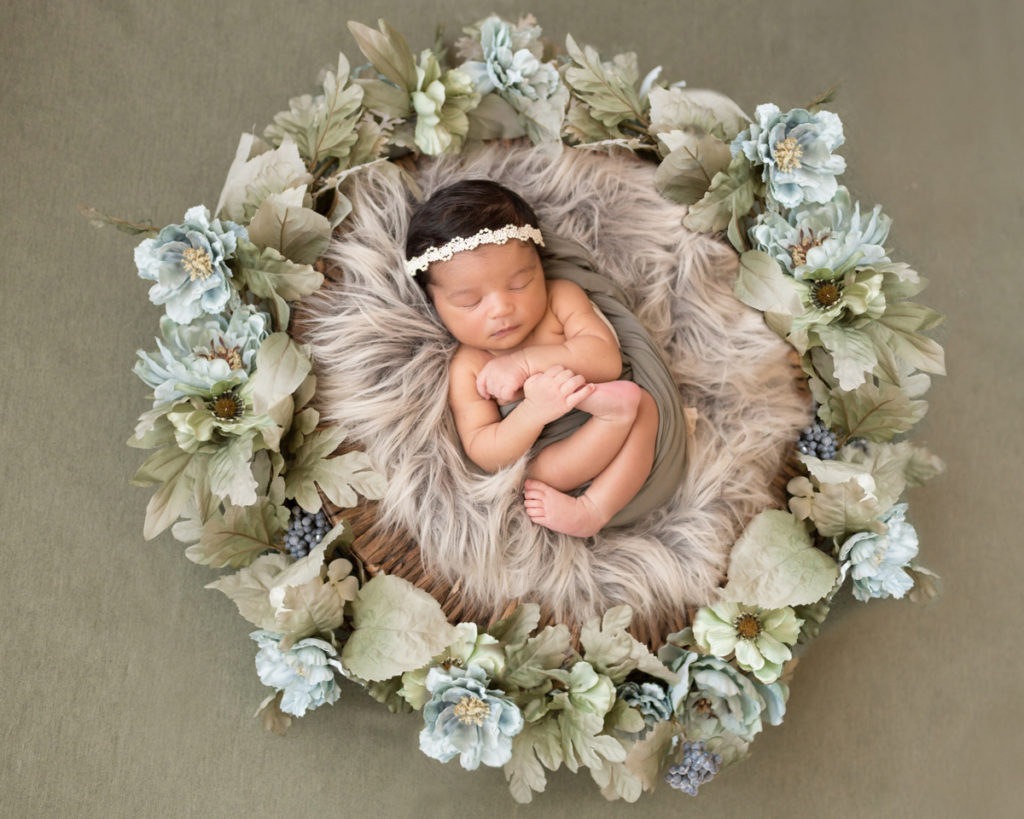 NEWBORN SESSIONS THAT MOMS AND DADS LOVE
When moms call, they always love to hear what recommendations I can offer as they prepare for their studio newborn session. Careful preparation and consideration of a few important details always ensures a better experience, a successful newborn session that goes smoothly, and beautiful newborn portraits that mom and dad are hoping for. Here are a few things that I tell my new moms!
TIMING MATTERS FOR NEWBORN SESSIONS
Newborn sessions typically take 3 hours, including feeding breaks. There is no rush with a newborn session, and baby's momentary needs takes the lead. We do not mind waiting for you to feed or change your brand new baby. Taking time to soothe baby is a must, and sessions are not limited due to fussy babies. That's part of what we offer as a custom portrait studio . . . time for baby, and patience to get the right shot.
Please try to keep baby awake for 1-2 hours prior to your photo session. We understand this can be a challenge, but your best efforts will provide a smooth newborn photography session. A baby who has had a big nap will tend to stay awake in the studio. We will spend more time soothing them and trying to get them to sleep, and less time photographing. Sometimes moms will think that because baby sleeps a lot at home, they will sleep a lot at their session.  Please keep in mind that baby's behavior at home will be different than in studio. At home, baby may be swaddled and left alone to sleep. Here in the studio it's a new environment, with someone new, and new positions. They need to be extra tired to sleep through a photo session! Giving baby a bath at home before you leave for your session is a great way to have some pleasant awake time.  Bonus points if you have someone ride in the backseat with baby to entertain him or her on the way to the studio!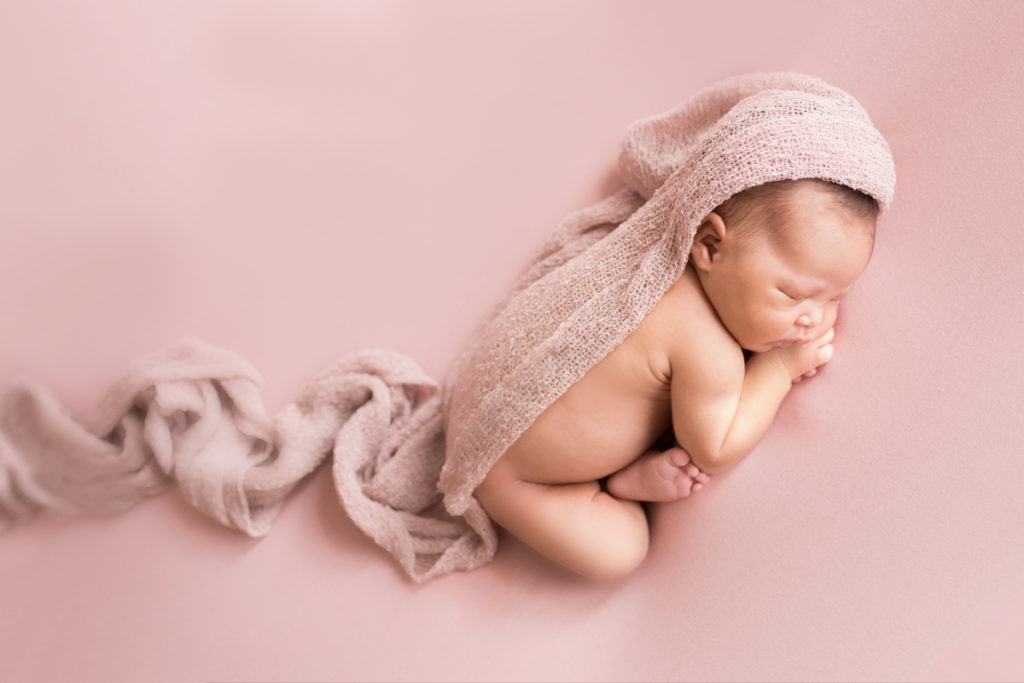 The start time of your session will flex according to your baby's schedule. Feed him or her when they awaken early in the morning. TEXT ME so that I have a general idea of your timing. Then get ready and come directly. Their next feeding will ideally be at the studio just before our photo session begins. A good target for newborn session is 9-12 noon. Please leave baby in car seat when you bring them into the studio.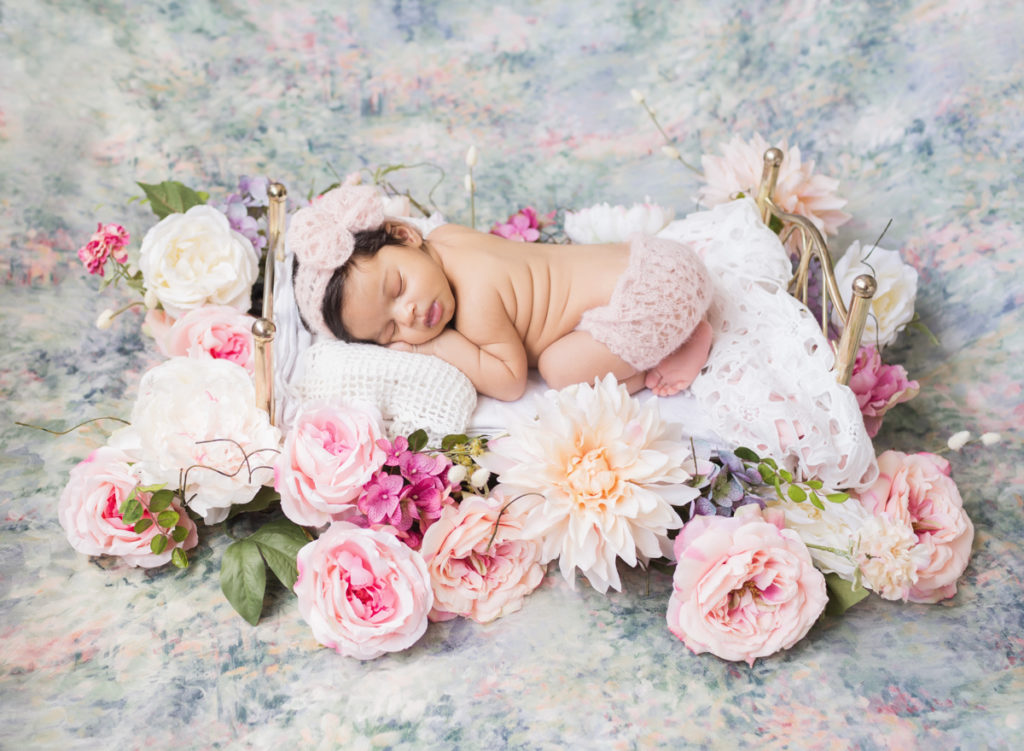 Please bring a bottle of breast milk or formula and a pacifier with you to the session. We will only use these when necessary to calm and soothe your baby in the middle of a shot. We understand many mothers are trying to establish good breast-feeding habits and minimize nipple confusion. If you are adamantly against using a pacifier or bottle, please let us know and we will accommodate your needs. We have brand new sterilized pacifiers as a gift for you, if you do not have one.
When you get here, we will ask you to feed baby a FULL feeding to get him or her nice and "milk drunk". Try to schedule accordingly. Please schedule your feedings so baby is hungry and ready for a full feeding when you arrive. At this point, your baby should be VERY ready to sleep, which is what we want.  Your brand new baby will generally need a feeding break at least once in the middle of the studio newborn session, sometimes more. If you are bottle feeding, please bring an extra bottle – modeling is hungry work for newborns!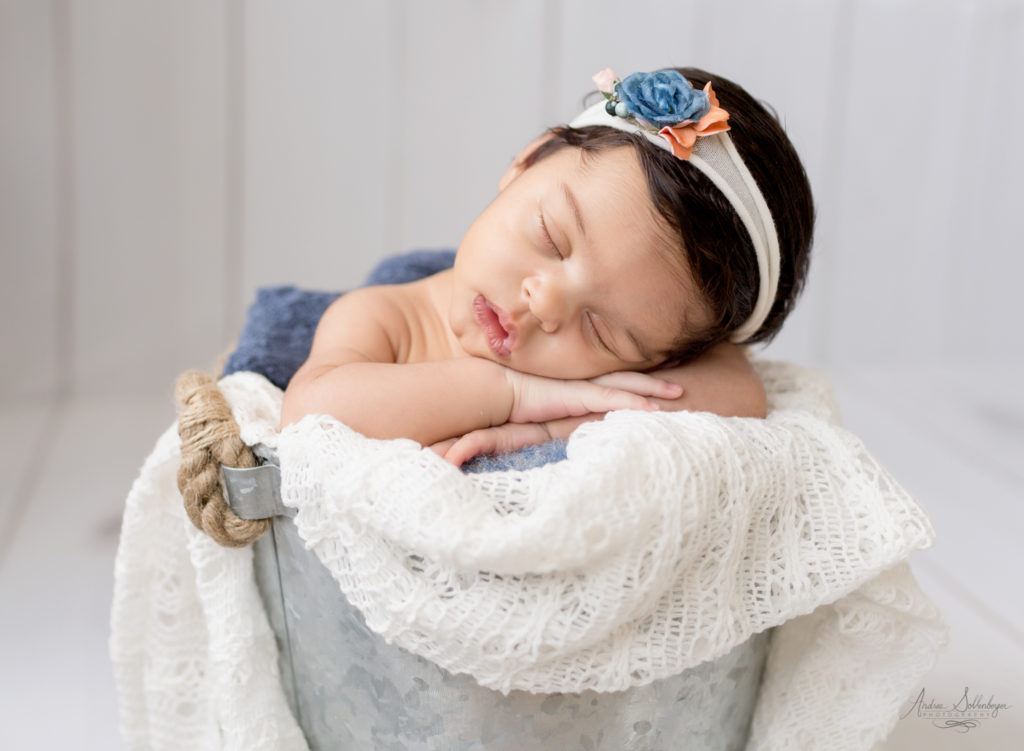 NEWBORN SESSIONS AND FAMILY MEMBERS
We love siblings, and we are happy to photograph them with baby at no additional charge during newborn session. These images will be photographed either at the start or at the end of the session. Siblings cannot stay at the studio during the rest of the session, when they are not being photographed. We do not have a suitable area for them to play or wait. We suggest bringing two cars so that Dad can take the sibling(s) after we finish images that include family and Dad.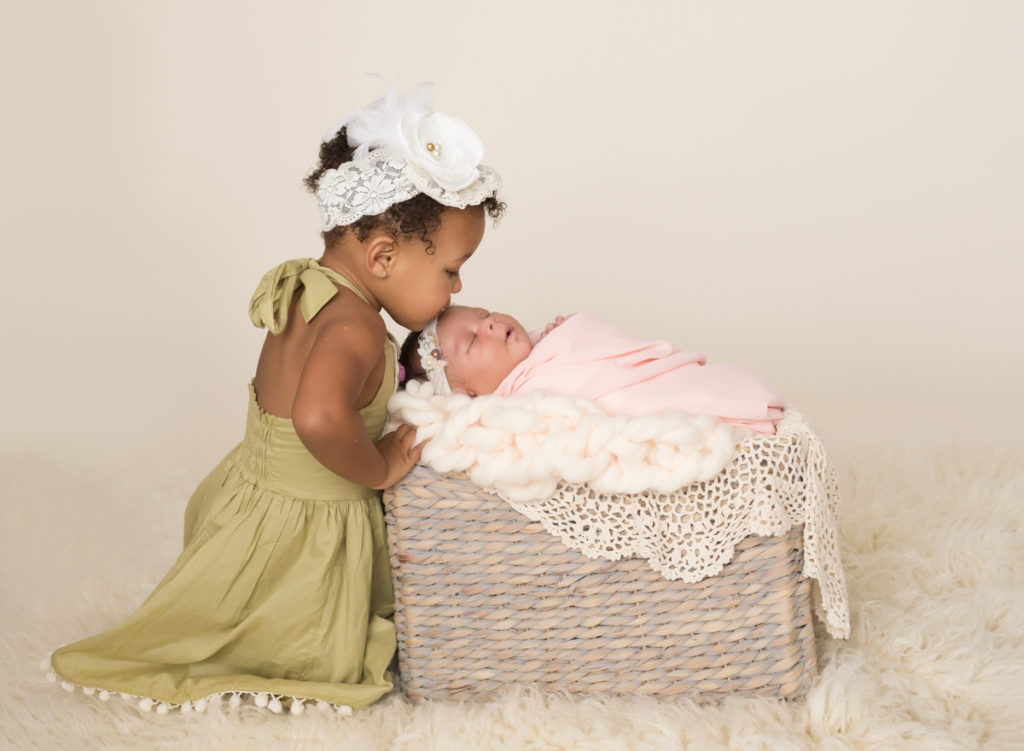 Newborns are absolute perfection when they wear nothing at all. To keep them comfortable, the studio will be a warm 80 degrees in order to keep baby cozy when undressed. Dress in layers so that you will be more comfortable.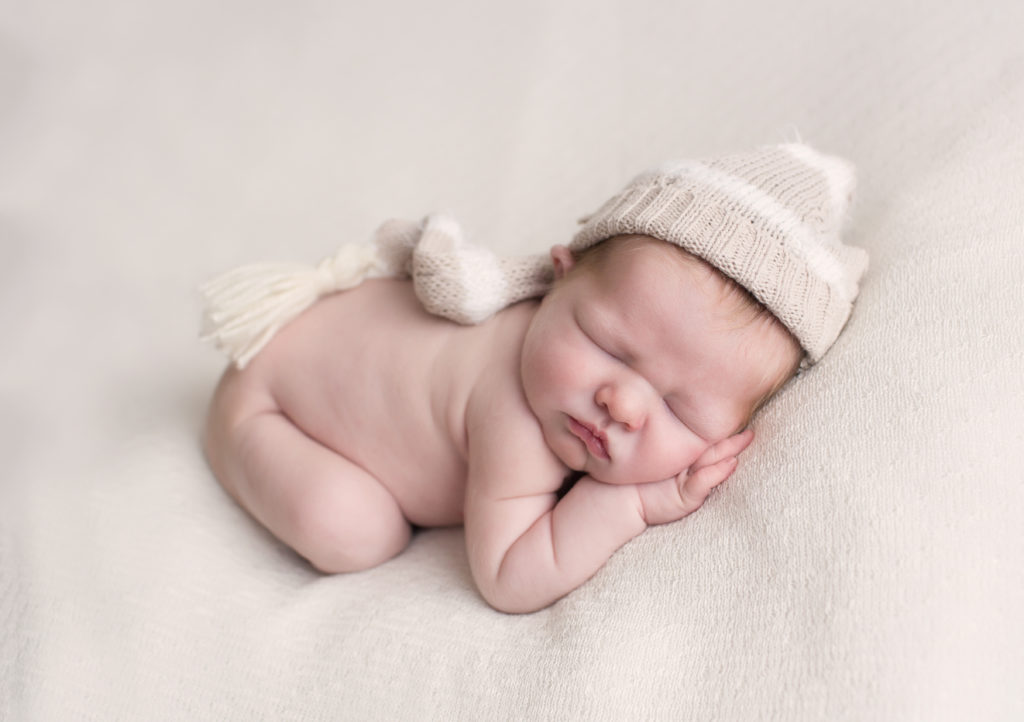 WHAT TO BRING TO NEWBORN SESSIONS
For variety and some fun pops of color, we also like to use the swaddling blankets and wraps. We have a newborn wardrobe and enormous prop collection – newborn props, wraps, backdrops, bonnets, head ties, homemade outfits, etc. You do not need to bring anything. We will create a set that we are sure you will love with our newborn wardrobe, designed to match the style and color schemes that you selected at your Pre-Consultation appointment. If you have a sentimental item you want photographed with baby at your studio newborn session, let us plan that in ahead of time.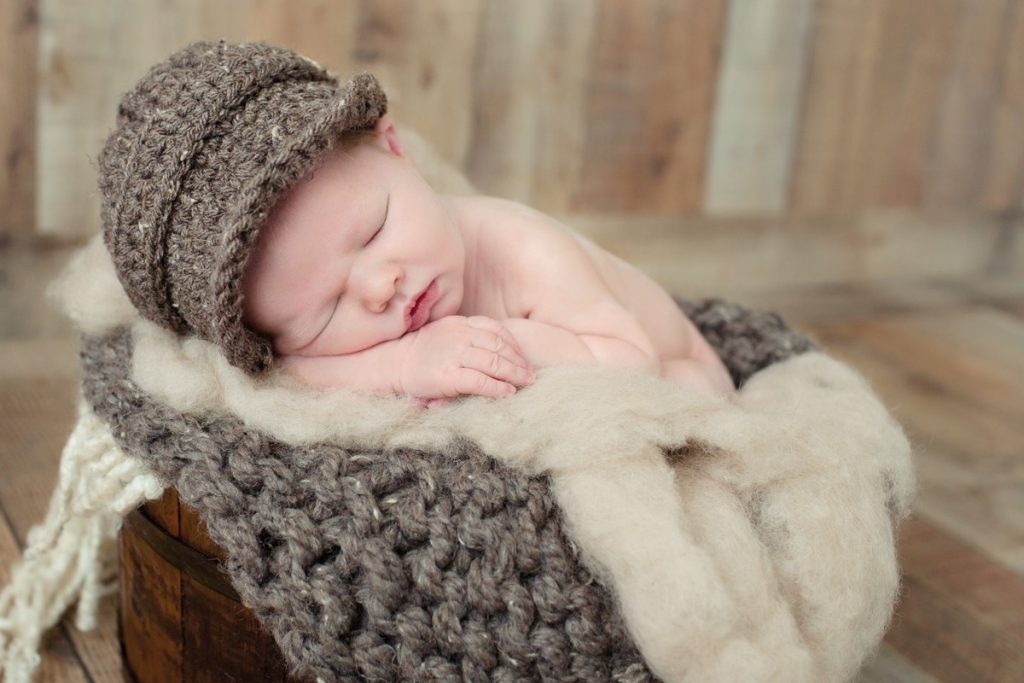 Please do not bring your baby boy with a fresh, raw circumcision. We ask that you plan for your newborn session with us to be either before the procedure, or at least 5 days after. We will be wrapping baby tightly while he is naked and moving him between poses.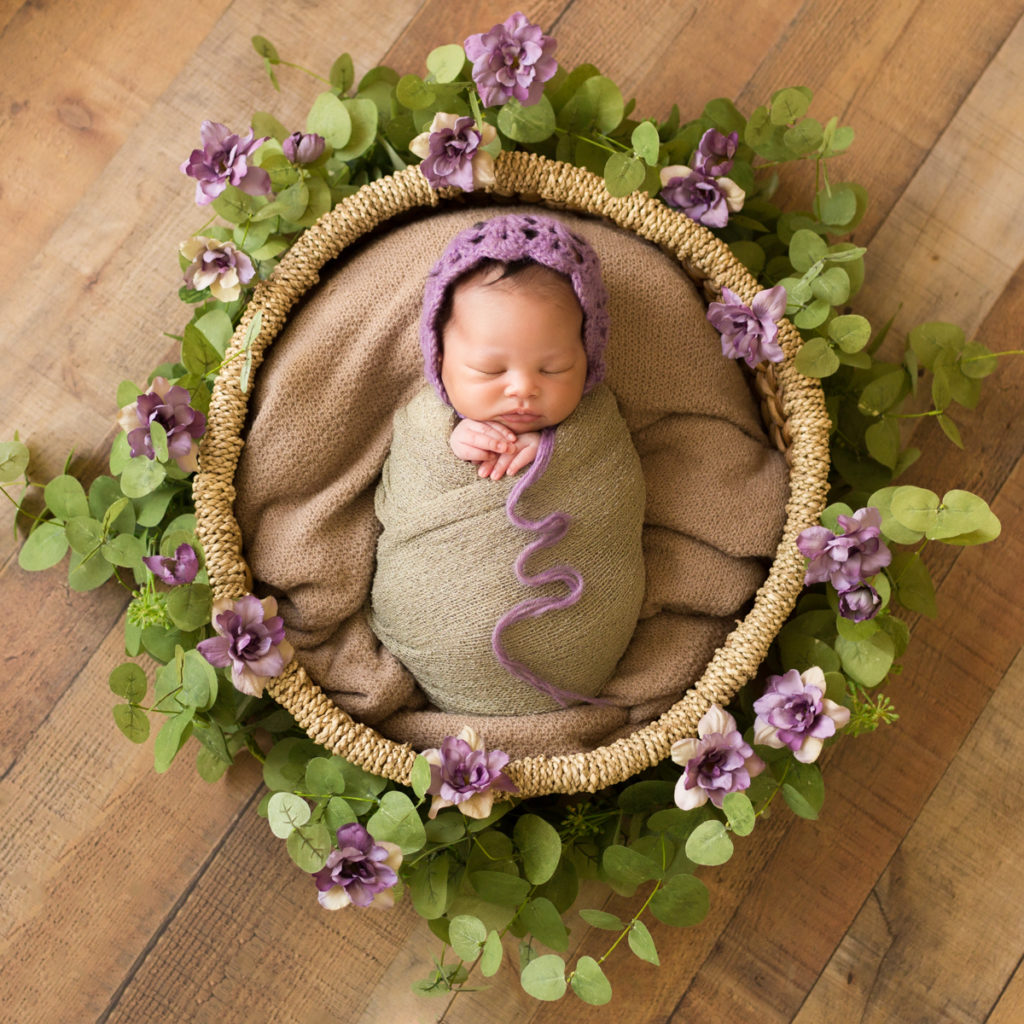 When doing newborn poses where the baby is undressed, it is normal (and okay!) for him or her to make messes during the session. We can assure you this happens all the time and we are not upset or offended. We expect it! We have wipes and towels on hand for this purpose. After each newborn session we launder all of our backdrops and other items the baby comes in contact with.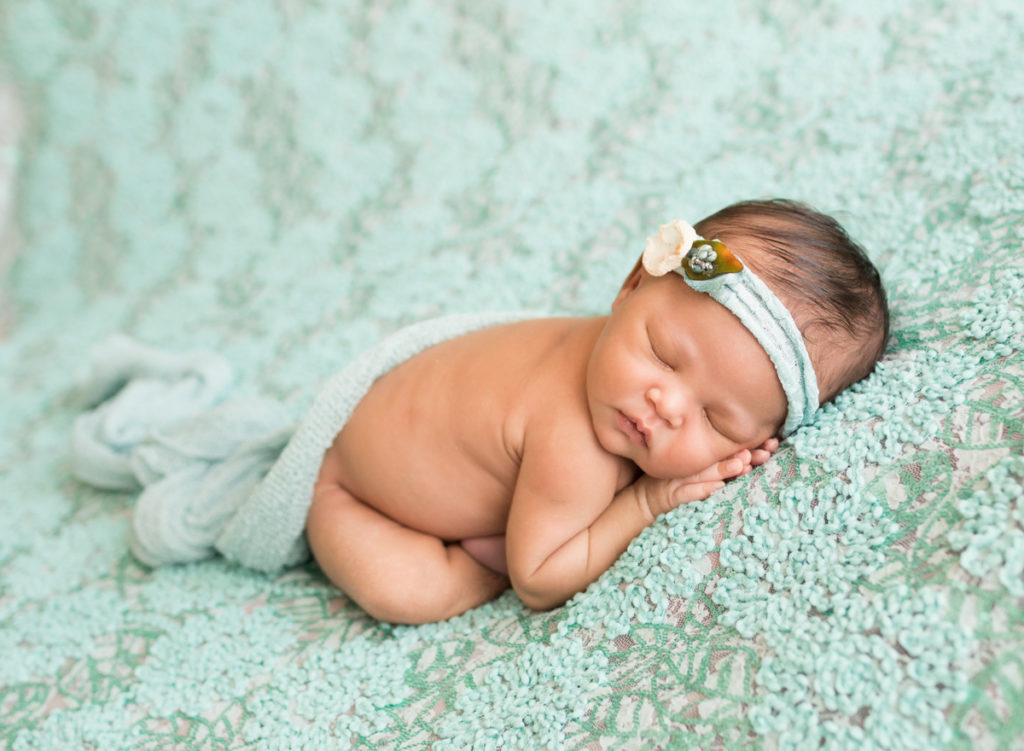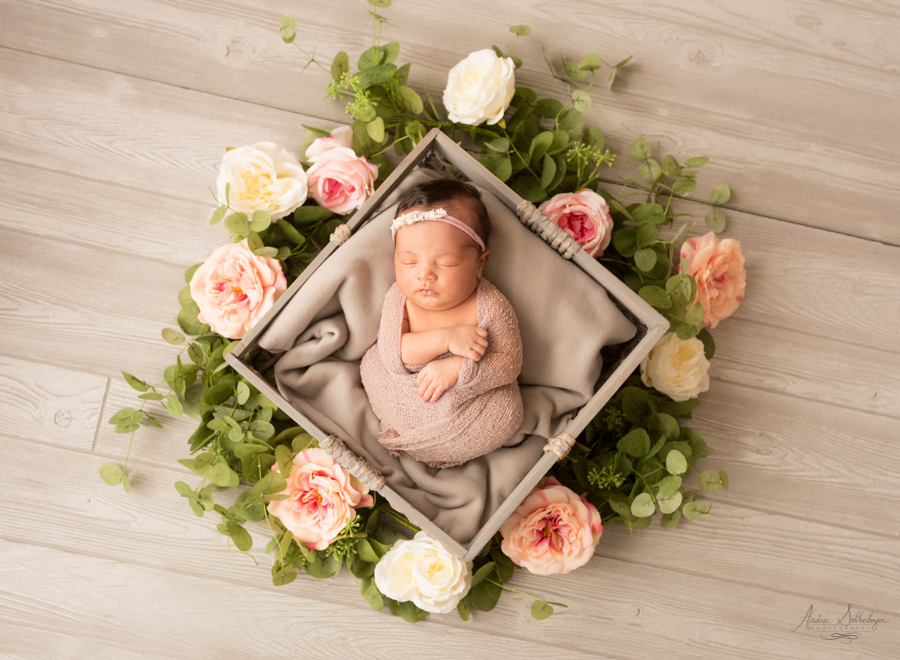 If you are breast-feeding, try to avoid eating anything spicy or gas inducing (i.e. pizza, spicy sauces, garlic, broccoli, thai food, high fat etc.) that might upset baby's tummy for 24 hours preceding your scheduled session. It's best to stick to a relatively bland diet the 24 hours before your session. Please also avoid or at least limit caffeine. We do want baby to sleep!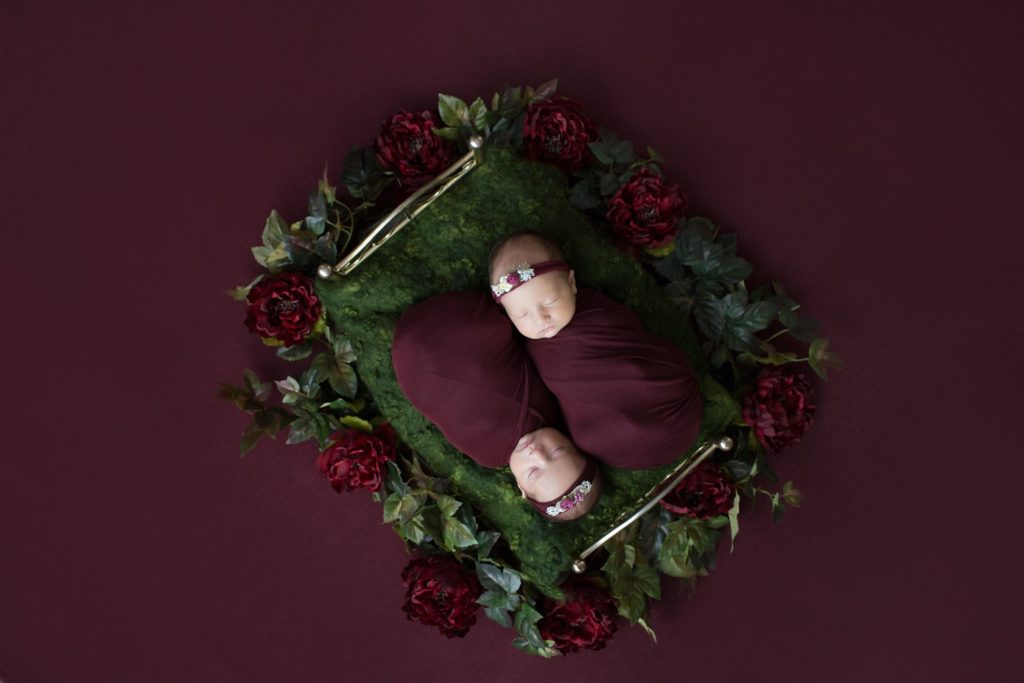 Guests or extended family  We recommend bringing no more than yourself, your spouse/partner, children and one guest if necessary. Lots of people in the studio make for somewhat challenging creative conditions and it's tight in our cozy space. (When dads are not coming to the newborn session, moms often bring grandma. Grandmas are always welcome!)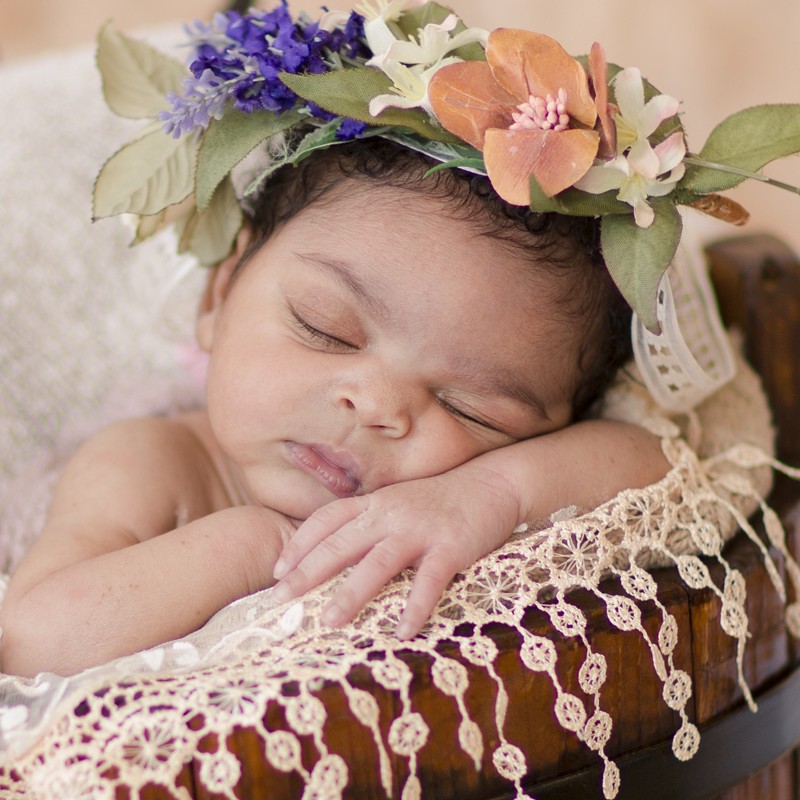 An assortment of healthy snacks and bottled water will be available for you at the photography studio. Feel free to bring your favorite snacks as the session is lengthy.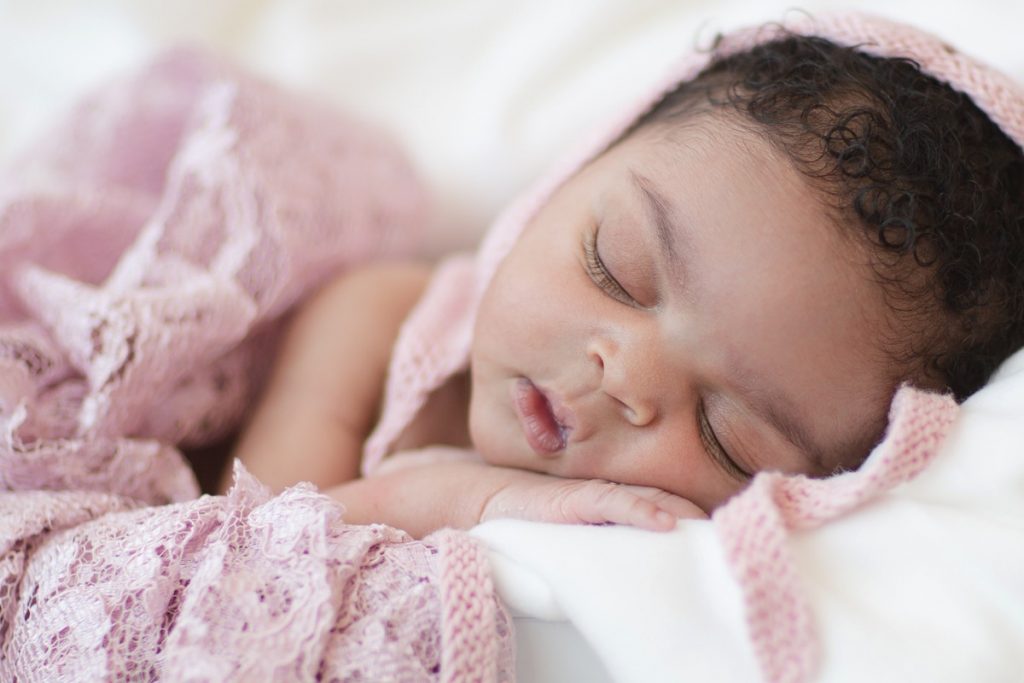 No cameras are allowed during your session. We understand this is a momentous time in your life that you want to capture. However, we are working very hard to create unique, artistic images for you. Another camera will make us  distracted and uncomfortable. Please respect copyright and the artist's individual creation and do not take pictures (even on your iPhone) during your session. We do allow one iPhone "pullback shot" of the photographer working with your baby during the newborn session – feel free to post to social media, and please tag or "check in":          
www.facebook.com/ Andrea Sollenberger Photography/       www.instagram.com/asollyphotography/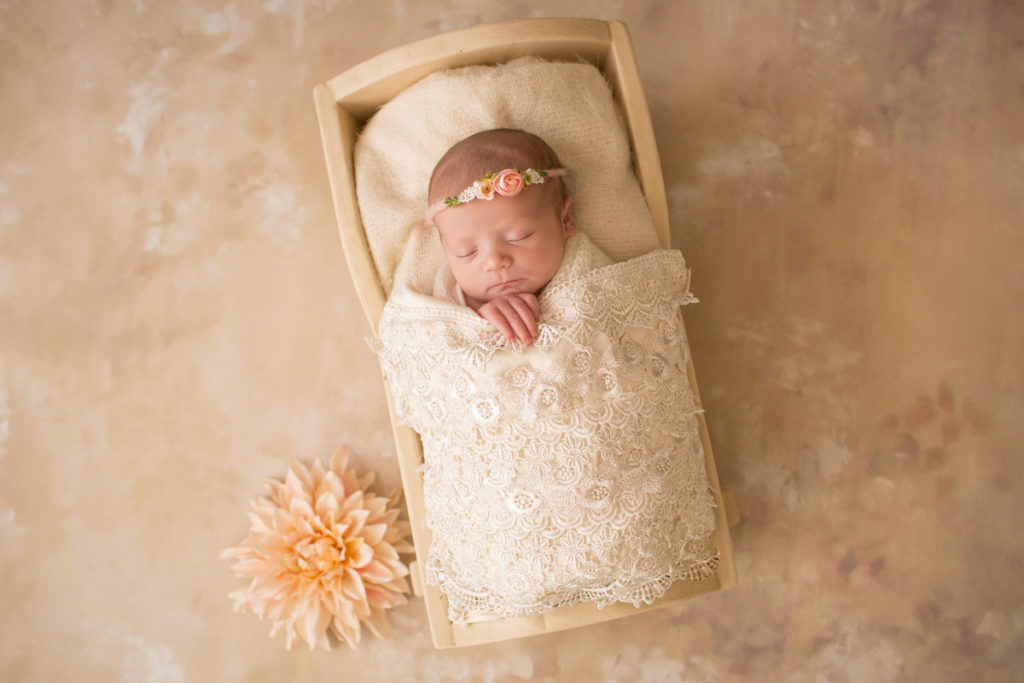 Visit this page to read more about our studio and your session experience. Ready to book your session? contact me .
If you are in the Gainesville area and are interested in newborn, maternity, or family photography, give me a call 352-213-1250.  I would love to capture with photographs each stage of your little one's growth from their youngest days, for your family to treasure for years to come.
Wooden bucket –  https://www.etsy.com/shop/Chicabootique
Baby backdrops – https://www.intuitionbackgrounds.com/
Newborn wraps – https://www.devotedknits.com/
Basket stuffers and backdrops- https://www.intuitionbackgrounds.com/
Grey basket stuffer – https://www.customphotoprops.com/
Andrea Sollenberger Photography, Gainesville FL Newborn Photographer in Alachua, Florida, Newborn, Maternity, Baby, Child and Family Photographer