NEWBORN PICTURES WITH GAINESVILLE FL NEWBORN PHOTOGRAPHER
Hello and welcome to my little slice of heaven, Andrea Sollenberger Photography, located in Alachua just next door to Gainesville,  Florida where newborn pictures are my love. My studio is designed specifically with a maternity session and newborn session in mind to pamper moms, dads, babies, and serves the Gainesville Florida area.  I absolutely love preserving memories with photos and being a part of special moments in people's lives. My goal is to give my clients beautiful photographs of meaningful times that they will cherish for a lifetime. Having a baby is one of the most magnificent experiences in life, and it is worth capturing this new joy with professional newborn photography!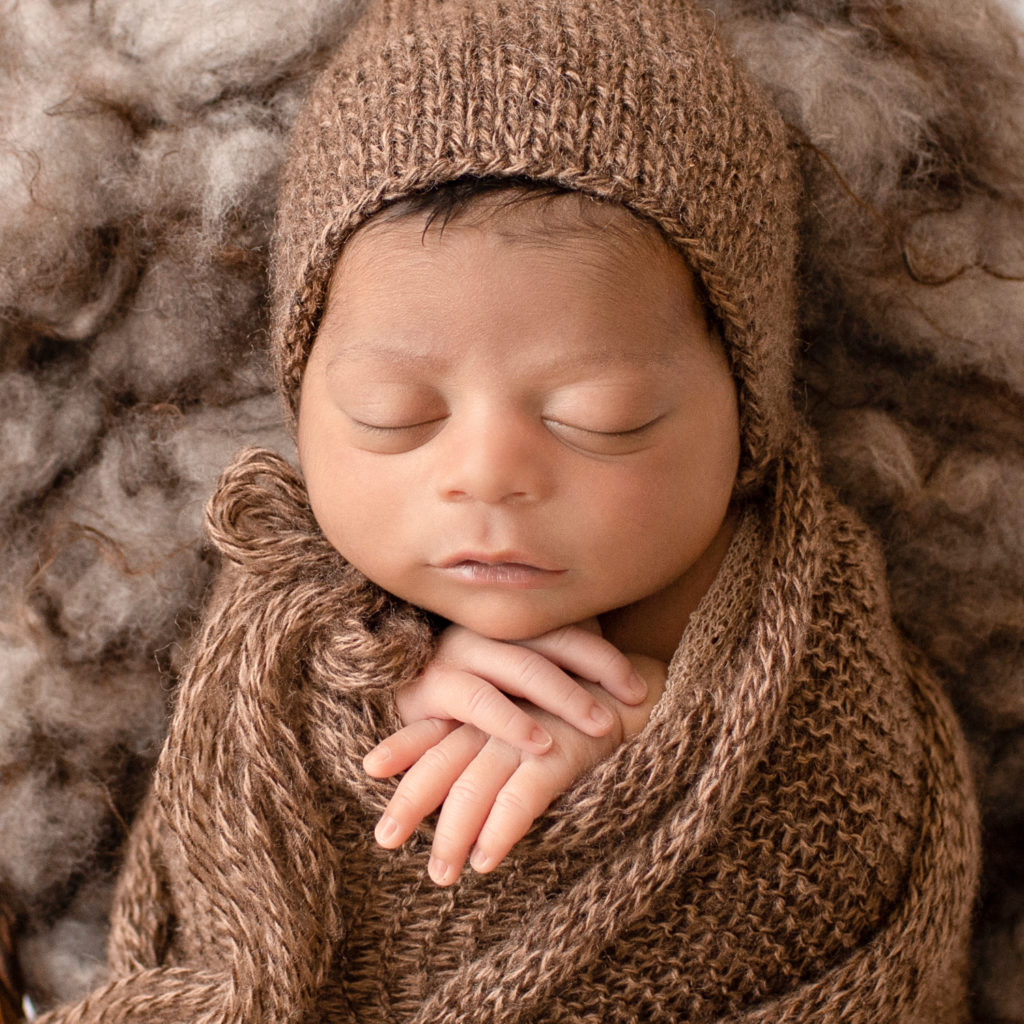 NEWBORN PICTURES JACOB
Here is a little peek into a recent studio newborn session with handsome Jacob. Valerie contacted Andrea Sollenberger Photography and quickly knew that she wanted to celebrate the love of this special baby boy with newborn photos. Once scheduled for the newborn session, she chose the colors, textures and props based on the studio prop collection. Knowing her color and style preferences in advance is helpful to me as a newborn photographer to style the session. Valerie took my advice to the tee and followed all of the suggestions for a successful newborn session, bringing this little bundle to me completely prepared for his studio newborn session!
BEAUTIFUL SOFT BABY SKIN!
Jacob has beautiful and soft baby skin, so silky, so smooth. His face skin caught a glow from the soft light and it makes him look angelic, just the perfect baby. His tiny fingers and tiny toes, and his face so delicate, yet at the same time he is so handsome. Those little hands wrapped close to his face reminds me how he loves to be cuddled.  He even let me pose him naked with face cupped in his own hands on this cream blanket. And take a look at his full head of hair! All of these baby details and cuddly rolls will soon change and begin to take on the look of a boy, but for now he is just a beautiful brand new baby. What a treasure to catch a time which is going to go so quickly. Once it is past, photos will bring this time back into memory.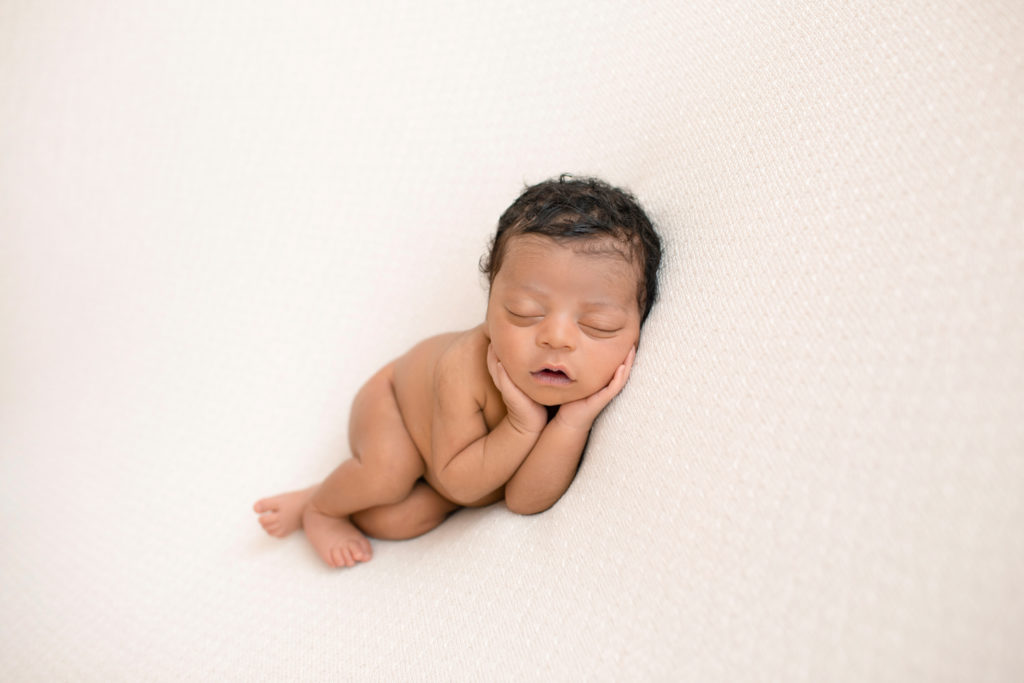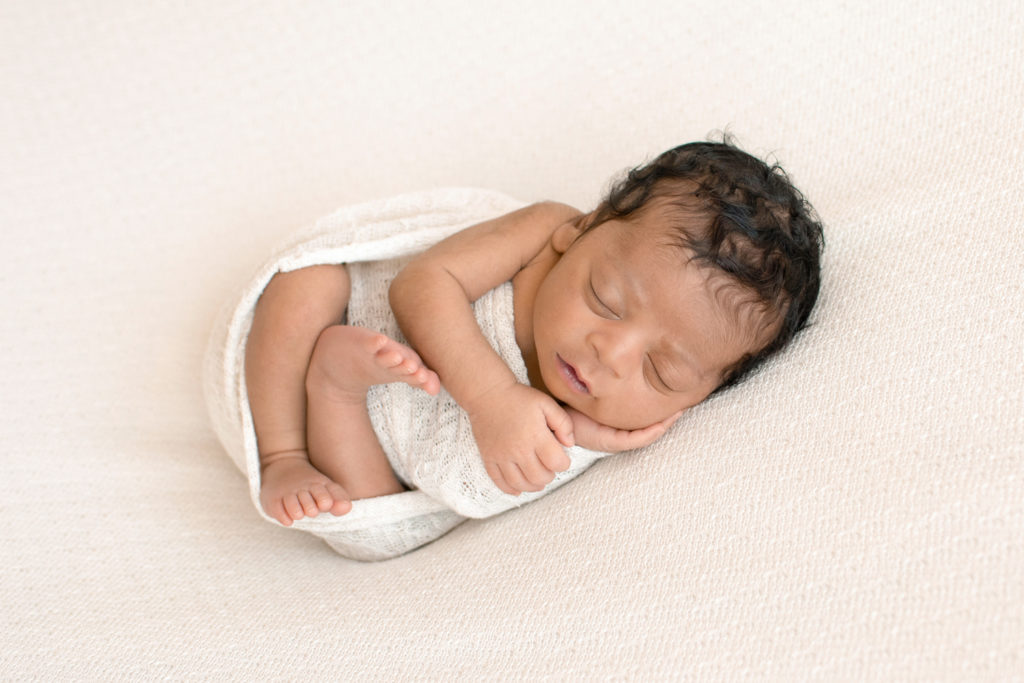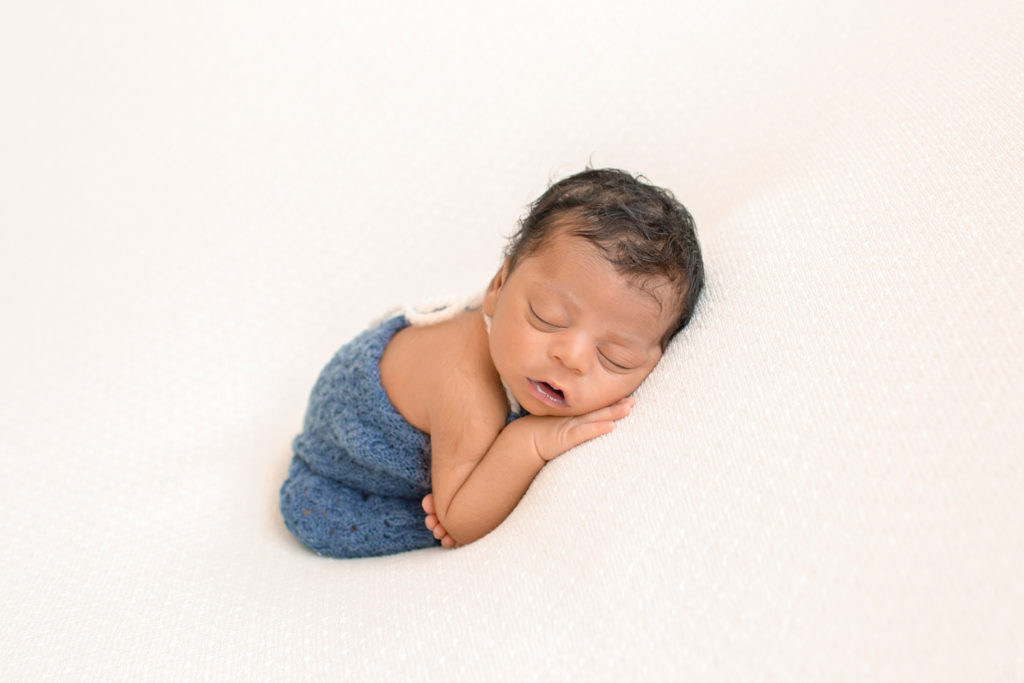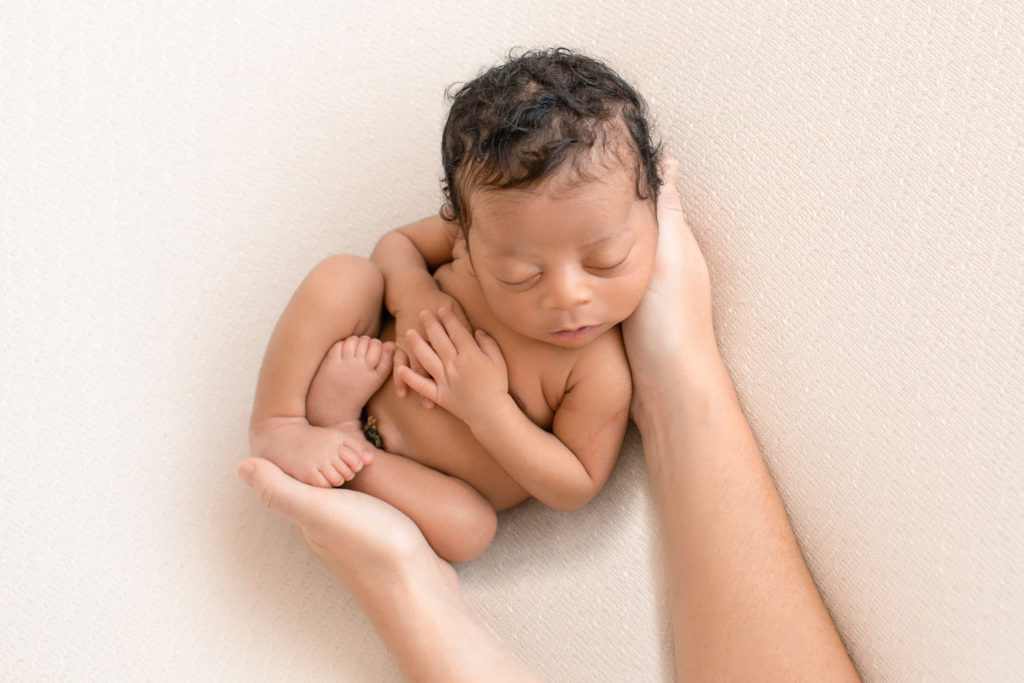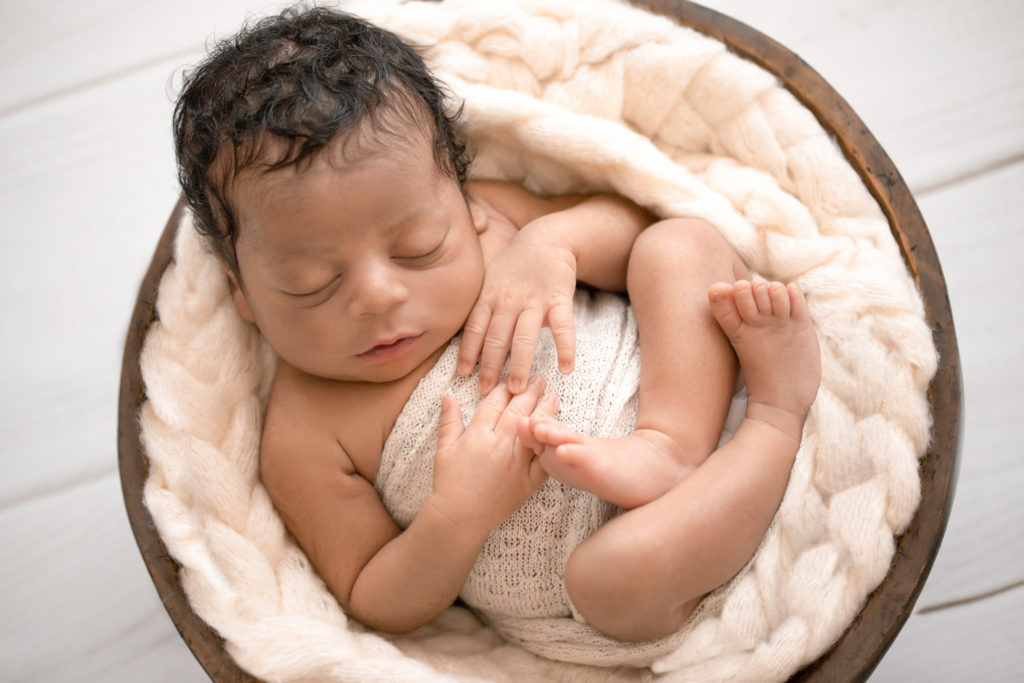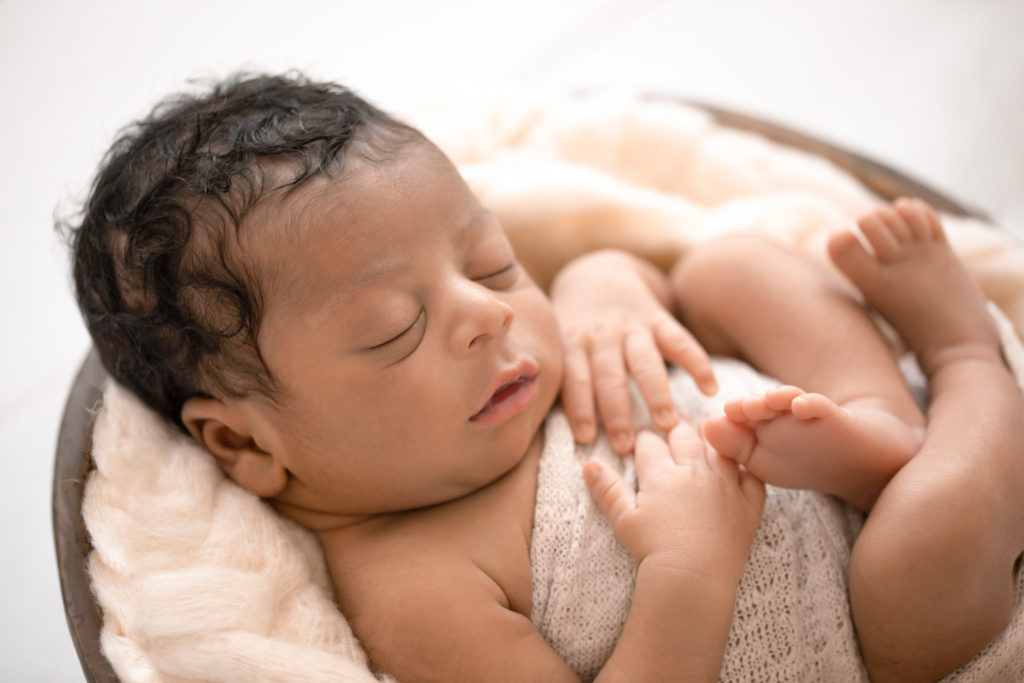 STUDIO NEWBORN PROPS
Jacob was a good sleeper and posed like a superstar. He let me pose him in a variety of props. He even let me dress him in these blue knit overalls with a sleepy hat and pose him lounging on this quilt covered metal bed. Here's a behind the scenes peek at his session!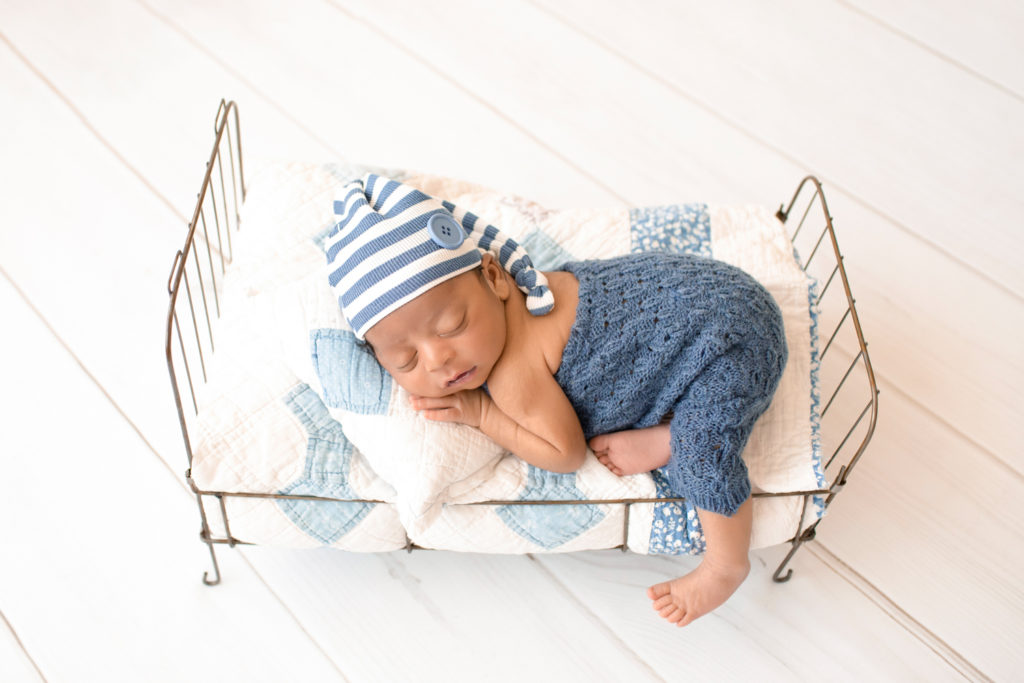 Jacob looks adorable in his newborn pictures sleeping in this metal bucket wrapped up in a brown knit potato sack. And in this fur stuffed brown basket. And for more close ups against this cream braided blanket in a brown wooden bowl. The props I chose for Jacob's session fit him perfectly.  Andrea Sollenberger Photography has an extensive prop collection and a beautiful studio newborn wardrobe available for each session. If you're looking for some prop, color or posing ideas then check out my Newborn Gallery.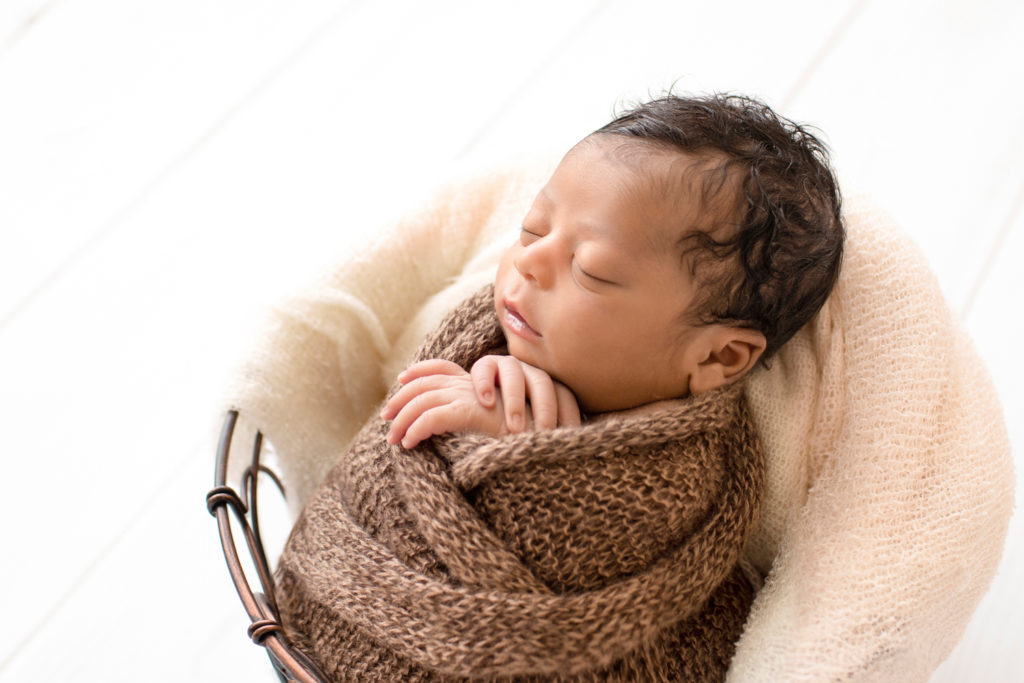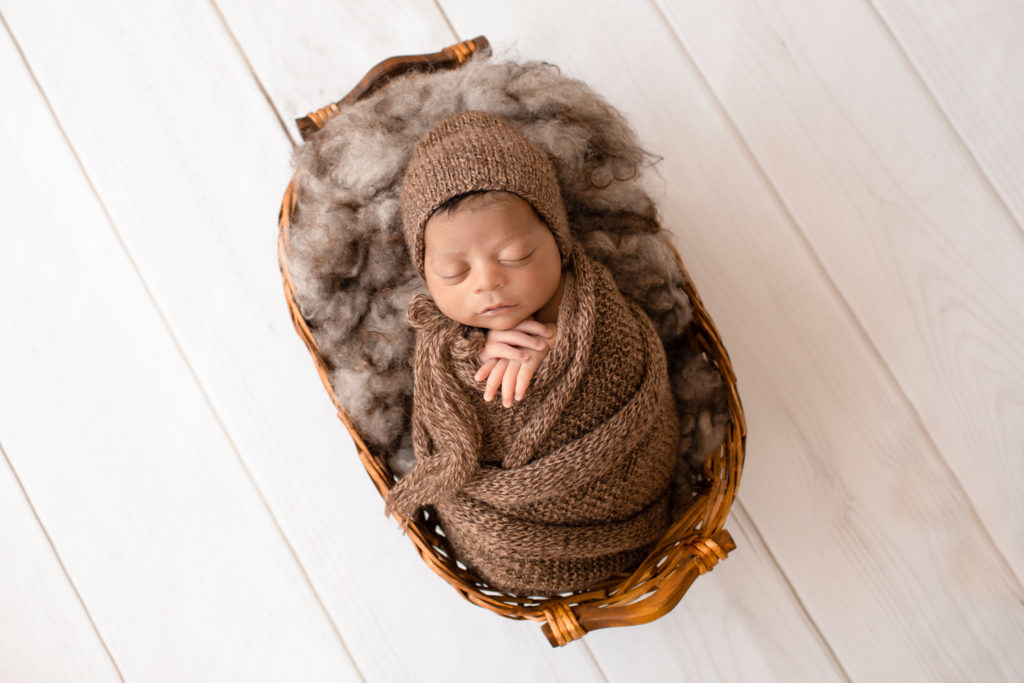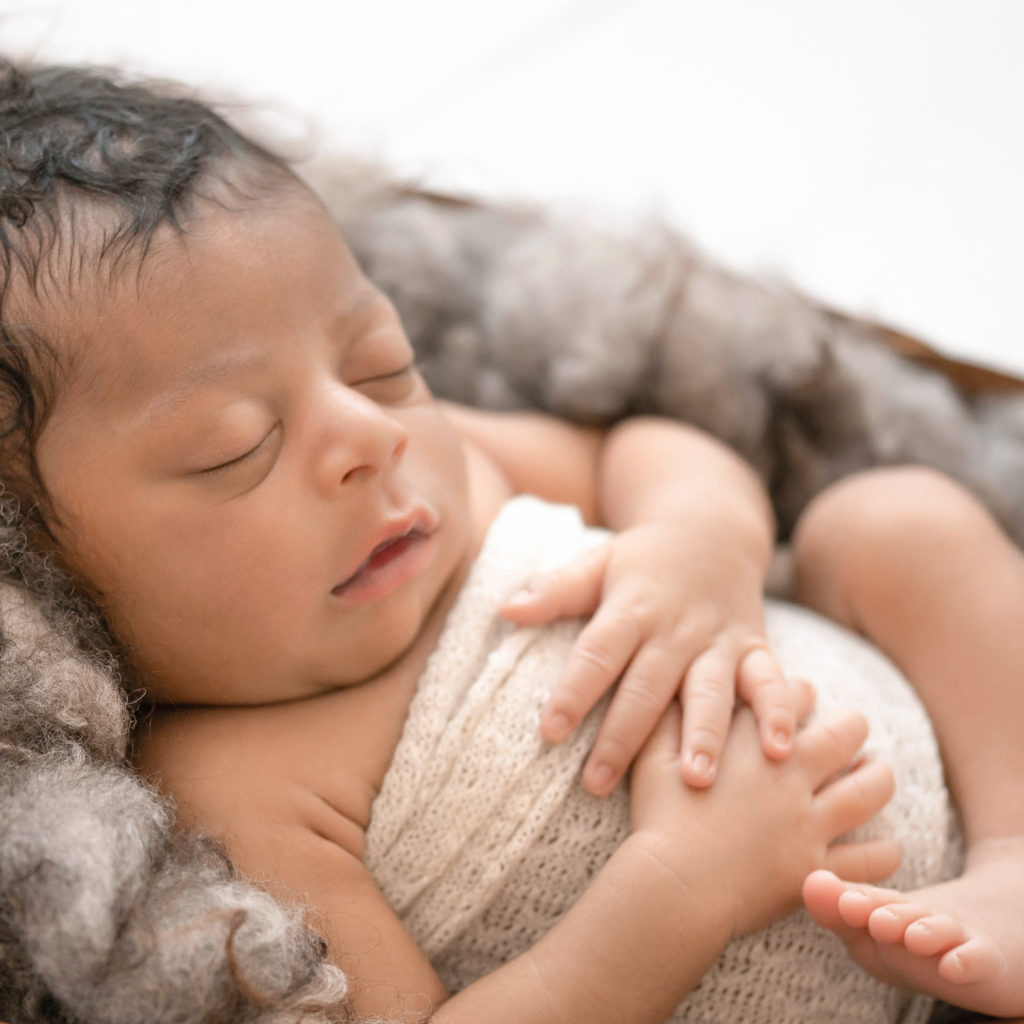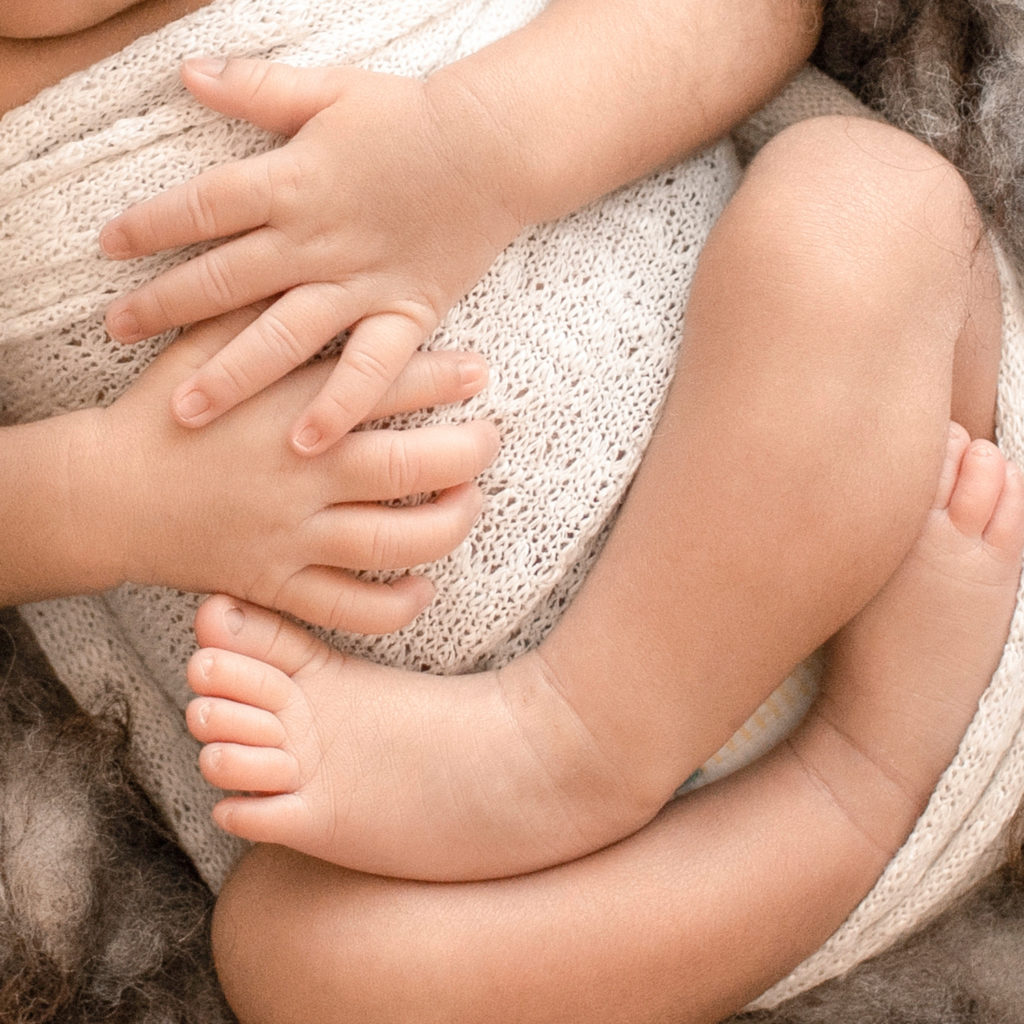 What a joy to share in the excitement this family knows with a new family member. I hope you enjoyed this little peek into Jacob's newborn pictures.
BEST TIME FOR NEWBORN PHOTOGRAPHY
Will you remember your brand new baby and his tiny fingers and his teeny tiny toes, the soft baby skin that you love to kiss, or his cuddly rolls? Newborn pictures record not only the tiny little details, but also the beginning of new relationships budding between precious family members.
The best time for newborn photography is within the first five to fourteen days of life when newborns are super sleepy and snuggly. I would love to capture with photographs each stage of your little one's growth from their youngest days, so that your family can treasure these moments for years to come. Looking for a Gainesville FL newborn photographer? Let's start planning your session today!
Andrea Sollenberger Photography studio is located in Alachua just outside Gainesville Florida. Andrea also serves Alachua, Jonesville, Newberry, Town of Tioga, Haile Plantation, Archer, Trenton, Melrose, Palatka, Ocala, Micanopy, High Springs, Lake City and Live Oak.
Wooden bowl –  https://www.etsy.com/shop/Chicabootique
Knit wraps and bonnet – https://www.etsy.com/market/dreaming_carita/
Baby backdrops – https://www.intuitionbackgrounds.com/
Newborn wraps – https://www.devotedknits.com/
Basket stuffers and backdrops- https://www.intuitionbackgrounds.com/
Andrea Sollenberger Photography, Newborn Photographer FL in Alachua, Florida, Newborn, Maternity, Baby, Child and Family Photographer