Working with France to make her maternity portraits was a delight. A mother's joy begins the moment she learns a new life is growing within her. Excitement soars when a tiny heartbeat is heard for the very first time and is shared with the family. And every kick, little or big, reminds her that life is now different. She has new purpose and life has new meaning. Family has new meaning! These are precious days of expectation before a little one's arrival, and precious emotions to document.  France and John captured tender moments together with family maternity photos that document both the moment in time and the emotions.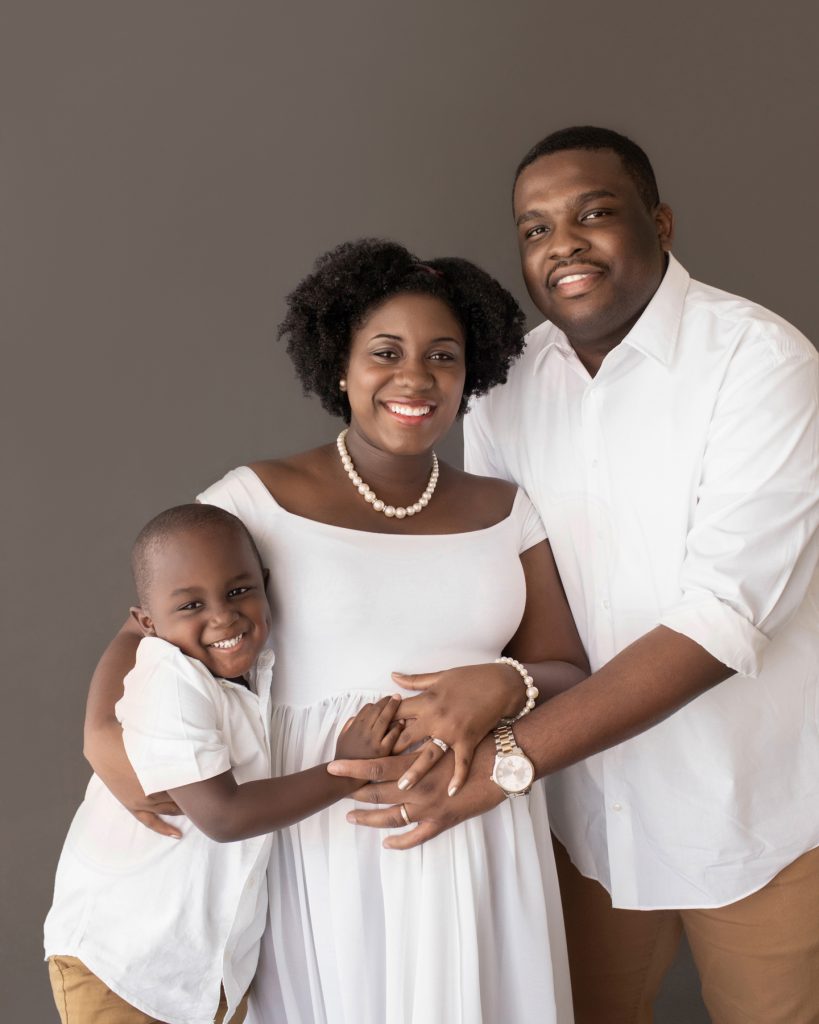 MATERNITY PHOTOGRAPHER GAINESVILLE FLORIDA
Meeting beautiful women, devoted dads, endearing siblings and sharing their excitement with beautiful maternity photos is my joy. I love to capture the occasions families want to remember, the special sentiments their family shares, and preserve their memories for every tomorrow. Every family has a story.
Moms often tell me that the photos taken by their professional maternity photographer are the very pregnancy moments they best remember. This might be because maternity portraits continue to jog their memories every time they see their photos. Expectant parents spend 9 months wondering, planning and falling in love with their new family member! To capture pictures of this growing love within a woman and a man is to tell a story of strength, beauty, and family connection. Mom's beauty and anticipation is written all over her. Her shape, her glow. The way she looks towards her beautiful baby bump, toward her husband, toward baby's big brother, the way her husband looks at her. These together times and emotions tell a story of value and love. Here is the maternity photo story of France, John and little David.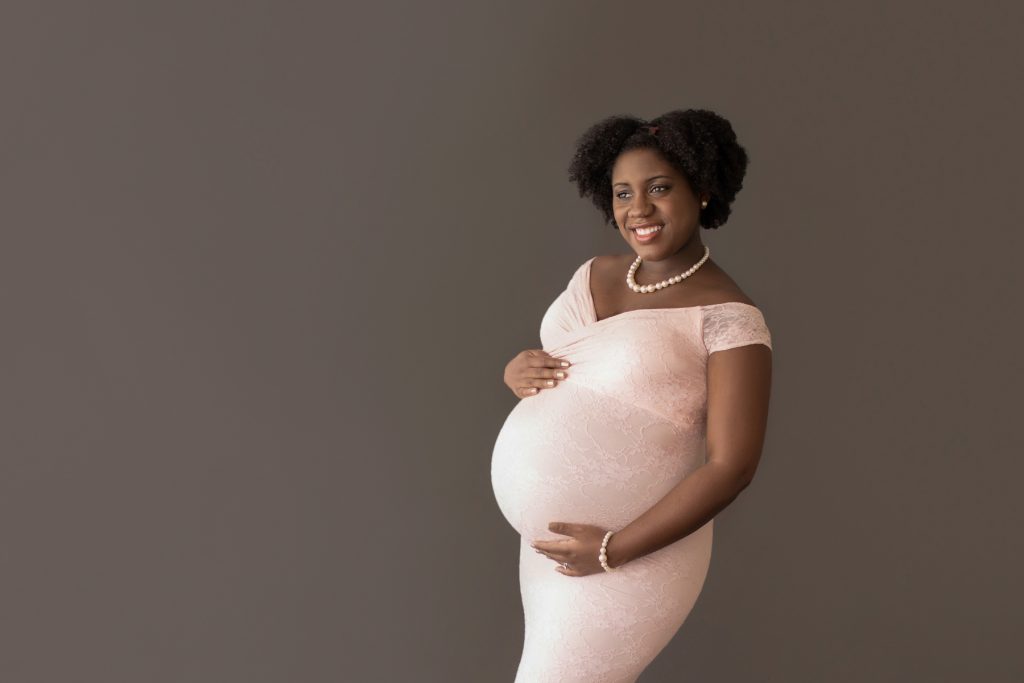 BOUTIQUE PHOTOGRAPHY STUDIO-MATERNITY GOWNS FOR PORTRAITS
When France visited me for her Maternity Studio Visit she was delighted to learn that maternity gowns are offered as part of her session fee for maternity portraits. With baby expenses approaching, pregnant moms are grateful their session comes with use of the studio maternity gown wardrobe at no additional cost. They are always glad for the variety of gown colors, sizes, styles and textures in the studio maternity gown wardrobe.
France chose to wear a plain white chiffon toss maternity gown and a pale pink lace mermaid style maternity gown, lovely choices for her complexion and her home decor.  Both of these would be photographed against a grey background, to tie in her nursery color scheme.
The color scheme of a maternity photo session is important for wardrobe choices that are physically becoming and personally appealing for a client. It is also important to consider for home decorating purposes. Your finished, beautiful maternity portraits should work well with your personal home décor. This way your portraits perfectly belong in your nursery, your bedroom and your living areas.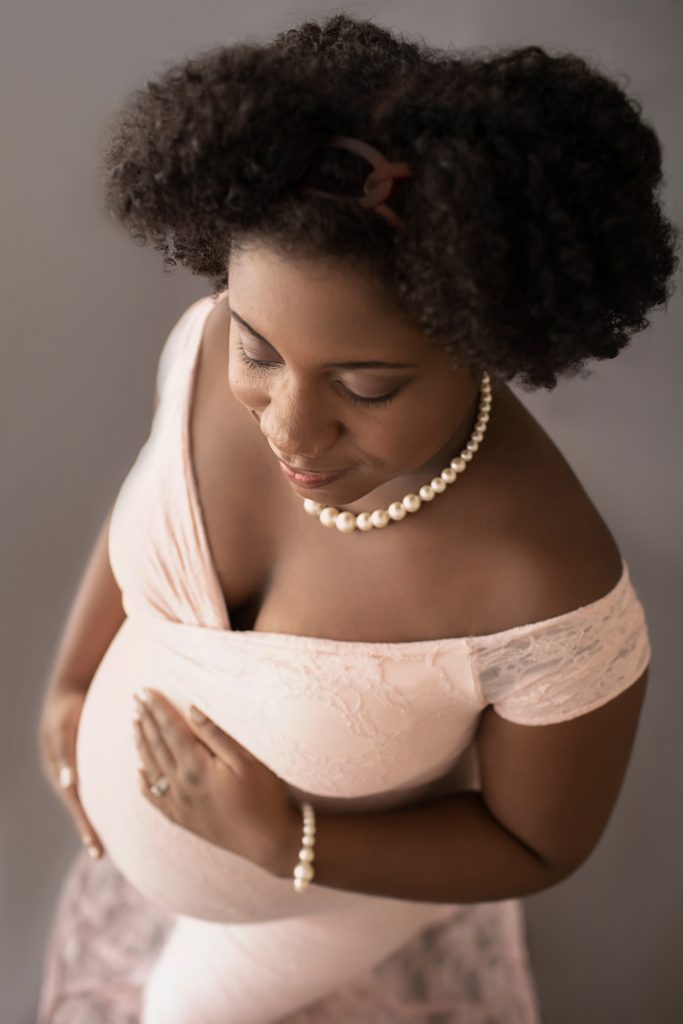 BEAUTIFUL MATERNITY PORTRAITS WITH CHILDREN
France and John were very excited about documenting pregnancy photos as a family. Their family of 3 includes 3 year old boy David, and with this pregnancy they are expecting a little girl. With family photos as a session goal, we jumped right into capturing family maternity photos at the studio. Our 3 year old subject would not love this maternity portrait session for long, but he performed wonderfully for just the right amount of time!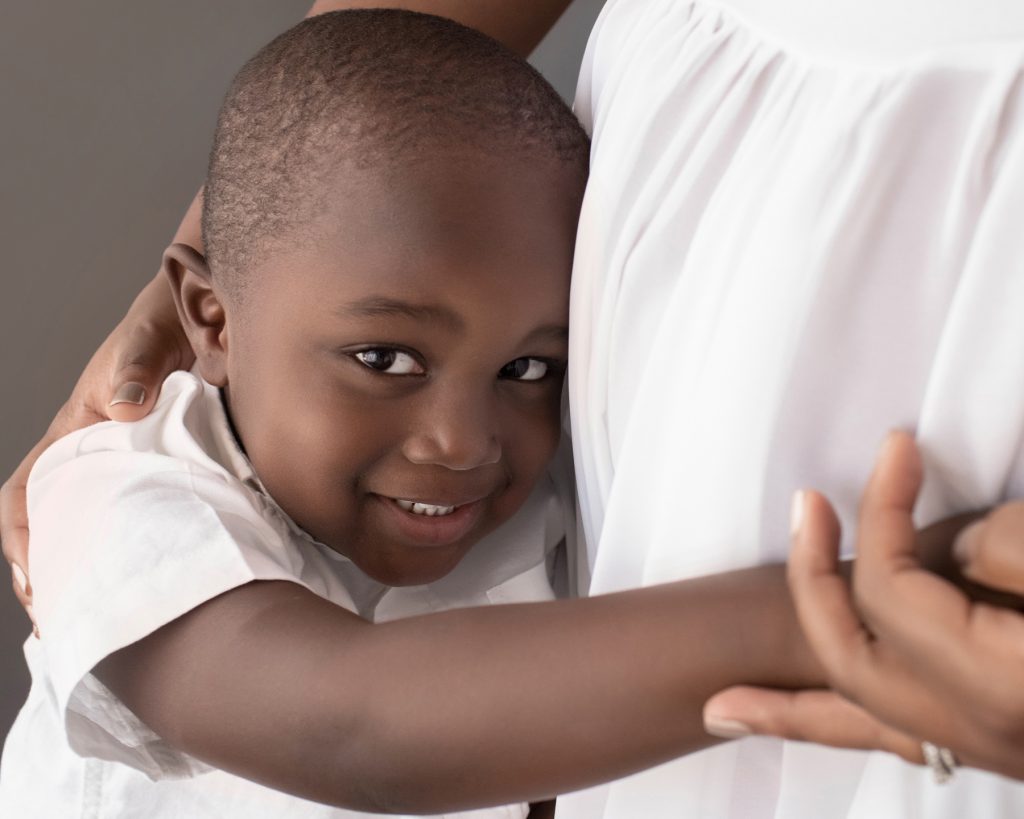 Big brother David gives me a sheepish grin and shows me beautiful his big brown eyes as he hugs his mama in this first photo. We took several family maternity pictures with John, France and David all dressed in white. It is one big family hug surrounding Mom's beautiful baby bump. Beautiful family is about to get more beautiful with the addition of a baby girl.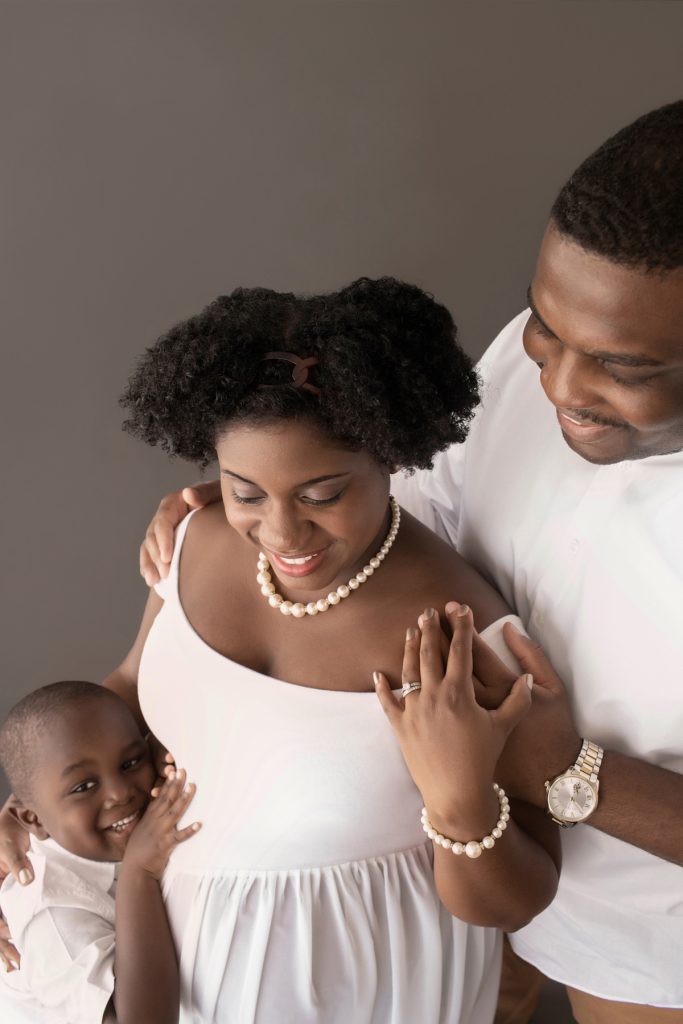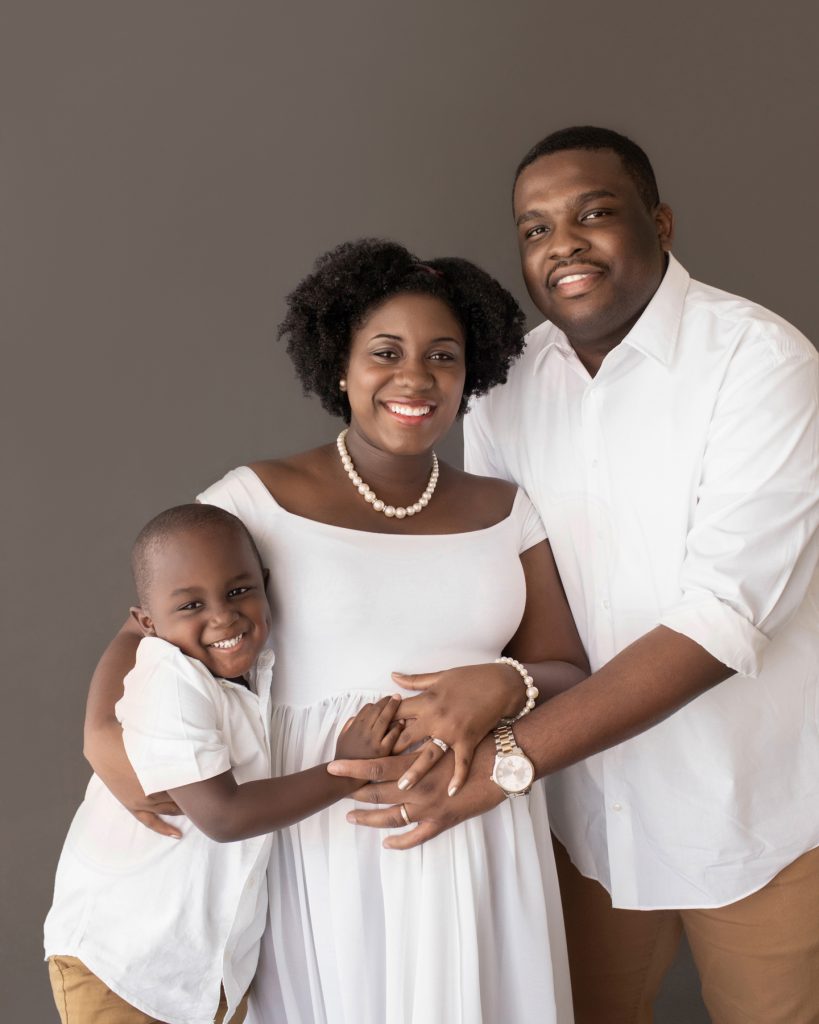 Including David in maternity photos with his parents and expectant baby sister will be a memorable story to share with him over the years as he grows in his relationship with his sibling! As well, the gift of a pink rose to his mom in honor of the baby sister he is expecting speaks volumes in their maternity photo story. David's involvement, his loving sentiment toward his mom and his sister are endearing. I love his great big grin and mom's complete pleasure in him! What a thrill to catch this maternity moment for them in photos.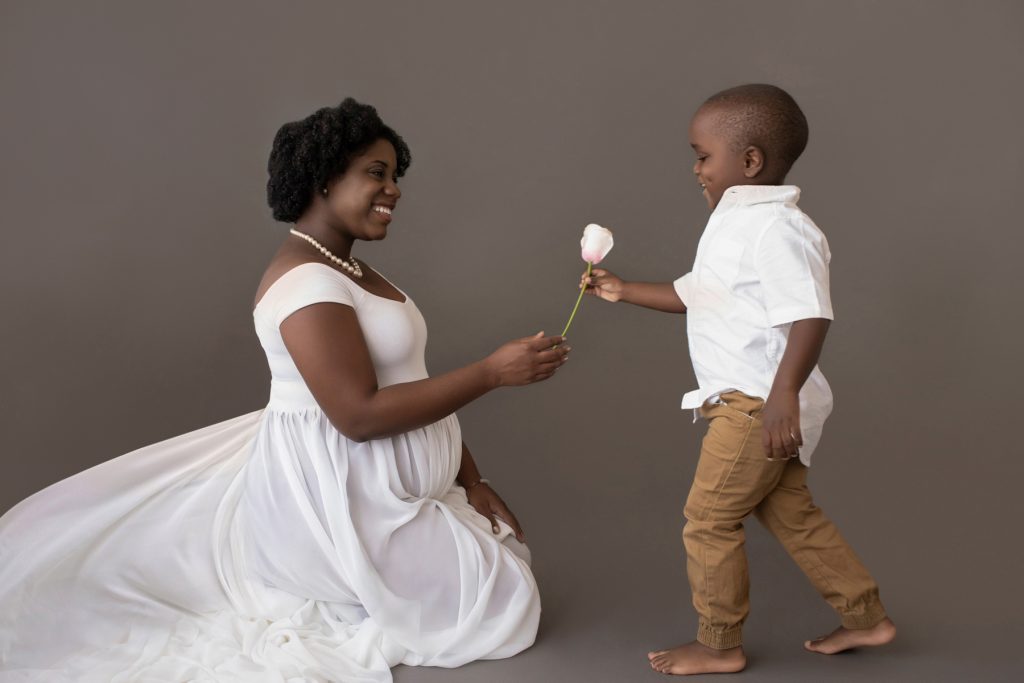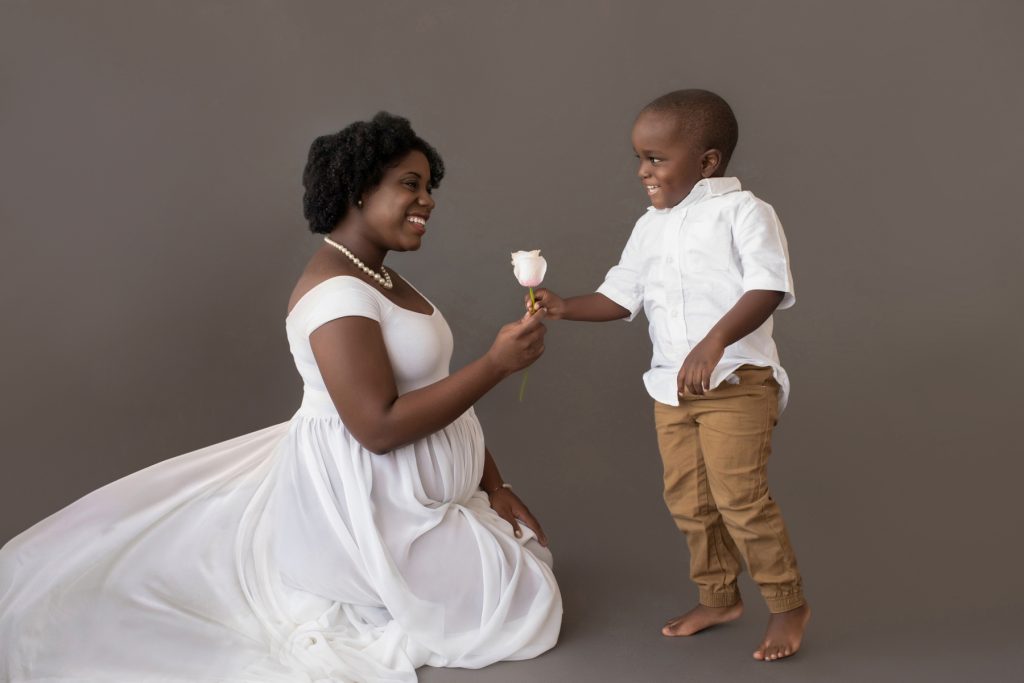 MATERNITY PORTRAITS FOR MOM AND DAD
France and John make a handsome couple! They are on this path together! Very soon there will be another family member to consider, and they will be a family of four. I love capturing for mom and dad this time of baby anticipation as a family.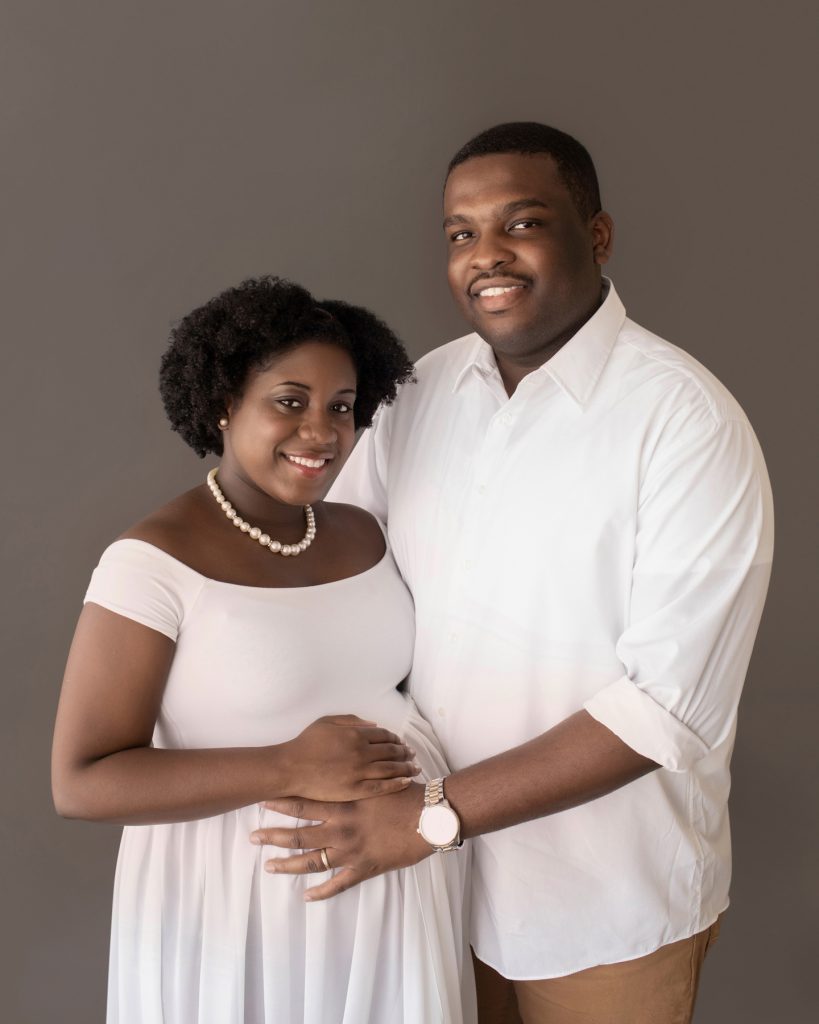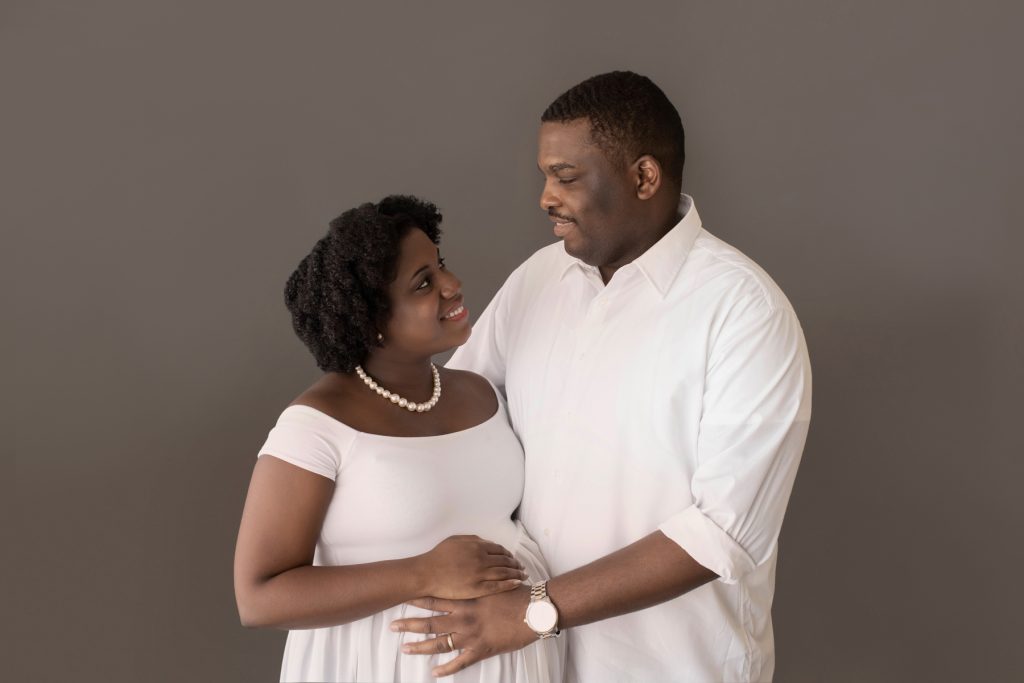 MATERNITY FUN JUST FOR MOM
For a bit of fun, we made maternity portraits of mom posing with the white chiffon gown with a swirling toss. Mom loved these fun photos and I am glad we made the maternity photo session time for them.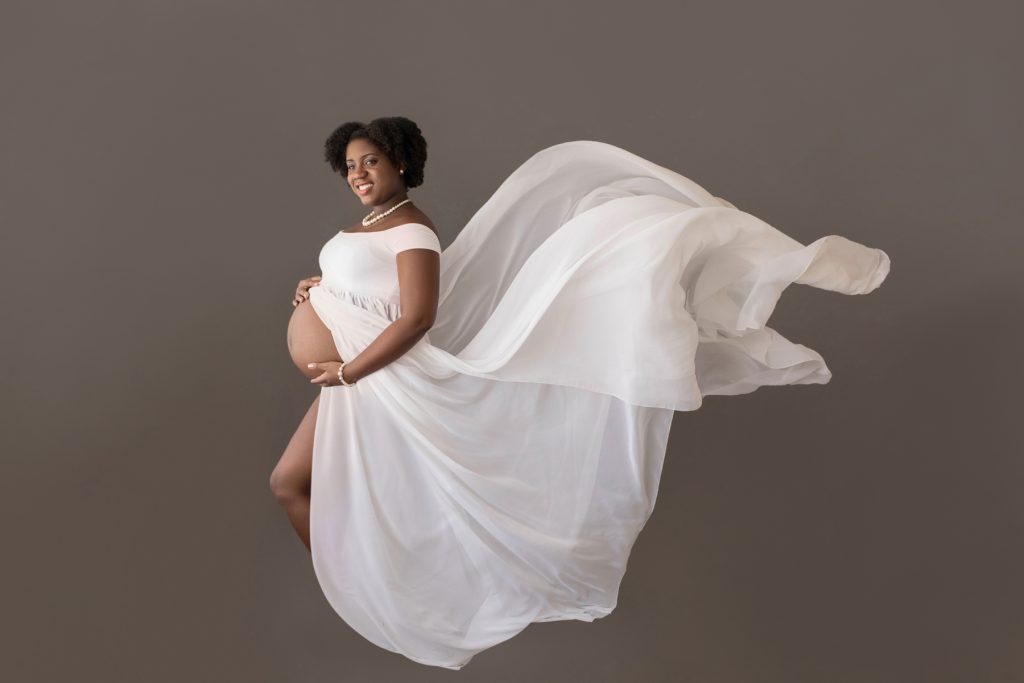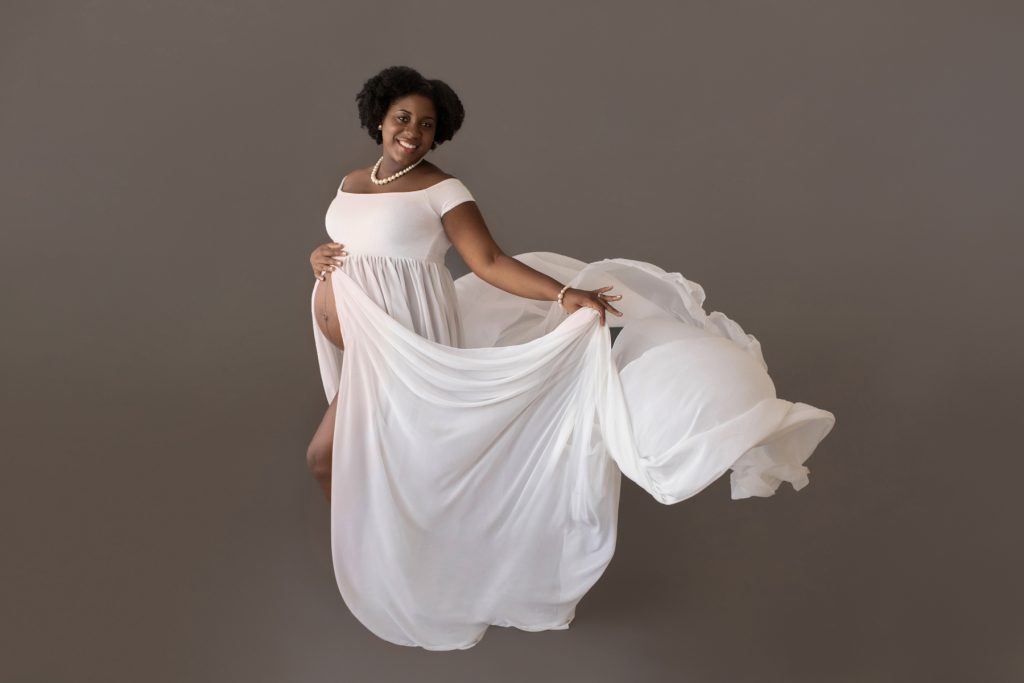 MATERNITY PORTRAIT-PROFESSIONAL MATERNITY POSING
France was eager for posing directions so that the most flattering maternity photos of her baby bump would be captured. Expectant moms generally wonder if they will look good in front of the camera. But professional maternity posing and directing is provided to make you look beautifully expectant and absolutely elegant in your maternity portraits.
France posed in this pale pink lace mermaid maternity gown. With her hands gently holding her beautiful baby bump, she beams with the happiest, biggest of smiles. I love the maternity story of an expectant mama gazing down longingly on her beautiful baby bump.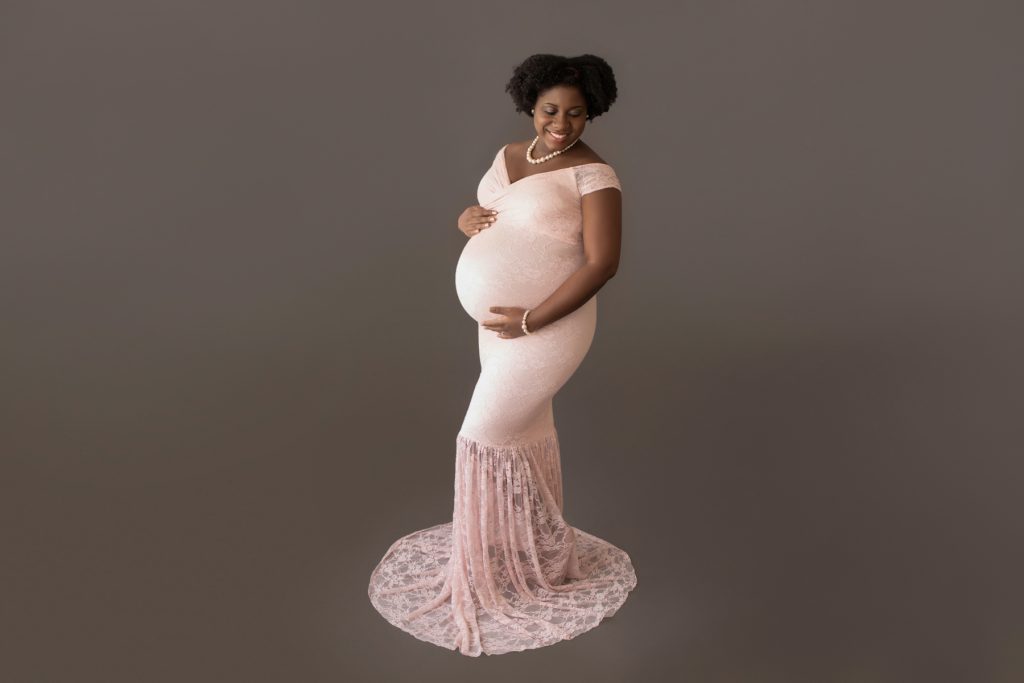 Angled toward me or full profile, hands encircling her baby, France's maternity pictures show off her perfect baby bump. The maternity shape represents the strength of a woman and her feminine beauty. This pale pink lace maternity gown is stunning on her!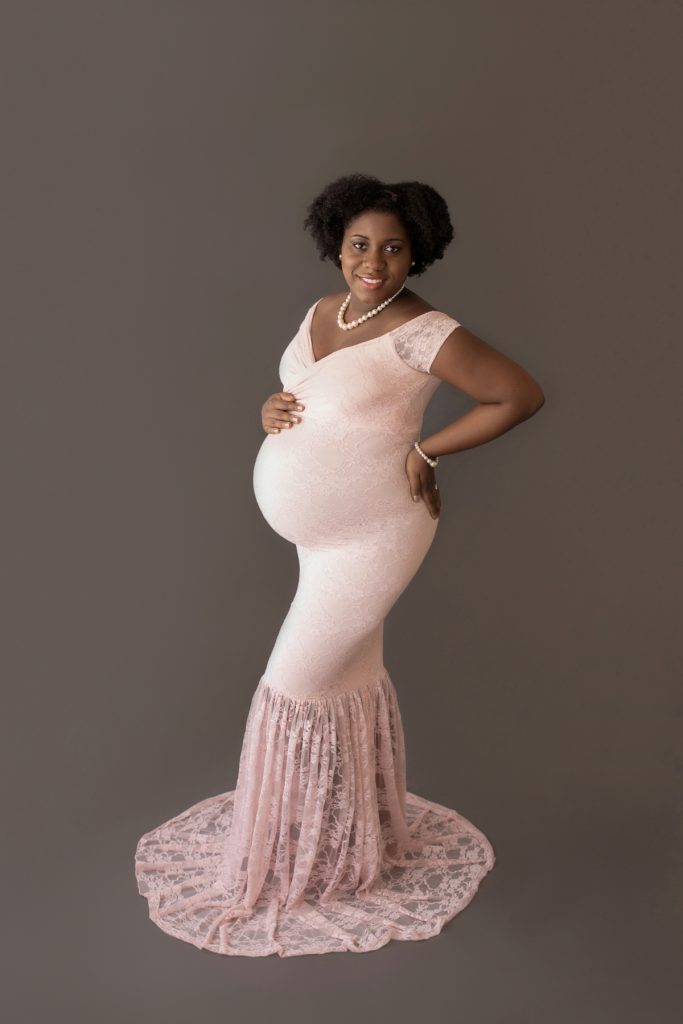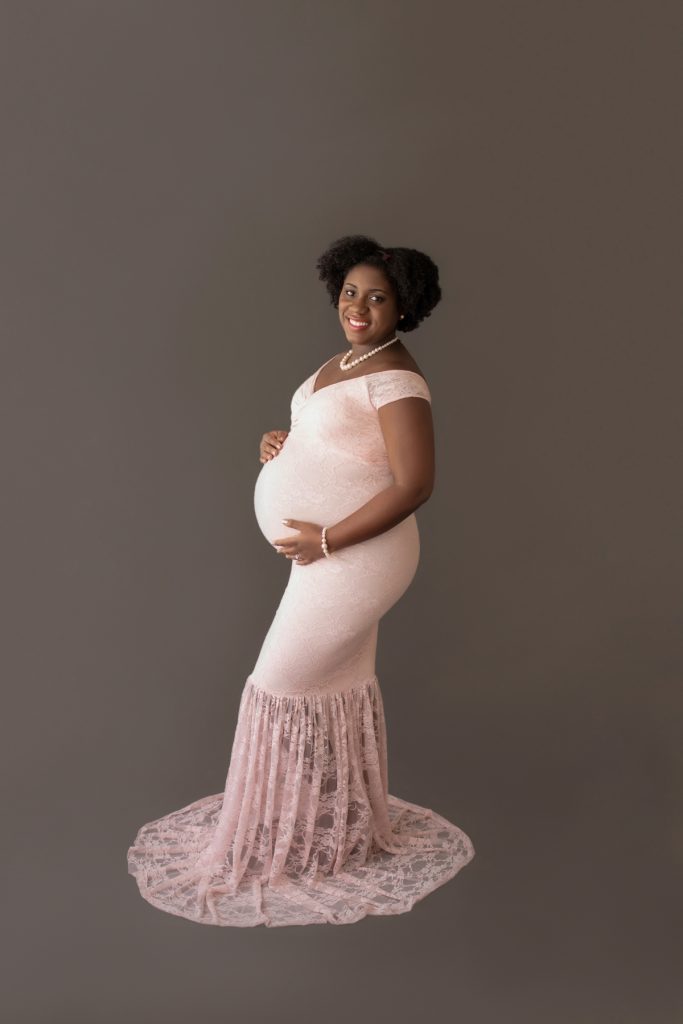 Once again, expectant mom holds her beautiful baby bump and longs for the time when she will hold her tiny baby girl. She is filled with pride and anticipation, and she beams as though with rays of sunshine. Many people call it a maternal glow. To capture the beautiful glow that others see is our goal. It was an absolute honor to be France's maternity photographer Gainesville FL.
 SCHEDULING WITH MATERNITY PHOTOGRAPHER
Baby bumps are beautiful at any time, but the best times for maternity photos during your pregnancy are between weeks 30-35. This is the time when your beautiful baby bump is nicely round but you are more comfortable than you might become later in the pregnancy. Here are more maternity looks for your browsing fun!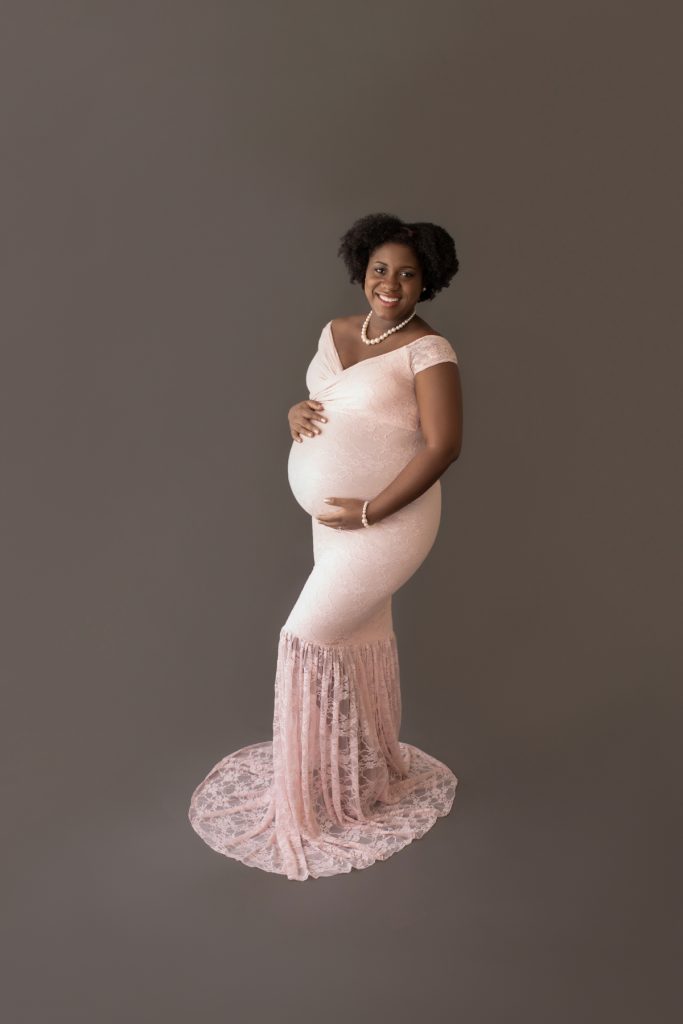 Pregnancy is a miraculous and precious time. It is worthy of professional maternity portraits to help you remember both the tender time and your genuine emotions. I'm truly honored to capture each family story and can't wait to meet each of you. I would like to chat with you if you are considering in-studio maternity photos or maternity images at a beautifully lit outdoor location. Contact me about your baby bump photos today! Capturing your Gainesville Florida Maternity portraits would be my delight too!
Maternity clients of Andrea Sollenberger Photography are always welcome to use the studio maternity gown wardrobe for their maternity portraits at no additional cost. See what maternity clients are saying about Andrea Sollenberger Maternity Photographer Gainesville FL.
White chiffon toss Maternity Gown- https://www.sewtrendyaccessories.com/ 
Pale pink lace mermaid Maternity Gown – – https://www.sewtrendyaccessories.com/ 
Andrea Sollenberger Photography, Newborn Photographer FL, Newborn, Family, Baby, Children and Maternity Photographer