Welcome to my little slice of heaven with baby portraits. As newborn photographer I absolutely love preserving memories with newborn photos. Being a part of particularly special moments in parents' lives brings me joy. My goal is to give Mom and Dad beautiful newborn photographs of their meaningful times so they can cherish them forever. Enlarging family life with a baby is one of the most monumental experiences in life. It is worth capturing the joy with professional newborn photography! My studio is designed specifically with a maternity session and newborn session in mind to pamper moms, dads, and babies. Here is a little peek into a recent studio session with handsome Carl.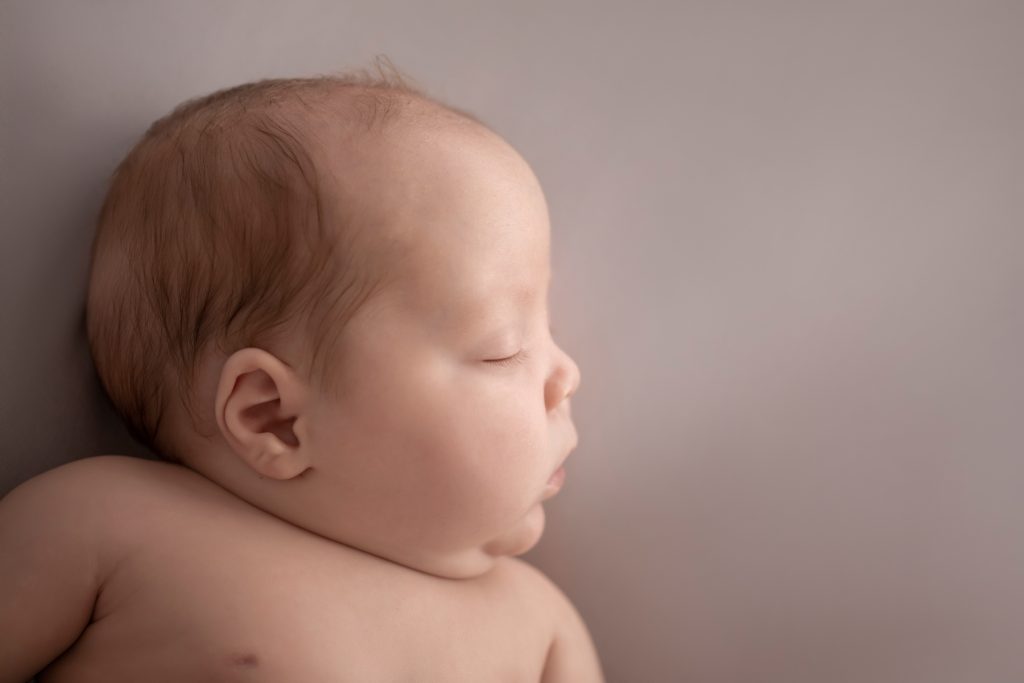 BABY PORTRAITS – CARL
Tiny baby Carl was 1 pound 15 ounces at birth. He was born premature at 26 weeks gestation and stayed in the NICU for 4 months. Ralene and Caleb knew they wanted to celebrate the love of their special boy with baby photos as soon as they were able. They contacted Andrea Sollenberger Photography for newborn photos and made arrangements for his newborn session! His baby portraits session took place within days of coming home.
We personalized their newborn session with colors and textures familiar to their home of dark woods and antique furniture. Knowing their colors and home décor in advance helps a newborn photographer to style the session. Mom and Dad were filled with excitement because this day would finally freeze their little one's tiny stature in baby photos. Ralene and Caleb followed my suggestions for a successful newborn session. As a result, Carl arrived at the studio completely prepared for his studio baby session!
BEAUTIFUL BABY PORTRAIT DETAILS!
Although Carl was 4 months old in these baby photos, he was able to pose much like a newborn based on his developmental age.  He is 9 pounds already, and quite a big guy compared to his less than two pound birth weight. Mom and Dad are glad for baby portraits highlighting his beautiful baby skin and beautiful baby details. His tiny baby fingers and toes. His face is so delicate, like porcelain, and at the same time so handsome. All of these baby details will soon change and begin to take on the look of a boy, but for now he is just a tiny beautiful baby.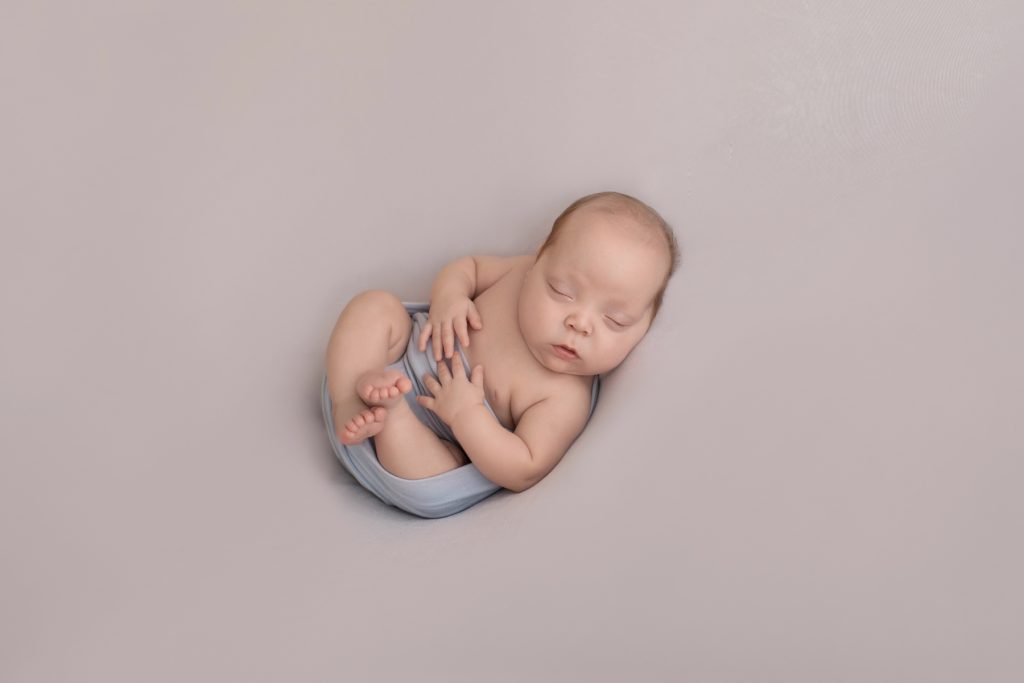 Carl did an absolutely remarkable job with newborn posing as a baby of 4 months old! There is a special story about the quilt behind Carl's head. It was hand stitiched by Grandma for this special child. Ralene, Caleb and Grandma are thrilled to have baby keepsake photos that include this new heirloom piece.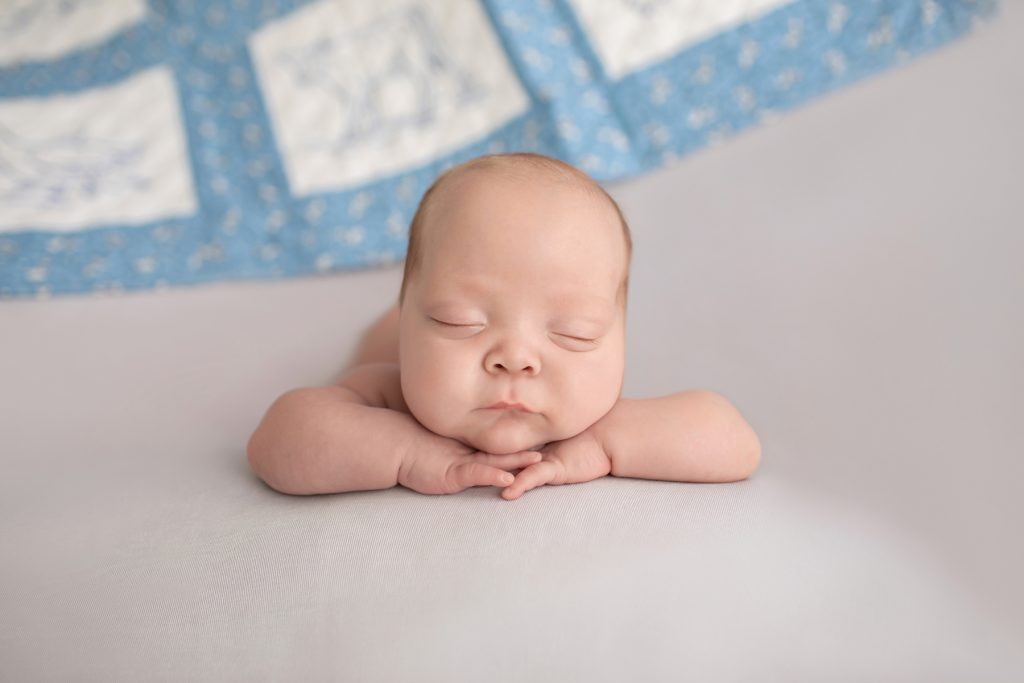 Catching these moments with baby photos is a way to remember a time that is going by quickly. Once it is past, photos will bring this story back into memory.
STUDIO NEWBORN PROPS
Carl was a good sleeper and moved into each newborn pose nicely. He looks adorable sleeping in this wood bucket wrapped in a blue knit potato sack with matching bonnet.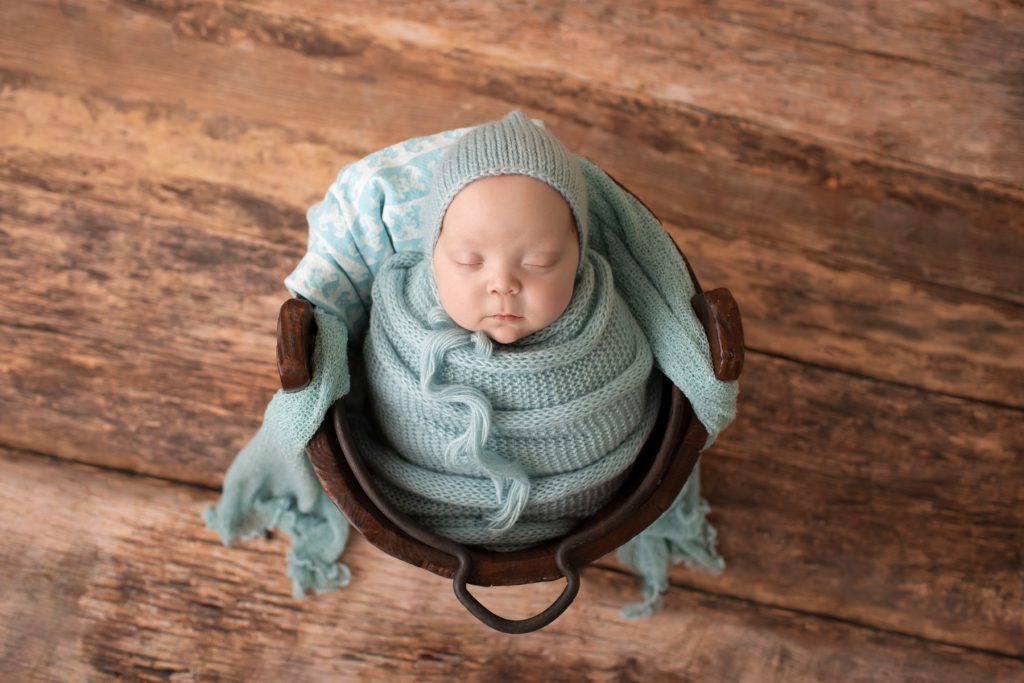 Can you believe the big smile Carl offered at just the opportune time for me to snap his expression! A newborn baby in a bucket with a smile! Ralene and Caleb love this image! They ordered it large as fine art photography to enjoy in their living room. And the aqua and white patterned baby blanket behind his head is a baby keepsake. This blanket was used for Caleb when he was a newborn. Isn't it special when baby keepsake items are preserved for decades and then documented with keepsake photos.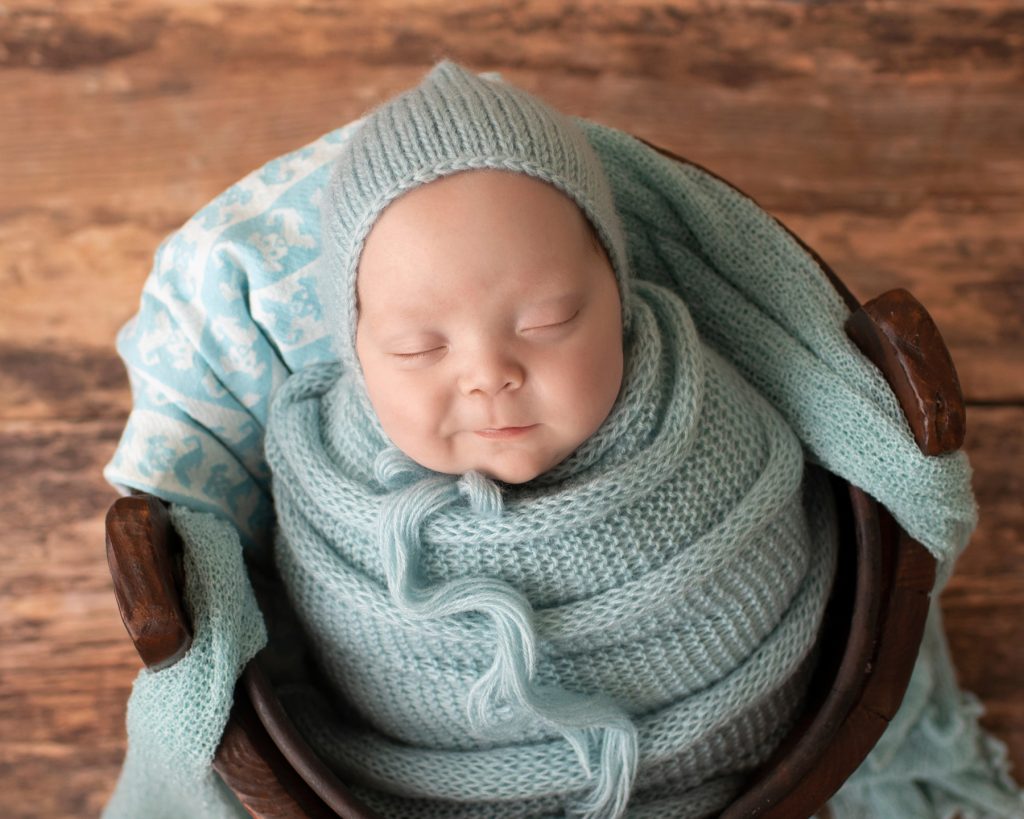 And Carl is a handsome boy in this fur basket on wood floor, all comfy and squishy with his cream sleepy hat and pants! With or without the hat? Which is your preference? Mom and Dad love the baby fresh head with no hat best!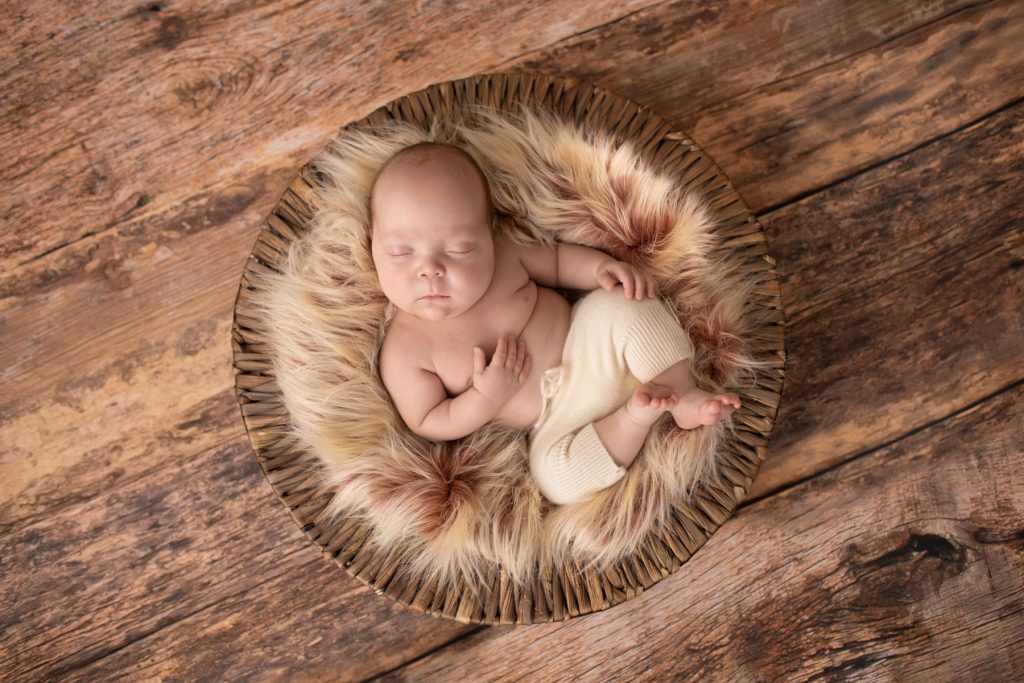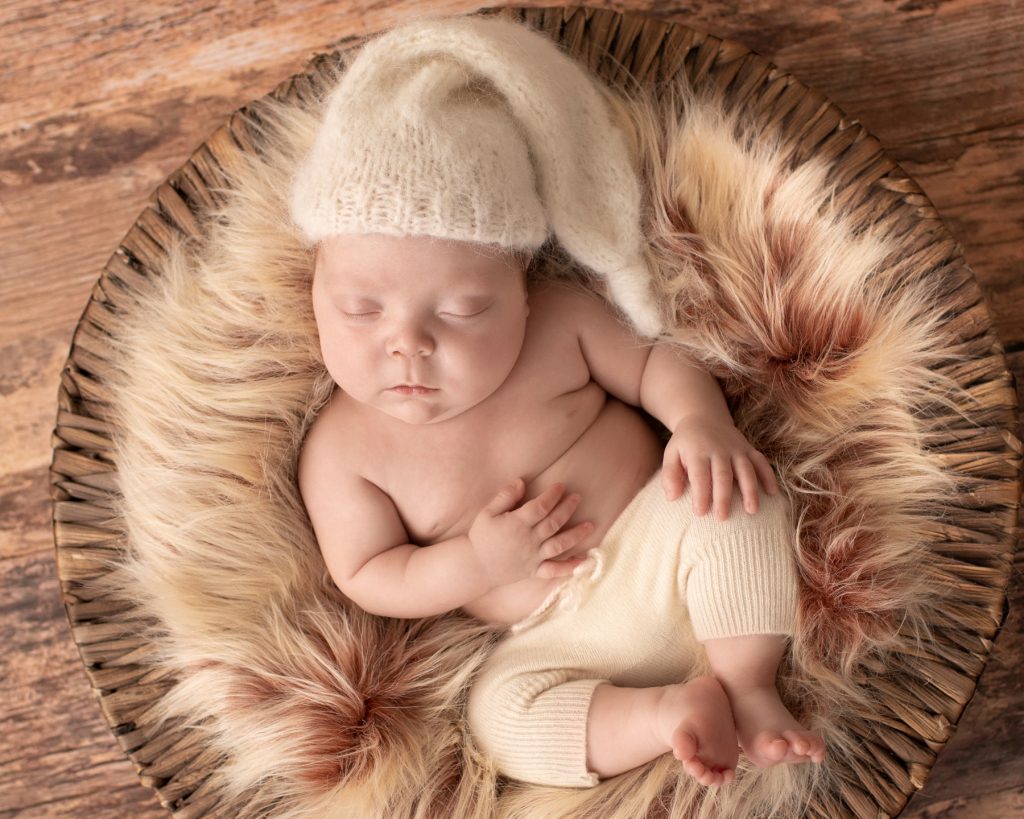 Carl even let me pose him in this antique wood bed. The green plaid pillow adds just the touch of masculine to his baby pose, and the baby grin says it all! The props I chose this session fit Carl perfectly.  Andrea Sollenberger Photography has a beautiful newborn prop collection and studio newborn wardrobe available for each session. If you're looking for some prop, color or newborn posing ideas then check out another baby blog.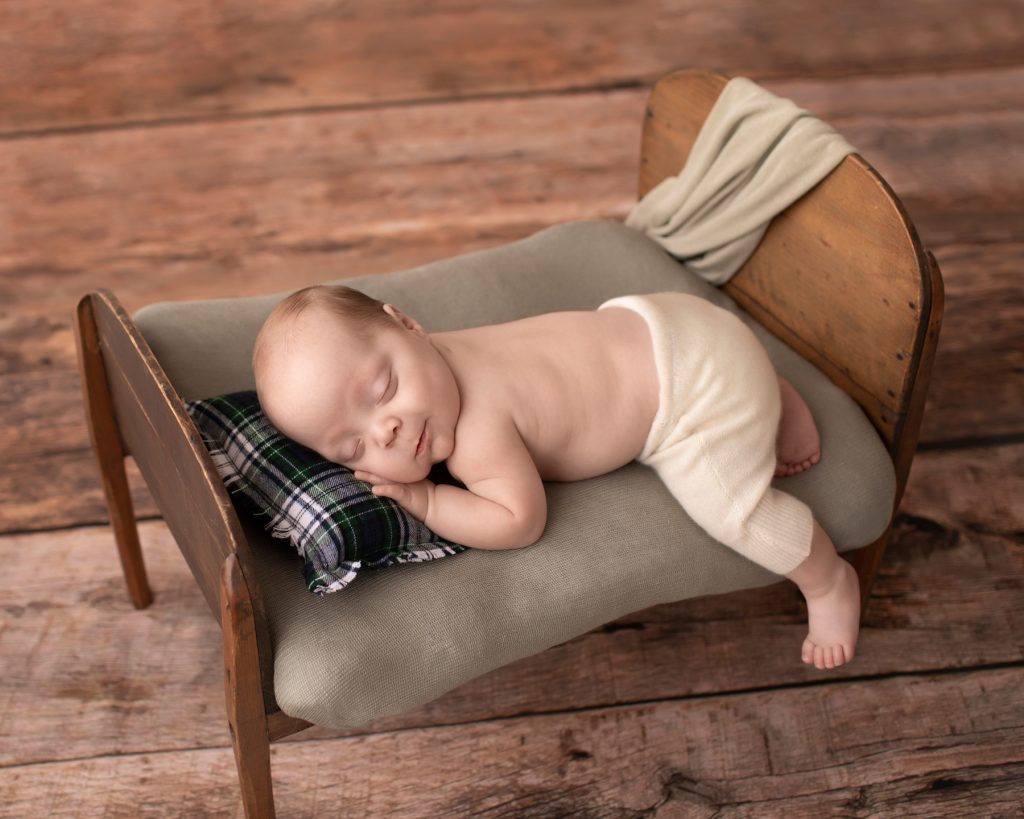 What a joy to share in the excitement this family now knows with a new family member. The small part I played in their journey by capturing Carl's earliest days home has surely touched my heart. I hope you enjoyed this little peek into baby portraits of Carl.
GAINESVILLE BABY NEWBORN PHOTOGRAPHY STUDIO DETAILS
The best time for newborn photography is within the first 2-3 weeks of life when newborns are super sleepy and hold their curly positions. I would love to capture with photographs each stage of your little one's growth from their youngest days. With professional photos your family can treasure these moments for a lifetime. Looking for a professional newborn photographer? Schedule a Studio Visit to learn more, and start planning your newborn photography session today! Above all, make sure your favorite newborn moments are captured with a professional newborn photographer.
Knit wraps and bonnet – https://www.etsy.com/market/dreaming_carita/
Newborn wraps – https://www.devotedknits.com/
Backdrops- https://www.intuitionbackgrounds.com/
Basket stuffers –  https://www.customphotoprops.com/
Andrea's studio serves Gainesville, Alachua, Jonesville, Newberry, Town of Tioga, Haile Plantation, Archer, Trenton, Melrose, Palatka, Ocala, Micanopy, High Springs, Lake City and Live Oak.
Andrea Sollenberger Photography, Gainesville Florida Newborn Photographer, Newborn, Maternity, Child, Family and Baby Photographer Gainesville Florida