When Suzanne contacted Andrea Sollenberger Photography about photos for her newborn girl Bryce, she was afraid she couldn't afford a professional newborn photographer. She knew she wanted to celebrate the love of this special baby girl with beautiful newborn photos. She and her husband waited a very long time for their baby. And skipping newborn photos altogether was something she knew she would regret. For those new moms and dads who are working with a tight budget but still want professional newborn photos, mini sessions are sometimes offered by newborn photographers.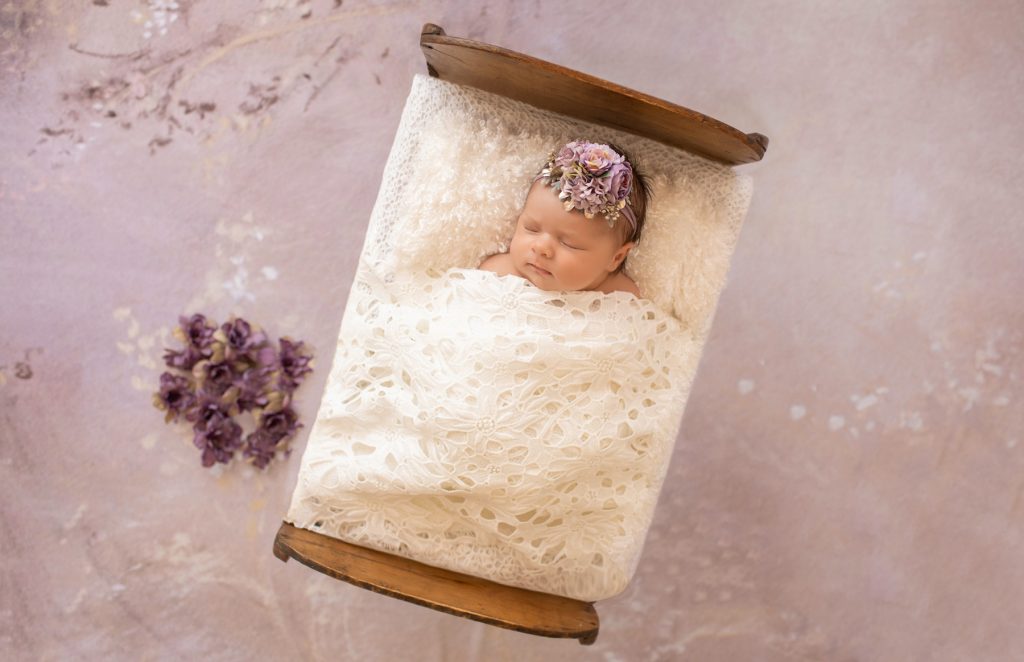 NEWBORN MINI SESSIONS
At Andrea Sollenberger Photography, Newborn Mini Sessions are available for Just Baby, as you will see in photos below for newborn girl Bryce. Or, with an upgrade, there is a newborn mini session that also includes poses with mom, dad, and a first family portrait.
Mini sessions are perfect for those who still want professional newborn photography with us but cannot afford our Full Newborn Session. Add on images to mini sessions are available for purchase if parents want to buy a few more images. These studio newborn mini sessions are of the same photographic quality and editing, and with the same variety of studio props, as Full Newborn Sessions (3 hours). The difference is that mini sessions occur within a shorter timeframe, include a limited number of poses, and baby is wrapped instead of naked.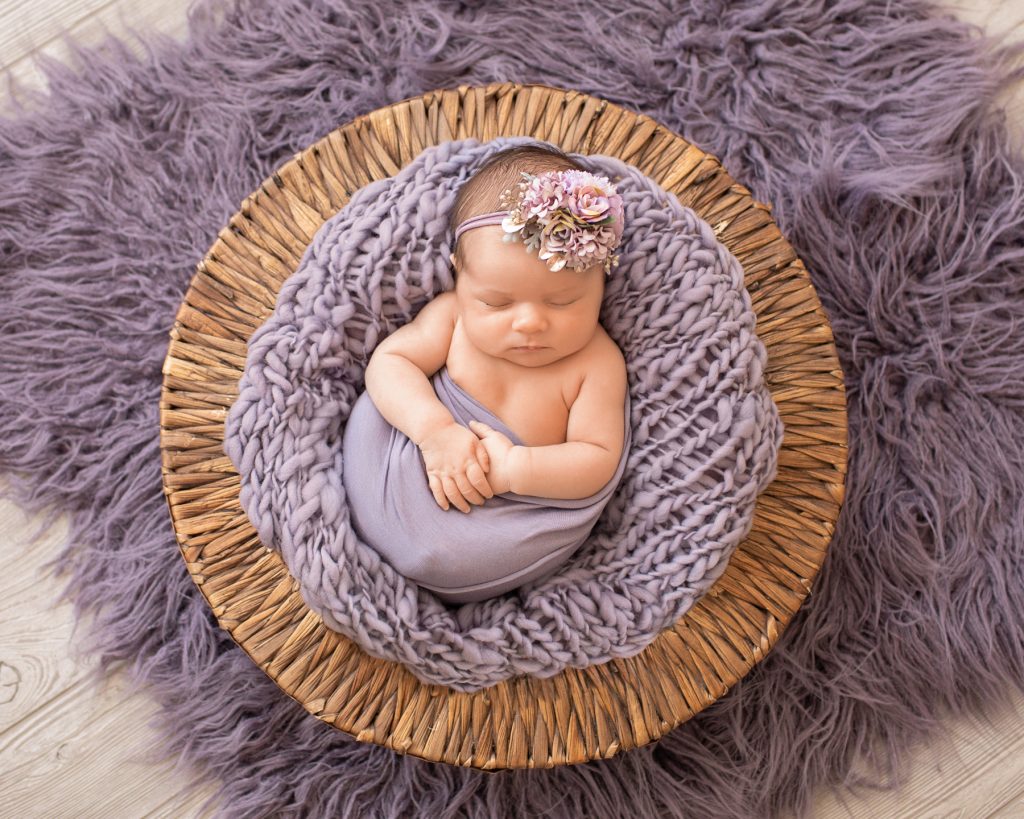 PHOTO SESSION FOR NEWBORN GIRL BRYCE
Suzanne scheduled a Mini Newborn Session for her newborn girl Bryce. During their 1 hour session at the studio we captured these beautiful newborn photos. At first, I swaddled Bryce in a few layers, finishing with a white hand knitted blanket on the outside. She posed like a little potato sack in a bucket with white fur! You never know when babies will give a smile. But I caught her smiling! Bryce gave a big smile while still in this little potato sack pose.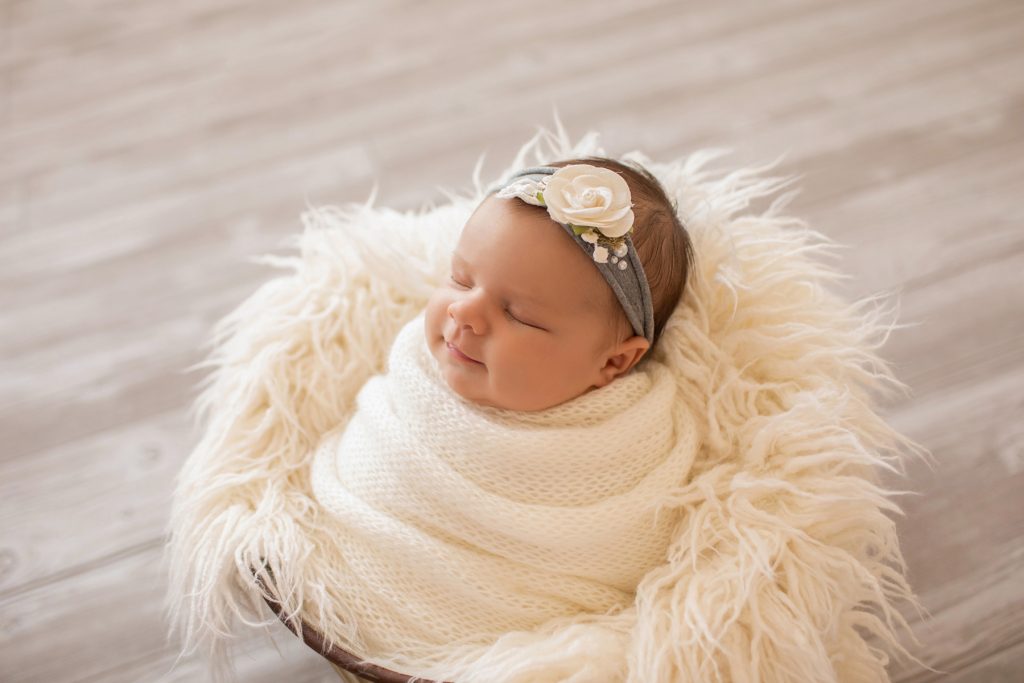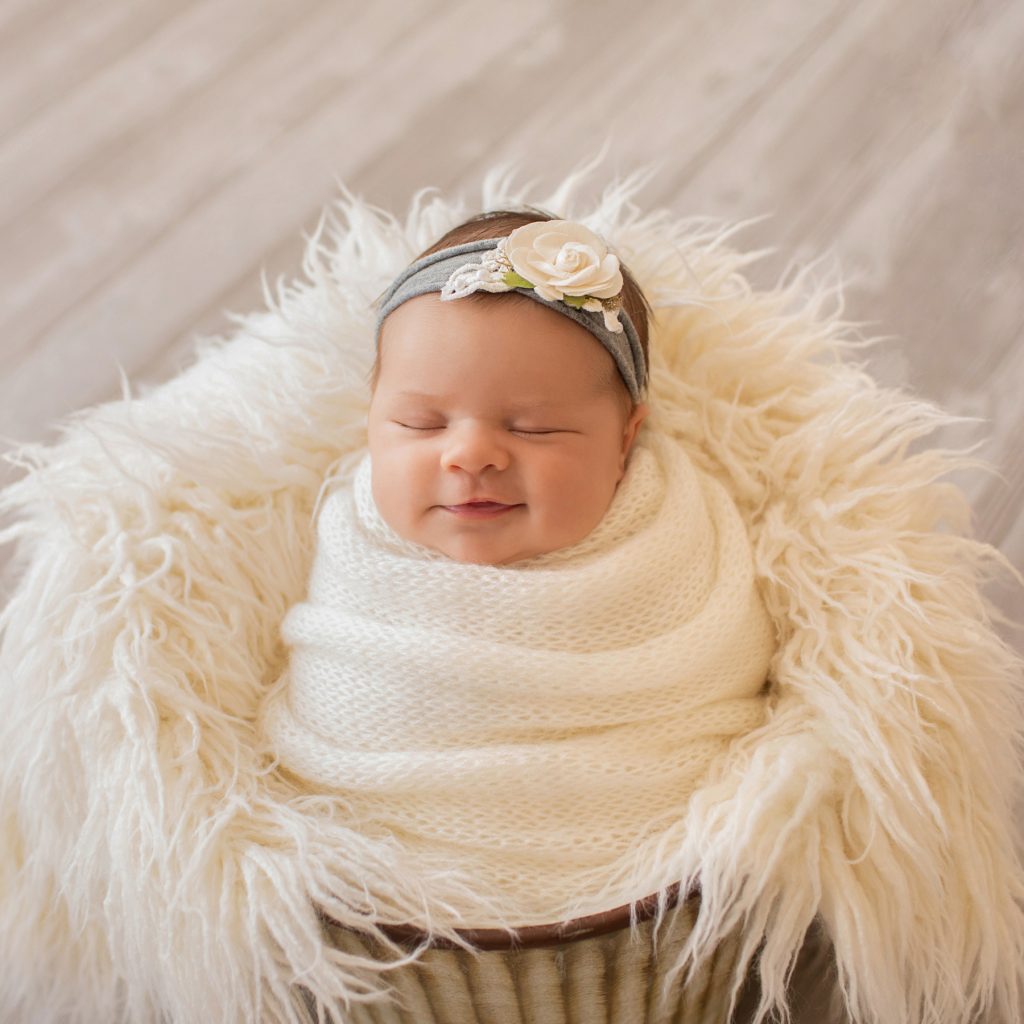 Without waking up, we moved to the next prop. Newborn girl Bryce posed and slept under a white lace blanket in a baby bed against a pale purple background with purple flowers. Her matching headband adds such a feminine and classy touch!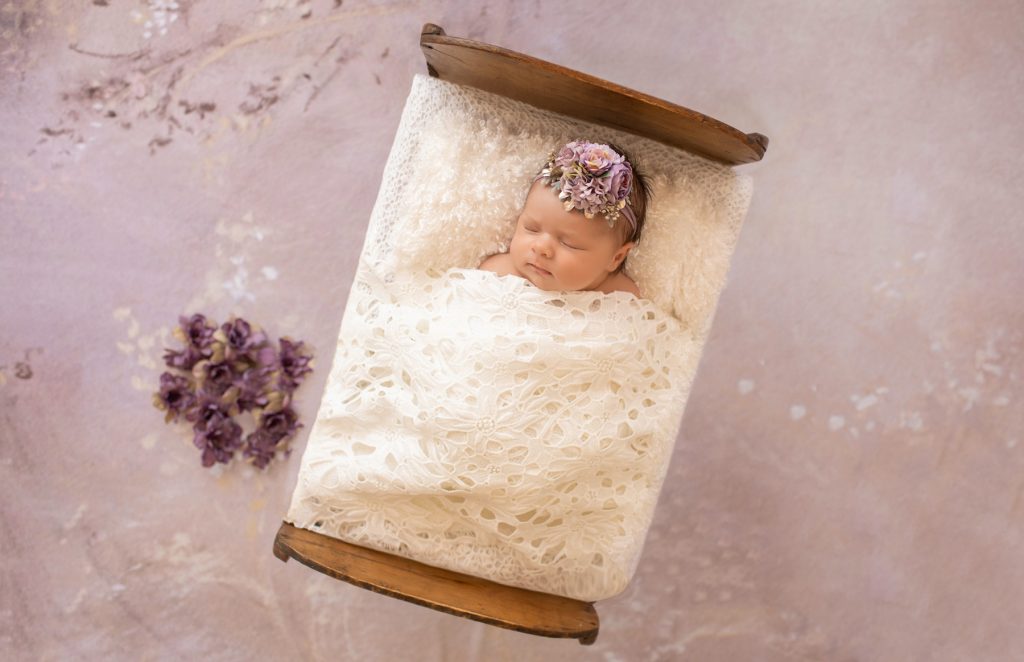 Close up and tiny, newborn girl Bryce sleeps beneath her white lace bedspread!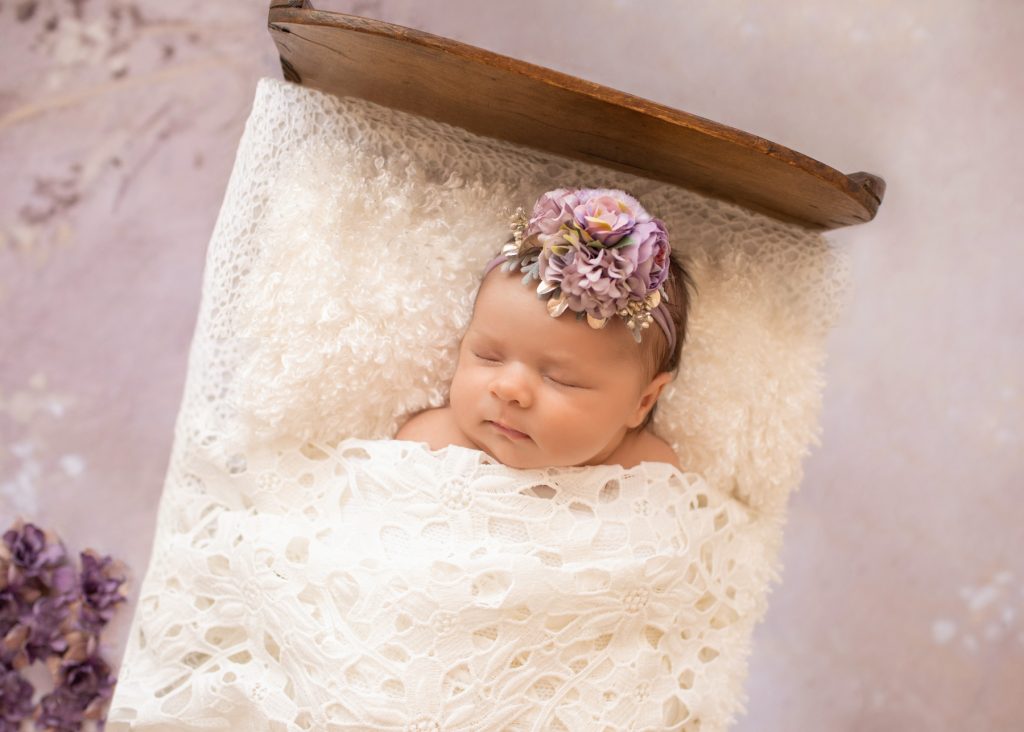 NEWBORN GIRL BRYCE – BEAUTIFUL BABY SKIN!
Even when wrapped, you see the beautiful baby skin of Newborn girl Bryce. Here she holds her tiny hands and is wrapped with purple, sleeping in a fur stuffed brown basket. Those little hands and tiny fingers!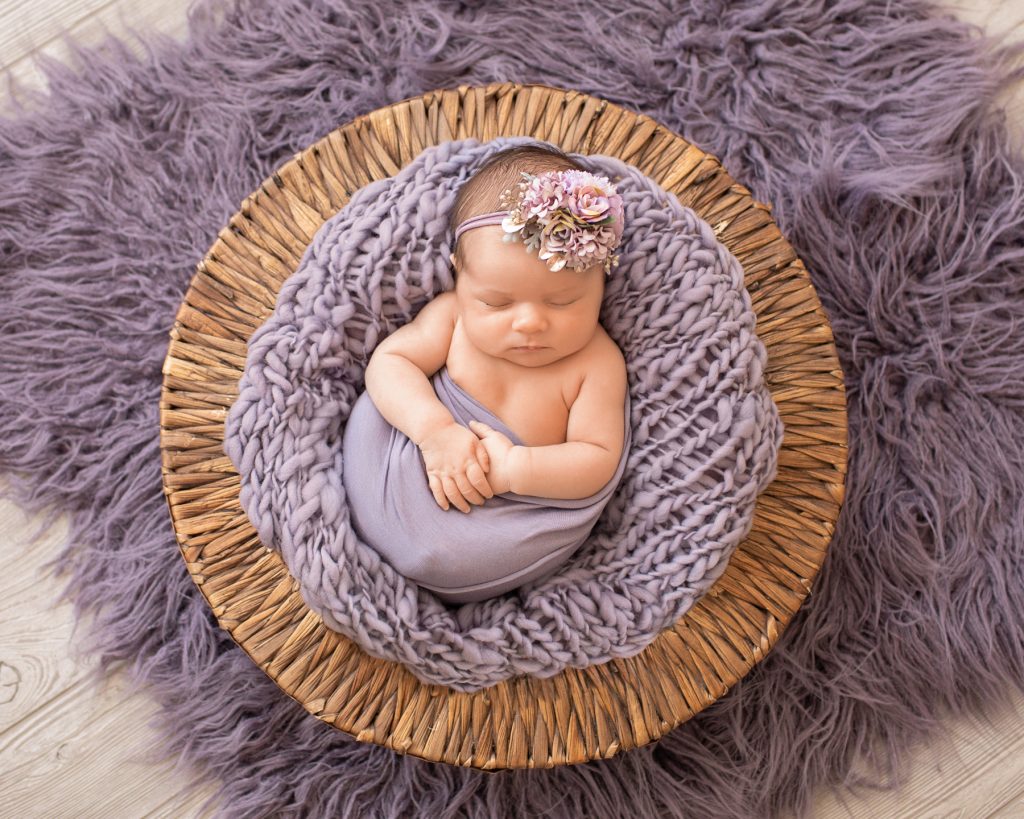 Her profile is just as beautiful, or even moreso! I love the soft backlight that glows on her beautiful baby skin. So soft and silky, so smooth. She is an angel, just the perfect newborn baby. Her delicate face is adorned with a floral newborn headband! All of these baby details will soon change and begin to take on a new look. But for now Bryce is just a beautiful brand new baby. What a treasure to capture photos of newborn girl Bryce at this age!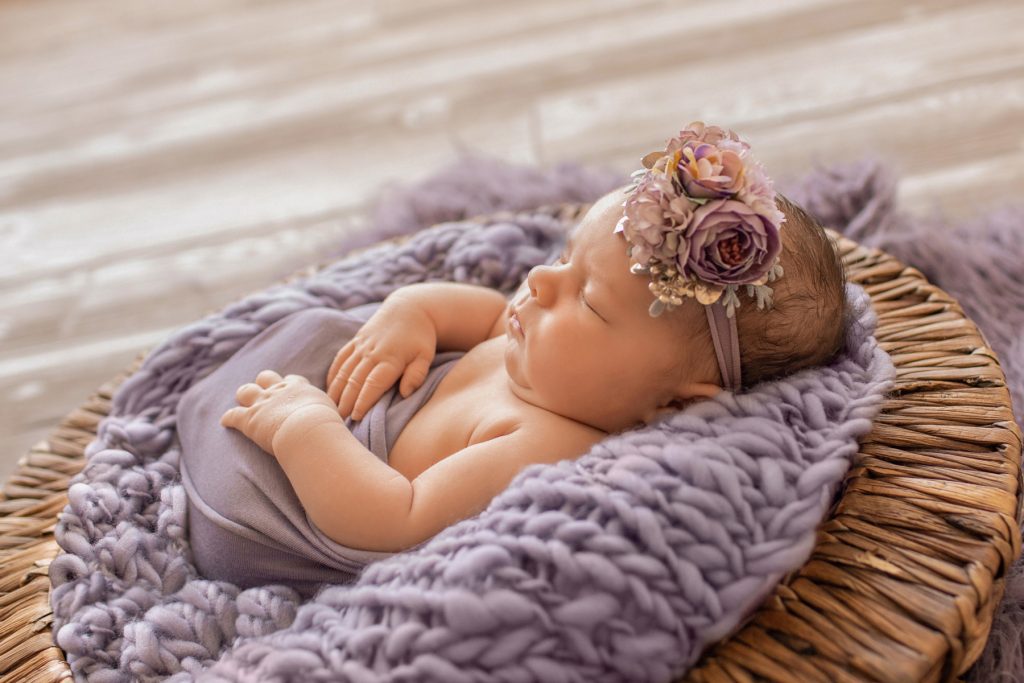 It is my honor and joy to create beautiful newborn photos of your perfect newborn babies. My goal is to give my clients beautiful photographs of meaningful times that they will cherish for a lifetime. Having a baby is one of the most monumental experiences in life. It is worth capturing this new joy with professional newborn photography!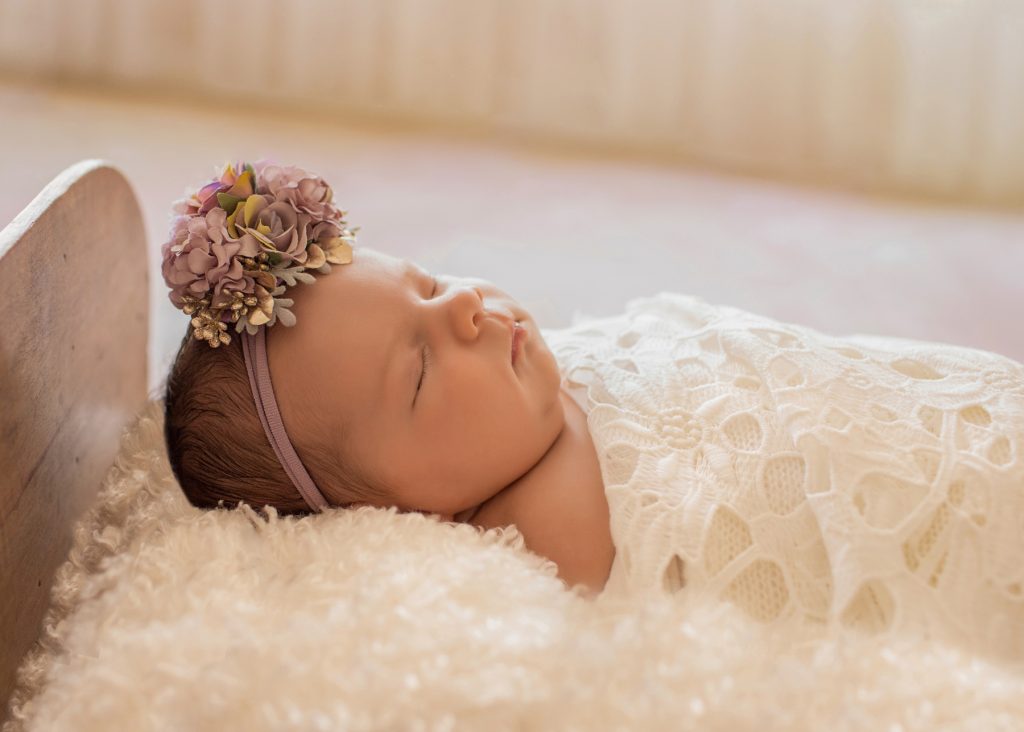 GAINESVILLE NEWBORN PHOTOS STUDIO DETAILS
The best time for newborn photography is within the first three weeks of life when newborns are super sleepy and snuggly. I would love to capture with photographs each stage of your little one's growth from their youngest days. Your family will treasure these memories for years to come. Know someone who is expecting and might be interested in newborn sessions and mini sessions? Share this blog article about newborn girl Bryce with them! Looking for a Gainesville newborn photographer? Think you can't afford professional newborn photography? It's worth checking to see if you can find a newborn photographer whose work you really admire and who also has affordable newborn mini sessions.  Contact me and let's start planning your newborn photo session today.
Andrea's studio serves Gainesville, Alachua, Jonesville, Newberry, Town of Tioga, Haile Plantation, Archer, Trenton, Williston, Melrose, Palatka, Ocala, Micanopy, High Springs, Lake City and Live Oak.
Knit wraps and bonnet – https://www.etsy.com/market/dreaming_carita/
Baby backdrops – https://www.intuitionbackgrounds.com/
Newborn wraps – https://www.devotedknits.com/
Basket stuffers and backdrops- https://www.intuitionbackgrounds.com/
Andrea Sollenberger Photography, Gainesville Florida Newborn Photographer, Newborn, Maternity, Baby, Child and Family Photographer Gainesville Florida