Three month baby pictures mark Garrett's baby milestones. It is fascinating to document how much babies grow in their first few months. Garrett enjoys tummy time and being propped up so that he can see all the action around him. He entertained us with his expressions and his curious personality! What a joy to have Garrett in the studio for his milestone baby pictures with Gainesville FL Baby Photographer Andrea Sollenberger.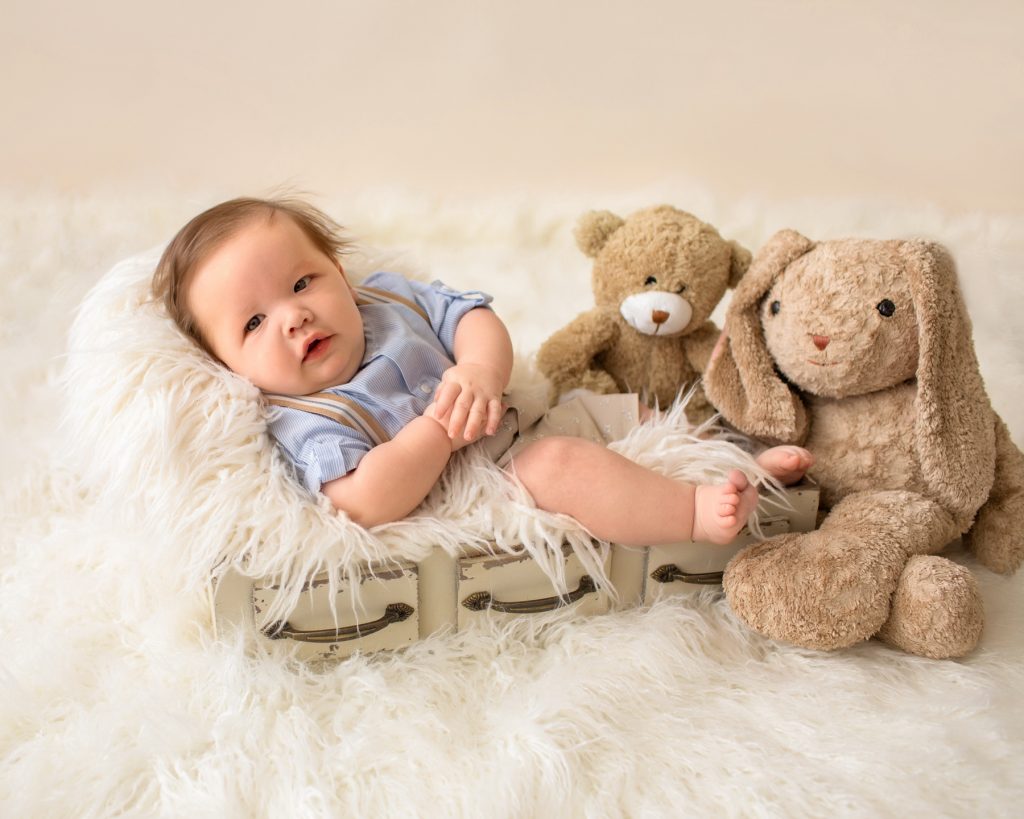 BABY PICTURES – GAINESVILLE FLORIDA
My aim for milestone baby pictures is to create portraits that capture your babies as they are right now. These are portraits that will adorn your walls and sit on your coffee table for years. They will teach your children their own story and significance over time. I love photographing babies. They are energetic, playful, and have developed emotions that they can share with me. Here is a peek at Garrett's three month baby pictures with Baby Photographer Gainesville FL Andrea Sollenberger Photography.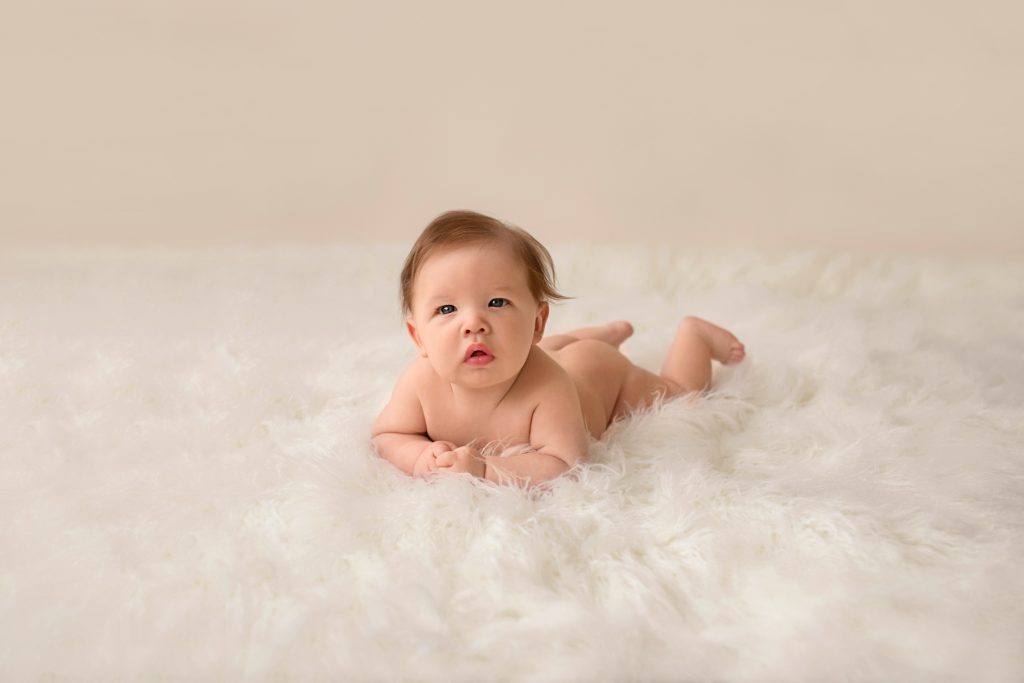 BABY PICTURES – MOM'S IDEAS!
Garrett's three month milestone session took place in my dedicated portrait studio. His mom, Amanda, shared with me her ideas and wanted to make sure to catch his sweet personality and baby rolls. For his baby pictures, Amanda decided that one of Garrett's outfits would be to wear nothing at all. Naked baby pictures, she said, would help her enjoy all of his soft baby skin. For a second look, he dressed in a big boy outfit to look like a little man!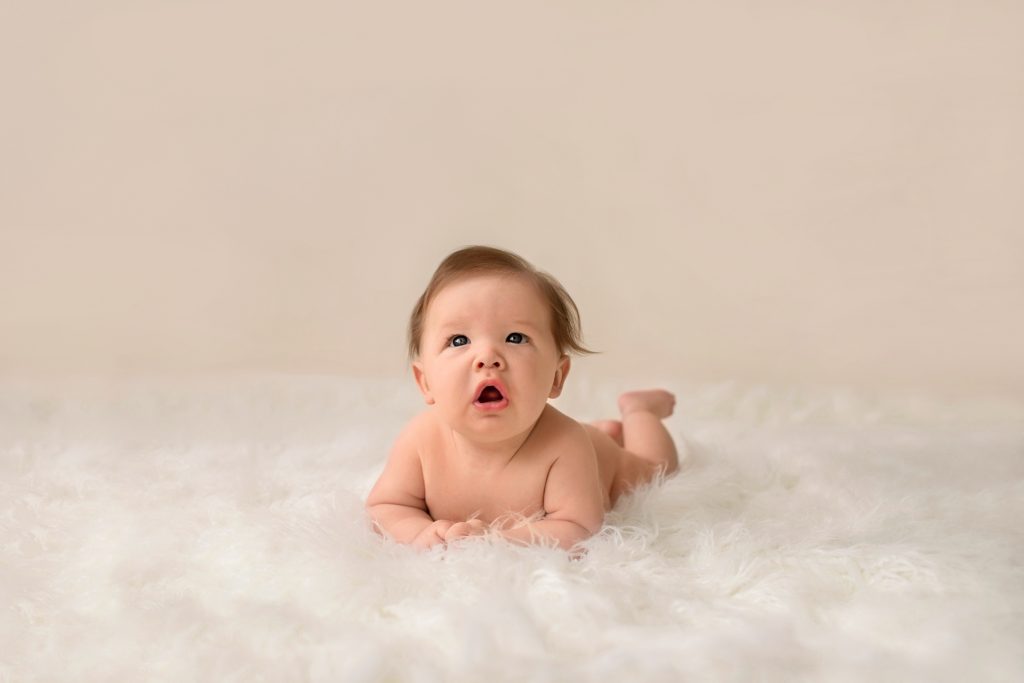 STYLING BABY SESSIONS
At three months old, babies love to start to become vertical. That is to say, they want to be upright so they can look around, see all the action, and interact with faces they love. Tummy time is a favorite. And baby sitting up, propped up for safety, is a way for babies to see people and socialize.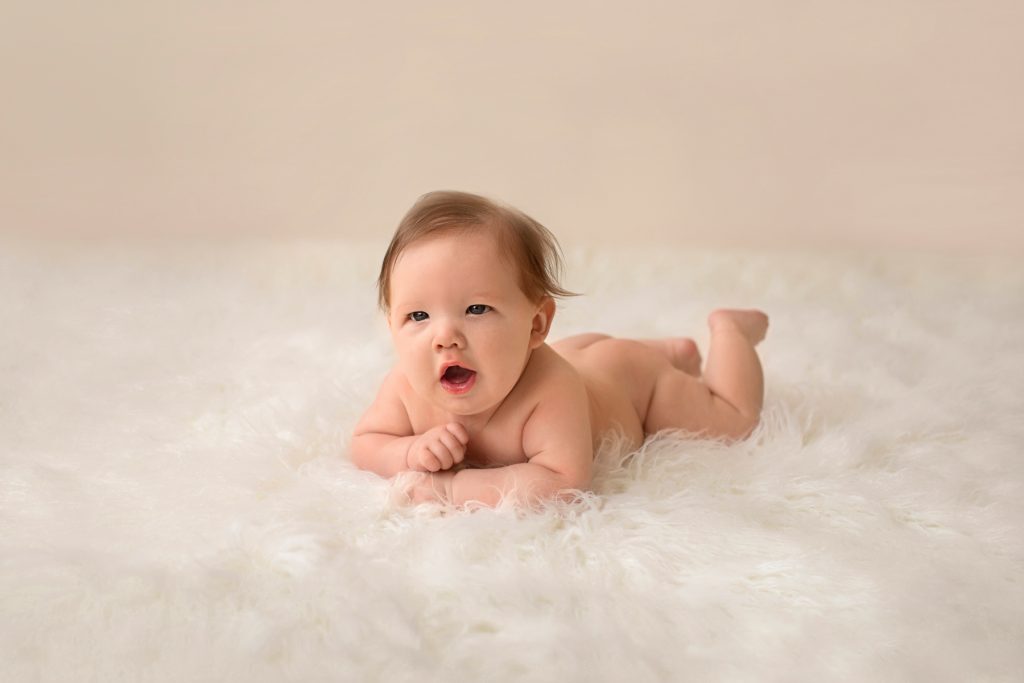 Garrett posed happily for tummy time baby pictures, showing off his beautiful soft baby skin and curious personality. He is playfully propped up on his elbows on this soft white fur. His mom will remember his naked soft baby skin and how playful and excited he was at this age.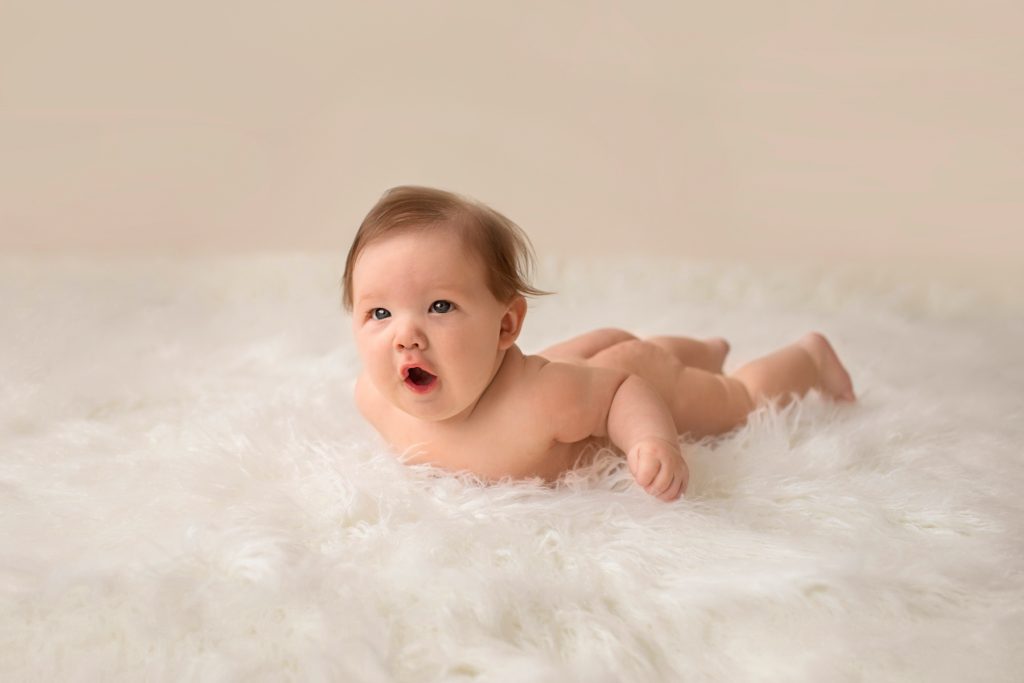 For a completely different look, Garrett reclined back like a little man. He's dressed like a little man too, in khaki shorts, a button up collared shirt and suspenders. Love his little baby grin. Love the way he plays with his hands!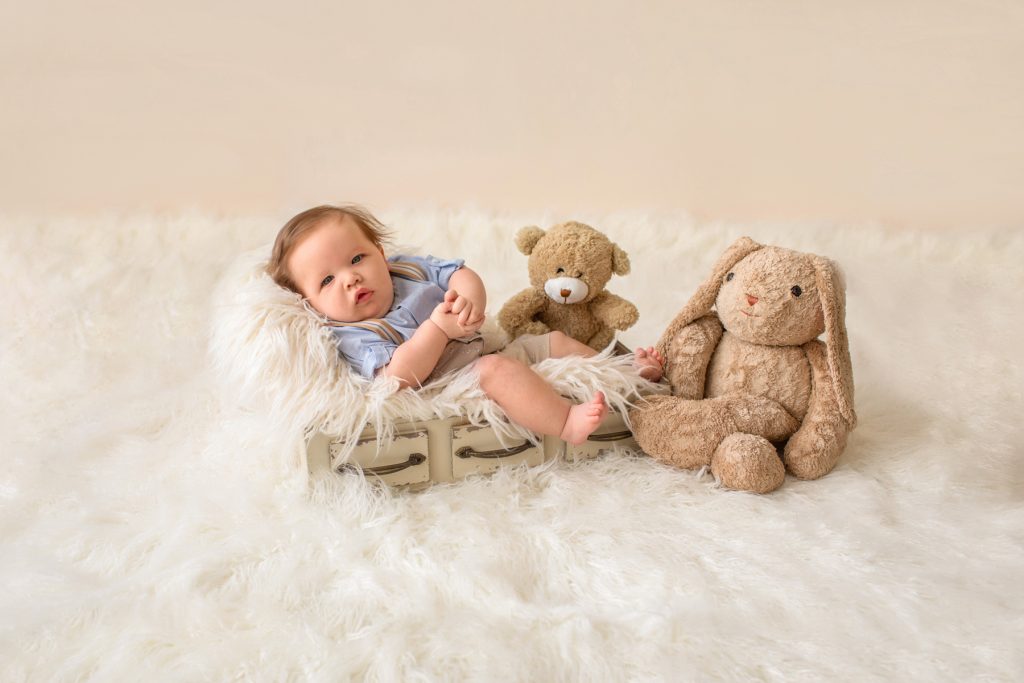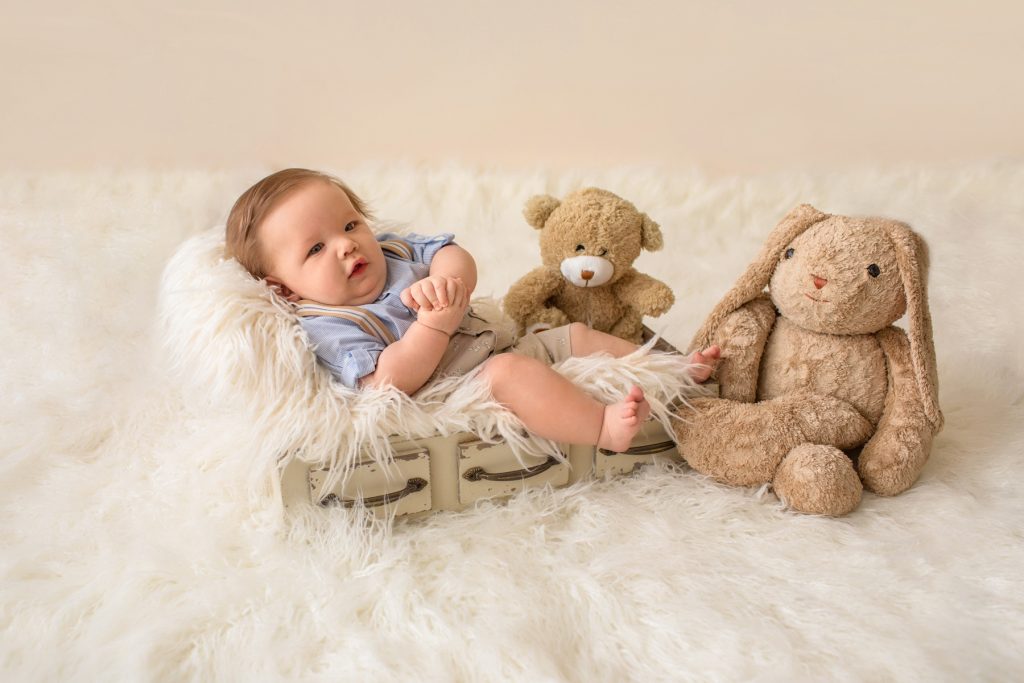 And his baby pictures highlight both his favorite teddy bear and his mom's favorite childhood stuffed bunny. Special memories are preserved when photos include sentimantal or significant heirloom items. Above all, these heirloom photos often carry a story of their own, a new dimension, a meaningful tradition that continues for another generation. Read about other heirloom items photographed here.
Baby pictures at three months are a wonderful time to document the soft baby skin that moms and dads love. Garrett's naked baby pictures showing his soft baby skin will help his parents reminisce about his baby days. And his little man outfit will give them a picture of the little boy he is becoming.  Before long we will see baby sitting alone, up on all fours and crawling. Time goes by so fast. It won't be long before Garrett will be on his feet taking those all-important first baby steps!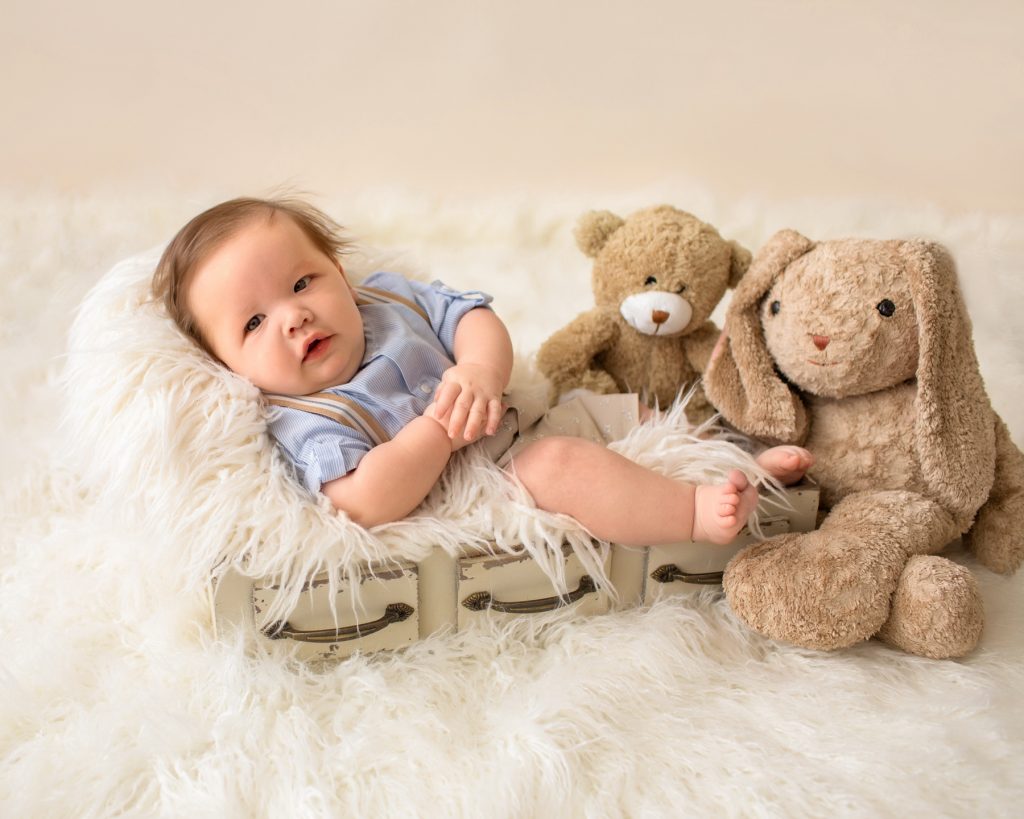 BABY STAGES
Capturing milestone baby pictures is very special. Children grow and change constantly. It is important to photograph them regularly and at different stages. Years go by very quickly for most moms and dads. Remembering baby stages with newborn and baby photos is invaluable. My goal is to create artistic and beautiful baby photos that capture your babies and children as they are right now. Their growth and milestones. The grins and dimples. Those unique personalities and irresistable charm. Your baby pictures tell your story over time and become more treasured with every year that passes.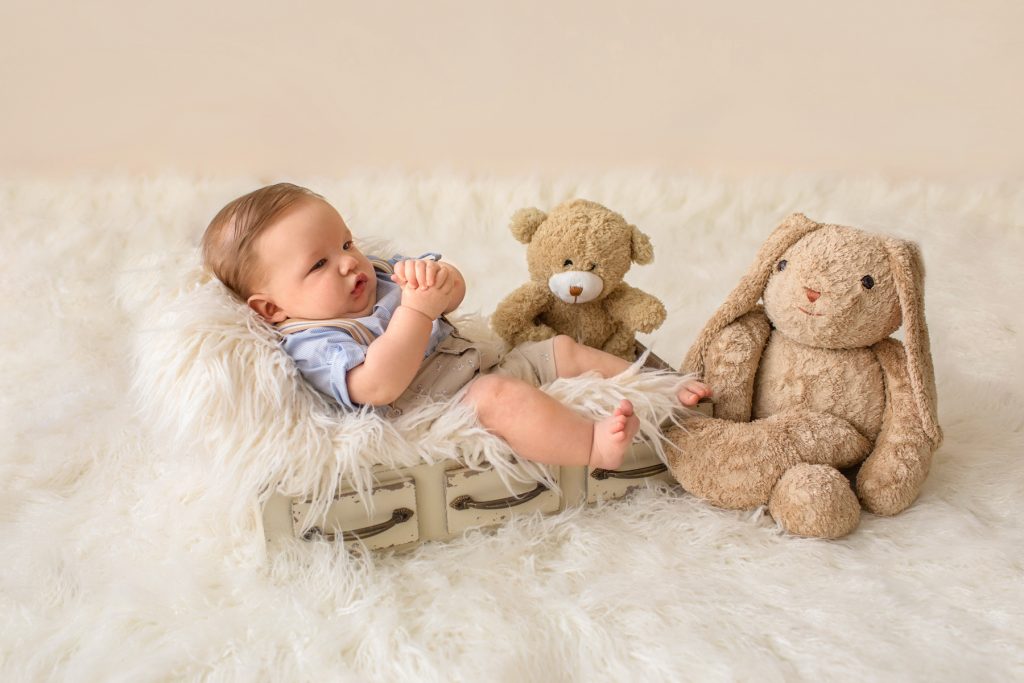 BABY PICTURES – MILESTONE SESSIONS
A baby milestone session, both in studio or outdoors, is styled individually according to my client preferences. You receive baby pictures coordinated with your ideas and home décor, just like we did for these three month baby pictures. Andrea Sollenberger Photography has a complete backdrop and prop collection available for newborn and baby milestone photography. To get in touch for more information about newborn or baby milestone sessions, please fill out the contact form or email me andrea@andreasollenberger.com
White fur – https://www.customphotoprops.com/
Andrea Sollenberger Photography, Newborn Photographer Gainesville FL area, Newborn, Maternity, Baby, Children and Family Photographer