One year twin baby girls photos mark the current milestones for Renna and Winona. These girls took the stage with excitement and personality at their one year twin baby girl photo session with Andrea Sollenberger Photography.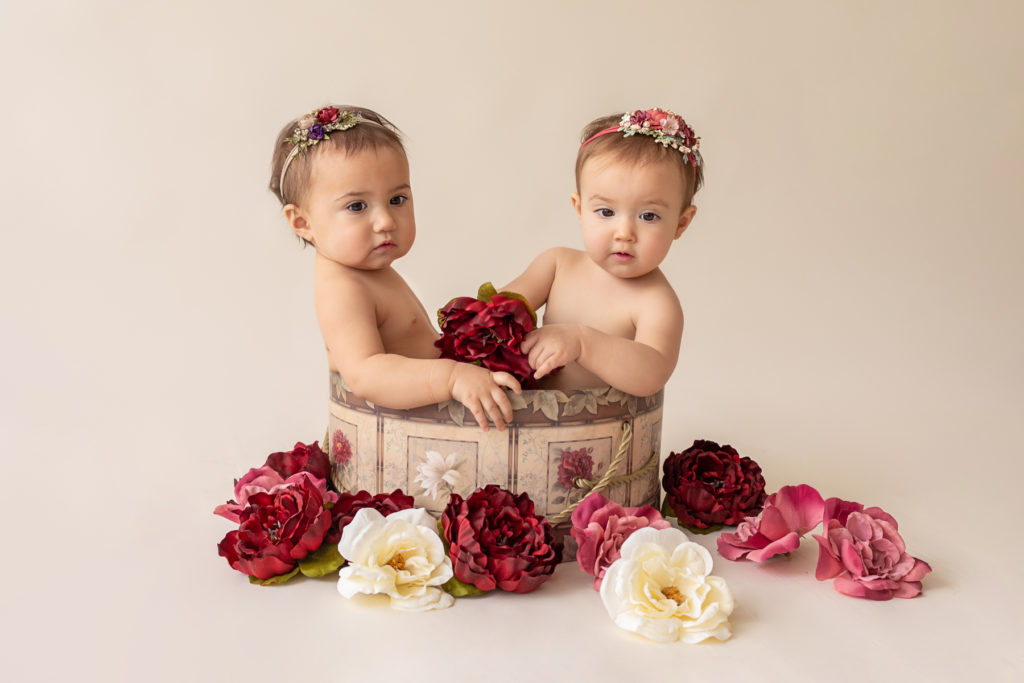 Baby Photographer Gainesville Florida
My aim for One Year Old Baby Photos is to create portraits that capture your babies as they are right now. These are portraits that will adorn your walls and sit on your coffee table for years. They will teach your children their own story and significance over time. I adore photographing one year old babies. They are excitable, entertaining, and full of budding personalities to share with me. Renna and Winona were no exception. Here is a peek into their one year twin baby girls photo session with Andrea Sollenberger Baby Photographer Gainesville Florida.
One Year Twin Baby Girls Photos – A Return to the Studio
Renna and Winona's one year milestone session took place in my dedicated studio at Andrea Sollenberger Photography. Mom April has been coming to the studio for some time now. I was honored to photograph April's maternity photos as well as her newborn and baby photos. I am always honored when clients choose me for repeat photo sessions and trust me to capture these special moments in their family's story. For this one year twins milestone session, April wanted to feature soft pink, ivory, rose and burgundy colors with lots of cream background. She also chose accents of flowers and lace. Silk flowers, a floral hat box, a lacey brass bed, and a tea party set the stage for this set of girl twins.
Warming Up for One Year Twin Baby Girls Photos
These one year twin baby girls warmed up to me with some time on the floor playing with a baby doll in wicker chair. The baby dolls were the perfect toy for girls. The girls are dressed in navy floral dress and headband and matching burgundy floral dress and headband.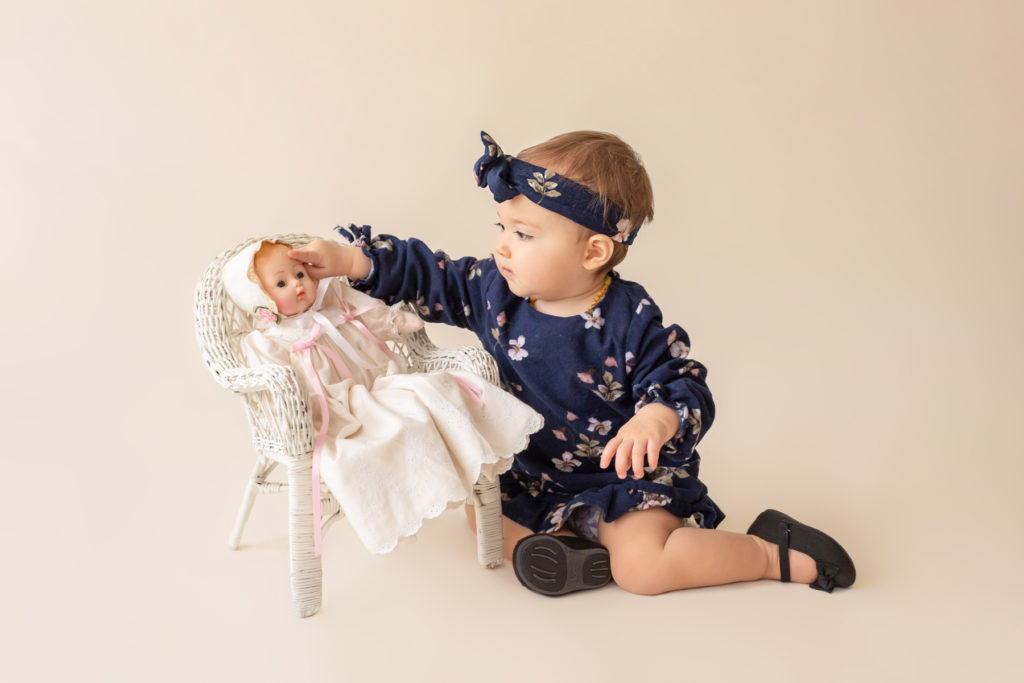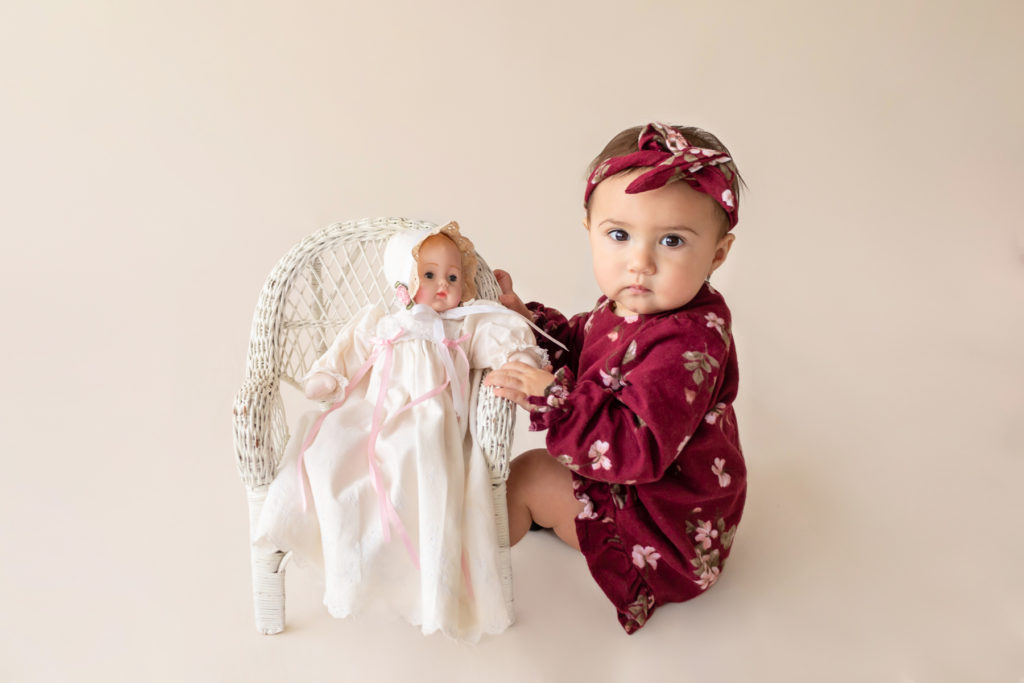 I wanted to celebrate the girls' growth and development by bringing them back to a prop from a previous session. Renna and Winona are the newborn twin girls posed in this brass bed together with burgundy Christmas garland surrounding the bed. See their newborn blog post for more photos from their newborn photo session. One year later the twin girls are sitting on this lace covered brass bed all by themselves and playing with a strand of pearls. Isn't it amazing how they have grown!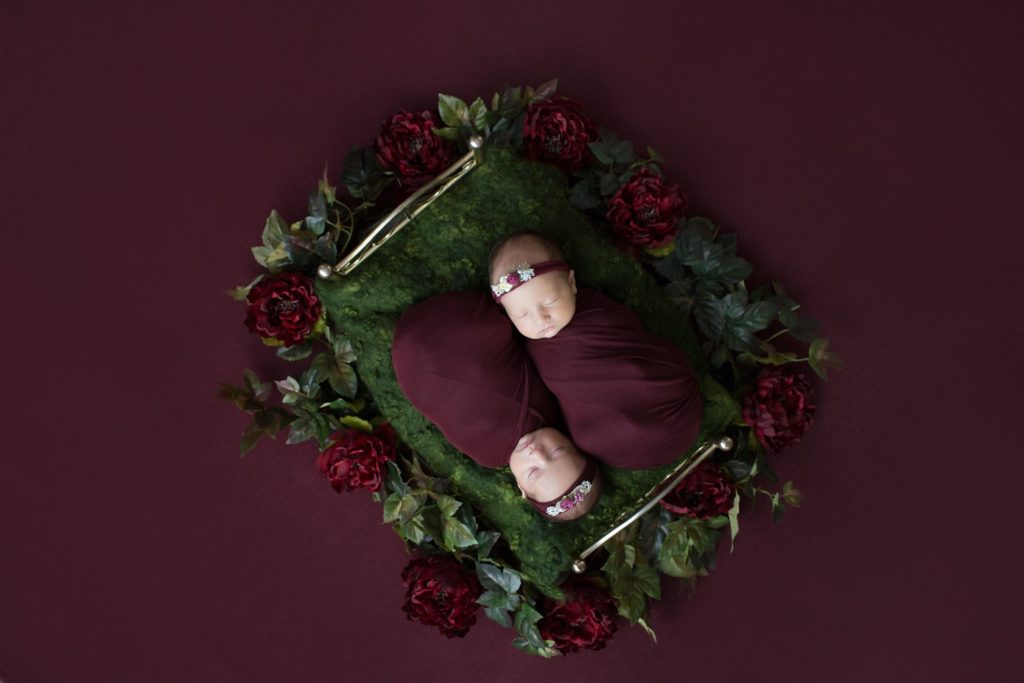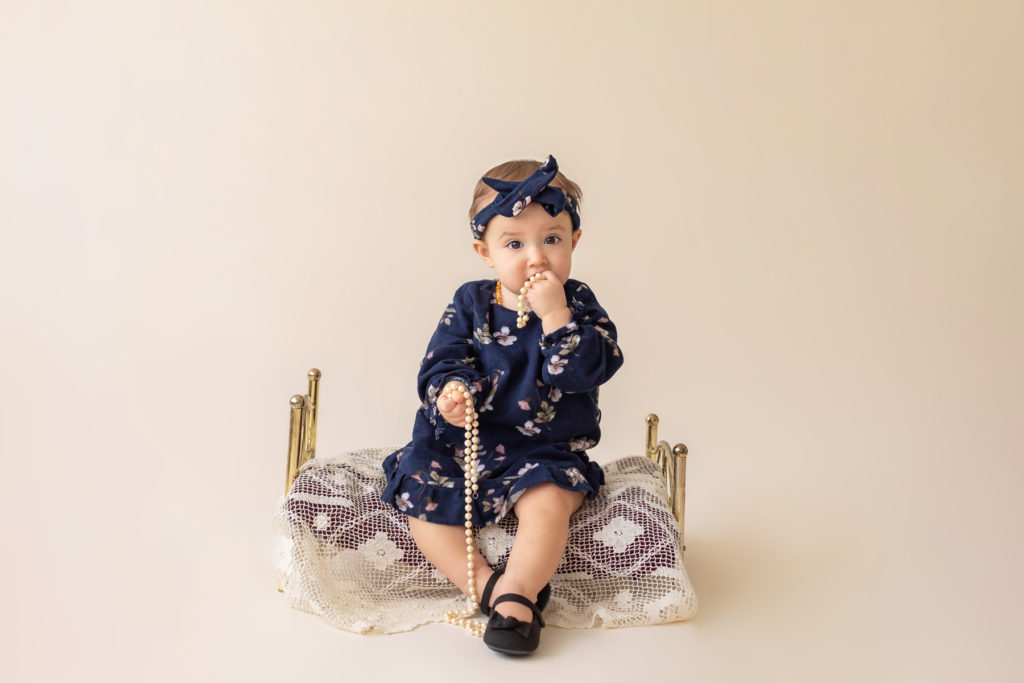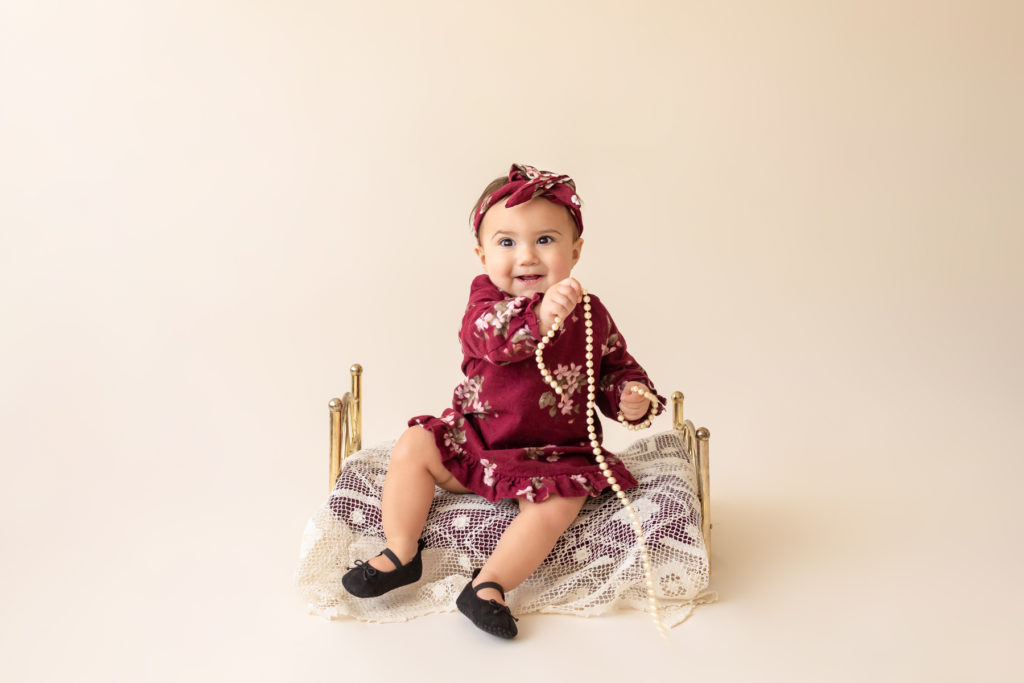 It is fun to watch babies grow and gain new skills. Catching photos of these changes is even better. Here are Renna and Winona standing and almost walking! This is just the beginning of those all important first baby steps! But hold onto the chair for as long as you'd like, because keeping up with these twin girls will keep Mom and Dad running!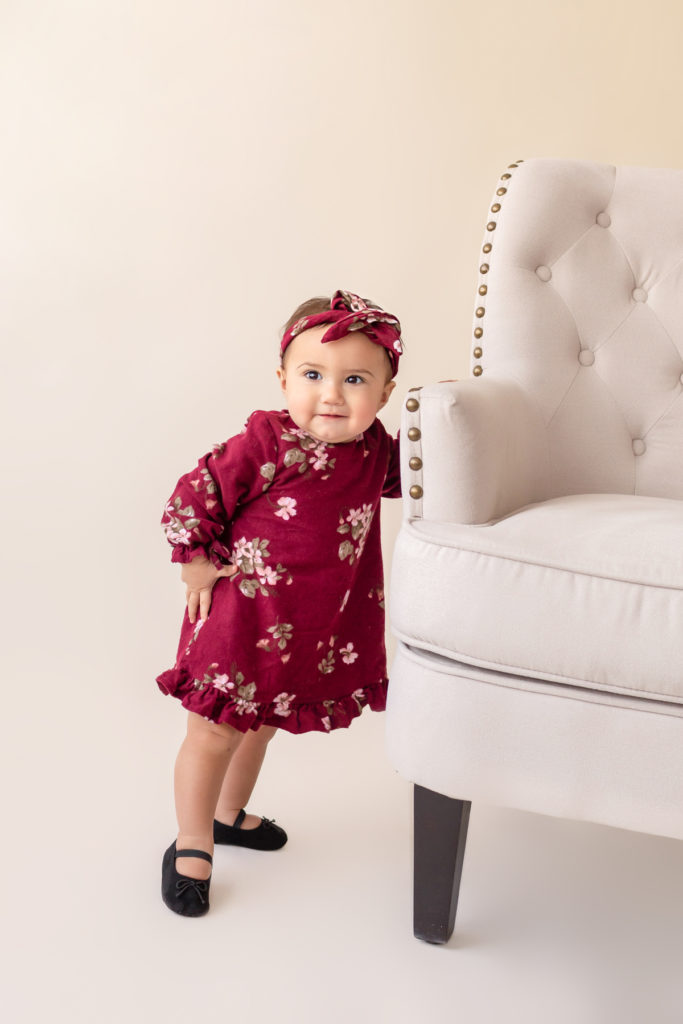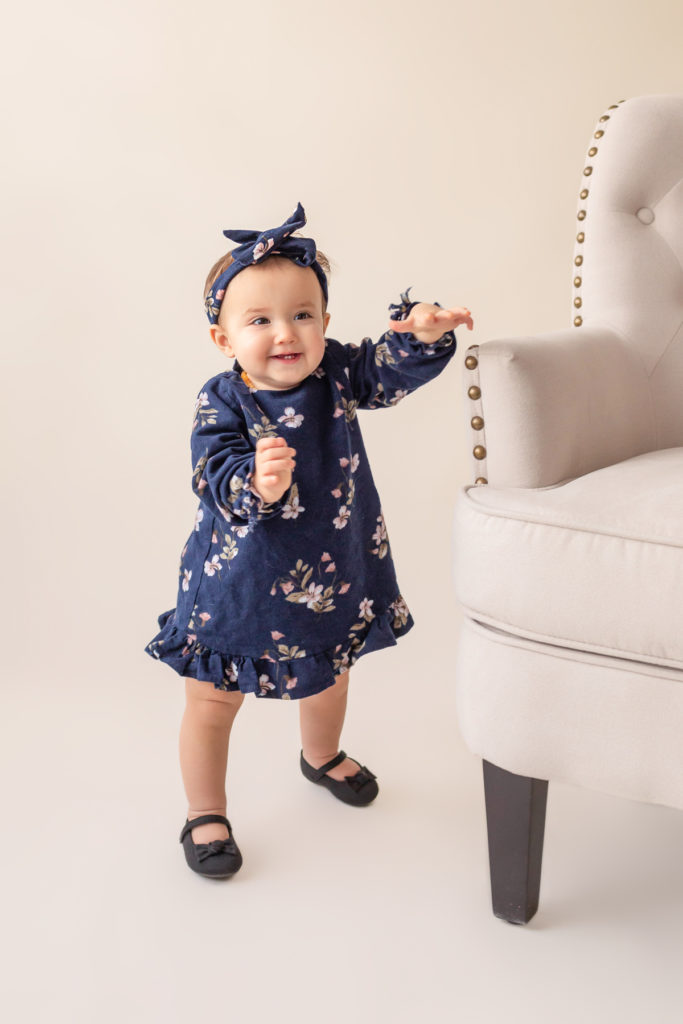 Themed One Year Twin Baby Girl Props
To make the most of their girly interests, we had a little pretend tea party! Who knew that one year twin baby girls could be sitting for a tea party at a lace covered table. We were delighted that the girls were happy to play our game and party with us!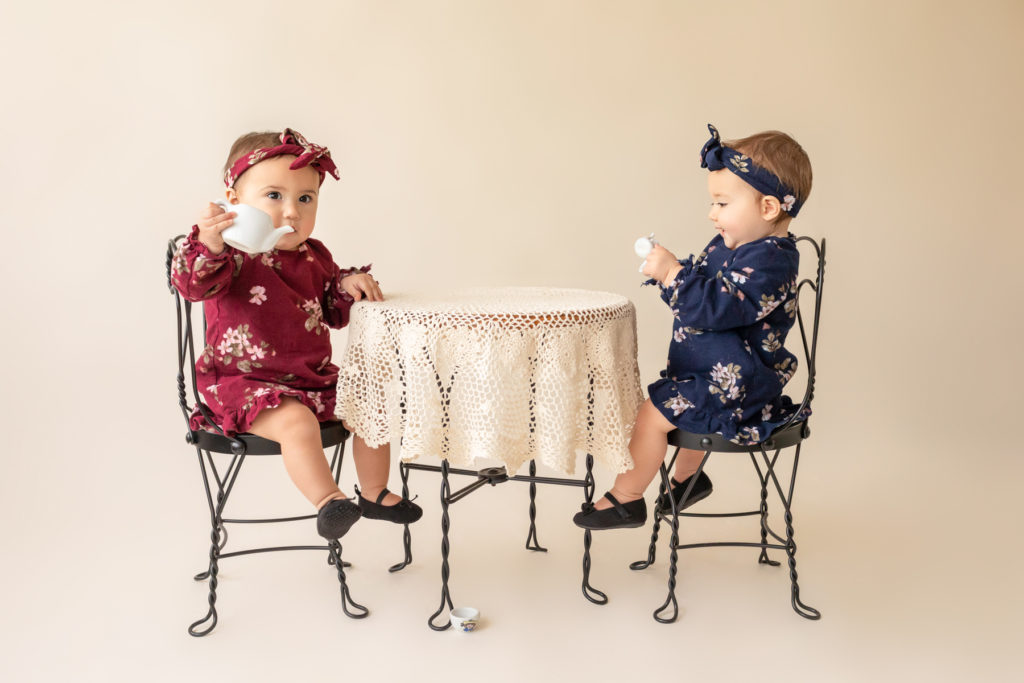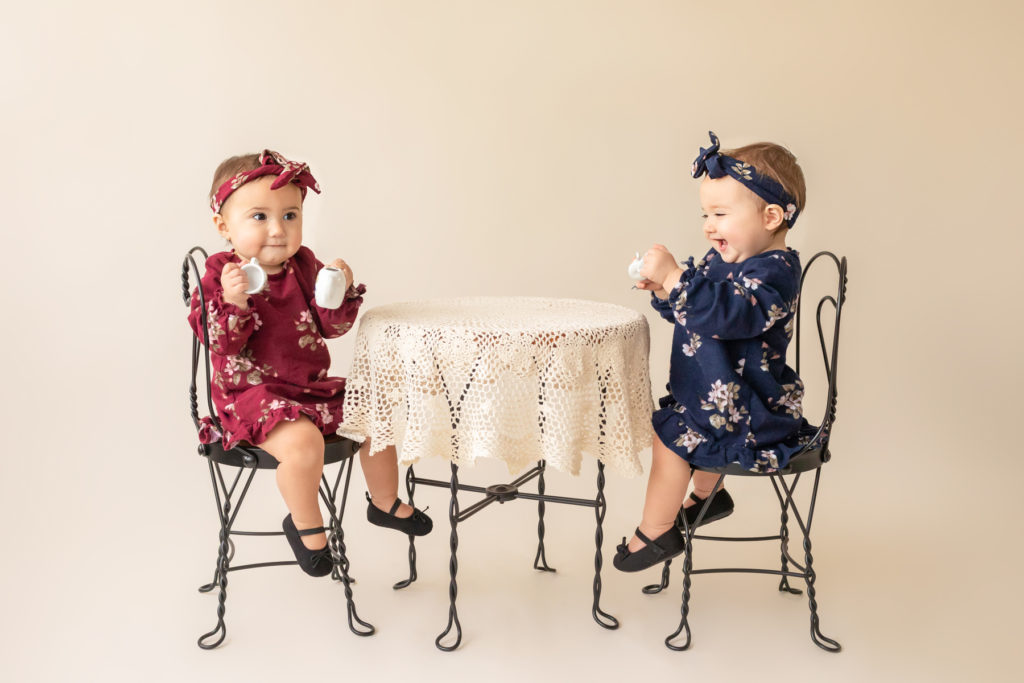 Next it was time to pose the baby girls with floral headbands sitting in the same floral hat box playing with burgundy rose and ivory silk flowers. One year twin baby girls don't sit still for long, but these girls were meant for pretty things. And pretty flowers kept their interest. The girls are surrounded by silk flowers and they are enchanted! At one year old, they still have super soft baby skin and squishy baby rolls that look as adorable in baby photos as they feel in your hands. We took the opportunity for one more photo session that calls attention to these beautiful baby details. As you can see, we had fun playing, posing, and making one year old baby photos.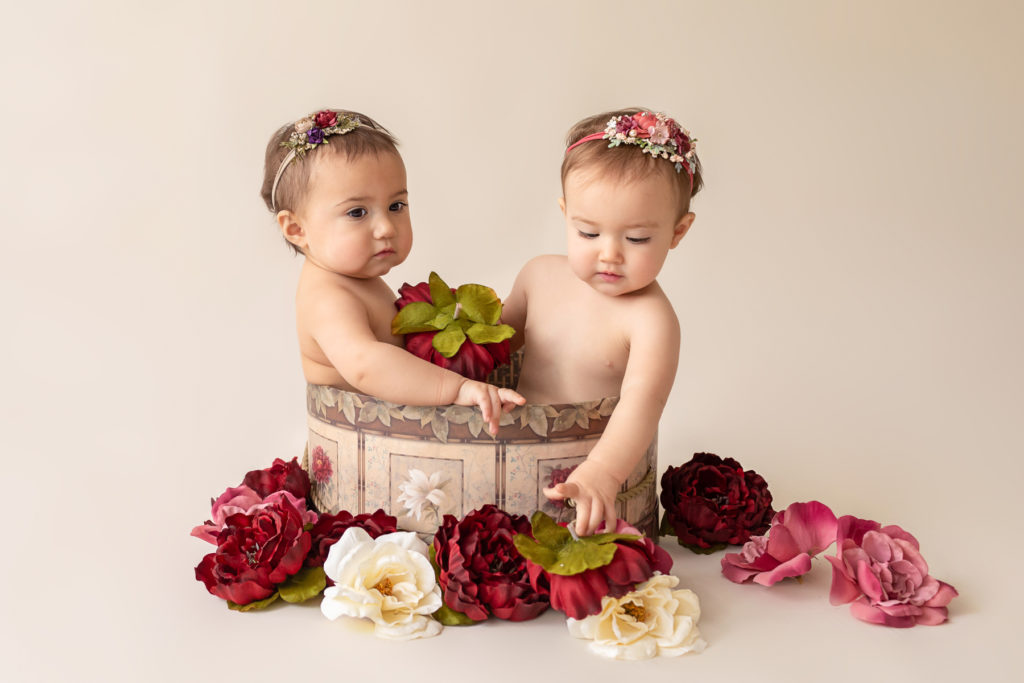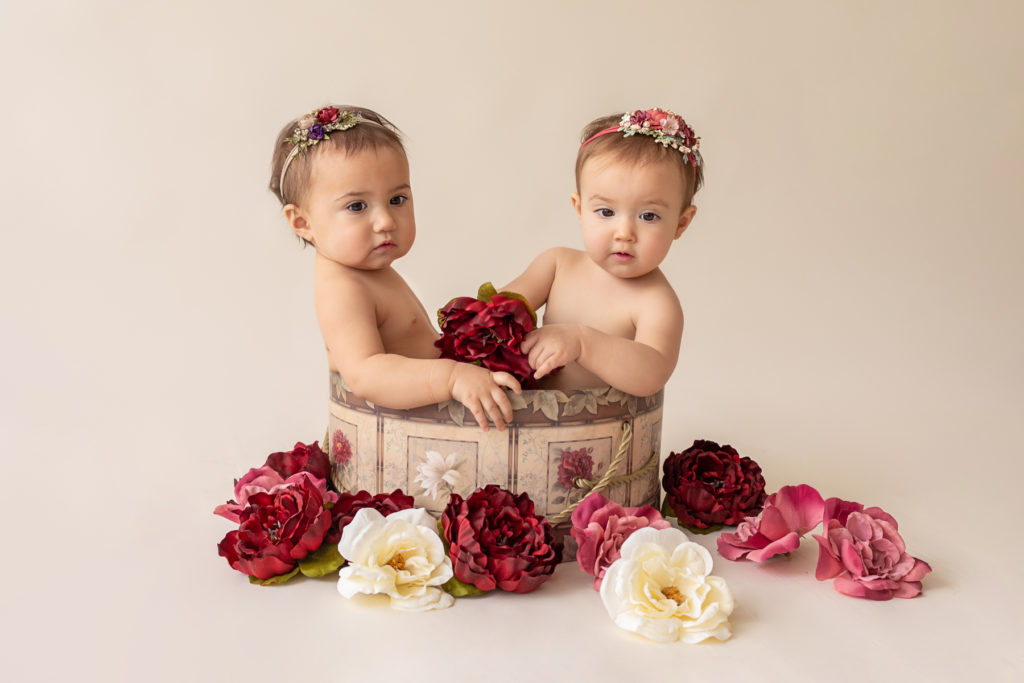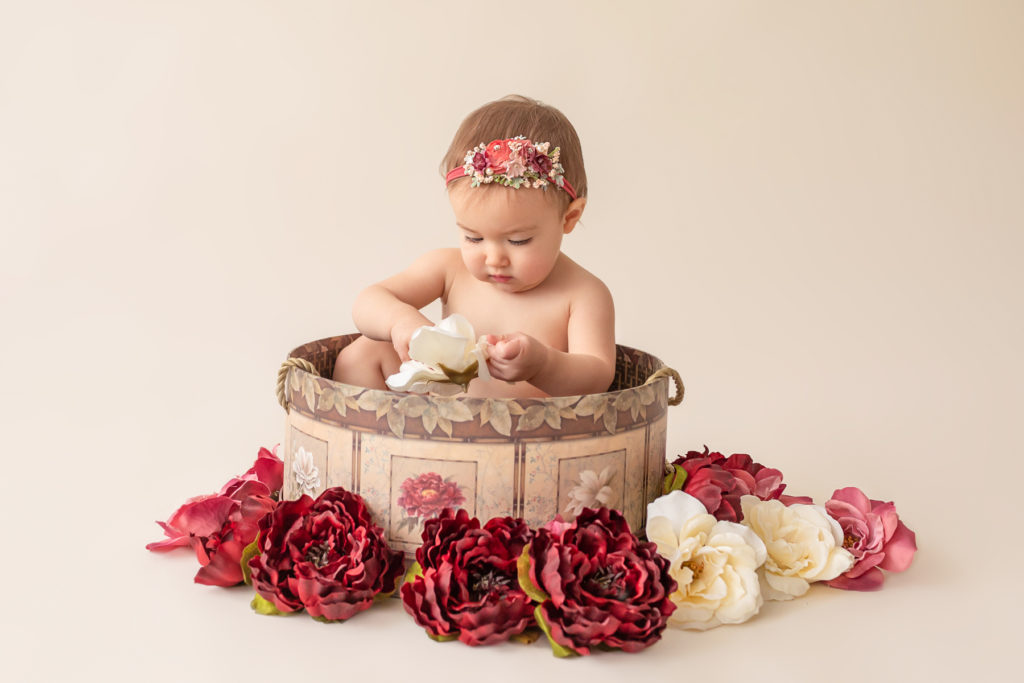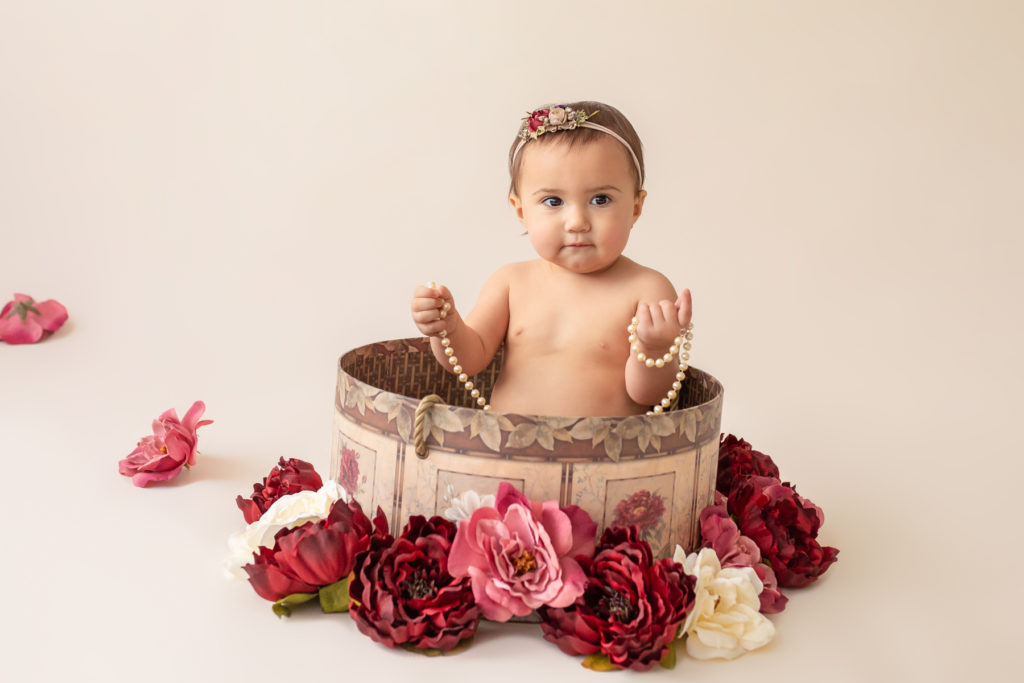 Since Renna and Winona are Christmas babies, we incorporated a festive Christmas prop and holiday family photos into their session. Here are the one year twin baby girls dressed in red velvet matching dresses and sitting in a shiny gold trimmed red metal sleigh. The burgundy and red silk flowers and garland decorate the sleigh and make it festive. We had a grand time making these holiday photos! We also captured holiday photos of this twin baby girl family with everyone dressed in emerald tones of burgundy, green, and navy.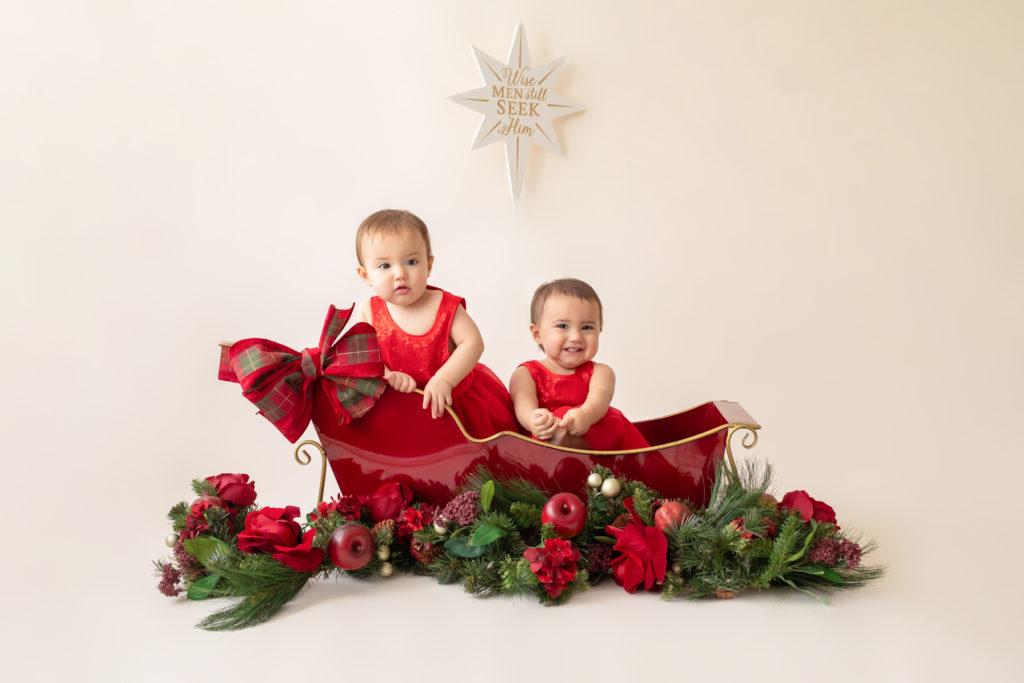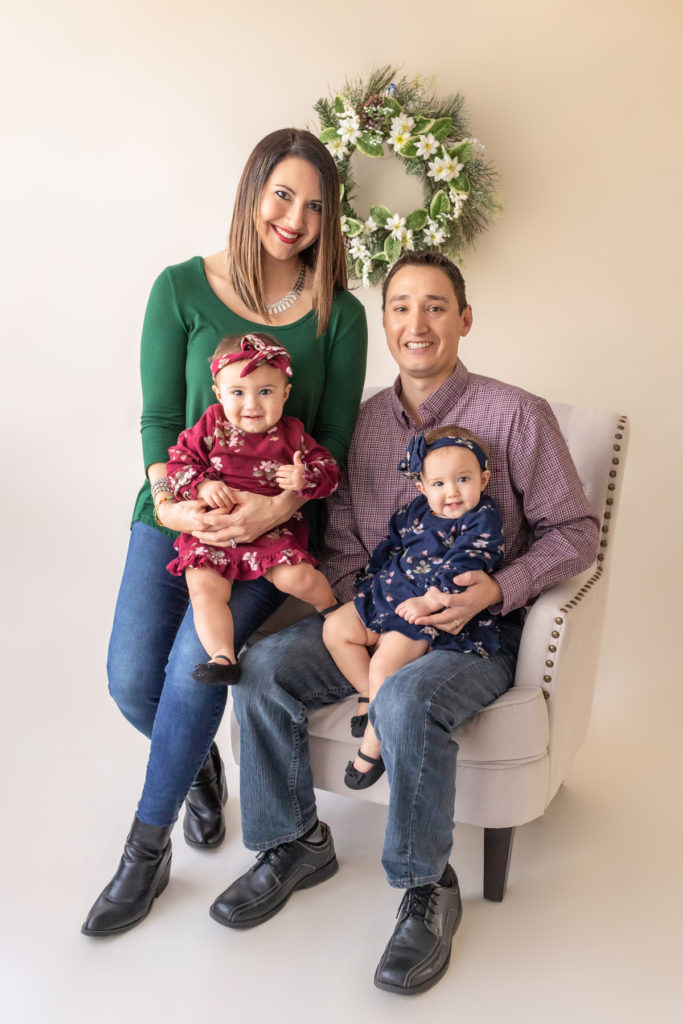 Baby Stages
Every year and every stage is so very special. Children grow and change before our eyes continually. It is important to photograph babies regularly and at different baby stages. Baby stages include tummy time, sitting, standing, almost walking, and first baby steps. Years go by way too fast for most moms and dads. Remembering baby stages with newborn, infant and one year old baby photos is invaluable. My goal is to create beautiful and artistic photos that capture your babies as they are right now, their growth and milestones, their soft baby skin and squishy baby rolls, their grins and smirks and dimples, their personalities and uniqueness. These images and baby stages tell a story over time and become more treasured with every year that passes.
Baby Milestone Sessions
Baby milestone sessions are styled individually according to my client preferences. My clients receive photos coordinated with their interests and home décor. Andrea Sollenberger Photography has a complete backdrop and prop collection available for newborn and baby milestone photography. To get in touch for more information about newborn or baby milestone sessions, please fill out the contact form or email me andrea@andreasollenberger.com
Andrea Sollenberger Photography, Newborn Photographer Gainesville FL area, Newborn, Maternity, Baby, Children and Family Photographer
Backdrop star hanging – https://www.hobbylobby.com/
Upholstered chair – https://www.wayfair.com/
Silk flowers and garland – https://www.michaels.com/
Christmas wreath – https://www.joann.com/