From the moment they're born to their first birthdays and beyond, our new bundles of joy hit so many milestones. Baby milestone photos are a great way to slow down and capture every stage of your baby's development. 
I was lucky enough to have adorable twins Walker and Isla visit my Gainesville, FL photography studio to capture their six-month baby milestone photos.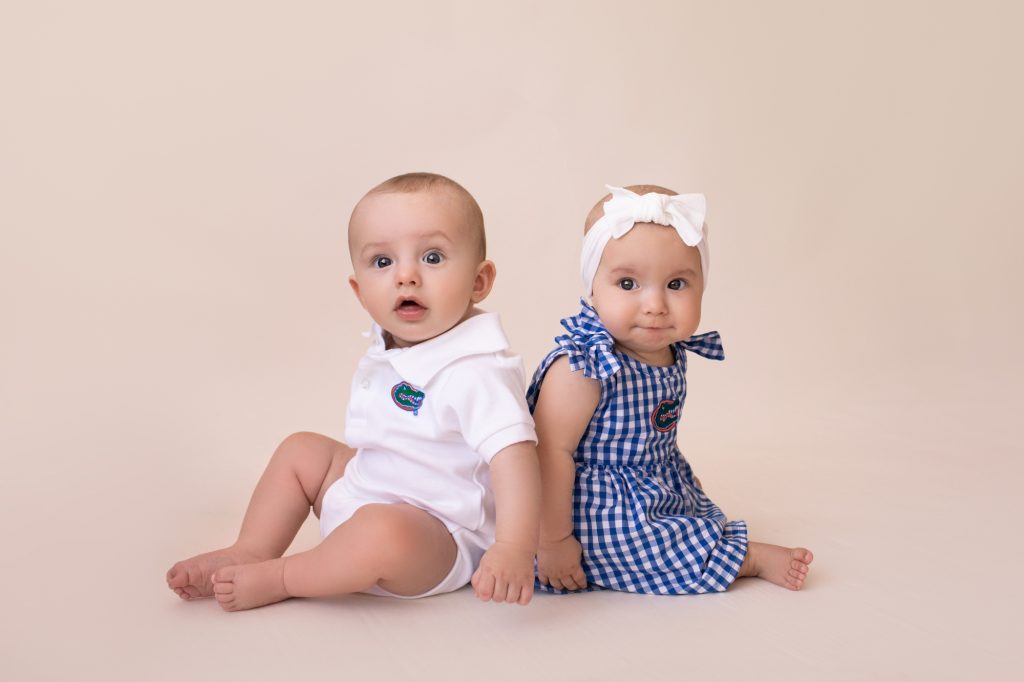 Creative Milestone Photos
Baby milestone photos within the first year of your baby's life will help you remember every sweet detail before it changes. Walker and Isla are no strangers to my photo studio. We captured them in all their newborn glory with a professional newborn session and then followed up with baby milestone photos six months later. 
I was amazed to see how much this precious pair had changed by the time we reunited to document their development with professional baby milestone portraits.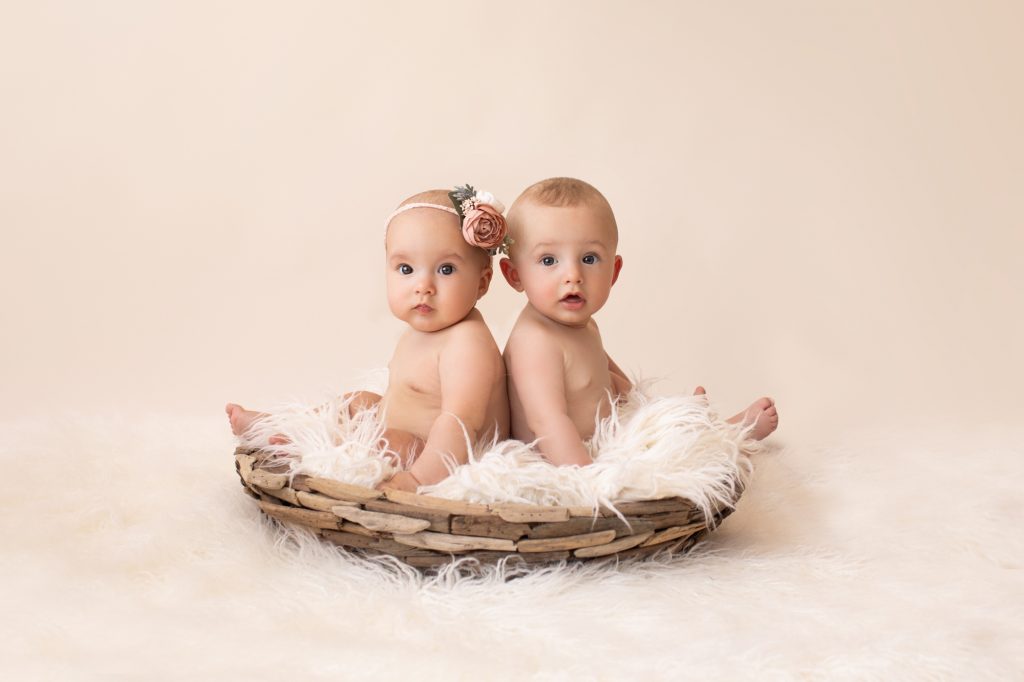 Creative milestone photos incorporate props, outfits and poses that help show off your baby's rapidly developing personality. Little Walker and Isla had so much fun posing together and separately. 
We incorporated a baby sized basket and bowl props, and we had the twins show off their tummy time and scooting skills. I was so excited to provide Walker and Isla's family with more professional baby photos for their home.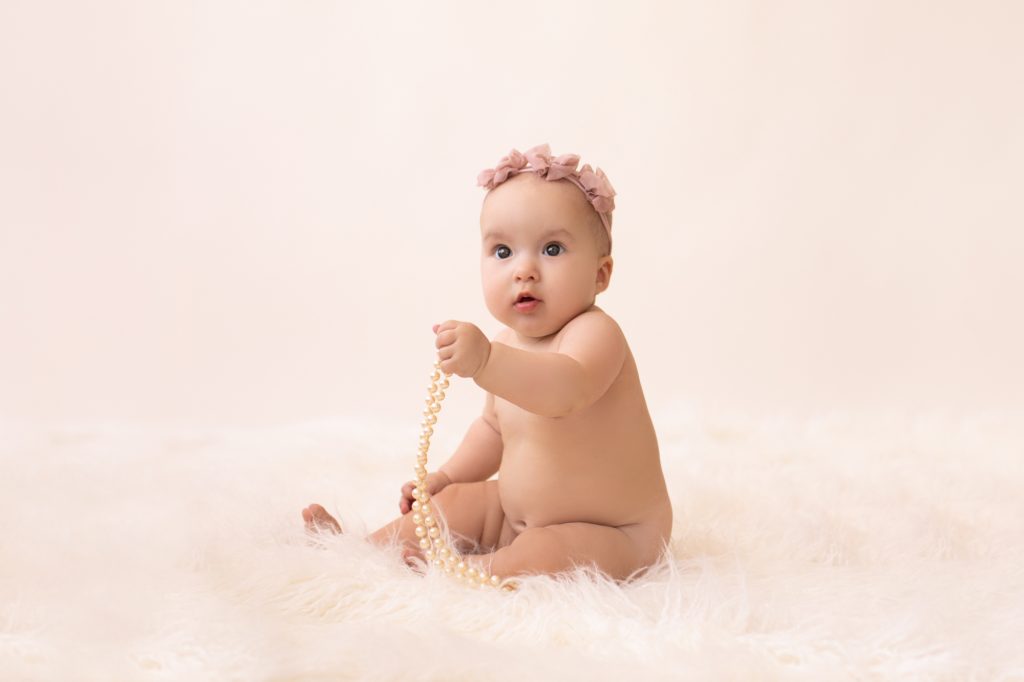 Baby Milestone Photo Ideas
What better form of wall art to glance at than portraits of your favorite people in the world? In Walker and Isla's baby milestone photo session, we were able to capture heart-warming interactions between the twins, as well as their individual expressions. 
The little ones posed adorably, playing with their feet on their backs and in coordinated outfits to showcase their blooming personalities. 
From wall art to photo books, there are plenty of ways to preserve these precious moments.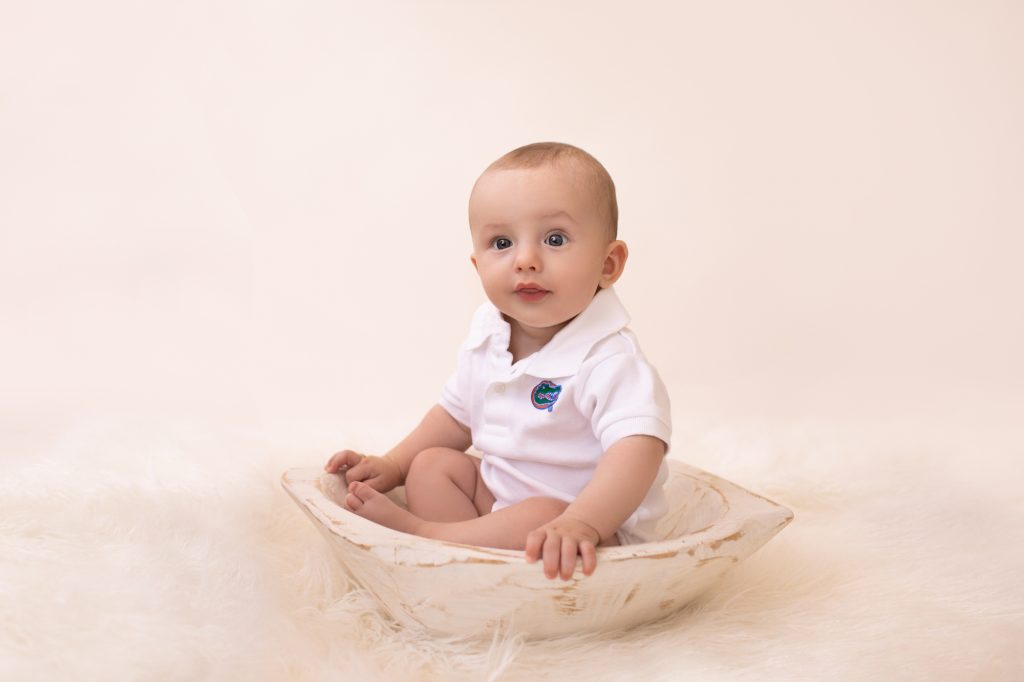 Baby Photo Cards
Milestone baby photo cards are a sweet way to visually keep track of your baby's development. From the first time they roll over to cards indicating each new month of growth, milestone cards make for functional and aesthetic photo props. Parents can make their own or order pre-made milestone cards online. Capture every darling detail with photos, notes and cards indicating those all-important firsts.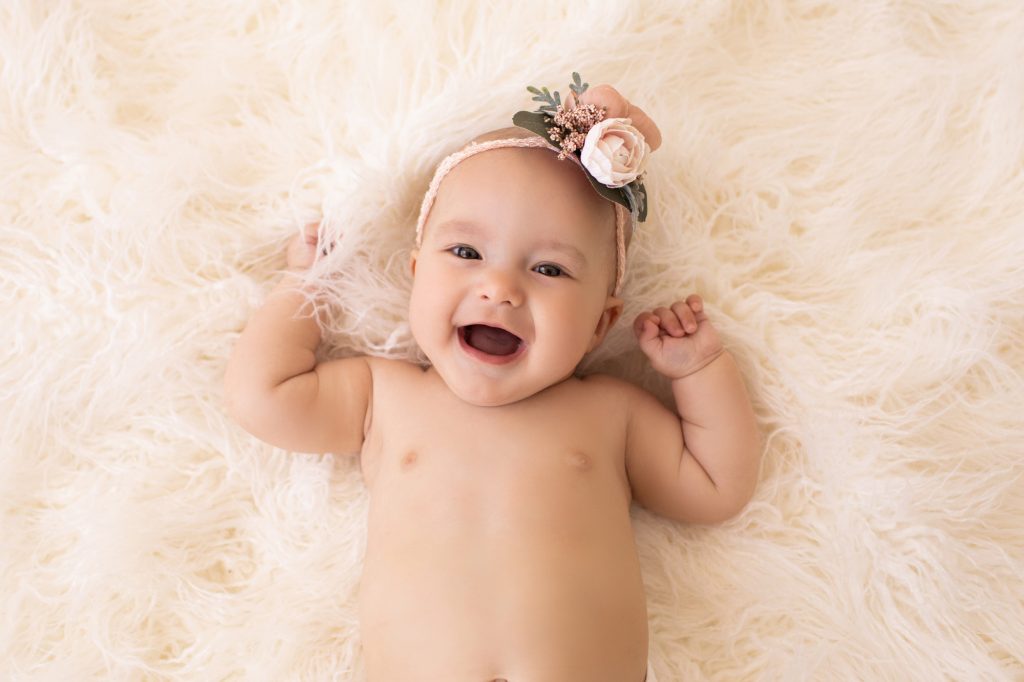 Birthday Photo Book
You can keep all these gorgeous shots in one place with a milestone birthday photo book. This is a great way to collect and arrange baby milestone photos in order so you can flip through and see your baby's growth and development. 
Milestone birthday photo books also make excellent gifts for family members. Add captions, notes and messages from loved ones to create a family heirloom that can be enjoyed for generations to come.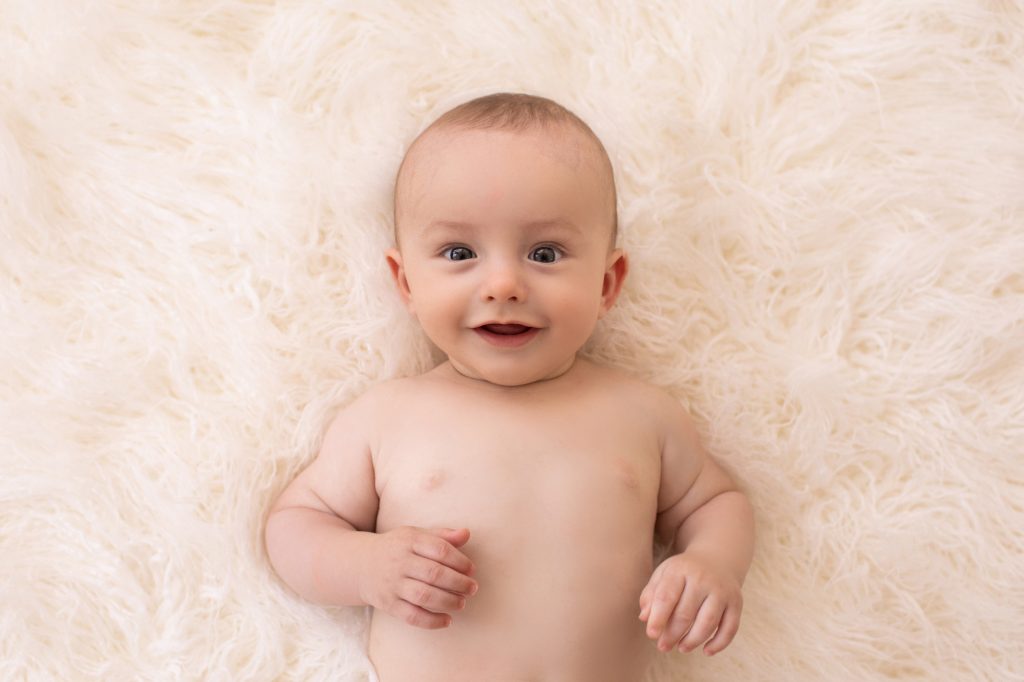 Baby Birthday Photo Display Ideas
Baby birthday or milestone photos make for the most precious, joyful wall art. There are plenty of creative ways to display baby milestone photos, from photo garlands to shadow box frames that include favorite toys, outfits or mementos. Baby milestone photos can also be framed with milestone art like hand and footprints to preserve every precious detail.  
Baby Milestone Blanket Photo Tips
Baby milestone blankets make it easy to track your baby's growth each month. These sweet little blankets provide ways to indicate your baby's age and make for a consistent, cozy background. As one of the most popular approaches to infant photography, I always provide some great guidance to my Gainesville, FL baby photography clients.
From pro to parent, here are a few baby milestone blanket photo tips:
Wash and iron or hang-dry the blanket before taking photos.

Use weights or clips that won't be in frame to hold the edges of the blanket down. This prevents it from scrunching up as your little one wiggles around.

Give the baby a soft surface by clipping the blanket to a playmat or quilt.

Use natural light near a window and try to take pictures at the same time of day each month.

Be patient and take photos while your baby is happy and comfortable. If it's just not working out, you can always try again the next day.
Professional Photo Shoots: Andrea Sollenberger Photography
Baby photos are such a joy to shoot, and I love seeing repeat customers in my Gainesville, FL photography studio. I'm always amazed to see how much little ones change between sessions. It's such a powerful reminder of how important it is to capture each stage of development before your baby changes.
Feel free to contact me here with any questions or to book a baby milestone photo session. You can also follow my Instagram or Facebook account for recent work and updates or view my portfolio.