As part of the thoughtful and cautious reopening my Gainesville photography studio, I enjoyed my first newborn photography session. This momentous occasion marked the first time a new, little one has been into my Gainesville photo studio since the COVID-19 pandemic. Before I describe this beautiful time, a brief word about safety.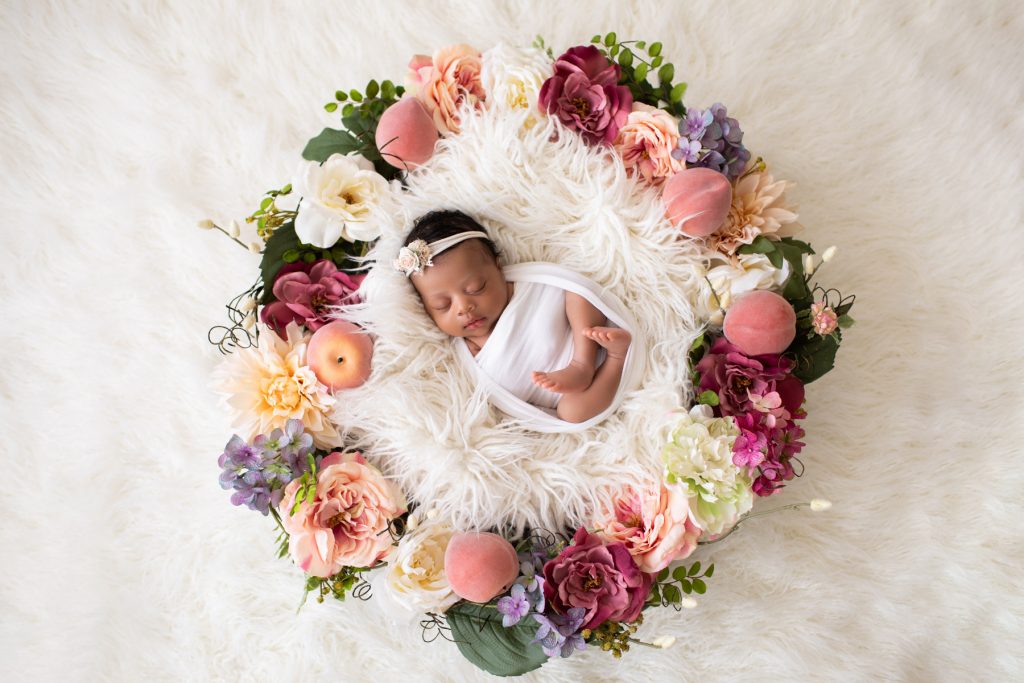 Safety First: Gainesville Newborn Photography Studio
First, I'm eager to put everyone's minds at ease and convey that my Gainesville newborn studio is adhering the highest level of hygiene standards. My sanitizing practices are above and beyond and include masking, carefully timed photography sessions and required hand-washing. No shoes are worn indoors and any touched surfaces are sanitized with CDC-recommended products. I am confident that I am making every effort to protect my clients as we enjoy artistic newborn photography and celebrate life.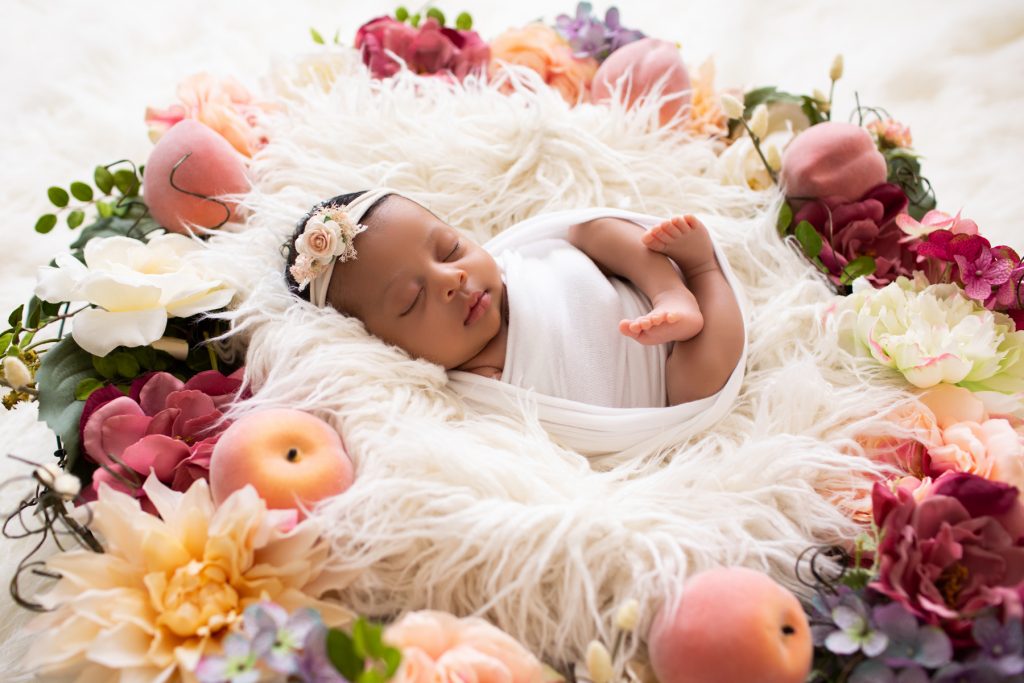 I fully believe that these brief interludes of togetherness and celebration with things like newborn photography are a salve for our weary souls. The occasion of creating newborn portraits for baby Elise was just that.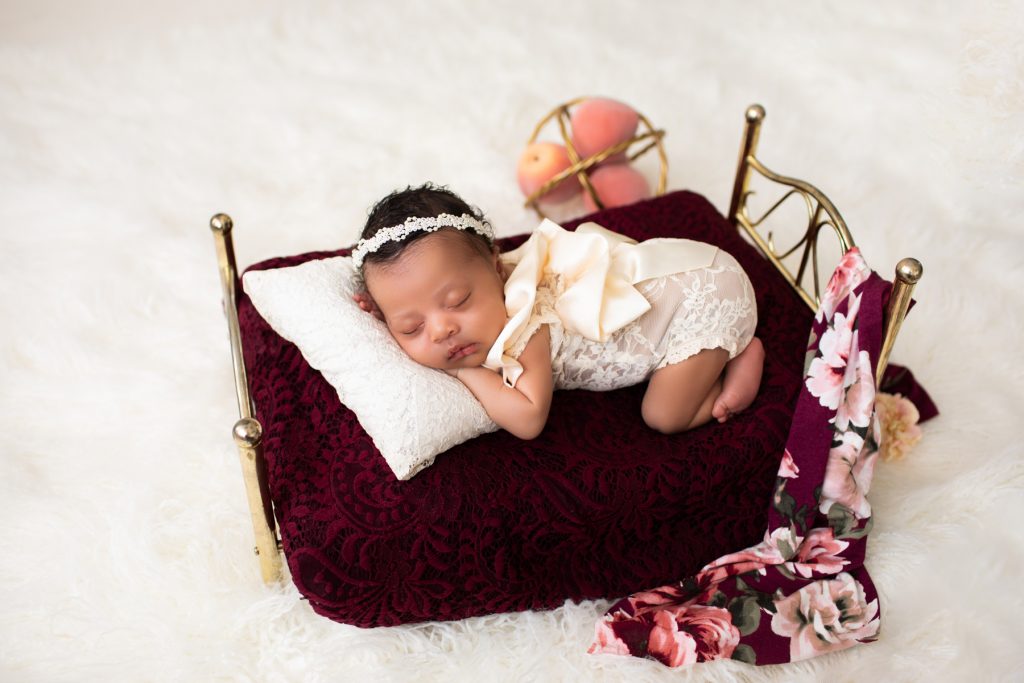 Baby Photographs
Newborn Elise came into my Gainesville studio at 19 days old. Elise's wonderful mom chose Andrea Sollenberger Photography after poring over the work of other local photographers. She loved the artistic newborn photos I created. I am glad to say she also noticed that my work highlights tender affection, newborn posing and a soft and dreamy editing style. Because of COVID-19, this family enjoyed no baby shower or professional maternity photos. We were determined that Elise's newborn photos would be perfect, to make up for other lost opportunities.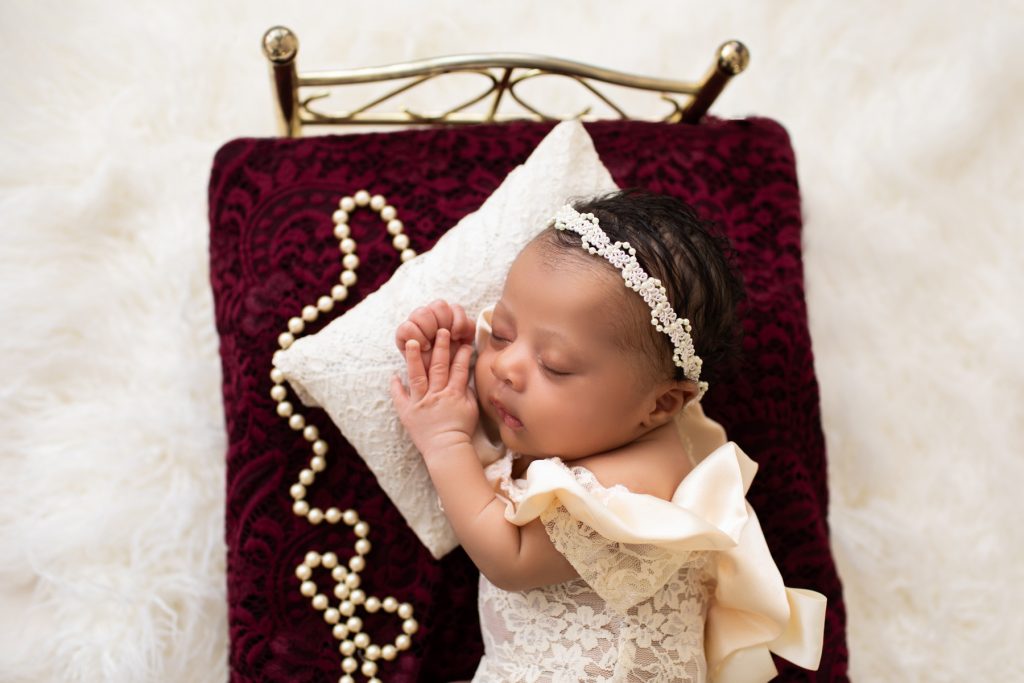 Newborn Photos: Sweet Peaches
Throughout pregnancy, baby Elise's mom craved peaches. Now, this precious little girl has the loving nickname, "Sweet Baby Peach." This served as a key source of inspiration as I selected newborn photo props and crafted this newborn photo shoot. I collected peaches, pearl, lace and flowers. Working within the family's home color palette, we used ivory, pale pink and peach as well as beautiful peaches and a floral wreath newborn prop. What fun to see the delighted reactions of both parents as I unveiled these thoughtful touches and the newborn photography set. As a final piece, I pulled in some ivory, gold and jewel toned burgundy which aligned with the parents' wedding decor. Nostalgic and meaningful newborn photo props like these are a powerful way to create baby pictures that will become photo heirlooms.
Newborn Photographer in Gainesville
It always warms my heart to hear positive feedback from a day of newborn photography. For this capture, Elise's mom Freda sent the following kind words:
Bless your heart Andrea. Our newborn photos are all perfect. We really appreciate you and we are so grateful! This newborn session experience exceeded my expectations and has brought a bright memory of JOY in an otherwise crazy time in our world. We are grateful and blessed to have your professional newborn expertise and to experience it as you captured our baby Elise in the best newborn photos.
First Smiles: Baby Photography
Elise is a calm and sweet baby. Often, she laughs and smiles in her sleep. And yet, at this tender age, her parents had not yet caught a good smiling picture. I am honored to say that this was the first.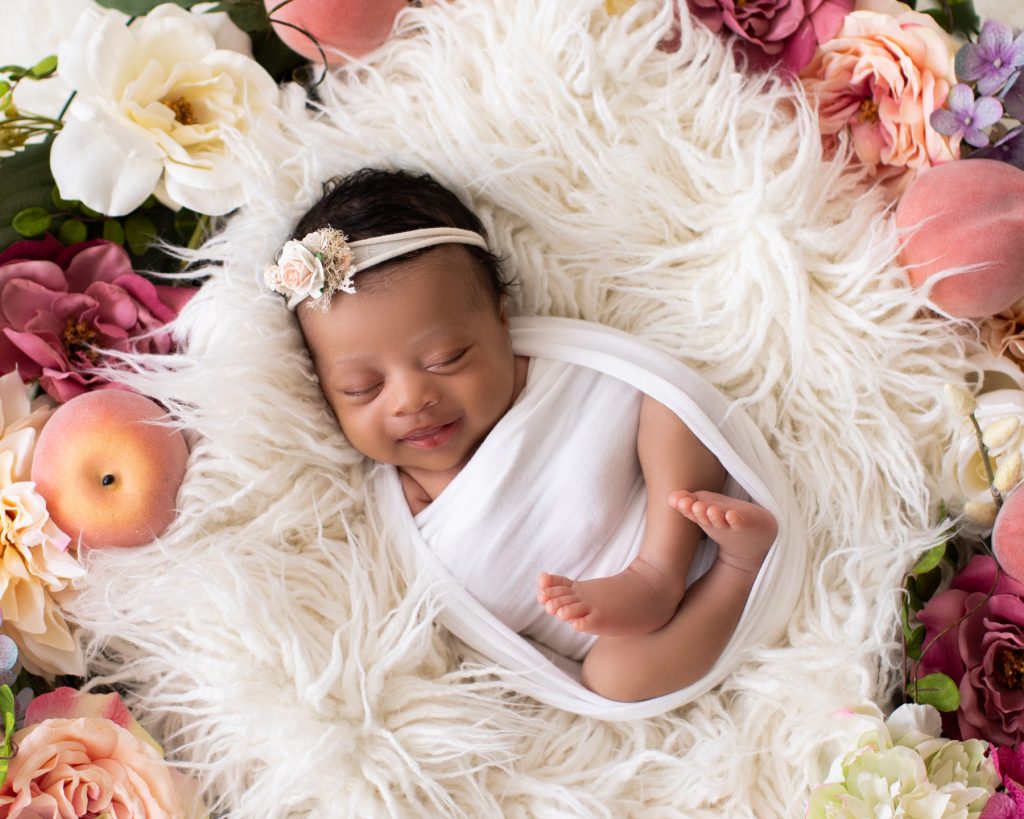 Elise's favorite song is "Never Enough" by Loren Allred, from The Greatest Showman Soundtrack. She is a cuddly baby. Although born very small, she is healthy, thriving and a source of inestimable joy to her loving parents.
Find a "Newborn Photographer Near Me"
While I am still limiting my schedule, it thrills me to slowly begin to welcome clients back and new clients into my photography studio in Gainesville. Having a safe and secure environment is the number one priority. It is life-giving and joyous to me to meet an important need for many families right now. Even in the midst of this unique season of life, women are pregnant and babies are born. What an incredible testament to the endurance of the human spirit and preciousness of life. If you are observing a celebration and wish to learn about my services, go here to contact me.
You may also see more of my work on Instagram and Facebook.