COVID-19 has changed our lives. With most states enacting mandatory quarantine and social distancing, this pandemic has shifted our routines and norms. As we adjust to this "new normal," albeit temporary, it's easy to feel disappointed about what we're missing. On a personal note, I want to say that I deeply understand the many ways this pandemic is impacting people's lives. 
I have children and their spouses who are professional healthcare providers. My family and I are daily in prayer for the relief of those who are ill and the safety of those who work in the medical field. I pray, too, for your family: for well-being and security and the ability to see slivers of light through the clouds.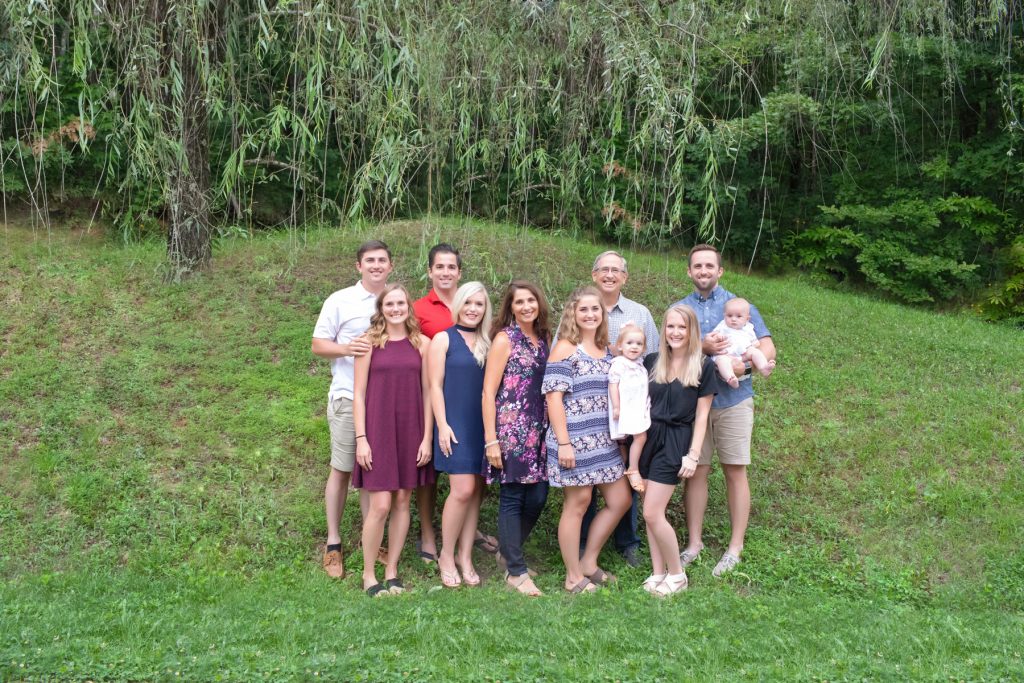 In the spirit of our shared experience right now, I wanted to offer some tips for family photos during COVID-19 quarantine. It's my desire to help you spare one celebratory occasion from being eclipsed by this pandemic. As a professional photographer in Gainesville, FL, I have the privilege of capturing dozens of family's special moments. 
Family Photos During Quarantine
Due to social distancing restraints, you will probably have delayed a family photos until the COVID-19 quarantine lifts. There are still special moments, from birth photos to first birthdays and more, that you don't want to pass without a good photo capture. Professional photography can be recreated in part, in your home. Here are some ways you can set up and take family photos even without a photographer.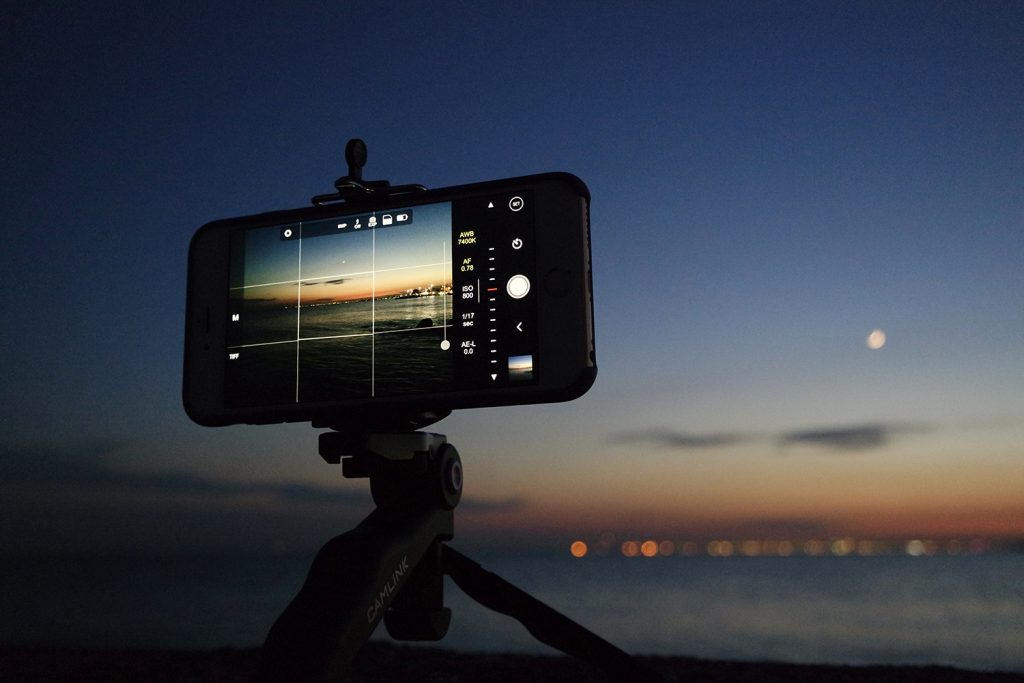 COVID-19: Photos at Home
During COVID-19, all of your photos will be taken at home or maybe in your backyard. You can still take great pictures. There are a few logistics to work out first.
Take Great Pics With Your Smartphone
Most people don't have access to a professional camera or other pro equipment. What you do have is a smartphone. Smart devices are equipped with better and better cameras. Here are some ways to get the best photos from your smartphone:
Best iPhone Pics
If you have a newer iPhone model (XS, XR, X, 8 or 7 Plus) you can take very high-quality photos. You do this by taking pics in portrait mode. You can adjust focus (what is "clear" and what is "blurry") and exposure (how bright it is). An iPhone can also take panoramic photos, which can create a cool, broad shot.
Best Android Pics
There are numerous Android phones, including Samsung and Google Pixel. All of the latest models of these have very high quality cameras that can take great photos. You can access pro mode through your camera menu. This will give you the opportunity to change similar features to the iPhone (for some Androids, you actually get far more pro features than on an iPhone). 
You can adjust focus and exposure and may also be able to change the "ISO." ISO changes how fast the shutter opens and closes, which can give you a sharper image. Keep in mind that the faster you click, the better chance you have of hiding any wiggles or movement, but the darker your photo may be.
Other Equipment
You may not be able to call a neighbor over to help out but that doesn't mean your COVID-19 family photos can't still happen! If everyone is going to be in the shot, the one additional piece of equipment you will need is a tripod. You can purchase a tripod that has a smartphone head. This will be a small rectangle that your phone snaps into. Then, you will set the phone into hands-free or delay mode, depending on the model of phone you have. This will give you a few seconds to get in place before the camera clicks.

Setup Home Photos During Quarantine
Once you have the equipment ready and you know how to use it, you want to think about where and when to take your family photo during quarantine. Home photos are great for capturing you in unique and snuggly places, such as on a bed or couch. If you take pictures inside, you want to pay attention to where windows and lights are. Taking a picture in front of a window can create a silhouette. Pictures that are too dark will look grainy. You will want to play around and test out different areas in your home to find the right spot.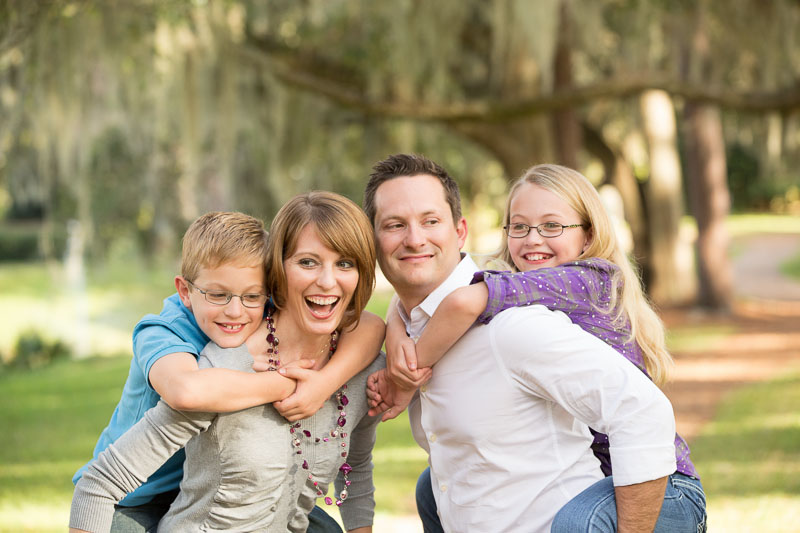 You may also opt to take photos outside. If you do the latter, you want to consider time of day and whether the light is good. There is something called "golden hour" in photography, which is right before sunset. This time of day is exceptional for creating glowing photos. Outside can be beautiful but also a challenge for setting the tripod. You may also get distractions from bugs or other critters. Done right, you can have a sweet and beautiful end result.
Take Your Own Family Photos
Other considerations for taking your own family photos are in the design and styling. In my Gainesville, FL photo studio, I offer gowns, props, accessories and more. You can find plenty of things to use for family photos in your own closet. Consider arranging for:
Coordinating or related outfits

: many families like simple, neutral colors with a single accent color. You may also want to consider how dressy or casual you want to be. At home, you have unique options, like couch pics in PJs or even dress-up character photos, just for fun.

Accessories that match

: simple jewelry or bows for girls, hats or bow-ties for boys, etc.

Props

: when I take photos of clients, I find that children do best if they are comfortable and have familiar items around them. You have the best advantage for this by doing photos at home, where you can quickly grab toys or props.

How to Take Pics Without a Photographer
Once you've checked off equipment, lighting, setup and outfits, you are ready to take family pictures. The biggest challenge to taking pictures without a photographer comes in the actual photo session. This is because it can be hard to draw everyone's eyes and attention to a small phone. Most smartphones don't even have a loud shutter, so there isn't the telltale "click" to jolt everyone's attention in. There are a couple of tricks to drawing attention and eyes to the phone so that you get a nice photo.
For very small children, you may actually want to set a tablet with music/video directly above the smartphone. This gives them something to look at and makes them seem like they are looking at the camera.

You can set a small stuffed animal or other toy literally on top of the phone. Then, you prompt them to look that way by telling them to find the bear or spot the Woody, etc.

If all else fails, the adults in the picture can get very coordinated and clever. While one person is setting up the camera for the delayed photo, the other one can toss a stuffed animal or ball into the air. As it comes down off the arc, everyone will look in the right direction.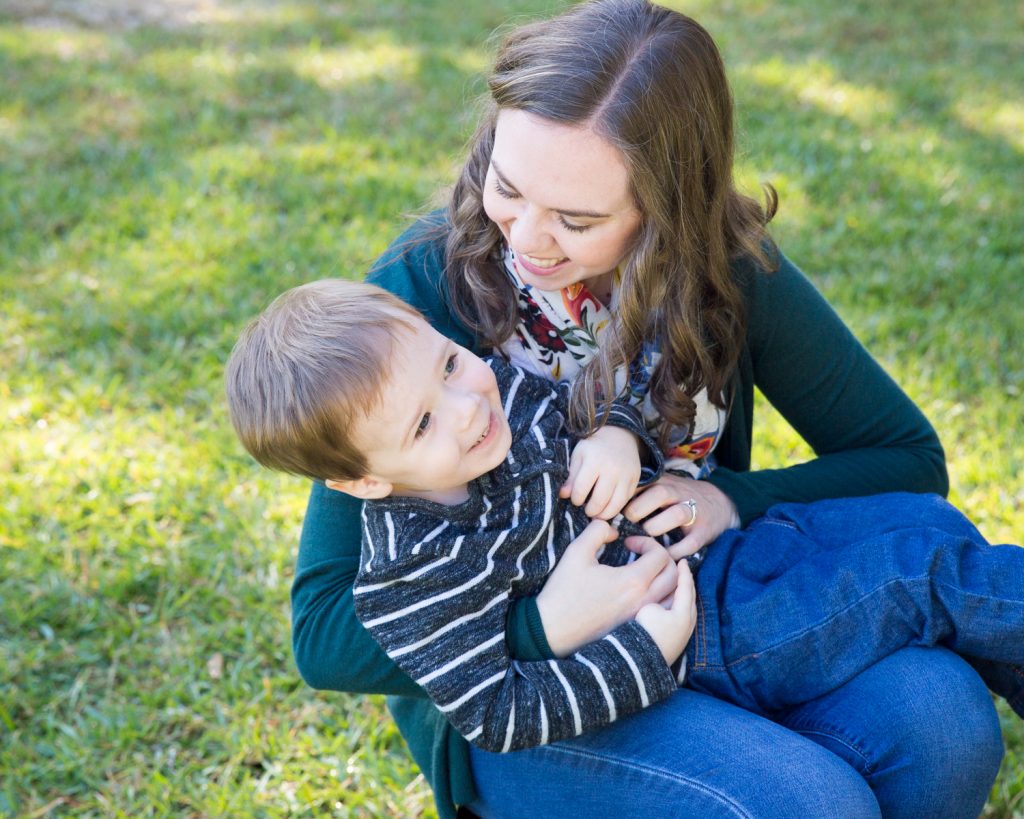 One huge advantage of shooting family photos during COVID-19 quarantine is that you can either plan a lot or do them on a whim. For instance, if you want to capture a fun cooking project in the kitchen, you can strap on aprons and toss some flour around while you snap away. Tickling, jumping, dancing and laughing are all beautiful captures that will help you remember these extra moments of togetherness.

Book a Photographer in Gainesville, FL
Professional photographers in Gainesville, like myself, have had to suspend most of our work taking family photos due to COVID-19. We miss our clients and are grateful for the many rain checks! If you want to book a photographer for the late spring/early summer, when quarantine mandates are lifted, you should do that now. Especially if you have important milestones to capture, you want to be sure you secure a spot on my schedule before it gets too full. Go here to contact me. Again, I wish everyone well!
Want more family photo (and other photography) inspiration during the COVID-19 quarantine? Follow me on social!