Pregnancy is an illuminating time. Moms who are expecting learn all kinds of new things about what they are capable of and ready for. As a maternity photographer, the literal illumination, by use of light, is a core tactic to achieving black and white maternity photos.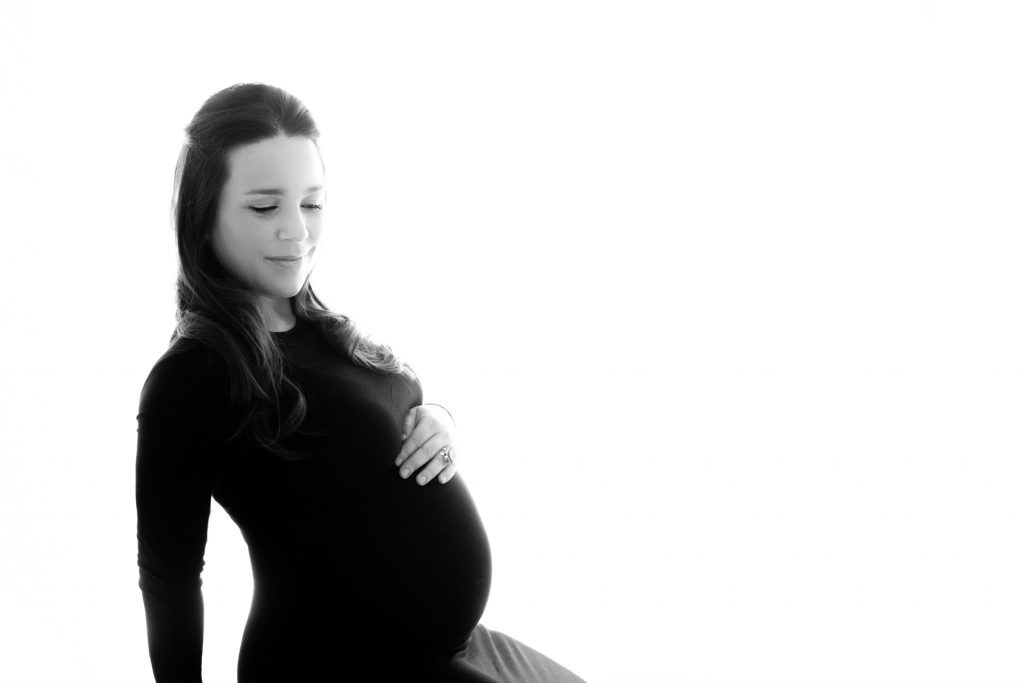 Because color typically plays a core role in maternity photographs, this session was particularly wonderful and unique. Expectant mother Christy actually led with this concept, telling me on our first call that my use of light was a deciding factor in hiring me. Like many Gainesville maternity photographers (and photographers in general), I use all kinds of light in my photo studio.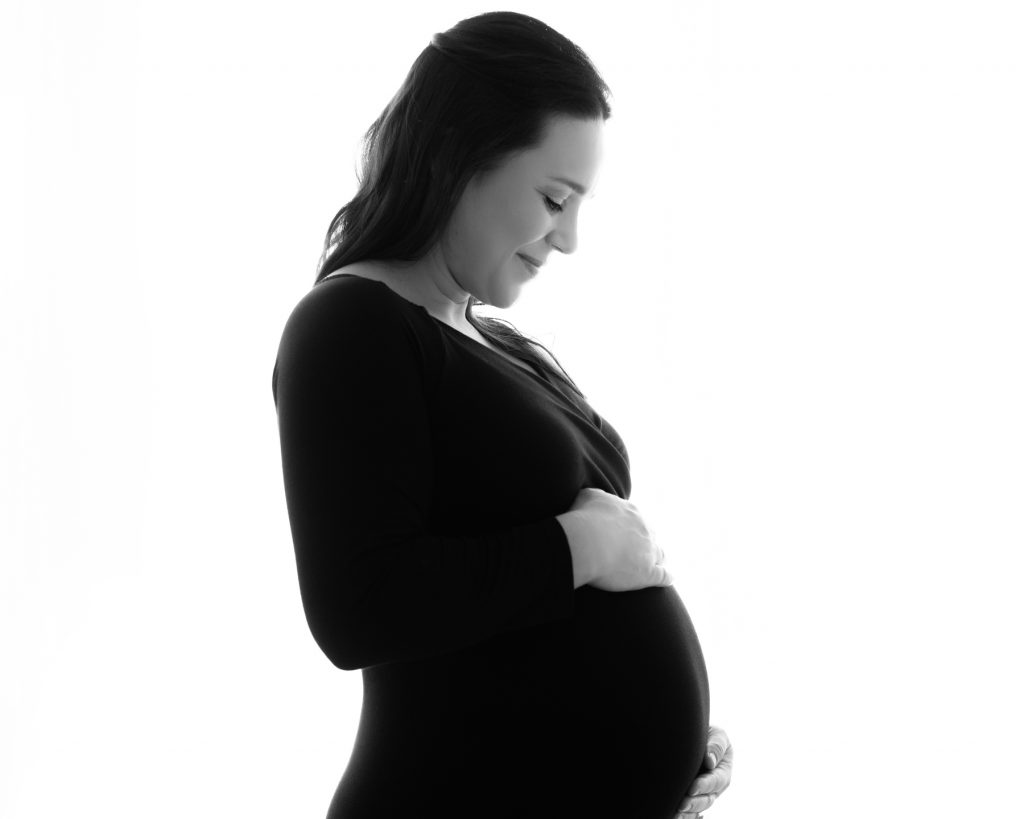 While my Gainesville photo studio is completely outfitted with controlled lighting, I take great advantage of large picture windows which provide a steady stream of natural light. For my own purposes, I prefer not to use studio lights whenever possible.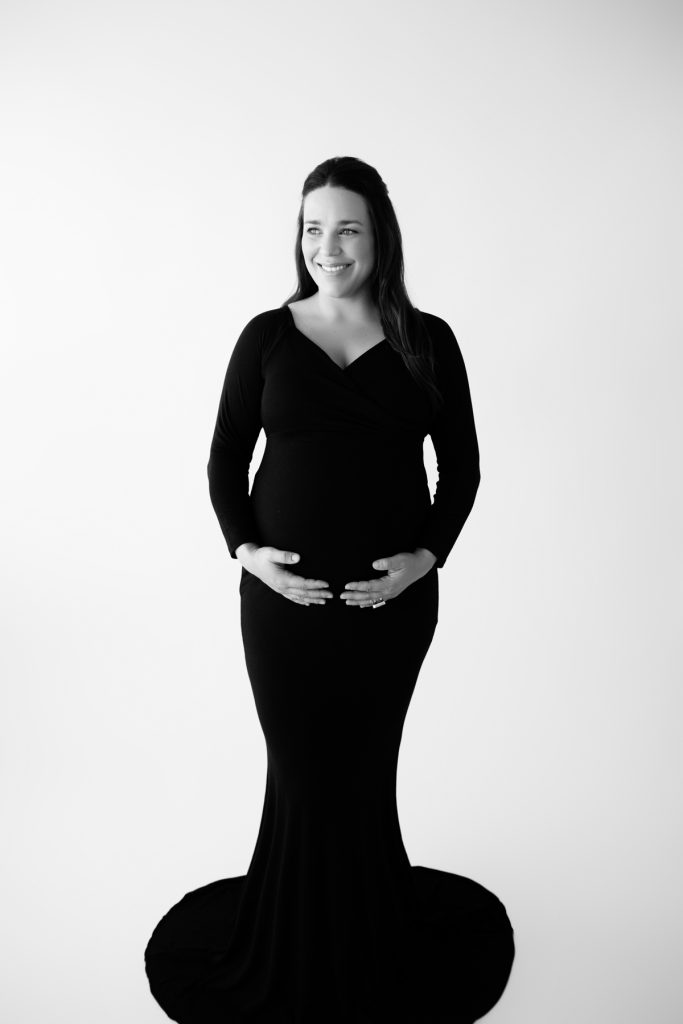 When Christy told me her original concept for black and white maternity photos, I was elated and ready to co-create something wonderful with her. The soft light from the windows perfectly pulled contrast from the shadows and provided a sweet glow that was just right for this black and white photo session.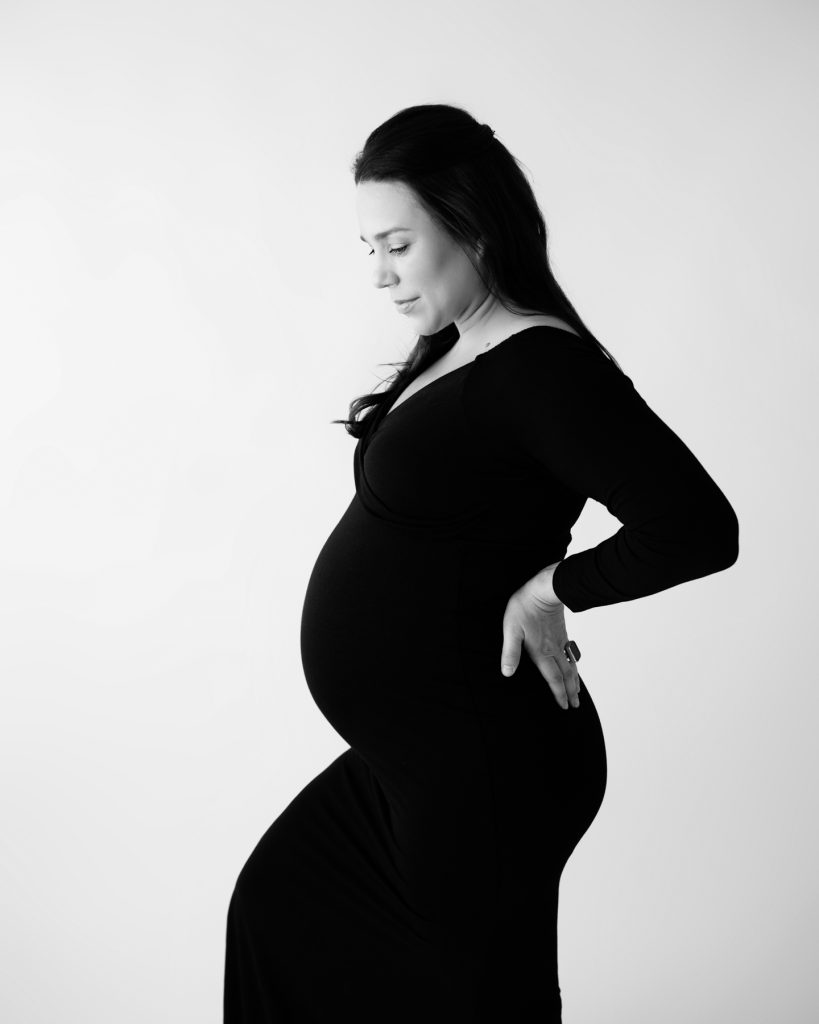 Black and White Photos for Expectant Moms
A fun word about this maternity photo shoot is that it was done solo as a surprise for Christy's husband. Christy's vision and hope was to achieve black and white maternity photos that were timeless. You can see that her minimalist maternity photo shoot outfits, hair and makeup are all understated, classic and elegant.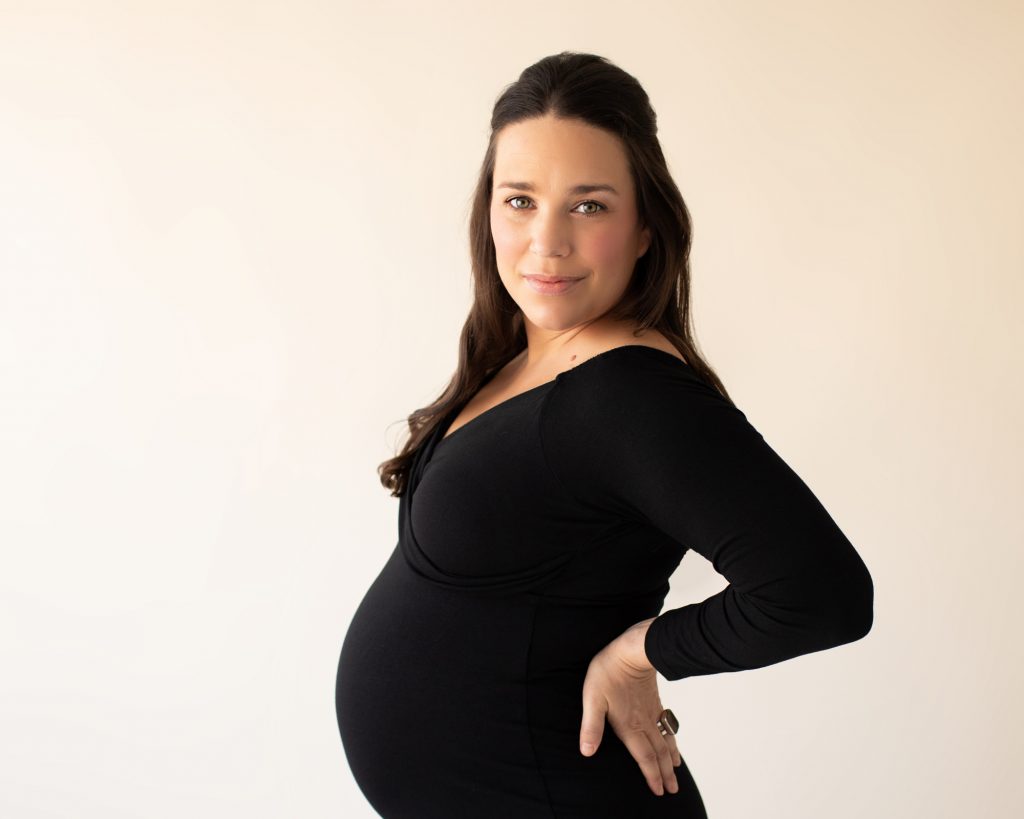 The black and white maternity photos here aren't meant to hearken to any particular era. Instead, the traditional approach is somehow perfectly personal, whimsical and dreamy. I couldn't be happier with the serendipitous results.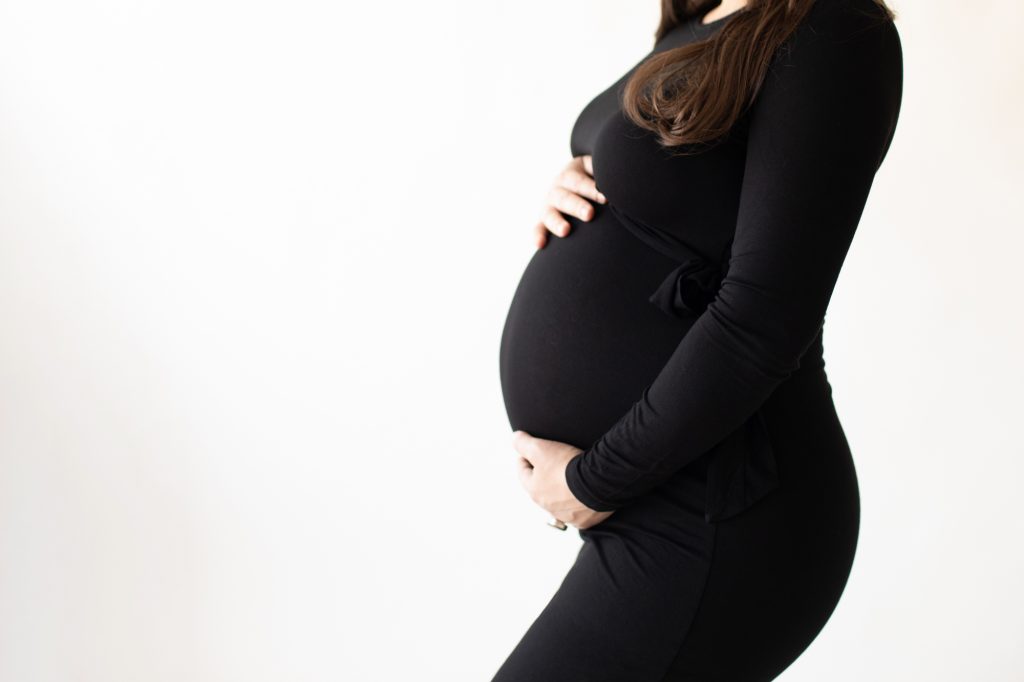 Stylized Maternity Portraits
This new mom explained to me that her own mother didn't have professional maternity photos, and she didn't want to miss this opportunity. It's important to me, as a maternity photographer, that each client gets a unique experience. I provide individualized consultations and don't use prefab sets or the same grouping of maternity photo props.
If you would like to see just how individualized maternity portraits can be, visit my maternity photo page.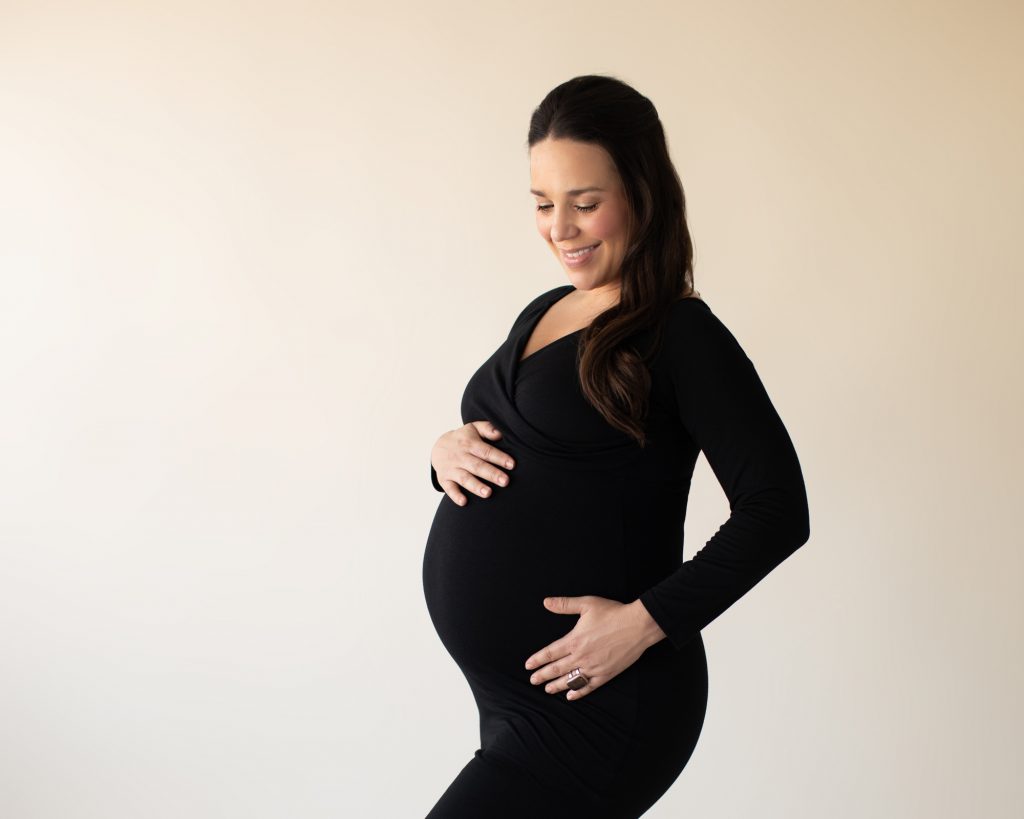 In my work, everything is created from scratch, based on the ideals and imagination of the client. Christy wanted to remember the calm of her pregnancy. She wanted to capture the surprising confidence she felt in the third trimester. It is inspiring that she felt and experienced this immense peace, even in the midst of the pandemic. What better care could her newborn hope to have than a mom with this mindset? Inspired myself, I arranged a gently lit maternity photo shoot for Christy, meant to exceed her expectations.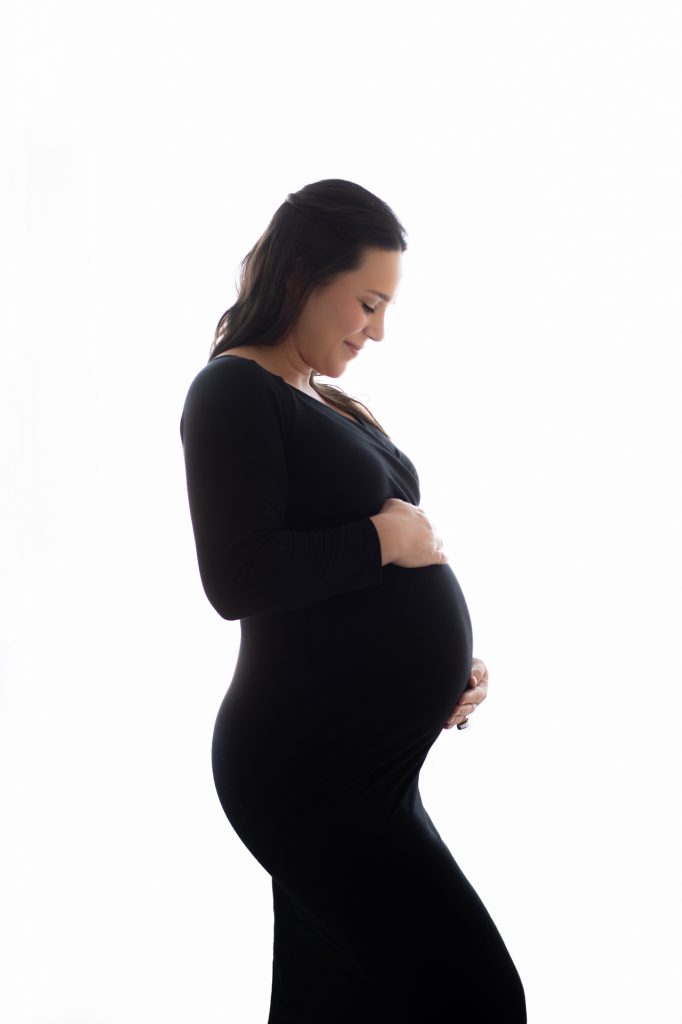 Black and White Maternity Photo Ideas
One of the most powerful ways to gain a winning finished product with black and white maternity photos is to use texture. The wall portraits chosen by Christy, and delivered by surprise to her husband, were printed simply in black and white with a lovely brushed texture. The final printing and treatment of professional maternity photos can make all of the difference. Photos like these may also be wonderfully suited for heirloom photo boxes, wall art portraits and wall collages.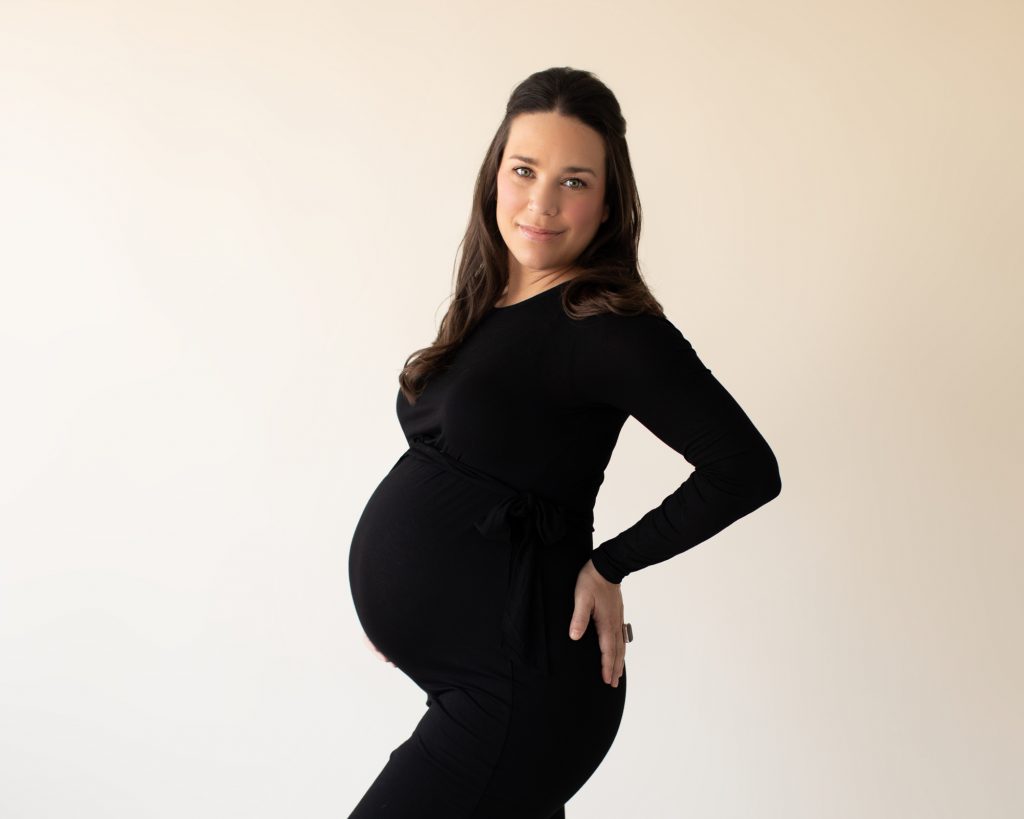 Hire a Gainesville Maternity Photographer
Pregnant women are in such a unique and temporary time of life. Even if you have multiple children, or feel like pregnancy lasts forever, it really is brief and forgettable. You'll be amazed, as the months and years stretch on, how hard it is to recall the moments when you expected the child or children you now have.
The goal of maternity photography is to preserve the importance of this season. You are special, as is your baby, and wonderfully made. Black and white maternity photos are one creative way to have something enduring and timeless as a memento of these nine months. But, of course, the true goal of maternity photos is to capture you, in all of your beauty, strength and uniqueness.
That is always my aim and I'm proud that this session was so successful.
If you wish to learn more about my creative maternity photos, my Gainesville Florida photography studio or to schedule an initial consultation, contact me here.
For more inspiration, including black and white maternity photo ideas or other maternity photo ideas, feel free to follow me on social media:
Andrea Sollenberger on Instagram