Precious baby girl Vidya is the firstborn daughter of mom, Ritisha and Dad, Abhishek. Dreamt of and delighted in, the arrival of a precious baby should be celebrated! One way is to commemorate with artistic newborn photography. There are many styles used by a newborn photographer artist. More than point-and-click, a newborn portrait artist thinks through every element of baby photography.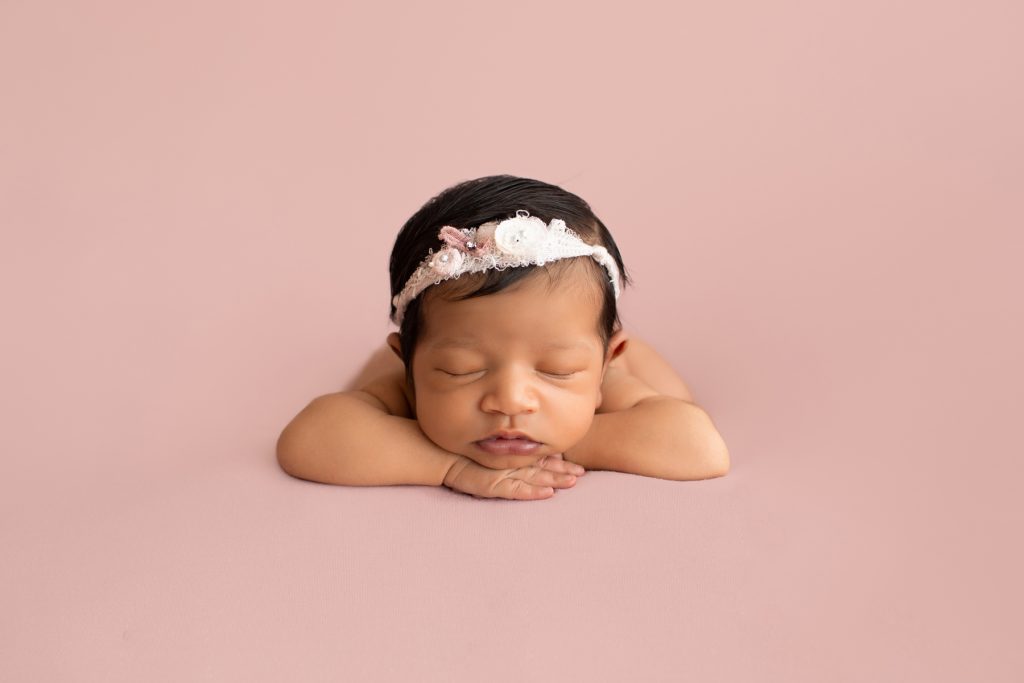 How To Do Newborn Photography
There are as many styles of newborn portraits as there are photographer artists. They key is to find someone whose work you fall in love with. Maybe you like light and airy, candid or the use of newborn photography props. These are all great and fun! What artistic newborn photography captures is the essence of these early days. Here is a sneak peek into how I created a perfect newborn portrait for Vidya, that her parents will cherish forever.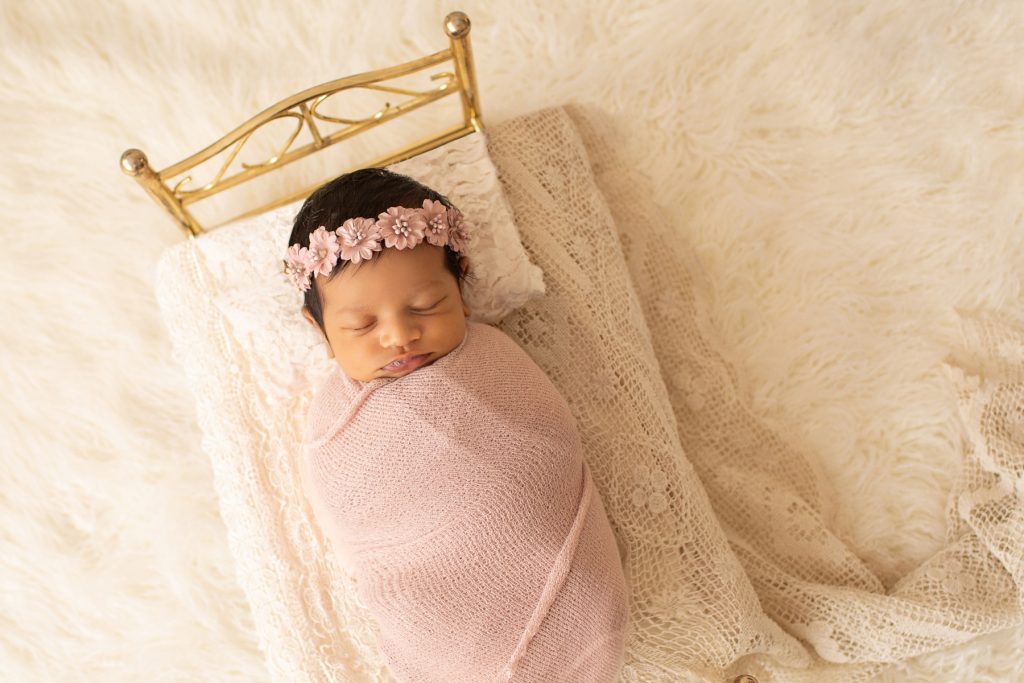 Newborn Photography Ideas
As a newborn photographer artist, I have many ideas. But, ultimately, the most important element of any photography session is the family themselves. Here are some of my priorities when I style an artistic newborn photography session:
I believe in the importance of capturing photos that highlight emotion and connection.

Photos should clearly display the feelings of the people in them, especially with new parents.

Capturing the intimacy of relationships is paramount.
I exercise the highest quality and best practices in my photography skills. But that is only the first step. The artistry of these experiences is vital. My abilities as an artist begin with setting the right environment.
Newborn Photography Studio
My photography studio is the first thing clients see. I feel that beautiful portraits of the people you love are the most beautiful form of art in the world. Hanging a family portrait on the wall is a declaration of love and commitment. Every person who walks through your door hears this message loud and clear: these are the people you value, love and cherish. You should want to proudly display artistic photos in your home. This means that the color scheme and style should fit seamlessly into your home's decor.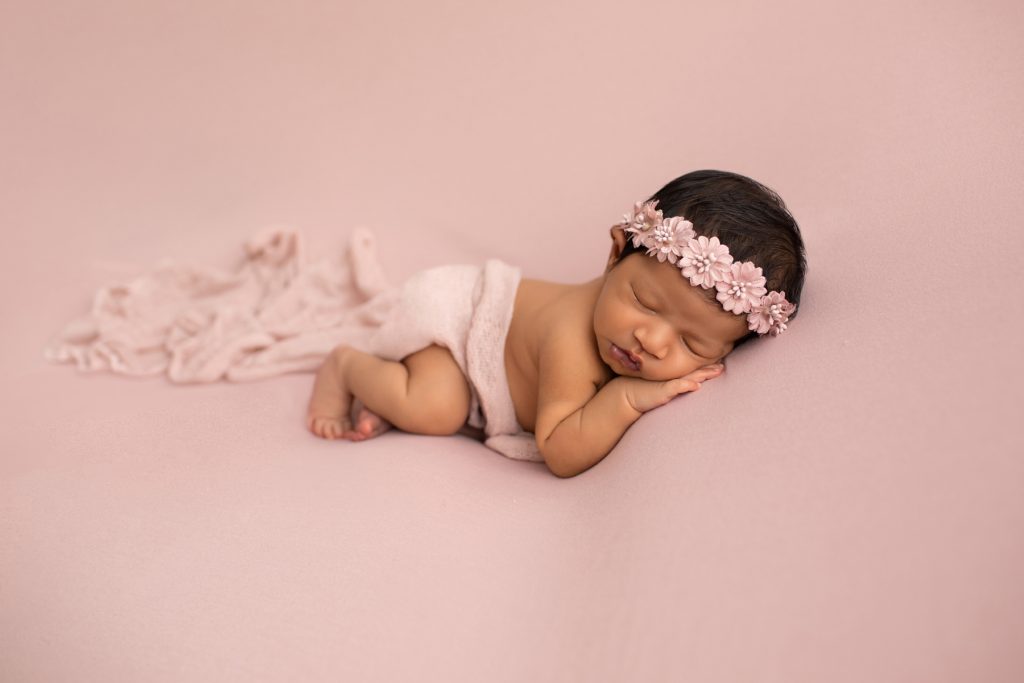 For this beautiful family, mom communicated that Vidya's nursery was decorated in grey and cream with gold hardware. The rest of their home was grey, cream and had blue and gold accents. The family requested that this custom newborn session be coordinated with their home decor. Additionally, they wanted newborn photography colors and props that included:
Soft pinks

Soft, muted greens

Lace

Flowers

Headties

Fur
Because I have done newborn photography for a long time, I have a significant number of newborn props that will fit anyone's style. By special request, we used a gold accented newborn bed in this newborn photo shoot.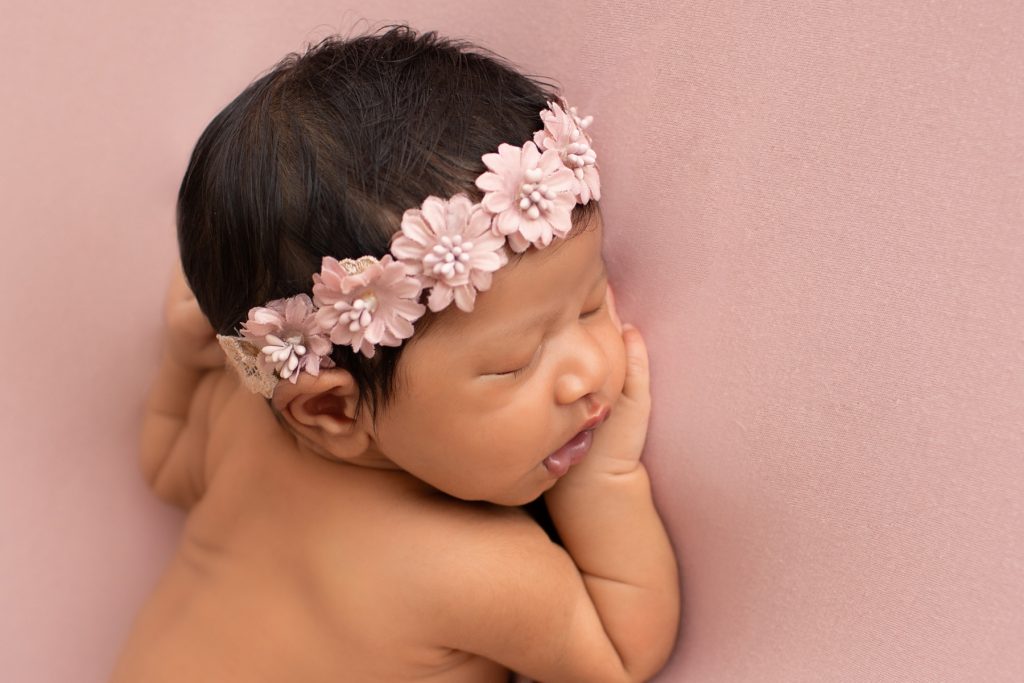 Photographer Artist for Newborns
I am proud of the fact that many clients come in stunned when they witness how I have setup the environment for their artistic newborn photography session. The carefully decorated space reflects the initial conversations we had regarding their color palette and style. It's wonderful to wow them when they realize just how customized the newborn session will be and just how well it illustrates their taste.
For more insight into my style of photography, go here to see newborn samples. Check back here on the blog for regularly posted newborn, toddler, milestone, family and heirloom photography ideas.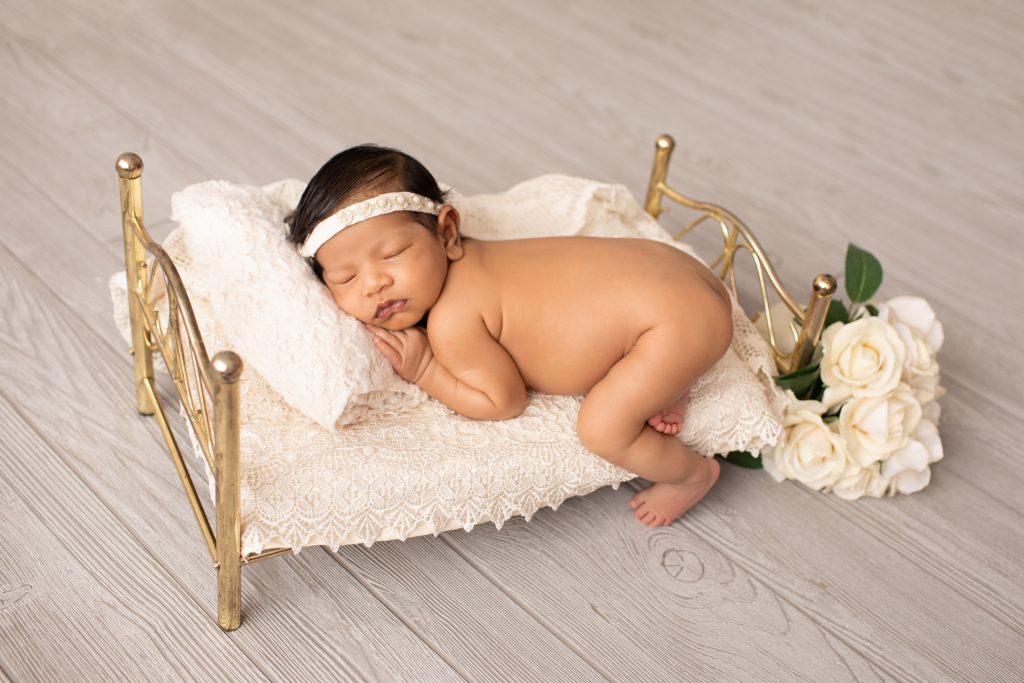 Memorable Newborn Photos
What is artistic newborn photography? It is no less than the privilege of intercepting each precious blink, squishy baby face and drawn out yawn. From hiccups to grins, everything about God's creatures feels unforgettable. And yet, as the years stretch on, memory does fade. The newborn photographer recognizes this, and captures these most magical moments. Even if you forget, the artistic newborn photography on your wall will remind you of this season… forever.
Have a moment you want to remember? If you are looking for beautiful photos that capture your close connections and the feelings of these moments,  go here to learn how you can book an initial appointment with me.
For additional ideas and inspiration, follow me on Facebook and Instagram!