Welcome to my Gainesville Newborn Session. My studio is my little slice of heaven located in Alachua, designed specifically with a maternity session and newborn session in mind. I love to pamper moms, dads, and new babies! As a newborn photographer, my heart is to capture precious memories with photos that my customers will treasure forever. My goal is to give my clients absolutely beautiful photographs of these meaningful times in their lives. Having a baby is one of the most magnificent experiences in life, and it is worth capturing this new joy with newborn photos that will last!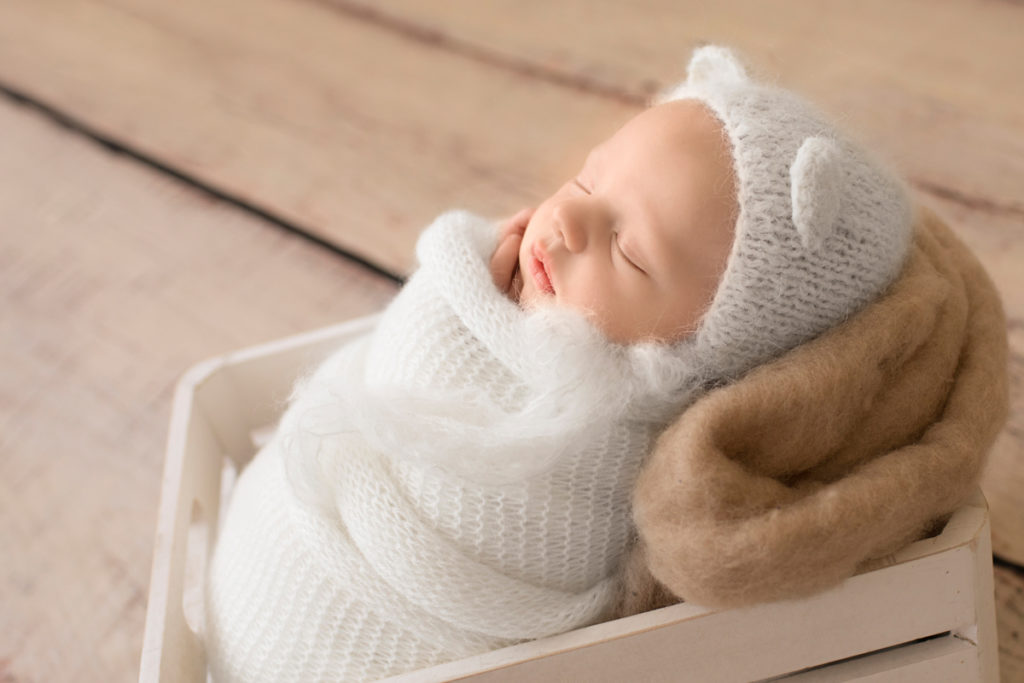 NEWBORN PHOTOGRAPHER GAINESVILLE FLORIDA
Here is a little peek, and a little background, into a recent studio newborn session with a handsome little fellow named Gavin. When Gavin joined their family, I was honored when Gainesville Mom chose Andrea Sollenberger Photography for his Gainesville Newborn Session. Mom Amanda said she wanted a session experience providing newborn photos that would capture their tiny family addition. She also wanted to celebrate Gavin's tender newborn size in a way that they would remember for a lifetime.
NEWBORN BABY FAMILY ADDITION
When we first met, Amanda shared the journey of this baby and I could tell how grateful Mom and Dad were to finally have Gavin safely in their arms. After contacting Andrea Sollenberger Photography, Amanda followed through with phone calls and a pre-consult meeting to coordinate all of the colors, textures and prop choices. Knowing her style preferences and visions is helpful to me in advance of their studio newborn session, so that their images, printed newborn photos and wall art will match their home decor. After all of our preparations and Amanda's careful attention to my suggestions for a successful newborn session, Gavin's studio newborn session went smoothly!
HANDSOME NEWBORN BABY GAVIN!
Gavin is adorable. His tiny features and tiny baby details are delicate and well defined. His soft baby skin is perfect. These tiny baby details will soon change and begin to look much different. For now, Mom and Dad have all the baby details in photos. What a treasure to catch a time which is going to go by so quickly. Once it is past, newborn photos will help this family remember this present feeling which is too good to forget. Those little hands wrapped close to his little face showcase his precious features.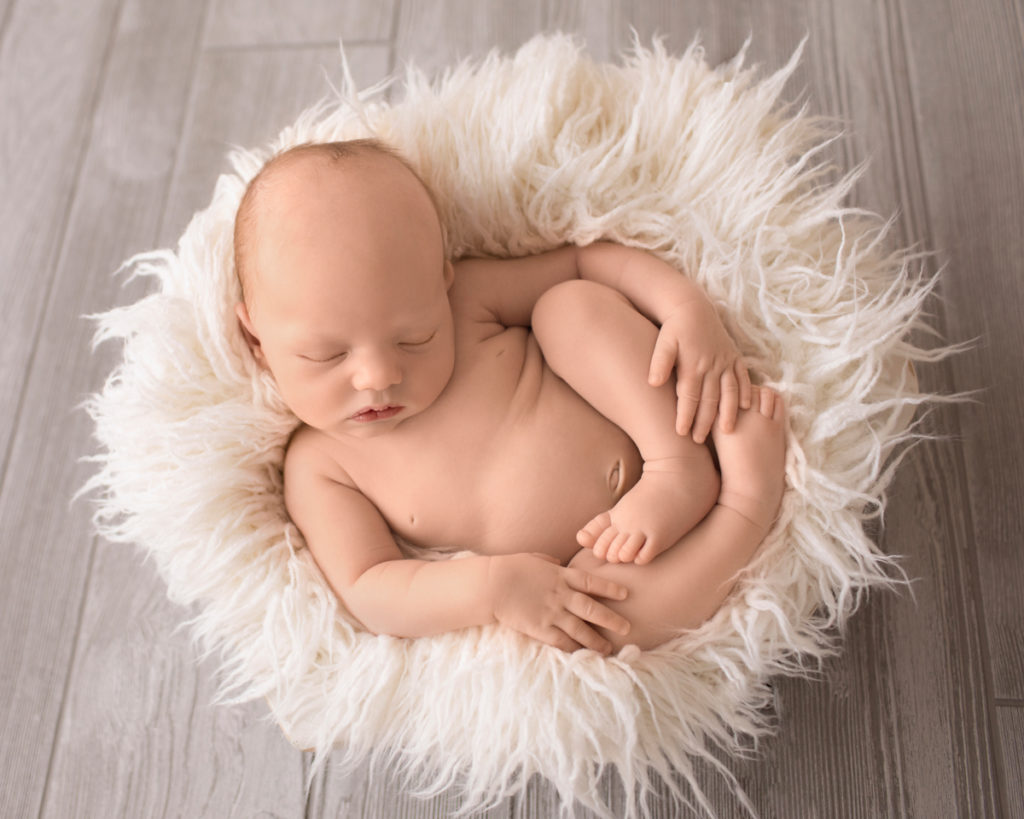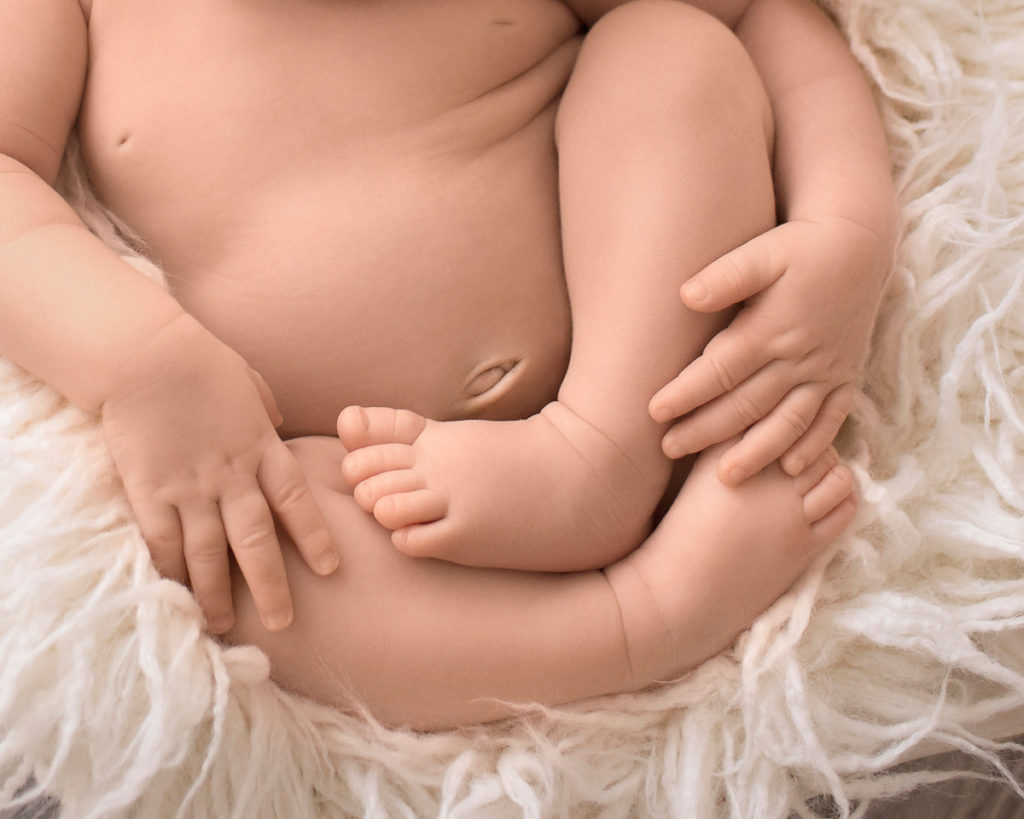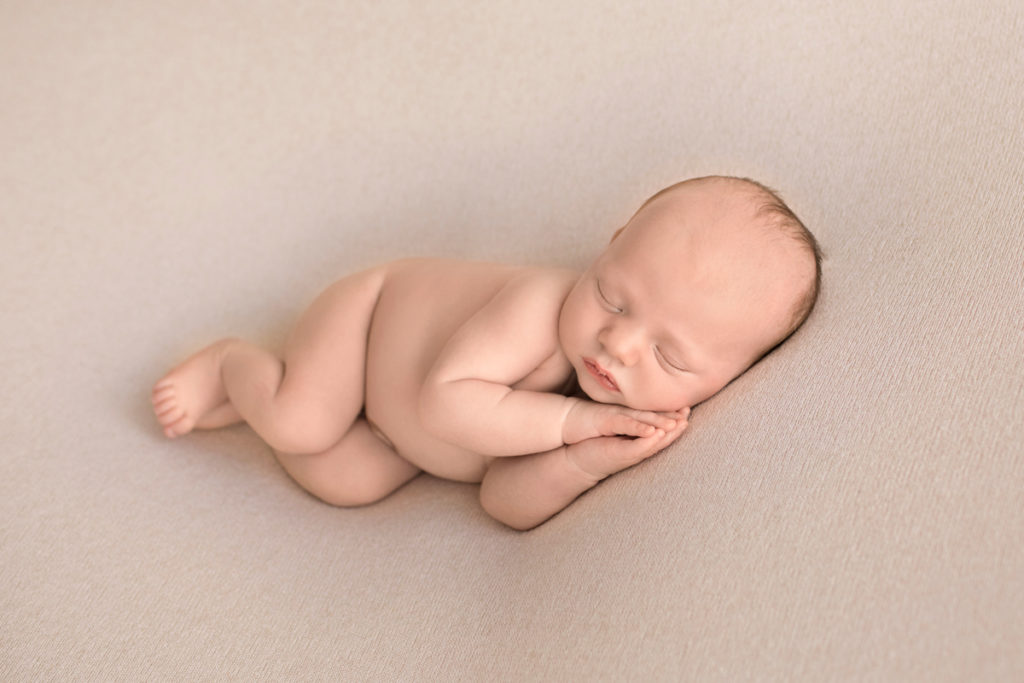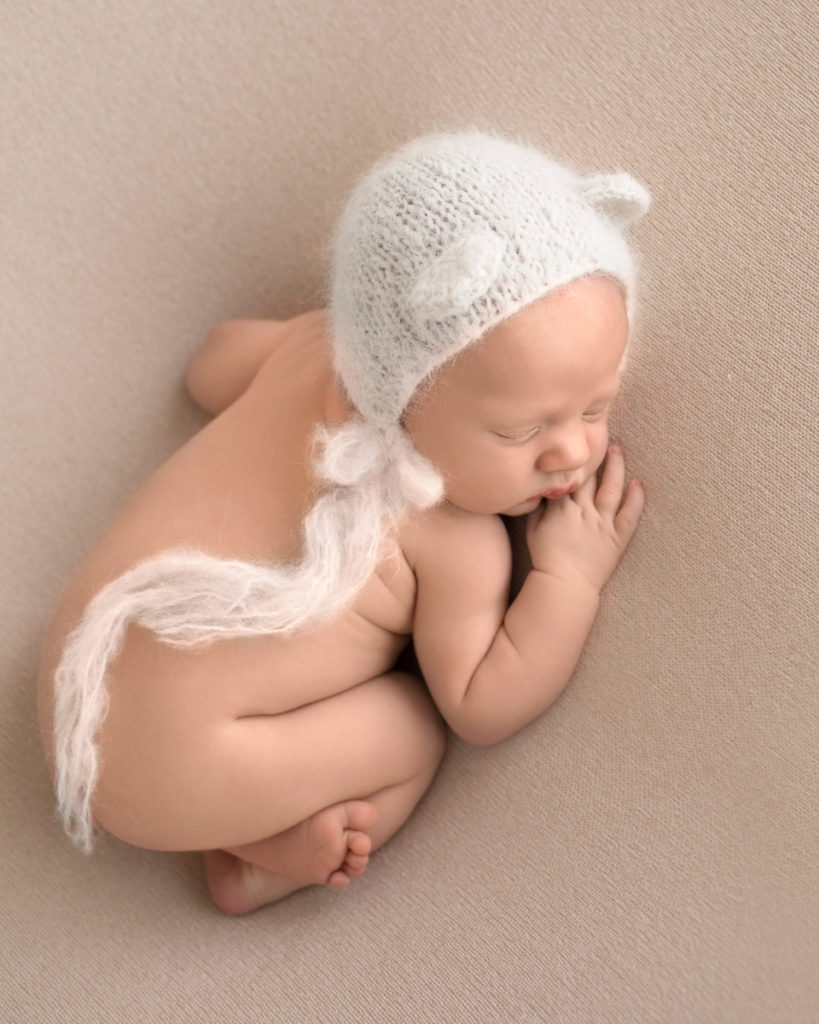 GAINESVILLE NEWBORN PROPS AND POSES
Gavin slept very well during his studio newborn session. Here he is posed in a white knited wrap potato sack and white knitted bear bonnet and tucked into this beige fur stuffed bucket!  I love babies in buckets!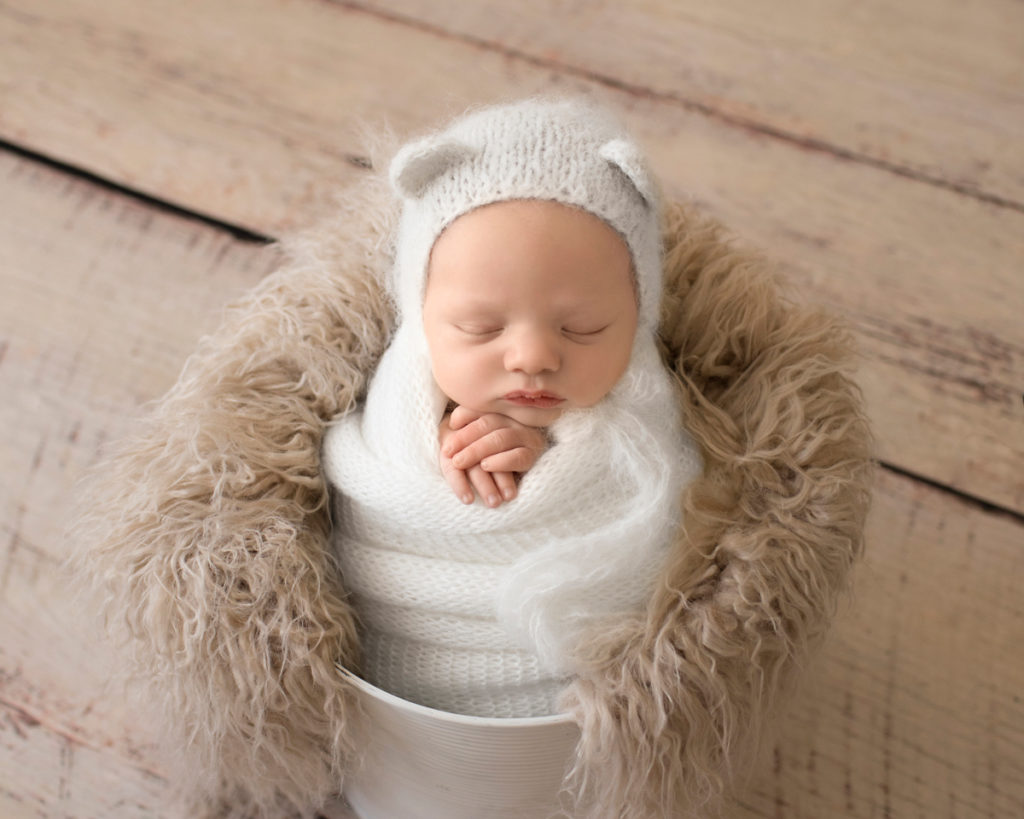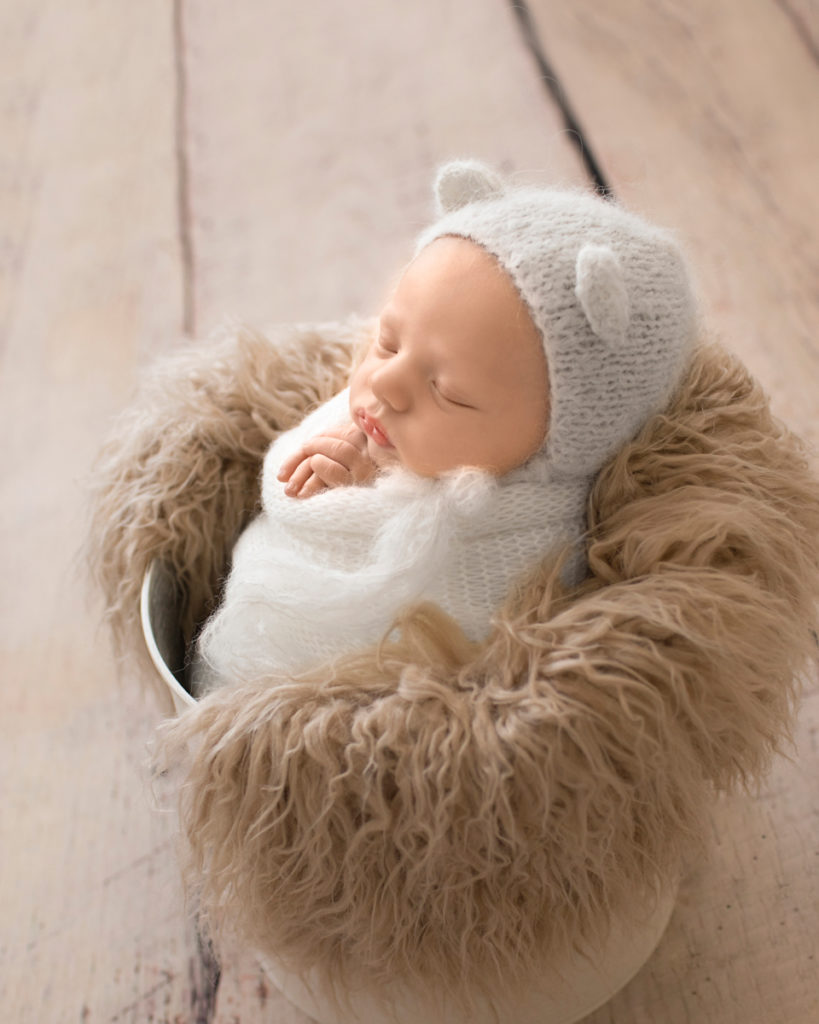 And then while he was still in his potato sack and knitted white bear bonnet, he let me pose him in a tiny white crate. And he gave us this sweet little smile!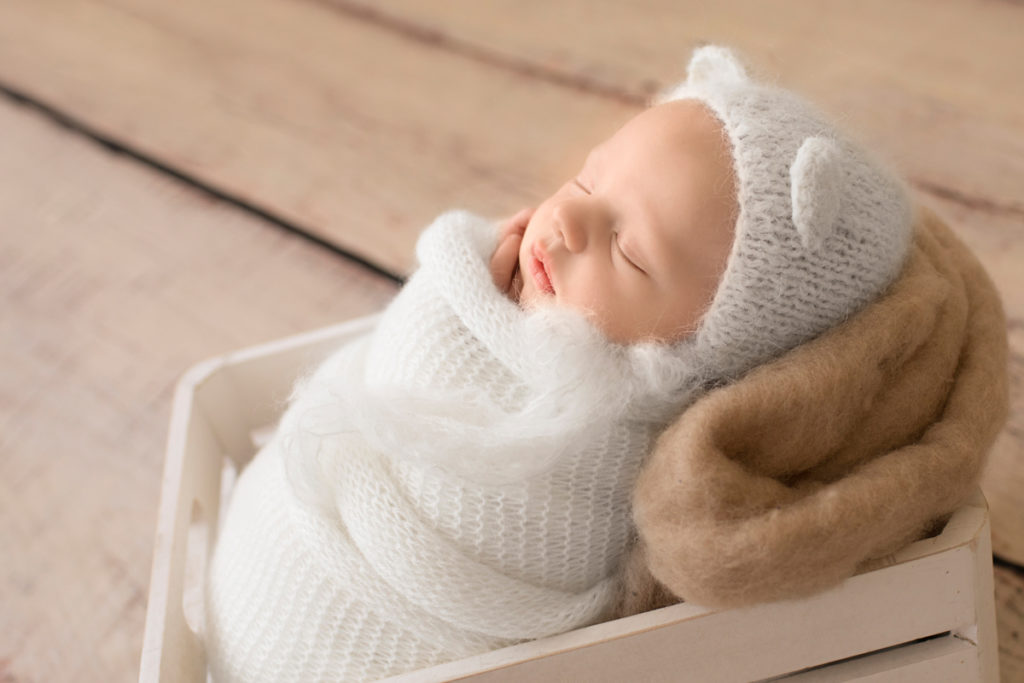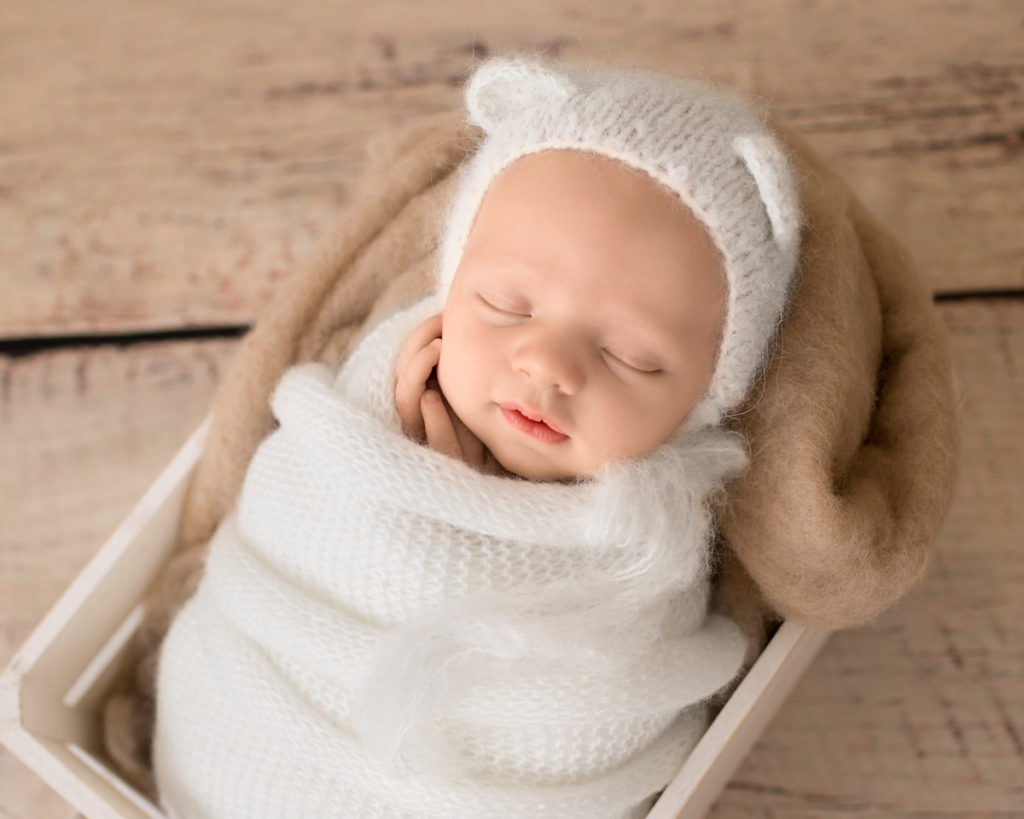 The newborn props I hand selected for the session worked perfectly for Gavin.  Andrea Sollenberger Photography has an extensive prop collection and a beautiful newborn wardrobe available for each session. If you're looking for some prop, color or posing ideas then check out more newborn photos.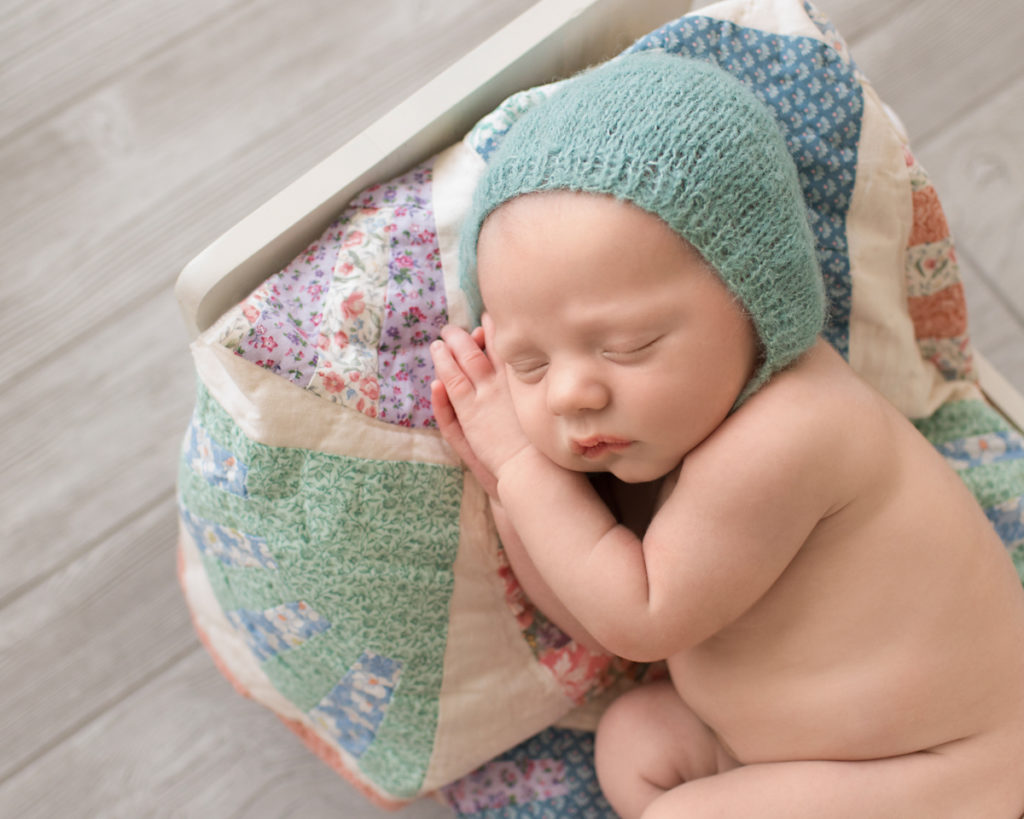 What a handsome little baby boy. It gives me great joy to share this time with moms and dads. Watching parents swoon over their little ones and savor the moments, I am able to feel their connection and capture the moment. It filled my heart to celebrate fresh emotions of these early days with them and to create pictures that tell the story of their hearts.
I hope you enjoyed this little peek into Gavin's Gainesville Newborn Session.
CAPTURE YOUR LITTLE ONE TOO!
Be sure to remember how very tiny your baby was. Remember the tiny newborn toes, the soft baby skin that you love to kiss, the cuddly soft and squishy rolls. Getting newborn photos that capture your baby today help you to feel these feelings again and allow your memories to live over and over, for a lifetime. Looking for a Gainesville Newborn Session? Let's start planning your studio newborn session today!
If you are in the Gainesville FL area and are interested in newborn, maternity, baby, child or family photography, I hope you will contact me at 352-213-1250.  I would love to capture with photographs each stage of your little one's growth from their youngest days, so that your family can treasure these moments for years to come.
Knit wraps and bonnet – https://www.etsy.com/market/dreaming_carita/
Baby backdrops – https://www.intuitionbackgrounds.com/
Newborn wraps – https://www.devotedknits.com/
Basket stuffers and backdrops- https://www.intuitionbackgrounds.com/
Andrea Sollenberger Photography, Newborn Photographer FL in Alachua, Florida, Newborn, Maternity, Baby, Child and Family Photographer