Newborn babies are so special, sometimes the best way to capture them is also the simplest. When first-time parents Sam and Alex reached out to schedule a newborn photography session for their sweet little one, Wyatt, mom Sam told me they were very laid back people. She requested a simple newborn portrait session to capture Wyatt in a style that matched their easygoing personalities and the love they feel for their newborn son.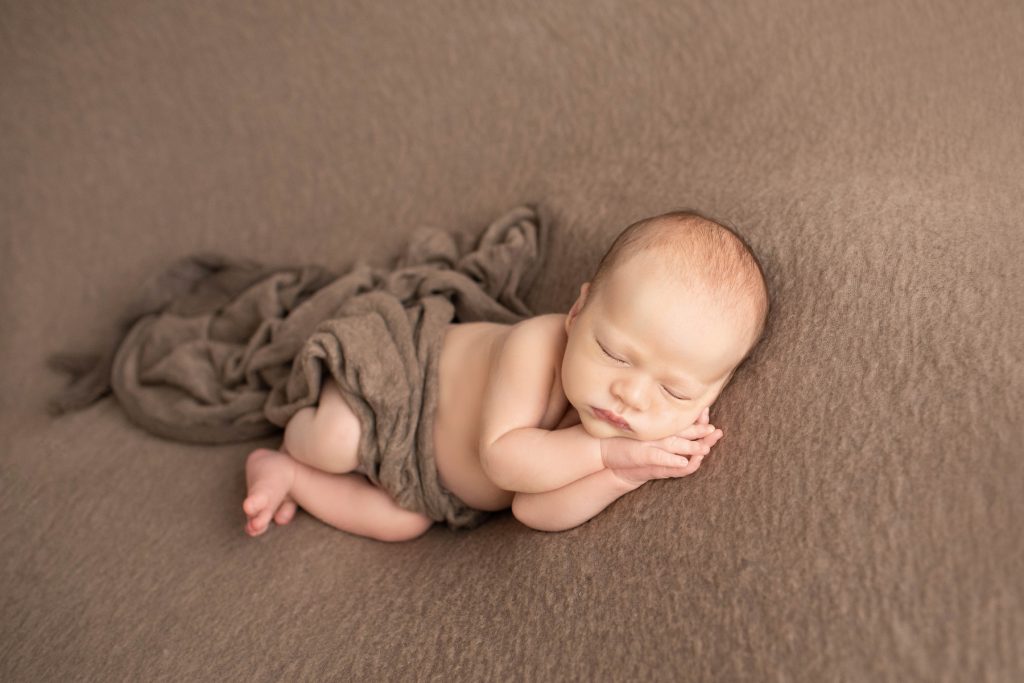 This is such a brief season in their lives and I was honored to help provide lasting remembrance of all of those newborn details, as well as the love and excitement those early days with a brand new bundle of joy can bring.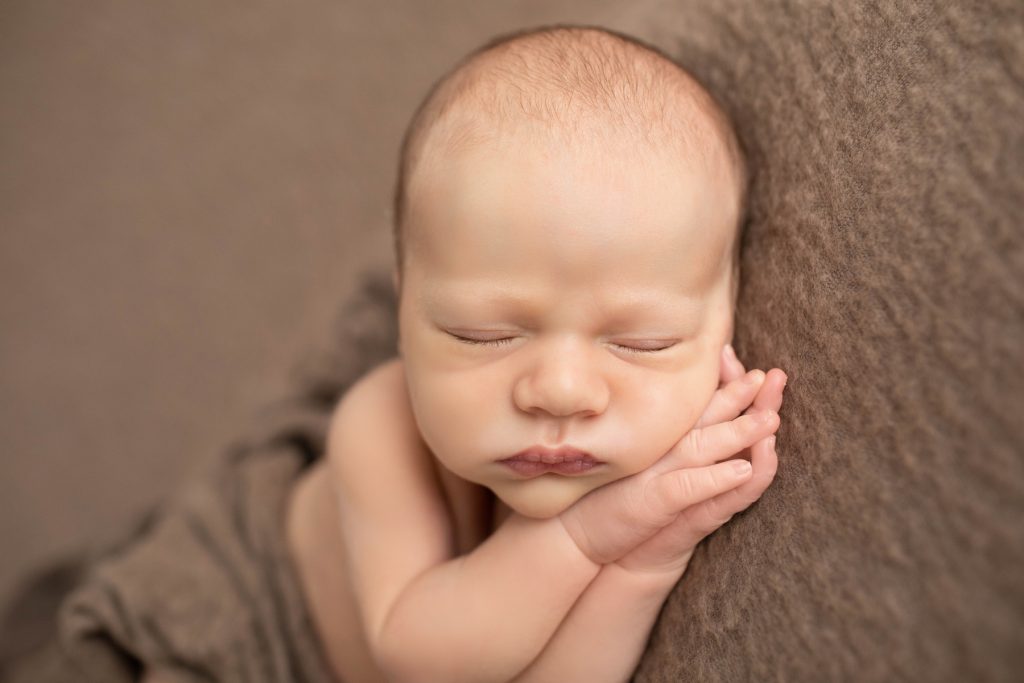 In addition to visiting Andrea Sollenberger Photography studio for professional baby portraits, Sam and Alex were in the midst of preparing for a big move out of Gainesville, FL. Hats off to these conscientious new parents for making all the perfect baby arrangements amidst ALL the toil of packing and moving out of state with a newborn.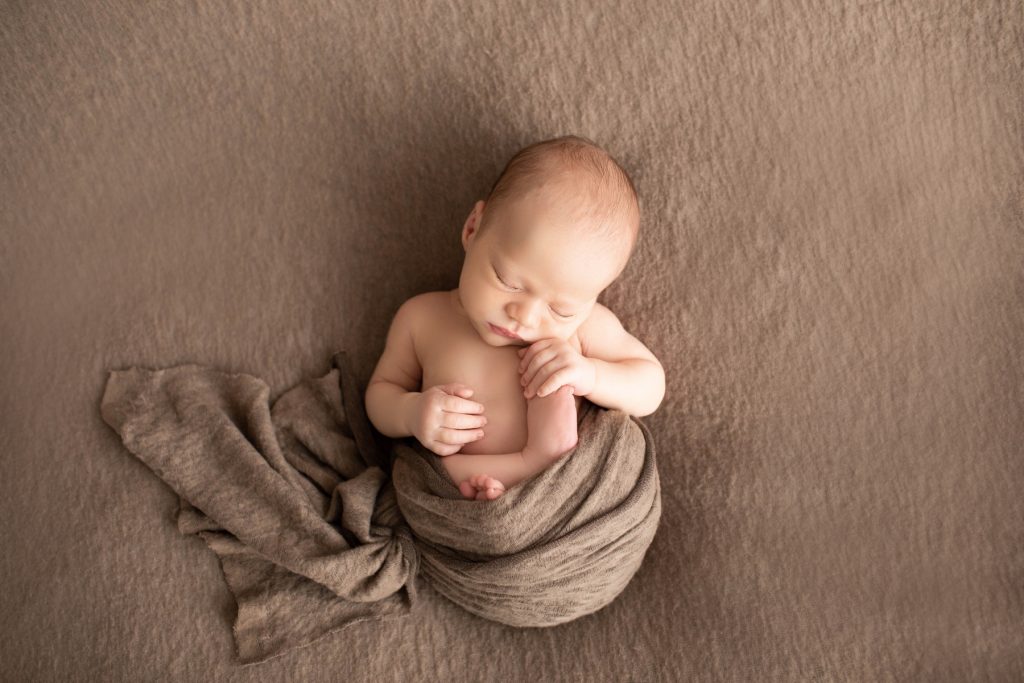 Newborn Photography
Newborn photography is a celebration of a growing family during a time that is so full of triumphs and challenges. I always want parents to arrive at my newborn photo studio knowing everything has been taken care of.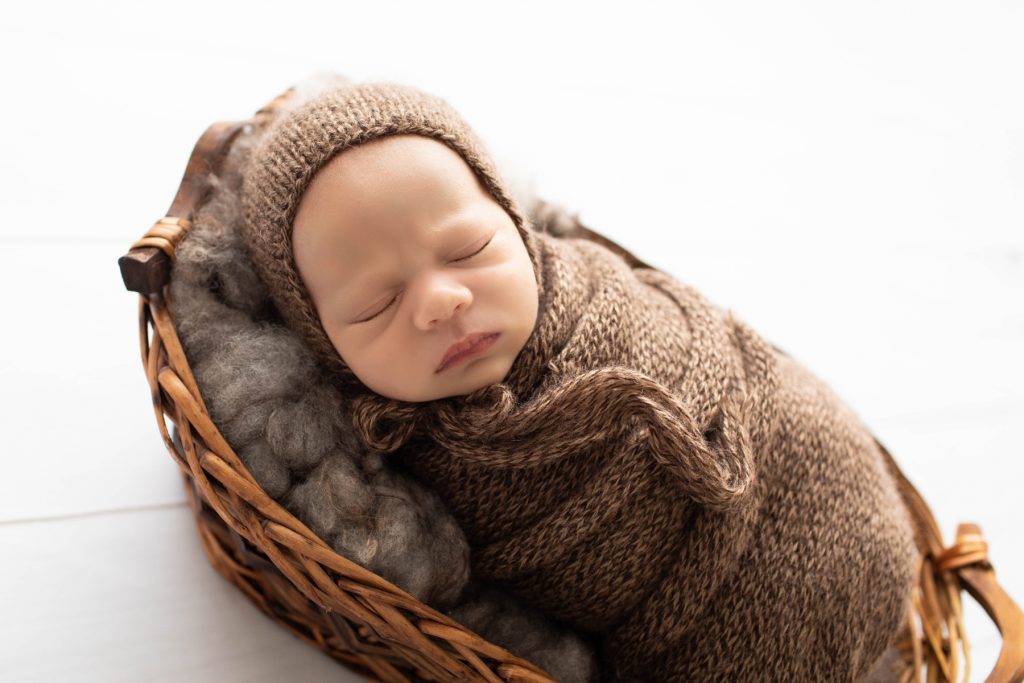 With all of the advance preparation made for them, new parents can sit back and relax for just a few precious minutes (some parents take full advantage and even take a well-deserved nap!). I keep my Gainesville, FL photography studio fully stocked with all the newborn necessities that make every custom newborn photo session a peaceful and completely pampered experience.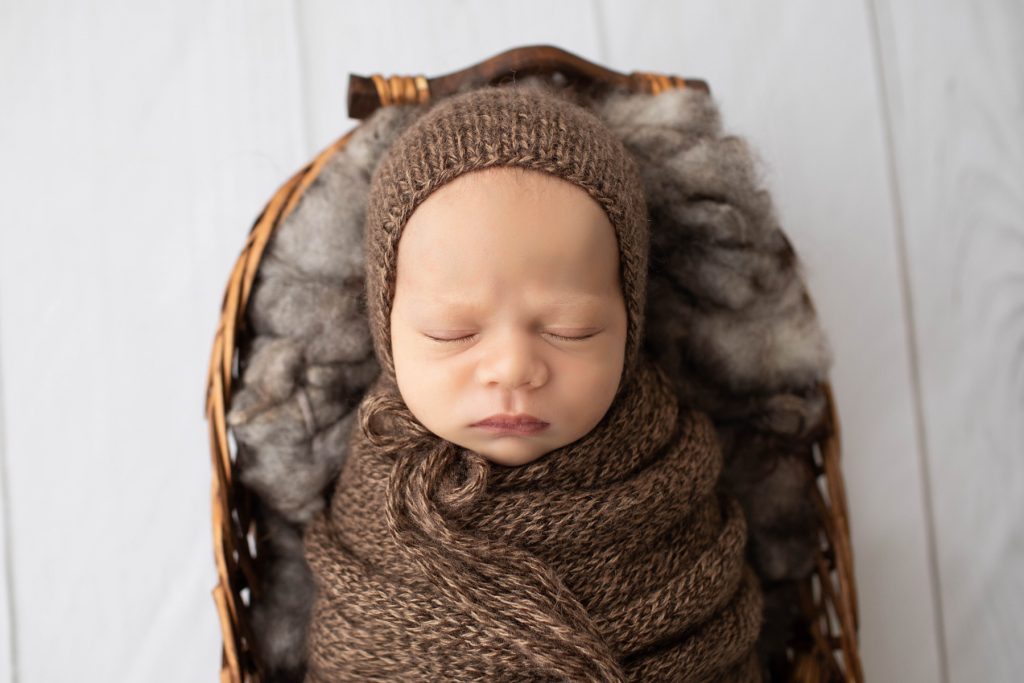 Neutral Newborn Clothes
One of the most important elements in a newborn photo session is choosing a color palette that compliments all those gorgeous newborn details, like soft baby skin. By opting for neutral baby clothes, your little one will be the main focus of every image.  
Earth Tone Photography
Wyatt's newborn session was so sweet and simple, with gorgeous earth tones and a neutral color palette of soft muted green, taupe and brown. Earth tones create a peaceful, calm look that pairs so well with a snug, sleeping baby.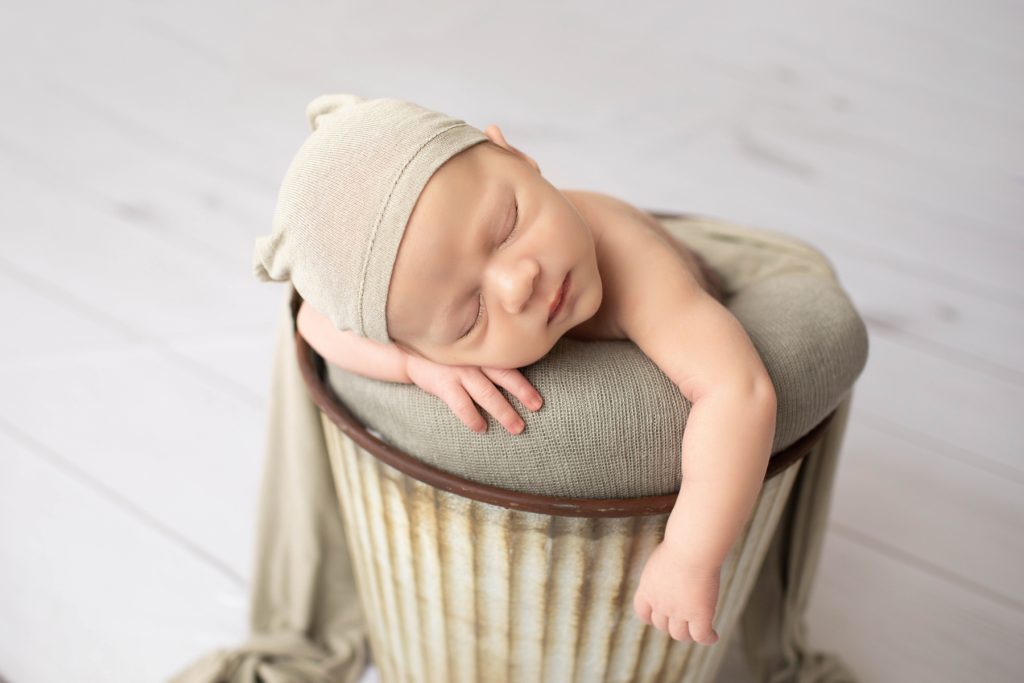 Newborn Poses
When you work with a professional newborn photographer like me, you get the benefit of my years of experience. Newborn photographers are well-versed in safe, comfortable newborn poses that keep little ones content while allowing for baby portraits that highlight the most precious baby details before they change and grow so quickly. 
Newborn poses should always protect their delicate bodies, with soft, curved surfaces and baby wraps to help pose little ones naturally and add elements of color and texture. My newborn photo studio is fully stocked with backdrops, baby wraps and props for unique, simple baby photo sessions.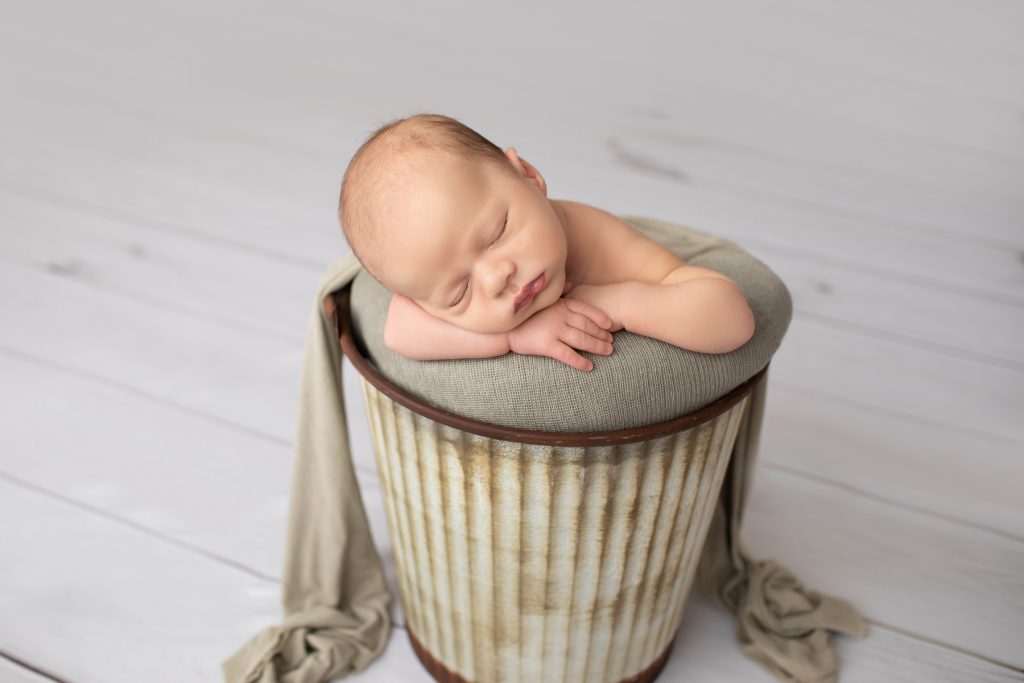 Newborn Peaceful Photos
There's nothing quite like a content, peaceful newborn photo to capture the bliss of parenthood. A happy baby allows for a session like Wyatt's to encapsulate all the love new parents feel for their newest family member. The key to newborn peaceful photos is making sure the baby and parents are all comfortable. My Gainesville, FL newborn photo studio has all the amenities to ensure a smooth family photo session, including private areas for a much needed respite during scene or outfit changes.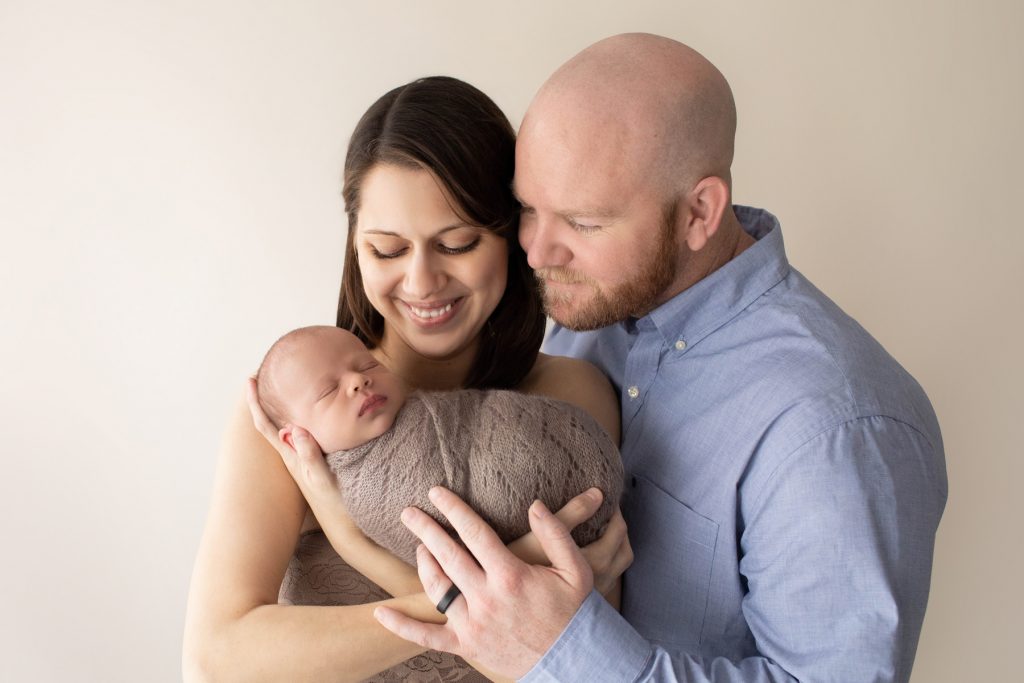 Newborn Photo Ideas
There are so many wonderful ways to celebrate the arrival of a little one. Parents sometimes choose to incorporate meaningful props or colors into a newborn session, such as those of a favorite sports team or alma mater. Conversely, simple newborn photography for a baby portrait session is a great way to focus on newborn details and expressions.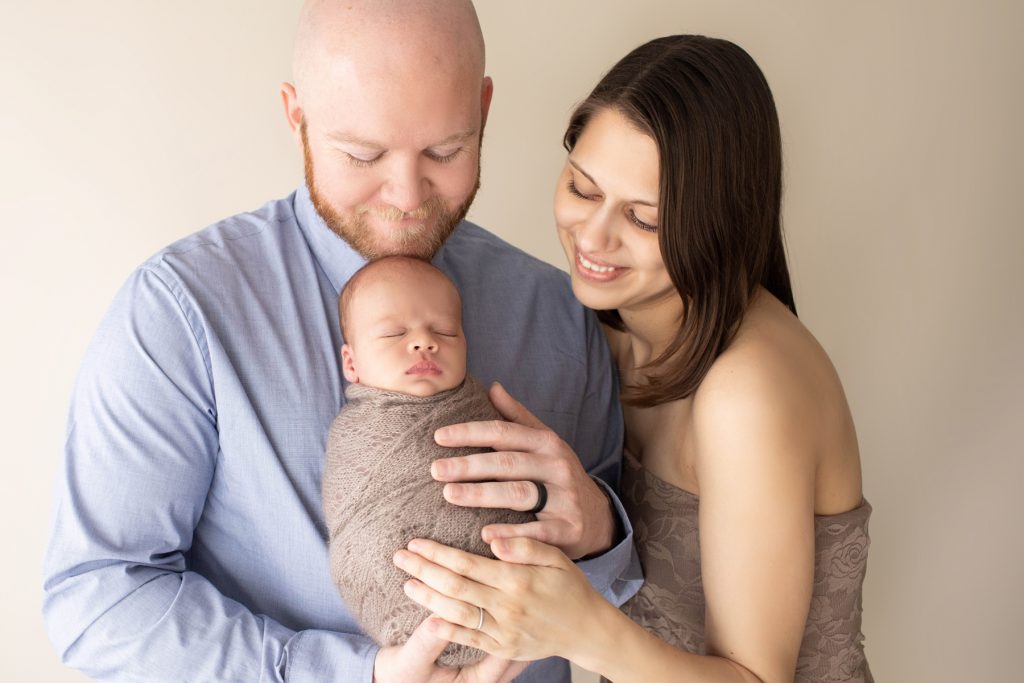 Whether new parents decide to showcase their professional baby portraits in a newborn photo album, as canvas or wall prints or a photo book, I can think of no better form of home decor than the sweet faces of those you love the most.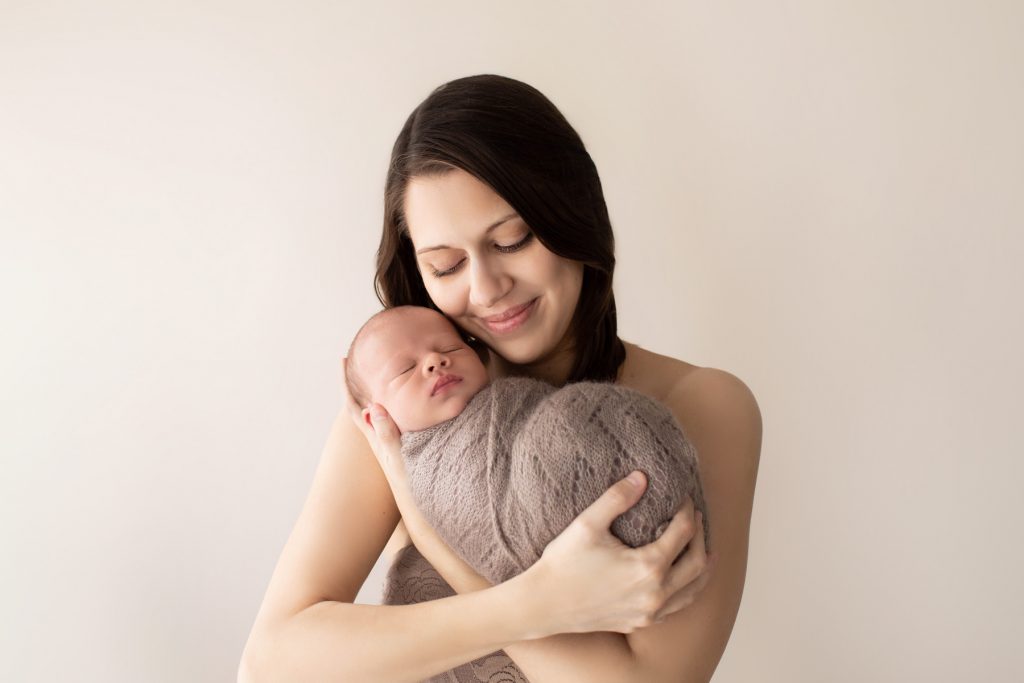 Simple Newborn Photos: Serving Gainesville, FL
Simple newborn photos are a gift to the whole family. Parents are often so overwhelmed by the joys and challenges of adjusting to life with their little one, they're thrilled to have newborn photos that preserve every unique feature of their baby's first few weeks.  
Please contact me here with any questions or to book a newborn photo session. You can follow my Instagram or Facebook account for updates or view my portfolio for examples of my work.