Newborn Twin Photography with Violet and Cora
Twins Violet and Cora were a perfect, pink dream. Newborn twin photography is always fun, providing an opportunity to capture these two's earliest moments together. It's easy to imagine a lifetime of friendship as these sisters grow. Because of these twin newborn photos, one day they may fondly look back and remember the nearness they shared even as infants.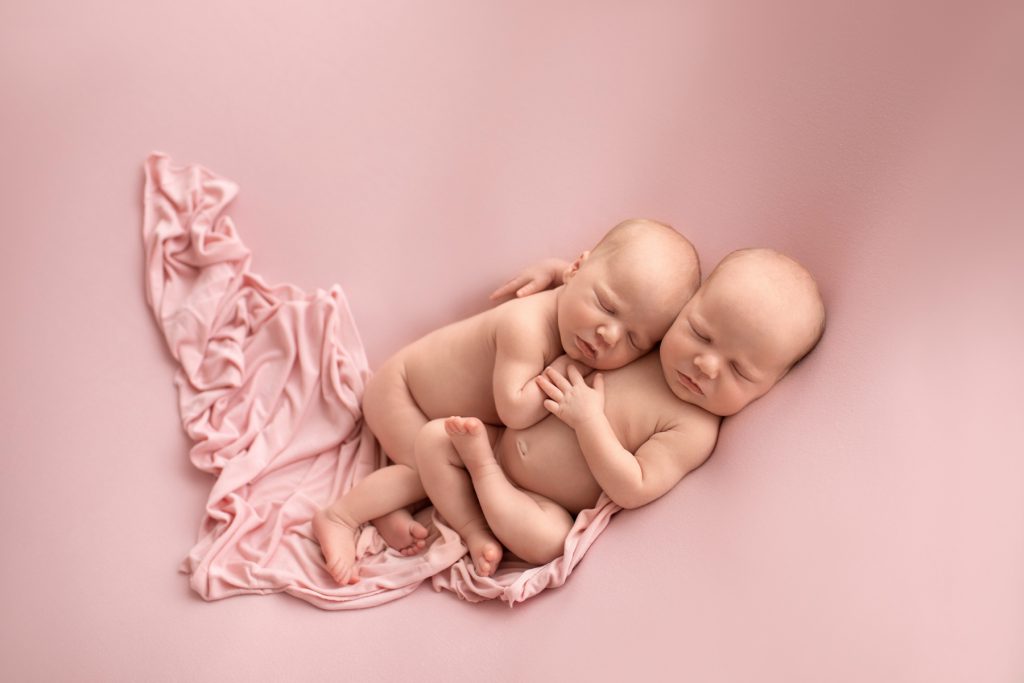 Family photos with twins are a joy. Parents Charlotte and Adam found me from a Google search. After booking me for their twin newborn photography, I set out to understand their family culture, desired color palette and other important distinctives to tailor-make their newborn twins photoshoot. Photographing twins provides the opportunity to use different baby photo props and can be double the delight.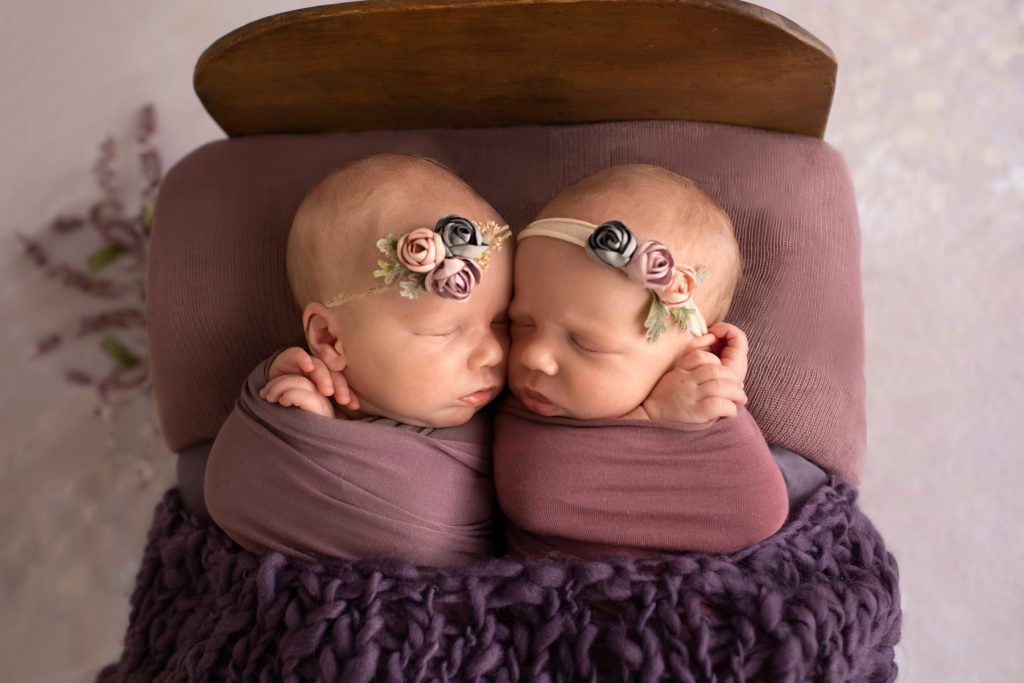 Their Story: Baby Twins Photoshoot
The story of a baby (or babies!) begins well before they lie peacefully before my lens. Charlotte and David were overjoyed – if surprised – to learn about their bundles of joy!
In mom Charlotte's own words:
"We saw one little baby at 6 weeks confirmation ultrasound and were super excited to be expecting a baby. Then we went back in a few weeks later for my first regular checkup and saw two on the ultrasound. So, it was a huge surprise: we were shocked! I asked the lovely ultrasound tech if we should restart the ultrasound machine to make sure it was functioning because I couldn't believe there were really two! Sometimes it feels like the shock still hasn't worn off! After finding out they were twins, my mum did some digging in the family tree and found out my great grandma had three sets of twins! My dad has fraternal twins in his family. Our little girls are identical and shared a placenta for 34 weeks but were 5lbs and 5oz and 5lbs and 14 oz at birth, which was a good size! They spent a couple of weeks at the North Florida NICU with the incredible nurses and doctors to make sure they were able to coordinate eating and breathing before coming home."
If you are a mom of twins, dad of twins or have twins in your family, you know that this is an exciting and energetic experience.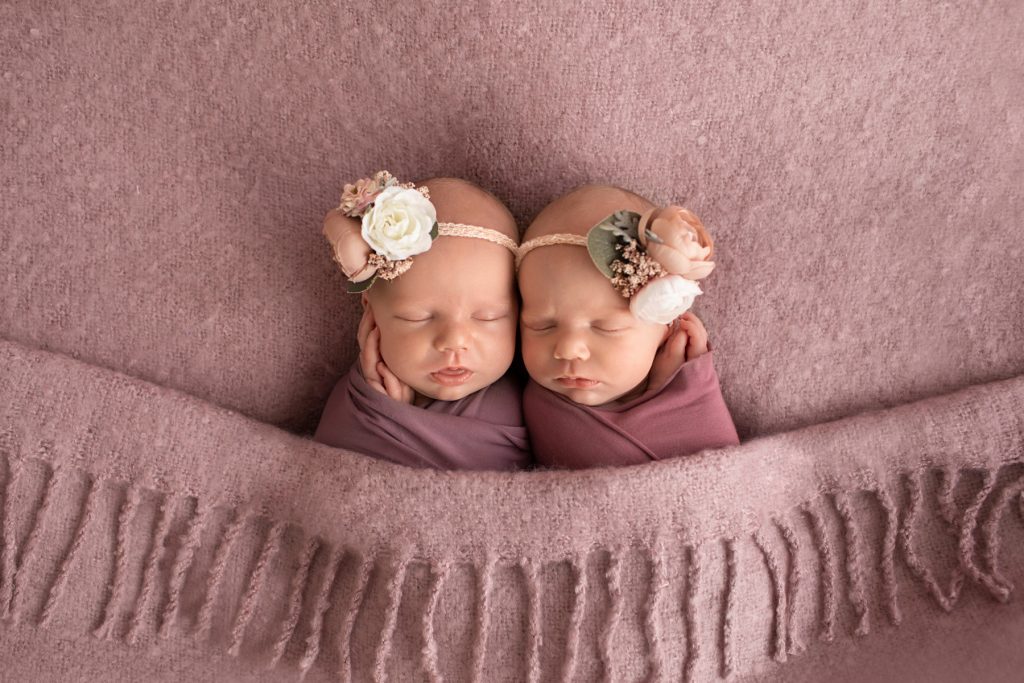 Newborn Photography Style
It's always vital for me to learn about a family before I take their pictures. I find that this personal connection creates infinitely better photos. One conversation I always have with families before their newborn photos, maternity photos or any other kind of photography is their style.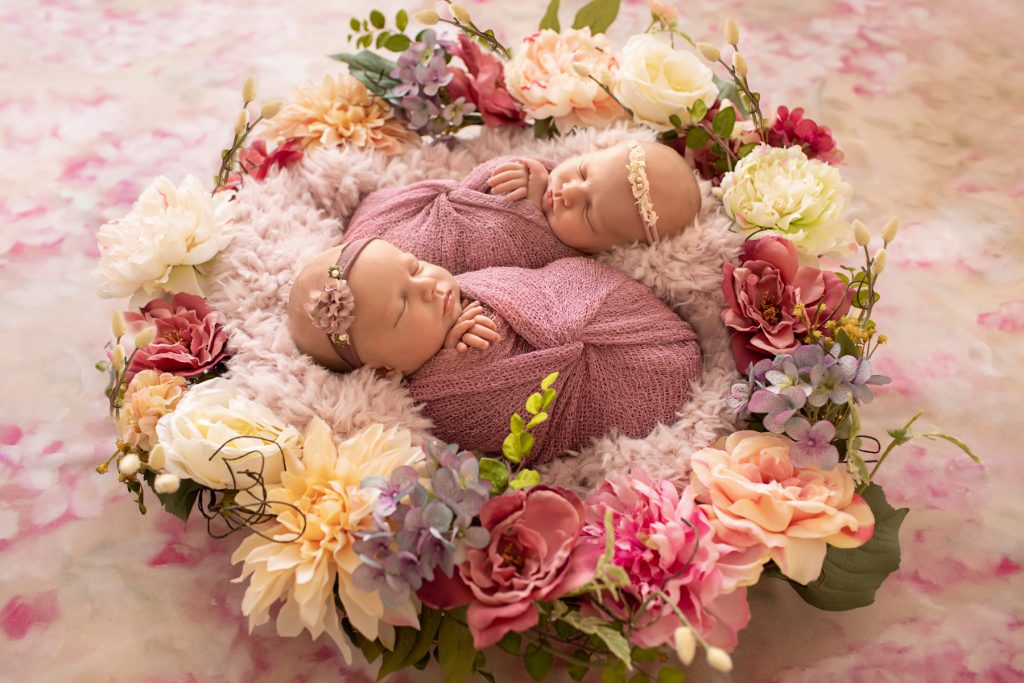 Understanding a family's color preferences and the photography style they want is important. My photos stand proudly on display in many homes. Designing an environment and using colors that integrate seamlessly with a family's own home decor is important.
Charlotte and Adam enjoyed their initial studio tour, reviewed the available newborn props and accessories and loved that my products are available for purchase as artwork. The style they selected reflects their own preferences. Mom, Charlotte, loves pinks, muted purple and flowers. She requested that I style her newborn session with these colors and include varied textures.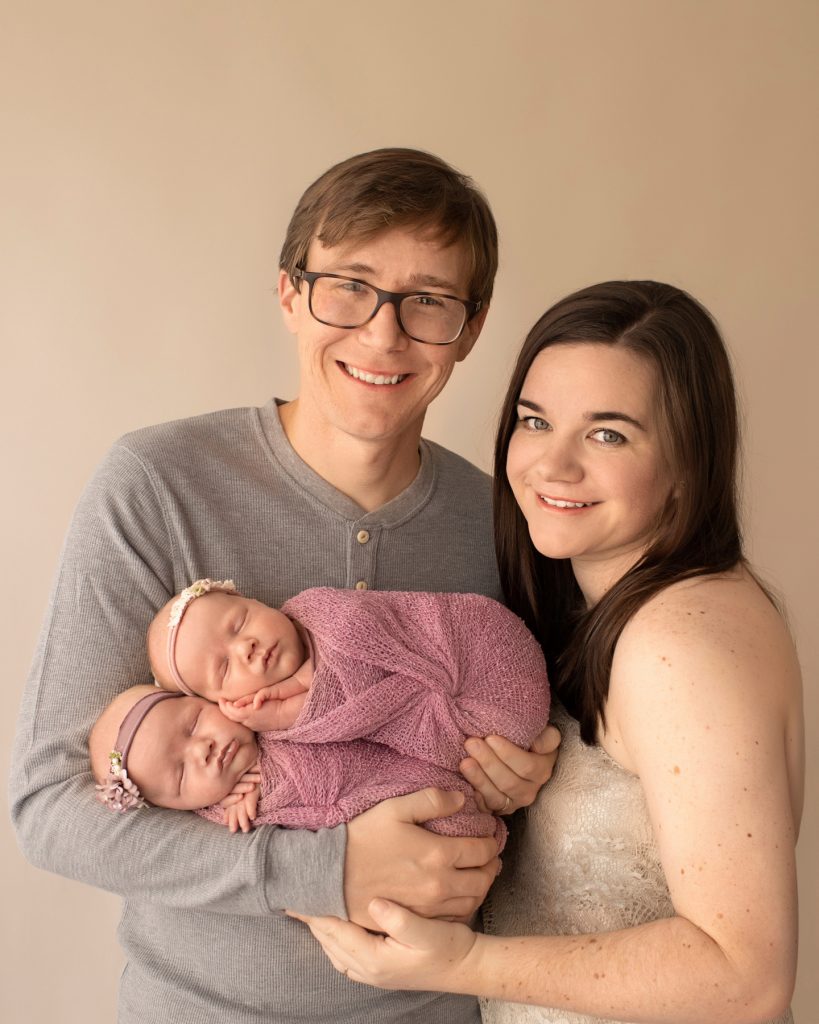 Adam and Charlotte were able to purchase a finished product that showcased an extra dimension of style. At a scheduled follow-up appointment, families are able to come view their edited images and make selections for how they will print and display their images as newborn wall art. These twins will be proudly and beautifully displayed in their home on a large canvas, which has a brushed texture for dimension. You can imagine how this special deliverable will add a rich, deep appearance to the photos.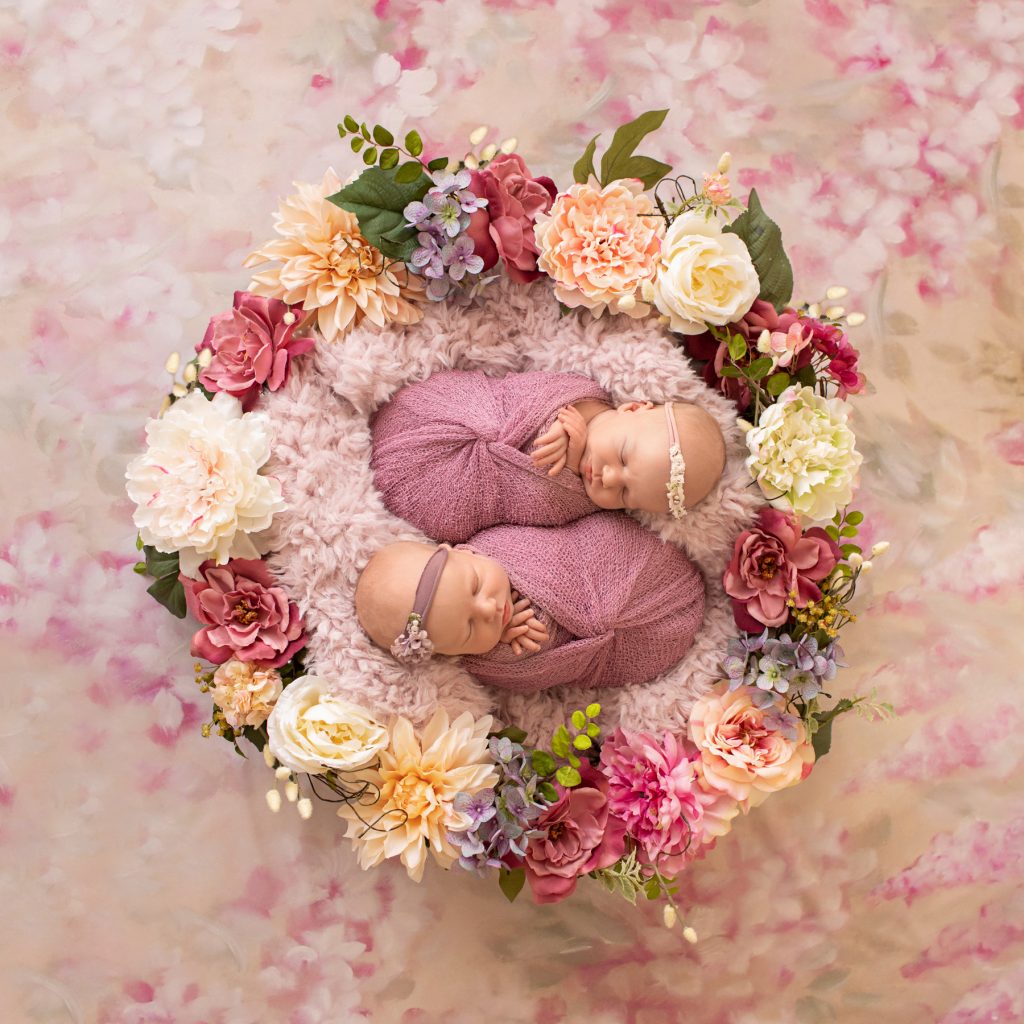 This is a great idea for new parents who are looking for creative newborn photographs. When you work with a newborn photographer, consider what kind of prints or products you may order. You will want to thoughtfully arrange your perfectly printed images as displays. Also keep gifts for family and smaller items in mind for your office or other locations. Having an idea of the way you may use your photos can guide your newborn photographer to capture the right variety of photos.
Newborn Twin Photography Ideas
Instagram and other places online are full of great twin baby photography ideas. Because I have experience photographing twin babies, I have a bag of tricks that help highlight these precious little pairs. There are many ways I make this the optimal experience, while efficiently and effortlessly capturing all of the tiny details that make these babies so beautiful.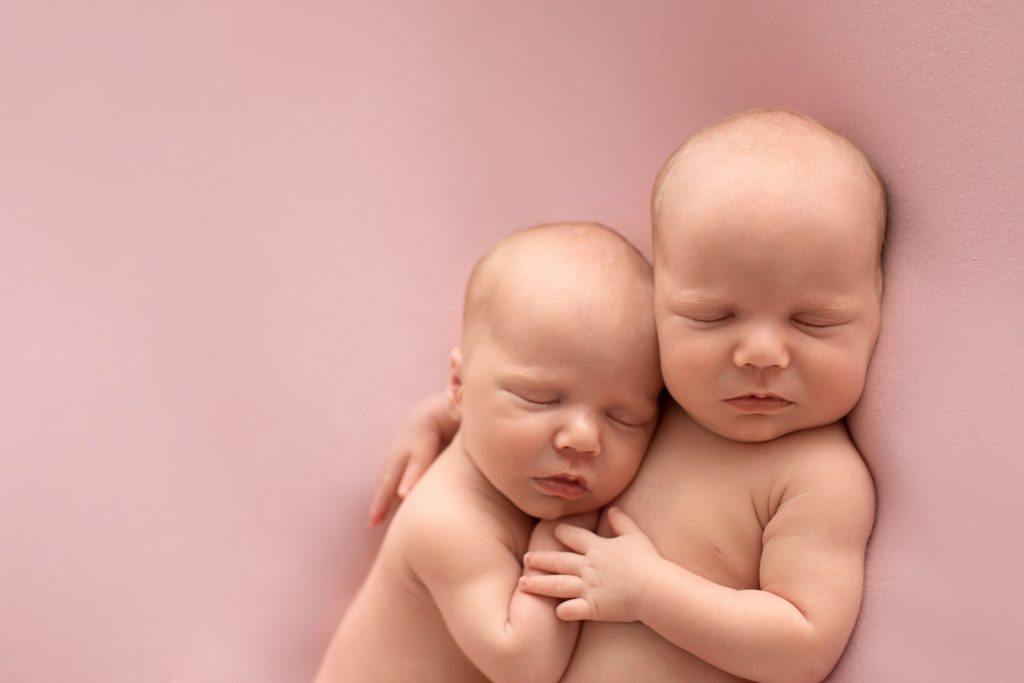 Cute twins baby photos really start with understanding the family. Setting up just the right environment to accommodate two babies requires some planning. With this sweet family, I worked with their chosen color palette. We took advantage of the following baby photo props:
Newborn pink wraps

Violet, mauve and blush pink textiles

Soft pink, fringed blankets

Plum and dusky pink wraps, pillows

Violet and lavender hued knits

A lovely floral wreath

Tufted, soft pink textured blanket

Soft pink and ivory floral headbands

Ashy pink, sage green, cream and light peach patterned blanket

Lavender, off-white, cream printed textiles

Tufts of flowers in the background

Dusky pink, light green and gray floral headbands
With the right strategy, it is possible to make this variety of colors work in harmony. You can see in all of these pictures how each of these additions were thoughtfully utilized as inspiration, reference and to provide beauty.
Gainesville, Florida, Newborn Photographer
Photography is a highly personal business and I'm always delighted to open my Gainesville, FL photography studio up for newborn twin photography or to anyone nearby who is ready to capture a moment and create an heirloom. My studio is thoroughly equipped with outfits, props and I am bursting with creative ideas to create dreamy newborn photography. I believe in the personal element of this business, so I extend myself to each new client, inviting them in to experience and anticipate their photo shoot. I am honored to be a newborn photographer in Gainesville, Florida, who provides a boutique experience for people who want a thoughtfully and professionally curated collection of newborn photos.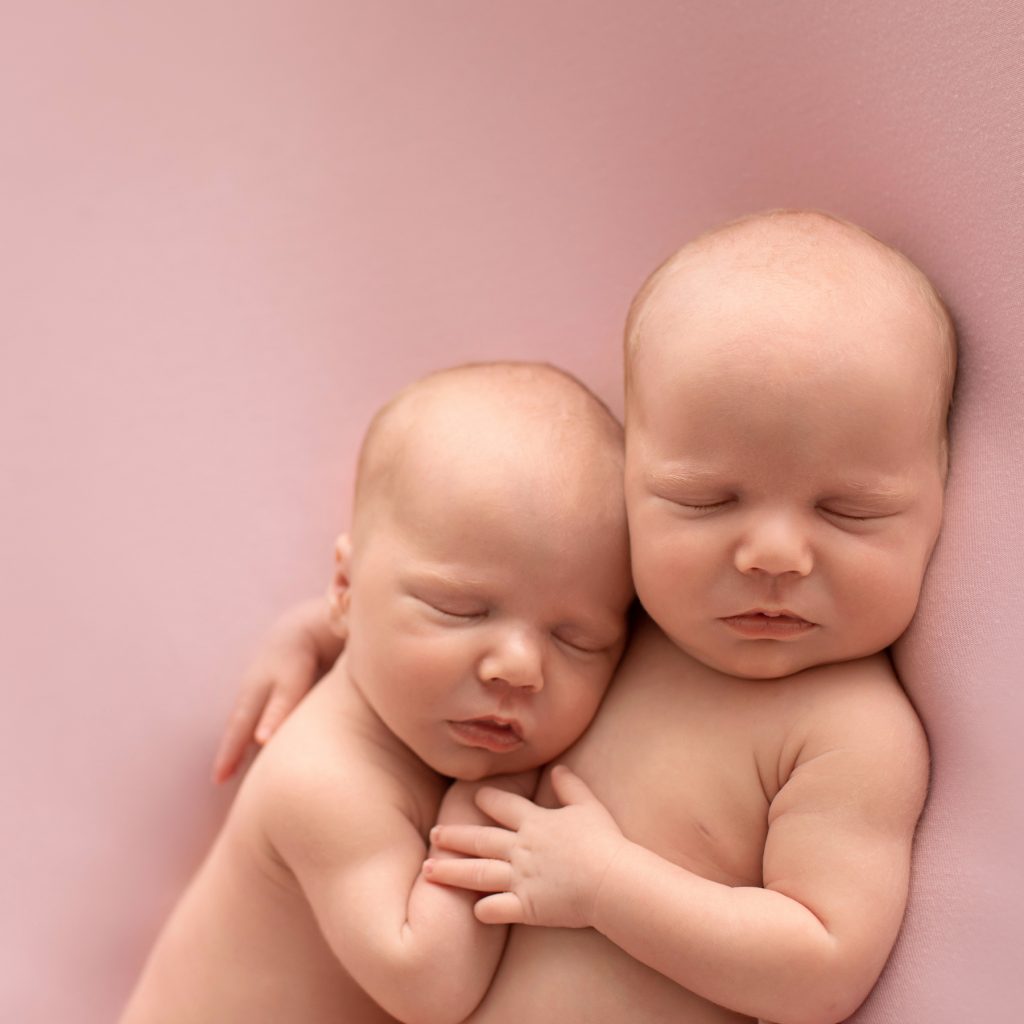 If you are looking for a maternity photographer, newborn photographer, twin photography ideas or family photos in the Gainesville area, feel free to click here and learn more about my work. I would love to connect with you and capture the essence of your beautiful family.