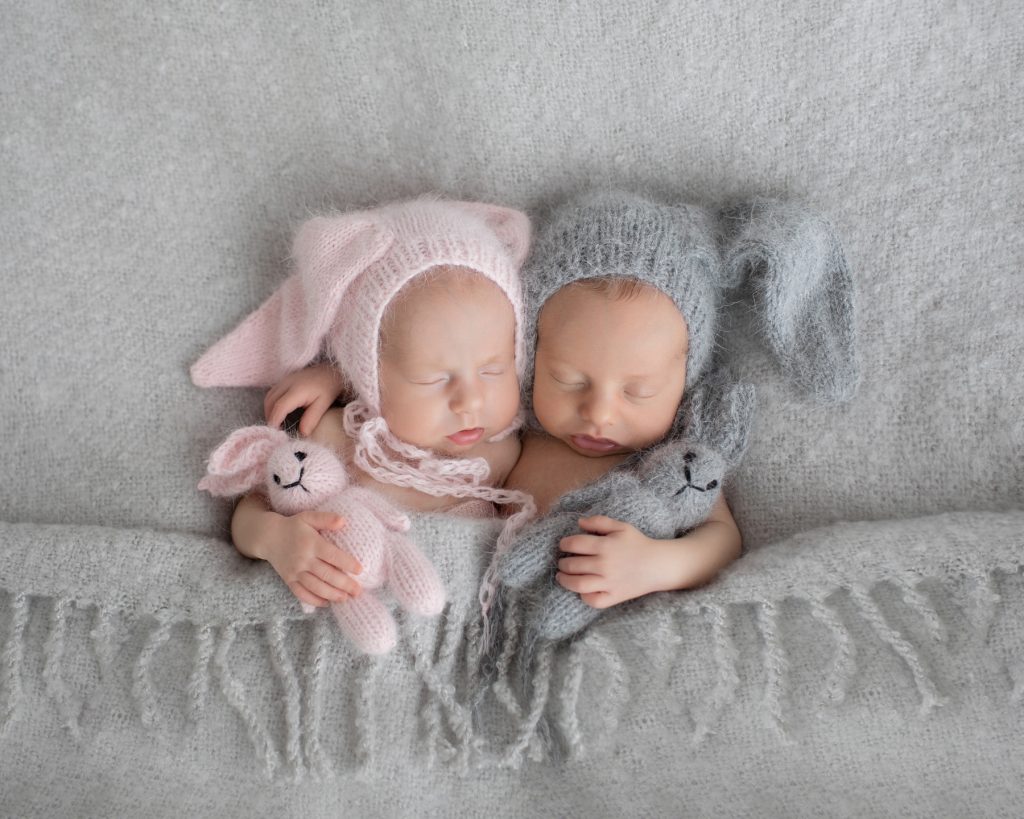 Now, this is something twice as nice. Precious baby twins, Isla and Walker, made their way into my studio when they were still curly and new. With twins on two sides of the family, having double sweetness for these newborn photos was no surprise.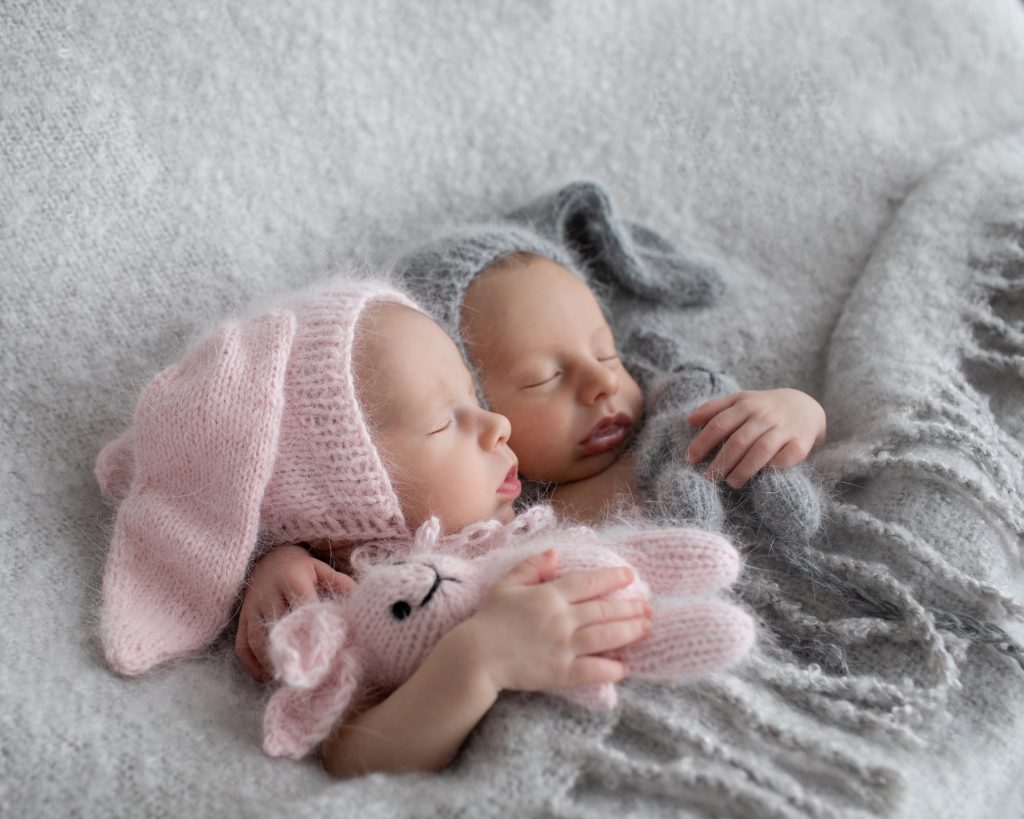 Twin newborn photography is always a delight. Twin newborn photos give the opportunity for even more colors, props, outfits and precious moments. Pediatric dentist, Kiersten, and her pilot husband Jonathan already had one sweet boy when their twins came along. Big brother Wyatt celebrated his new brother and sister and he was a joyful addition for these family photos with twins.
Family Photos with Twins
Twin newborn photos are extra-special when brothers, sisters, moms and dads are all involved. Although this of course can make it tricky, any newborn photographer has a few tricks up their sleeve. This newborn photo session was scheduled manymonths before the babies' due date. Because twins almost always come early, mom Kiersten had the foresight to plan for the twins' photos well in advance.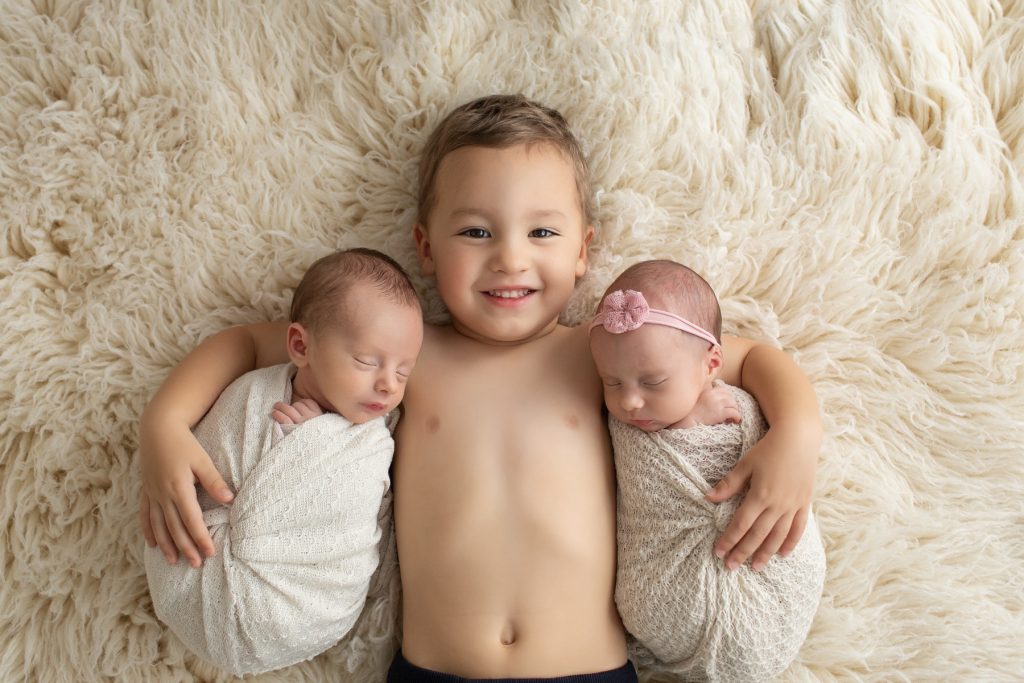 Newborn Twin Photography
As expected, the babies arrived three weeks early. On day 24, the day of their newborn photo session, Isla and Walker were still under six pounds. They looked brand new! With adorable, extra tiny twin newborn outfits, we achieved cute twins baby photos from every angle and perspective. One precious aspect of twin newborn photos is the ability to capture twice the number of baby toes, baby fingers and baby faces.
Twin Newborn Photos
Beautiful twins baby photos happen when sweet, family connections are on display. When welcoming not one, but two new family members, the celebration is multiplied. These newborn photos capture the affection and connections. These loving captures preserve memories of the meaningful start of lifelong relationships.
With a large gallery of beautiful photos, everyone will be delighted and inspired with vivid, colorful and personal reminders of life just begun. Sibling photos with newborns catch all of the little ones in their earliest moments. Let's face it, life with little children can be a blur. Newborn photos create a moment of pause that is preserved forever.
Twin newborn photos commemorate dad's pride, mom's heart, grandma's presence and every other precious element of family life.
Newborn Twin Photographer Review
Kiersten was kind enough to review her experience with my professional photography studio. Here is her description of that experience:
We just experienced our newborn photo session with Andrea Sollenberger Photography and had a wonderful time! From the very beginning, the process has been seamless. Andrea met with me prior to the session to show me her professional newborn studio, review prop preferences, discuss pricing, and for each of us to get to know each other. Andrea communicated with me up until the session to make sure the day of went smoothly. During the newborn photo session, Andrea was extremely patient with my twin newborn babies when they were fussy or spit up. She was willing to work with us for multiple hours to make sure we obtained all the newborn photos and poses that we wanted. To add to her patience, she was very gentle with my babies and handled my newborns with very delicate hands, which made me feel comfortable and safe. Overall, it was an incredibly enjoyable newborn photo experience, and I am so excited with our photos!

Twin Photography Tips
As a professional photographer in Gainesville, Florida, I've worked with numerous families, including taking pictures of multiples. Photographing newborn twins is a challenge! I would always recommend that parents schedule a newborn session in the first or second trimester. This alleviates any last-minute stress and avoids scheduling conflicts. Isla and Walker's mom was well-prepared and got the experience she wanted, resulting in memories that will last a lifetime.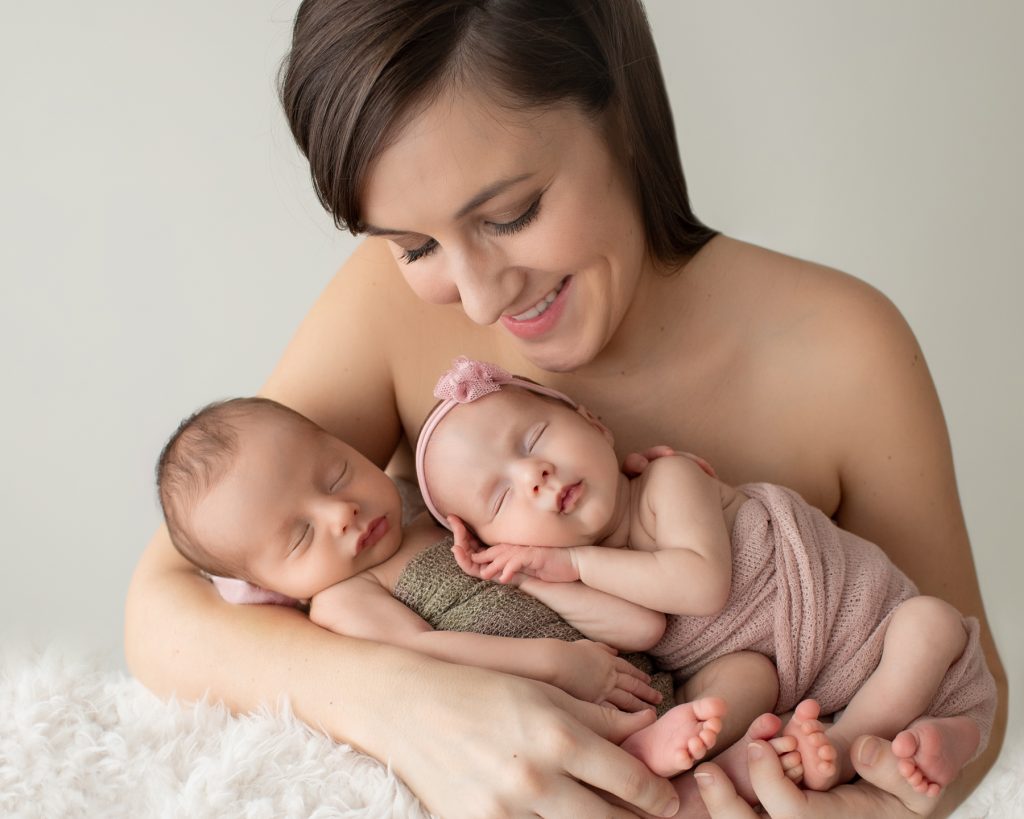 Book a Newborn Photographer in Gainesville
When you're ready to "book a newborn photographer near me," I am here to help. Feel free to review my newborn work and other styles of photography. I exercise the utmost care and provide superior, personalized service for each of my clients. I welcome the opportunity to capture the precious, intimate moments of new life and family additions. Follow me on Facebook and Instagram for newborn twin photography ideas and more.
Ready to book a session or have more questions? Contact me directly by clicking here.