I recently had the absolute joy of capturing a newborn photo session with baby Liara, nicknamed Ari. A friend who recently had a wonderful experience with Andrea Sollenberger newborn photos referred first-time parents to my Gainesville, FL photography studio. Upon meeting them, this wonderful family simply radiates all the love, excitement, fun and happiness of this special time in their lives.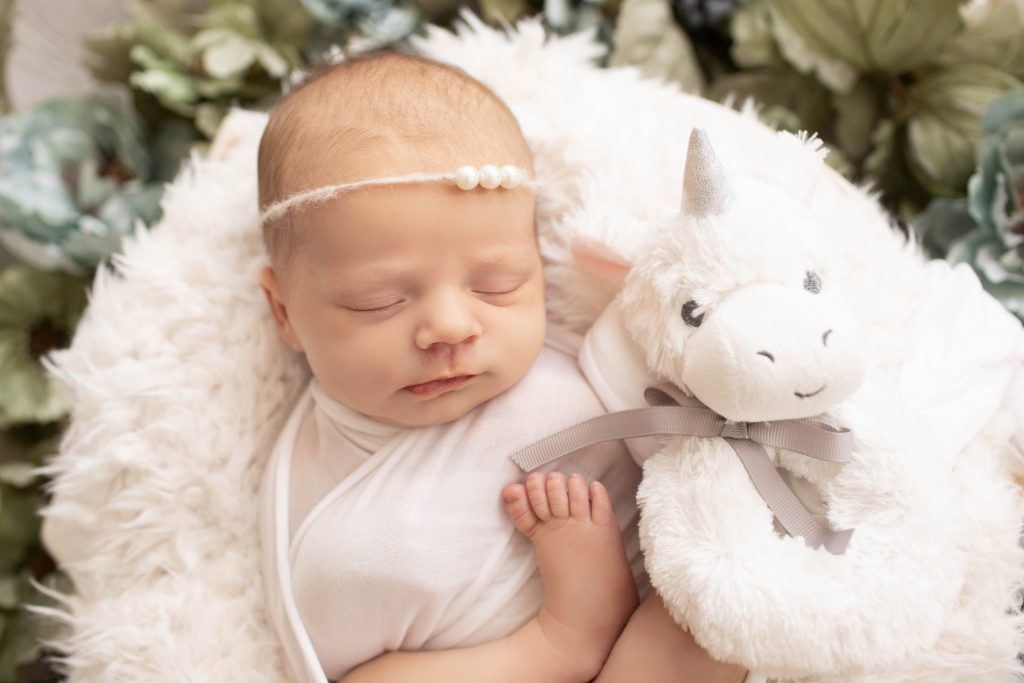 Creative Baby Photo Ideas
Lane knew she wanted to order keepsake photos of her first child that matched her home decor. For baby Ari's newborn photo shoot, Lane chose a neutral color palette with dreamy cream hues, sage green and warm grey tones. We also incorporated one dazzling splash of gorgeous burgundy and florals.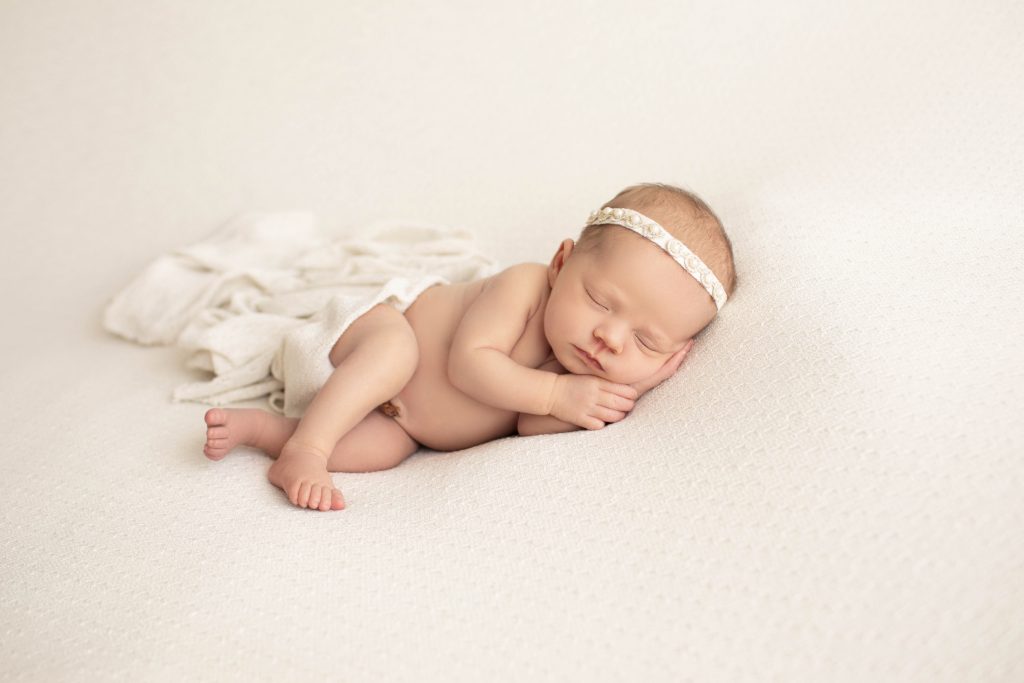 Baby Picture With Instrument
Mom Lane and dad Shon are both drummers, and it was so much fun to incorporate this shared interest into little Ari's newborn photo session. Baby portraits are extra special when they include meaningful objects. By creating an instrument theme for a few of Ari's newborn portraits, I think even an outsider can get a sense of this lovely family's story, their passions and their hopes for their sweet little angel.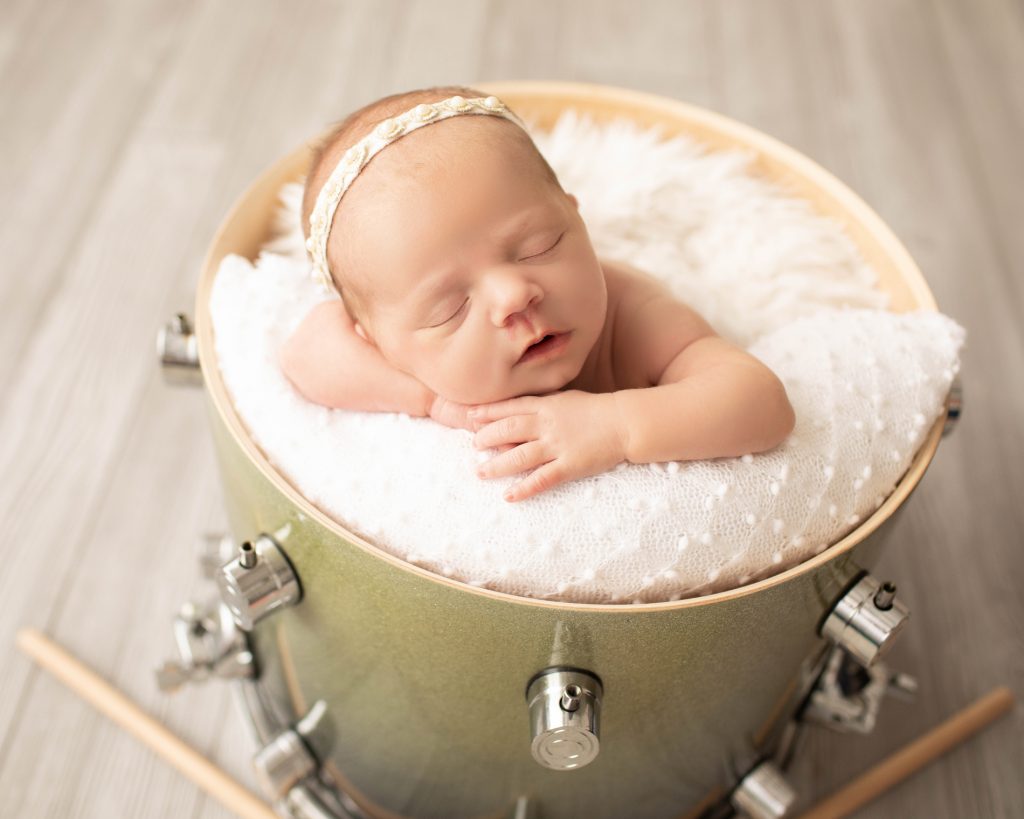 Drum Photos
Upon Lane and Shon's request to include a custom-style drum prop, we considered their drums and chose the one best suited in size and color palette to work for this creative newborn session. We added in a pair of drumsticks to complete the look, and I absolutely love how much character these small details add to Ari's images. We all have our fingers crossed that little Ari will be a drummer too, someday.  
Creative Baby Napping Photos
A sleeping baby can melt any heart. When it comes to capturing napping baby photos, it's essential to create a peaceful, comfortable environment for the little one. That's precisely why my luxury newborn photo studio is fully equipped with soft, contoured surfaces that make it easy to pose newborn babies in safe positions that highlight every precious newborn detail. Draping cozy blankets around a napping baby can add a layer of texture and color, while simple details like a floral wreath create a sense of whimsical beauty.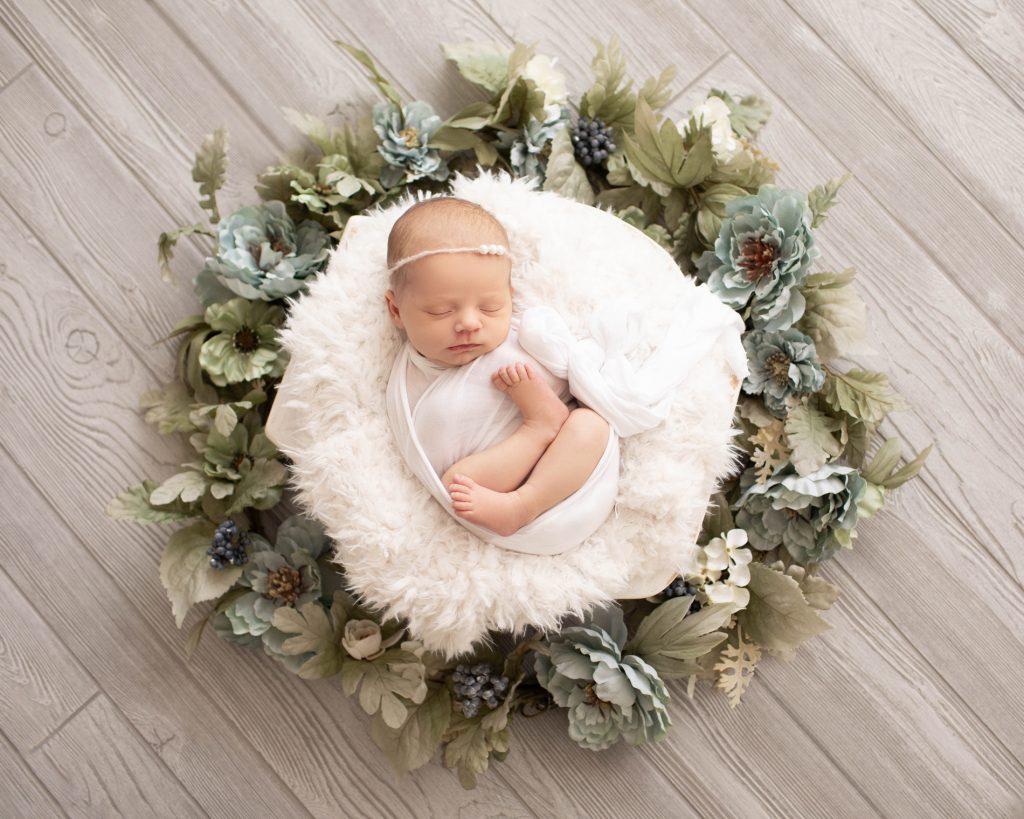 Sleeping Baby Photos
The key to successful sleeping baby photos is working with a professional, experienced newborn photographer. My newborn photo studio is stocked with soft blankets and baby wraps that help soothe and pose newborn sweethearts like Ari just right. Baby wraps and blankets are included with every newborn session booked at Andrea Sollenberger Photography.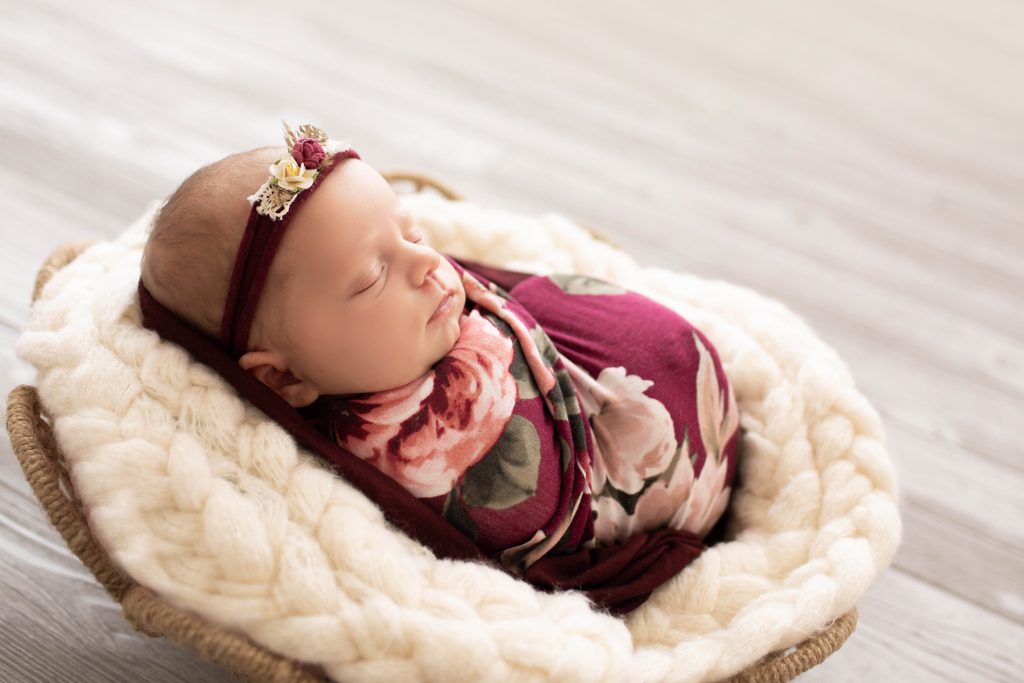 Creative Ideas for Monthly Baby Photos
Keeping track of a baby's development with professional photography creates a gift that can be enjoyed for generations to come. By incorporating different themes, like adding favorite toys that reflect a certain stage in a little one's growth, baby photos can be fun, creative and expressive every time. 
Simple props often make for adorable, yet effective backdrops. Adding hand-stitched clouds to this newborn session with baby Bodhi instantly created a dreamy atmosphere, while selecting a color palette upfront makes it easy to create a cohesive color story for future baby milestone sessions, like in this 18 month photo shoot with toddler Gabe.  
Another wonderful way to keep monthly baby photos creative and fresh is to stick to a particular theme while playing with color. Baby Elise looks gorgeous in her newborn photography session with a bright, beautiful floral wreath that incorporates peaches (which were also used as background props elsewhere in this lovely session). Swapping out florals or using props that reflect the seasons are an excellent way to keep track of time as your little one grows and develops.
I truly adore baby Ari's newborn photos, and by matching this session's color palette to their home decor, Lane and Shon now have artwork of their most precious endeavor yet perfectly adorning their home.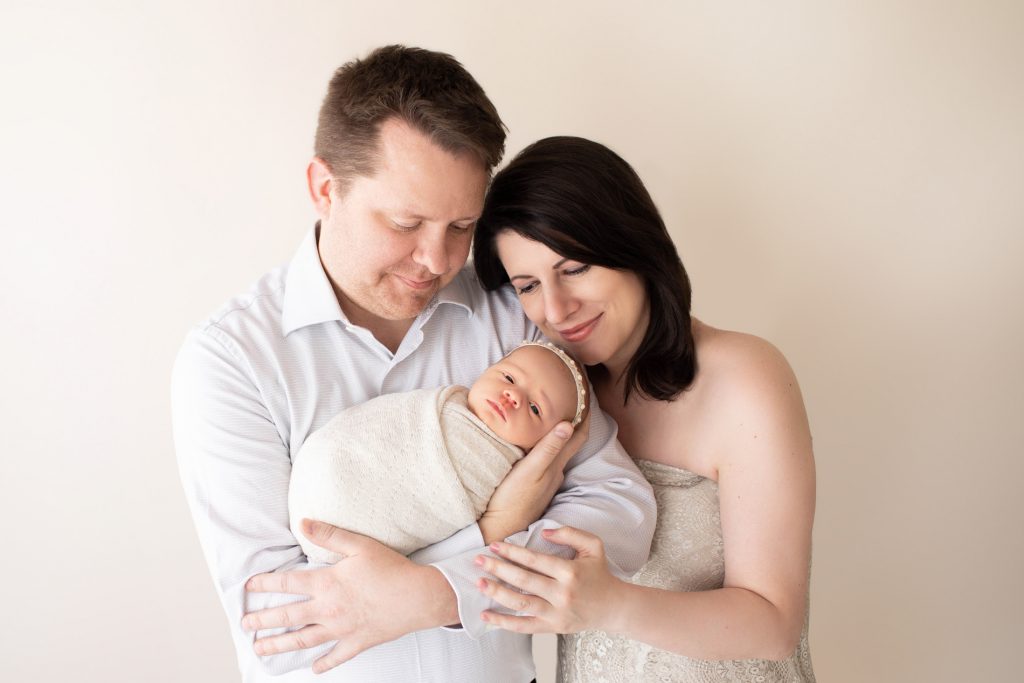 Book Baby Photos in Gainesville, Florida
It was such a pleasure to capture little Ari in this fleeting stage right at the beginning of her journey. Soon, Ari's newborn features will change as she grows. It is my greatest hope that Ari will someday look back on her beautiful newborn baby pictures and recognize all the love and excitement that surrounded her from the start.  
Please contact me here with any questions or to book a newborn photo session at my Gainesville, FL photography studio. You can follow my Instagram or Facebook account for updates, or view my portfolio for examples of my work.