From the moment they open their eyes to their first steps, every day seems to mark a new milestone for a precious newborn child. These initial growing stages often fly by as parents, siblings and pets adjust to a new family member in the home. Baby milestone photos are an excellent way to capture your little one's journey as they age. Six month, one year, 18 month photo shoots: many parents plan in advance for baby or toddler portraits at these growth markers.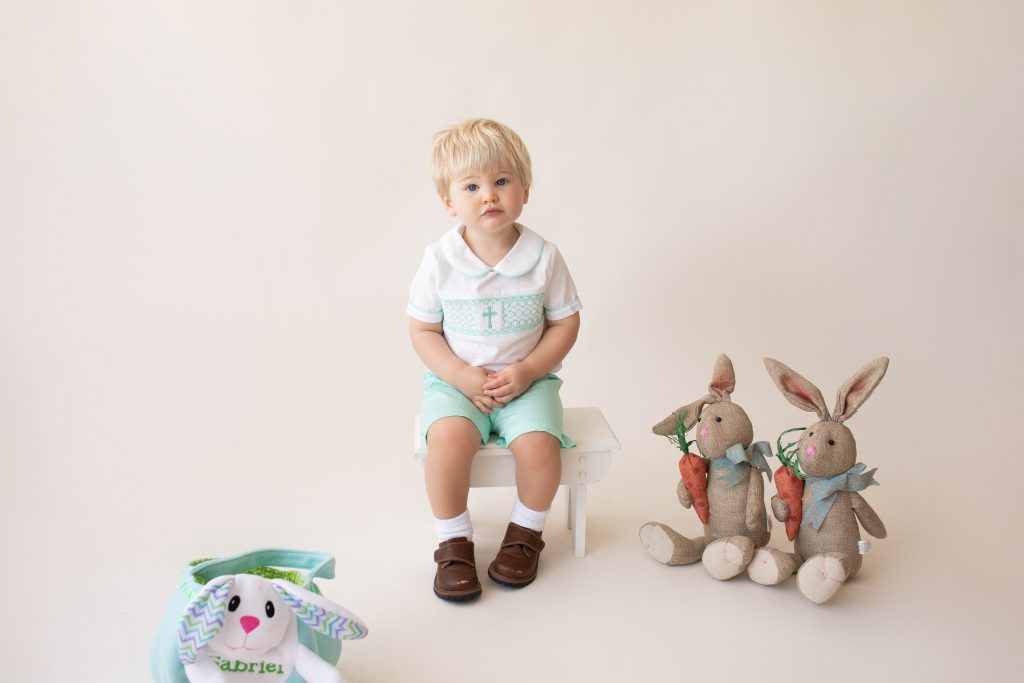 Sweet little Gabriel's parents, Amanda and Luke, are no strangers to my Gainesville, FL photo studio. They came for a studio visit early in Amanda's pregnancy in search of perfect maternity photos. Amanda wanted to peruse the maternity wardrobe, meet me and get a sense of what my photography studio offered.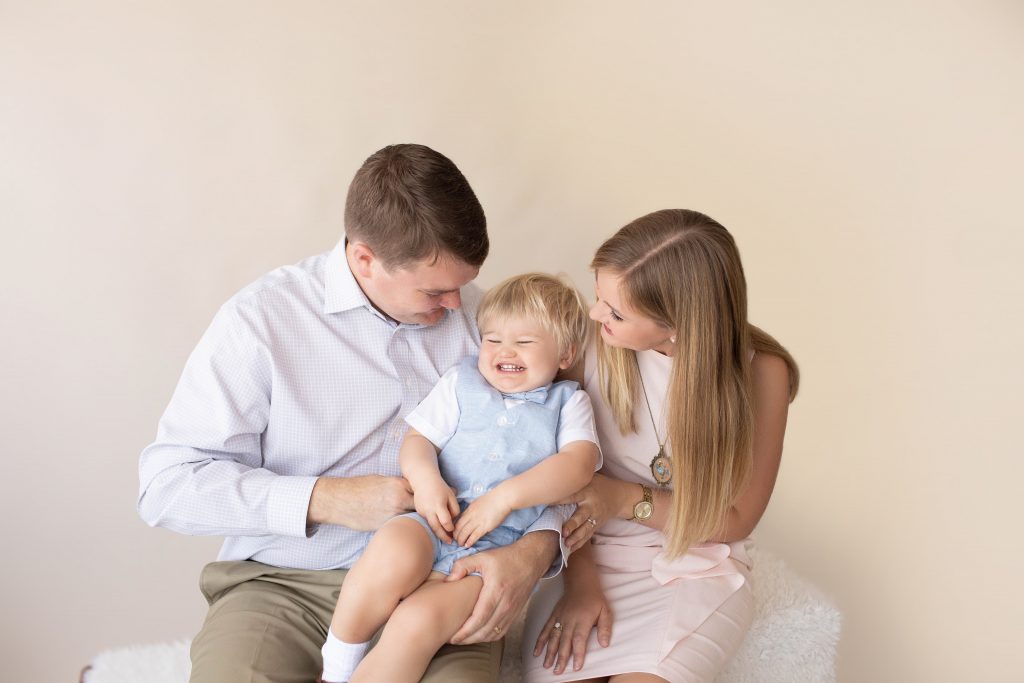 After seeing the wide variety of newborn props and a perfect luxury studio setting, Amanda felt great satisfaction with our connection. In addition to maternity photos, she decided to book Gabriel's newborn session with me as well. The family has been back several times for portraits, most recently for 18 month photo shoot with little Gabe, who is not so little anymore.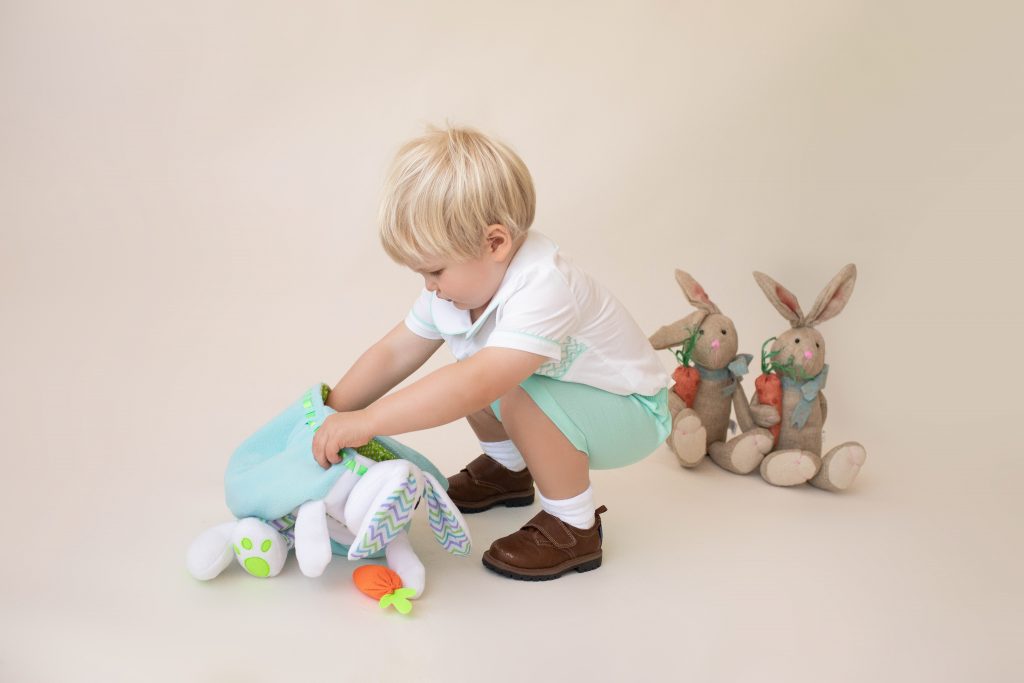 Baby Milestone Sessions: Maternity, Newborn, 6-Month and 18 Month Photo Shoot Ideas
It's always wonderful to have repeat clients at my studio. As the whole family becomes more comfortable with both myself and the professional photography studio setting, the opportunities to capture gorgeous family portraits multiply. It's always such an honor to see how a family develops and grows with each new milestone session we share.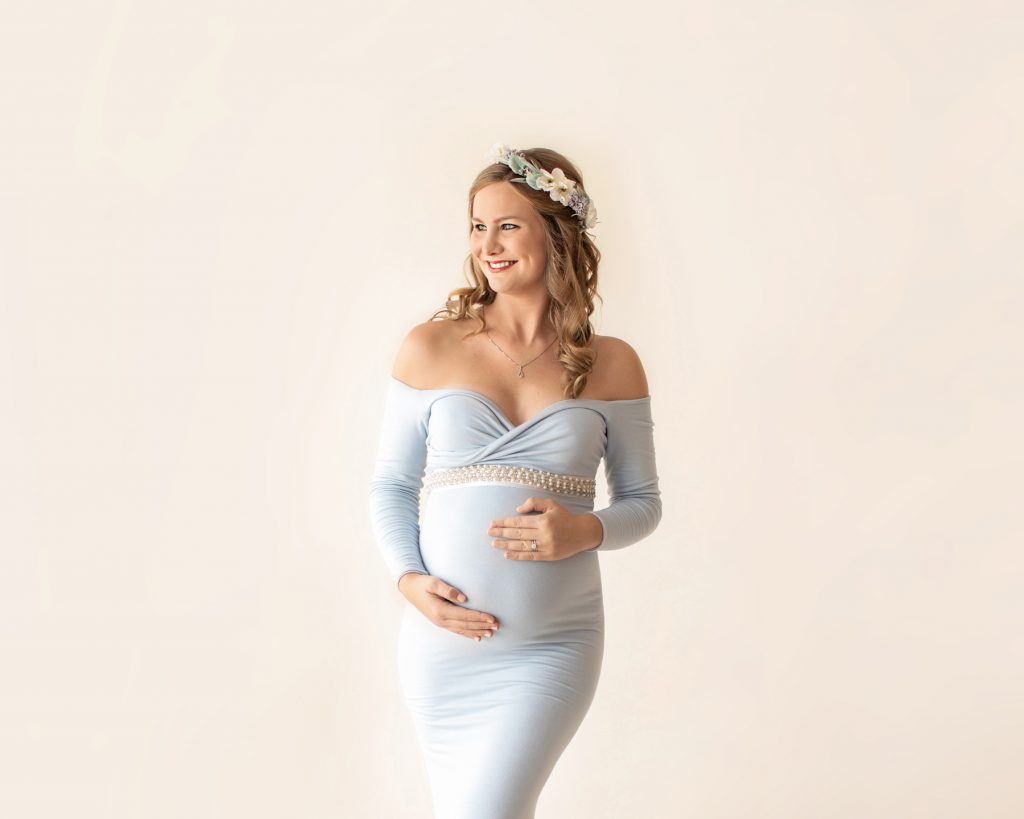 Maternity Photos
Starting with Amanda's stunning maternity photos, I was able to document the very beginning of this loving family's story. Every studio maternity session includes a beautiful collection of maternity gowns at no additional cost to expecting parents. For her maternity portraits, Amanda opted for a long sleeve ivory lace mermaid maternity gown, as well as a long sleeve baby blue maternity gown.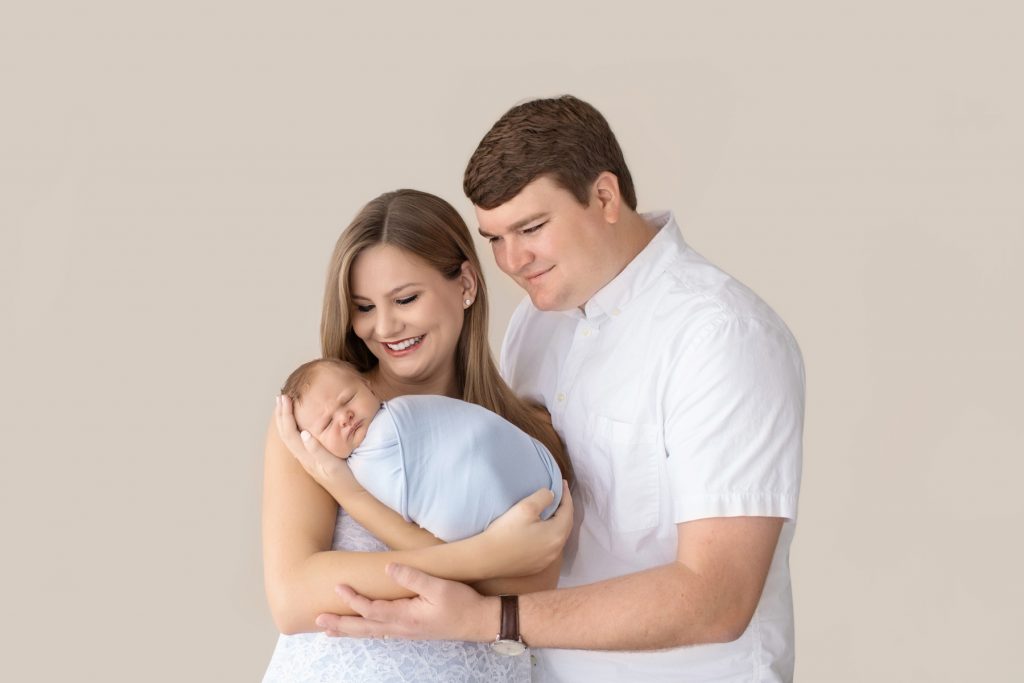 Newborn Photos
One of the greatest benefits of scheduling milestone portraits at my studio is the ability to plan ahead. Amanda wanted to create a cohesive color story for their family portraits, and we were able to carry the baby blue and dreamy white color pallet from her maternity session over into Gabriel's newborn photo session.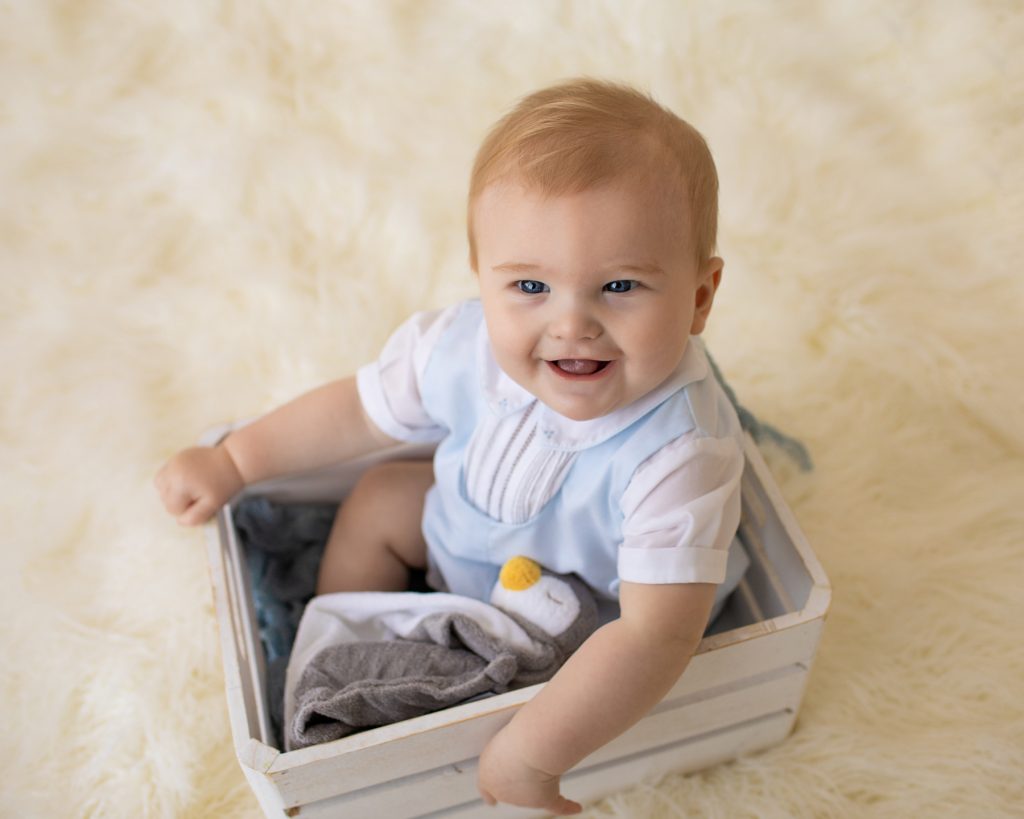 Six Month Baby Photos
By the time Gabriel returned for his six month baby portraits, I was amazed at how much he had grown. Already, so many of those precious newborn details had changed, and Gabe was well on his way to becoming a lively, inquisitive little boy. We continued with Amanda's planned color story, so Gabe's six month milestone photos work together beautifully with our previous sessions. Someday, this precious boy will be able to look back and see his whole journey, as well as how much his family loved him from the very beginning.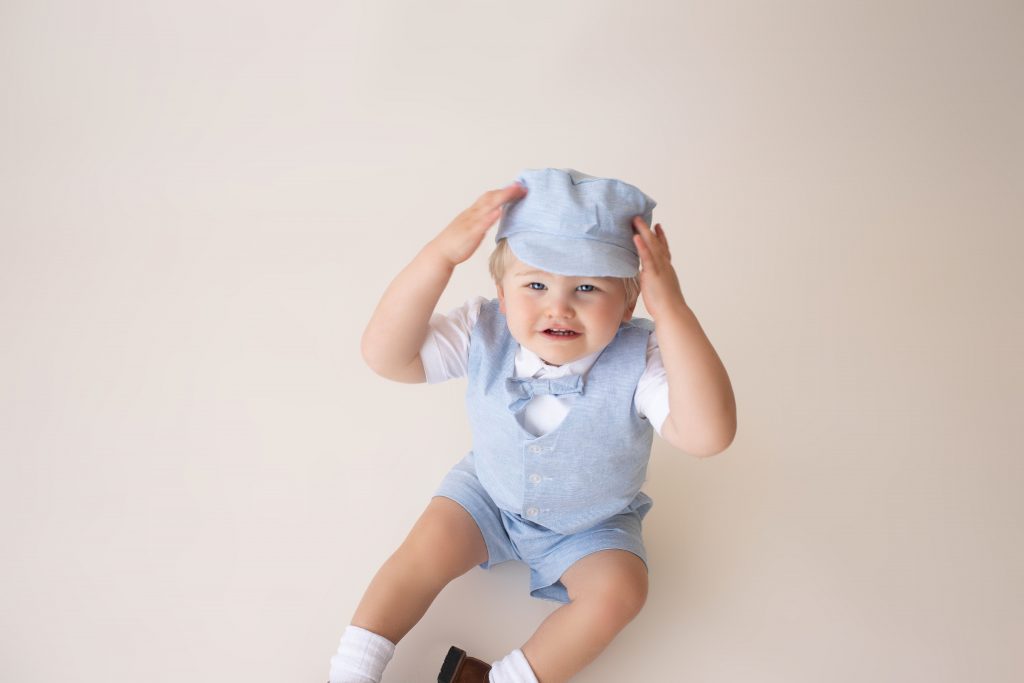 Ideas for 18 Month Boy Photos
After the family's latest visit, I am happy to report that Gabe is full of personality, has lots of energy, and of course, remains adorable as ever. With the lovely color story Amanda selected at her maternity shoot as a throughline, all the photos we made together work together as a gorgeous display of wall art in Amanda and Luke's home.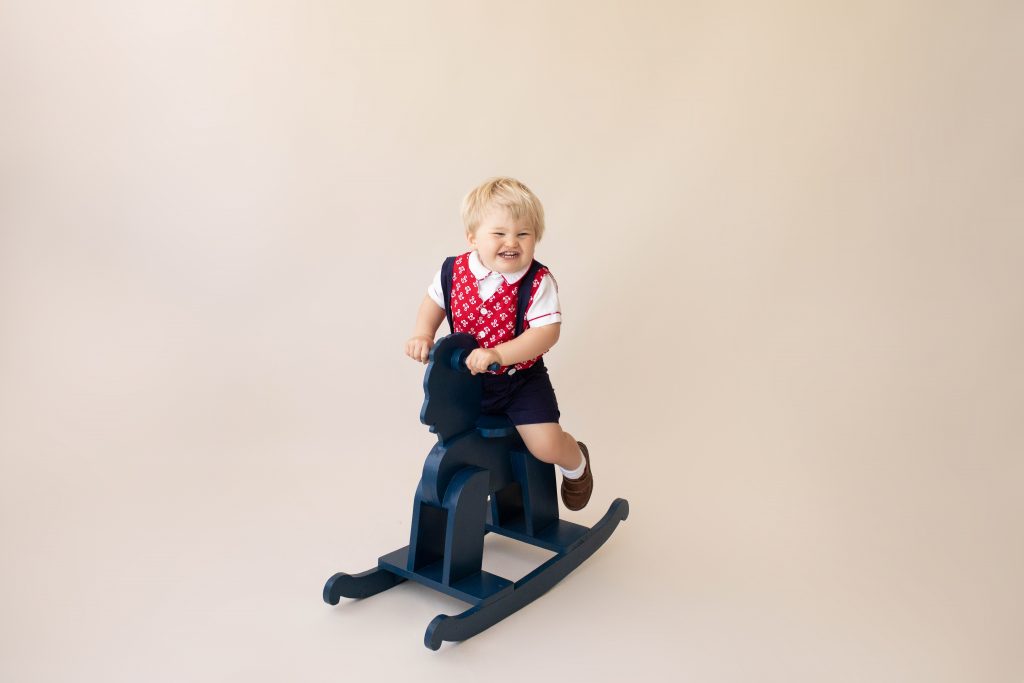 Baby milestone sessions are a good time to bring in favorite children's toys that capture the sentiment of the baby's stage or even a family heirloom piece. This session was playful to keep Gabe occupied, and it provided plenty of wonderful opportunities to capture Gabe interacting with bunny props, a rocking horse and the simple, yet effective addition of bubbles.  
Amanda chose to have Gabe wear this red, white and blue suspender outfit, preserved by Gabe's loving grandmother since Amanda's brother's childhood. Personal items like these are a wonderful way to include loved ones and carry on family traditions, or even start new ones.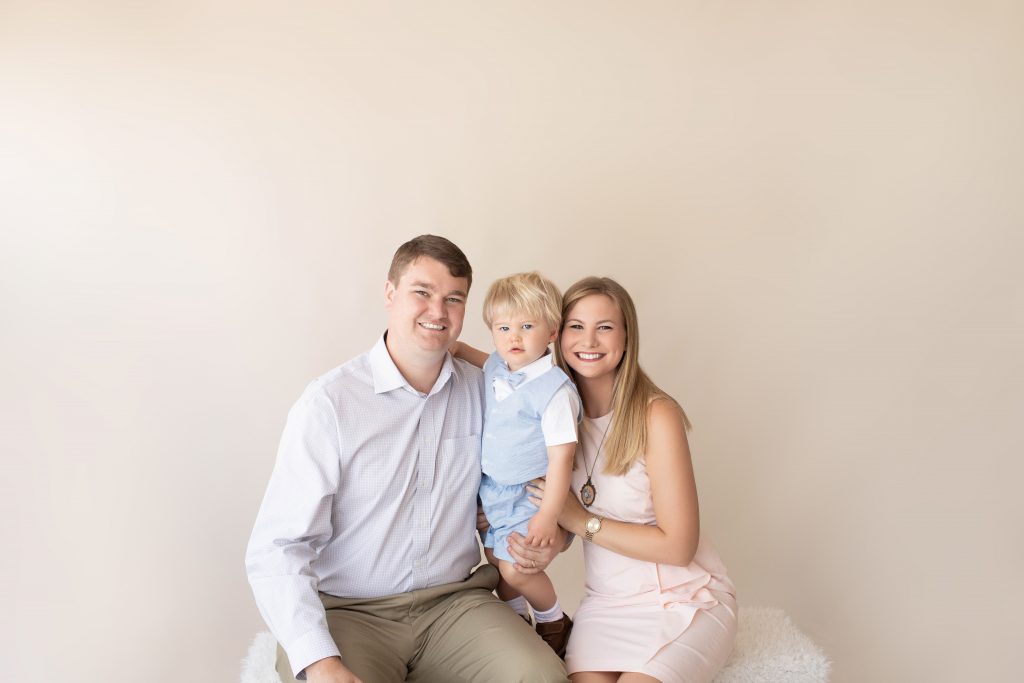 Childhood Milestone Photography in Gainesville Florida
From maternity photos and newborn portraits to childhood milestone sessions, I always keep my studio stocked with all the amenities that facilitate a comfortable, stress-free visit for the whole family. Maternity gowns, newborn supplies, baby wraps, photo props and outfits are always on hand, along with plenty of private spaces for little ones to take breaks whenever necessary.  
Please contact me here with any questions or to book a baby milestone photo session. You can follow my Instagram or Facebook account for updates or view my portfolio for more examples of my work.