What a pleasure and privilege to capture cute little Gabriel for his six month baby photos. Gabriel's family first joined my little photography community when they were only three months pregnant. I love meeting new families who are passionate about curating family photography with a creative professional like myself. These long-term relationships are one of the most precious aspects of my job as a professional family photographer.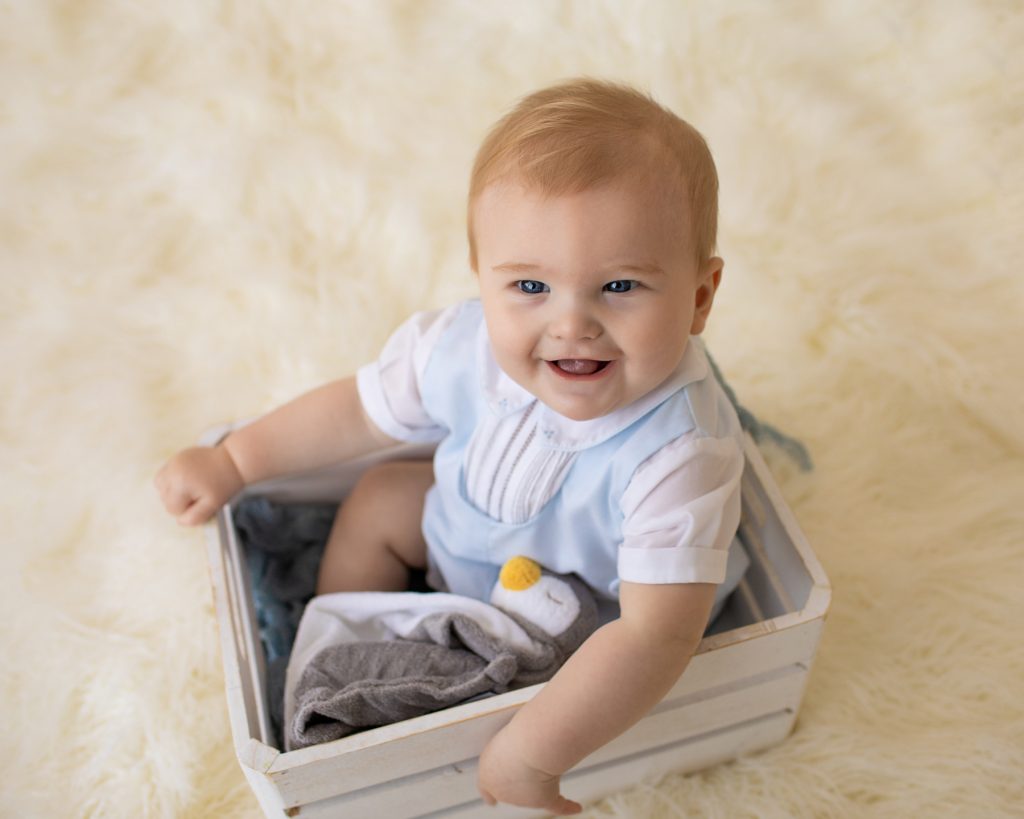 I worked for this family both as a maternity photographer and a newborn photographer. Now, they returned to commemorate the six month mark for little Gabriel. These six month baby photos were a true joy. It's amazing to watch this little guy change and grow.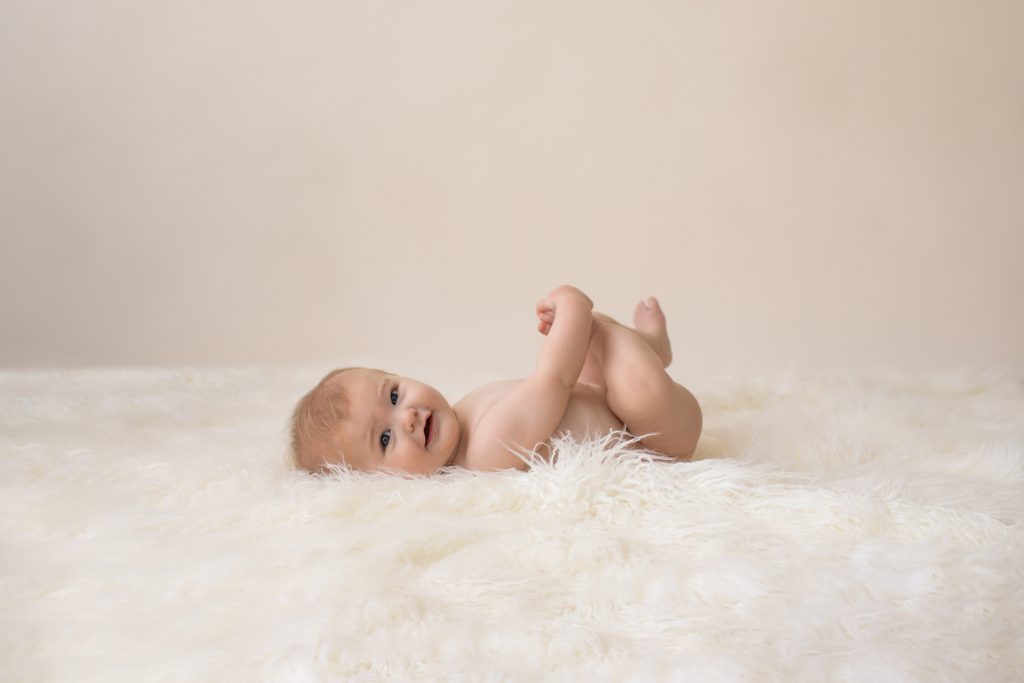 Since his first, newborn photo shoot, his dimples have deepened and he's exhibiting a sweet and precocious temperament. You can see his growing desire and ability to communicate. Baby photography sessions are especially helpful for capturing these moments that you think you'll never forget, but that are gone too soon. Each nuance of the different seasons of your baby's life can be skillfully preserved with great baby portraits.
Baby Portraits
Families opt for traditional style portrait toddler sessions or out-of-the-box and creative baby portrait sessions. I often coach my photo clients on the best look and feel for their baby portraits. This includes diving into the all-important backdrop and photo shoot color palette.
For child portrait photography, I set up my Gainesville photography studio with everything a family needs. This comfortable, cozy atmosphere is perfectly configured to facilitate great toddler photos. 
In my highly collaborative, professional photography style, I work with parents to curate a baby photo shoot with all of the following:
Baby photo shoot clothes

Baby photo supporting props, like cribs and pillows

Family photo shoot clothes

Baby photo shoot props, like toys and blocks

Baby photo shoot textiles, like blankets and stuffed animals
I have an expansive stock of newborn baby photo props, toddler photo props and family photo props. We always find the perfect arrangement of items that highlight the beauty, whimsy, tenderness or humor of a specific family.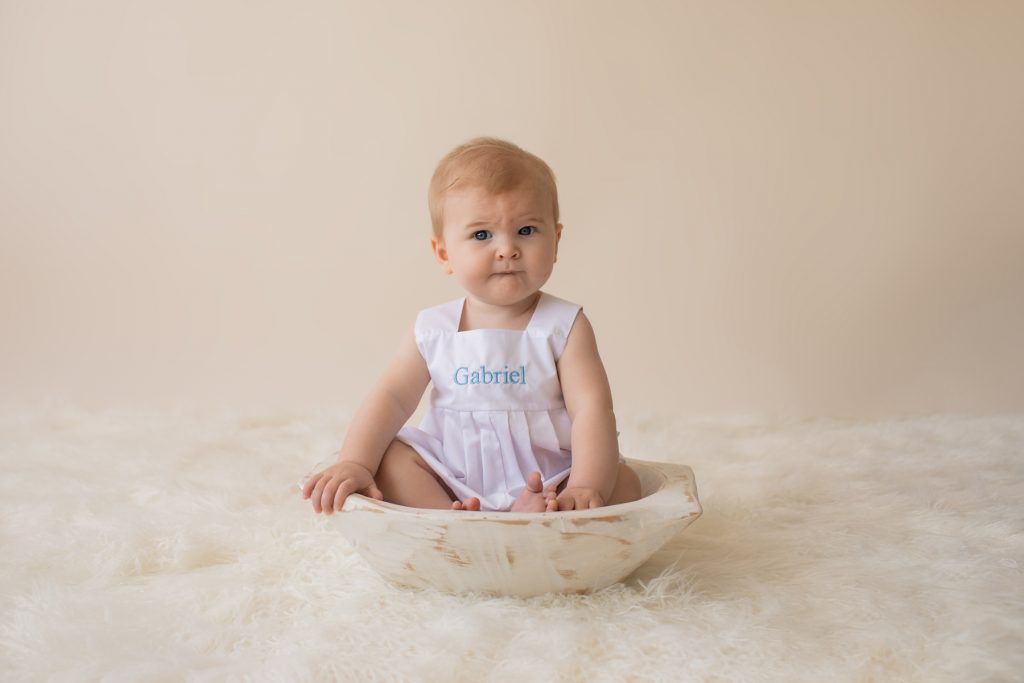 Six Month Photo Shoot
6 month baby photos are a fun way to capture all of the new milestones. The half-year mark is full of scooting, grabbing and new communication and connections. I often have clients in my Gainesville, FL photo studio who are keen to try out 6 month baby family photo shoot ideas they've found online. 
Some great sources of inspiration for 6 month old photo ideas are illustrated on my Facebook page and Instagram page:
Andrea Sollenberger Photography on Facebook
@ASollyPhotography on Instagram

Baby Photo Props
For this six month photo session, we used a wonderful baby bath tub photo prop. There are several different ways to capture great six month baby pictures. It's often the last time to get those great, squishy naked baby pics and enjoy the baby soft skin. Other popular baby photo props in my Gainesville photo studio are:
Vintage style photo props, like wrought-iron mini-cribs and carriages

Wooden photo props, including buckets, crates, boxes and blocks

Woven photo props, like reed baskets and accessories
I have a huge variety of crocheted, minky, embroidered, lace and plush textiles to choose from as well. All of these set the baby in a dreamy, soft or thematic environment, creating a set for their custom photo portraits.

Monthly Baby Pictures
Families like Gabriel's have a blast organizing regular baby photo shoots and family photo shoots in my studio. By sticking with the same professional baby photographer, they will have a streamlined look to commemorate the milestones in their child's life. This is a wonderful way to establish rapport and familiarity, which I've found encourages creativity.
I'm often hired for monthly baby photos that include:
Newborn photos: from a few days to a few weeks old.

Three month photos: when baby is beginning to make eye contact, smile and wave their arms.

Six month photos: for the early days of scooting, grabbing and giggling.

Nine month photos: when the little one is starting to pull up and has different posture and facial expressions.

Twelve month photos: to celebrate the all-important first year, I have wonderful one year Birthday photo shoots in my Gainesville photo studio.

Hire a Baby Photographer in Gainesville
If you are looking online for "baby photography near me," I may have come up as a result. If you are located in and around Gainesville, FL, my photography studio is a wonderful choice. I have implemented the utmost protocol for hygiene and sanitizing procedures in the wake of the COVID-19 pandemic. For more detail on what my coronavirus photoshoot safety protocol entails, go here.
Still a bit anxious about the whole process? It's a challenge to navigate this season. Feel free to review a recent family photo shoot I did, all outdoors, as a way of alleviating any contact or proximity concerns.
My photo portrait studio is fully equipped to give you enjoyable, friendly and beautiful baby portraits. I always create a warm and welcoming experience for new and returning families. I hope that you will reach out and let me partner with you to capture cherished moments that will become family heirlooms.
If you have more questions and would like to inquire about scheduling a baby photo shoot in Gainesville, contact me.