Newborn Photography with Baby Fitz
Before he was airside, I had the privilege of capturing little Fitz in his parents' family maternity photos. His sweet parents moved to Gainesville in the summer of 2019. Mom is a professor at the University of Florida in the department of medicine specializing in pediatric gastroenterology and dad is a financial advisor. This couple was ready to find a newborn photographer in Gainesville to capture their pre and post natal bliss. After a visit to my studio, they hired me for both maternity pictures and newborn pictures.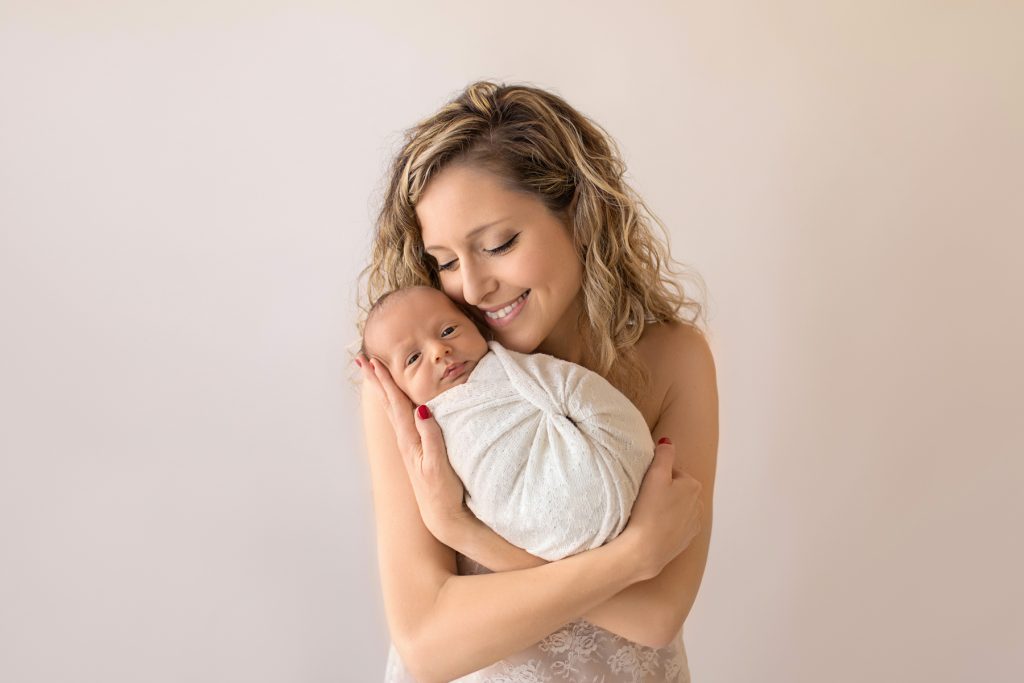 Why People Choose
Newborn Photography Studios
My studio is one way I am distinct among other newborn photographers. While some people specialize in newborn home photo sessions, I capture sweet moments in my natural, light portrait studio. Perfectly setup to be a calm and customizable environment, I can craft the right environment to showcase the details of pregnant moms, proud dads, newborns and families. While I don't always shoot in my newborn photography studio, it is a preferred choice for many parents. We can control the light, noise and other distractions. I can also create a completely color-coordinated environment.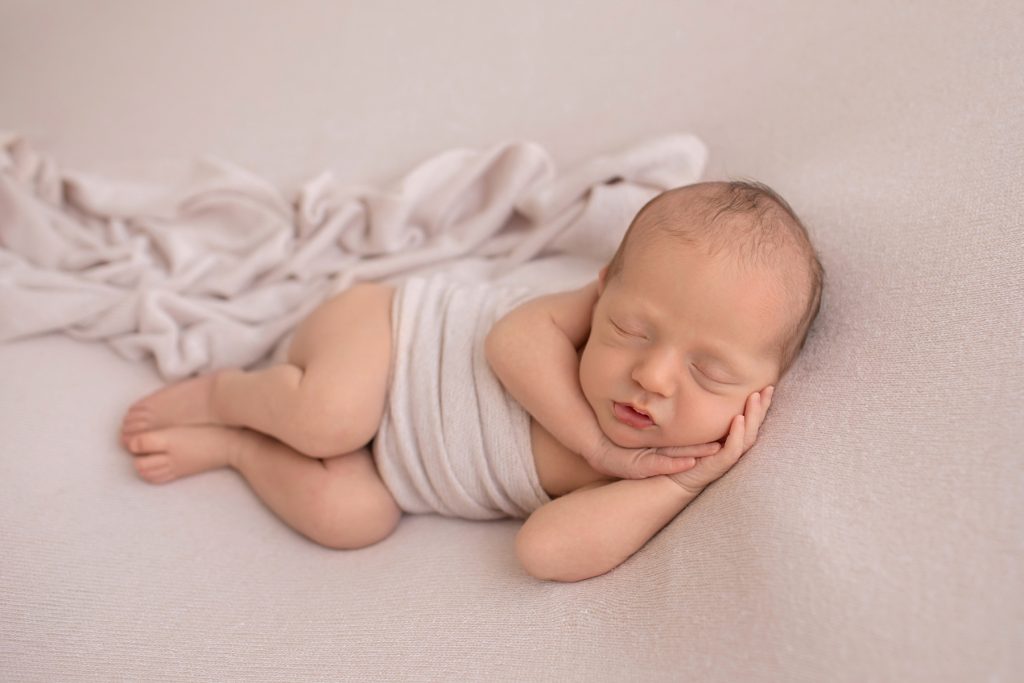 Visiting a Newborn Photographer's Studio
I invite every new client into a studio visit. This is important to me. As a maternity and newborn photographer, I like to get to know each family I will be working with. As we make a personal connection, I understand how to style their photos to perfectly reflect their personality and taste.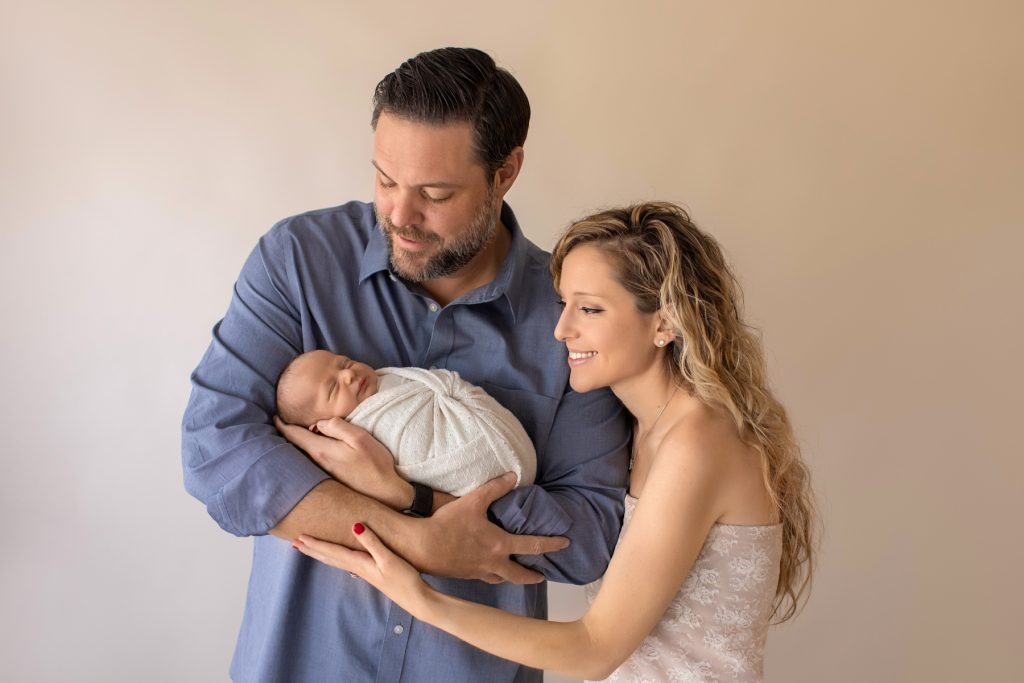 During a photo studio visit, they ask additional questions, handle samples of products available for purchase and gain an appreciation of whether I am the perfect newborn photographer for them. This thoughtful process comes from my heart. I am honored that my clients also understand and respect the care I put into this personal connection and am humbled to be considered one of Gainesville, Florida's best newborn photographers.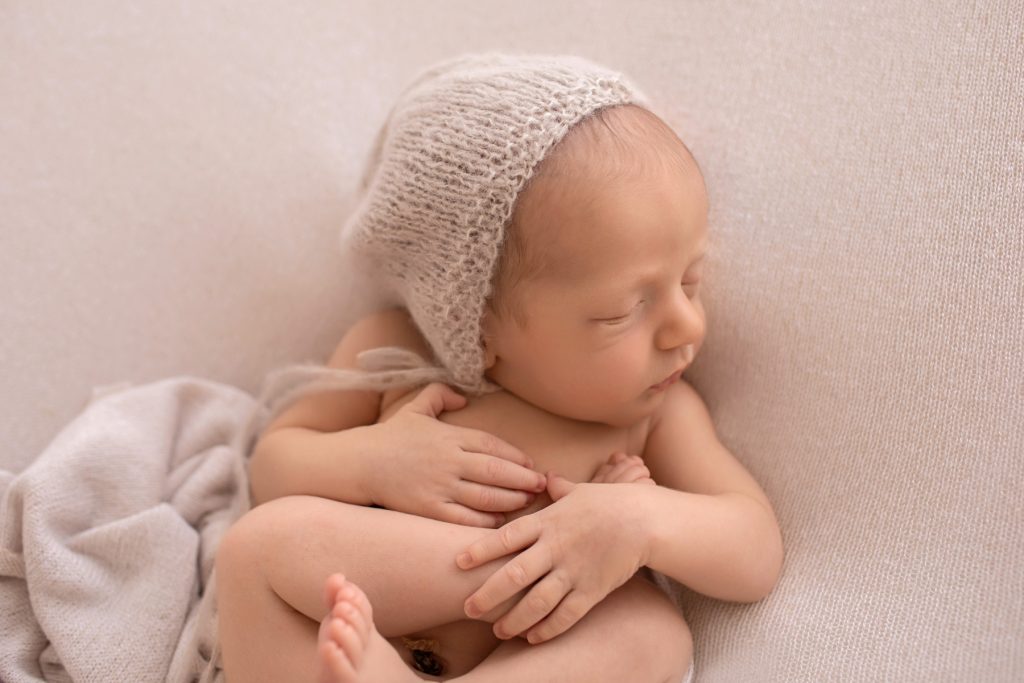 Because I offer my services at a photography studio, clients can come in and be totally at ease. There is room to place their things, change the baby if need-be and take a break as we transition scenes or props. This infuses joy and levity into the process and eliminates any stress or hurry.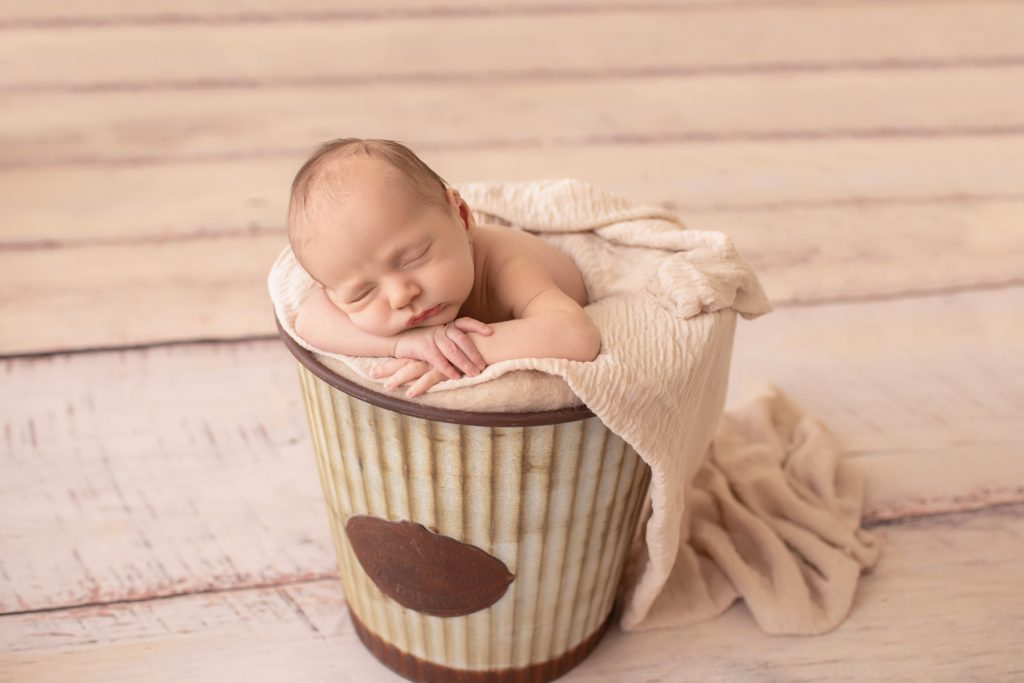 How to Style
Newborn Photos
One thing I am known for is my keen ability to select the right newborn photo props, photo backdrops and color palette that will suit each family. I do this by first understanding the family's preferences. 
For newborn baby Fitz's photos, I took into account that his mom preferred soft yellows, muted blues and neutral tones. This family loves the outdoors and especially the beach. The color palette was intended to remind them of the windswept sand, sun-kissed water and soft light of a morning beachscape.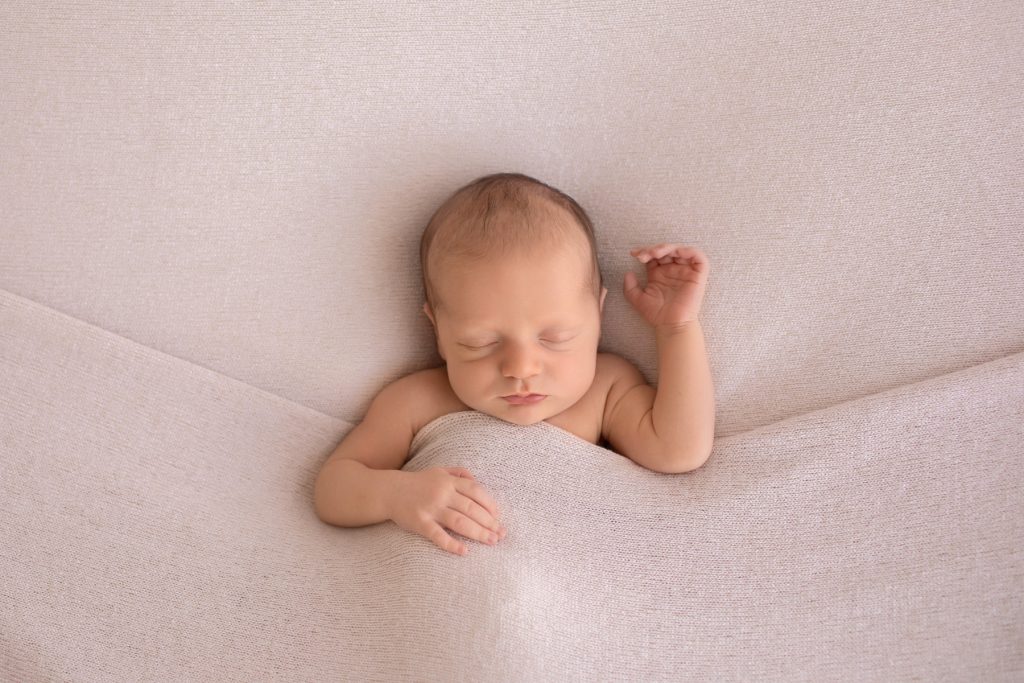 Through the process of styling photos for each family, I perform like a fine art portrait photographer. While I am functioning as a newborn photographer, baby photographer or children's photographer, I am also exercising a higher process that will culminate in a perfect product. This comes from both experience and finesse. And, let's face it, when you take photos of babies, there is also a little magic involved.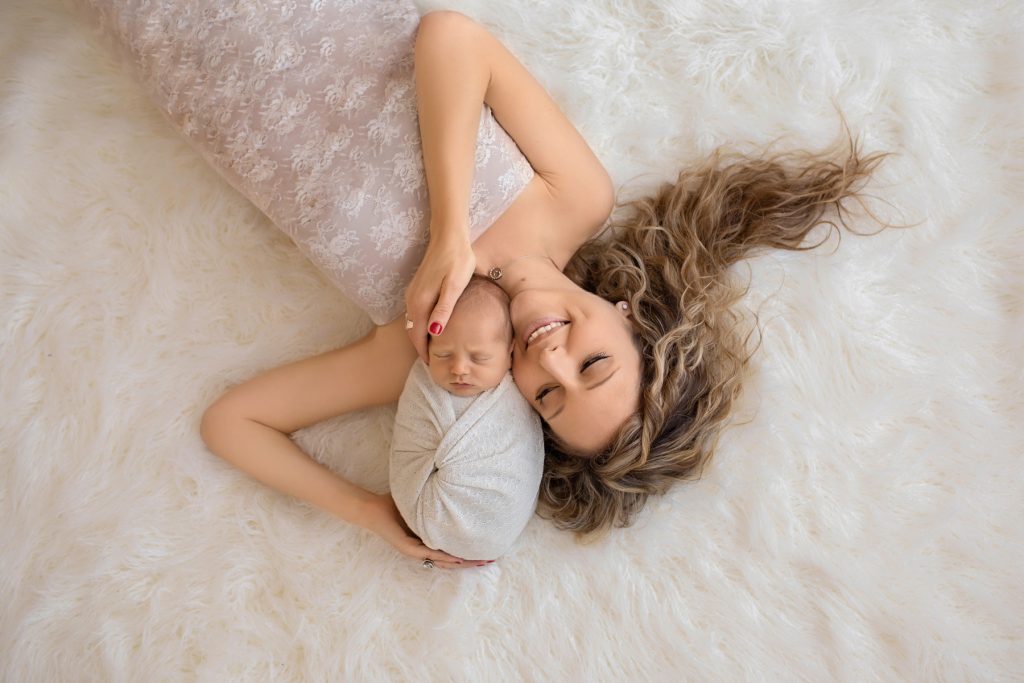 Newborn Photography in Gainesville
Newborn photography in Gainesville is a beautiful opportunity to make memories that last a lifetime. Being able to capture the pregnancy photos and then the newborn photos from the same family is always a delight. The photographer-client relationship of trust and mutual respect is necessary for session excellence and client satisfaction.
It is always important to me to offer products that will last. This family purchased a leather heirloom box where they can store a collection of their favorite maternity and newborn photographs. They plan to add to this collection box over Fitz's first year of life, contributing to a growing keepsake of his first stages of growth. This is just one of the many ways that newborn photography is indeed a celebration of life!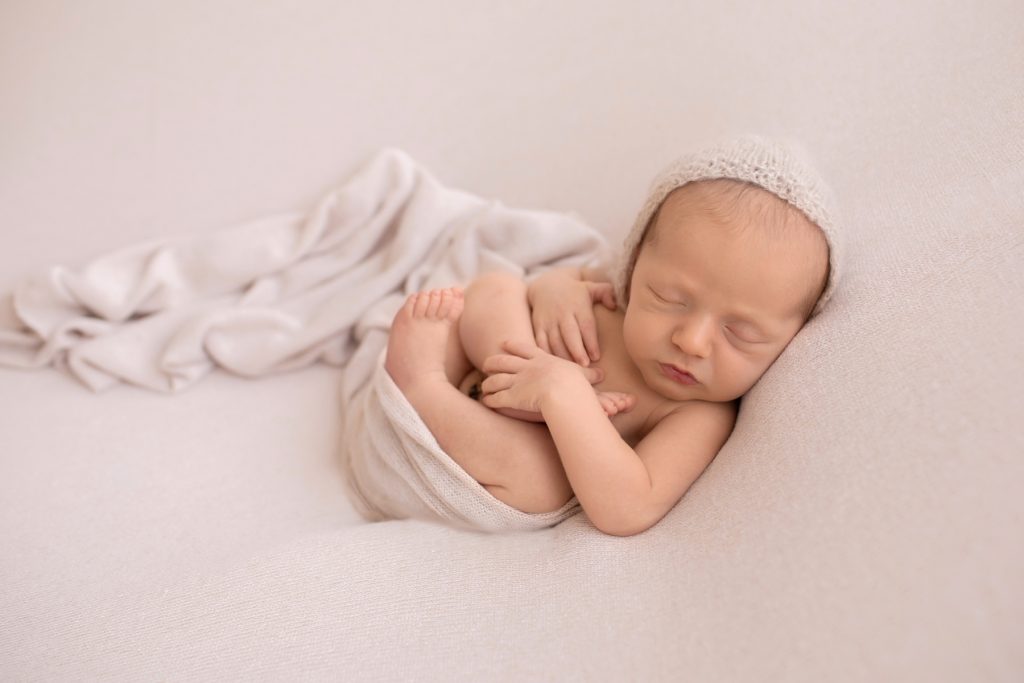 If you are in a season that you want to remember forever, contact me for introductions and booking information. I would love to be the one to capture your precious maternity, pregnancy, newborn or family moments. Go here to get in touch and feel free to view my portfolio for more samples and illustrations of my work.
Want to make a social connection? Find me on Facebook and Instagram.